Business Plan Template For a Ghost Kitchen: Complete Guide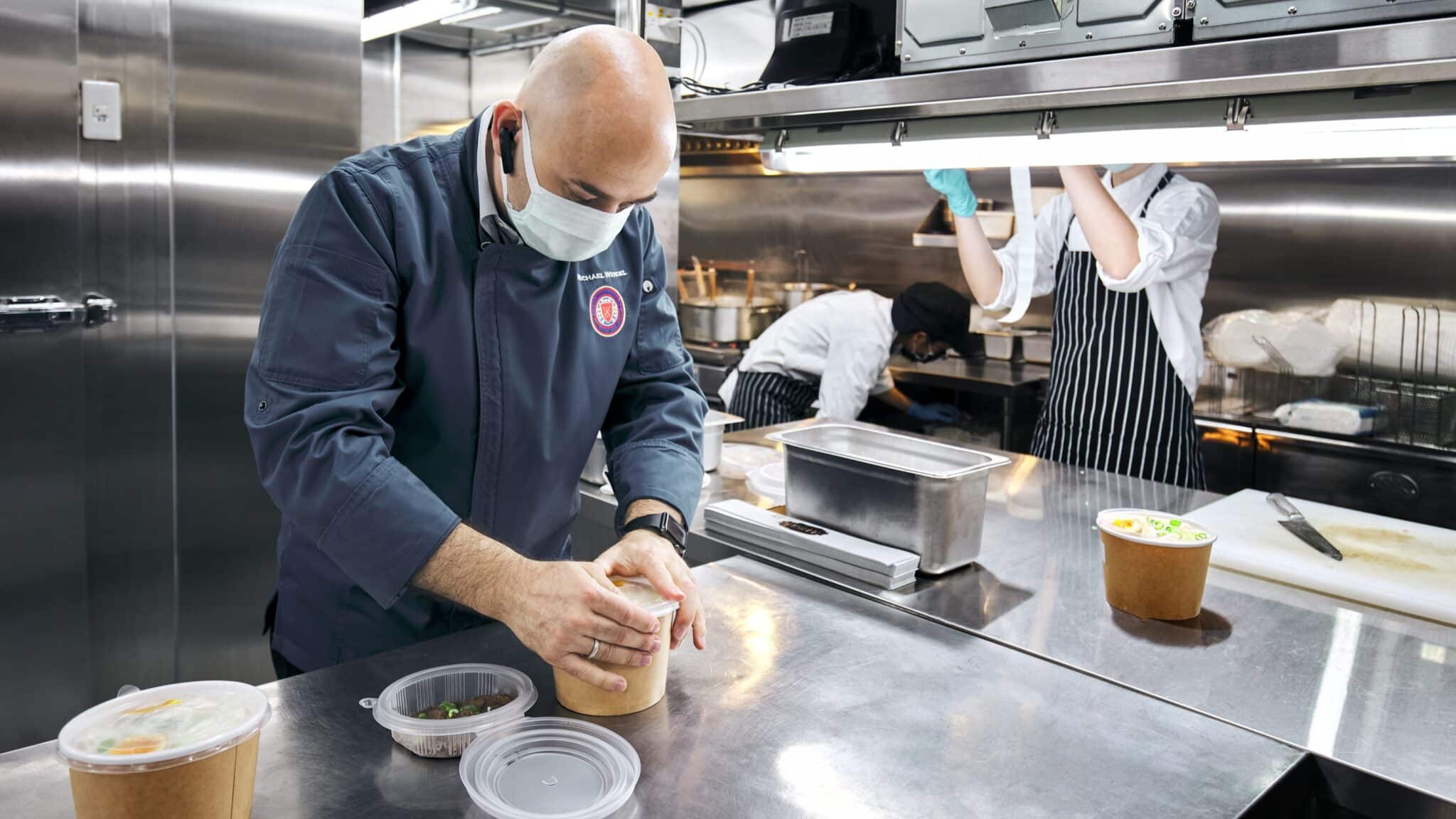 Whether you're looking to raise funding from private investors or to get a loan from a bank (like a SBA loan) for your ghost kitchen, you will need to prepare a solid business plan.
In this article we go through, step-by-step, all the different sections you need in your ghost kitchen business plan. Use this template to create a complete, clear and solid business plan that get you funded.
1. Ghost Kitchen Executive Summary
The executive summary of a business plan gives a sneak peek of the information about your business plan to lenders and/or investors.
If the information you provide here is not concise, informative, and scannable, potential lenders and investors will lose interest.
Though the executive summary is the first and the most important section, it should normally be the last section you write because it will have the summary of different sections included in the entire plan.
Why do you need a business plan for your ghost kitchen?
The purpose of any business plan is to secure funding through one of the following channels:
Obtain bank financing or secure a loan from other lenders (such as a SBA loan)
Obtain private investments from investment funds, angel investors, etc.
Obtain a public or private grant
How to write your ghost kitchen's executive summary?
Your ghost kitchen is not like a regular restaurant and hence, the information that goes into the business plan will differ slightly. You can always use a general layout that includes:
Business overview: introduce your company and tell why you want to open a ghost kitchen. Speak about your menu and what problems they solve. Also, mention the location, target delivery partners, and the legal structure of your ghost kitchen.
Market analysis: provide a deep market analysis that backs your decision to open a ghost kitchen. The market analysis will include information like who your competitors are, your strengths and weaknesses, target audience, food ordering trends, etc.
People: mention who are the managers and why you have selected them along with their relevant industry experience in the food and restaurant industry. Also, speak about your staff requirements and the management hierarchy.
Financial plan: how much profit and revenue do you expect in the next 5 years? When will you reach the break-even point and start making profits? It is ideal to include a chart depicting your key financials such as revenue, gross profits, and net profit
Funding ask: what loan/investment/grant are you seeking? How much do you need? How long will this last?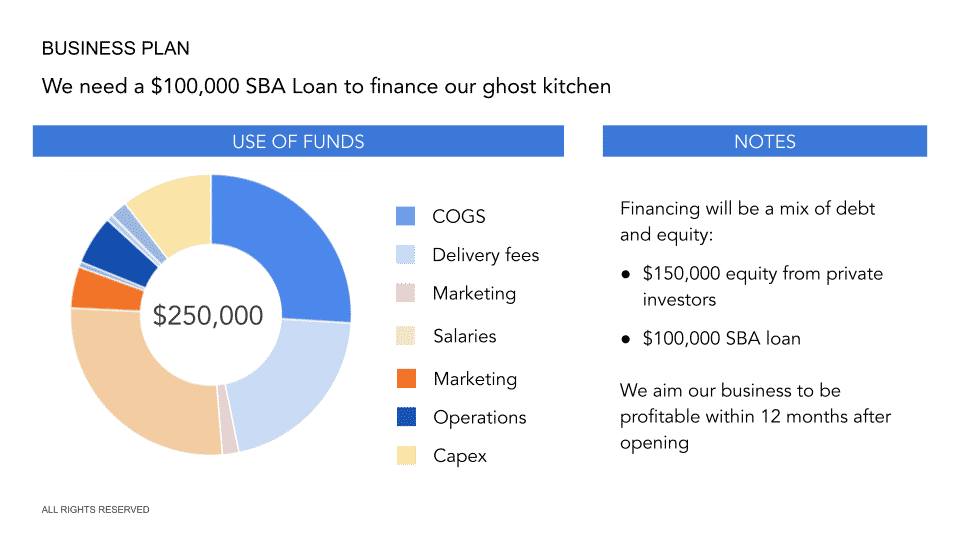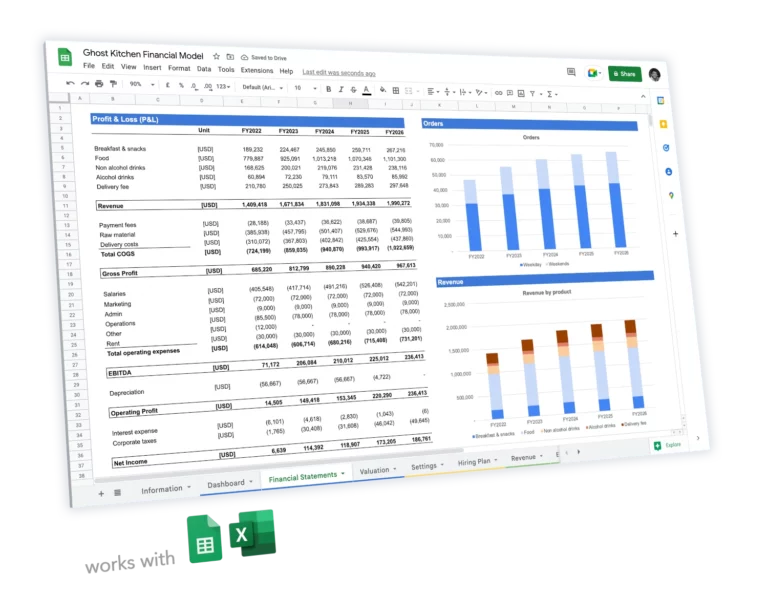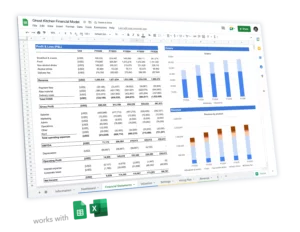 Ghost Kitchen Financial Model
5-year financial projections
Suitable for bank loan applications and investors
2. Ghost Kitchen Business Overview
In this segment of your business plan, you will describe your ghost kitchen. Include the following information:
What inspired you to go for a ghost kitchen business?
What products you are offering and what problems do they solve?
Who is your target audience?
Where are you located and why did you select that location?
What is your company structure and who are your key partners?
Let's look at different subsections that you must include:
a) History
Start by explaining why you selected the business and what is your experience in the industry. It is okay to not have any experience. As long as you can show passion and as long as you can prove that your business is going to solve some problems, you are good to go. The two things that you must demonstrate are:
Your passion for food & restaurant businesses
Feasibility of the business
You may be passionate about cooking and/or you may have a professional culinary degree. Either way, as long as you can channel your knowledge, expertise, and passion in one direction, it will be a good start.
Feasibility will look into various aspects that include:
The degree of competition you will face
The popularity of online food ordering in your area
Availability of the food delivery partners
The type of food you are going to sell
For example, if you are living in the suburbs with closed-knit communities involved in more social exchanges and family and/or community feasts, they are most likely not going to order food online. Even the availability of food delivery partners may be a problem.
On the contrary, if you want to operate your ghost kitchen in an area where most of the residents are office goers, it is highly likely that they will frequently order online to save time.
Similarly, people involved in high-stress jobs may crave comfort foods and there may not be enough options for them. Opening a ghost restaurant in such a locality will be a success.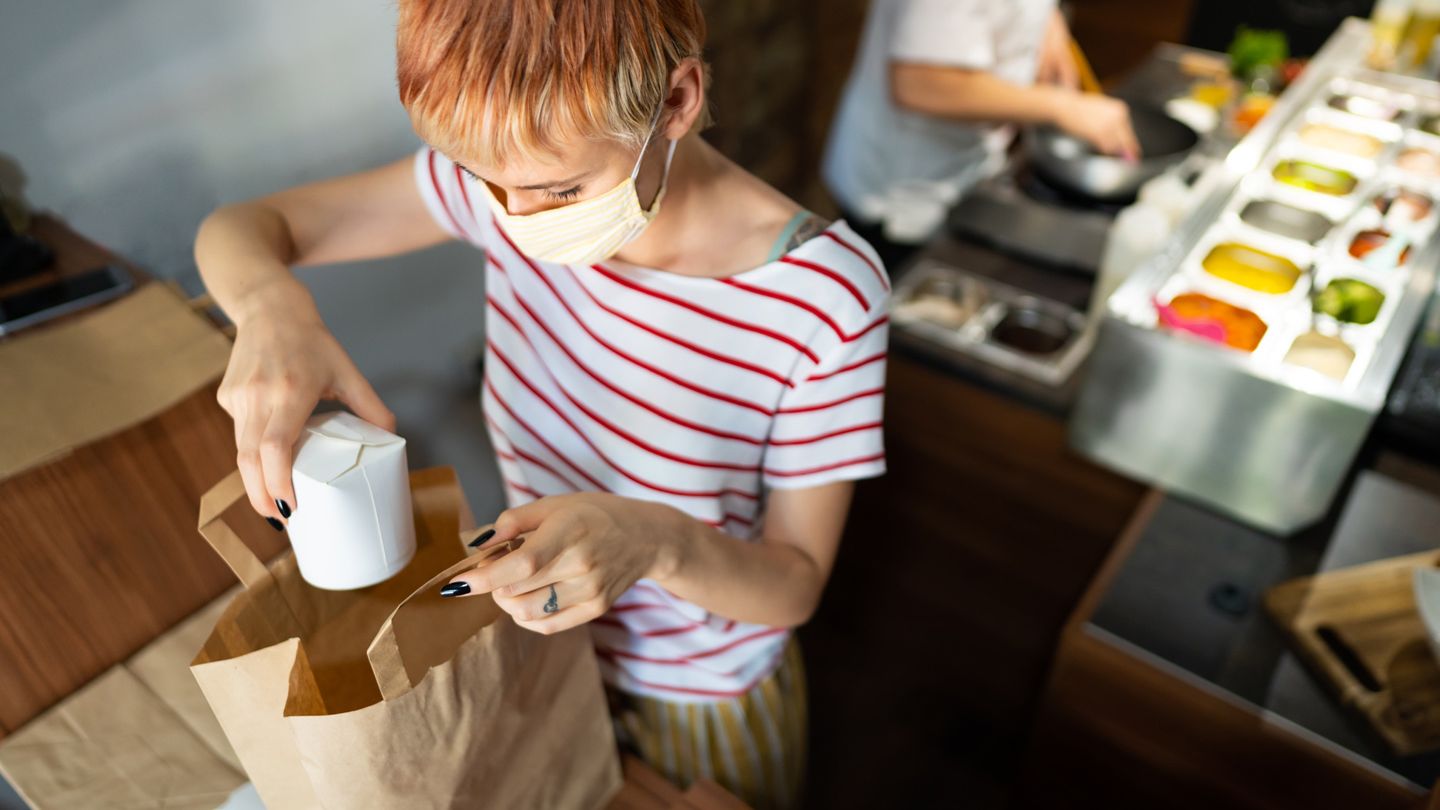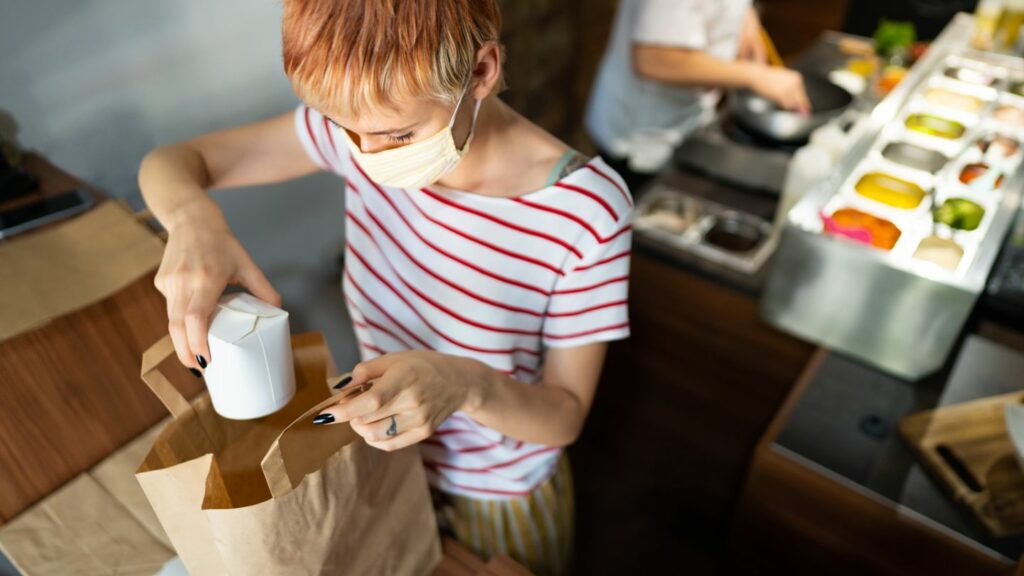 b) Business Model
This is where you will present the following:
The type of kitchen you want (free-standing and completely customizable, sub-leased restaurants, or shared commercial kitchens)
Choice of the location (must be in a safe place with easy access for delivery partners, easy waste management and disposal, safety permits, etc.)
If you want to use your own delivery fleet, speak about the number of delivery staff you will need, the vehicles needed, the technology you intend to use for navigation, etc.
A brief of your order management and payment processing system
If you have a unique business model in mind, spell that. For instance, you may decide to have multiple menus with different names and food types such as Emir's Shawarma, John's BBQ, The Kentucky Grills, etc.
For more information on the different types of business models there are for ghost kitchens, read our complete guide here.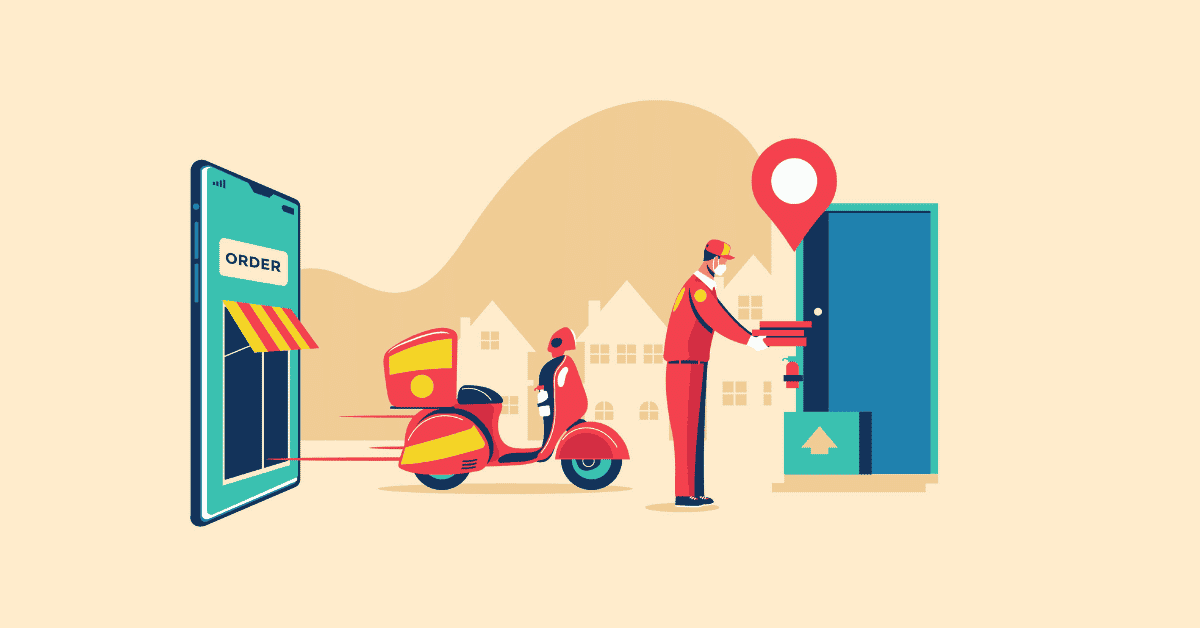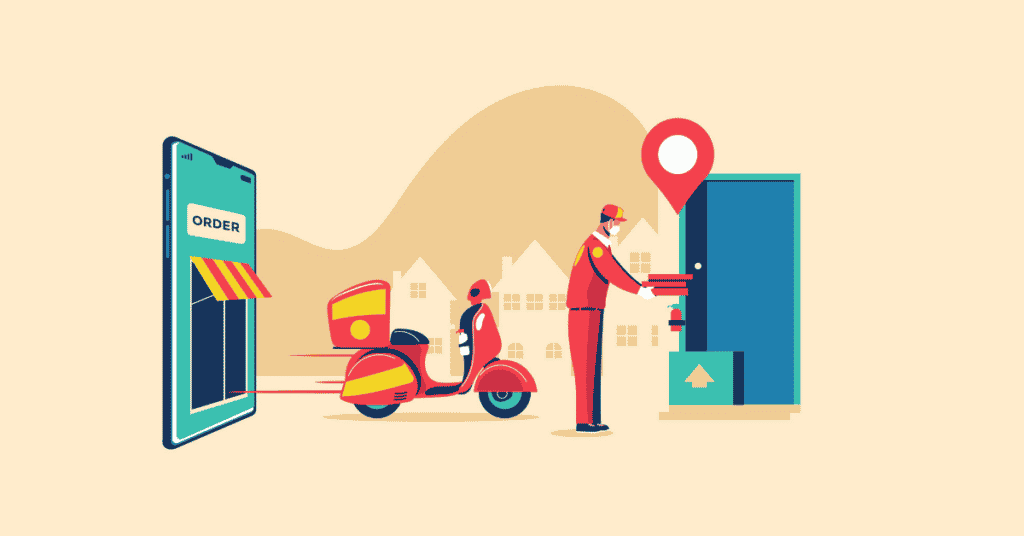 c) Menu
This is the sub-section where you define your kitchen concept and provide some information about the menu items you have selected and why.
Here are a few things you need to explain:
Is the food you are offering in tune with the locality and your target customers?
Will your food items withstand travel? For example, if you want to sell French fries, it might not be a good idea because they may become soggy quickly before reaching the customer
Are your products targeting any particular age group? For example, Gen X and Millennials may gravitate more towards comfort food.
How do you intend to package your food?
Who will be your vendors for supplies?
What will be your branding, menu layout, etc.?
d) Pricing Strategy
This is the segment where you define your pricing strategy. You may offer discounts on bundled products. You may have a higher price range than your competitors for using organic items. Similarly, you may be charging slightly higher for providing bio-degradable containers and packaging material.
You must also speak about the most profitable items along with expected profit margins for all products you want to sell.
A pricing chart for all major products you are offering can help the investors or lenders to tie your pricing strategy with your financial projections.
e) Target Audience
Give an overview of your target audience or customers and explain the rationale behind the selection. For example, if you are creating a menu around Gen X and Millennials, then there must be a sizable proportion of people in those age groups in the locality.
If your menu includes more breakfast and lunch items then there must be a large chunk of working-class people who don't have enough time to cook and will usually order food from outside.
A clear understanding of your target audience is crucial for success. If you don't understand your target customers and their needs, potential lenders and investors will not be confident about investing in your business.


f) Legal Structure
Finally, your business overview section should specify what type of business structure you want. Is this a corporation or a partnership (LLC)? Who are the investors? How much equity percentage do they own? Is there a Board of Directors? If so, whom? Do they have experience in the industry?
If you have selected partners, explain why you have selected them and what positive impact they will have on your business. For instance, you may actually decide to make your raw materials vendor a partner in your business. This will ensure that you will get your supplies at a much lower rate than your competitors. This can help you to bring down your prices.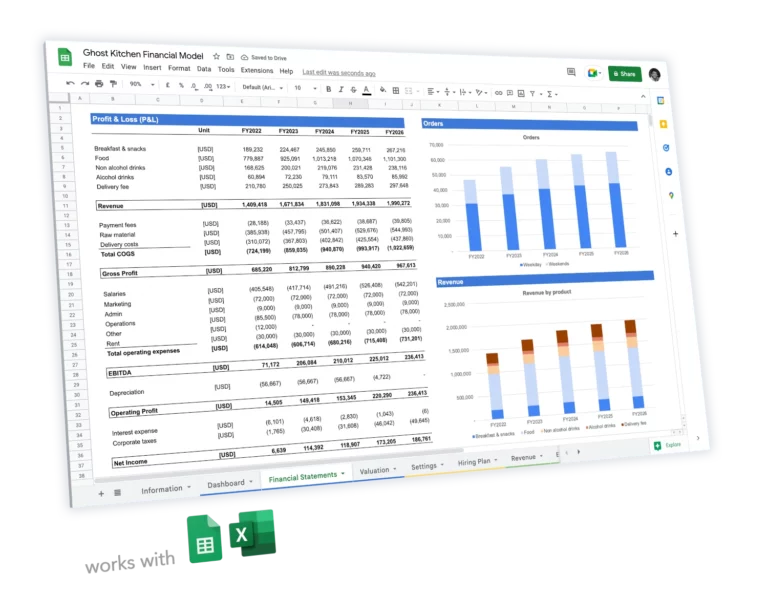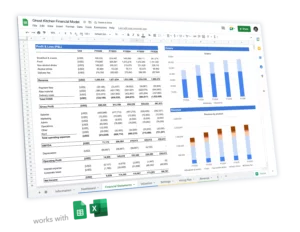 Ghost Kitchen Financial Model
5-year financial projections
Suitable for bank loan applications and investors
3. Ghost Kitchen Market Analysis
A clear understanding of the market is absolutely necessary. You must demonstrate your market knowledge to potential lenders and investors, or else they will lose confidence. That's the purpose of the market analysis section of your ghost kitchen business plan.
For example, if you intend to sell Connecticut's popular White Clam Pizza in Colorado where Lamb Chops are famous, it might not work. Thus, understanding your market and the food preferences of people living there is absolutely necessary.
a) Market Trends
Understanding the market trends is necessary. This will allow you to identify growth opportunities. For example, if plant-based sausage wrap and cajun fries are popular choices among people ordering online, trying to sell Nashville hot chicken sandwiches that fell out of popularity is definitely not a good idea.
If you don't know which dishes to offer, you can check Grubhub's 'State of the Plate' or Doordash's 'State of Flavor' reports to get an idea of what people are ordering the most. Such reports will give you a fair idea.
The goal is to stay abreast with current demands and trends and offer those items. You will need to research your potential customers. The best way to do that is to interact with them and ask them directly.
You may ask questions like:
Which dishes do they usually order online?
What side dishes and desserts do they usually prefer?
What are the top alcoholic beverages they order?
What do they prefer for breakfast, lunch, dinner, and late at night?
What food items do they prefer during winter, summer, spring, and fall?
The more data you gather, the easier it becomes to come up with a menu that people will like.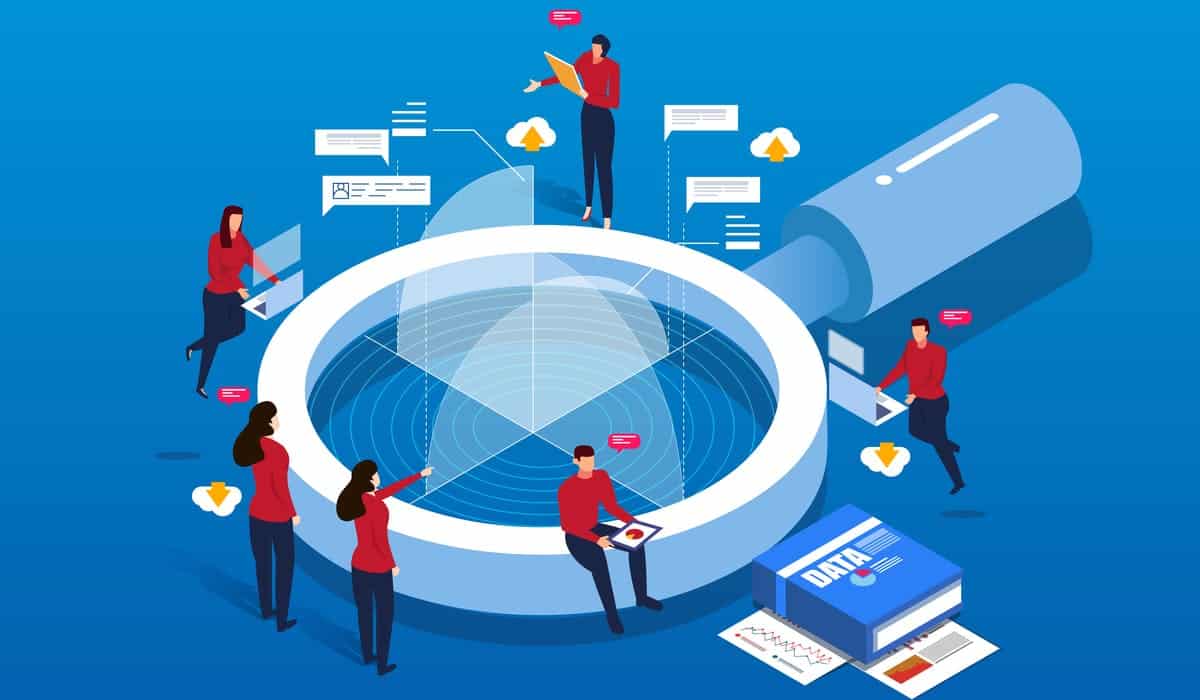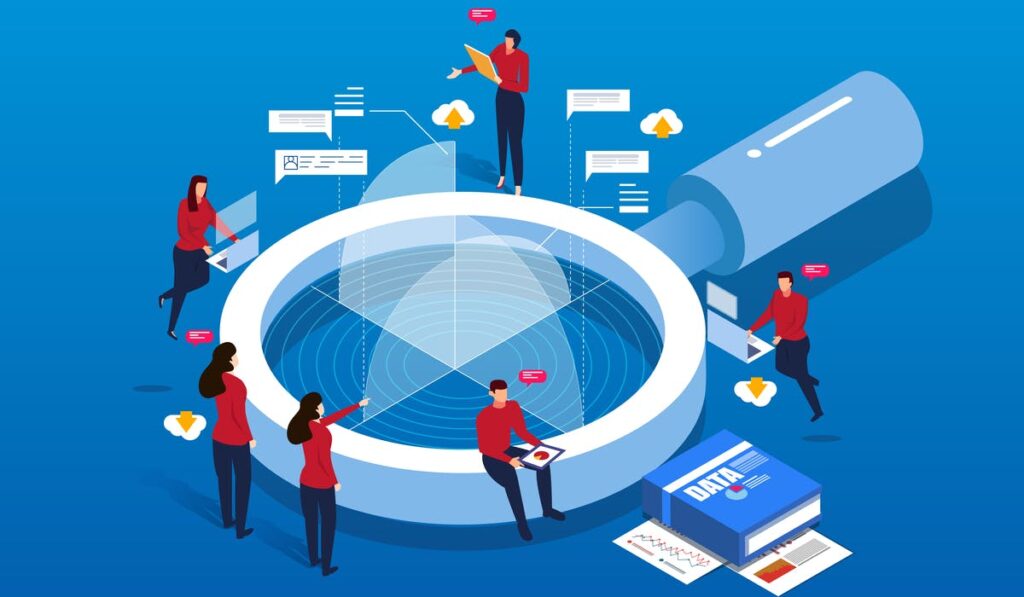 b) Competition
Researching your competition is important. You must try to find out:
Which food items they are selling the most?
Who is their target audience?
What promos, offers, and bundles do they offer to maximize sales and profits?
Do they have seasonal menus?
How many food delivery platforms they have partnered with?
What is their average price range?
What type of packaging materials are they using?
Add as many questions or points as required for your analysis. The more detail-oriented the analysis is, the better it is.
You must draw a strong conclusion based on the data you gather. Here are some examples of the conclusions you can come up with:
There are no ghost kitchens in the area that have seasonal menus.
None of the competitors offer bundled food items
No competitor offers multiple menus with different names and different food types
The conclusion you draw must validate your business model and the rationale behind it.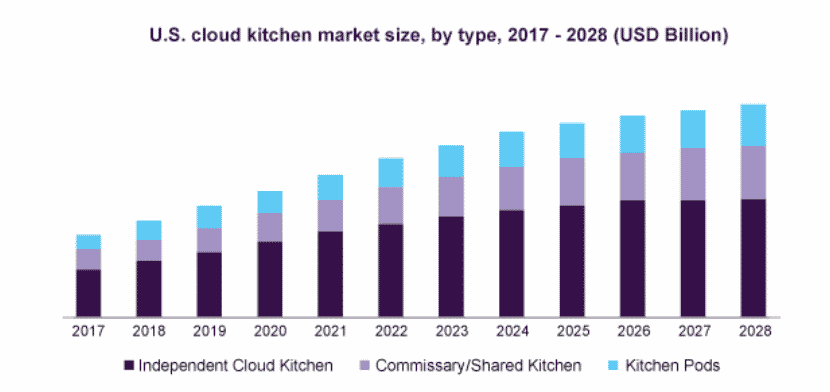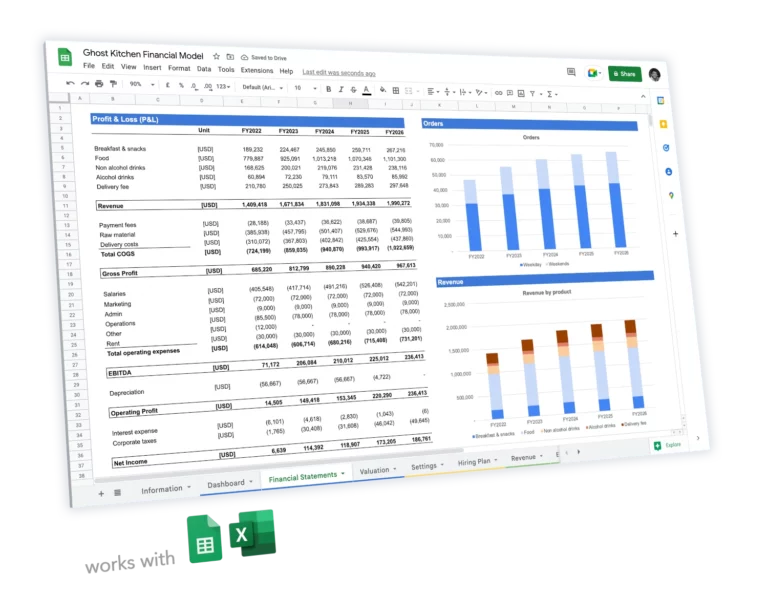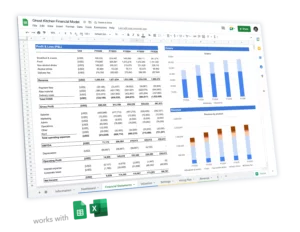 Ghost Kitchen Financial Model
5-year financial projections
Suitable for bank loan applications and investors
c) Customers
This is where you will give the details of your target audience. Remember that the Business Overview section only gave a preview. Additional details will be here in this section.
Customer data can include information such as:
What percentage of the total population in the locality make up your target audience?
How frequently do they order food online?
What type of food do they usually order?
What is the average order size?
At what time of the day do they usually order food online?
Are they loyal customers of certain ghost kitchens or do they try out food from different kitchens frequently?
Do they buy recommended items (recommended items on your menu may carry the highest profit margins)?
Do they share their culinary experience on social media? Which social media platforms do they use?
Feel free to add such much data as you feel is necessary to validate your business plan. While you will get most of the data from your direct target audience outreach and research, you can get some data from competitor research and various other sources as well.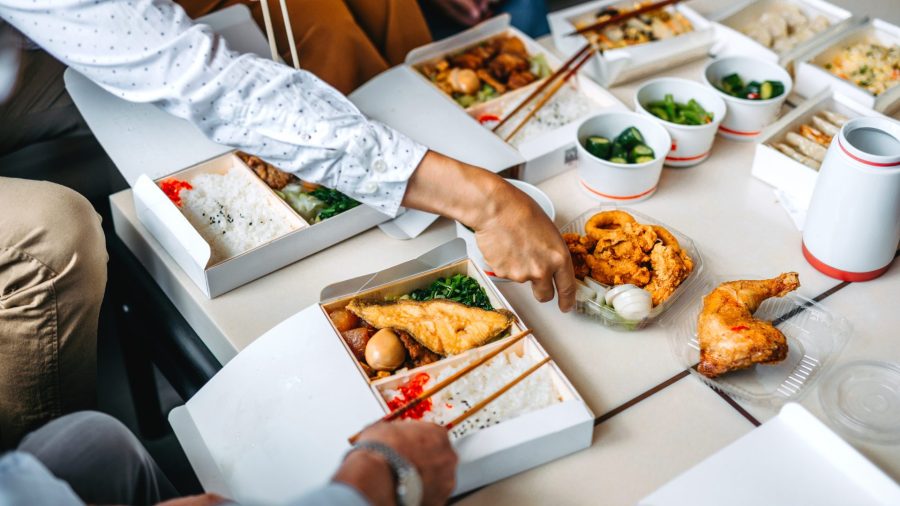 4. Ghost Kitchen Marketing Strategy
In this segment, you must explain your strategy for acquiring customers.
This is the segment where you outline your customer acquisition strategy. Try to answer the following questions:
What is your USP?
What marketing channels will you use (online or offline)?
Do the marketing channels aptly grab the attention of your target audience? For instance, young adults will most likely not pay attention to TV ads. They are more hooked on social media.
How do you intend to track the success of your marketing strategy?
What is your CAC or customer acquisition cost?
What is your marketing budget?
What introductory promos and offers do you intend to provide for attracting new customers?
Let's expand a bit on a few questions below:
What marketing channels do ghost kitchens use?
In addition to the food delivery apps, a few marketing channels ghost kitchens typically use are:
Social media
Influencers
Email marketing
SMS marketing
You don't need to use all marketing channels. You can focus on just 2 or 3 and gain expertise in those channels. For instance, if your target audience is mostly on Instagram and Facebook, you must come up with strategies to engage with them on those platforms.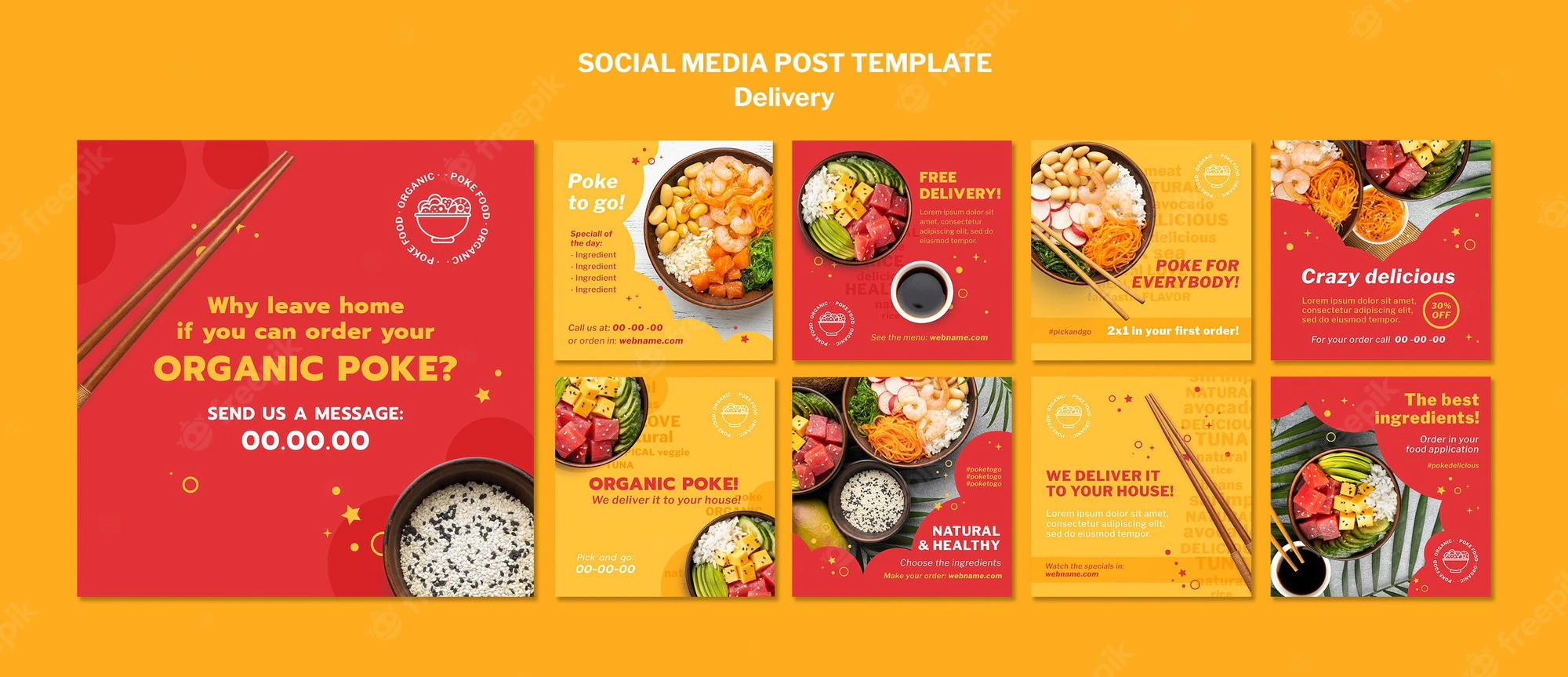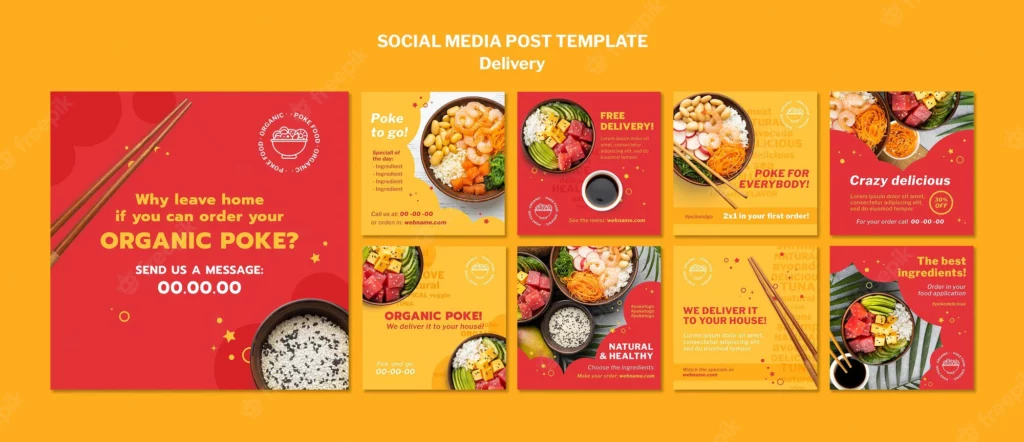 What is your unique selling proposition?
In other words, how do you differentiate yourself vs. competitors? This is very important as you might need to win customers from competitors.
A few examples of USPs are:
Price: you may have cheaper prices than competitors
Specialization: you may be specializing in some specific type of food (e.g. Dim Sum, Korean BBQ, etc.)
Additional products: you may sell alcoholic and non-alcoholic beverages, special seasonal shakes, etc.
Combos: you may offer chef-recommended food combos and bundles
Packaging: you may use environment-friendly bio-degradable food packaging
Your USP will vary based on the products you want to sell and the target audience.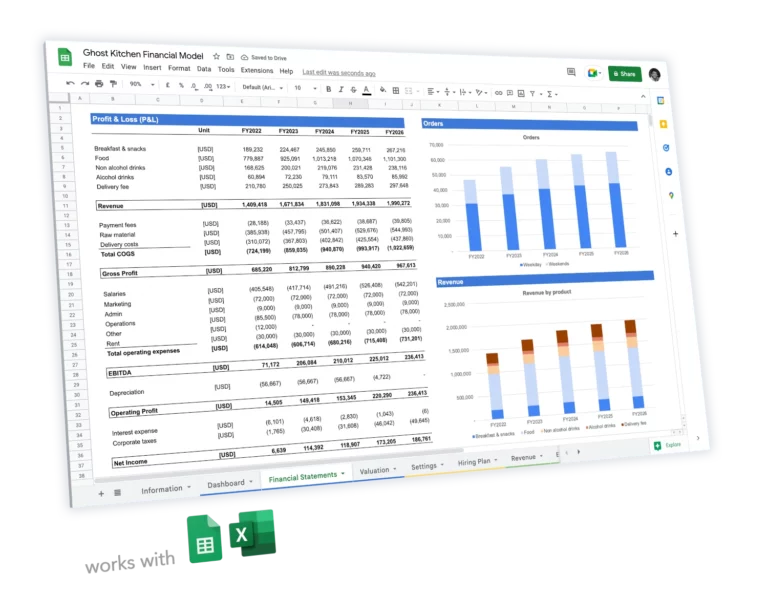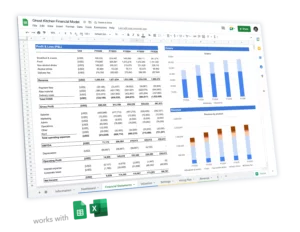 Ghost Kitchen Financial Model
5-year financial projections
Suitable for bank loan applications and investors
5. Ghost Kitchen Management
You must address two things here:
The management team and their experience/track record
The organizational structure: what are the different teams and who reports to whom?
a) Management
Your kitchen management will vary depending on its size, scale, and business model. For instance, if you are going for shared commercial kitchens, you don't need to worry about building or equipment management. For a free-standing ghost kitchen, your will be responsible for everything. Again, for a multi-menu model, you may want separate people managing the supply chains.
You may have co-founders and/or senior managers. You must explain their roles, too. Apart from that, you must also explain their industry experience and why they are suitable for those positions.
b) Organizational structure
Note that even if you have not already hired anyone, you must include the roles at least.
Typical roles for a ghost kitchen are: senior managers, chefs (head chef and junior chefs), housekeepers, helpers, delivery staff (if you want your own delivery fleet) and other support team members (HR, finance if you run a large operation).
You must define their roles and the hierarchy of reporting. This will demonstrate to the potential lenders and investors the solid management plan you have in place to operate your business efficiently and successfully.
Create and attach an organizational chart for a visual understanding of your kitchen's staff and their reporting lines.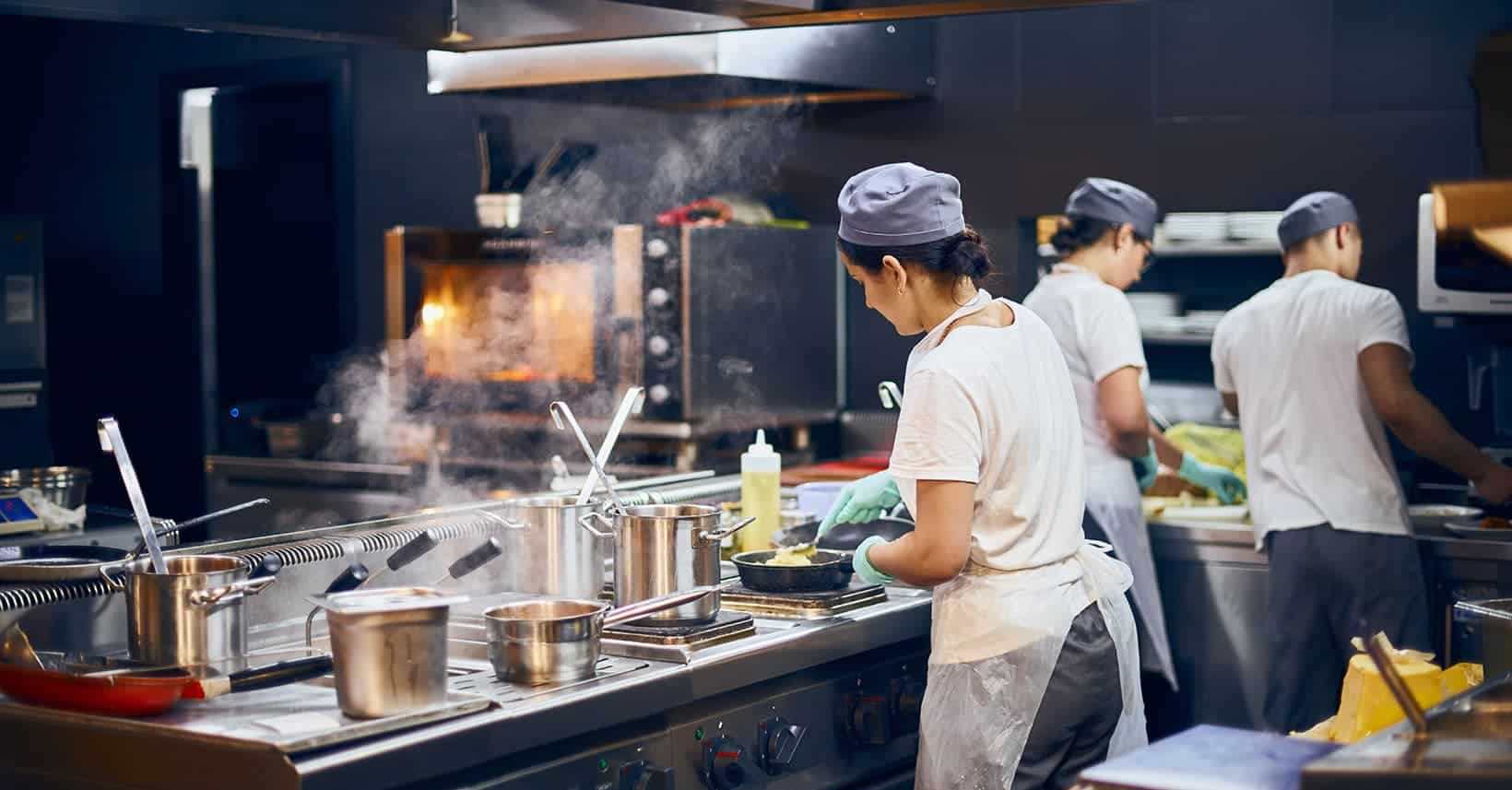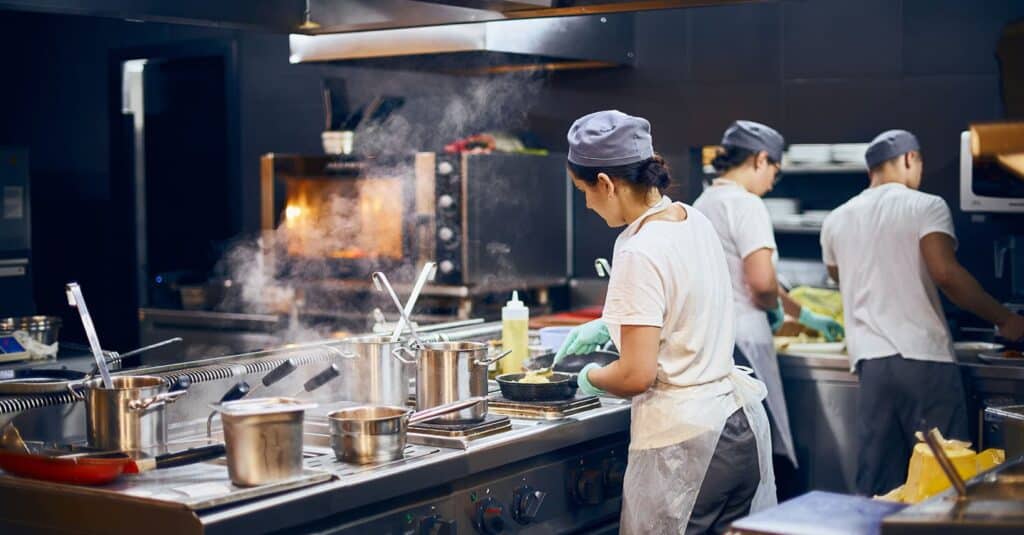 6. Financial Plan
The financial plan is perhaps, with the executive summary, the most important section of any ghost kitchen business plan.
Indeed, a solid financial plan tells lenders that your business is viable and can repay the loan you need from them. If you're looking to raise equity from private investors, a solid financial plan will prove them your cloud kitchen is an attractive investment.
There should be 3 sections to your financial plan section:
Your historical financials (only if you already operate the business and have financial accounts to show)
The startup costs of your project (if you plan to open a new kitchen, renovate or expand your kitchen, etc.)
The 5-year financial projections
a) Historical Financials (optional)
In the scenario where you already have some historical financials (a few quarters or a few years), include them. A summary of your financial statements in the form of charts e.g. revenue, gross profit and net profit is enough, save the rest for the appendix.
If you don't have any, don't worry, most new businesses don't have any historical financials and that's ok. If so, jump to Startup Costs instead.
b) Startup Costs
Before we expand on 5-year financial projections in the following section, it's always best practice to start with listing the startup costs of your project.
For a ghost kitchen, startup costs are all the expenses you incur before you can actually start cooking and making sales. These expenses typically are: buying equipment, renovating the building, purchasing inventory, paying for the lease deposit, etc.
To give you a clear overview of the costs you can expect when you open your own dark kitchen, we have laid out below 2 examples: a white label dark kitchen in a kitchen you own (1) and another operating in a shared kitchen you rent (2). For more information on how much it costs to open a ghost kitchen, read our complete guide here.
Startup cost
Kitchen you own
Shared kitchen
Lease security deposit (or loan downpayment)
Lease deposit: $6,000 – $18,000
Loan downpayment: $50,000 – $70,000*
$0
Equipment
$40,000 – $200,000
$0
Legal fees & licensing
$1,000 – $1,500
$1,000 – $1,500
Initial inventory
$1,000 – $3,000
$1,000 – $3,000
Total
$48,000 – $274,500
$2,000 – $4,500
* Assuming you pay 20% upfront for a 1,000 sq. ft. commercial space costing $250,000 – $350,000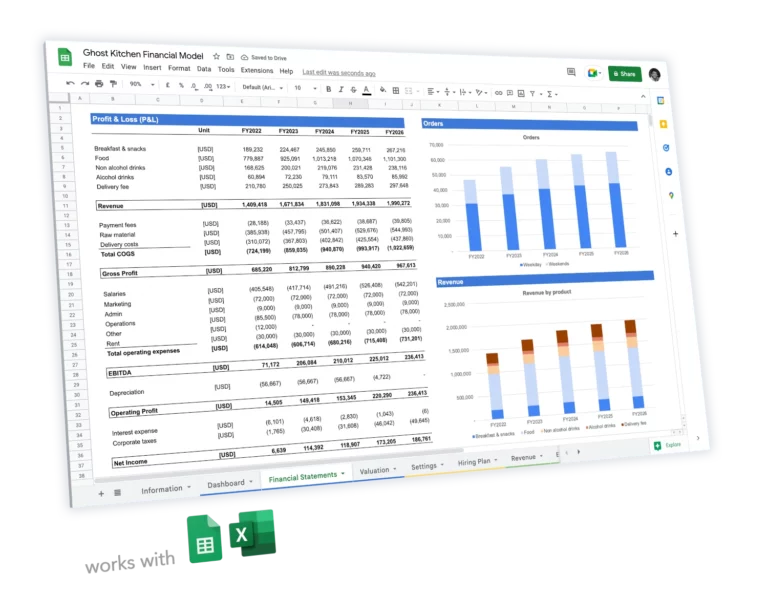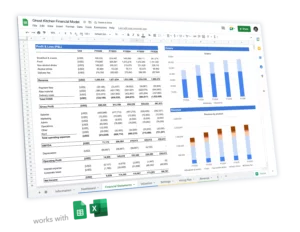 Ghost Kitchen Financial Model
5-year financial projections
Suitable for bank loan applications and investors
c) Financial Projections
In addition to startup costs, you will now need to build a solid financial model over 5 years in your ghost kitchen business plan.
Your financial projections should be built using a spreadsheet (e.g. Excel or Google Sheets) and presented in the form of tables and charts in your business plan.
As usual, keep it concise here and save details (for example detailed financial statements, financial metrics, key assumptions used for the projections) for the appendix instead.
Your financial projections should answer at least the following questions:
How much revenue do you expect to generate over the next 5 years?
When do you expect to break even?
How much cash will you burn until you get there?
What's the impact of a change in pricing (say 5%) on your margins?
What is your average customer acquisition cost?
You should include here your 3 financial statements (income statement, balance sheet and cash flow statement). This means you must forecast:
The number of customers and orders over time ;
Your expected revenue ;
Operating costs to run the business ;
Any other cash flow items (e.g. capex, debt repayment, etc.).
When projecting your revenue, make sure to sensitize pricing and the number of customers, sales as a small change in these assumptions will have a big impact on your revenues.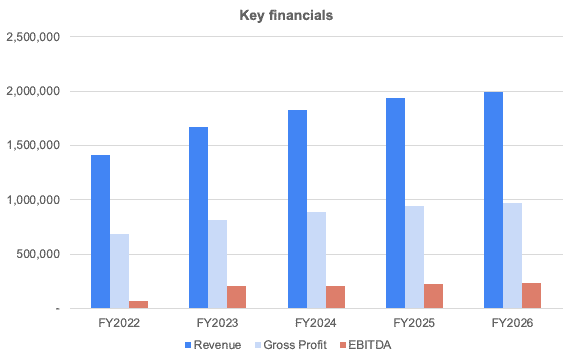 7. Use of Funds
This is the last section of your ghost kitchen business plan. Now that we have explained what your ghost kitchen is about, the industry, management and your marketing strategy, this section must answer the following questions:
How much funding do you need?
What financial instrument(s) do you need: is this equity or debt, or even a free-money public grant?
How long will this funding last?
Where else does the money come from? If you apply for a SBA loan for example, where does the other part of the investment come from (your own capital, private investors?)
If you raise debt:
If you raise equity
What percentage ownership are you selling as part of this funding round?
What is the corresponding valuation of your business?
Use of Funds
Any business plan should include a clear use of funds section: this is where you explain how the money will be spent.
Will you spend most of the loan / investment in paying your employees' salaries and the inventory? Or will it cover mostly the cost for the lease deposit, the renovation and the cooking equipment.
Those are very important questions you should be able to answer in the blink of an eye. Don't worry, this should come straight from your financial projections. If you've built solid projections like in our ghost kitchen financial model template, you won't have any issues answering these questions.
For the use of funds, we recommend using a pie chart like the one we have in our financial model template where we outline the main expenses categories as shown below.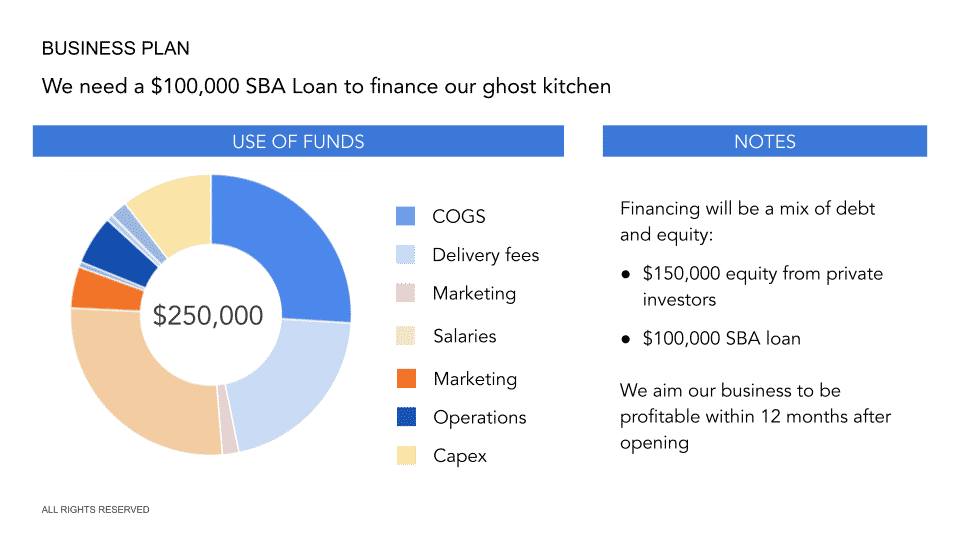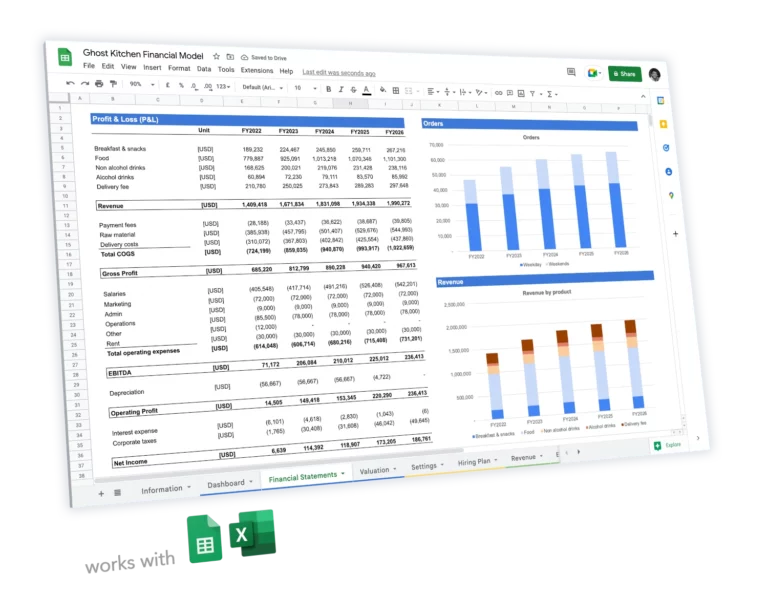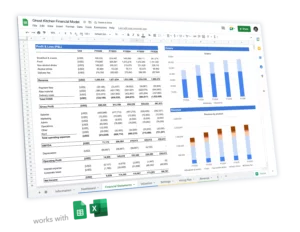 Ghost Kitchen Financial Model
5-year financial projections
Suitable for bank loan applications and investors