How Profitable is a CBD Dispensary?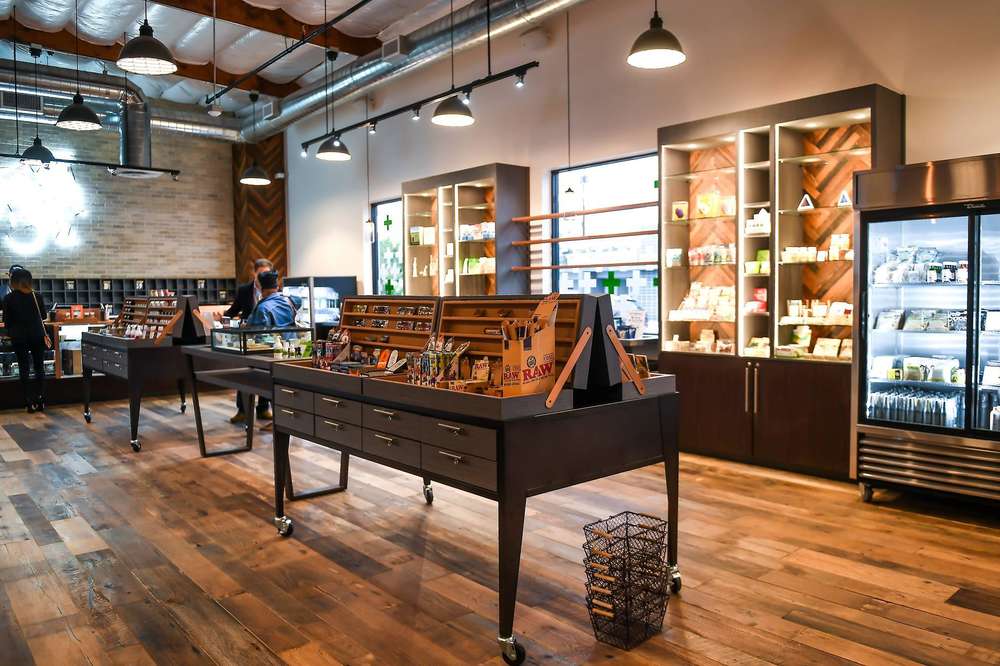 According to Leafly, before regulations and taxes hit the cannabis industry, CBD dispensary profits (vs. production costs) could be as high as 1,000%..! However, small slip-ups could land people in jail for years.
It's interesting to note that while legalization played a major role in the growth of the CBD industry, profit margins have dropped because of it.
Leafly reported that the long-term legal retail profits for cannabis dispensaries are around 15%, which is nearly the same as liquor stores.
According to Kaya Push, CBD dispensaries clocked a profit margin of 12% after tax in 2021.
Of course, profitability depends on various factors like taxes, daily transactions, size & location of the dispensary, operating costs, operating costs, labor costs, and other factors.
Usually, larger dispensaries that serve thousands of customers make more profits than small dispensaries located in smaller towns with limited customer traffic.
For more information CBD dispensaries, make sure to read:
How to Write a CBD Dispensary Business Plan: Complete Guide
How to Open a CBD Dispensary in 9 Steps?
Opening a CBD Dispensary Costs $36,000 to $64,000
How does a CBD dispensary make money?
There are multiple ways in which CBD dispensaries make money. Whether you are looking for methods to increase your customer base or to retain your existing customers, there are a few methods you can use to make money, and they include:
Direct store sales with loyalty programs
CBD stores make money by selling CBD products with a high-profit margin. The usual income source is through direct sales to customers. However, it is essential to have a loyal customer base. Many CBD store owners come up with unique loyalty programs for customer retention.
Targeting the pet industry
CBD products have infiltrated the pet industry as well. Pet parents often look for alternative healthcare products for their pets, and CBD products have emerged as an alternative vertical due to their non-psychoactive properties and health benefits. Many CBD stores sell products designed specifically for pets.
CBD vending machines
Many CBD dispensaries are now resorting to vending machines (Canaboxx) to stay relevant in the COVID world where no-contact sales and social distancing are the new normal. According to BizBuySell, these vending machines can produce up to 100% ROI in just 8-10 months.
Online sales
To increase their reach and increase customer base, many CBD dispensaries are supplementing their businesses with online stores. This is beneficial because store owners do not need to invest in warehousing. They just need to depend on third-party logistics (3PL) for the delivery of online orders.
How much CBD dispensaries make on average?
Kaya Push reported that CBD dispensaries produce around $2 million in annual sales.
According to a 2016 study by MJBizFactbook, medical marijuana dispensaries and recreational stores usually have annual revenue of $974 per square foot.
The same source assumes the average salary of a CBD owner ranges between $250,000 to $500,000 a year. This assumes salary equals the profits of the CBD store. Of course, every store is different, and the profits range dramatically based on a number of factors which we explain below.
What is the average profit margin for a CBD dispensary?
According to Leafly, the average profit margin for a CBD dispensary is around 15%, which is nearly the same as liquor stores.
To understand and calculate the profit margin of a CBD dispensary, one must take into account all the costs required to run the business.
How much it costs to run a CBD dispensary?
There are several recurring costs involved in running a CBD store and they include:
Cost of Goods Sold (COGS): Cost of procuring the goods you will sell
Salaries: The salary you need to pay to your staff and yourself
Marketing & Advertisements: Cost of marketing and advertising your CBD dispensary
Utility Bills & Janitorial Services: The cost of utilities like electricity, water, etc., and the cost of janitorial services to keep your store clean
Bookkeeping Fees: The cost for accounting services that you will need for your store
Insurance: The cost of business insurance along with property insurance, workers' compensation insurance, etc.
POS System: The cost of maintaining the hardware and software for billing and inventory management
Website (optional): The cost of operating a website/blog or an e-commerce store
3PL (or third-party logistics) (optional): The cost of using 3PL services for delivery if you have an e-commerce store
On average, it costs between $34,000 and $41,000 a month to run a Cannabis or CBD store. The actual costs depends on the turnover, dispensary outlet size, location, inventory size, total staff, and various other factors.
| Startup cost | Amount |
| --- | --- |
| COGS | $20,000 |
| Salaries | $8,000 – $12,000 |
| Marketing | $3,000 – $4,000 |
| Rent (incl. bills) | $2,000 – $3,000 |
| Other | $1,000 – $2,000 |
| Total startup costs | $34,000 – $41,000 |
Learn about the different costs of opening and running a CBD dispensary.
How to forecast your CBD dispensary profits?
In order to calculate your own CBD store profits, you must first forecast revenues and expenses.
Profits = Revenue – Expenses
Forecasting revenues
Revenues can easily be obtained by multiplying the number of customers that come in your store and purchase (conversions) by the average order value.
Revenues = Conversion x Average order value
For example, if 500 customers buy oil tinctures, isolates and vaporizers with an average price of $50, revenues is $25,000.
Forecasting expenses
Expenses are 2 fold:
Variable expenses: these are the COGS as explained earlier. They grow in line with your revenue: if your turnover increases by 10%, variable expenses grow by 10% as well
Fixed expenses: most salaries, rental costs and all the other costs listed above
Calculating profits
When we refer to profits, we usually refer to EBITDA (Earnings before interests, taxes, depreciation and amortization) as it represents the core profitability of the business, excluding things such as debt interests, non cash expenses and other non-core expenses.
In order to get to EBITDA, we use the following formula:
EBITDA = Revenue – Operating Expenses
To make it clearer, we've included below the profit-and-loss of a CBD store (from our financial model template for CBD dispensaries).
Whilst gross margin (after variable costs) is around 50%, EBITDA margin can go up to 15-20% depending on the business.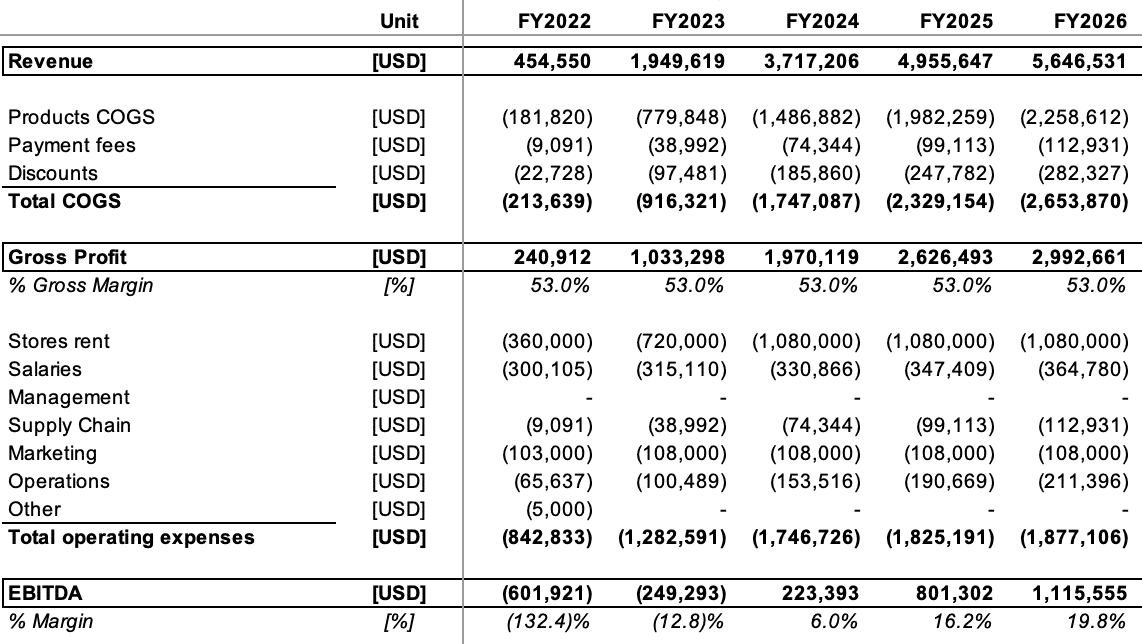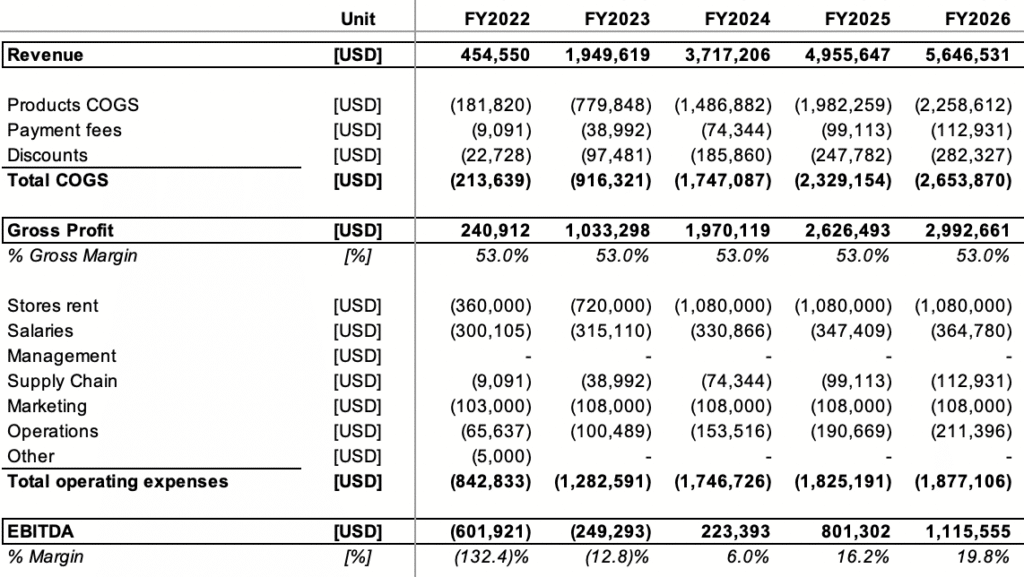 What is the break-even point for a CBD dispensary?
Break-even is the point at which total costs and total revenue are equal. In other words, the breakeven point is the amount of revenue you must generate to turn a profit.
Because you must at least cover all fixed costs (that aren't a function of revenue) to turn a profit, the break-even point is at least superior to the sum of your fixed costs.
Yet, you also need to spend a certain amount for every $1 of sales to pay for the variable costs. As we just saw, CBD dispensaries have gross margin of about 50%. This means that for every $1 of turnover, you must pay $0.5 in variable costs.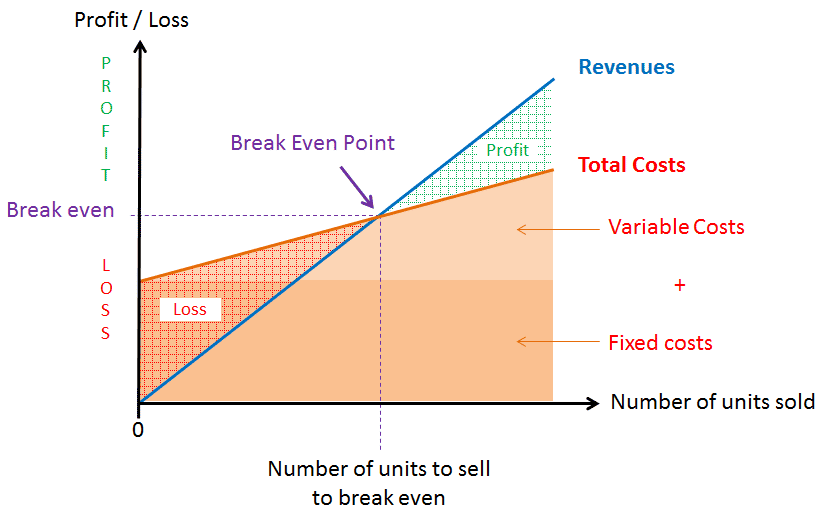 The break-even point can easily be obtained by using the following formula:
Break-even point = Fixed costs / Gross margin
Let's assume your store makes $50,000 in sales and has the following cost structure:
| Operating costs | Variable vs. fixed | Amount |
| --- | --- | --- |
| COGS | Variable cost | $20,000 |
| Salaries | Fixed cost | $12,000 |
| Marketing | Fixed cost | $4,000 |
| Rent (incl. bills) | Fixed cost | $3,000 |
| Other | Fixed cost | $2,000 |
| Total | | $41,000 |
The break-even point would then be:
Break-even point = Fixed costs / 50% = $42,000
In other words, you need to make at least $42,000 in sales to turn a profit.
How to increase your CBD dispensary's profits?
There are a few options for you to increase the profits of your CBD dispensary, including:
Use referral programs
Use membership plans
Launch an affiliate program
Use influencer marketing
Participate in trade shows
Perform website SEO & use content marketing
Utilize email marketing
Sell bundled products