Ghost kitchens (or "dark", "virtual" or "cloud" kitchens) are very attractive businesses for cooks and entrepreneurs: they have significantly lower startup and operating costs. Also, the startup costs to open a dark kitchen are much lower vs. a restaurant.
For example, a shared kitchen can cost as low as $2,000 in startup costs vs. up to $274,000 if you decide to buy and equip your own kitchen..!
That's only part of the answer: whilst a shared kitchen will cost you much less in startup costs, having your own kitchen will be more profitable and less expensive in the long term to run.
Want to know more? Here is an overview of the costs to expect when you open your dark kitchen. Let's dive in!
For more information on dark (or "cloud", "ghost") kitchen businesses, make sure to check our guides below: 
How to Start a Ghost Kitchen in 11 Steps: Complete Guide
How to Build a Financial Model For a Dark Kitchen
Business Plan Template For a Ghost Kitchen: Complete Guide
Dark Kitchen Startup Costs
When one starts a new business, there are 2 types of costs you should budget for:
Startup costs: expenses you incur before you can actually do business (buying equipment, renovating the building, purchasing inventory, paying for the lease deposit, etc.)
Operating costs: expenses you incur every month to run the business (staff salaries, raw materials – food supplies – to prepare the meals, bookkeeping, rent, etc.)
In this section we will look first at startup costs. As explained earlier, one of the main advantages of a dark kitchen over a restaurant is that startup costs are not only lower, but as we'll see they can reduced to almost zero in some cases.
To give you a clear overview of the costs you can expect when you open your own dark kitchen, we have laid out below 2 examples: a white label dark kitchen in a kitchen you own (1) and another operating in a shared kitchen you rent (2). For more information on the different types of dark kitchen you can choose from, read our article here.
Lease Security Deposit (or Loan Down Payment)
When it comes to the real estate, there are 2 options for dark kitchens:
You either rent (or buy) the space to install your kitchen
You rent a shared kitchen
If you opt for the later, you can disregard this section as you will likely not need to pay a lease security deposit (nor take a loan for purchasing the real estate). In this section we'll only look at entrepreneurs who rent a
If you decide to rent the space
If you decide to lease a property, you must commit to occupying it for several years and pay a security deposit (refundable). This will vary depending on location and the size of the property.
So, if you are leasing a 1,000 sq. ft. for your dark kitchen, you can expect to pay a rent of $2,000 if you pay $25 per sq. ft. per year. With that calculation, if you are required to provide a security deposit worth 3 to 6 months of rent, so a total of $6,000 to $18,000.
If you decide to buy the space
Instead of leasing a place, if you want to buy a commercial place, you will need to provide a down payment for the loan (unless you have a fat wallet) of at least 10%. So, if the commercial space costs $250,000 – $350,000, a 20% down payment means you will need to pay $50,000 to $70,000 upfront (in addition to notary fees).
Dark Kitchen Equipment Costs
Whether you opt for renting or buying an empty space to open your dark kitchen, you will need proper commercial kitchen and cooking equipment.
If you plan to rent, you can save on startup costs by renting restaurant space with pre-fitted equipment rather than filling out empty premises. Pre-fitted ghost kitchen comes with ready-to-use workspaces that include counters, prep tables, washing equipment, steam tables, cold food tables, etc.
Your ghost kitchen will need the following equipment:
Kitchen appliances: they include stoves, ranges and ventilation, fridges and freezers, dishwashers, ovens, and other kitchen appliances
Cooking ware / equipment: A kitchen will require pots, cutting boards, knives, pasta cookers, cocktail shakers, ice cube machines, filters, spoons, pots, and pans
Commercial kitchen equipment typically costs between $40,000 and $200,000, depending on different factors such as the required equipment and features, your kitchen menu, retailer margins and energy efficiency.
To save on the costs, consider multi-purpose kitchen equipment and invest in the equipment that matters most. One advantage of ghost kitchen is that you do not need to invest in fancy equipment, unlike food trucks or physical restaurants.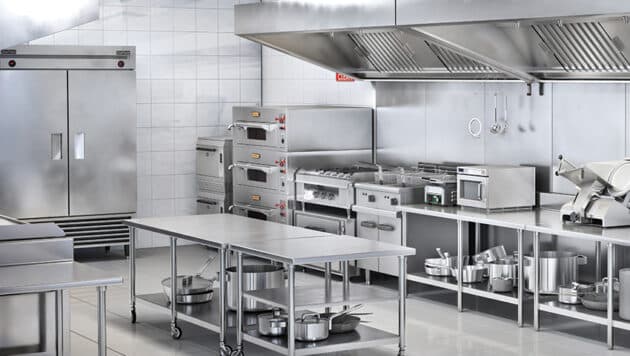 Legal fees & licensing
Like any other business, you will have to incur legal fees and business registration fees.
You would have to create a structure for your business, which can be a limited liability company, a corporation, a sole proprietorship, etc. You can check out the SBA guide for further information on structures, fees, and documents required.
Also, you will need a few licenses to operate. Make sure to check the relevant licenses that apply to restaurants. Acquiring these licenses will cost extra depending on your state, and whether you offer alcohol (which most dark kitchen don't).
For example, a liquor license alone can cost anywhere from $12,000 to $400,000 for hard liquor depending on the state, but only $3,000 on average for a wine and beer license. So assuming you only offer food, you should be alright with $500 to $1,000 for a foodservice license.
Dark Kitchen Initial Inventory
You will have to stock up on some inventory (food supplies costs) before you can open your dark kitchen.
Logically, this cost varies based on your menu, and whether you offer drinks or just food. On average, restaurants spend $8,000 in initial inventory. Yet, as dark kitchen are more flexible (they can adapt the menu to customer needs more easily) and often don't offer any expensive spirits or alcohol beverages, you should be alright with $1,000 to $4,000 only for the first few days of orders.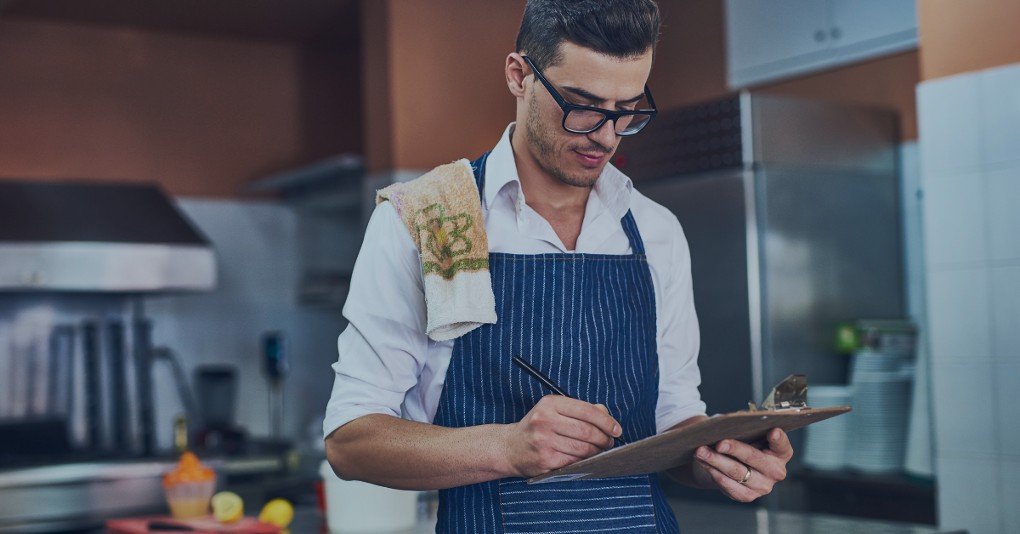 Dark Kitchen Operating Costs
In addition to the startup costs discussed above, there are a number of recurring (or "operating") costs that any dark kitchen must budget for after opening.
Here again, we have estimated recurring costs for 2 types of cloud kitchen:
A kitchen you own (whether you rent or bought the space);
A shared kitchen
In the end, whilst a shared kitchen will cost you much less in startup costs (see above), having your own kitchen will be more profitable and less expensive in the long term to run.
COGS
Like any other restaurant, the Cost of Goods Sold (COGS) is perhaps the most important operating cost you must account for when operating a dark kitchen.
The COGS for restaurants is usually between 28% and 35% of monthly revenue, but it can be as high as 40%. Of course, the cost will depend on the type of food you serve. For instance, a steakhouse will usually have a COGS of 40%, while an Italian restaurant will have COGS of 28%.
For example, if you receive 100 orders in a day, that's 2,500 orders a month (assuming 6 days a week). With an average order value of $20, the total monthly revenue would be $50,000. The COGS in that case will be around $14,000 – $17,500.
Do not forget that this percentage can significantly fluctuate depending on factors like local & international supply and demand, international trade restrictions, supplier contract terms, and more.
Food delivery apps commission
If you decide to rely only on food delivery apps (UberEats, Grubhub, etc.), you will have to pay (costly) commission fees for each order.
Unless you are a very successful, established restaurant or ghost kitchen (or a franchise), it's likely that you will fall into the most standard commission fee of 30%.
So assuming monthly revenue is $50,000, that's an additional $15,000 in costs for delivery commissions alone. This assumes 100% of your orders come from food delivery apps.
Keep in mind that having your own courier may save you money, yet it will also be more complicated to run logistics and less flexible.
Rent (or Mortgage Payment)
If you leased a restaurant space, you will need to pay monthly rent. On the other hand, if you took a loan to buy the restaurant space, there will be monthly mortgage repayment. However, the amount you pay per month will depend on a number of factors including the size of the space, location, lease or purchase, and more.
Using the same example as before, assuming you rent a 1,000 commercial space for your kitchen (at $25 per sq. ft. per year), you would be paying $2,000 per month in rent.
Rent (shared kitchen)
Now, assuming you rent a fully functional shared kitchen, you would be paying a rent like you would for an empty commercial space.
The cost will, logically, be much higher though. Indeed, here you're saving on the cost to purchase all the necessary kitchen equipment discussed earlier.
The cost is usually quoted per day (or per month) and varies based on the amenities (cold room or not, storage unit, office, etc.), the location and other factors. As a rule of thumb, you would be paying around $250 to $400 for a large (1,000 sq. ft.) kitchen in a prime location in the US. That's a total of $6,250 to $10,000 per month (assuming you rent 25 days a month).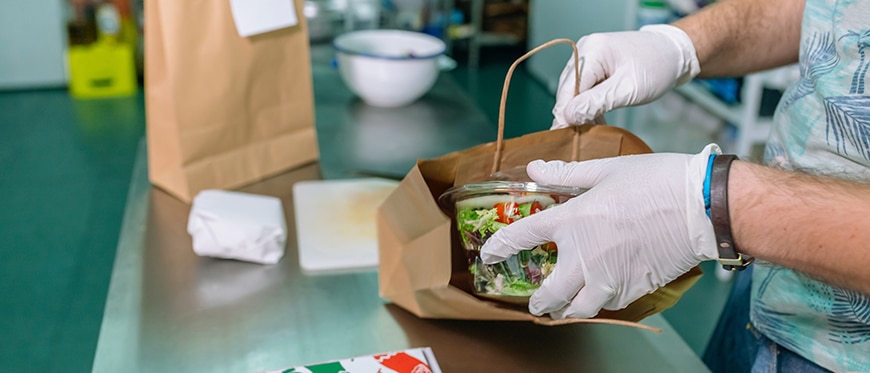 Employee Salaries
COGS and employee salaries are the most important costs to operate a restaurant. This cost is also a variable cost and depends on the location and various other factors.
For example, a head chef earns on average $50,500 per year in the US. Prep cooks instead earn
As a percentage of sales, dark kitchen spend much less vs. restaurants. This makes sense as there is no serving (no waiters and waitresses, no hosts). That's why ghost kitchens typically attain staff costs as low as 20-25% of sales, close to fast food restaurants with counter-service only, and far from table-service restaurants that typically spend 30-40% of their revenues in staff expenses instead.
So assuming the same $50,000 monthly revenue, this means you would spend around $10,000 – $12,500 in staff costs per month (4 employees).
Utilities
This is only relevant if you rent (or buy) your own kitchen (vs. a shared kitchen). As a rule of thumb, you will be spending 25% of your rent in bills. Therefore, your rent is $2,000 per month, budget around $500 for bills depending on the size of your dark kitchen.
Marketing
You need to ensure proper marketing to attract reliable customers to your restaurant. Therefore, make sure you set aside a marketing and advertising budget. The marketing costs to promote your menu and ghost kitchen will depend on the medium used and the target audience.
You can get away with very minimal marketing costs if you only rely on the largest 3rd party food delivery apps (Uber Eats, GrubHub, etc.). Yet, you will need to spend significantly more if you want to acquire customers outside the platform and avoid the costly 15-30% commission.