Dallas' Top 10 Startup Accelerators & Incubators [2022]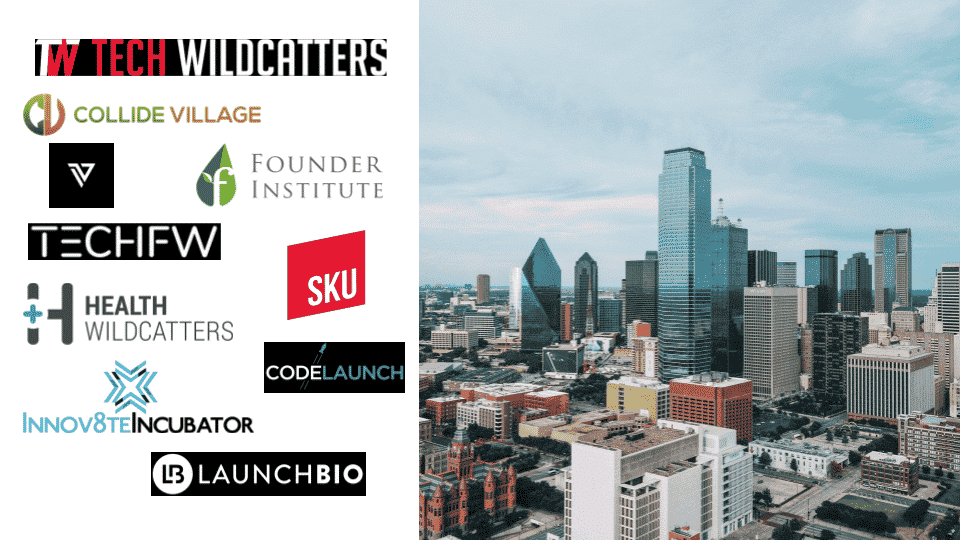 Are you looking for capital and/or mentorship for your startup in Dallas? Beyond funding, Dallas' startup accelerators and incubators also offer founders incredible valuable support for product development, sales and marketing.
Whether you are looking to find a co-founder, build your MVP and/or get the seed money you need to scale up, accelerators and incubators are the way to go!
In this article we have listed our top picks for Dallas' best startup accelerators and incubators. So, if you haven't yet started to apply, here is a good place to start learning about them.
Note: this article is part of a series where we present you the top startup incubators and accelerators across the world. For Texas, have a look at our top picks for Austin, San Antonio, Fort Worth and Houston.
Looking for Dallas' top startup venture capital firms instead? Check out our ranking here.
Dallas' Top 10 Startup Accelerators & Incubators
Here's a summary of our top 10 picks for the best startup accelerator and incubators in Dallas (in alphabetical order):
* Investment in return for 8% equity (with potential further investment of up to $380k)
** For the accelerator program. Variable program length for the incubator program
Fundraising?
Download a financial model template, fill it out in minutes and get funded
20+ charts & metrics

Video tutorial

Free expert review
Founded in 2012, Code Launch is a startup accelerator that focuses on software businesses and organizes a yearly seed accelerator competition for startups that depend on software development to reach the MVP stage.
The seed accelerator competition starts with a Pitch Day competition and the winners graduate into the Startup Expo where the finalists get to interact with business owners, investors, and entrepreneurial community.
Eventually, the audience selects the a winner through votes that gets extra seed services from extra vendors. Participants don't need to pay any fee or surrender any equity to Code Launch.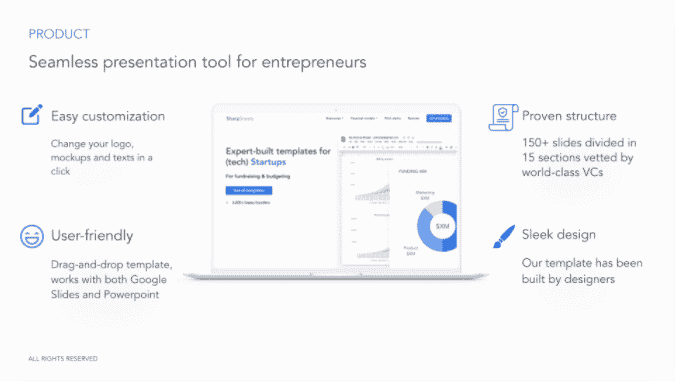 Need a Pitch Deck?
Collide Village CoBuild is a startup hub with different services, including an incubator that focuses on tech-enabled businesses that are either in idea stage or already have an MVP.
The program works with novel ideas that may be from participating founders or their own. The program works in three phases:
Ideation: 4-6 months with investment of $50k
Validation: 6-8 months with investment of $50k
Traction: investment of $100k
Moreover, the purpose of the program is to take early-stage ideas and convert them into revenue-producing businesses in the shortest possible time.

The Founder Institute is one of the most famous global startup accelerators. Indeed, with offices in over 200 cities and 65 countries worldwide, the Founder Institute has invested in over 5,000 startups to date.
Also, like any of their other chapters worldwide, their accelerator in Dallas runs 4-month programs at the end of which graduate founders must commit 4% equity to the Founder Institute Collective (see more on that here).

Health Wildcatters Accelerator Program focuses on startups in the healthcare industry and offer a 12-week program where 8 to 12 startups are chosen every year.
Selected startups receive various in-kind perks along with $30k investment against 8% equity. Successful participants can also receive follow-up investment of up to $380k.
In addition to funding, the participants receive mentoring from a network of 200+ individuals from healthcare industry, related verticals, and professional services.
Impact Ventures offers multiple programs focusing on pre-seed and seed-stage business run by women, people of color, black, hispanic, veterans, or LGBTQ.
The 2 accelerators programs are:
LEAP (short fo Local Entrepreneurs Accelerator Program): 12-week program that focuses on North Texas-based early-stage and growth-stage for-profit businesses. Also, it's worth nothing that this program is sector agnostic: all businesses can apply. Moreover, it offers founders technical assistance, dedicated mentorship, and access to investors
Inclusive Innovation Accelerator Program: 12-week program that focuses on on North Texas-based pre-seed and seed-stage for-profit businesses. Yet, unlike LEAP, this program focuses on tech, tech-enabled, and growth-oriented businesses. Participants get technical assistance, dedicated mentoring, access to investors
Fundraising?
Download a financial model template, fill it out in minutes and get funded
20+ charts & metrics

Video tutorial

Free expert review
Founded in 2019, the Innov8te Smart Cities Incubator focuses on early-stage startups working in sectors that support civic and urban transformation.
The participants receive mentorship, education, and community support from Innov8te mentors.
Though Innov8te accepts applications throughout the year, the program program has a 6-month cycle, and regardless of the time when an application is accepted, participating companies go through the full cycle.
Yet, note that Innov8te Incubator doesn't invest directly in the companies. Instead, startups must pay a small fee for participation. Also Innov8te doesn't take any equity like other incubators and incubators.
LaunchBio incubator focuses on life science and biotech startups, and helps them in building entrepreneurial support network.
The program helps startups to understand the challenges and common mistakes, and offers mentoring via peer-to-peer discussions with industry experts, corporate partners, venture capitalists, and angel investors.
Based in Austin and founded in 2011, SKU Dallas focuses on Dallas and Fort Worth-based later-stage startups in Consumer Product Goods (CPG) sector.
This 12-week program focuses on brand mission and vision, but also channel strategy, branding, legal and finance.
Although very famous, only six to seven startups with over $500k yearly revenue are selected for the program each year. In addition to $20k in funding at the end of the program, every participant receives mentoring from 60 CPG leaders.
Founded in 1998, Tech Fort Worth is both a startup incubator and accelerator. Indeed, it offers 3 different programs:
ThinkLab: It is a startup accelerator focused on tech startups and life science startups where founders get mentoring on business model, but also market strategy, financial forecasting, go-to-market plan and more. Yet, note that participants of this 4 months program need to pay a fee of $1,000 to participate
SmartStart: It is a business incubator where participants must develop and MVP during the program, while TechWF helps in engaging early adopters, prototyping and test marketing. The program lasts for 18 months. Yet, note that participants must pay $4,000 yearly fee to participate
FastForward: Designed for high-growth companies with a scalable business model, this program helps startups to scale. Also, the participants must pay a $8,000 yearly program fee to participate
Tech Wildcatters focuses on seed-stage tech and tech-enabled startups with a Minimum Viable Product (MVP). Therefore, the accelerator program helps founders in finding product market fit (early adopters for their MVP), launching the beta product and generating revenue.
Founders also benefit from workshops and mentorship to achieve sales growth and prep up for gaining access to funding. Moreover, the accelerator program invests $100k per company in return for up to 10% equity.
Fundraising?
Download a financial model template, fill it out in minutes and get funded
20+ charts & metrics

Video tutorial

Free expert review