FASTSIGNS Franchise Sales, Costs & Profits (2023)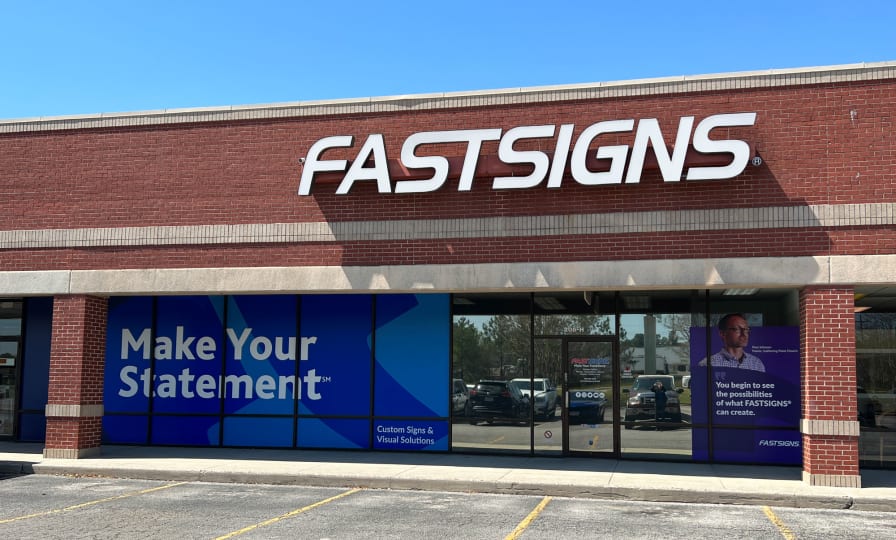 One of the leading promotional marketing and signage franchise, FASTSIGNS has grown significantly over the past 10 years to reach 670+ franchised outlets in the US today.
We think there's a good reason for that: like most signage franchises, FASTSIGNS offers a compelling investment case to prospective franchisees. Why? It's a very profitable business.
Indeed, with an initial investment of $278,000 (on average), one FASTSIGNS franchise earns $880,000 in turnover per year, impressive.
Want to hear more? In this article we're looking at the latest Franchise Disclosure Document to find out how much FASTSIGNS franchises (really) cost and how profitable the business is.
Key stats
| | |
| --- | --- |
| Franchise fee | $49,750 |
| Royalty fee | 5.0% |
| Marketing fee | 1.5% |
| Investment (mid-point) | $278,000 |
| Average sales | $880,000 |
| Sales to investment ratio | 3.2x |
| Payback period | 4 years |
| Minimum net worth | $300,000 |
| Minimum liquid capital | $80,000 |
Source: Franchise Disclosure Document 2022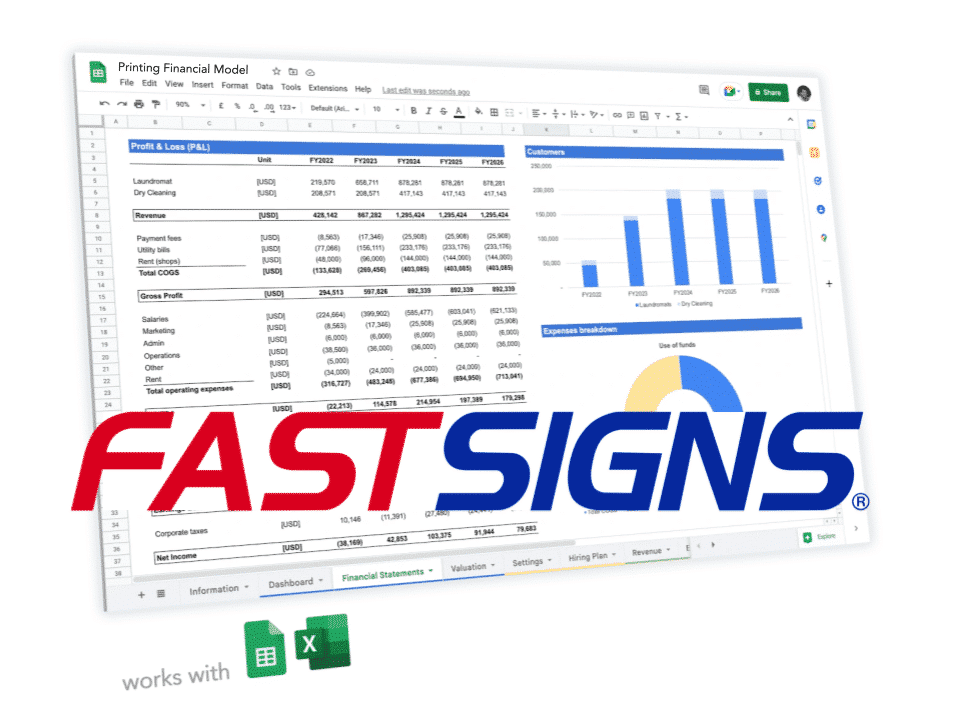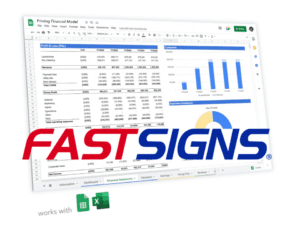 FastSigns Franchise Business Plan
All the stats: startup costs, profits, breakeven, etc.
5-year financial projections built with the FDD

Excellent 4.8/5 based on 70 reviews
Excellent 4.8/5 based on 70 reviews

About FASTSIGNS
Headquartered in Carrollton, Texas, FASTSIGNS is a B2B franchise of custom signage and graphics for companies of all sizes.
It operates sign and graphic centers for visual communication specialists, project managers, production specialists, graphic designers and content developers, providing a wide range of services and products such as custom banners, signs and graphics, digital displays and much more.
FASTSIGNS was founded in 1985 by Gary Salomon and Bob Schanbaum in Austin, Texas. It began franchising in 1986 and has expanded into eight countries, including Australia (where centers operate as SIGNWAVE®). As of 2022, the brand had 761 locations globally, with 673 franchises in the US.
FASTSIGNS is a recognized brand that offers passionate franchisees an investment opportunity to create visual communications through a comprehensive, creative and results-based approach.
FASTSIGNS franchise pros and cons
The Pros:
Site selection and construction: The franchisor provides its franchisees with site selection assistance to identify a suitable business location in terms of demographics and traffic. Also, it provides them with the designs, lease negotiations and store build-outs.
Pre Opening training and support: The brand offers the franchisees comprehensive classroom and online training for the managing principal, graphic designers and visual communication specialists to establish and operate their stores successfully. It trains them on the grand opening, inventory control, management, sign production,marketing strategies and skills.
Market and advertising: The brand provides its franchisees with aggressive marketing strategies to help them create awareness and improve sales. Franchisees can leverage the brand's popularity and promotional programs, such as national media, digital ads, email marketing and local store promotional campaigns.
Third-party financing: The franchisor offers its franchisees financing for startup costs, franchise fees and ongoing costs through third-party lenders.
Exclusive territory protection: FASTSIGNS grants its franchisees the right to operate in an exclusive territory. Under the agreement, it does not authorize any other franchises or operate competing units in the designated location.
Low staff and inventory: The franchise can be run with a minimal staff of 3 and has low inventory requirements, cutting down on development and operational costs.
The cons:
Not a passive investment: The franchisor does not allow for absentee ownership. It requires franchisees to participate fully in the decision-making and management of their sign and graphic centers.
Not a part-time business: The franchisor requires the franchisees to open full-time for at least 40 hours per week.
Not a home-based or mobile opportunity: The franchise cannot be operated from home or a vehicle. Franchisees must have a fixed office space to operate from.

FASTSIGNS franchise costs
You would have to invest an average of $278,000 to open a FASTSIGNS franchise shop.
The investment covers all the start-up costs you may need to open a printing and signage business. In addition to the $50,000 initial franchise fee, the investment also covers:
Formulation costs: leasehold improvements, deposits, telephone and networking, decor and graphics, signage, business licenses and permits, furniture and fixtures, commercial display, etc.
Equipment: tools, supplies, substrate cutter, production equipment, computer, etc.
Initial marketing costs
Operating costs: initial inventory, architectural engineering, administrative supplies, insurance deposits, professional fees, additional funds, travel and lodging, etc.
Startup costs
Here's the full breakdown:
| Type of Expenditure | Amount |
| --- | --- |
| Initial franchise fee | $49,750 |
| Formulation costs | $37,820 – $77,851 |
| Equipment | $75,368 – $76,974 |
| Initial Marketing | $14,500 |
| Operating costs | $56,877 – $103,413 |
| Total | $234,317 – $322,489 |
Source: Franchise Disclosure Document 2022
FASTSIGNS franchise fees
The initial franchise fee for a FASTSIGNS franchise is $49,750
In addition to the initial franchise fee, you must pay to the franchisor a royalty fee of 5.0% of revenues, as well as a variable marketing fee of 1.5% of revenues.
FASTSIGNS franchise revenue
On average, a FASTSIGNS franchise makes $880,000 in sales per year (the Average Unit Volume).
This number is the average sales per franchise centers for 648 of the 671 franchised centers that operated in all of 2021.
FASTSIGNS franchise profits
We estimate that a FASTSIGNS franchised shop makes $102,000 in profits per year. This corresponds to a 12% EBITDA margin.
Luckily, FASTSIGNS provides a detailed profit and loss in its 2022 Franchise Disclosure Document. In other words, we didn't invent anything: we simply applied the cost structure (as in, percentages of sales) to the franchise-owned Average Unit Volume of $880,000.
| Profit and loss | Amount ($) | As % of Sales |
| --- | --- | --- |
| Sales | $879,944 | 100% |
| COGS | $(254,304) | 29% |
| Gross Profit | $625,640 | 71% |
| Labor | $(315,020) | 36% |
| Advertising Fees | $(27,014) | 3% |
| Auto Expense | $(10,559) | 1% |
| Facility Expense | $(47,517) | 5% |
| Equipment Expense | $(7,480) | 1% |
| Administrative Expense | $(116,153) | 13% |
| EBITDA | $101,898 | 12% |
Source: Franchise Disclosure Document 2022
Is FASTSIGNS a good franchise investment?
FASTSIGNS franchises have EBITDA margins of about 12% as per the latest Franchise Disclosure Document. What does it mean for you as a franchisee if you decide to open a new FASTSIGNS franchised shop?
If we compare the initial investment cost ($278,000 on average) to future profits (assuming 8% net profit margin), we find that FASTSIGNS franchises have a 4 years payback period on average.
A payback of 4 years is excellent, and in line with similar commercial printing franchises. This means that you would be able to reimburse the initial investment within 4 years on average by using the profits generated by the business.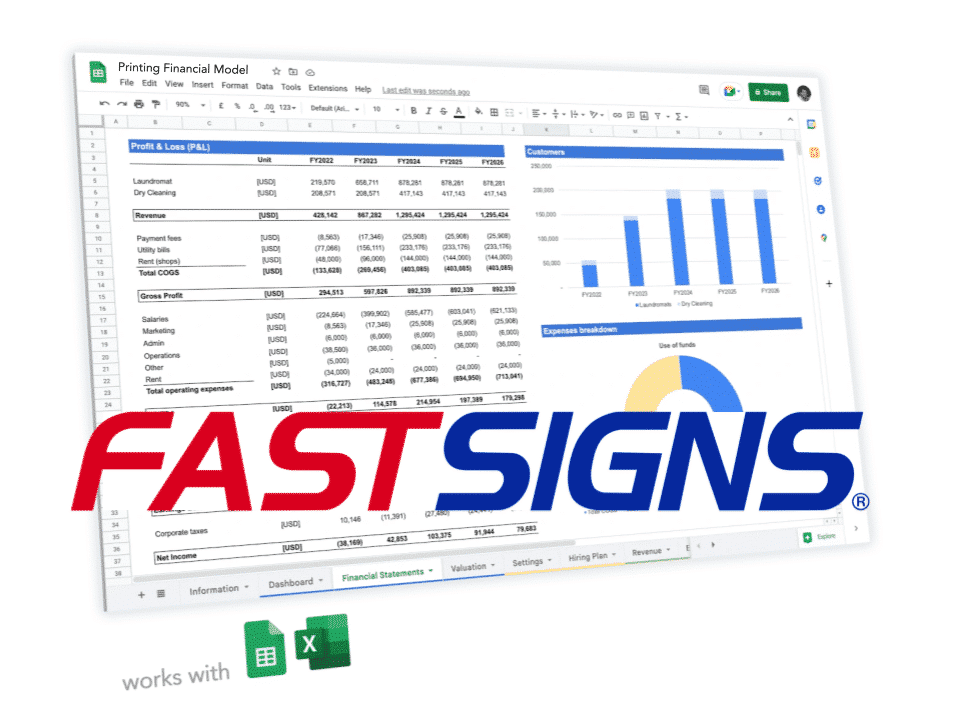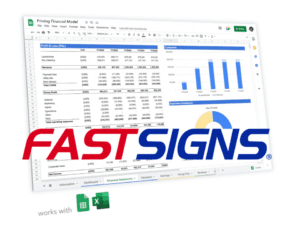 FastSigns Franchise Business Plan
All the stats: startup costs, profits, breakeven, etc.
5-year financial projections built with the FDD

Excellent 4.8/5 based on 70 reviews
Excellent 4.8/5 based on 70 reviews

Disclaimer
Disclaimer: This content has been made for informational and educational purposes only. We do not make any representation or warranties with respect to the accuracy, applicability, fitness, or completeness of the information presented in the article. You should not construe any such information or other material as legal, tax, investment, financial, or other professional advice. Nothing contained in this article constitutes a solicitation, recommendation, endorsement, advertisement, or offer to buy or sell any franchises, securities, or other financial instruments in this or in any other jurisdiction in which such solicitation or offer would be unlawful under the franchise and/or securities laws of such jurisdiction.
All content in this article is information of a general nature and does not address the detailed circumstances of any particular individual or entity. Nothing in the article constitutes professional and/or financial and/or legal advice, nor does any information in the article constitute a comprehensive or complete statement of the matters discussed or the law relating thereto. You alone assume the sole responsibility of evaluating the merits and risks associated with the use of any information or other content in this article before making any decisions based on such information or other content.