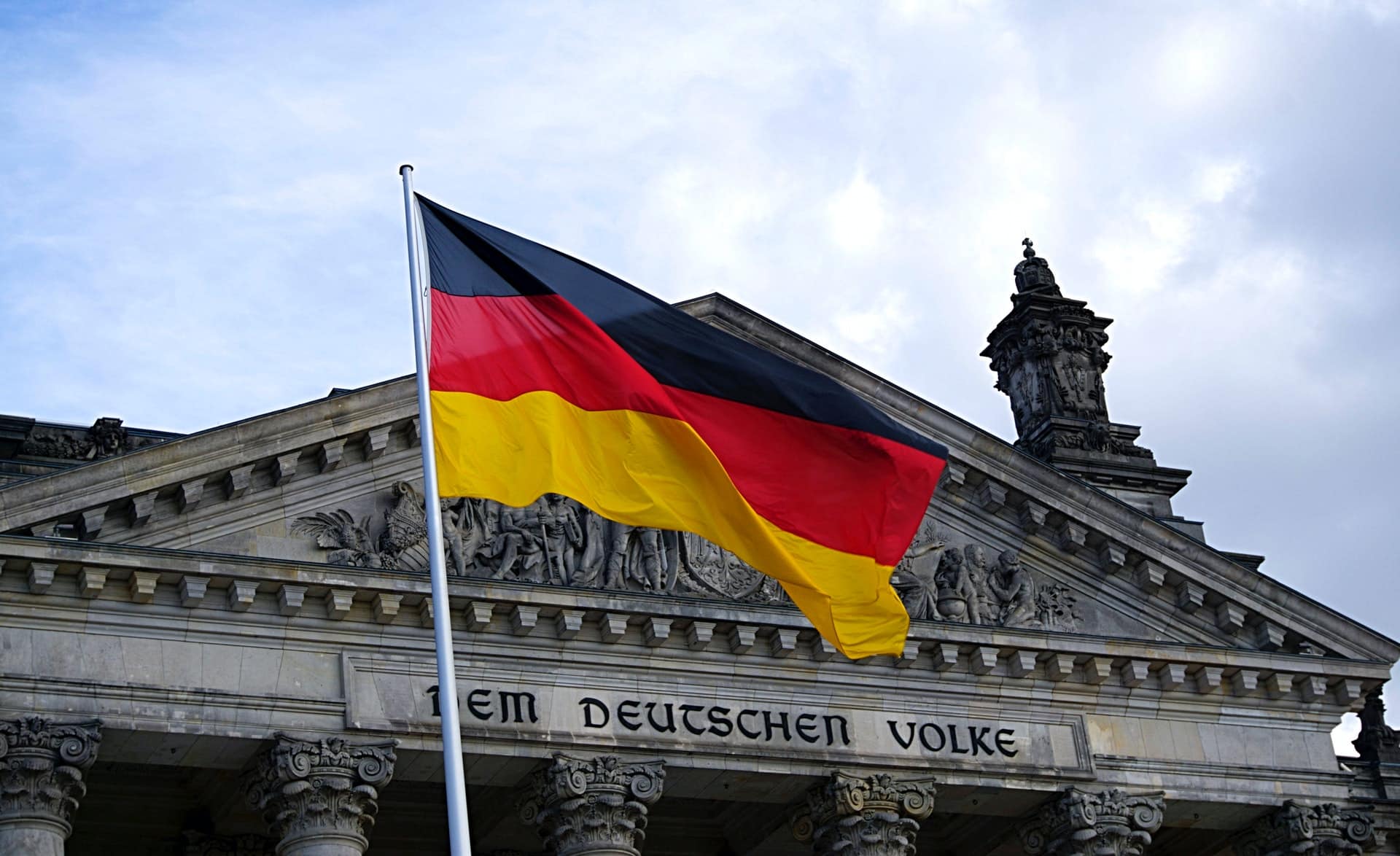 Germany is one of the world's most attractive country for startups. Indeed there are plenty of public grants startups can receive, to start off or scale up – no strings attached. So, what are Germany's top 10 public grants for startups? Is your company eligible? How much money can you actually receive?
In this article we'll look into Germany's top public grants for startups.
#1: EXIST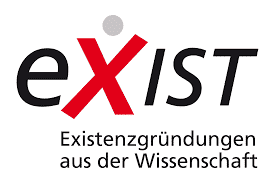 EXIST is a support program from the German Federal Ministry for Economic Affairs and Energy (BMWi) that supports students, graduates and research scientists so they can turn business ideas into prototypes, MVPs and business plans.
They do so via 2 different grants:
Business Start-up provides aspiring entrepreneurs a minimum income and limited funding to start off their business
Research Transfer offers startups and research centres funding to help with product development costs
EXIST Business Start-up
In order to apply, the project must be innovative, unique and have the potential to be marketed to customers as a product or service later on.
The grant can fund a number of expenses:
Personal living expenses from €1,000 (students) to €3,000 per month (doctorates)
Material and equipment from €10,000 (solo founders) to €30,000 (teams)
Coaching: €5,000
EXIST Research Transfer
The grant offers funding separated in 2 distinct phases:
Technical feasibility study (Phase I): up to €250,000 funding
Start of business operations (Phase II): up to €180,000 funding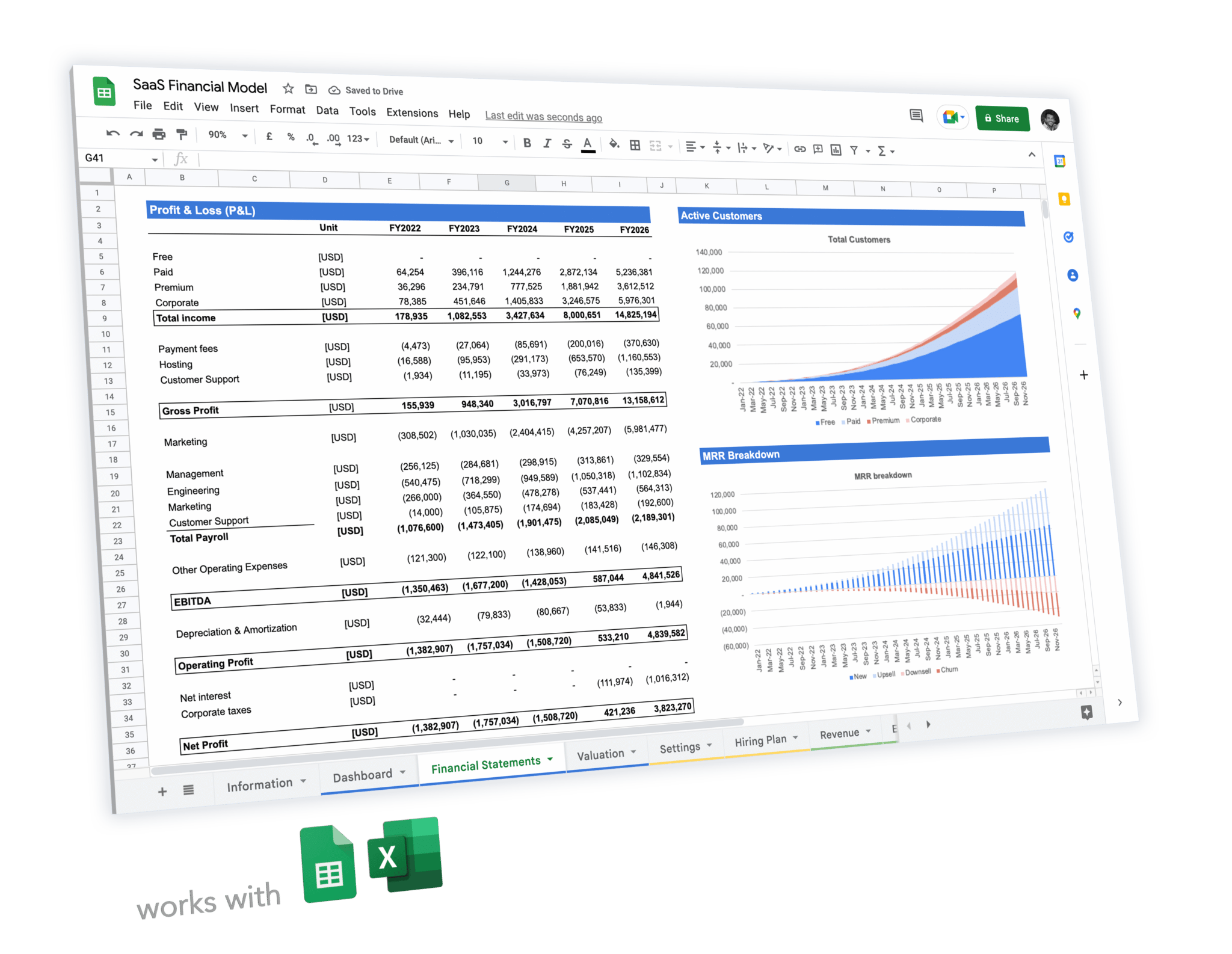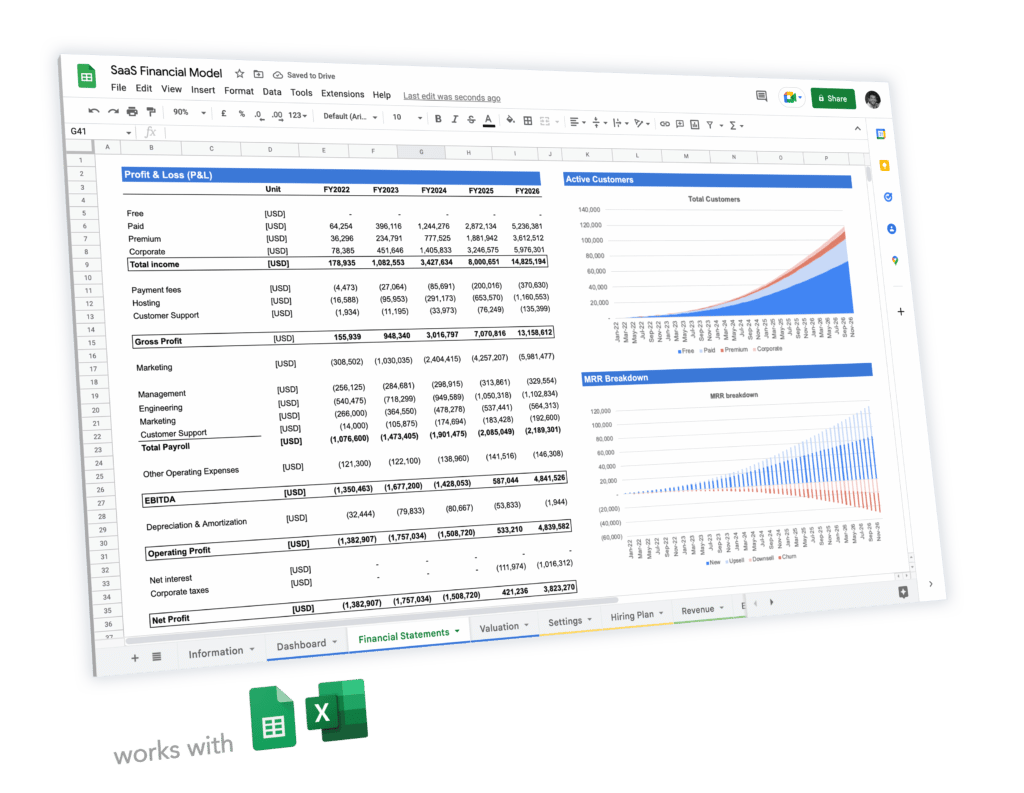 Expert-built financial model templates for tech startups
5-year pro forma financial model
20+ charts and business valuation
Free support
#2: High-Tech Gründerfonds (HTGF)

High-Tech Gründerfonds (HTGF) is a government-backed seed investment fund that helps tech startups start and scale up.
HTGF is huge: they have €900 million in assets under management (AUM) as well as a network of German and international partners. To date, it currently has over 600 start-up companies in its portfolio.
To be eligible your startup must:
Be developing innovative technologies in the areas of digital tech, industrial technology, life sciences, chemistry or related industries
Be no more than 3 years old since incorporation.
Have at least €500,000 in capital (equity or convertible debt)
Have its headquarters or a branch office in Germany
Foreign start-ups must establish that it has a clear connection to the German market and must use at least 70% of HTGF's investment in Germany
#3: Gründung Innovativ
Backed by the State of Brandenburg in Germany and the European Regional Development Fund ( ERDF) Grundung Innovativ is another of Germany's top startups grants.
The grant aims to support SMEs and startups by covering part of their expenditures during the first 3 years of their operations.
Grundung Innovativ offers up anywhere from €25,000 to €100,000 to eligible businesses to fund personnel costs, acquire material, equipment or property for production, pay for consulting services and subcontractor expenses as well as the acquisition of licenses.
Yet, note that the business must fund at least 50% of the total project costs.
#4: GründungsBONUS


Backed by Investitionsbank Berlin, GründungsBONUS is a grant funding scheme which helps fund SMEs and startups cover the costs incurred in their first 2 years of operation.
The grant offers funding for 50% of startups costs up to €50,000 maximum.
In order to be eligible for the grant your startup must:
Be incorporated less than 12 months at the time of application
Be operating within a technological, digital, creative or sustainable industry
Must have its business headquartered and/or operate in Berlin for at least 3 years after the last payment of the grant has been made
#5: BayTOU

Backed by Bavaria's State Government, BayTOU (short for "Bayerischen Technologieorientierte Unternehmensgründungen") is another of Germany's top startups grants.
The funding aims at encouraging startups to invest in innovative technological projects and, more broadly, to support the creation of new businesses in Bavaria.
Moreover, the funding can cover up to 35% of the eligible project expenditures for medium-size business (and 45% for small businesses). Yet, note that the grant funding is limited to €150,000 maximum for software companies. See more details on how much you can actually claim here.
In order to apply for the grant you must:
Have a technology-oriented business
Your company must be incorporated less than 6 years ago
Have less than 10 employees
Prove the project will be carried in Bavaria
See the full list of requirements here.
#6: MEP (by SAB)
MEP (Markteinführung innovativer Produkte – MEP-Zuschuss) is SAB's grant funding program for startups. SAB (Sächsische Aufbaubank – Förderbank) is the development agency of the Free State of Saxony.
The MEP grant aims to support SMEs with the market launch of new and innovative products, processes or services.
The grant covers up to 75% of the eligible expenditures depending on the size of the business:
Businesses with less than 5 years of operations can claim 75% up to a maximum of €150,000
All other businesses can get up to 50% up to €100,000 maximum
To find out more about the eligibility criteria and the conditions of the grant, refer to the document here (in German).
#7: Pro FIT (Frühphasenfinanzierung)
Pro FIT is a number of grant programs for startups backed by the State of Berlin through the Investitionsbank Berlin (IBB). IBB offers financial assistance to technology-oriented SMEs and startups in the early stages of their business operation.
Pro FIT (Frühphasenfinanzierung) is abnother of Germany's top public grants that supports startups with financing in their first years. The grant covers expenses such as personnel costs, investment in material & equipment and other operating expenses.
Unlike non repayable grants, Pro FIT mostly funds projects with loans instead. Therefore, they need to be repaid. There are 2 phases to the Frühphasenfinanzierung grant:
Phase 1: 50% funded with a non-repayable grant and 50% with a loan. The phase must last no more than a year
Phase 2: 100% funded with a loan
Also, what's great about Pro FIT is that businesses can finance 100% of their project costs with the grant. Yet, note the maximum that can be funded is €500,000 total per project.
In order to apply your business must:
Be a newly incorporated business: no more than 12 months ago (phase 1) or 24 months ago (phase 2)
Be a technology-orientated company based in Berlin
Have an innovative R&D project ready for commercialisation (or intended to be commercialised)
Own the intellectual property rights to all products
#8: Pro FIT (Projektfinanzierung)
Pro FIT (Projektfinanzierung) also is one of IBB's FIT grant programs.
Unlike Frühphasenfinanzierung, Projektfinanzierung is meant to fund R&D projects and includes not only companies but also research institutes.
The grant funds industrial research, experimental development, market preparation and launch projects.
As for Frühphasenfinanzierung, the grant is a mix of non-repayable grants (free money) and low-interest loans, depending on the stage the project/business is in (see chart below).


In short, grants can be up to €400,000 and loans up to €1,000,000 per project. Yet, the grant doesn't fund 100% of eligible expenses but 80% instead, so businesses must fund the remaining 20% themselves.
#9: ERP Start-Up Loan
Backed by the German Federal Ministry for Economic Affairs and Energy (BMWi), the ERP Start-Up Loan ("ERP-Gründerkredit") consists of 2 grant programs.
It aims to finance startup businesses with low-interest loans from the ERP fund. The 2 programs are:
ERP Gründerkredit – StartGeld offers small businesses up to €100,000 grant funding
ERP Gründerkredit – Universell offers larger startup businesses up to €25 million funding
Both grants are available to businesses with up to 5 years of operations maximum. Also, the maturity of the loans ranges from 5 to 10 years.
#10: ERP Digitization And Innovation Loan
Another of ERP's grant funding programs, ERP Digitization and Innovation (ERP – Digitalisierungs- und Innovations­kredit) is also a grant that takes the form of a low-interest loan.
Unlike ERP Start-Up Loan, ERP Digitization and Innovation doesn't only focus on early-stage businesses (less than 5 years). Instead, it funds any type of digital and/or innovative company that undertakes the development of new or improved products, processes or services.
To find out whether your business is considered digital and/or innovative under the grant, have a look at the supporting documentation here (in German).
The loan ranges anywhere from €25,000 to €25 million. Also, the grant covers up to 100% of eligible expenses and investment costs.
See more information on the conditions of the grant and whether you can apply here.
More Free Resources For German Startups
We have lots of free resources for German startups. Have a look at our articles below: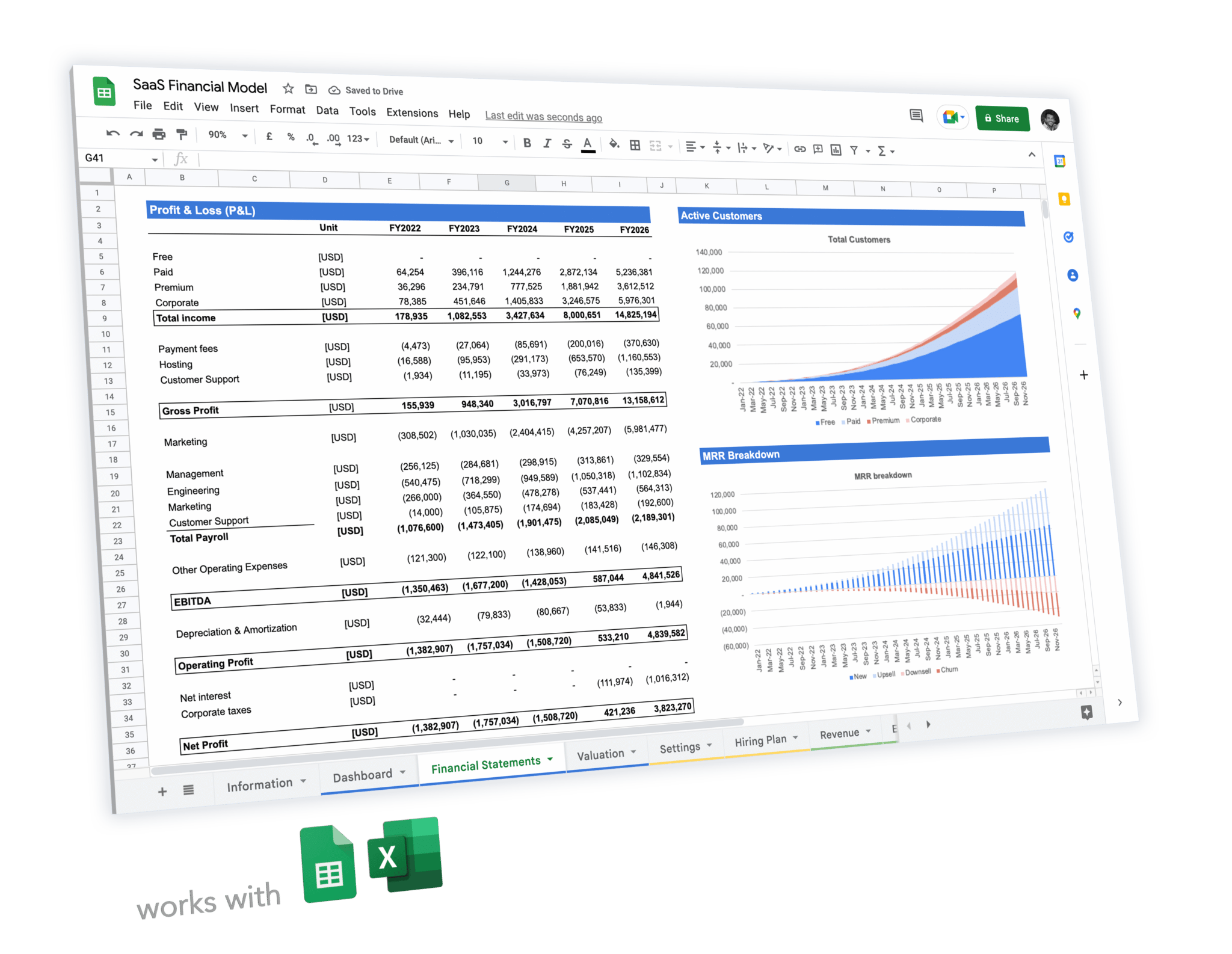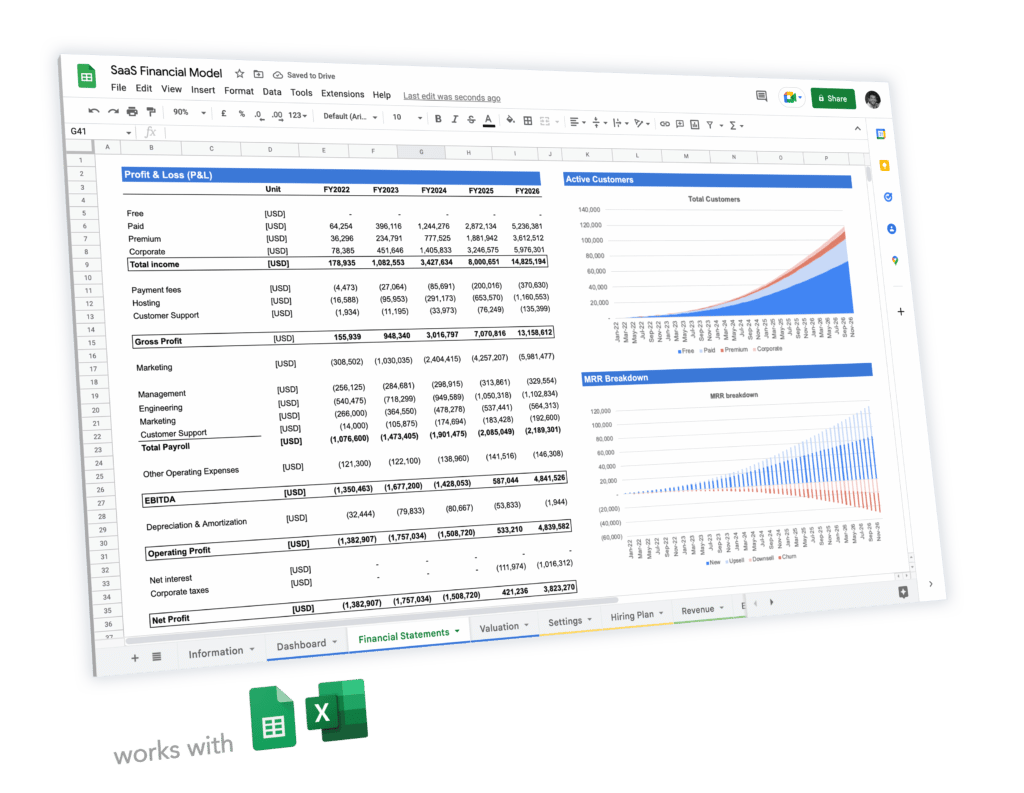 Expert-built financial model templates for tech startups
5-year pro forma financial model
20+ charts and business valuation
Free support