Are you looking to start your own bar? As part of your business plan, make sure to consider the startup and operating costs to start and run a veterinary clinic.
We've identified that it costs anywhere from $148,500 to $239,000 to start a 80 seats bar, as well as $20,000 to $25,000 in operating costs per month to run the business the first few months.
Want to know more? In this article we'll go through all the different costs you will need to incur to start your own bar. Read on!
For more information on bars, make sure to read our guides below:
How To Open a Bar: Complete Guide
How To Build A Financial Model For a Bar?
12 Proven Strategies To Increase Bar Sales & Profits
How to write a Bar Business Plan: Complete Guide
Bar Startup Costs
According to Sage, the average cost of opening a small bar from the ground up ranges anywhere from $110,000 to $850,000.
Logically, the costs to start a bar vary based on various factors and especially: the size of the premises, the location and the type of products you will offer (as the license will vary significantly between wine bars and hard liquor for example).
So below we've decided to give you below a clear overview of all the key expenses you can expect for a 80 seats hard liquor bar in a premium location within a city like Portland. Note that these costs are for illustrative purposes and depend on a number of factors as explained earlier.
| Startup cost | Amount |
| --- | --- |
| Refurbishment & branding | $50,000 – $100,000 |
| Equipment | $92,000 – $123,000 |
| Insurance, Licenses & permits | $500 – $3,000 |
| Initial inventory | $6,000 – $13,000 |
| Total | $148,500 – $239,000 |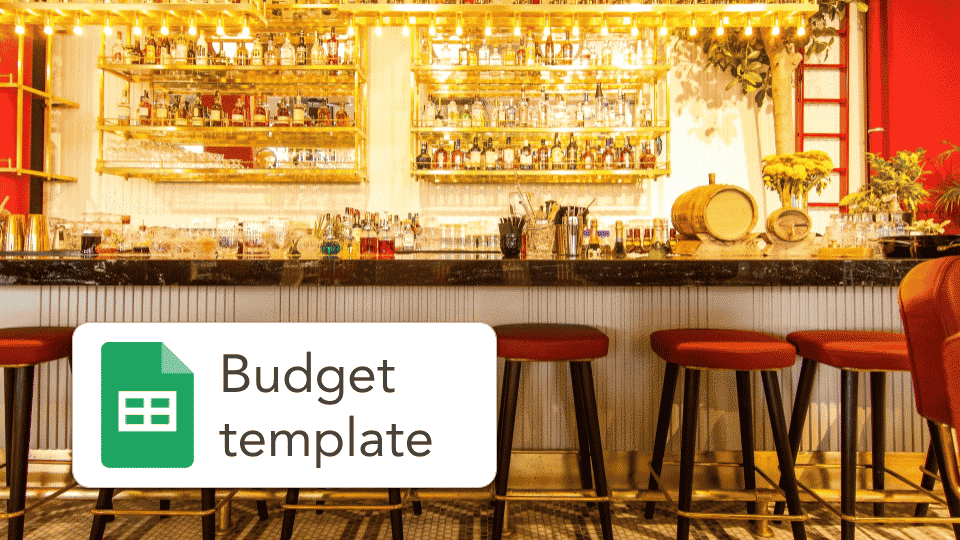 Download the Bar financial model template
Lender & investor-friendly

Easy-to-use Excel template

CPA-developed financials

30+ charts and metrics
Bar refurbishment costs
Opening a new bar involves the cost of renovating the space to reflect your brand and concept. A typical renovation involves new fixtures, lighting, and other architectural redesigns. Depending on the extent of the renovation, expect to pay between $50,000 – $100,000.
Bar equipment costs
To open a bar, you will need different types of equipment, including stools, wine racks and cabinets, refrigerators, counter height tables, and chairs. If you plan to serve food, you will need some kitchen and serving equipment as well.
Let's start with the obvious: the bar equipment.
To put things into perspective, the average cost for underbar stainless steel bar equipment is about $900 per linear foot. For example, the cost of a 2-station bar with stainless steel drink rail, one glass washer and one ice machine is about $47,000.
However, the pricing fluctuates depending on the location and the equipment type. Many high-end bars (e.g. wine bars, cocktail bars) can easily spend around $2,000 per linear foot instead.
In addition to the bar equipment itself, you'll have spend money to purchase, among others:
POS systems: expect to pay anywhere from $2,000 to $8,000 for a complete POS system
Counter height tables, chairs: here the cost vary significantly based on the number of seats as well as the quality. For example, a bar stool ranges anywhere from $150 to $1,300 a piece. Assuming 80 seats at $400 a piece plus tables, you'll be spending $40,000 to $60,000
Glassware: as rule of thumb, multiply the number of seats by 2. Assuming 80 seats, you should have at least 160 glasses. Here again, the cost vary on the quality you choose, expect to pay between $3,000 to $8,000 for 200 glasses
In total, you should budget on average between $92,000 to $123,000 based on our estimations above.
Insurance and licenses costs
Like all other businesses, you need insurance to protect your inventory, equipment, and staff. According to 2ndkitchen.com, the estimated cost of bar insurance in the USA is between $3,000 to $5,000 per year.
You must submit the necessary paperwork to the local municipality and pay the application fee to get a bar license. The cost differs from one state to another depending on the type of licenses or the required permits. The average price for acquiring an on-premise liquor permit is $60 to $2,750 and takes 60 to 90 processing days.
The permits required to open a bar include a certificate of occupancy, entertainment and music license, building health permit, and food handling permit.
Initial inventory costs
You want to make sure the bar is well-stocked before opening it to the customers. For food, soft and alcoholic drinks, expect to spend between $6,000 to $13,000 or more, depending on the bar type and size.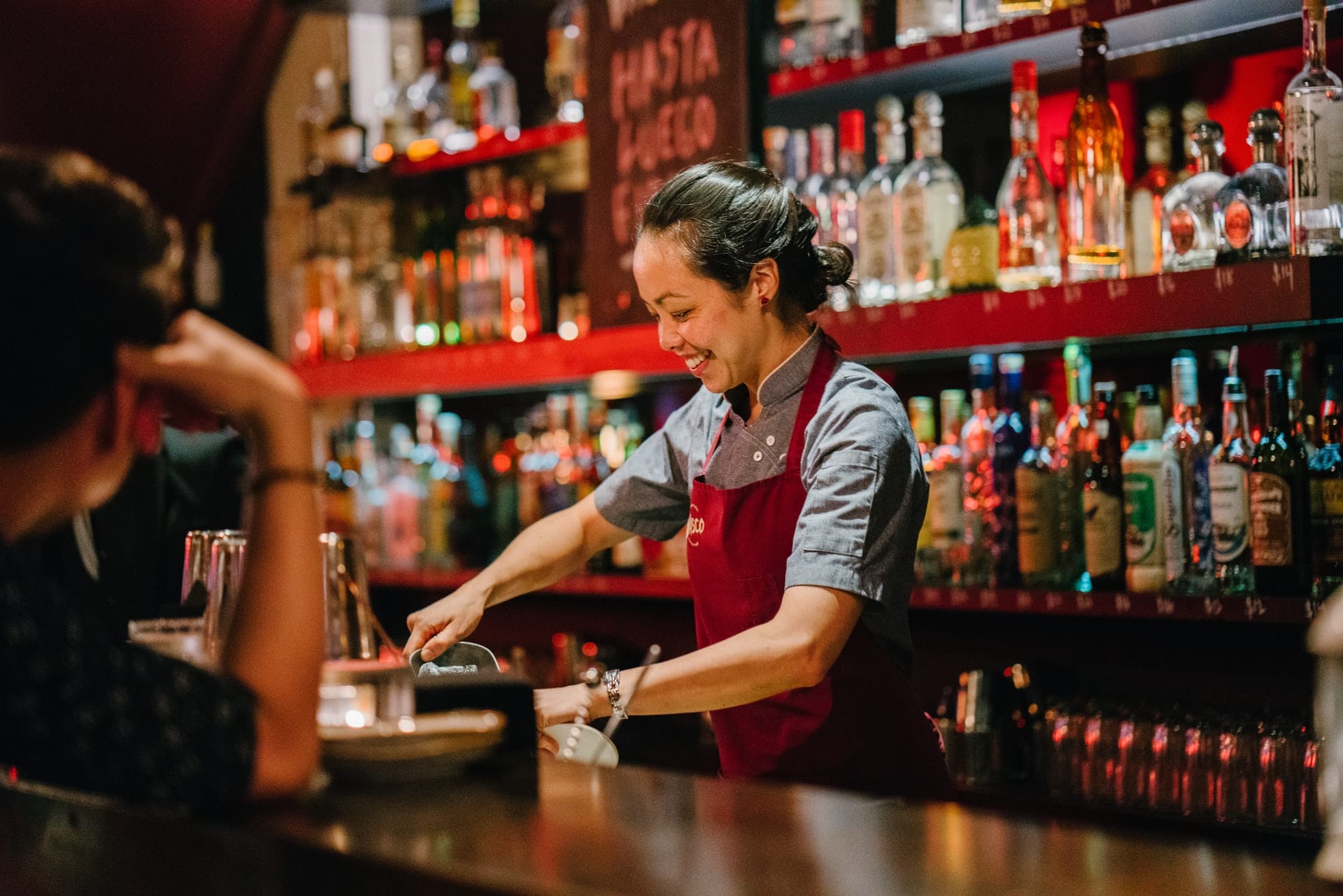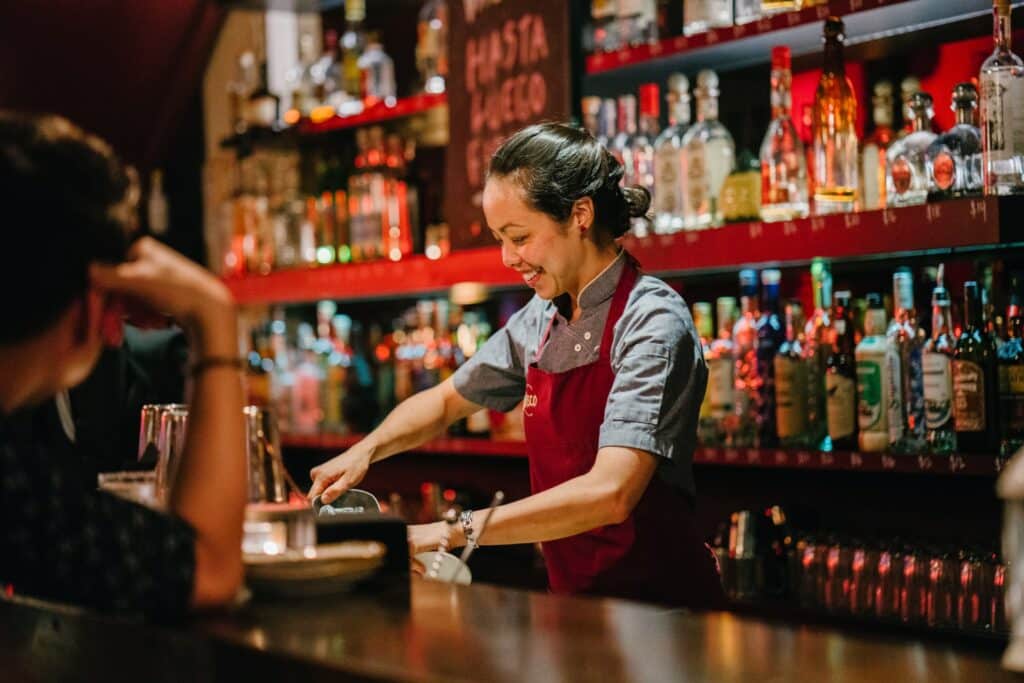 Bar Operating Costs
In addition to startup costs incurred at the start, there are a number of recurring costs (also known as operating cost) to run the bar the first few months. Here is an overview of the bar operating costs for the same hypothetical 80 seats premium bar:
| Operating cost | Amount (per month) |
| --- | --- |
| Rent | $4,000 – $5,000 |
| Salaries | $7,000 – $10,000 |
| Inventory (COGS) | $5,500 |
| Utility bills | $2,500 |
| Admin & other | $1,000 – $2,000 |
| Total | $20,000 – $25,000 |
Rent
Unless you own the space, you need to pay rent to the landlord. The rent price depends on the property's location, size, and condition.
Assuming an average $40 per square foot per year in a premium location of a city like Portland, you would be paying $4,600 approximately per month in rent for a 1,400 square foot space.
Bar staff costs
You need staff to keep your bar operational. The day-to-day tasks include greeting customers, creating a welcoming atmosphere, taking orders and payments from patrons, handling cash, serving drinks and meals at the table, and other essential operations.
The number of staff depends on the size of your bar and what you plan to sell. The average annual gross salary for a bartender is around $28,000. Assuming you only offer drinks and need 3 full time bartenders, the total monthly cost can go up to $7,000 per month, excluding the manager (add another $3,000 if full time).
Inventory (COGS)
One of the most important expense for bars is inventory itself: alcohol and any other consumable used in the drinks (and potentially food) you serve. Expect to pay on average 18% to 24% in your revenues in COGS.
Assuming an average monthly revenue of $27,500, you will have to incur approximately $5,500 in COGS each month.
Utility Bills
You have to keep water, lights, gas, and music in a bar. Therefore, you have to budget for the utility bills appropriately. You can expect to pay approximately $2,500 per month on utility bills, depending on the size of your bar.
Admin & other
In addition to the expenses above, you will have to incur expenses for support and administrative tasks such as bookkeeping and human resources (payroll).
As a reference point, accountants will likely cost anywhere from $1,000 to $2,000 per month in fees (as you will likely have a lot of small receipts to deal with, which takes more time to process).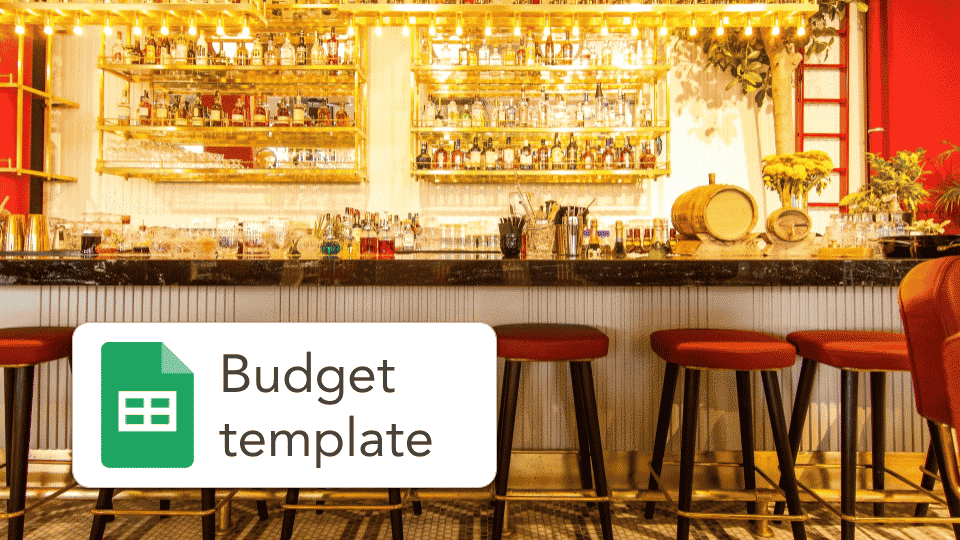 Download the Bar financial model template
Lender & investor-friendly

Easy-to-use Excel template

CPA-developed financials

30+ charts and metrics