Are you looking to start your own CBD online shop? As part of your business plan, make sure to budget for all the relevant costs to start and run a CBD online shop, from inventory to fulfilment and marketing expenses.
In this article we'll go through how CBD online shops actually make money. Also, we'll look into what are the key startup and ongoing expenses you'll have to incur. Finally we'll see how profitable CBD online shops can be. Let's dive in!
For more information CBD dispensaries, make sure to read:
How to Write a CBD Dispensary Business Plan: Complete Guide
How to Open a CBD Dispensary in 9 Steps?
How To Build a Financial Model For a CBD Dispensary?
How Big Is The CBD Ecommerce Market In The US?
According to a 2021 report by Technavio, the global CBD market size will grow by USD 29.9 billion from 2022 to 2025. Here are a few of the predictions:
Global CBD market will register an accelerated growth at a CAGR (compound annual growth rate) of 27%
53% of the growth will be driven by North America alone
According to Statista, the US sales of CBD products will represent USD 1.98 billion in 2022.
Based on its reports, Statista says that the sales of legal cannabis will reach USD 23 billion in the US market by 2025.
A similar research by Vantage Market Research published on Globe News Wire states that by 2028, the global CBD market will reach USD 47.22 billion with a CAGR of 21.3%.
Furthermore, the Vantage report states that the COVID pandemic drove offline buyers to online e-commerce platforms, which registered 25% traffic growth caused by increased demand for CBD products like oils, tinctures, and powders.
According to Vantage, the e-commerce stores in North America, Europe, and Asia-Pacific experienced substantial growth in traffic, which presented an opportunity for CBD products manufacturers to increase their revenue and profit margins substantially.
For now, e-commerce platforms as a distribution channel will drive majority of the growth as opposed to offline channels. However, in the post pandemic world when human capital becomes more available, the share of online and offline distribution channels in driving growth will be a subject of further study.
How Do CBD Online Shops Make Money?
A CBD online shop is an e-commerce business that only sells only and only CBD products. Precisely speaking, it is a niche e-commerce business. As with most of the online shops irrespective of the niche, a CBD online shop has no brick-and-mortar outlet.
Because of the absence of a physical store, setting up a CBD online shop is comparatively cheaper as there is no upfront cost involving the purchase of a store or leasing one. We will cover the costing part later.
What can you sell through a CBD online shop? Well, the answer is any CBD product!
CBD products can be broadly classified into four categories that include:
Vape concentrates and vaporizers: These products are absorbed directly into a user's bloodstream, thereby providing immediate effect.
Tinctures: These are made by mixing natural hemp oil with different solvents such as alcohol. Tinctures are highly concentrated, and only a few drops are needed.
Topical formulations: They are usually in the form of gel, lotion, cream, salve, etc. that are rubbed on the skin, especially on painful and inflamed areas.
Isolates: Isolates are pure substances extracted and refined from their sources in powder form. They are tasteless and colourless. CBD isolates can be added to foods and beverages, and they are usually preferred by those who love to mix their own CBD products.
Thus, a CBD online shop will usually sell different CBD formulations across all four categories to address the needs and preferences of different users.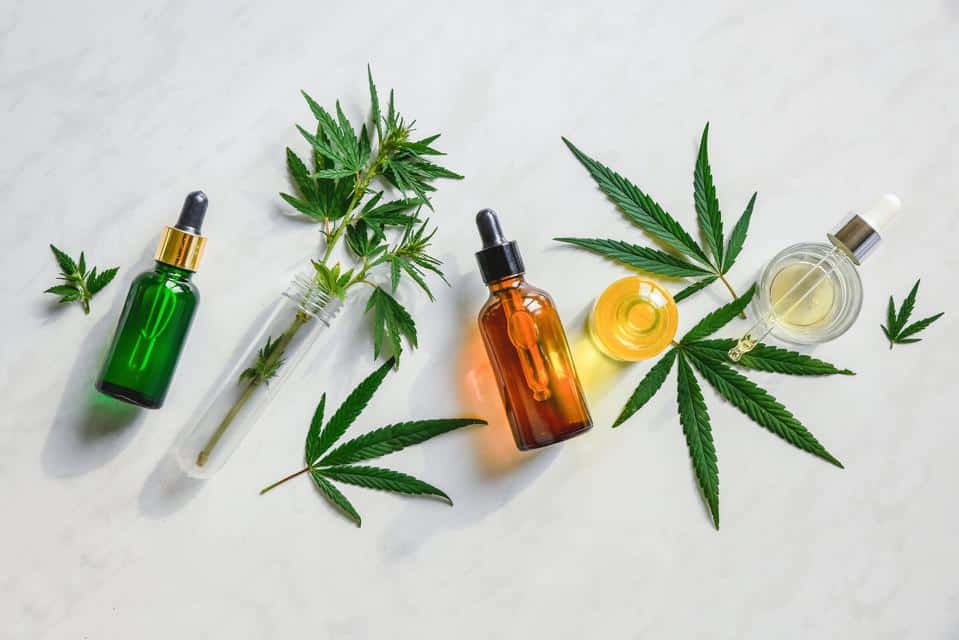 How Much Does It Cost To Start A CBD Online Shop?
The costs to starting a CBD online shop will depend on many factors including online shop creation, initial inventory acquisition, franchise fee, etc.
Furthermore, there will be recurring expenses in areas of search engine optimization, content creation, distribution & delivery, marketing, shop maintenance, etc. Let's have a sneak peek into the costing structure.
Like any other online shop, CBD online shop startup costs are rather low, if not negligible, vs. brick and mortar businesses. To start a CBD online shop you must budget costs like:
Domain name
Any online store needs a website. This means you need to have to buy your domain name. A domain name typically costs $12 but the price can reach as high as several hundred dollars to several thousand dollars depending on the domain name and extension, and even its availability.
Website builder & hosting
When you build an ecommerce website, different options are available to you.
Either you create a website using a free website builder like WordPress, yet you will need to spend money into extra features for ecommerce (e.g. Magento) and security (firewall, etc.). In addition to these features you'll need to pay for hosting. Hosting cost can be as low as $5-15 for cloud hosting and small online shops to as high as $1,000+ for dedicated hosting and larger online stores.
Then there are platforms like Squarespace, Shopify, etc. that offer an integrated hosting and website builder technology for building your online store. Although it's pretty much plug-and-play as they take care of all the must haves (payment processing, page builder, blogging, etc.), the downside is that you less flexibility vs. custom code websites.
The pricing for such platforms varies, but they typically start at around $30 a month and can reach up to $400 a month depending on the features you need, size of your business, traffic, and more.
Business license
You will need a business license. No exceptions here. A business license for an LLC startup usually costs $100 on average but it can cost up to $300. It can vary based on your country or residence.
Reseller license
If you plan to buy from wholesalers and distributors and then sell the products, you will need a reseller license or a permit. Some US states give this permit for free while others charge a small fee. You may need reseller permit for multiple states if you plan to source the products from different states. The pricing will depend on your state of residence.
Make sure to check about the licensing requirements in your state by visiting SBA's reference to state licenses and permits.
Franchise fee
If you are going for a franchise, you must pay a franchise fee of approximately $5,000. In case of a franchise model, you will not need a reseller permit.
Initial inventory
If you want to maintain your own inventory, it will cost anywhere between $8,000 to $15,000. However, you can also opt for the drop shipping model where you don't need to maintain any inventory, thereby bringing down the cost to zero.
Plus, if you are going for a commercial inventory storage unit, it will cost extra based on your inventory size.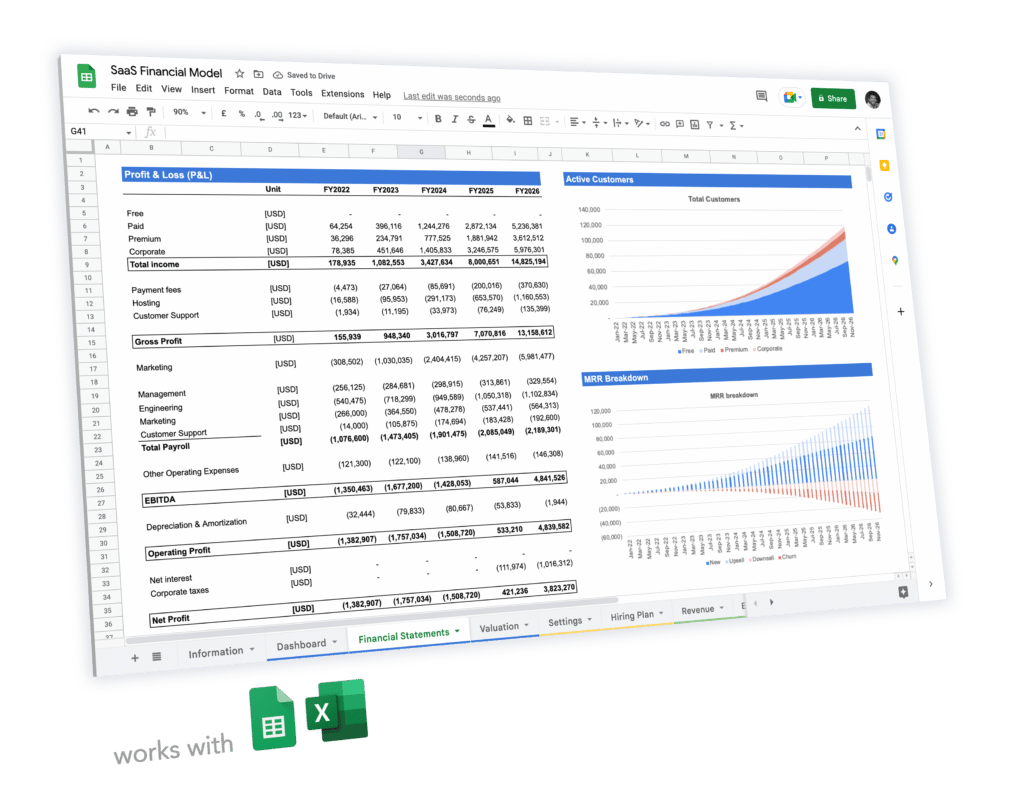 Download the
Ecommerce financial plan

 and get your startup funded

⭐⭐⭐⭐⭐ 5,900+ downloads
How Much Does It Cost To Run A CBD Online Shop?
CBD online shops typically attract the following costs:
COGS (Cost of Goods Sold):
By far the most important cost to run a CBD online shop is the cost to source the products themselves.
As CBD online shops are highly competitive, it is increasingly difficult for sellers to market higher prices. Instead, you'll have to find new, more attractive products to increase your gross profit margin. Therefore, most CBD online shops have gross profit margins (revenues minus COGS) of anywhere between 20 to 50%, meaning they spend more than half their revenues into sourcing the product itself.
Payment processing fees
All online businesses must budget for payment processing fees to service providers like Stripe or Paypal. For example, Stripe charges anywhere from 1.5% (domestic) to 3.0% (international) of your total revenue.
Warehouse
if you decide to maintain your own inventory (vs. dropshipping where your products are sent straight from the manufacturer / reseller to your customers), you will need to pay for inventory storage to a warehouse provider.
3PL
Whether you opt for a dropshipping or inventory model, you will need to have a supply chain in place. Unless you send the products yourself (which might suit side hustle businesses with very low volumes), you will need to resort to a 3PL (short for 3rd party logistics provider).
Sometimes, the warehouse provider also comes with a 3PL offering that takes care of receiving your inventory, storing it and sending it to your customers.Warehouse and 3PL costs are often referred to as fulfillment expenses. In general, according to Ship Bob, fulfillment costs range anywhere between 20-30% of your total sales.
Paid marketing
By far the most important cost (other than inventory) to run a CBD online shop is paid marketing. Indeed, paid marketing is by far the most common form of advertising for online businesses. The 2 main types are:
Paid ads (Google ads, Facebook, Instagram). The amount you'll spend depends on the audience you're targeting and its size. As an example, the average cost-per-click for Online CBD shops was $1.8 as per Google Ads
Email marketing: typically you'll build up an email list (via a newsletter for instance) that allows you to retain, market and upsell products to your customers. Providers like Mailchimp provide these services. Logically, the more emails, the more you'll pay. Although prices start at around $10 a month, for example you'll easily spend $300 a month with a mailing list of 10,000 people.
Search Engine Optimization (SEO)
You will need search engine visibility for your online store. This will require keyword research, content creation, trend analysis, and more. Assuming that you will perform SEO by yourself using asome SEO software, the average cost per month will be anywhere between $30 and $500 depending on the software and its pricing package you select.
Yet, if you decide to outsource SEO to content writers who take care of writing the articles, you'll need to budget accordingly depending on your posting schedule.
Logically, prices vary depending on the level of specialization of your business and the expertise of the content writer. If you decide to review and edit the articles yourself, you'll likely anywhere from $15 to $50 for generic articles. Yet, if you decide to fully outsource the research, review and editing of highly specialized content to niche experts, be prepared to pay as much as $250 or more.
Bookkeeping fees
Like any other businesses, CBD online shops have to ensure proper bookkeeping. This means using a bookkeeping software (Quickbooks for example) as well as an accountant. Typically, you should expect to set aside anywhere from $75 to $500 a month for bookkeeping depending on your sales volume.
Other recurring costs
There will be some other recurring costs you'll have to budget for which include, among others:
Yearly domain name renewal and other paid features (e.g. firewall, etc.)
Website maintenance cost if you are outsourcing it
Legal expenses: contract drafting & review with your suppliers, any potential lawsuits, etc.
Packaging cost (if you are maintaining your own inventory)
In short, the cost of starting a CBD online shop and running the business will depend largely on the services and tools you are using, your inventory size, marketing strategy, and several other factors.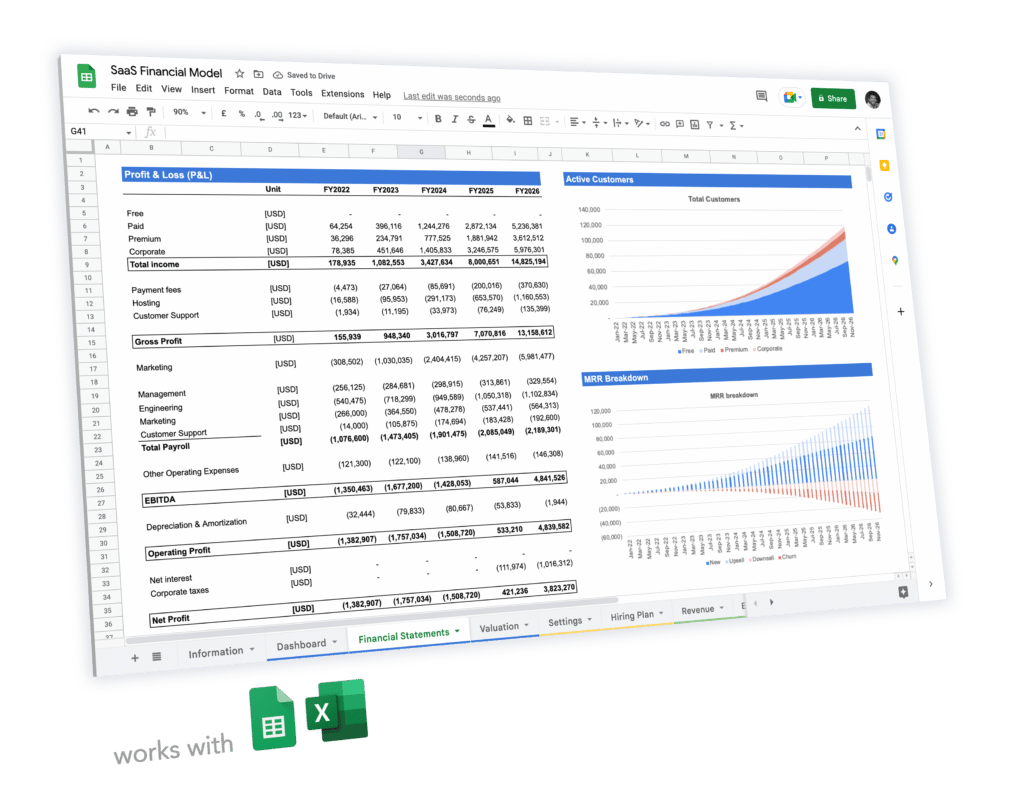 Download the
Ecommerce financial plan

 and get your startup funded

⭐⭐⭐⭐⭐ 5,900+ downloads
How Profitable Is A CBD Online Shop?
The profitability of your CBD online shop, like any other ecommerce business, depends heavily on 3 main factors:
The type of products that you sell
The profitability of your marketing campaigns
The business model
The type of products
Indeed, the COGS (the costs to source the products themselves) vary significantly based on the type of product. Logically, selling a product with a 70% profit margin before salaries, marketing and other expenses will be much more profitable than selling a product with a 25% profit margin only.
The profitability of your marketing campaigns
Ecommerce businesses often rely heavily on paid marketing acquisition (or pay-per-click campaigns). Again, the profitability of a store with 80% organic traffic (through SEO or social media) will likely be much higher vs. an online store with only 10% organic traffic (the rest being PPC).
The business model
Finally, an online shop's cost structure will vary based on the type of business model. There are a few examples:
Dropshipping will typically require very little manpower (if at all apart from yourself). Most dropshipping businesses require a full time marketing and customer support person who can either be employed or contractors
Outsourced fulfilment ecommerce businesses are similar to dropshipping in that you don't manage the fulfilment yourself: products are sent to a 3rd party logistics provider that takes care of sending your products to your customers. Here again, you won't likely need more than some support on marketing and customer support (2-3 people max.)
In-house fulfilment online shop businesses are very different as you take care of the warehousing, packaging and shipping to your customers. This will require more people in operations of which the number depends on the volume of sales
See below an example of a cost structure for an outsourced fulfilment online shop with products sold at a 70% profit margin. The business seems to rely heavily on marketing (~30% of revenue) which is quite common for online shops these days. In addition to marketing and COGS, salaries represent ~20% of total expenses (2 co-founders, 2x marketing professionals as well as 1x full time customer support manager).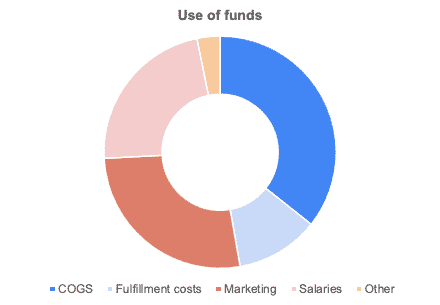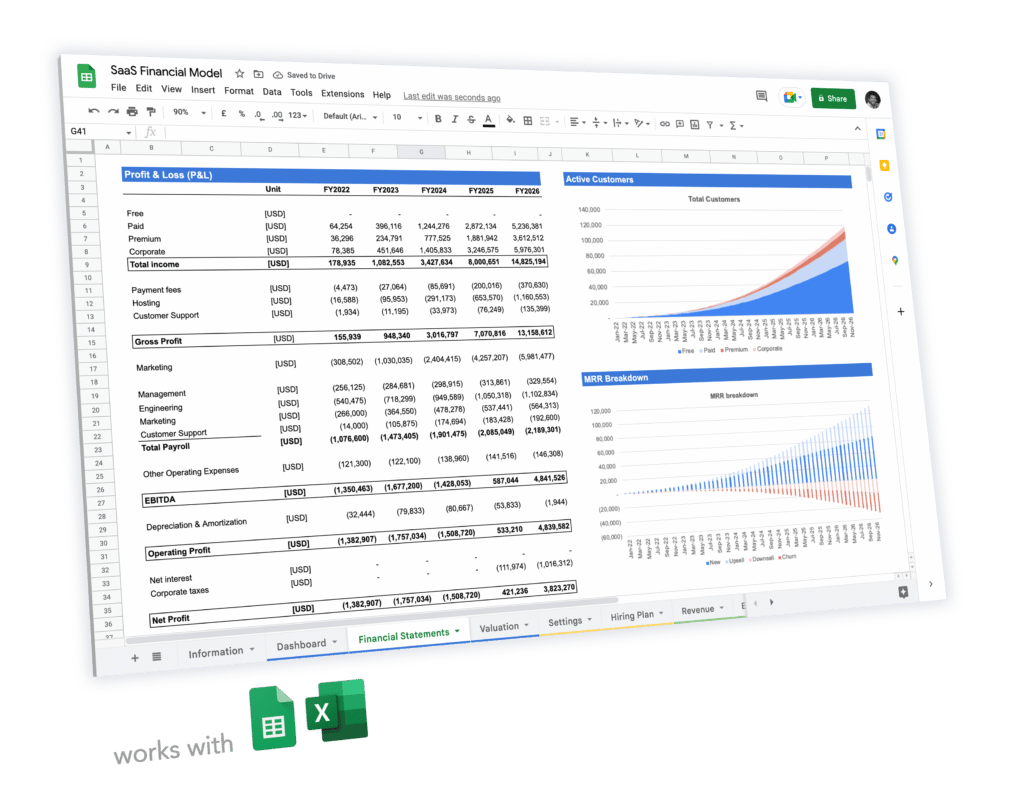 Download the
Ecommerce financial plan

 and get your startup funded

⭐⭐⭐⭐⭐ 5,900+ downloads