In 2020 the US day spa industry reported 173 million visitors. Yet, it's also a very competitive business: they were 21,510 day spas in the same year. So if you're planning to open a day spa, you must start with a solid plan and a brilliant execution.
Day spas can also be very profitable businesses: if run correctly, a day spa can generate an average profit of around 17% of sales. That also makes it a more interesting business doesn't it?
If you don't know where to start, we have laid out below a detailed guide on how to start a day spa in 10 steps. Read on!
For more information on day spas and other wellness centers, make sure to read our guides below:
How Much Does It Cost to Open a Day SPA? Examples
The Business Plan Template You Need For a Day Spa
How To Build a Financial Model For a Day Spa?
1. Research the Spa Industry
Research is one of the most important steps before you open your own day spa. Indeed, a solid understanding and fair idea of your market, customers, and competition are essential to building a successful business.
Research provides you with all the necessary data which you need to start your business. It also helps you learn your customers' demands and improve your services. Here are a few areas that your research must cover:
a) Competition
As a successful business owner, you must know your competitors well. Besides, the success of your day spa depends a lot on its location: if your chosen location already has many day spa and other wellness centers, your business might not be successful.
Besides the location of your competitors, you should also be aware of their products and services. You should have a fair idea about the trends in your business and the current demands of your target audience.
Try to answer the following questions:
How many day spas are there in the area?
How many aestheticians work there?
What services do they offer (manicure, nails, facials, etc.)
What's their price point?
Which customers do they target?
How can you offer customers better services vs. competition?
To stand out from the crowd, you might also have to offer some unique and professional services at affordable prices to attract customers.
b) Customers
Before starting your day spa, determine the type of client base you want to target according to their income, purchasing power and demographics. Develop marketing personas and a clear understanding of the clientele you will serve.
You should also focus your efforts on marketing. Start small, be concentrated around a small group of audience, serve them well, receive their feedback and expand your business!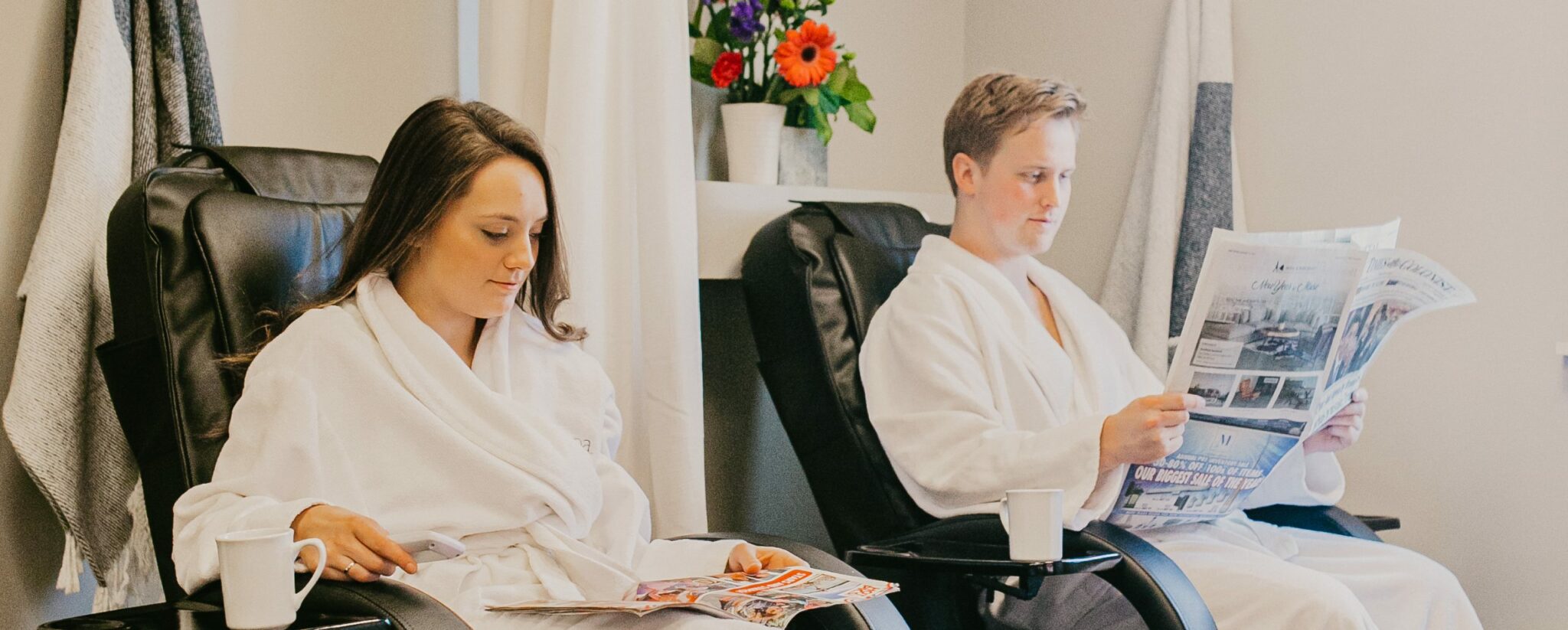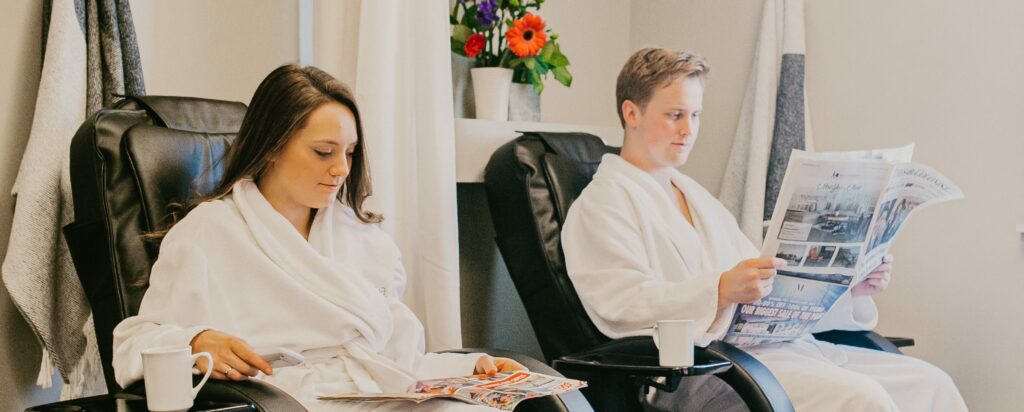 c) Location
A customer-driving location decides how your spa business will perform. As a general rule of thumb, scout a location that is distant from other day spas but has upscale residents.
While looking for a location for your day spa, you should take into consideration:
Accessibility of your location
Location proximity to the target audience
Demography of the location
Parking availability
Regulations & zoning rules
Competition in the area (see more on that above)
Commercial space rental prices
d) Costs
Before starting your day spa, you should have a fair idea and estimate of the startup and recurring operating expenses for your day spa business.
Make sure that you include these costs in your business plan and financial projections. See more on that below. If you haven't done so yet, read our article on how to create accurate financial projections to successfully obtain an SBA loan for your business.
2. Choose a Business Model for your Day Spa
Before opening your day spa, you must opt for a business model. For example::
Franchising with a well-known spa brand with a track record of success and devoted clientele ; or
Building a day spa from scratch which involves purchasing or renting a location and creating your day spa brand ; or
Purchasing an existing spa and altering and renovating it to meet your requirements.
Whilst franchising may turn out to be much cheaper in the beginning (as the franchise often provides most of the investment and equipment), this might not be the most interesting solution in the long term.
Instead, building your own day spa will give you maximum flexibility with layout, design and treatment offering and prices. Yet, it's also the most expensive solution in the beginning. It costs indeed on average $203,000 to $328,000 to open a small day spa with 4 treatment rooms.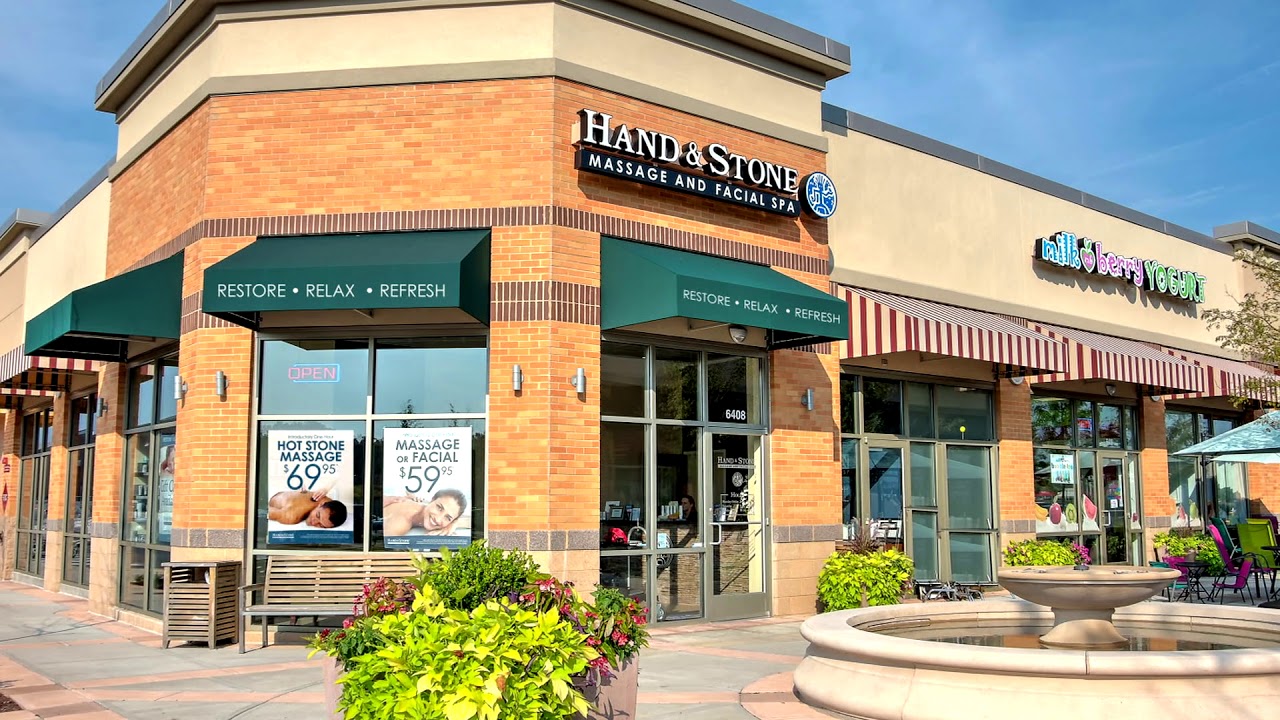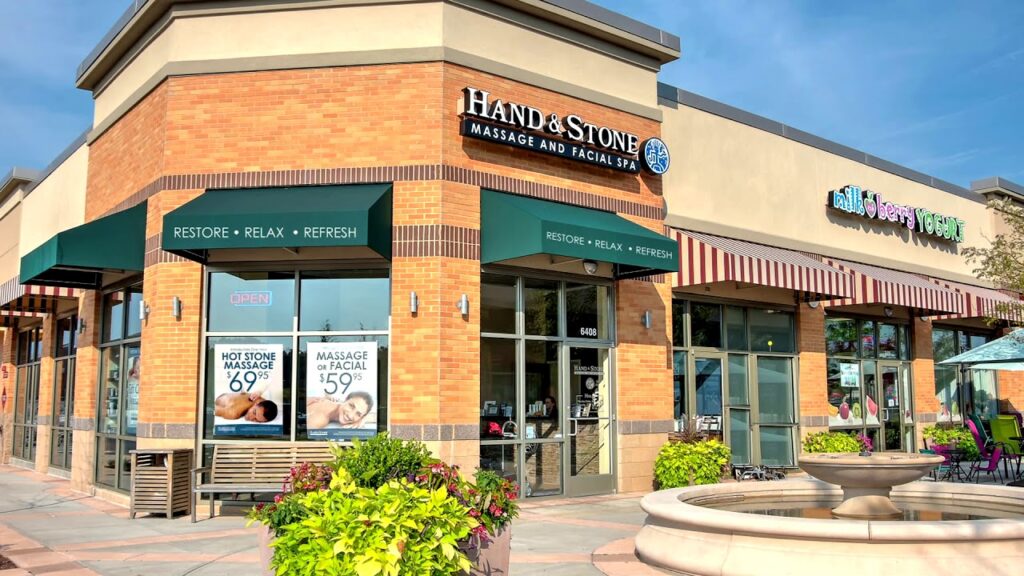 3. Prepare a Business Plan
A thorough business plan saves you from the uncertainties of running a new business. And for a day spa, you will need a detailed plan outlining all the equipment, associated costs, the personnel and other resources you need to keep your business up and running.
A solid business plan should address all the critical areas of running this business, including:
Executive summary
Products and services
Market analysis
Competitive analysis
Marketing strategy
Operation plan
4. Build a Financial Plan
Your financial plan should include 5-year financial projections of your revenue and expenses. You should include the 3 financial statements as well as your assumptions clearly laid out. Your financial plan should be built using a spreadsheet like Excel.
When projecting your revenue, make sure to sensitize pricing and the number of customers as a small change in these assumptions will have a big impact on your revenues.
When it comes to the costs, consider both startup and operating costs:
Startup costs are the expenses you must pay before you open your beauty salon ;
Operating costs, instead, are the expenses you pay for each month to run the business.
Startup Costs
In general, the total cost to open a day spa with 4 treatment rooms is on average $203,000 to $328,000. For more information, read our article on how much it costs to open a day spa.
| Startup cost | Amount |
| --- | --- |
| Lease deposit | $10,000 – $20,000 |
| Design & renovation | $180,000 – $260,000 |
| Equipment & furniture | $10,000 – $40,000 |
| Licenses & certifications | $1,000 – $5,000 |
| Insurance | $2,000 – $3,000 |
| Total | $203,000 – $328,000 |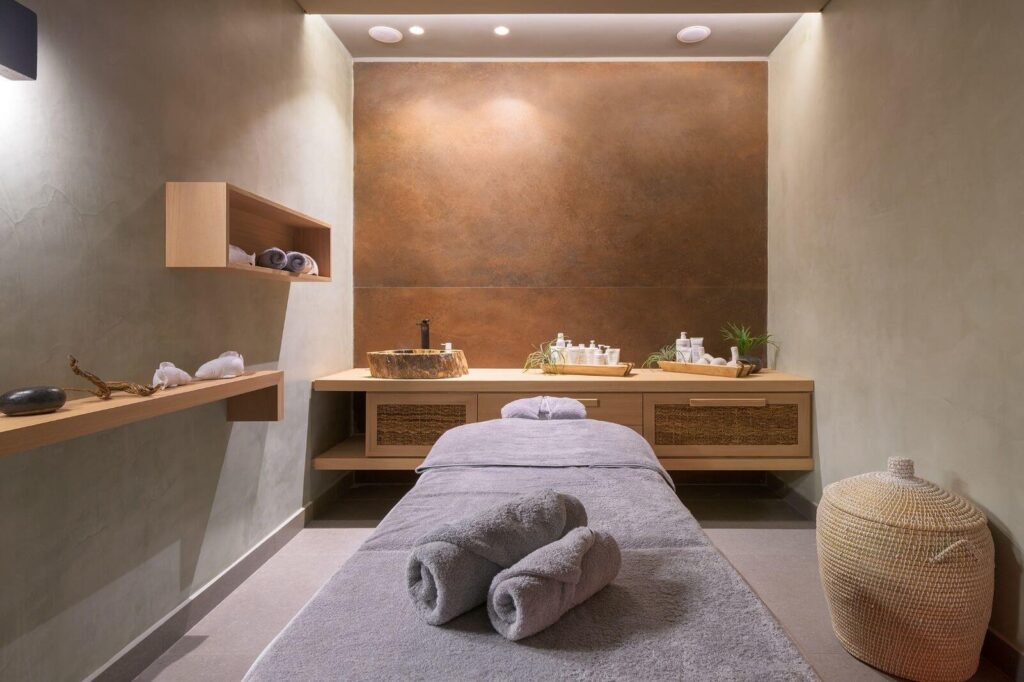 Download the Day Spa budget template
Lender & investor-friendly

Easy-to-use Excel template

CPA-developed financials

30+ charts and metrics
5. Acquire Day Spa Licenses
You need to acquire the necessary permits, licenses & certifications to operate your day spa business. The licenses you require will depend on the services you offer (whether you offer massages, sauna, manicure, etc.).
A few examples of the permits & licenses that may be required are:
General Business License
Cosmetology License
Massage Therapist License
Certificate Of Occupancy
Manicurist License
Here's a complete list of permits & licenses which you can refer to. The regulations, permits & licenses vary from one state to another. Hence, do your research before you open your day spa.
6. Choose a Day Spa Price List
A well-designed and crafted list of treatments (in the form of a menu) will showcase the services you're offering to your customers and increase conversion rates.
A treatment list (or price list) is an essential feature for your day spa, regardless of size.
While designing the list of your day spa treatments, make sure you categorize treatments into different categories. Besides every treatment, add a short description; it will act like a tour guide for your users.
To attract clients and customers, you can offer some combo packages like stress-relieving packages and others. Don't forget to add your timings, address, contact details, booking link, and other details to help your clients.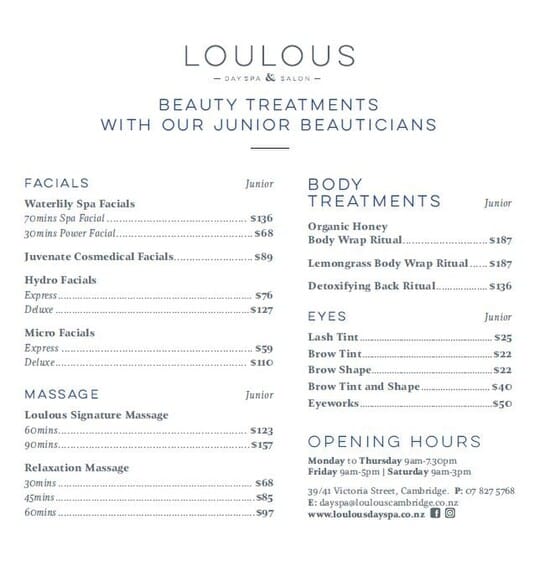 7. Find a Location for your Day Spa
Choosing your location and a real estate property for yourself is one of the most crucial decisions you need to make while opening a day spa. Some elements which you need to consider while opening your day spa are:
What are the demographics in your chosen location?
Is the community of the area year-round or seasonal?
Is the area consistent with your day spa's concept and vision?
Are there any particular expenses or taxes in the locality?
Is the lease agreement priced reasonably?
Is there a parking space nearby?
Is the location safe, secure, and well-lit at night?
Renovation
Unless you buy an existing day spa, there will likely be costs involved with remodeling. Renovating might involve installing new flooring, window treatments, paint, plumbing, etc.
Renovation can be very expensive. On average, a day spa build-out will cost you $90 to $130 per square foot, assuming you really start from scratch (an empty space). This include the design, flooring, painting, electricity & utilities.
So assuming you renovate a 2,000 sq. ft. day spa, you should spend anywhere from $180,000 to $260,000 total.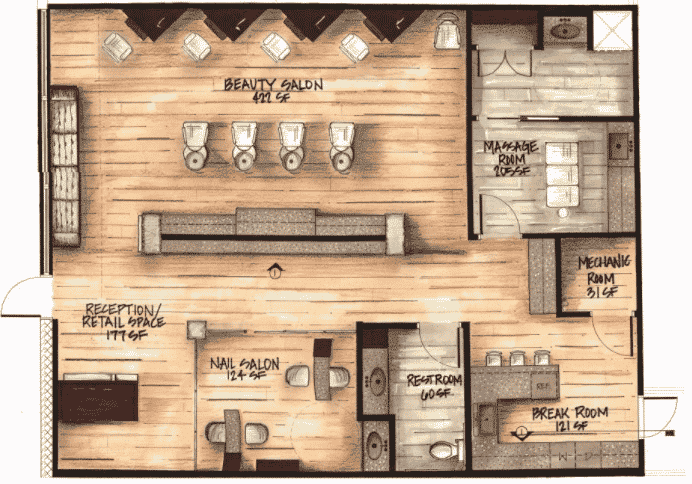 8. Get Funding for your Day Spa
Getting funding is one of the most important steps in opening your day spa. The startup capital and loan amount you need to get for your day spa business venture will vary depending on the location and size of your business.
Make sure that your capital covers at least the following:
Lease deposit (or loan downpayment if you buy a building)
Equipment & furniture
Initial supplies
Legal expenses
Operational costs for the initial 6-12 months (e.g. rent, salaries)
Like any new retail business, your new day spa will take a few months to generate profits. Thus, your initial funding must be able to cover your operating expenses during these initial months.
9. Acquire Spa Equipment & Furniture
Once you've obtained funding, you need to shift your focus toward equipment, appliances & furniture. Here are a few examples of the professional equipment costs you may need based on the services and treatments you offer:
Massage bed ($1,000 – $2,000)
Facial Machinery ($1,500 – $3,000)
Facial steamers ($500 – $750)
Here's a complete list of spa equipment that you must know about.
In addition to the medical equipment, you should also budget for the client-facing furniture (the counter / reception desk, chairs and sofas for the waiting area, etc.).
In total, you should be fine with $10,000 to $40,000 for the equipment and furniture for a small day spa.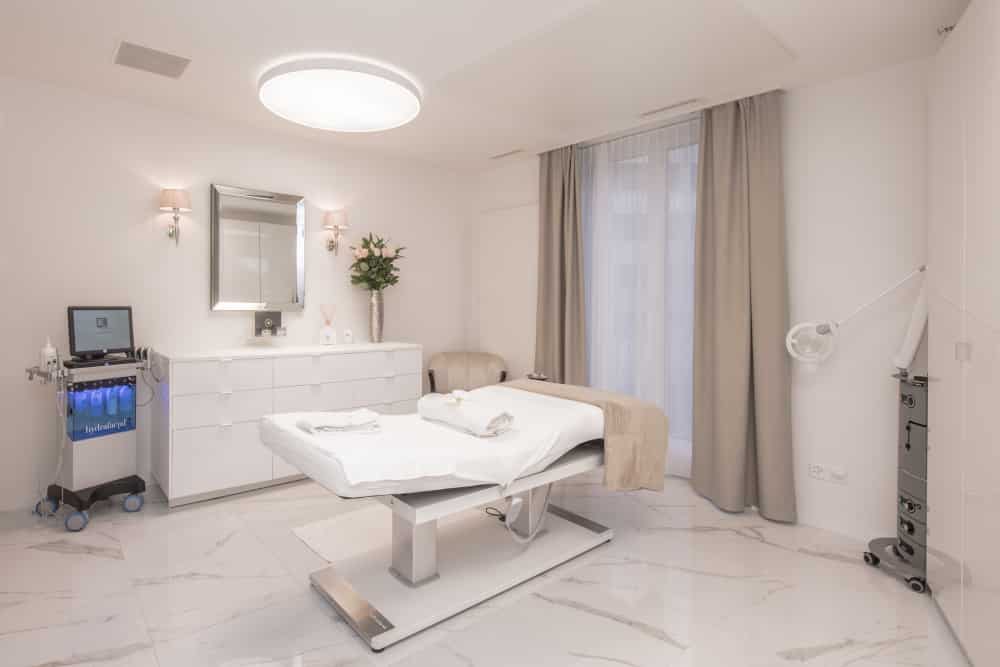 10. Hire Staff for your Day Spa
The last step before you can open your day spa is to hire and train staff.
A few roles that you may need for your day spa are:
Spa Manager
Massage Therapist
Manicurist & Pedicurist
Aesthetician
Cosmetologist
Receptionist
The number of staff you need will depend on the size of your day spa. For example, a day spa that accommodate 4 customers at a time in 4 separate treatment rooms will require at a minimum 4 employees for the spa treatments as well as a receptionist and yourself (manager).
Remember, the staff members you hire must have the required certifications and licenses and enough experience. They should be people-oriented people with excellent communication skills and social skills.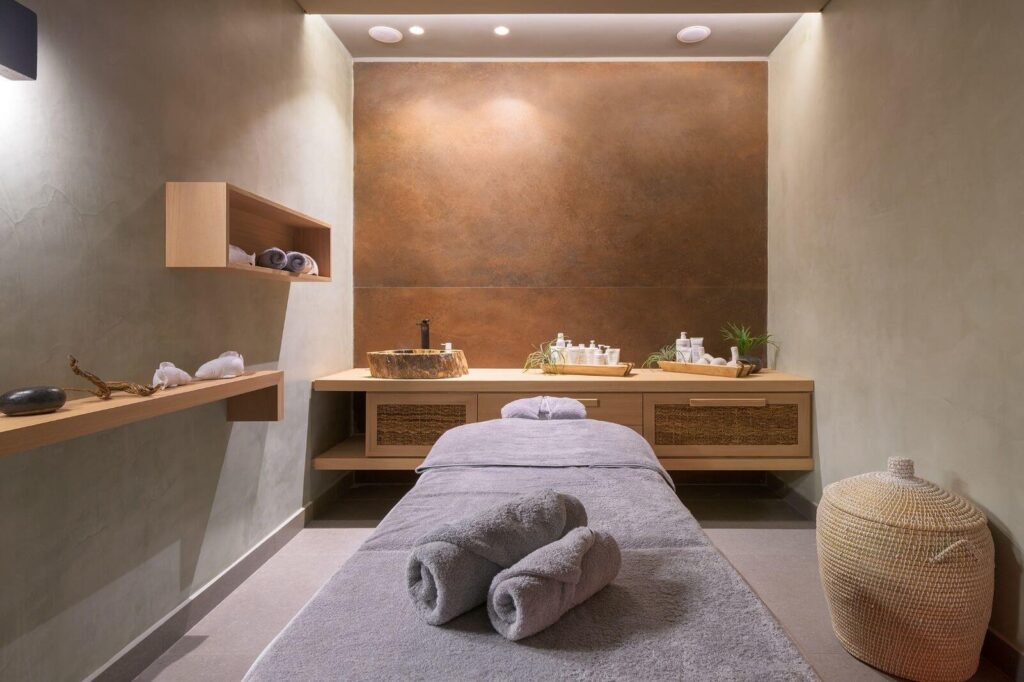 Download the Day Spa budget template
Lender & investor-friendly

Easy-to-use Excel template

CPA-developed financials

30+ charts and metrics