The average bike retail store reports a pre-tax annual profit of 5.5%. Although a profitable business if run correctly, you may be wondering how to successfully open your own bike shop from the ground up.
Also, other questions that may come into mind are: how do business owners increase profitability in this industry? Is it purely based on effective staff training? And could thorough marketing be a significant factor?
If you are still stuck with your business idea, this short guide will help you understand how to open a bike shop business. Let's dive in!
For more information on bike shops, make sure to check our guides below:
How Much Does It Cost To Open a Bike Shop?
How to Write a Bike Shop Business Plan: Complete Guide
How To Build a Financial Model For a Bike Shop
1. Research the Bike Shop Industry
The first step before you can open your bike shop is to conduct a proper market research. Before spending money on the necessary equipment, ask yourself a few relevant questions about your bike shop business.
a) Customers
The first area of research should be your potential customers.
For instance, what is your target market, and what can you do to satisfy the existing demand? Are you targeting affluent customers, cycle athletes, or family customers? Also, what is the budget of your target customer in your area?
By answering such questions, you will get a clear picture of what to include in your bike shop, having analyzed the demand, purchasing habits, and expectations of a typical customer.
b) Competition
Also, it's important to familiarize yourself with your competitors because collecting this information is crucial to help you stand out from the crowd.
Questions you should answer are, but not limited to:
The number of bike shops in your area
Are they selling or renting bikes?
What bikes are they selling/renting? What's their target customer?
Any unique concept that may be difficult to replicate (for example a store with a coffee shop where cycle addicts gather to create events and discuss)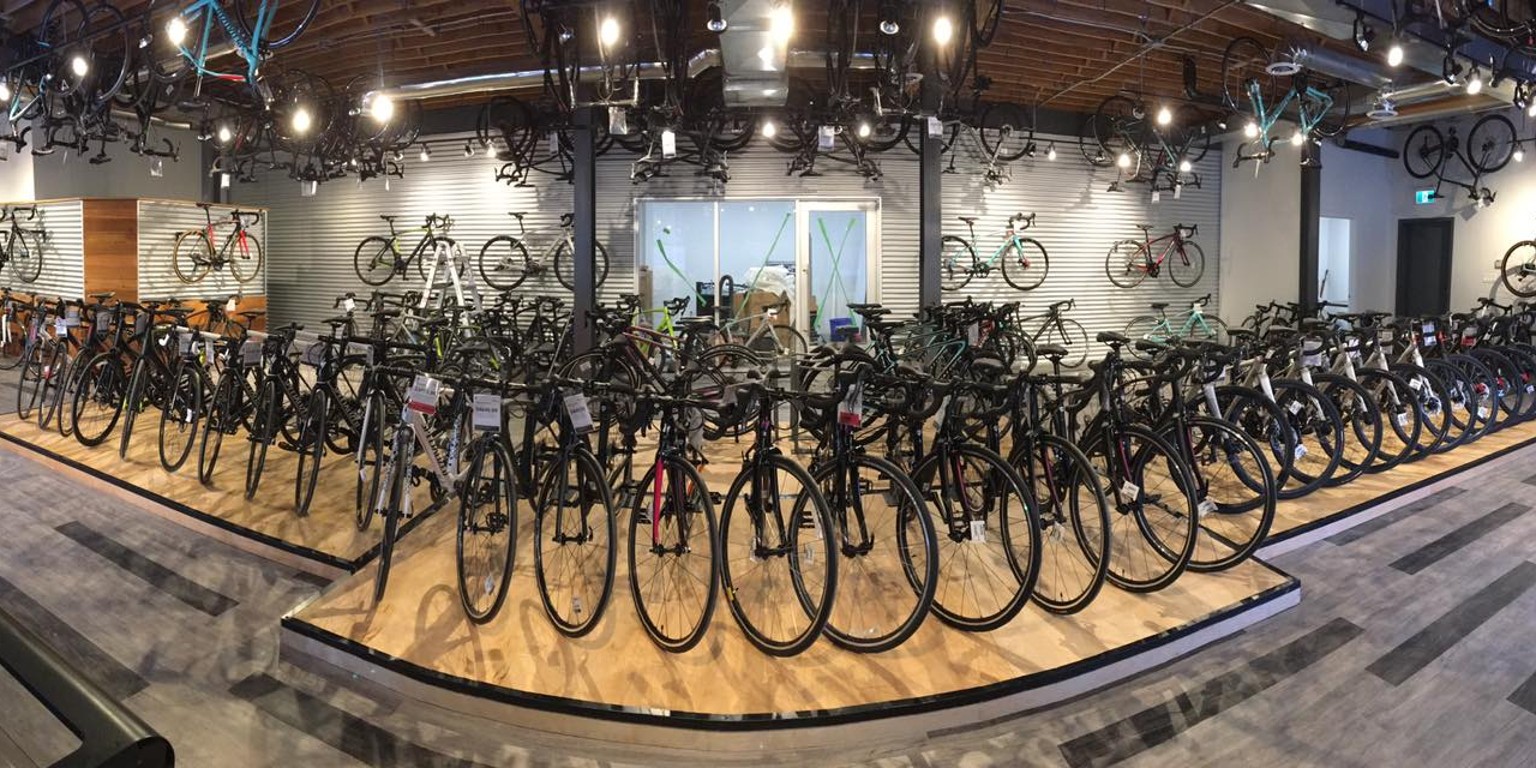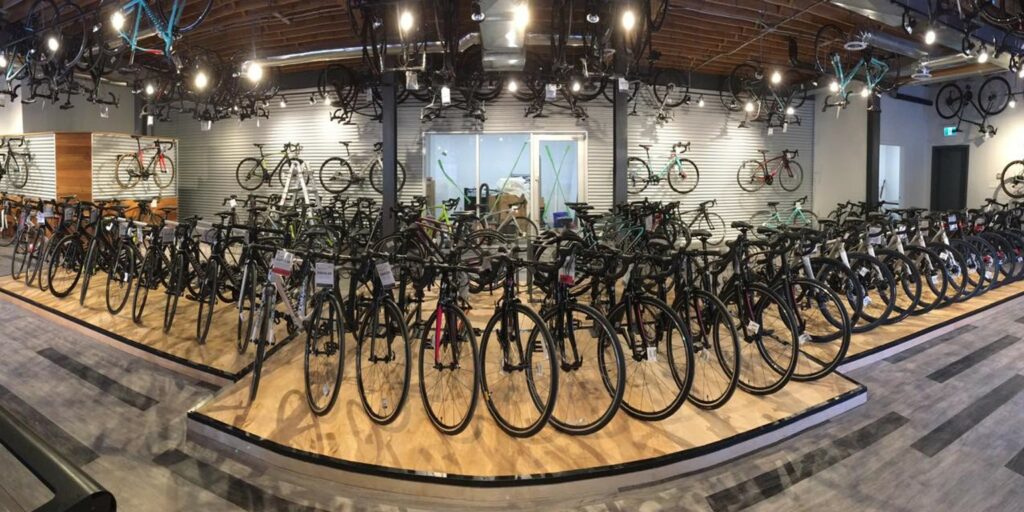 2. Select a Bike Shop Concept
After conducting proper market research, it's time to select a suitable concept for your bike shop business. This is the perfect opportunity to assess the customer needs, buyout target market, and the specific services that appeal to your target market.
For example, if you target the campus students, you will need affordable and reliable bikes for frequent commuting. Conversely, going with the latest trend would make more sense if you set up your business in a posh neighborhood.
The most important thing to consider here is to stick to the market trends. This allows you to stay ahead of the rest by having an edge over your biggest competitors. There's no denying that a standard town will have multiple bike shops within a small space. So, find out unique ways to stand out from the crowd.
It's also worth noting that the bike shop business can be seasonal. So, take note of the purchasing trends to avoid panicking during the low sale season. You can incorporate other services such as bike repair and cycling lessons to have stable sales throughout the year.
Also, find out if you want to run your bike shop business independently or become part of a popular franchise.
3. Create a Bike Shop Business Plan
Like any new venture, any new bike shop requires a solid business plan to get funding (either from investors or banks).
A business plan is also a very useful document that assesses the profitability of your newly found venture and funding sources.
A solid business plan for your bike shop business will have two major sections designated for the financial forecast and useful details. The financial forecast section is intended to evaluate the profitability of your business model and the upfront costs.
If you haven't done so yet, make sure to read our article on how to create accurate financial projections to successfully obtain a SBA loan for your business.
On the other hand, the written section outlines other important details about your business, including the main project, business strategy, business goals, and your team.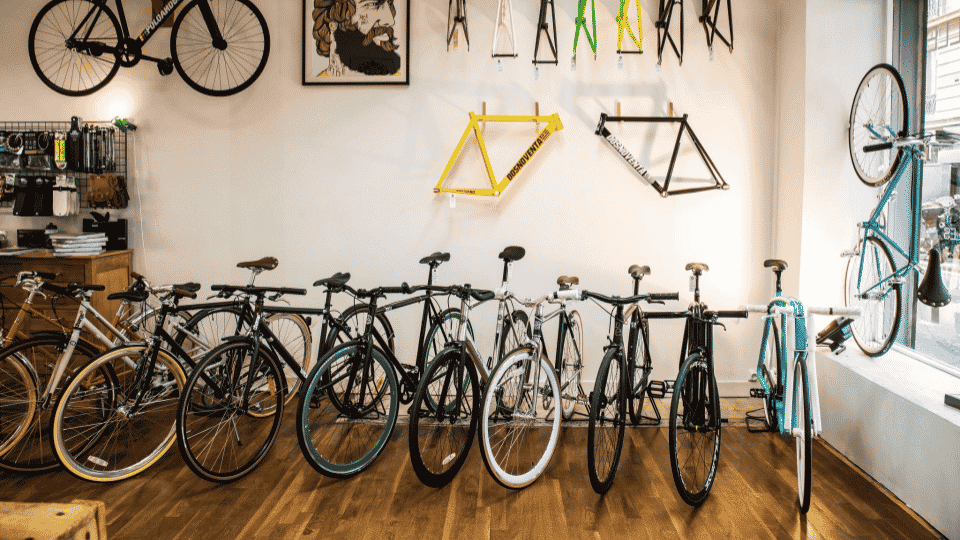 Download the Bike Shop budget template
Lender & investor-friendly

Easy-to-use Excel template

CPA-developed financials

30+ charts and metrics
4. Select a Location for your Bike Shop
With a solid business plan, it's time to choose a suitable location for your business. Setting up your bike shop in a high-end region with high traffic guarantees higher returns. However, it's also costly, and you must be ready to factor in all the expected costs for setting up the shop beforehand.
Choosing a modern city center with a hive of activities or setting up a casual shop at the heart of a popular shopping center would be excellent for immediate returns. When choosing a suitable location, the most important step is to identify the target market.
If you are targeting the local community with a large population depending on bikes for frequent commuting, setting up your shop in office space would be ideal. Similarly, it would be wiser to target a residential corner if you stock high-end bikes for the younger generation.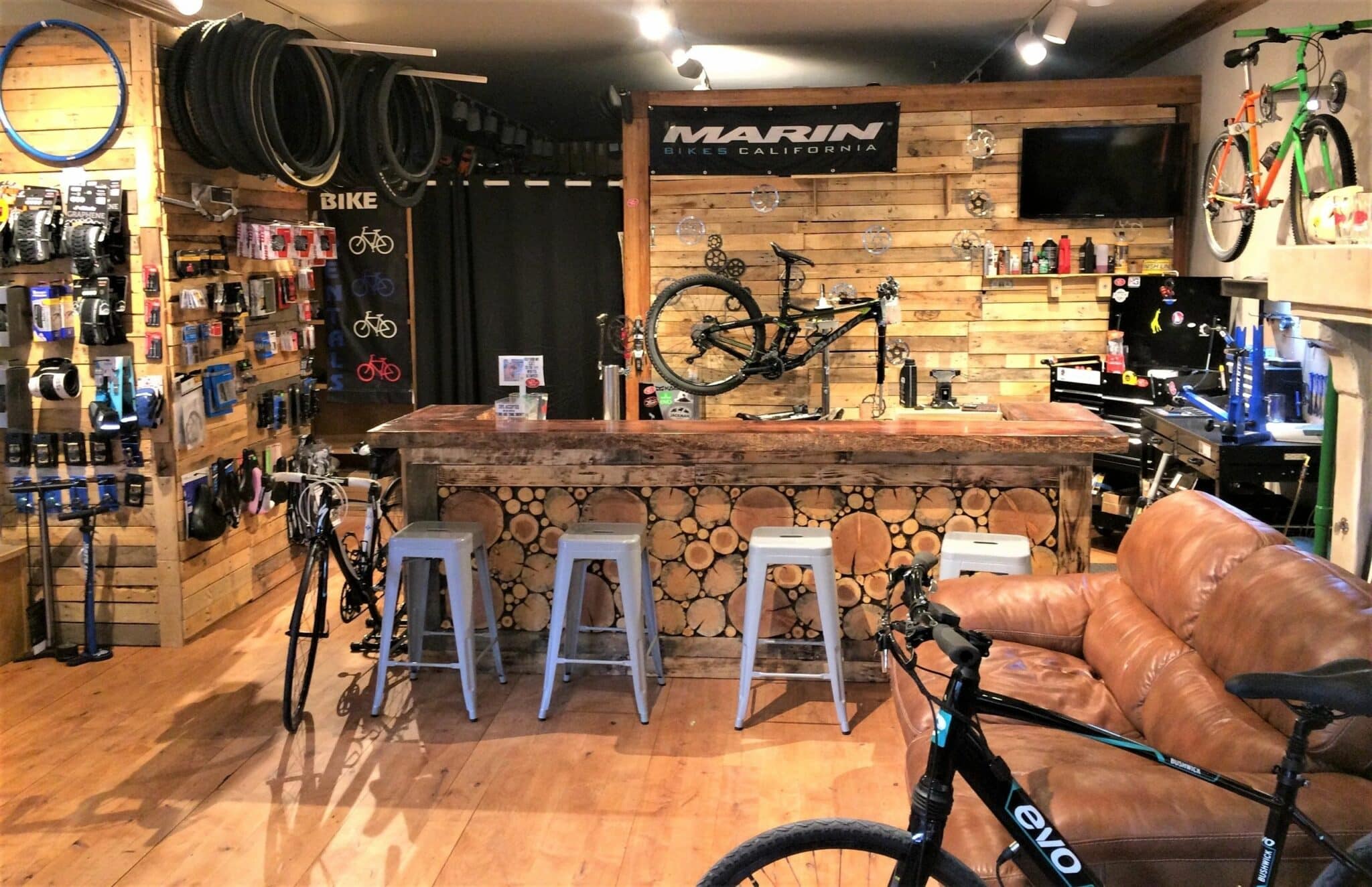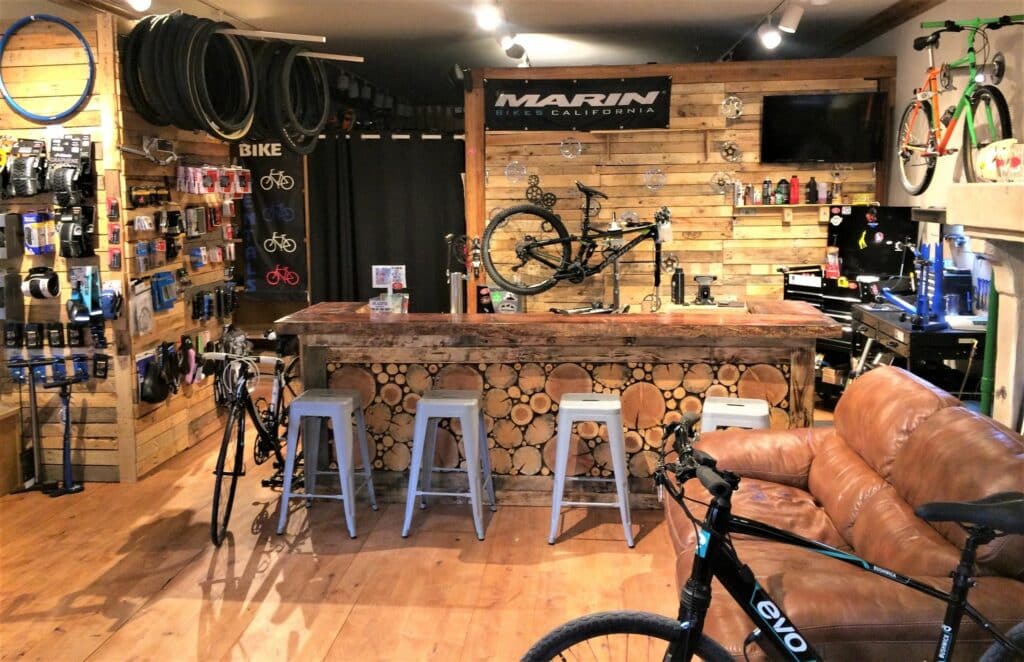 5. Get Funding for your Bike Shop
You need significant funding to establish a bike shop business in major towns and cities. And one of the first things you must pay attention to is the source of funding.
Typically, the two most significant costs associated with running a bike shop business include the cost of goods sold (the bikes), staff and rent.
We've identified that it costs anywhere from $47,500 – $237,500 to open a casual 2,000 sq. ft. bike shop with 3 full-time employees, want to know more? Read our article here.
Fortunately, you have plenty of funding options at your disposal, depending on your preferences. The first step is to turn to your equity contribution comprising the total cash at hand that you intend to invest in the business.
But in many cases, this is never enough to cater to the startup and operating costs associated with this type of business. Understandably, you will want to turn to the local banks and other financial providers to secure more funding for your business.
But before choosing a specific bank, do proper research to ensure their funding options suit your needs and you can repay in time.A great option for most small businesses in the US is to obtain a SBA loan. For more information on how to apply to obtain a SBA loan, read our article here.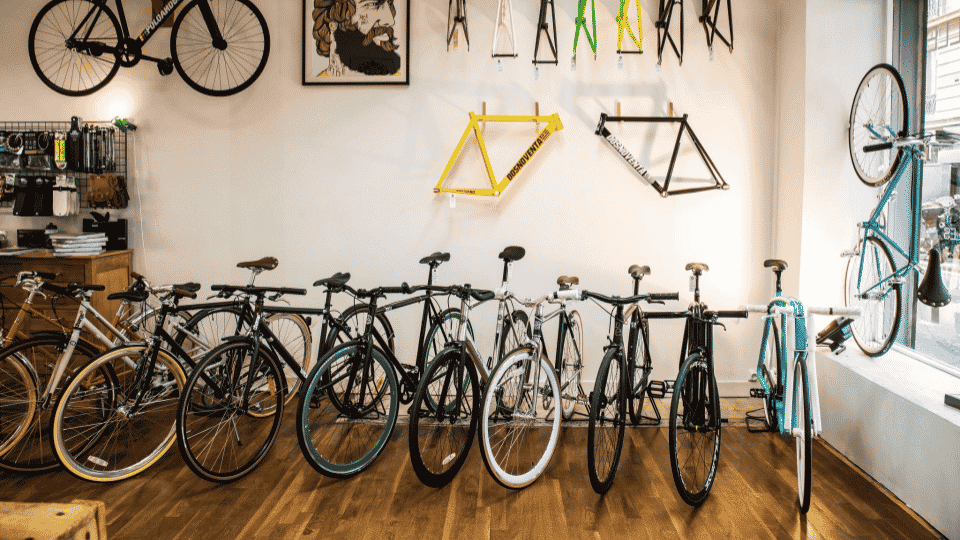 Download the Bike Shop budget template
Lender & investor-friendly

Easy-to-use Excel template

CPA-developed financials

30+ charts and metrics
6. Acquire Coffee Shop Permits and Licenses
Successful business owners know the significance of getting the relevant licenses and permits before opening a bike shop business. Such documentation is meant to help legitimize your bike shop business, ensuring it fully complies with all the regulatory requirements.
Usually, the specific fee is determined by the business structure (Sole proprietorship, partnership, LLC, etc.). And you can find out some of the most popular options here.
7. Design the Coffee Shop Layout
Don't overlook this step. As much as the emphasis will be on the type of bikes you stock in your shop, the general layout also matters.
An ideal bike shop must appeal to the potential customers, with the bikes and other equipment strategically placed to attract the customer's attention. If you include a bike mechanic in your team, you must provide a designated location to help them perform their roles with little to no distraction.
In many cases, it's advisable to delegate these duties to professional interior designers to handle everything from fixing the lighting to flooring, painting, and repainting, among the rest.
The renovation and design can cost up to $100,000 depending on the quality of the space, its size, and the amenities you plan to install.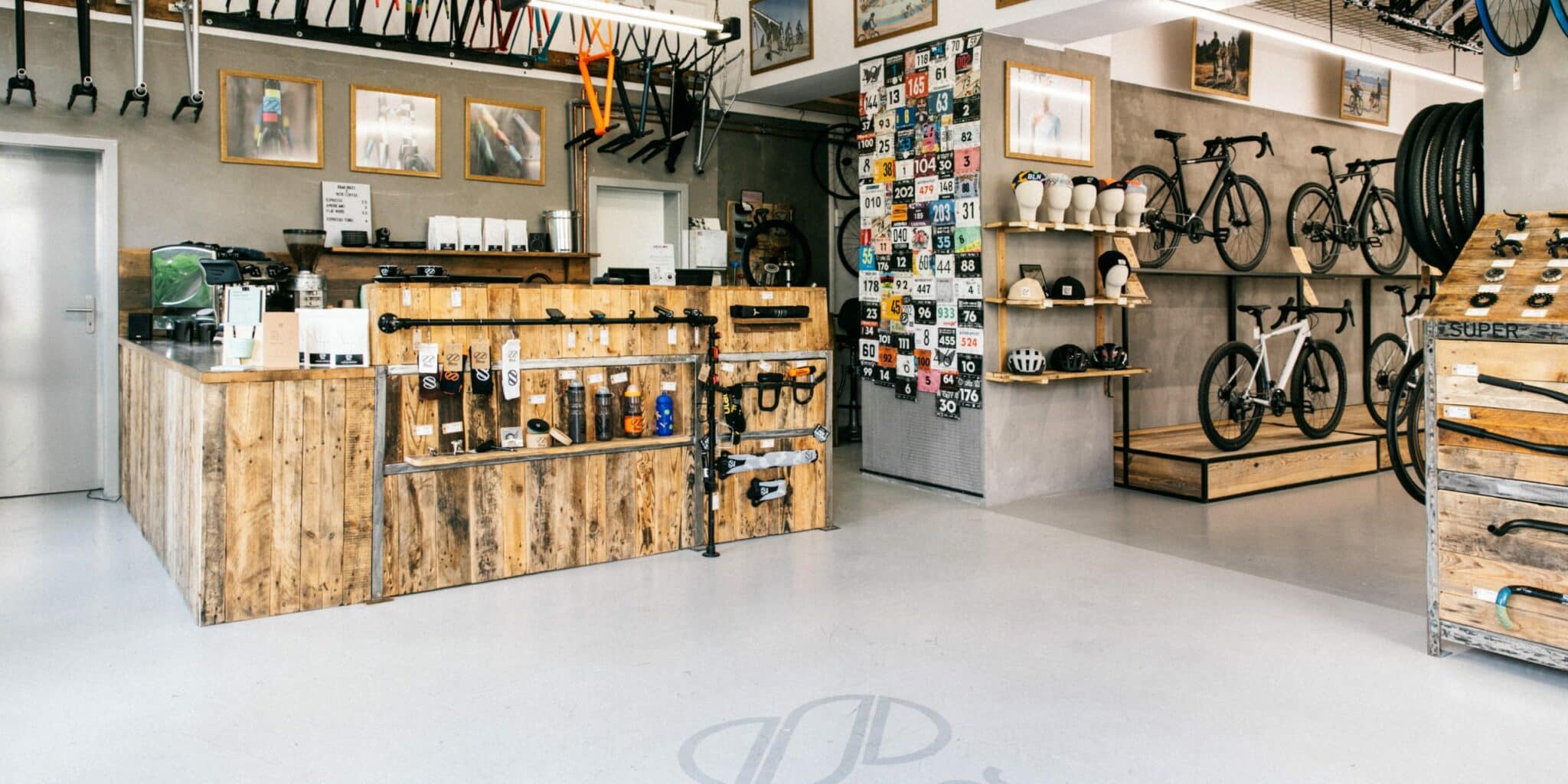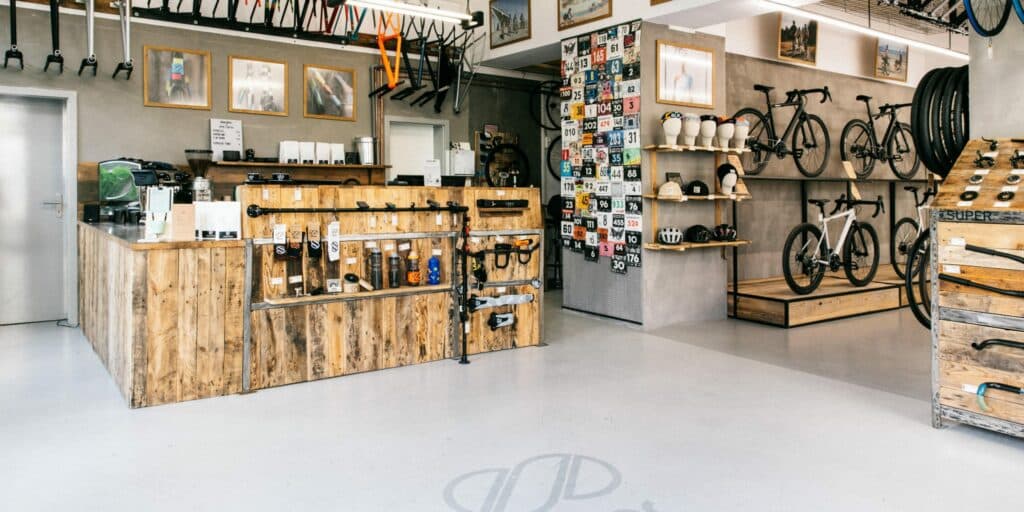 8. Acquire Coffee Shop Equipment
Once the design stage is complete, consider the right equipment you need for your business. This may cost you anywhere between $5,000 and $15,000 depending on the size of the shop.
Of course, you won't need all the equipment from the start, but here's a casual checklist you can use to ensure your bike shop has the most important tools in place;
Security system
Cash machine
Sales counter
Furniture
Bike racks
Other accessories
The total cost for equipment and furniture for a casual 2,000 sq. ft. bike shop is around $5,000 to $15,000.
9. Hire Staff for your Coffee Shop
The last step to setting up a lucrative bike shop business is hiring and training your employees. A small bike shop requires up to 3 employees, positions that demand good interpersonal skills like effective communication.
Apart from hiring experienced individuals, you should take full responsibility to help them align with the company's vision, the ethics of running a bike shop business, and the importance of working as a team.
If it's the bike mechanic, ensure you work with a passionate individual with a genuine love of their craft and who can transmit such skills to the day-to-day running of the business.
A bike mechanic earns about $35,000 per year in the USA. So, you must factor in the staff salaries, which can go up to $12,000 assuming you hire 3 full time employees to run the shop (including taxes and benefits).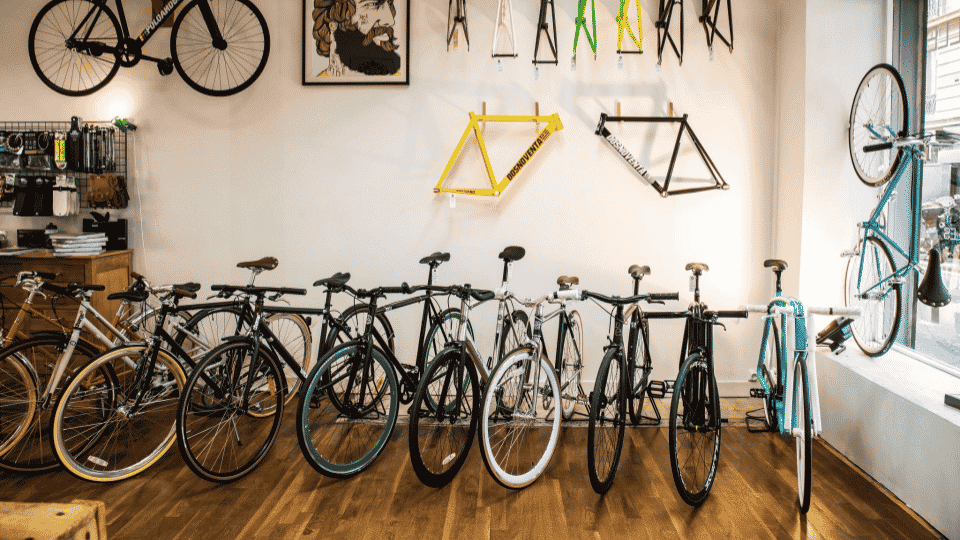 Download the Bike Shop budget template
Lender & investor-friendly

Easy-to-use Excel template

CPA-developed financials

30+ charts and metrics