How to Open a Day Care in 8 Steps: Checklist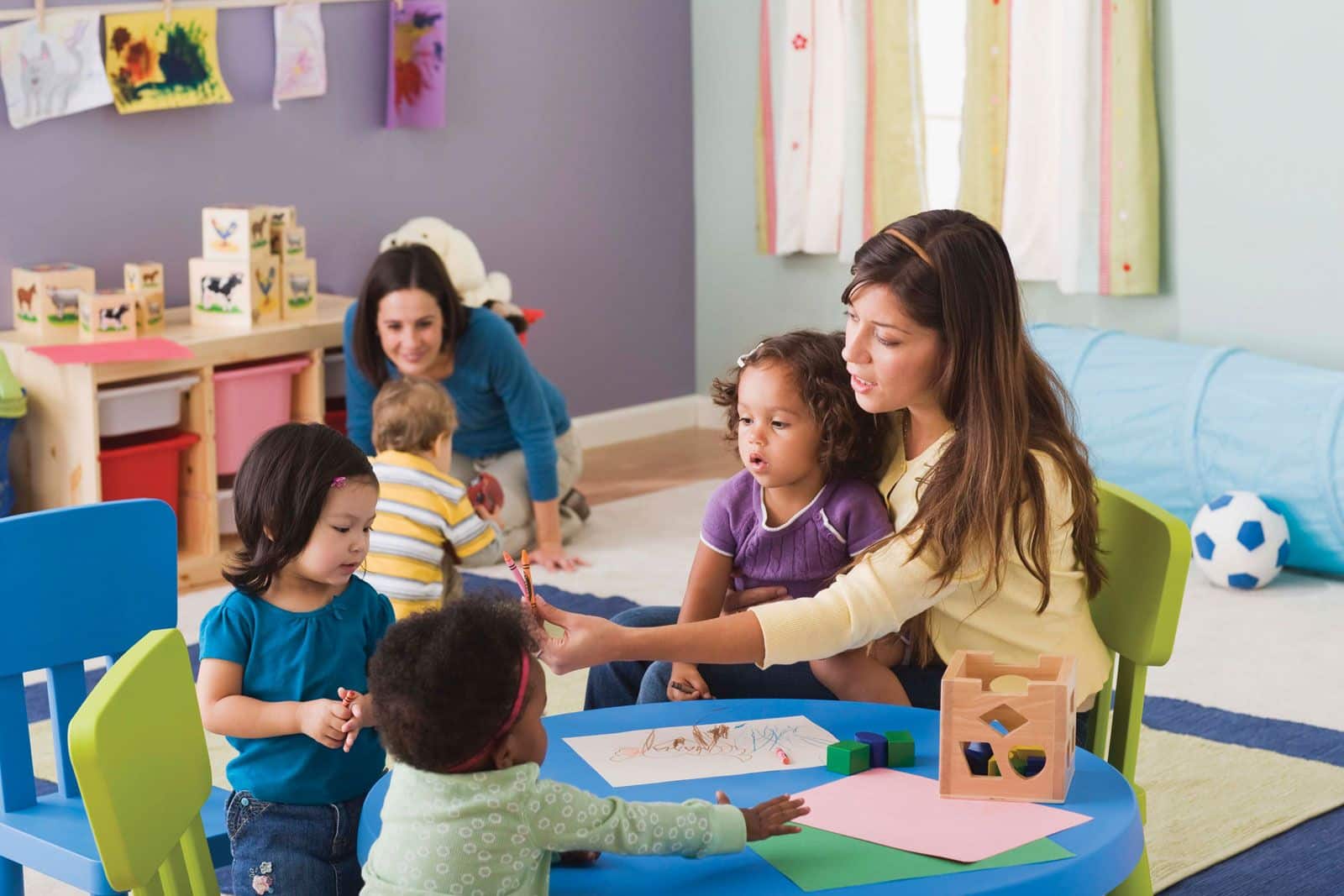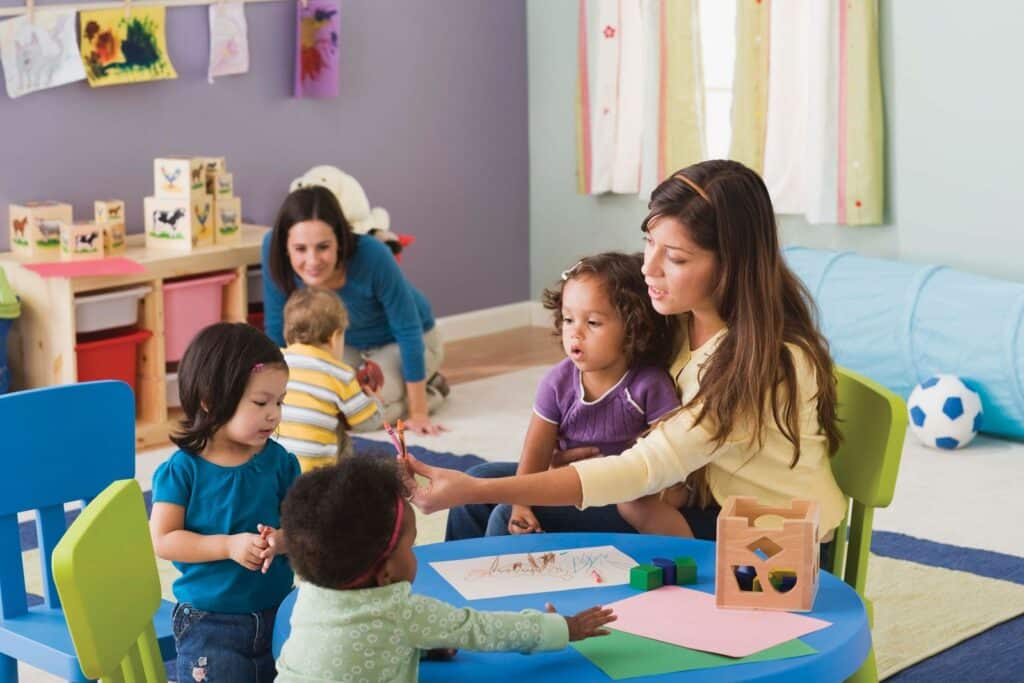 Do you want to open your own day care facility? The child care industry is also very competitive: if you exclude the 3.7 million private home caregivers, they were over 129,000 child care centers in 2020 in the US employing about 1 million caregivers.
So if you decide to open your own day care facility, you must have a solid business plan and a solid execution to be successful. From training, location, business plan to hiring & training staff, there is a lot you must do.
So if you are feeling lost and need some guidance on where to start, this post goes through the 8 steps you need to follow to open and run a successful day care business. Let's dive in!
For more information on day care businesses, make sure to check our guides below:
How to Write a Business Plan for a Day Care: Complete Guide
How Much Does It Cost To Open a Day Care Business?
How To Build a Financial Model for a Day Care
1. Get Day Care Training & Certifications
When planning to open a daycare business, the first thing on your list is to ensure you have proper training and obtain the necessary licenses.
When it comes to regulation, you must check with your local government about the certification and licenses required to open a day care.
You can visit the Division of Child Care Services in your state (or an equivalent organization) to check what type of training, experience, or credentials are needed to open a day care legally.
For example, in New York State, you need to fulfill the following criteria for starting day care:
You must have an associate degree in early childhood education or a degree equivalent to it
You must have a minimum of 2 years of experience caring for children and a CDA credential
A high-school diploma with a minimum of 3 years of experience caring for children
Some states have additional requirements such as:
The owners and staff must be CPR-certified
Basic training for children first must be availed by the staff or owner
Background check of every staff member and the owner before starting the day care
Also, make sure to check other aspects such as child-to-adult ratio, healthy and safety regulations, food preparations, that are mandated by the local authorities.
The average cost of licenses for starting day care is between $2,000 and $5,000.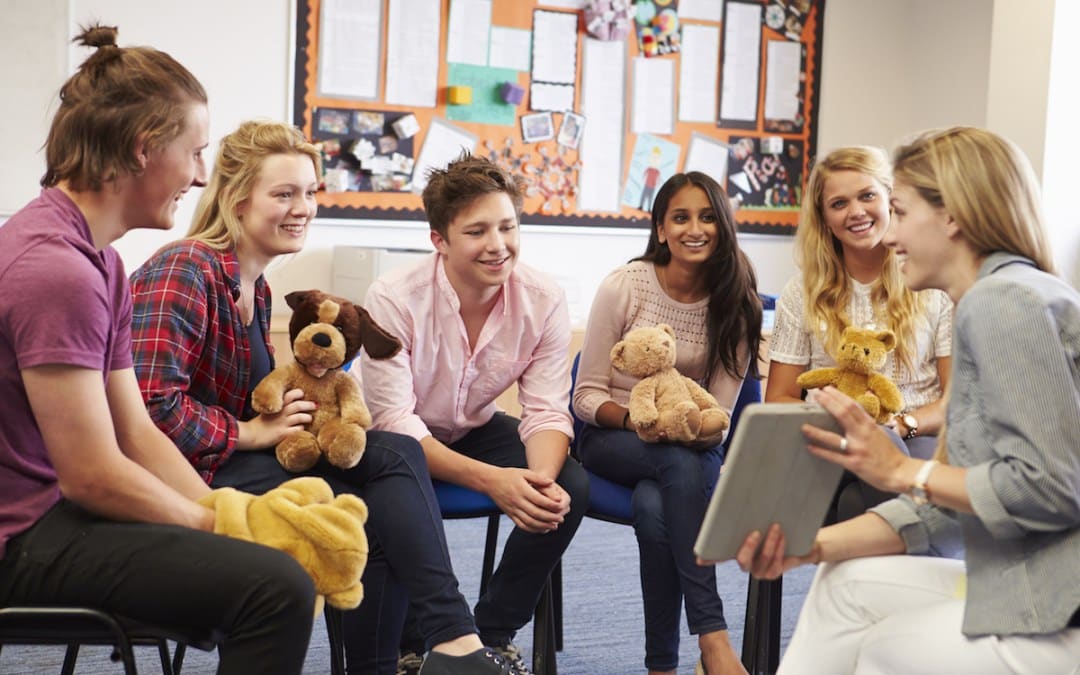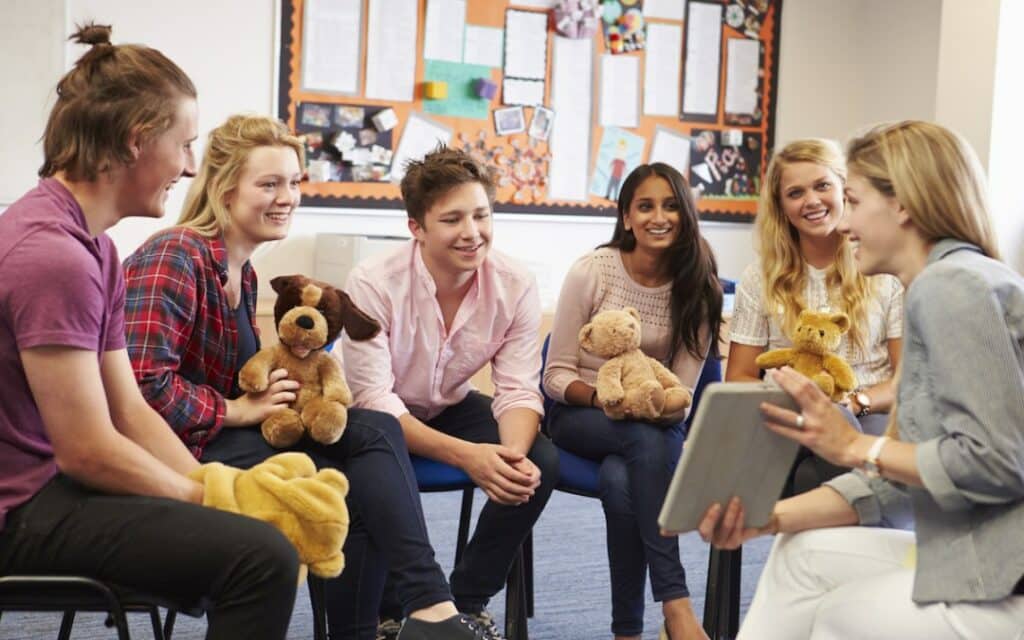 2. Prepare a Business Plan
A business plan will be the roadmap that you will follow to start your day care, receive funding, and how you will run your business.
Typically, a business plan has 7 key sections that include:
Executive summary: a 2-page section that summarises all the key information of your business plan below
Business overview: this section will contain information about your company and the business such as: what is the capacity of your day care facility (how many children), what are the amenities, opening hours, pricing, etc.
Market & competitive analysis: this section will contain the analysis of the target market, its competitive landscape along with customer preferences and trends
Sales & Marketing Strategy where you outline your plan to acquire customers (the channels you will use, your budget, etc.)
Management & organizational structure where you list all the management roles and their experience in the industry, as well as any other key members of your company (senior managers, caregivers, etc.). This is also where you should include a chart of your organizational chart with all the roles and their direct and indirect reporting lines
Financial plan: your projected 5-year financial projections (income statement, cash flow statement, balance sheet) as well as some key metrics and analysis (e.g. break-even analysis, use of funds, etc.)
Funding ask: this is where you explain what loan/investment/grant you are seeking as part of this business plan, how much do you need and how you intend to use the funds.
It's also best practice to add an appendix at the end to include important details such as: the day care facility layout plan, key contracts, caregivers resumes and references etc.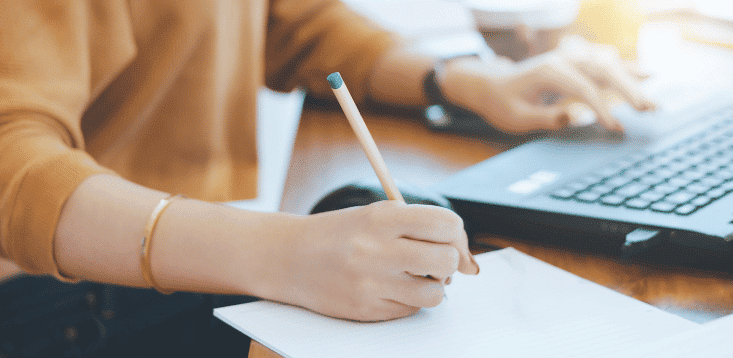 3. Build a Financial Plan
Your financial plan should include 5-year financial projections of your revenue and expenses. You should include the 3 financial statements as well as your assumptions clearly laid out. Your financial plan should be built using a spreadsheet like Excel.
When projecting your revenue, make sure to sensitize pricing and the number of customers as a small change in these assumptions will have a big impact on your revenues.
When it comes to the costs, consider both startup and operating costs:
Startup costs are the expenses you must pay before you start your day care;
Operating costs, instead, are the expenses you pay for each month to run the business.
Startup Costs
The startup costs for opening a child care center depend on various factors such as the location and size of your day care facilities, the capacity (the number of children you plan to have), the quality of the amenities, etc.
For example, it costs on average $130,000 to $490,000 to open a day care facility with 50 children. For more information on how much it costs to start and run a day care business, read our article here.
Get a rock-solid business plan with the 
Daycare financial model
5-year financial plan already built

20+ charts for your business plan

Video tutorial 🎥

5,900+ downloads
4. Choose a Day Care Facility
This stage should be rather simple if you intend to operate your day care out of your house. If not, you'll have to look for a location for your day care center.
You can check with your local churches, schools, or recreational centers for space to run day care. Normally these places would agree to host your day care for a monthly fee. Use your personal sources or check the local newspapers to find such options.
The ideal place for day care facility should be centrally located, have easy access, and be child friendly. Try to research what type of day care centers are preferred by families and then choose the location that matches the requirement. After finding the right place, you must check the local zoning laws and their licensing guidelines.
How many square feet should your day care facility have?
When it comes to space requirements, you should have an average of 100 square feet per child (indoor and outside playground, sleeping and dining room included). Therefore, if you have 50 kids, you need to have a 5,000-square-foot space. Keep in mind that this is an average and will vary depending on the quantity and type of amenities and services you provide.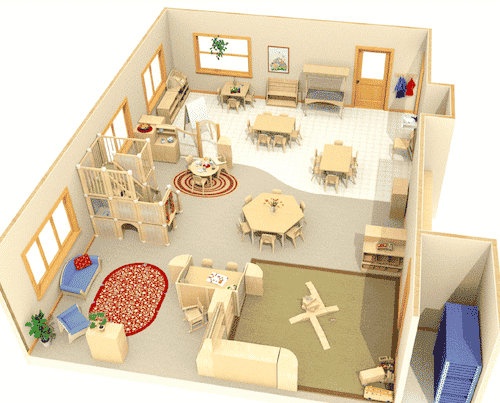 How much does it cost to renovate a day care facility?
After paying the down payment or the lease deposit, you must take care of the renovations. Make sure to follow the rules and regulations for remodeling the day care when renovating. Common ground rules are making the space accessible, sustainable, safe, and functional.
Renovations for a daycare center cost between $40 and $60 per square foot, whereas establishing a facility from the ground up will cost $170 per square foot, assuming your rented day care space is currently in good condition.
So the total renovation expenditures for a 7,000-square-foot daycare facility can range from $280,000 to $420,000, assuming you're renovating an empty space. For more information on the cost estimates you can expect to renovate a day care facility, read our article here.
For a full rundown of how much it costs to renovate a day care facility, as well as some cost estimates (e.g. playground, cafeteria, classroom, etc.), read our complete guide here.
5. Get funding for your Day Care
Unlike other businesses, there are a number of grants available to help you finance day care startup costs. You can also think about organizing local fundraising or obtaining an SBA loan. Your intention should be to use these funds as an investment that will benefit your company.
With time, you can invest in better supplies and equipment by using the income to pay for these costs. It's acceptable to start small and work your way up.
You can choose from the following type of funding options:
Startup Business Loans
If you are struggling to raise money on your own, getting a startup loan is a fantastic choice. You can choose between a business grant and an SBA microloan. An SBA loan will be prudent if you require extended payback terms with cheap interest. Obtaining an SBA microloan is substantially simpler than obtaining a regular SBA loan.
SBA Community Advantage
You can also opt for community advantage loans which are meant for businesses involved in serving underprivileged communities.
Government Grants
Government grants are also a great way to fund your day care. Several state-run or federal fund programs are aimed at helping early childhood education providers. You can check with your state's Child Care and Development Fund Plan for the daycare start-up funds.
You can also check the Administration for Children and Families Office of Child Care's list of the detailed guidelines on federal and state financing programs for child care centers.
6. Get Day Care Equipment & Supplies
Once you have a location and took care of the necessary renovations, you will have to arrange for the necessary equipment and supplies to run your day care. Some basic equipment for day care are baby cots, bed sheets, mattresses, pillows, pillowcases, toys, tables, chairs, projectors, TVs, DVD players, fire alarms, and security alarms. You will also need safety supplies such as: first aid kits, smoke detectors, carbon monoxide detectors, fire extinguishers, emergency preparedness kit.
In addition to these, you will need to add furniture such as: tables, chairs, highchairs, nap mats, cribs, step stools, shelves, etc.
On average, it costs $300 to $400 for each child to pay for these supplies & equipment. So if you are planning to start a day care with a capacity of 50 children, then your cost of equipment would be between $15,000 to $20,000.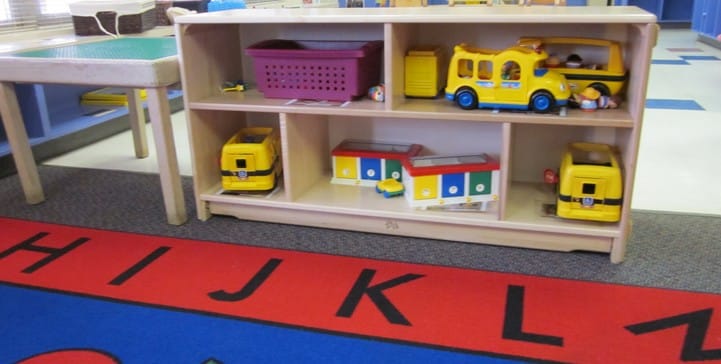 7. Get Insurance for your Day Care
When you decide to start a day care, you need to opt for insurance to protect children, your employees and your business. Most childcare centers require a variety of insurances. These contracts often contain company, property, workers' compensation, and liability insurance.
If you are not sure what type of insurance is required, you can check with the local authorities in your state to get a clear set of insurance requirements.
The average cost for daycare insurance can range from $450 annually for home-based childcare operations to $2,000 annually for commercial daycare facilities.
8. Hire Staff for your Day Care
You can open a small day care business by yourself. Yet, as the business scales up, you will have to hire caregivers and train them to take care of additional kids. This is particularly true if you come up against the staff-to-child ratio that is specified in the guidelines for obtaining a day care license. Check these to ensure you have adequate employees to care for the children. As a rule of thumb, you should have a 5:1 or 4:1 ratio depending on the age of the children you take care of.
Also, it is important to do background checks on every staff member and get references to ensure the safety of children. You need to be very cautious while choosing the right people to be a part of your team.
The average gross yearly salary of a caregiver is $30,520 and day care teachers receive average annual compensation of $52,000. The Day care supervisors make $45,000 a year on average instead.
So assuming you run a facility of 50 children, you will require 10 caregivers for a 5:1 caregiver-to-child ratio. This corresponds to average monthly compensation costs of between $35,000 and $40,000 (including 20 percent for taxes and benefits). In addition to caregivers, don't forget to hire support functions (e.g. a manager, support staff, HR and finance).
Get a rock-solid business plan with the 
Daycare financial model
5-year financial plan already built

20+ charts for your business plan

Video tutorial 🎥

5,900+ downloads