The confectionery & snacks segment is the largest segment of the food industry. If you're planning to open a donut shop and make your business thrive in the competition, you must start with a proper plan and a brilliant execution.
Donut shops are also very profitable: if you run carefully, you can generate a profit margin of around 25%.
If you're confused about where to start, we have laid out below a detailed guide on how to open a donut shop in 10 steps. Read on!
For more information on donut shops, make sure to check our guides below:
How Much Does It Cost To Open a Donut Shop? Examples
How To Build a Financial Model For a Donut Shop
How to Write a Business Plan for a Donut Shop: Complete Guide
1. Research the Donut Shop Industry
Research is the first step and one of the most significant steps to opening a donut shop. Indeed, research provides you with the necessary information and data, which later become your business's supporting pillars.
Your research must cover the following areas:
a) Competition
You aren't a single person venturing to start a donut shop. It's why you need to understand the degree of your competition.
You need to understand the products and services of your competitors. For example: what type of donut shops are they? Do they have a customer sit-in area, or is this takeaway only? Do they offer delivery donuts?
To stand out from the competition, you must offer unique products besides high-quality food and attractive prices to attract customers. You can also offer a sit-in area for your customers.
b) Location
Choosing a high-traffic location will drive more customers to your donut shop. Suppose your preferred location has more of a working-class population with little to no time for cooking; you'll have a steady flow of customers.
While looking for real estate for your donut shop, you should keep in mind:
Accessibility to your chosen location
The demography and demand for donuts in the location
Location proximity to the target audience
Regulations & zoning rules
Competition in the area
Commercial space rental prices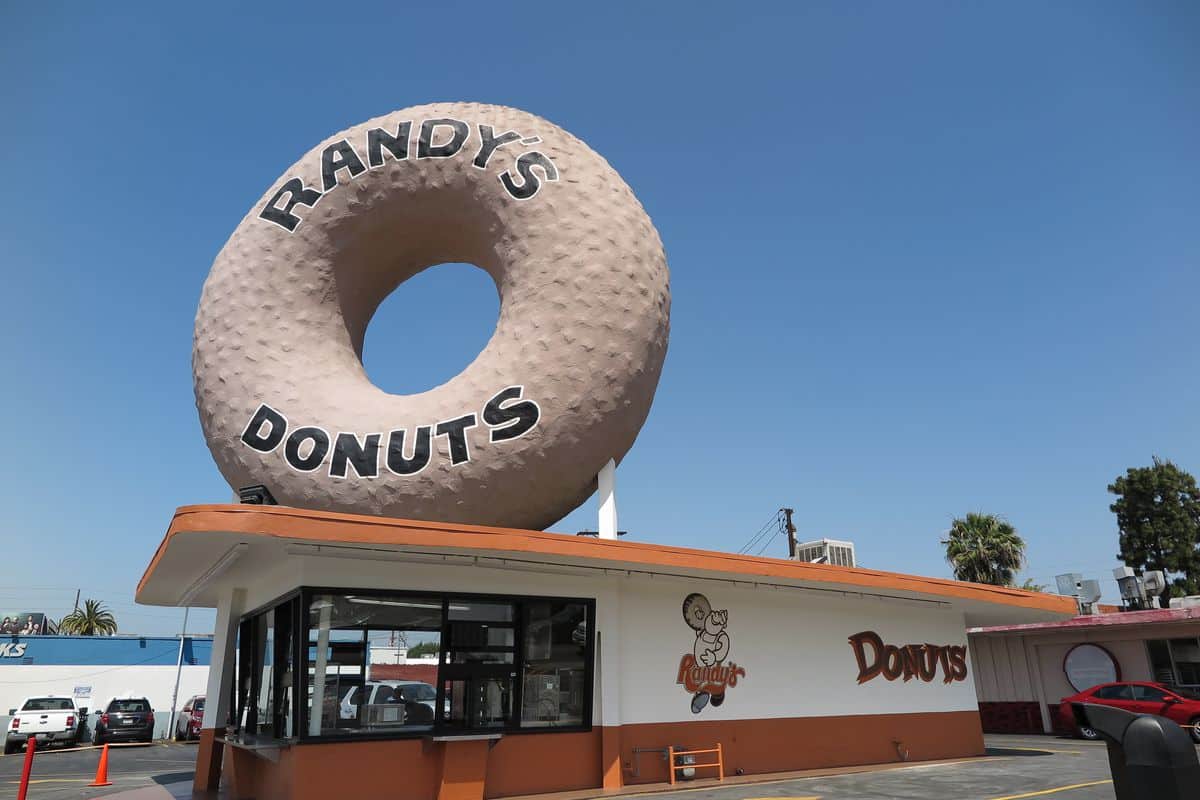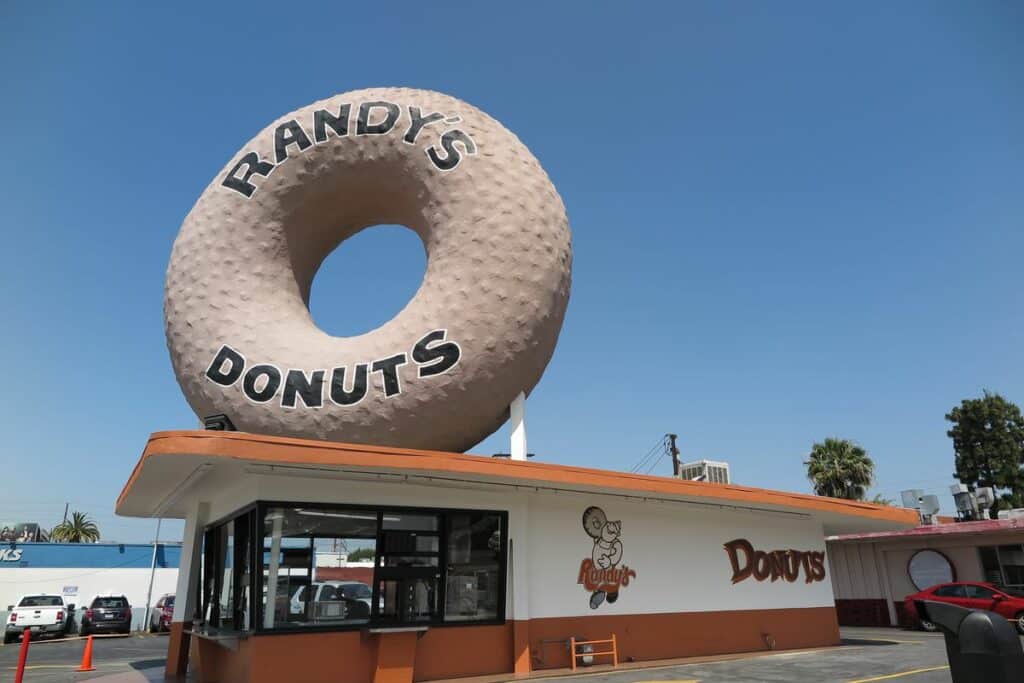 c) Cost
Before starting your donut business, you should have a fair idea and estimate the one-off and recurring operating expenses for your donut shop. Indeed, wrong estimates can lead to disastrous losses.
Make sure to include these costs in your financial projections and business plan. See more on that below. If you haven't done so yet, read our article on how to create accurate financial projections to successfully obtain an SBA loan for your business.
d) Purchasing Power
Although affluent people may prefer fine dining, for the middle class, fine dining might only be a once-in-a-while experience.
The purchasing power of the location will help you decide on the menu items and target your audience better.
e) Competitor Strategies
Remember! You'll face fierce competition. To differentiate your donut shop from the competitors and earn more customer popularity, you should know your competitor's strategies and devise some customer-acquisition strategies.
2. Select your Donut Shop Format  
Which type of donut shop do you want to open? It might be a counter only, dine-in, food truck, and so on.
Also, you need to select the menu you'll offer to your customers. For example, will you offer drinks, coffee and other snacks as well or stick to donuts only?
Selecting your menu will define important considerations such as: the square footage of the shop, equipment & appliances as well as the cost to source your products.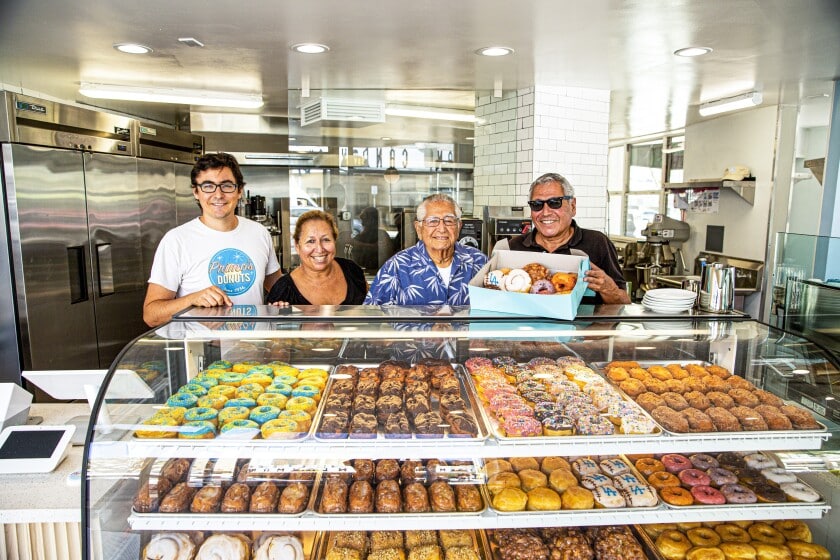 3. Write a Donut Shop Business Plan 
Your business plan is like a blueprint to help you establish your donut shop. A thorough business plan outlines the inputs and outlets of an operation.
Your business plan must include important information such as:
Your donut shop name
Selection of location (and why?)
Executive summary
Your products and services
Market analysis
Competitive analysis
Marketing strategy
Sales strategy
Operation plan
Financial plan
A robust and detailed business plan will guide you throughout the launching of your business. It also helps potential investors understand your business better.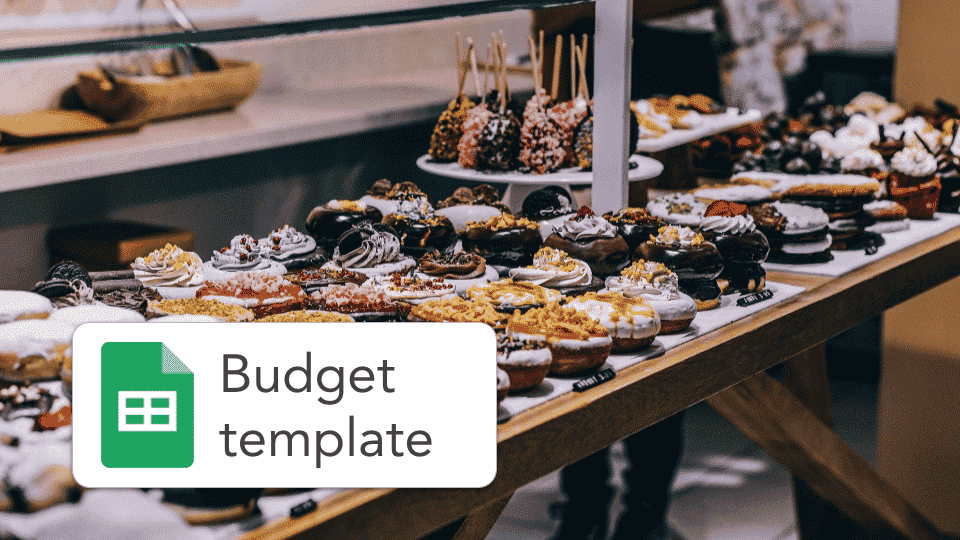 Download the Bakery budget template
Lender & investor-friendly

Easy-to-use Excel template

CPA-developed financials

30+ charts and metrics
4. Acquire Donut Shop Licenses & Permits
Another important step before you can open your donut shop is to get all the necessary certifications, licenses & permits to operate.
Avoiding them will lead to legal consequences and hefty fines. Specific fee structures are available for your business depending on your business structure, such as sole proprietorship, LLC, etc.
The essential permits & licenses required for opening a donut shop are:
Food Handler's License
Sales License
Catering License
Zoning Permits
Health & Safety Inspection.
Here's a complete list of permits & licenses which you can refer to. The regulations, permits & licenses vary from one state to another. Hence, do your research.
5. Promote your Donut Shop
Before launching your donut shop, you should also have a fair idea of the marketing & advertising strategy you're going to implement.
You need to get your own website and start online marketing on social media platforms. You can also plan to invest in real-life advertising like signage, flyering, paid ads on social media, and others.
A proper marketing strategy will create brand awareness among your target customers. Also, it will allow you to attract your first customers before you can later rely on organic growth (word-of-mouth, recommendations, etc.).
6. Design Your Donut Shop Layout
Designing your donut shop aims to attract and engage with potential customers. Your donut shop must be spacious with comfortable seating arrangements and inviting colors to draw attention and customers.
Design the layout of your donut shop. Make sure to display your beautiful donuts using a glass case or any other attractive display format. Try to find a color scheme and theme similar to your food selection. Also, ensure that the colors you choose must be bright and appealing.
While designing your donut shop, decide if you'll have lounge furniture, seating area, or community tables. You also need to consider window service and decide whether you'll offer drive-through or walk-up service.
You also need to consider whether you want a separate storage area or it will be visible to customers like at Krispy Kreme. Your donut shop should invite your customers and make them feel warm.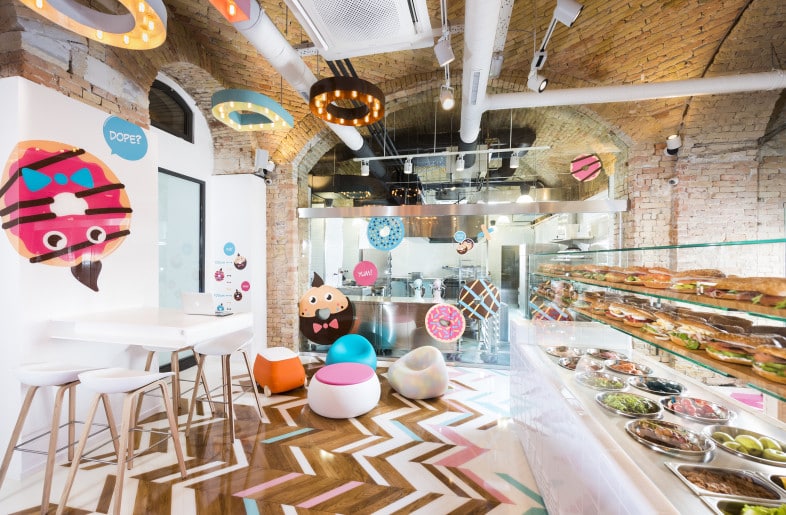 7. Create Your Donut Shop Menu
Initially, your marketing strategy will attract customers to your donut shop, and your menu will ensure that your customers keep coming back for their favorites.
A lousy menu will kick off customers, while a well-presented menu will help your customers get their favorite within no time. While creating your menu, consider what items you should add to help you beat your competitors.
You might include some options with exciting flavor combinations or toppings. For the less adventurous customers who expect only a donut, you might offer some basics.
The menu is an essential feature for your donut shop, regardless of size. Thus, design a strategic menu design.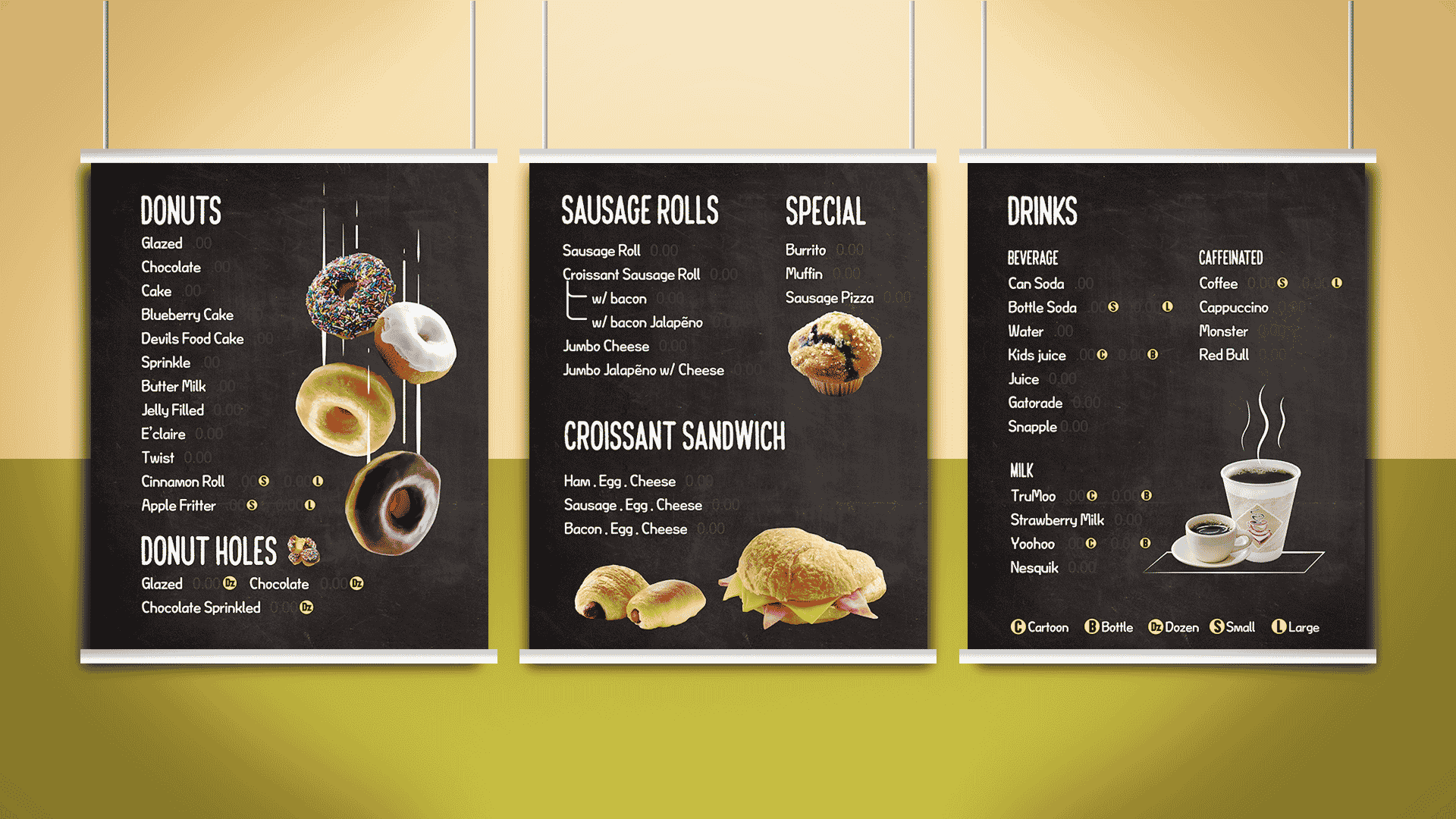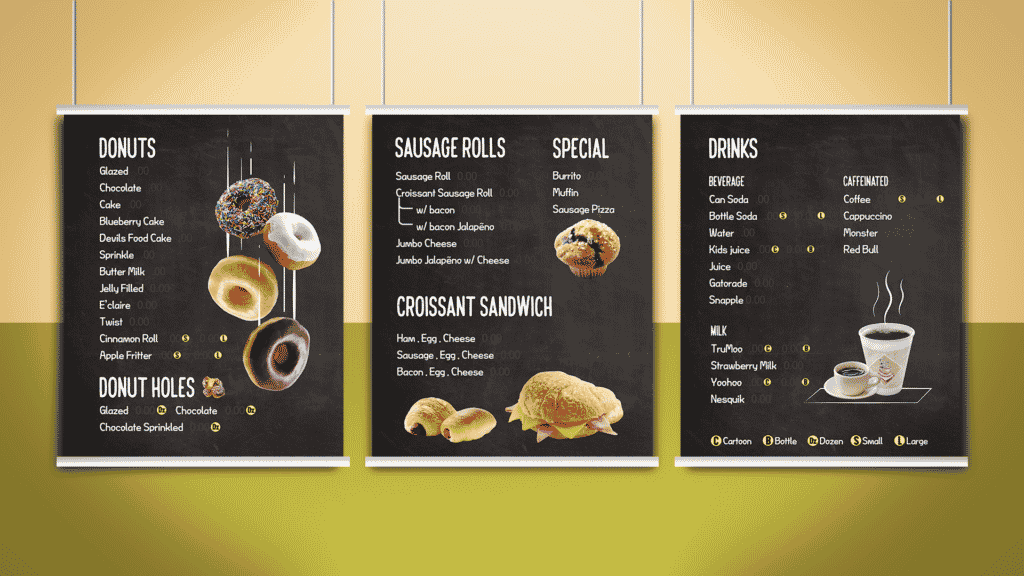 8. Get Funding for your Donut Shop
Raising your startup capital is one of the most important steps of opening your donut shop. The startup capital and loan amount you need to get for your donut shop business venture will vary depending on the location and size of your property and your business plan.
Make sure that your loan at least covers the following:
Cost for the premises (purchase or rent)
Cost of equipment & furniture
Cost of initial supplies
Legal expenses
Insurance & POS costs
Utility bills, electricity
Operational costs for the initial 6-12 months
Like any other new retail business, your new donut shop will take a few months to generate profits. Thus, your initial funding must be able to cover your operating expenses during these initial months.
We have identified that it costs on average $43,700 – $89,200 to start a typical donut shop with 300 customers daily. Want to know more? Here is a detailed cost breakup you can expect.
| Startup cost | Amount |
| --- | --- |
| Lease security deposit (or loan down payment) | $11,000 (rent) – $40,000 (buy) |
| Building improvements | $10,000 |
| Equipments | $15,000 – $30,000 |
| License, Permits & Certifications | $1,500 |
| Marketing | $5,200 – $6,000 |
| POS System | $1,000 – $1,700 |
| Total | $43,700 – $89,200 |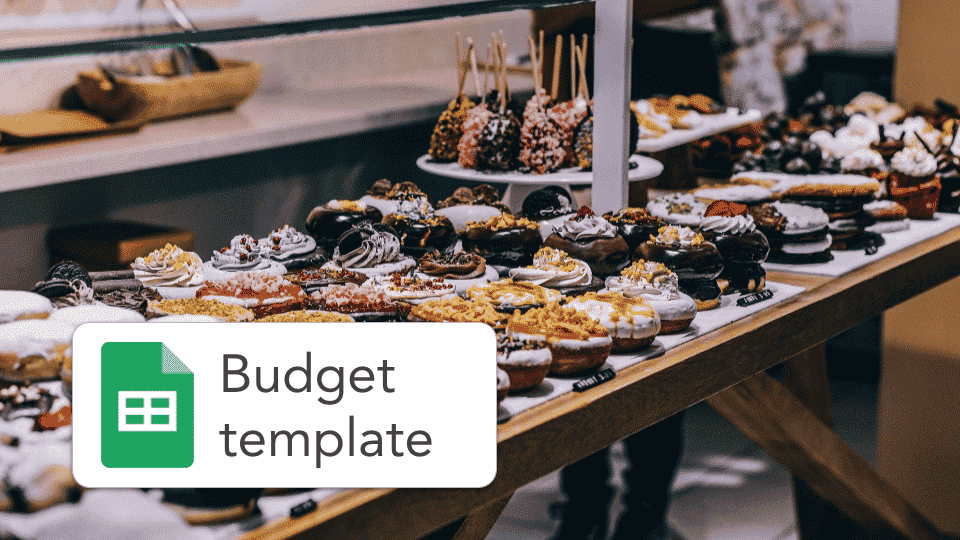 Download the Bakery budget template
Lender & investor-friendly

Easy-to-use Excel template

CPA-developed financials

30+ charts and metrics
9. Acquire Donut Shop Equipment
Once you've designed your donut shop and its menu, you need to shift your focus toward equipment, appliances & furniture.
Here is a complete list of donut shop equipment you must know.
Ovens
Ventilation
Grills
Ranges
Refrigerators & freezers
Microwaves
Toasters
Coffee Brewers
Food prep surfaces
Food prep equipment (knives, pots, pans, cutting boards, food processors, mixers, storage containers, etc.)
Safety equipment (gloves, sani-buckets, date labels, bar rags, first aid kit, food-grade cleaning supplies, chemical safety data sheets, etc.)
Sinks
Kitchen Display System
Serviceware (utensils, display cases, table service essentials, paper boats, clamshells, plates, etc.)
The cooking and kitchenware will usually cost around $15,000 – $30,000, depending on your size of operation. Also, you need to include some tableware, such as spoons, forks, glasses, plates, etc.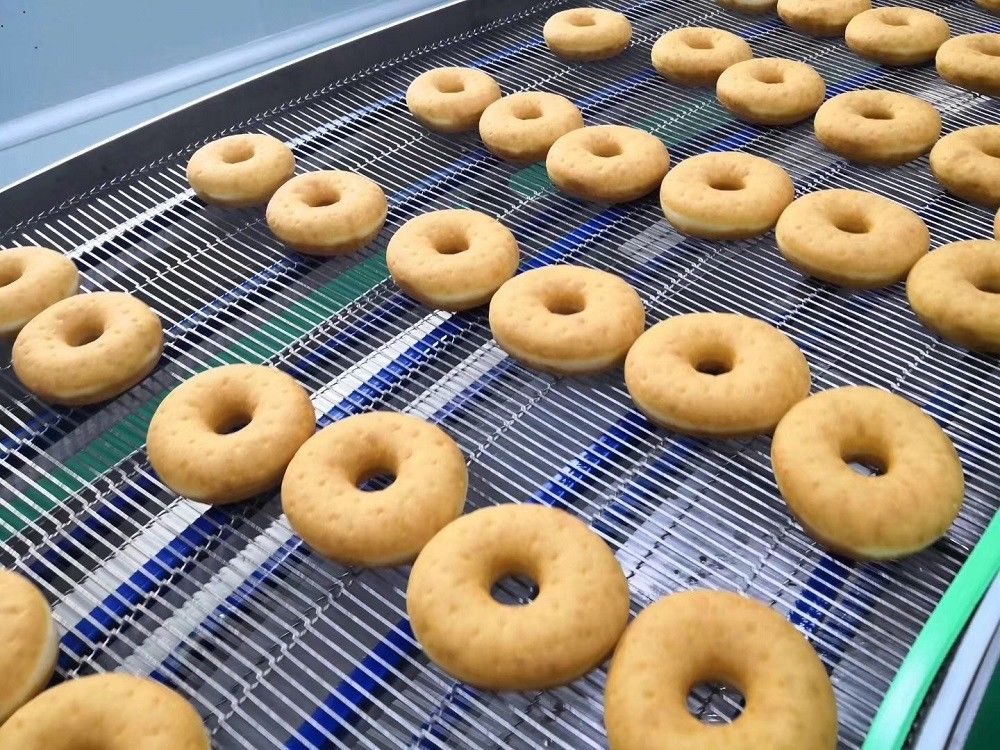 In addition to cooking and kitchen equipment, you should also get a POS (Point Of Sale) System to keep a record of your inventory & orders, facilitates payments, and reduces chances of theft and discrepancies.
The POS system you choose for your donut shop must have the following features:
It should be portable and handheld.
It should have an easy interface.
It should have a kitchen display so that customers spend less wait and place more orders efficiently in less time.
10. Hire Staff for your Donut Shop
You'll need to hire staff members before finally opening the doors to your business. In general, you'll need to hire:
Cashiers
Bakers, Pastry Chefs & Cooks
Serving staff (if you offer sit-in)
Shift leaders
Bakery managers
The exact number of staff will depend on the size of your donut shop.
Remember, the staff members you hire must have enough experience, and they should also know how to treat and greet customers pleasantly. They should be people-oriented people with excellent communication skills and social skills.
Assuming you run a small donut shop with 4 full-time employees (2x 8-hour shifts) with an annual gross salary of $28,016.
(US average for donut makers), you should set aside around $15,000 – 20,000 per month to pay for salaries.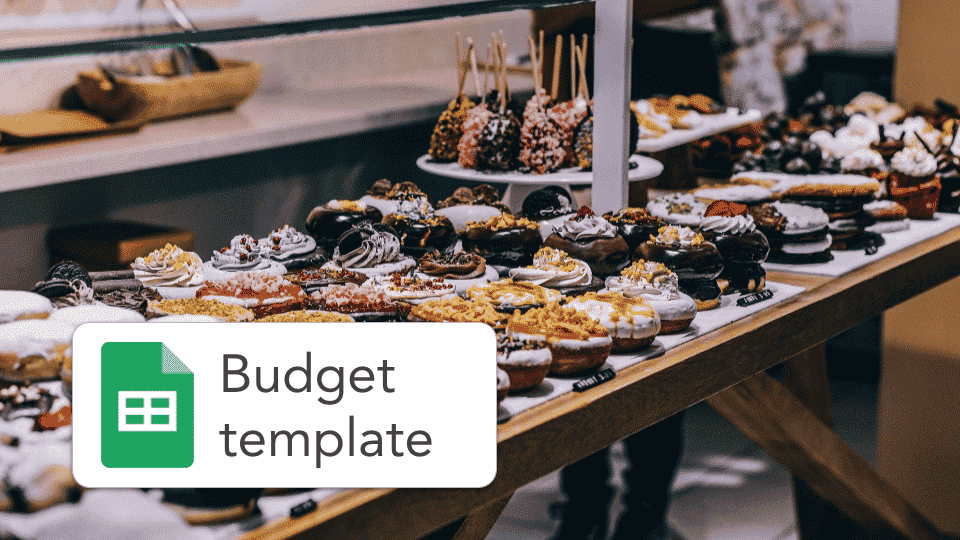 Download the Bakery budget template
Lender & investor-friendly

Easy-to-use Excel template

CPA-developed financials

30+ charts and metrics