How to Open a Pizzeria in 9 Steps: Checklist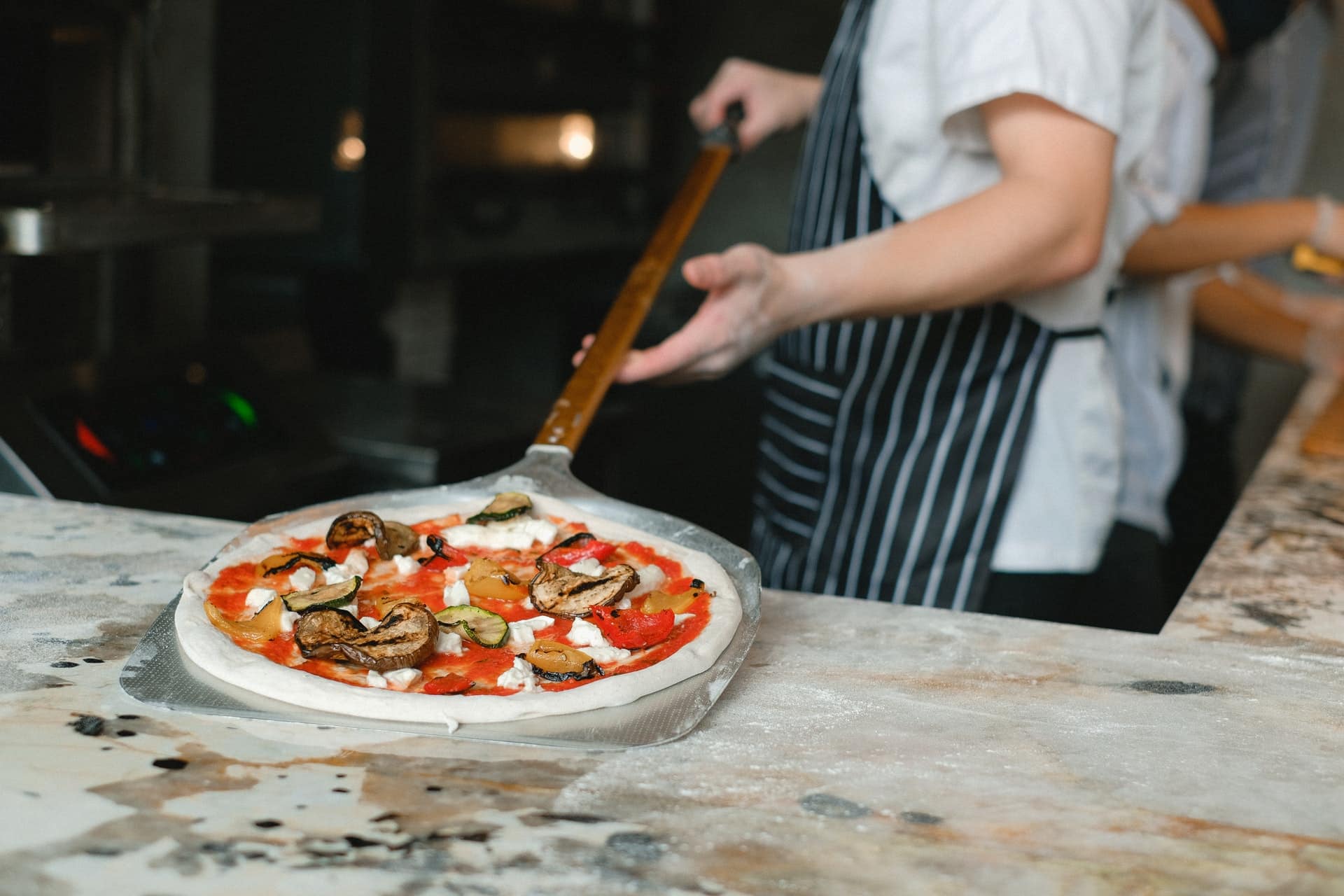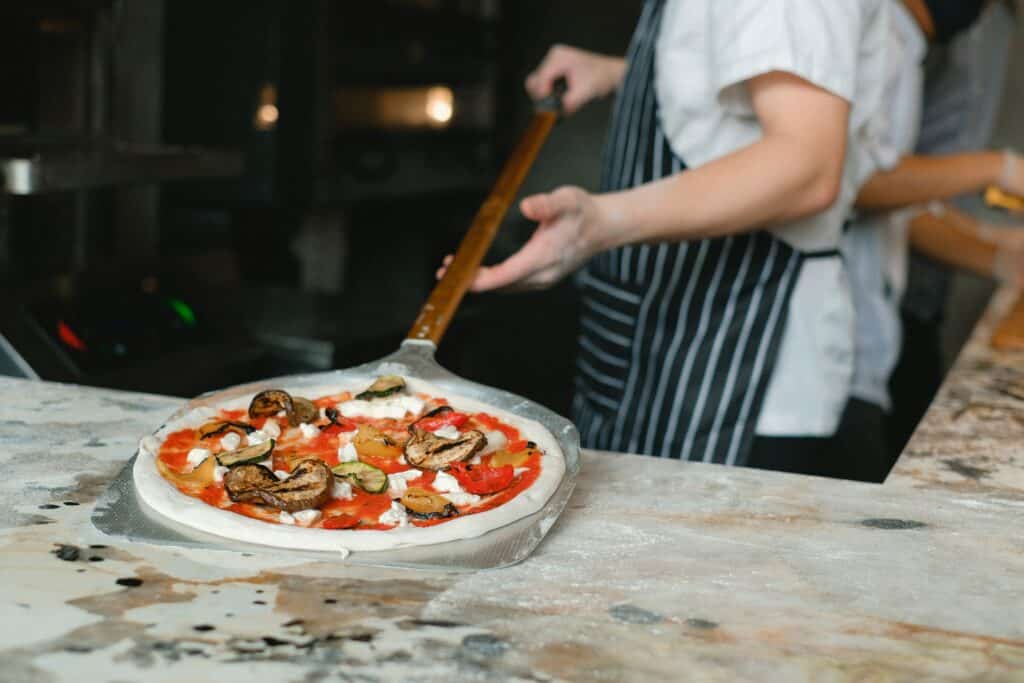 Do you want to open your own pizzeria? With an average of $450,000 annual sales and a 10-15% average profit margin, no wonder that pizzerias can be very profitable businesses.
Yet, the pizza industry is also very competitive: there were 75,117 pizza shops in the US in 2021. So if you decide to open your own pizza shop, you must have a solid business plan and a solid execution.
From business plan, location, design and hiring & training staff, there is a lot you must do.
So if you are feeling lost and need some guidance on where to start, this post goes through the 9 steps you need to follow to open and run a successful pizzeria. Let's dive in!
For more information on pizza shops, make sure to check our guides below:
How Much Does It Cost To Open a Pizzeria?
How To Build a Financial Model for a Pizzeria
How to Write a Business Plan for a Pizzeria: Complete Guide
1. Choose your Pizzeria Format
When deciding on the format of your pizzeria, you need to decide on its business model and fix the outlet's menu.
Depending on your capital, location, and vision, you can choose from various pizzeria formats. Here are a few examples of the business models available to choose from:
Full-Service Pizzeria
This type of pizzeria works on the concept of offering food and drinks. If you plan to open a full-service pizzeria, you must cater to a dine-in facility paired with a bar.
You can either choose to offer a high-end experience to your customers with an upscale restaurant with a pizza-only menu. Instead, you can open a laid-back pizzeria restaurant with a bar, TVs for the sports crowd or by inviting live-music bands for celebrations.
Takeout and/or Delivery Pizzeria
For a delivery pizzeria, you will have to plan for in-house drivers who can deliver the pizza to the customers. Alternatively, you can collaborate with a delivery partner who can take care of the deliveries.
Food Truck Pizzeria
The mobility offered by a food truck pizzeria is one of its prime advantages. If you plan to open a food truck pizzeria, you can move around places where it's easier to find customers. This model is the best fit for business districts, college areas, etc. Yet, you might need special licenses if you want to open a food truck pizzeria. For more information on how to start a food truck business, check out our article here.
Ghost Kitchen Pizzeria
The pandemic has popularized a new type of business model: ghost kitchens. A ghost kitchen pizzeria would only cater to online orders, so it does not need any storefront. For more information, read our article here.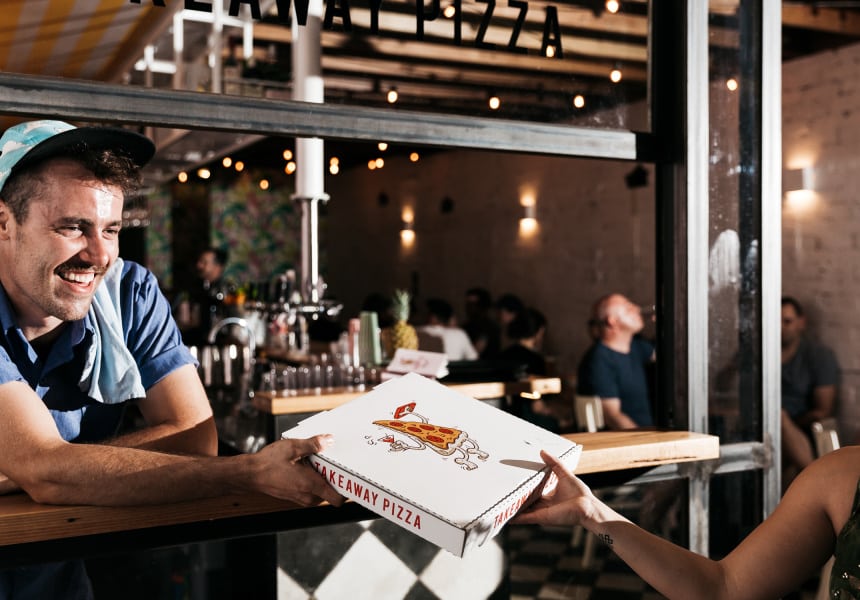 2. Select a Pizzeria Menu
It is important to give due consideration to the menu of your pizzeria as it could give you a great competitive advantage. Choosing a unique menu, such as offering wood-fired pizza or a stone-baked pizza, could easily become your USP.
Besides, you can also offer salads, sides, sweet dishes, etc. to lure customers. Here are some of the common menu types for a pizzeria:
Pizzas
Start with the types of pizzas you would be offering. The menu of pizzas should be designed keeping in mind the taste of your target customers. You will have to arrange equipment and supplies based on your menu.
Appetizers
Breadsticks, chicken wings, meatballs, garlic knots, and mozzarella sticks are typical starters on pizza menus. Some upscale dine-in pizzerias focus more on contemporary options, like antipasto plates, soups, and raw bar items.
Salads
Your pizzeria menu should definitely have salad offerings. You can start with something basic like Greek, Ceasar, or Garden salad and later make changes to the salad menu per the customers' demand.
Sandwiches
Sandwiches are a common inclusion in the menu of pizzerias. You can offer different types of salads such as chicken mayo, meatball or steak-cheese sandwich.
Desserts
Desserts are commonly offered at pizzerias that have a dine-in facility. Cheesecakes, ice creams, pastries, etc., can be included in the menu of your pizzeria.
Drinks
Your beverage selection would highly depend on the dining format you choose. Sodas and other bottled drinks are virtually always available for grab-and-go at pizzerias. Beer, wine, and complete bars are a part of the menu at pizzerias where customers dine in.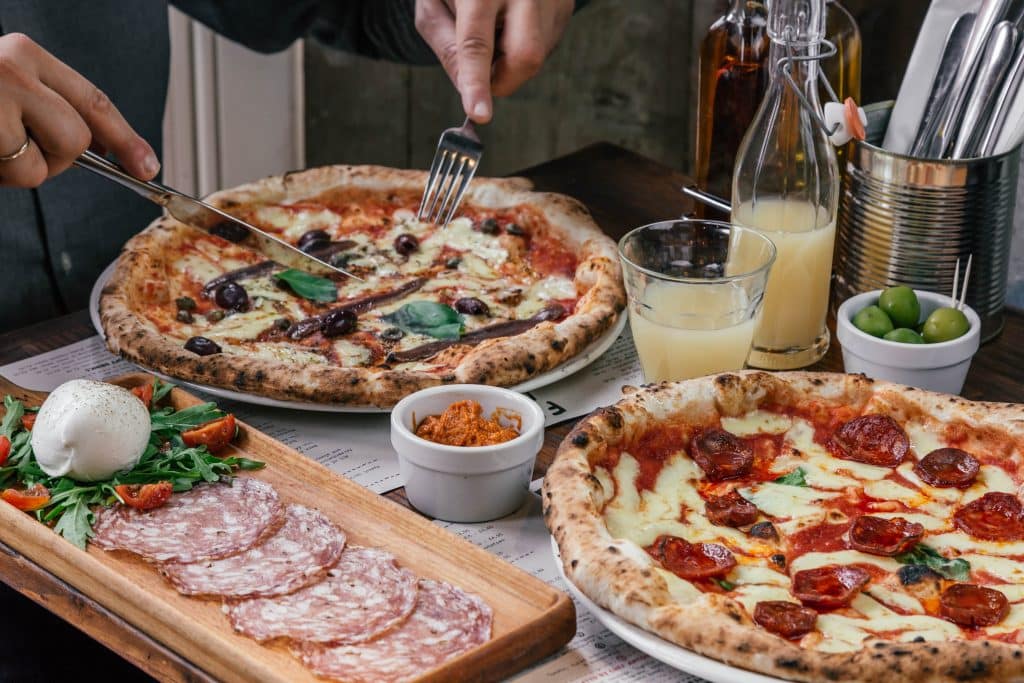 3. Prepare a Business Plan
The business plan will be the roadmap that you will follow to open your pizzeria, receive funding, and how you will run your business.
Typically, a business plan has 7 key sections that include:
Executive summary: a 2-page section that summarises all the key information of your business plan below
Business overview: this section will contain all relevant information about your business, for example: the type of pizzeria you plan to open (takeout, sit-in, etc.), the menu and prices, the location of the restaurant, etc.
Market & competitive analysis

: this section will contain the analysis of the target market, its competitive landscape along with customer preferences and trends

Sales & Marketing Strategy where you outline your plan to acquire customers (the channels you will use, your budget, etc.)
Management & organizational structure where you list all the management roles and their experience in the industry, as well as any other key members of your company (managers, chefs, etc.). This is also where you should include a chart of your organizational chart with all the roles and their direct and indirect reporting lines
Financial plan: your projected 5-year financial projections (income statement, cash flow statement, balance sheet) as well as some key metrics and analysis (e.g. break-even analysis, use of funds, etc.)
Funding ask: this is where you explain what loan/investment/grant you are seeking as part of this business plan, how much do you need and how you intend to use the funds.
It's also best practice to add an appendix at the end to include important details such as: the restaurant layout plan, key contracts with your suppliers, lease contract, managers' resumes, important quotes (renovation costs, equipment expenses, etc.).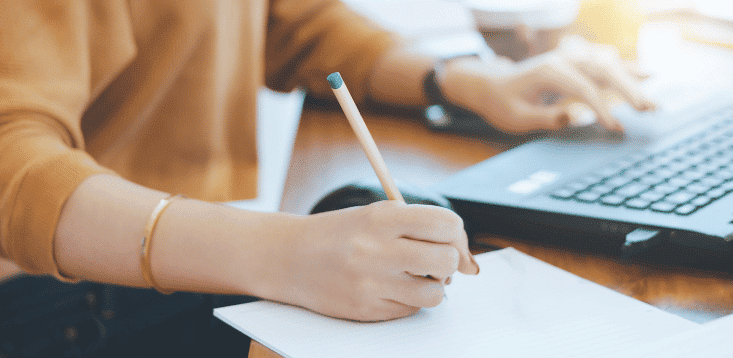 4. Build a Financial Plan
Your financial plan should include 5-year financial projections of your revenue and expenses. You should include the 3 financial statements as well as your assumptions clearly laid out. Your financial plan should be built using a spreadsheet like Excel.
When projecting your revenue, make sure to sensitize pricing and the number of customers as a small change in these assumptions will have a big impact on your revenues.
When it comes to the costs, consider both startup and operating costs:
Startup costs are the expenses you must pay before you start your pizzeria;
Operating costs, instead, are the expenses you pay for each month to run the business.
The startup costs for a pizza shop depend on a number of factors such as: whether this is a sit-in or a takeaway / delivery only pizzeria, the capacity of your pizzeria (tables for customers), the location of your pizza shop, the quality of the furniture, design and equipment, etc.
For example, it costs on average $89,000 to $266,000 to open a small pizzeria with 1,500 sq. ft.. For more information on how much it costs to start and run a day care business, read our article here.
Get a rock-solid business plan with the 
Pizza shop financial model
5-year financial plan already built

20+ charts for your business plan

Video tutorial 🎥

5,900+ downloads
5. Get Licenses for your Pizzeria
First, you should check with the local government regarding the paperwork associated with opening a pizzeria. The average cost for licenses and permits for pizzeria is about $1,000.
You can also retain a lawyer to evaluate contracts and ensure your store conforms to the law and has no illegitimate obligations. Although this will cost you more upfront, you can expect to save money from legal hassles in the long run.
6. Find a Name for your Pizzeria
When choosing the pizzeria's name, you must check if it's taken by any other competitor. Start by searching for the unique names among the shortlisted options on Google. It might be smart to check the U.S. Patent and Trademark Office for trademark filings while confirming the name's uniqueness.
You can pay an attorney to research for you if you don't have the time or resources to do it yourself. Hiring an attorney would give you peace of mind about choosing the legally permitted name and save time.
Once the name of your pizzeria has been decided, you can begin making plans for signage to attract customers. The signage can be used for regular promotions, flash sales, limited-time specials, especially during the holidays, etc.
7. Find a Location for your Pizzeria
To find the right location for your pizzeria, try to do the following:
Who are Your Target Customers?
Try to list down the specific type of customers you want to target. They could be college kids looking for a late-night meal or concert-going tourists. With the image of your target customers in mind, you can choose a location where you can find them easily.
Check Local Competition
It is important to check the status of your competitors in the vicinity where you plan to set up your pizzeria. Check their demand and try to understand if they are doing well in their business. This would help you to determine if the location is lucrative for your pizzeria or not.
Select the Site
Once you get a general idea of the vicinity where you want to set up your base, start looking for options. Choose a location that meets your size and capacity requirement. It would be wise to check how the previous tenants fared so that you realize if it's good for your pizzeria.
Seek Professional Assistance
Searching for a location on your own would require a lot of time and research. Why not take help from someone who has experience in this domain. Professional real estate brokers can easily help you find the desired location for your pizzeria.
8. Design your Pizzeria Layout
Once you have found the location, you will now have to create a layout plan for the kitchen, large tools like fryers and oven, chairs and tables, restroom, doors, exits, etc.
In addition to regulatory requirements, you should aim to create a comfortable and welcoming atmosphere for your customers.
You'll also require signage, lighting, and a music system to enhance the mood of your pizza restaurant. On average, you should spend around $20,000 and $40,000 in furniture and design for a small (1,500 sq. ft.) pizzeria.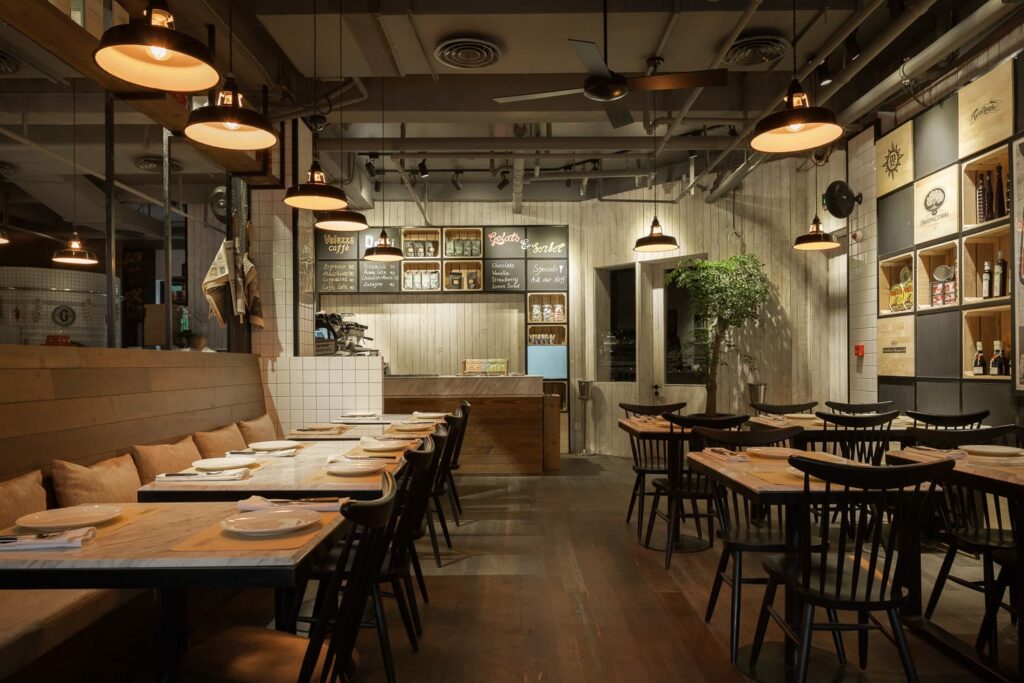 9. Get Funding for your Pizzeria
To arrange for funding, you must assess the startup costs On average, opening a casual 1,500 sq. ft. pizzeria costs $89,000 to $266,000.
When it comes to funding sources, the following alternatives are available to you:
Startup Business Loans
Getting a starting business loan would be a good option if you are struggling to raise money on your own for your pizzeria. You can choose between a business grant and an SBA microloan. An SBA loan will be prudent if you require extended payback terms with cheap interest. Obtaining an SBA microloan is substantially simpler than obtaining a regular SBA loan.
Equipment Financing
You will have to procure different types of equipment for your pizzeria. You can choose equipment financing if you don't have enough money upfront. These loans are simpler to obtain because the equipment acts as collateral.
Business Line of Credit
You may borrow money for any business expenses up to the maximum credit limit on a business line of credit. Since one just needs to pay interest on the amount borrowed from a credit line, they are considered a good option for startups. It is also simple to qualify for a business line of credit without excellent credit.
10. Get Pizzeria Equipment
A pizza oven, dough mixer, roller, refrigerator, commercial dishwasher, etc., are some common equipment you will need for your pizzeria. As a rule of thumb, the entire kitchen and cooking ware average should cost you $50,000 to $150,000.
Don't forget to account for tableware in your budget, such as forks, glasses, spoons, plates, etc. The average tableware price for a sit-down pizzeria restaurant can range from $20,000 to $80,000. Of course, you can significantly reduce these costs if you open a delivery or takeaway only pizzeria.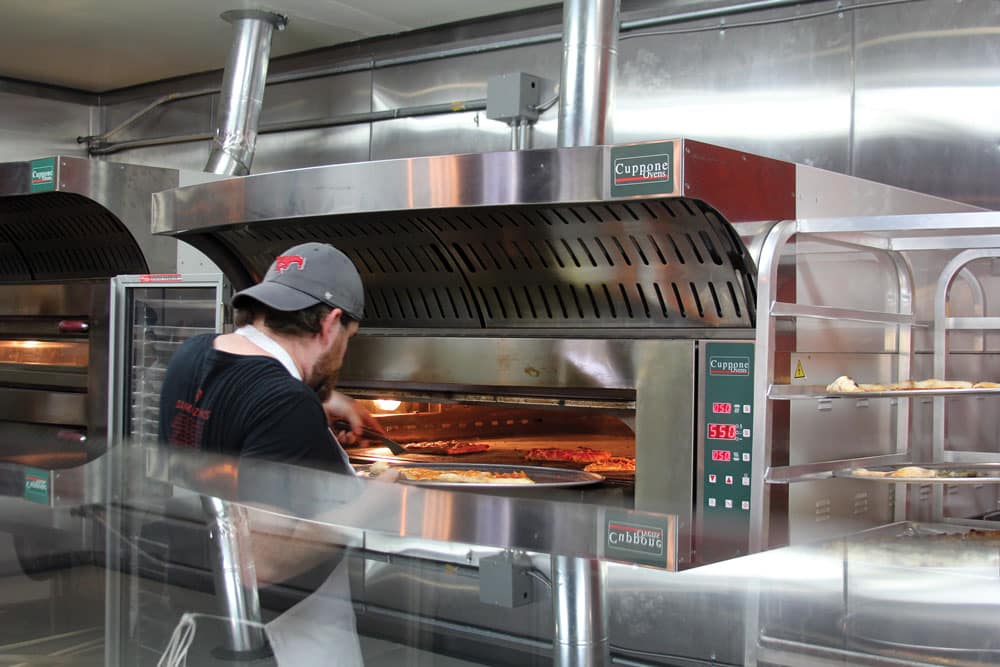 10. Hire Staff for your Pizzeria
To run a pizzeria, you will need personnel such as managers, chefs, servers, dishwashers, bus persons, etc. Every staff member has a specific role in a pizzeria; however, sometimes, their roles overlap. For example, you might have a manager who also takes up the responsibility of a server or may bus tables. If you plan to open a pizzeria on a basic level, your family members can also play some of these roles.
Manager
You'll need a manager who is knowledgeable about the sources, vendors, and purchase practices used locally. He should have the skills necessary to open and close the restaurant, buy food and drinks, operate the cash register or register, track inventory, manage the personnel, interact with suppliers, create and implement a marketing strategy, and perform other activities as needed.
Chefs
If you are just starting, it would be wise to have 3 cooks, two of which would be full-time and one part-time. Each shift (day/night) should have one full-time cook. The part-time cook can help during the weekend rush or assist with basic preparations.
Waiters
You will need the serving staff to serve the food and drinks to the customers if you have a dine-in facility in your pizzeria. The servers are considered the face of the pizzeria business, so you need to choose the ones who are polite and have great customer interaction skills. Make sure to hire at least one experienced and trained serving employee so that they can train the other inexperienced staff members.
Bus Persons or Bussers
After clients have been seated, bus persons are in charge of putting up and removing the tables and re-filling water glasses. Like your waitstaff, your bus persons should be assigned to stations; they should collaborate as a team. Bussers should be taught to focus on their jobs, refill water glasses as needed, check that condiment containers are clean and full before turning the table and help the server.
Dishwashers
The prime duty of a dishwasher is to ensure that you always have clean dishes for guests available. If needed, you can keep one part-time dishwasher and one full-time. The number of dishwashers needed would depend on the business and your operating hours.
Get a rock-solid business plan with the 
Pizza shop financial model
5-year financial plan already built

20+ charts for your business plan

Video tutorial 🎥

5,900+ downloads