The beer market in the US is projected to reach $146 billion in 2025, back full swing from its decline to $98 billion in 2020. Yet, the brewery industry is also very competitive: they were over 9,100 breweries in the US alone in 2021. So if you want to start your own brewery, make sure to have a solid business plan.
From research, acquiring the permits, the equipment, finding a location for your brewery and hiring staff, there are a lot of things to think about before you can start making sales. If you don't know where to start, or want to make sure you're not missing anything, this post will guide you.
Let's dive in!
For more information on breweries, make sure to read our guides below:
How Much Does It Cost To Start A Brewery?
How To Build A Financial Model For a Brewery
10 Strategies To Increase Your Brewery Sales & Profits
How to Write a Brewery Business Plan: Complete Guide
1. Research the Brewery Industry
Research is the first and most logical step before you can start any business. Same goes for breweries, you must conduct research and gather data on:
Competing breweries and their brewery concept (the beers they produce)
Target audience
Customer preferences
Craft beer production statistics, costs and prices
Beer distributors in your area (resellers, retail, bars, etc.)
The data you collect will help you choose the type of brewery you want to start, whether you will get enough customers, and estimate your sales and profitability based on your projected production capacity.
2. Find a Brewery Concept
The concept is the next logical step. It will define your company, the type of employees you will hire, the tone and words you choose for your advertising campaigns, and so on. There are 3 things you need to do here.
(a) Select a name
Choosing a name is not easy. So, take your time and select one that will become your company's identity over the years.
A good name must be:
Original: The name should not already exist. It must be unique and original. If you find a name that is similar to an existing business, avoid it. That may be confusing for people. An original name will help you to secure a trademark and help you avoid lawsuits from other businesses that might think that you tried to infringe on their IP
Reflective: The name you select must reflect the culture and ideology of your company. The "culture" refers to the cultural setup of the location where your company is located
Memorable: The name you select must be small and catchy. People should be able to remember and recall it quickly. It must be simple to pronounce and spell
Broad: There must be a broad appeal to the name you select. It must be open to a variety of products, themes, and branding opportunities. A highly specific name will severely restrict your growth opportunities
(b) Brand identity
Creating your brand identity is essential. Your brand must have a promise and a set of values. There must be an emotion associated with your products.
These things will allow you to identify your target audience and target market. They will also help you to hire employees who share the same value. Plus, they will give your business a direction.
Once you have created your brand identity, you must consciously put an effort to continue the identity. Keep your promises and values. This will allow you to create a community of loyal customers and help you to establish yourself in the crowded industry.
(c) Select your brewery concept
What are the different types of brewery? There are 6 main different kinds of breweries:
Nano brewery: This is the smallest type of brewery. There are no defined barrels per annum, but they produce a very limited amount of beer per year
Microbrewery: This type of brewery will produce less than 15,000 barrels of beer a year. Most beer is sold onsite instead of using distributors. These breweries are typically independently owned
Brewpub: A restaurant and brewery hybrid in which the beer produced is served to the bar customers
Taproom brewery: These are professional breweries that sell beer onsite and even via distributors. However, there are no restaurant services available. Sometimes, such breweries will have attached taprooms
Regional brewery: These are breweries that produce anywhere between 15,000 and 600,000 barrels of beer a year
Contract brewing company: In this form, a company will hire other breweries for beer production and packaging. However, the marketing and distribution of the beer will be the responsibility of the hiring company.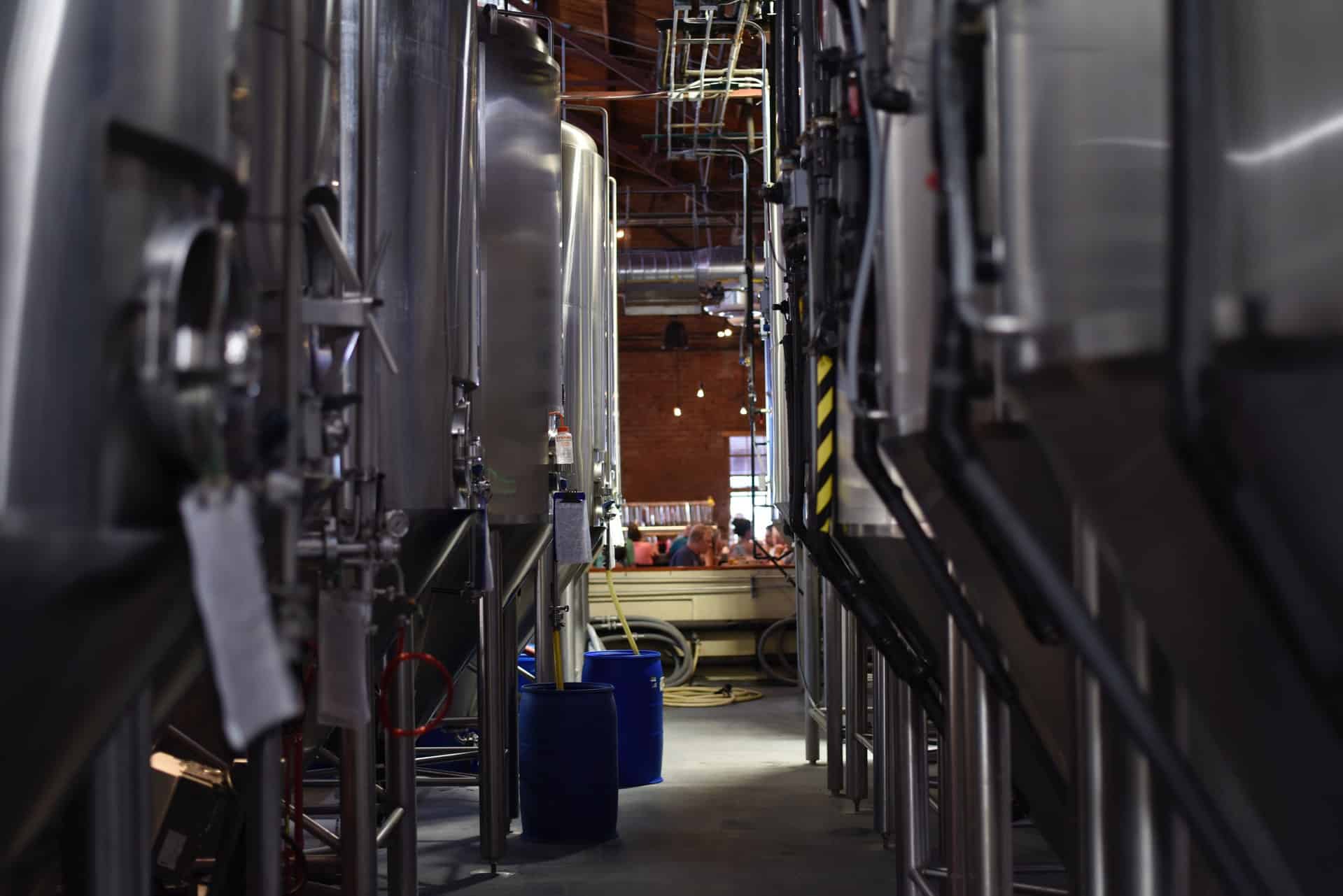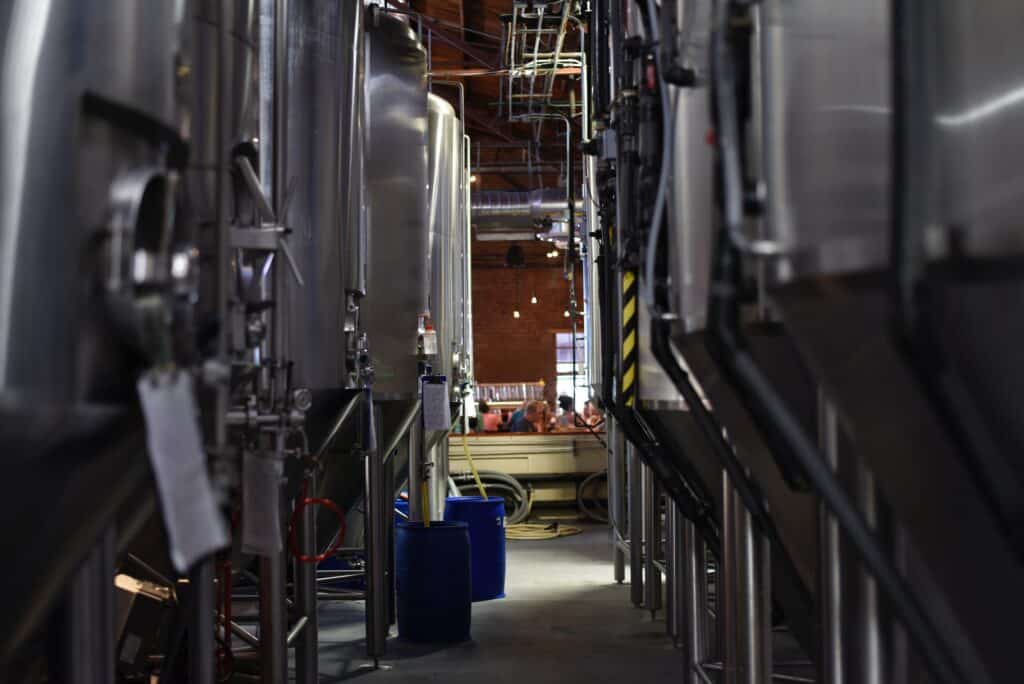 3. Create a Business Plan
A business plan will be the roadmap that you will follow to start your brewery, receive funding, and how you will run your business.
Typically, a business plan has 3 broad sections that include:
Concept: This section will contain information about the industry, your business model (is this a brewery or a taproom as well?), the beers you produce, etc.
Market: This section will contain the analysis of the target market, its competitive landscape along with customer preferences and trends. SWOT analysis is an important part of this segment to identify the barriers and the opportunities
Financials: This section will include your projected 5-year financial projections (income statement, cash flow statement, balance sheet) as well as some key metrics and analysis (e.g. break-even)
These broad sections are again divided into 7 subsections that include:
Executive summary
Business description
Market analysis
Competitive analysis
Operations
Management & Organizational structure
Financial projections
You can add an appendix at the end to showcase your logo, brewery blueprint, etc.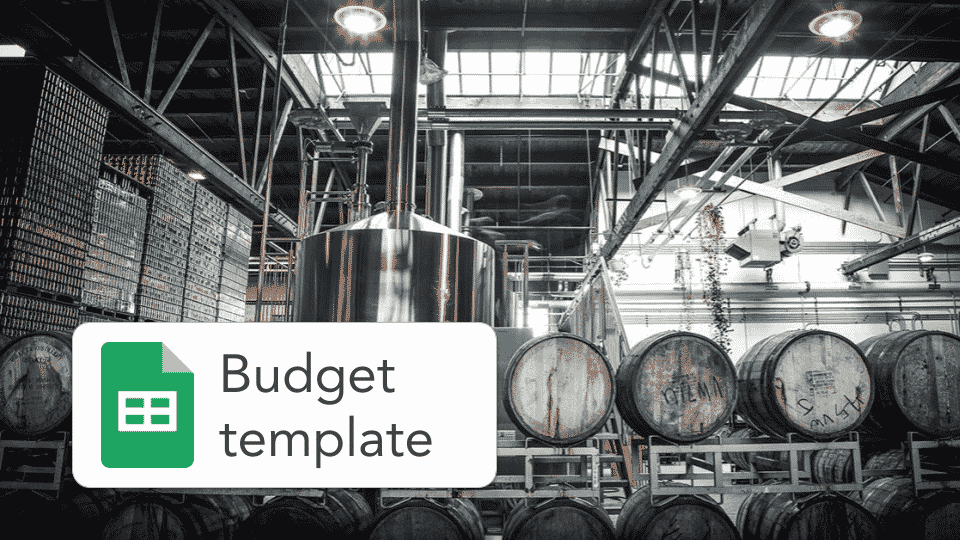 Download the Brewery financial model template
Lender & investor-friendly

Easy-to-use Excel template

CPA-developed financials

30+ charts and metrics
4. Get Funding for your Brewery
Opening a brewery is expensive and hence, it is only logical to think that you will need external funding even if you have some funds available.
While self-funding can help you to cover the cost of licenses and permits, you will still need money for equipment & machinery purchase, rent or mortgage, etc. There are various ways to get funded that include:
Bank loans
Equipment loans
Crowdfunding (e.g. Kickstarter, Seedrs, etc.)
Investors
If you are going for investors (angel investors or venture capital), they will have a vested interest in your business, and hence, they will most likely assume a board role.
We have identified that most breweries cost anywhere from $250,000 to $1 million to start. Larger breweries with more varieties of craft beer offerings can cost as high as $2 million. For example, key costs you can expect to start a 2,000 barrels craft brewery below. For more information on how much it costs to start a brewery, read our complete guide here.
| Startup cost | Amount |
| --- | --- |
| Machinery and equipment | $150,000 – $250,000 |
| Licenses | $5,000 – $75,000 |
| Software and Point Of Sale System (POS) | $1,000 – $5,000 |
| Marketing | $2,000 – $10,000 |
| Total | $158,000 – $340,000 |
5. Acquire Necessary Permits & Licenses
Since you will produce and sell alcohol, you will need a proper liquor license. You can apply for a limited license or a full license. A limited license will allow you to sell only specific types or quantities of liquor.
You will also require:
Forming a legal entity
Registering a business name for your brewery
Trademarking the brewery name
Registering with the Alcohol and Tobacco Tax and Trade Bureau (TTB)
Submit the brewer's notice
Obtain the state liquor license
Get the brewer's bond
You can expect the following costs:
Liquor license $3,000 to $400,000 (in most states you can settle for $20,000 or less)
Professional services: $5,000 – $50,000
If you want to serve food along with alcohol, you will need additional licenses. This guide will help you understand some of the associated costs and steps.

6. Find a Location for your Brewery
This is an important requirement and involves a significant investment. There are various factors to remember while selecting a brewery location and they include:
Zoning rules: Local governments will have zoning rules that you cannot violate. Most likely a brewery will be allowed in designated industry zones. Check with your local government rules
Building specifications: The size of the building depend on your brewery type. Remember that you will need enough space for storage, equipment & machinery installations, a comfortable workspace for your employees, possibly a dining area (if you are allowing guests), and parking (for guests, employees, and yourself)
Safety precautions: The building you select to run your operations must pass all safety regulations
7. Acquire Brewery Equipment
Starting a brewery will require various specialized equipment and machinery. You must acquire the necessary items depending on the type of brewery you are opening. Here is a quick list:
Brewing equipment: you will need fermenters, brew kettles, and boilers.
Bottling & packaging: you will need things like growler fillers, labels, beverage shippers, etc.
Keg tapping, dispensing, & serving: these will be necessary if you want to serve beer on-site. Equipment includes beer dispensers, nitro infuser boxes, tap towers, and pump keg taps.
Keg storage: you will need key racks to increase storage capacity and keep things organized. You will also need drum handling equipment and hand trucks for easy transport.
Brewing accessories: test meters and strips, portion scales, stock pots, etc., are some accessories you may need.
Refrigeration: you must keep your brews refreshing and cool. You may need walk-in refrigerators or countertop bottle coolers depending on the brewery size.
Ingredients & flavoring: you must maintain a stock of various ingredients and flavoring materials for customizing your brews. These will include things like wood chips, honey, liquid malt extract, cocktail bitters, etc.
Glasses: you will also need beer glasses. You must maintain a good stock. IPA beer glasses, pilsner beer glasses, Belgian beer glasses, etc., are some examples
POS system: it is important that you get brewery software that will allow you to take care of accounting, sales, and supply chain in a single package
If you plan to open a microbrewery, you can settle for the smallest brewhouse equipment with $100,000. Yet, larger breweries with 30-barrel brewing system capacity should expect to pay up to $1 million instead.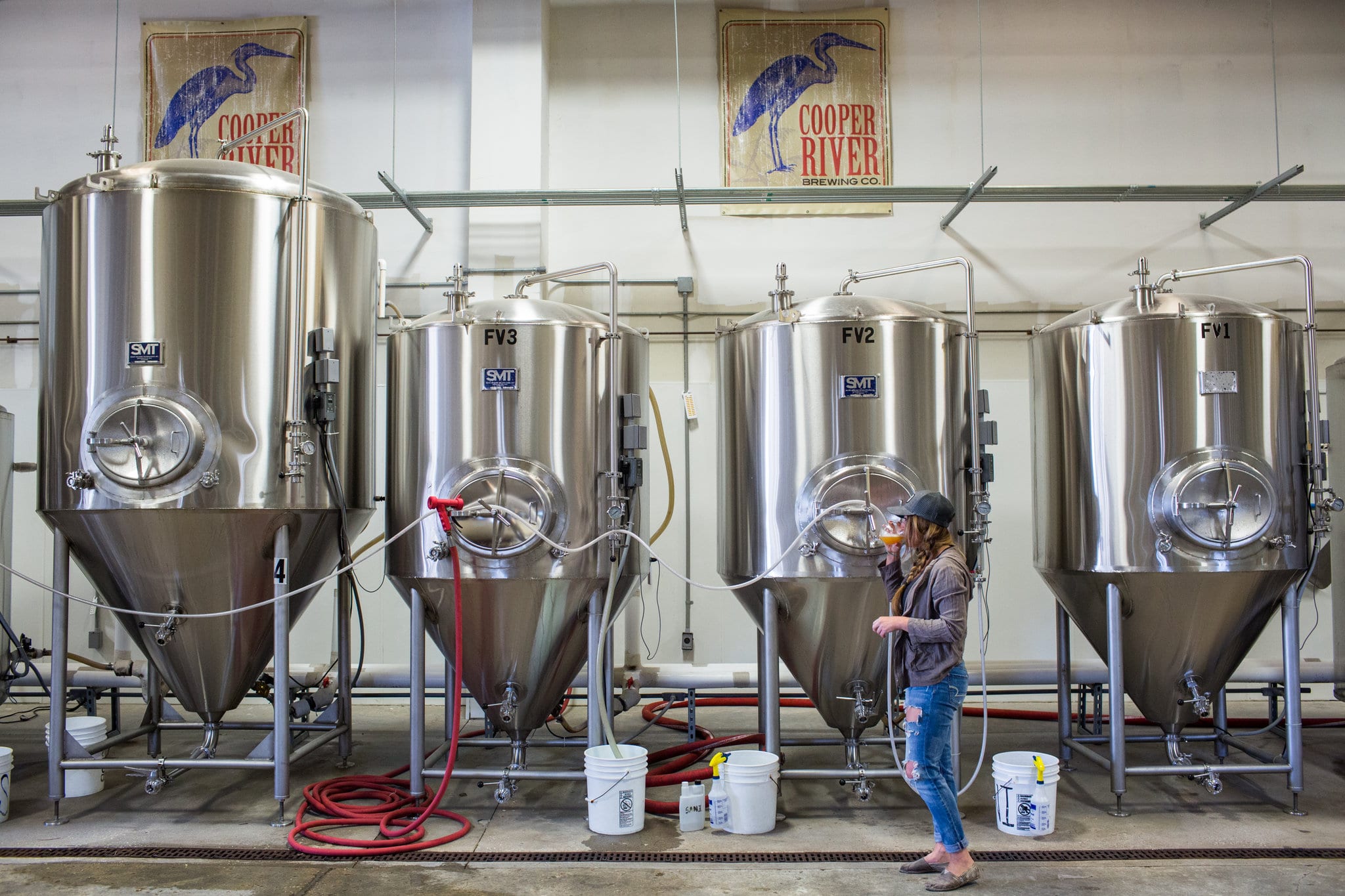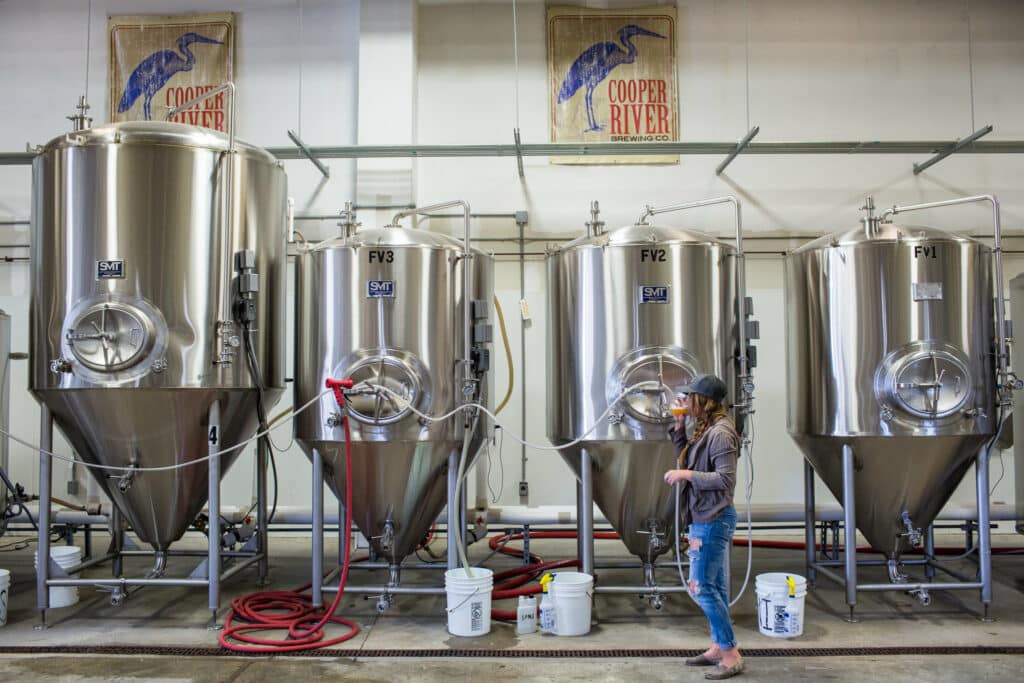 8. Choose a Brewery Menu
What types of beers will you produce and sell? Different people like different types of beers. Thus, offering only one variant is not an ideal thing to do. Here is a quick list of different beer types based on their characteristics:
Light beer: It is a usually pale beer with a reduced amount of calories or alcohol content. Typically, these beers have low carbohydrate content
Malt beer: They come in a variety of alcohol percentages and colors. However, they have a rich combination of flavors with some nuttiness and sweetness
Roast brew: Made using roasted malt grains, these beers are dark in color. Common flavors are cocoa and coffee and these beers have rich flavors
Hoppy beer: Hoppy beers have distinct aroma, flavor, bitterness, and sweetness. The most common flavors are fruity, herbal, and pine
Tart beer: These beers have acidic and sour tastes. They mostly have a lighter shade, but they can also have medium and dark shades
High IBU beer: IBU is the acronym for the International Bitterness Units scale. High IBU means more bitter
High ABV: ABV is the acronym for Alcohol by Volume. High ABV means more alcohol content
Those are the different types of beers that you may serve, but you must decide on the final menu. Also, if you intend to serve food along with beer, you will also need a separate food menu that can include things like onion rings, French fries, sliders, chips & dips, mozzarella sticks, nachos, etc.
9. Promote your Brewery
Technically, this must start when you are setting up your brewery and installing machinery and equipment. You must create awareness and build up some excitement before the grand opening day.
Typically, breweries spend anywhere between 1% and 2% of their annual revenue on advertising. Yet, as you're just starting off to gain new customers, it's likely you will spend more in the first few months / years.
There are different channels of advertisements that include:
Online channels (e.g. social media, PPC campaigns, etc.)
Offline channels (e.g. radio, billboards & signages, partnerships and print advertising)
Another great idea for you to showcase your products is to attend events (e.g. festivals) and offer promotions. You might not make a lot of profits for a single event , yet you may gain many customers for the long term.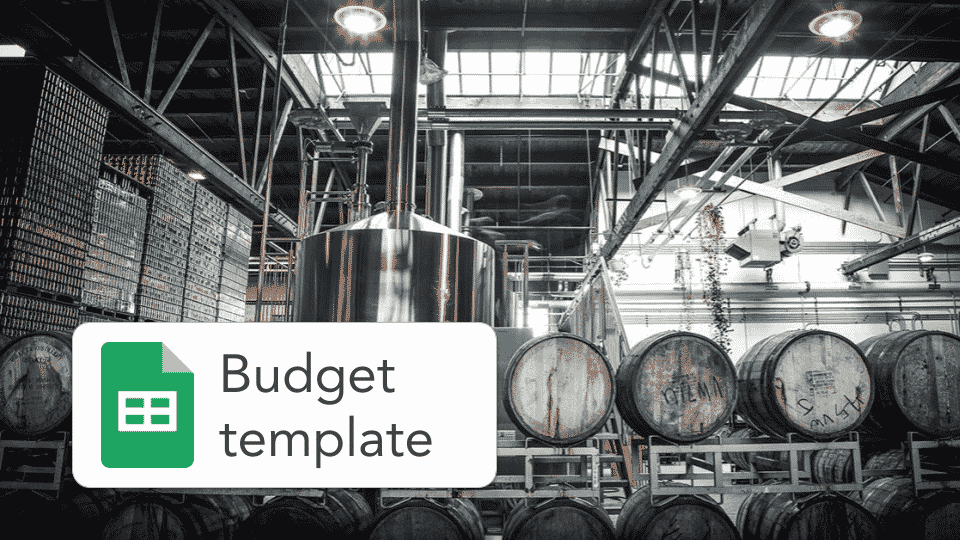 Download the Brewery financial model template
Lender & investor-friendly

Easy-to-use Excel template

CPA-developed financials

30+ charts and metrics