How to Start a Food Truck in 9 Steps: Checklist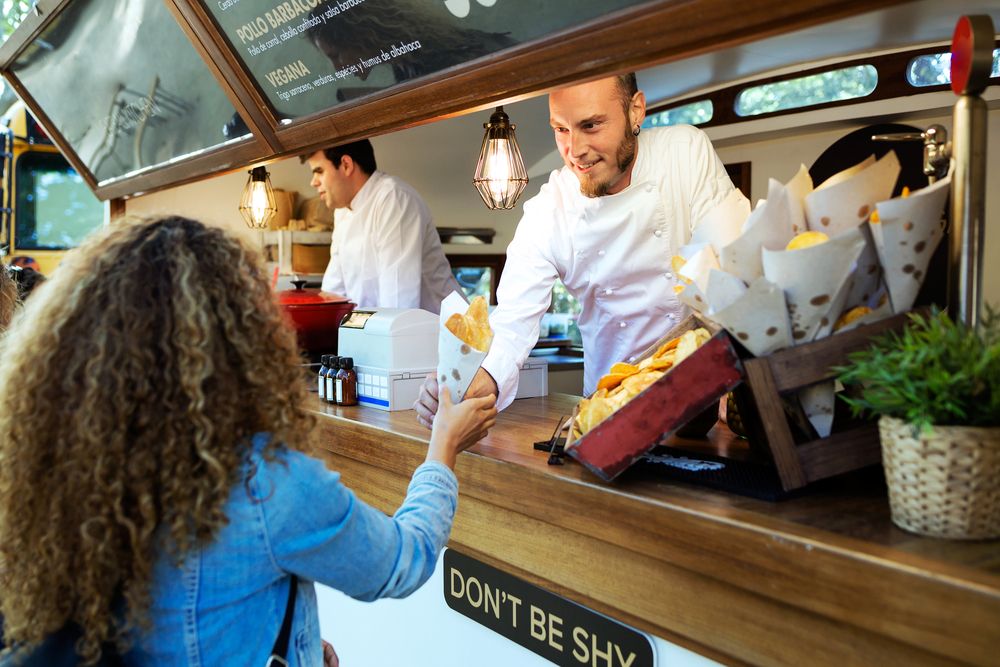 According to Zippia, the U.S. food truck industry had a market size of $1.6 billion in 2021. It's also a very competitive business: there are over 35,500 food truck businesses reporting an average profit margin of 3% to 5% for most of them. So if you plan to start your own food truck, make sure to have a solid business plan and execution.
This post will give all the necessary information for you to start and successfully run your own food truck business. Let's dive in!
For more information on food truck businesses, make sure to read our guides below:
How Much Does It Cost To Start a Food Truck?
How To Build a Financial Model For a Food Truck?
12 Strategies To Increase Food Truck Sales & Profits
How to Write a Food Truck Business Plan: Complete Guide
1. Research the Food Truck Industry
Before you can start your own food truck business, spend time doing some market research. Indeed, you must gauge the demand and the degree of competition before you invest.
For example you need to research:
Your competing businesses, their concepts, and strategies
Existing restaurant concepts in the area you want to operate
Demographic distribution of the locality
Spaces where your food truck can stop to sell
Busy street hours to attract more customers
Costs estimates of opening a food truck
2. Choose a Food Truck Concept
You cannot have an out-of-the-world concept that the locality of your target audience is not interested in. Your food truck concept must tap into the interests and passions of the community where you will serve.
Most food trucks often rely on offering a few selected menu items that are often so unique that people can't find them elsewhere. You must come up with something like that.
Once you decide on the concept, turn your focus on branding. A memorable logo with an attention-grabbing description that provides enough cues but avoids being too specific will leave an impact.
3. Create a Business Plan
Once you have the research data and the concept, it is time to focus on creating a robust business plan. If you are eyeing some investment, this document is vital. The plan should clearly define your vision along with your financial plan.
You can break your business plan into multiple segments that will include:
Executive Summary: This is where you will define your company's identity. Logically explain what you will sell and why. You must define your future goals, too.
Company Description: Answer why you want to start this business. Also, define how your food truck is different from your competitors.
Supporting Data: Include relevant data that supports your company description. The data you provide must include:

Demographic distribution
Target audience
Competitive analysis

Product Description: Provide details on what you are offering and why you intend to sell them. Answer whether they are seasonal by nature or evergreen. If you intend to alter the menu, provide a possible timeline and the logic behind such a possible move.
Organization Structure: Describe the organizational structure. Define the key roles and employee ranks and responsibilities.
Costs and Financial Projections: Give a detailed breakdown of the costs and financial plan. Also, provide your projected growth for the future.
Funding: This is where you mention the available funding sources and the additional funding you need.
Appendix: This section will contain all the extra information that you didn't include earlier. For example, you can add your logo, truck blueprints, etc.
Get a rock-solid business plan with the 
Food truck financial model
5-year financial plan already built

20+ charts for your business plan

Video tutorial 🎥

5,900+ downloads
4. Get Funding for your Food Truck
Considering that opening a food truck costs a lot of money, it is likely that you will need some external funding. Your business plan will help you with that. You can get funding from various sources that include:
Friends and family members
Community sponsors
Equipment financing
Rollover of Business Startup (ROBS) using a retirement account
Kickstarter or similar crowdfunding sources
Bank loans
Remember that the funds you acquire must cover all the important expenses including your truck, equipment, permits & licenses, etc.
We've identified that it costs on average $60,000 – $180,000 to start a food truck as well as $17,000 – $26,000 in operating costs per month to run the business.
For more information on how much it costs to start a food truck, make sure to read our complete guide here.
5. Acquire Food Truck Permits
A food truck is a business, and you will require the necessary permits and licenses to operate it. If you don't get the required permits and licenses, you may face legal actions. Some of the various licenses you will require include:
Business license
Employee Identification Number
Driver's license and registration
Mobile food vendor permit
Food manager certificate
Parking permits
Health permit
Facility record (in several states, you cannot prepare food on the truck, and you must use a commercial or commissary kitchen for which you will need a facility record), etc.
License and permit requirements may vary from state to state. Make sure that you acquire all necessary permits and licenses as per your state regulations. On average, according to a Food Truck Nation report, entrepreneurs spend about $600 to $6,000 on permits and licenses costs before they can start their food truck business.
6. Purchase a Food Truck
The food truck will be your biggest expense. You must focus on this. Of course, you can lease a truck or purchase one. If you are purchasing, you can buy a new or a used one.
No matter what you select, you must always select a reputable food truck dealer. You may need specific customizations to serve your specific needs.
Expect to spend anywhere from $80,000 to $150,000 on a new made-to-order food truck. Instead, used food trucks can cost between $40,000 and $80,000, while the cost of renting it should be around $2,000 to $3,000 per month.
7. Acquire Food Truck Equipment
The next thing you must do is get all the equipment and supplies to make and keep your food truck operational. Depending on what you will be selling, you may need the following:
Grills, fryers, toasters, ranges, etc.
Worktables, chopping boards, chef knives, cookware, kitchen thermometers & utensils, etc.
Ice machines, under-counter refrigeration units, etc.
Food trays, disposable take-out supplies, plastic cutlery, cups, napkins, etc.
Hand sinks, floor mats, compartment sinks, recycle bins, etc.
The equipment requirements will vary depending on what you are selling.
While small cooking ware like pots, pans should cost around $1,000 to $2,000 total, cooking equipment can easily cost a few thousands. A few examples of expensive cooking equipment are:
Convection ovens: $1,000 to $5,000
Flat Top Grill: $500 to $1,500
Charbroiler: $1,500 to $3,000
Deep fryers: $250 to $1,000 each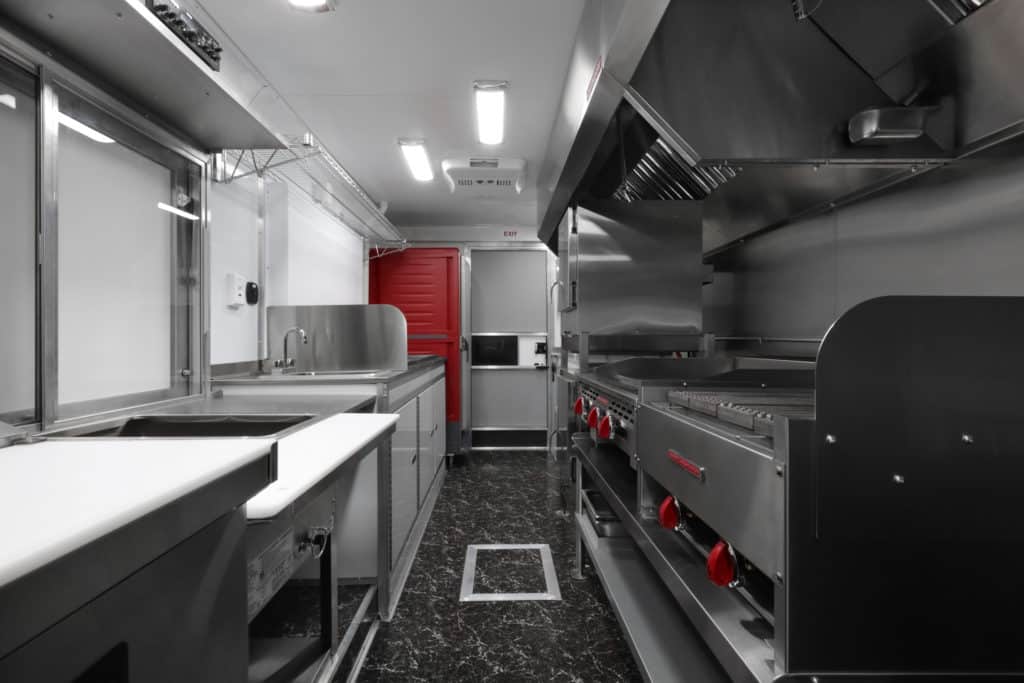 8. Promote your Food Truck
This is the final step. When your food truck is ready to roll on the streets, it is time you spend some money on advertising your business. Because you will not have a permanent location, you must increase your brand awareness. Here is a quick list of some ideas that you can implement:
Ensure that a clear and eye-catching logo is placed on your truck. You can also use flyers if you want.
Create a bold and visible menu board.
Go online and create a website mentioning all your regular locations.
Create and maintain some social media accounts to interact with your customers.
Attend local food truck festivals and catered parties to get more visibility.
Start selling merchandise like coffee mugs, travel mugs, t-shirts, etc. Whatever you are selling must have your logo and slogan visible. The more people see your brand logo, the more they will remember it.
Get a rock-solid business plan with the 
Food truck financial model
5-year financial plan already built

20+ charts for your business plan

Video tutorial 🎥

5,900+ downloads