Car wash businesses are a very competitive industry: there were over 60,000 across the US in 2021. So if you plan to start your own car wash, make sure to have a solid business plan and execution.
Are you starting your own car wash and you don't know where to start? Or have you decided to take over an existing car wash business? This post will give all the necessary information for you to start and successfully run your own car wash. Let's dive in!
For more information on car wash businesses, make sure to read our guides below:
How Much Does It Cost To Start a Car Wash Business?
How To Build a Financial Model For a Car Wash
6 Strategies To Increase Car Wash Sales & Profits
How Profitable Is a Car Wash?
How to Write a Business Plan for a Car Wash: Complete Guide
1. Research the Car Wash Industry
You need to do comprehensive research before you start a car wash business.
a) Customers
There are numerous reasons why people visit a car wash. Here are some of the common types of customers for a car wash:
People who desire to maintain the appearance or condition of their cars
Those who drive high-end vehicles
Drivers who routinely navigate muddy or filthy roads
Those who reside in locations with a lot of dust
Understanding your customer base would help you succeed by offering them the required services. Here are some of the questions you need to answer:
Who are your target customers?
What prompts their action to wash cars regularly?
Is proximity, brand, or price a deciding factor in choosing their car wash shop?
b) Competition
You must thoroughly analyse the competing car washes in your area to keep your operation competitive. If you've already decided on a location for your car wash but haven't explored anything nearby, look into all the competitors within a 5-mile radius.
What services do they offer? Is this a self-service, hand washing or fully automated car wash?
How many car can they service at the same time?
How do they promote their company?
In addition to the car wash businesses, observe the nearby businesses. This can help you understand what makes it a good location, or not. What are some of the elements that may be causing a car wash to have a high volume of customers? Is it close to the freeway or in a crowded shopping center?
You can ensure the success of your business if you are aware of the needs of your customers and the constraints of your competitors.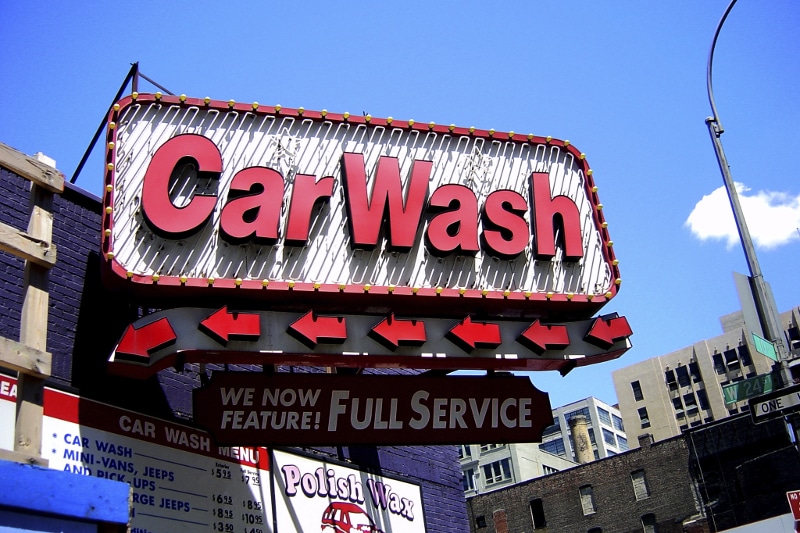 c) Equipment
Once you have had a look at competitors, now is the time to focus on the equipment itself.
Indeed, the type of car wash you choose to start and your services will determine the equipment you purchase. Each car wash type has various requirements, including automatic, self-service, and full-service.
The total cost for the car wash bay and equipment for the most sophisticated car wash can go up to $142,000.
A few examples of the pieces of equipment you will need are:
A car wash bay ($42,000 on average) including a pressure washer, conveyor, self-service equipment, or mobile wash systems
Chemicals (cleaning agents, wax, spot-free rinses, protectants, pre-soaks, etc.)
Water system (boilers, water heaters, water filtration, extractors, etc.)
Dryers, blowers, vacuums, brushes, towlers, compressors, pumps, etc.
Verify that the equipment distributor will be available to service your equipment if necessary. Before buying from them, find out if they also provide repair and maintenance and under which conditions.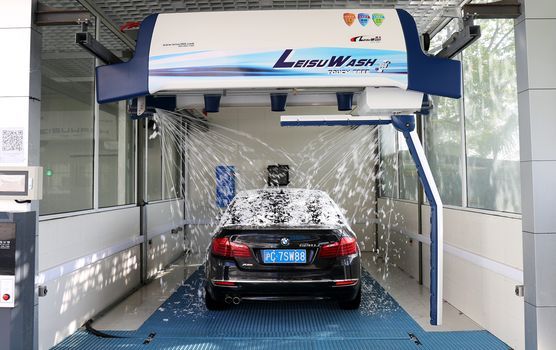 2. Create a Business Plan
A thorough business plan saves you from the uncertainties of running a new business. And for a car wash, you will need a detailed plan outlining all the equipment, associated costs, the personnel and other resources you need to keep your business up and running.
A solid business plan should address all the critical areas of running this business, including:
Executive summary
Market & Competitive analysis
Marketing strategy
Management & Organizational structure
Operation plan
Financial plan (see below)
Use of funds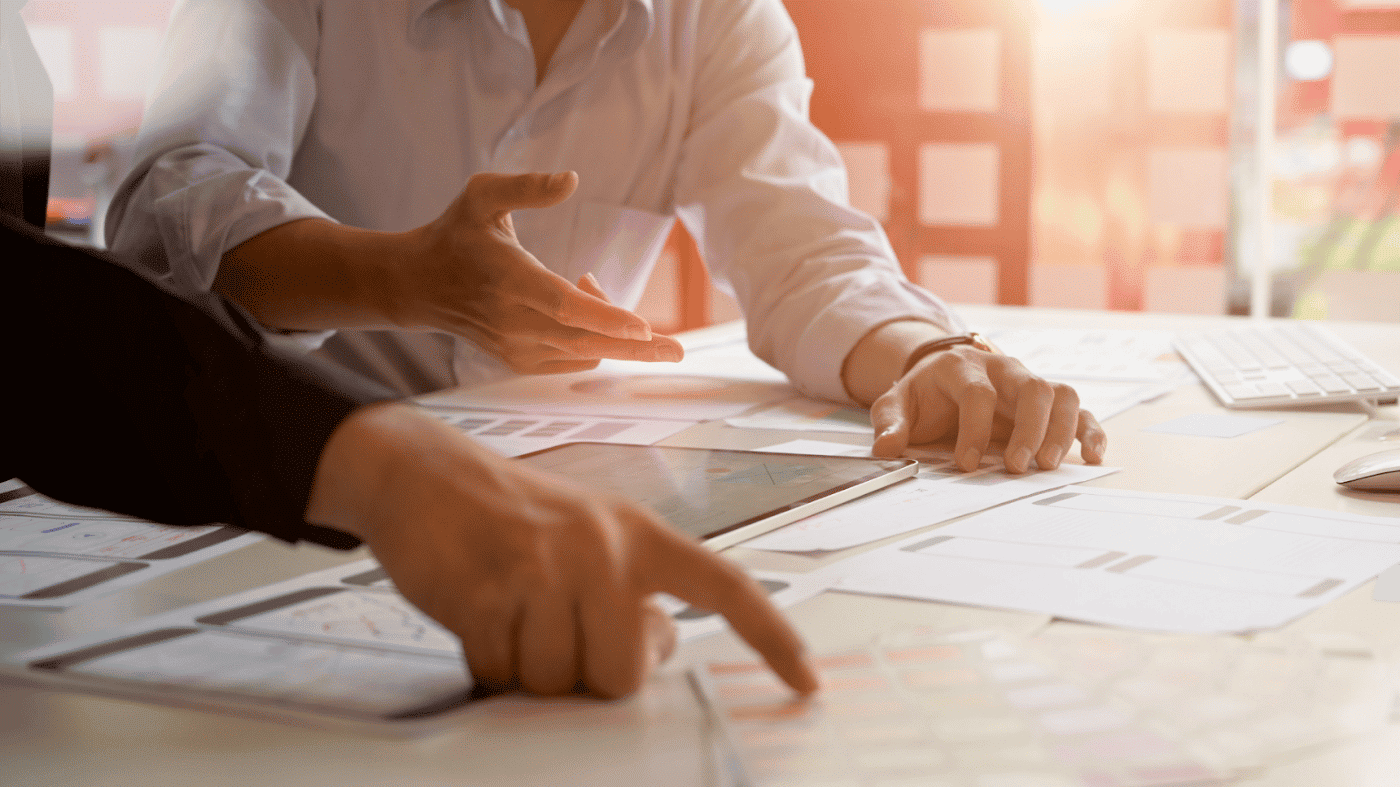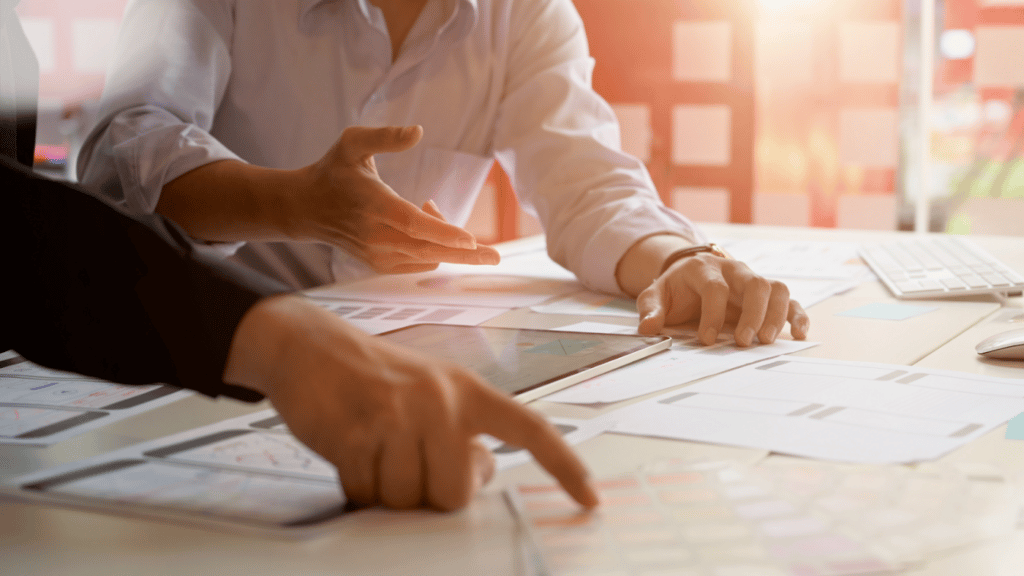 3. Build a Financial Plan
Your financial plan should include 5-year financial projections of your revenue and expenses. You should include the 3 financial statements as well as your assumptions clearly laid out. Your financial plan should be built using a spreadsheet like Excel.
When projecting your revenue, make sure to sensitize pricing and the number of customers as a small change in these assumptions will have a big impact on your revenues.
When it comes to the costs, consider both startup and operating costs:
Startup costs are the expenses you must pay before you start your car wash;
Operating costs, instead, are the expenses you pay for each month to run the business.
Startup Costs
Assuming you do not buy the building (which would be a significant startup cost) but decide to rent instead, startup costs represent on average $50,000 to $150,000 for a small car wash with 1 bay. The startup costs depend mostly on the number of car bays you need (how many cars can you service at the same time), as well as the type of car wash you have (from hand wash to fully automated). See below a few cost estimates:
For more information on how much it costs to start and run a car wash, read our article here.
Note: remember these are purely for illustrative purpose and might not fully apply to you.
| Startup Cost | Amount |
| --- | --- |
| Car wash bay | $42,000 |
| Car wash equipment | $8,000 – 100,000 |
| Licenses | $500-1,000 |
| Total | $50,000 – $150,000 |
Download the Car Wash financial model template
Lender & investor-friendly

Easy-to-use Excel template

CPA-developed financials

30+ charts and metrics
4. Incorporate your Car Wash Business
Whether you choose a corporation, limited liability company (LLC), or partnership, the type of business structure you choose will impact your daily operations, taxes, and the level of risk you're ready to accept with your personal assets.
Select a corporate form that strikes a balance between benefits and legal protections. The top 3 options are:
General partnership: The simplest type of partnership, a general partnership, is automatically formed whenever two or more people embark on a business venture for profit. State filing is not necessary
LLC: The limited liability company (LLC) is one of the most widely used business entities for startups and small enterprises. An LLC provides pass-through taxation and limited liability protection, which insulates your private assets from the debts and obligations of the business
Corporations: Because they are separate legal entities owned by their shareholders, corporations shield their owners from personal blame for the debts and liabilities of the business
5. Find a Location for your Car Wash
A good location should be next to a retail center, in a busy area, visible from the road, allow for business expansion, and have enough room for automobiles to queue up.
Here are some points to consider before selecting your car wash shop location.
Drivers can see your sign for at least 40 seconds. To give vehicles enough time to view your signage and make the split-second decision to wash their cars, traffic should move through at a speed of no more than 40 miles per hour (64 km/h)
Select a location with enough office space, vacuum and drying spaces, pump rooms, and bays
To be sure you can open a car wash where you've chosen, check your city's zoning laws. If a specific permit is required, get it before you buy or rent your venue
To secure the greatest bargain on a location, engaging with a real estate agent, city planner, lawyer, and accountant can be helpful
6. Design the Layout of your Car Wash
To get started, you will need to purchase land measuring roughly 7,000 square feet. Make sure to dedicate at least 25% of the space to the reception, the office and employees' area. The remaining 75% is for operations (the car wash bays, the storage rooms, etc.) as well as the parking lot.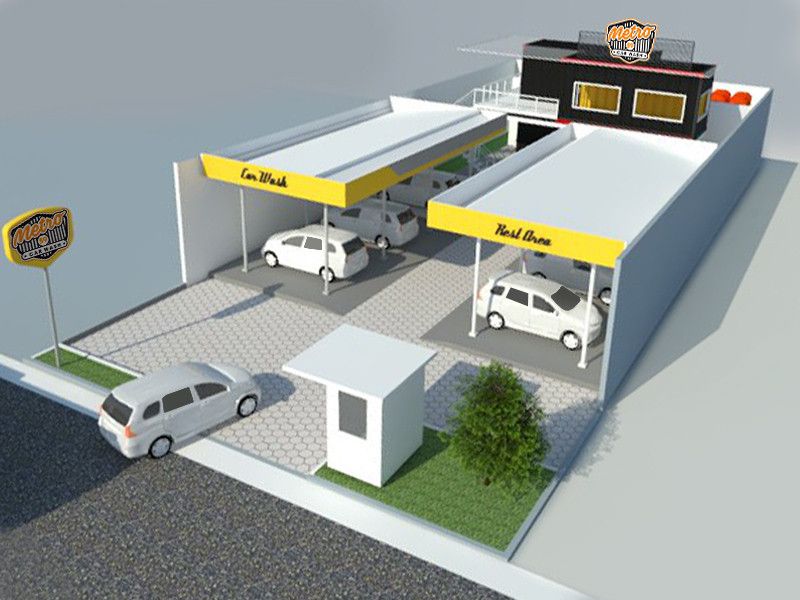 7. Hire Staff for your Car Wash
You will need to hire people who are either experienced or willing to learn car wash cleaning. To manage the shop's administration and record-keeping, you also require resources.
The size and type of resources you require will also depend on the goals you have established for your company. You will need more resources if you want to work on a larger scale.
Once you know the kind and number of candidates required, you may start the interviewing process. Employ people you feel confident in and know will provide results of the highest caliber. They must be willing to help you accomplish your corporate goals and kind to customers.
Start hiring at least 1 to 2 months before you start your car wash. It will take longer than you expect to find qualified applicants and interview them. It also takes some time to talk about pay and check their references.
Depending on how many vehicles they clean each month, you can pay carwash workers a regular wage or a commission. The average hourly wage for a car wash attendant in the US is $15.38.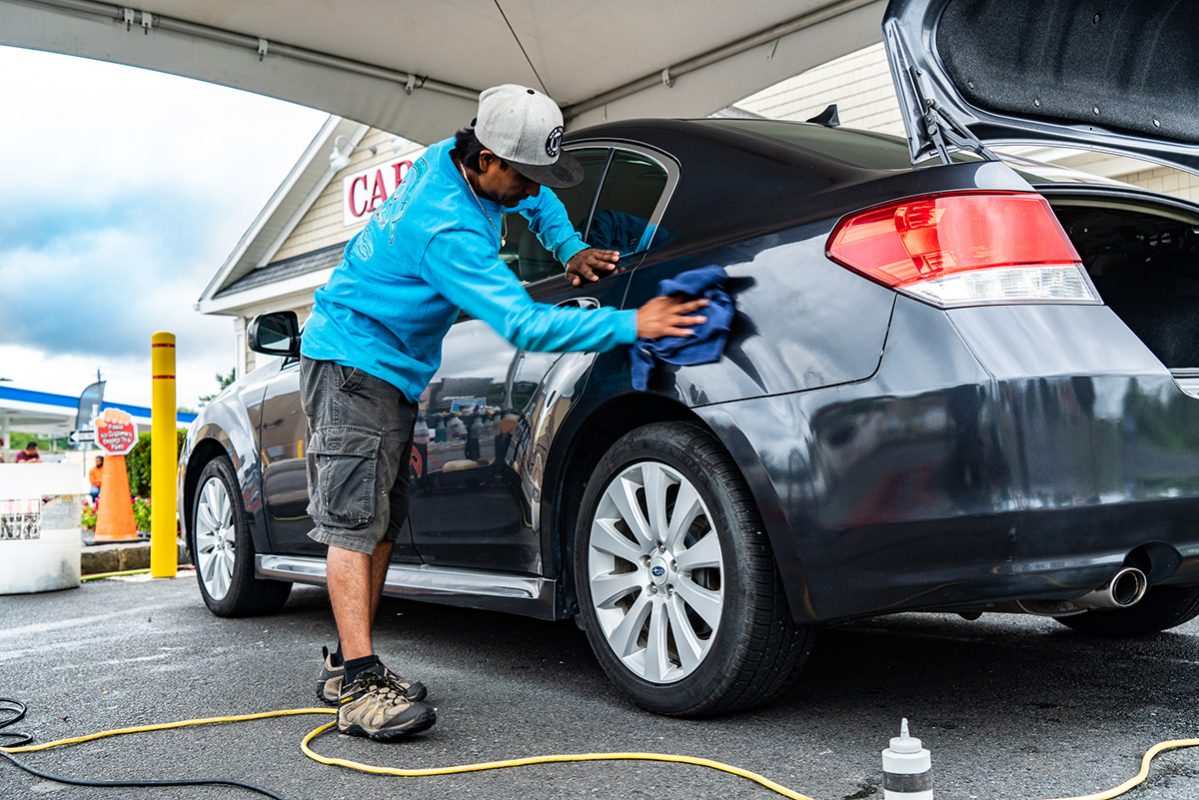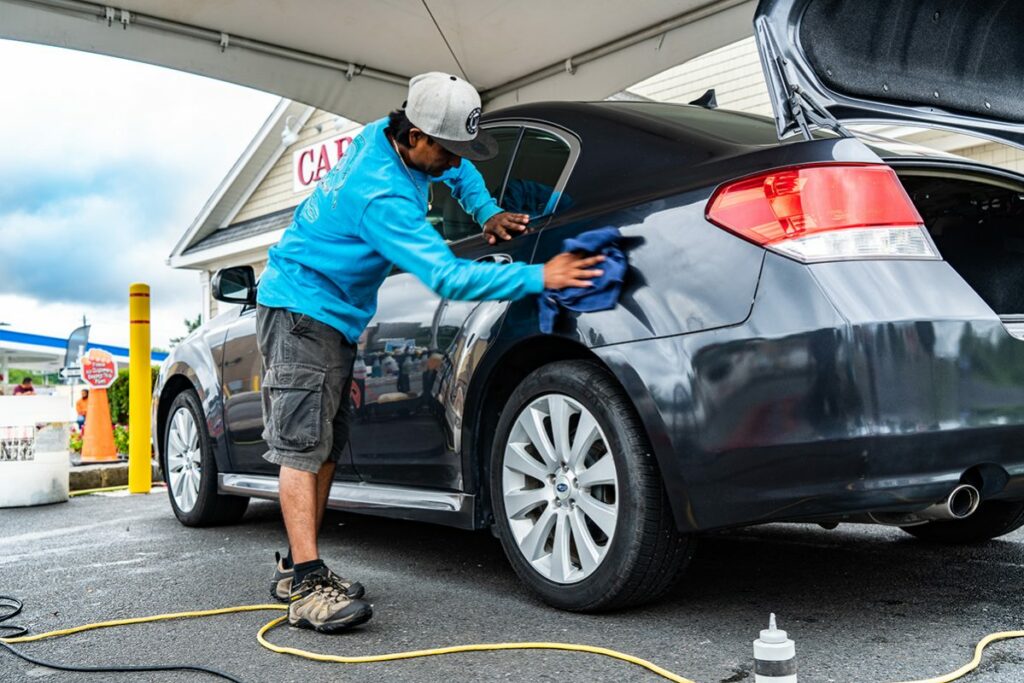 8. Get Car Wash Licenses & Permits
A license or permit is unquestionably required before starting a business. Nevertheless, the requirements will vary based on the state in which you reside. For your convenience, the SBA website lists business license offices. You will also require a federal tax identification number, a sales tax license, income tax withholding, unemployment insurance tax, and a company license.
Inquire about the insurance requirements for your car wash business with your state's business office. The average cost of license and legal is around $500 to $1,000.
Once you have obtained the relevant licenses and permissions, remember to renew them on time and make a copy for your records. Additionally, you must make your license visible to consumers in your car wash.
9. Promote your Car Wash Business
How do you promote a car wash, especially when you start and have little money? You can use numerous strategies, but if you want to succeed, you must pick the most appropriate one for the type of car wash you run.
How do you advertise a car wash?
Your website would be the first thing you would create in this process. Ensure your business has a catchy logo and tagline that may be placed next to your company name to accomplish this.
Finding new customers can be difficult at first, but once you've built up a solid clientele, word-of-mouth promotion can be one of the best strategies to draw in return customers.
Alternatively, you could try the following methods:
Installing neighborhood billboards
Promoting on social media
Creating sponsored content
Using SEO techniques to increase traffic
Promote your company and think about collaborating with businesses that share your goals (partnerships with offices nearby, auto repair shops, car dealerships, etc.)
Download the Car Wash financial model template
Lender & investor-friendly

Easy-to-use Excel template

CPA-developed financials

30+ charts and metrics