Do you want to start your own equipment rental company? Equipment rental can be a very profitable business. Yet, it's also competitive: there were 5,377 equipment rental businesses in the US in 2022.
So if you want to start your equipment rental business, you must have a solid business plan. Finding the right equipment, getting funding, hiring & training staff, etc. there is a lot you must do.
So if you are feeling lost and need some guidance on where to start, this post will give you the direction you need to run a successful rental business. Let's dive in!
For more information on car rental businesses instead, make sure to read our articles below:
How to Write a Equipment Rental Business Plan: Complete Guide
How to Build an Equipment Rental Financial Model
How Much it Costs to Start an Equipment Rental Business
1. Research the Equipment Rental Industry
Before you start your equipment rental business, make sure that you research your competition and customers. It will give a better insight into how to run your business successfully and help you understand what you need to focus on to serve your customers better.
Here are a few crucial ideas to consider:
a) Customers
First, make sure there are customers who need the equipment you intend to rent as a business in your area. The type of equipment usually is related to construction (vehicles, heavy machines and other light tools), but not only: you can also rent trailers, portable restrooms, large tents for events, etc.
You will have to research the exact needs of your potential customers to determine what kind of equipment you must offer. It would also help you determine what rentals you can charge for your equipment and how much revenue it can generate.
For example, for construction equipment, you can contact local builders, construction companies, and home renovators to know the type of projects they are involved in. Check with them about what type of equipment they need often. You can also try to determine their budget for the equipment rentals. Ask if they prefer a specific brand of equipment.


b) Competition
Before you jump into starting your equipment rental business, make sure to check how many competitors are doing similar business in your area, and how their business is doing.
Try to find the following details in your competitor research:
The number of companies offering the same equipment you do
Whether these companies are leasing or selling the equipment
The type of equipment they offer
Their rental prices (daily, weekly and monthly)
If they offer any additional services
Hours of operation (the later you're open, the more convenient you are for contractors)
Which industries they serve
Any partnerships they might have with other resellers / equipment manufacturers, etc.
Once you have gathered the information, you can develop a business plan to make your business stand out from the competition.
Think about how you can offer better services or prices to your customers. Would you offer a better or more range of equipment? Would you cater to a specific type of customer, like roofers, contractors, or builders? Will you offer more time to your customers to return equipment?
2. Choose a Business Model
When you start a new business, you need to check what different types of business models you can choose from. Try to answer the following queries:
Would you start your own equipment rental business or run an established franchise instead?
Will you specialize in business-to-business equipment rental or cater to individuals instead?
Will you offer short-term or long-term equipment rental?
Will you partner with a single brand to rent their equipment, machines or vehicles, or multiple brands instead?
3. Prepare a Business Plan
The business plan will be the roadmap that you will follow to start your equipment rental business and receive funding from investors or lenders.
Typically, a business plan has 7 key sections that include:
Executive summary: a 2-page section that summarises all the key information of your business plan below
Business overview: this section will contain all relevant information about your business, for example: what type of equipment and/or vehicles are you specializing into, your pricing strategy, the location of your store, etc.
Market & competitive analysis

: this section will contain the analysis of the target market as well as the competitive landscape (who are your competitors)

Sales & Marketing Strategy where you outline your plan to acquire customers (the channels you will use, your budget, etc.)
Management & organizational structure where you list all the management roles and their experience in the industry, as well as any other key members of your company (managers, coordinators, accountants, etc.). This is also where you should include a chart of your organizational chart with all the roles and their direct and indirect reporting lines
Financial plan: your projected 5-year financial projections (income statement, cash flow statement, balance sheet) as well as some key metrics and analysis (e.g. break-even analysis, use of funds, etc.)
Funding ask: this is where you explain what loan/investment/grant you are seeking as part of this business plan, how much do you need and how you intend to use the funds.
It's also best practice to add an appendix at the end to include important details such as: the warehouse layout plan where you will store the equipment/vehicles, the contract for the warehouse lease, the managers' resumes, important quotes (renovation costs if any, the cost to acquire the equipment/vehicles, etc.), the contract(s) with potential partner(s) (equipment manufacturers, etc.).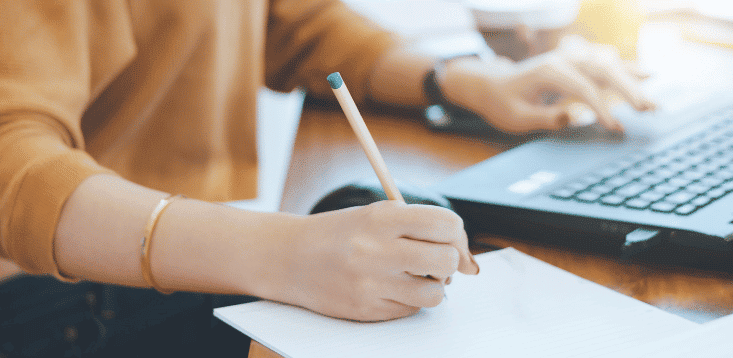 4. Build a Budget
Your financial plan should include 5-year financial projections of your revenue and expenses. You should include the 3 financial statements as well as your assumptions clearly laid out. Your financial plan should be built using a spreadsheet like Excel.
When projecting your revenue, make sure to sensitize pricing and the number of customers as a small change in these assumptions will have a big impact on your revenues.
When it comes to the costs, consider both startup and operating costs:
Startup costs are the expenses you must pay before you start your equipment rental business;
Operating costs, instead, are the expenses you pay for each month to run the business.
Startup Costs
The startup costs for an equipment rental business depend on a number of factors such as: the type of equipment or vehicles you lease, the number of products, the quality/price of the equipment, etc.
More importantly, the startup costs will heavily depend on whether you intend to purchase the equipment or with a loan instead. Indeed, opting for the latter will allow you to pay significantly less upfront (10-20% loan downpayment).
To give you an idea of the startup costs you can expect, we have laid out below some key expenses you can expect to start an equipment rental business. Note that these costs are for illustrative purposes and depend on several factors which might not fully apply to your business.
As you'll seem, most of the costs are for the acquisition of the equipment itself. In this example, we're assuming you're renting 20 forklifts at an average price of $30,000, and a 20% loan downpayment ($120,000).
| Startup cost | Amount |
| --- | --- |
| Acquisition of the forklifts | $120,000 |
| Warehouse (lease deposit) | $50,000 |
| Insurance | $3,000 – $5,000 |
| Website | $1,000 – $20,000 |
| Renovation and Design | $10,000 |
| Office Supplies & POS | $6,000 – $7,000 |
| Total | $190,000 – $212,000 |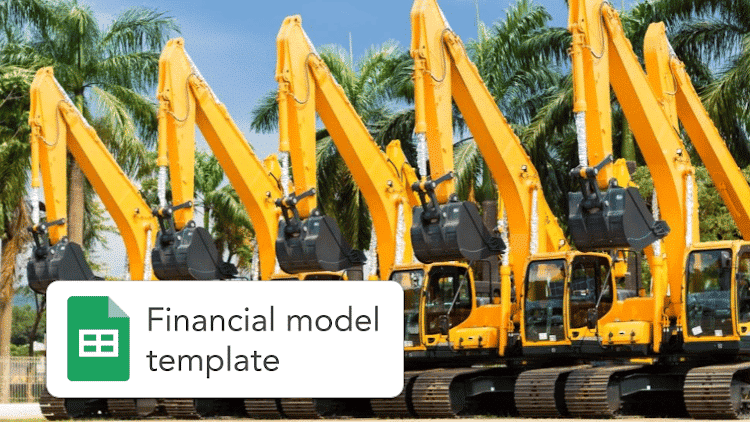 Download the Equipment Rental financial model template
Lender & investor-friendly

Easy-to-use Excel template

CPA-developed financials

30+ charts and metrics
5. Get Equipment Rental Licenses & Permits
It takes several licenses and approvals from the local, state, and federal governments to launch an equipment rental business.
A few examples of licenses and permits you should apply to before you can start your own equipment rental business are: Doing business as (DBA), health licenses and permits from the Occupational Safety and Health Administration (OSHA), trademarks, copyrights, and other industry-specific licenses and permits.
Additionally, you could require licenses and permits from the state and local counties or cities. To learn more about license requirements and how to get one, visit the websites of your state, local, and county governments. The SBA's website is quite helpful to check which regulations apply to you.
It would be a good idea to employ an expert to help you check all the legal boxes if you are unsure about the license and permit requirements.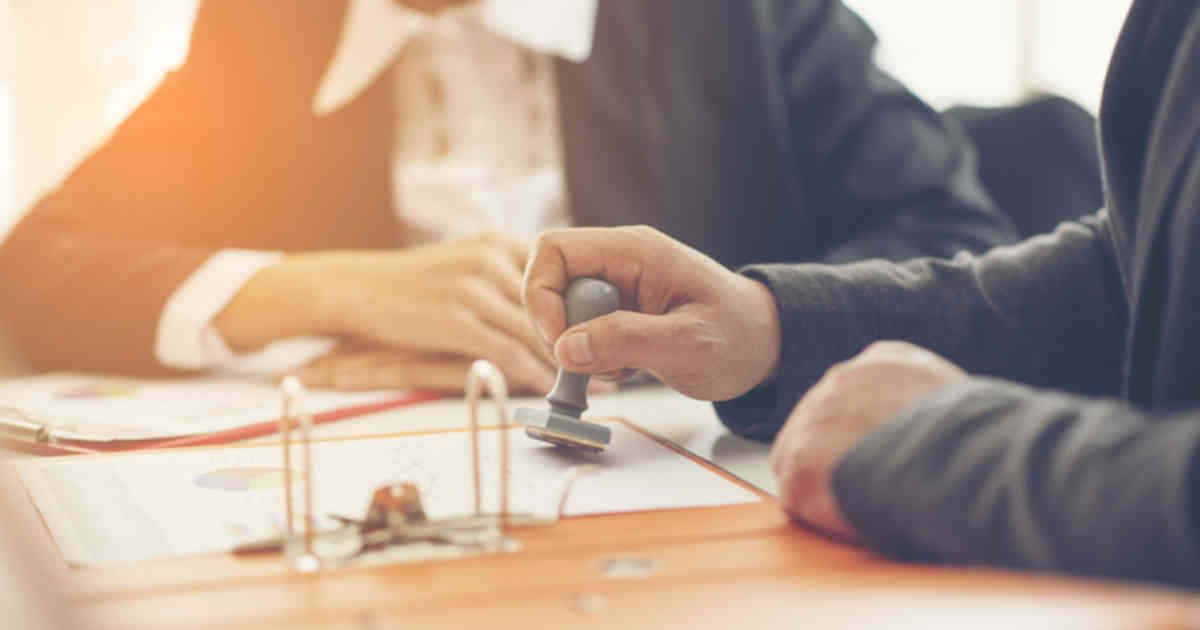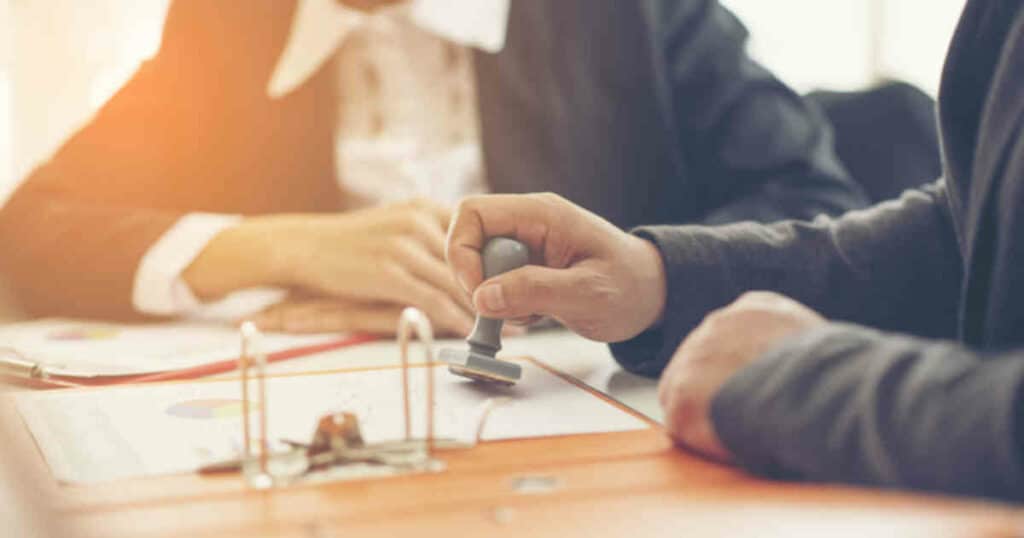 6. Find a Name for our Equipment Rental Business
Choosing a name that represents your business objectives, mission, and services would be wise. Also, a short name that is easy to remember would be good for your business. Here are some of the ideas to help you with choosing your business name:
Names that are simple to say and spell tend to do better
Short, distinctive, and catchy names tend to stick out
Your name should be appropriate for the goods or services you offer
It should also avoid geographic names that would prevent future expansion
Once you have a list of suitable names, check the US Patent and Trademark Office website to see if they may be registered. Then, you can register a domain name and create a social media account.
Finally, you can design and purchase a signage to draw clients. You can choose the traditional signage or opt for a digital one. Signage is important to attract new clients as it lets people know about your business.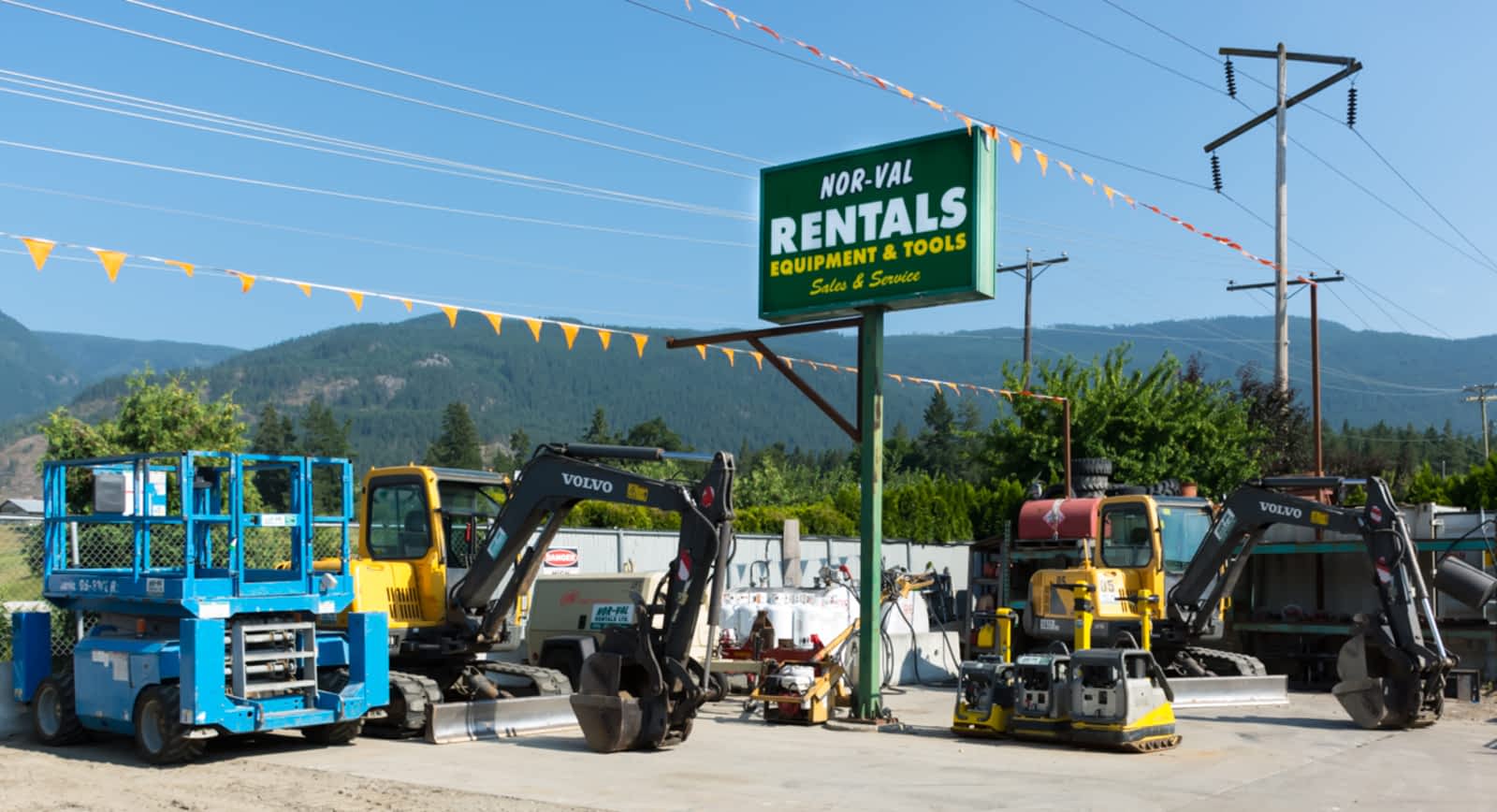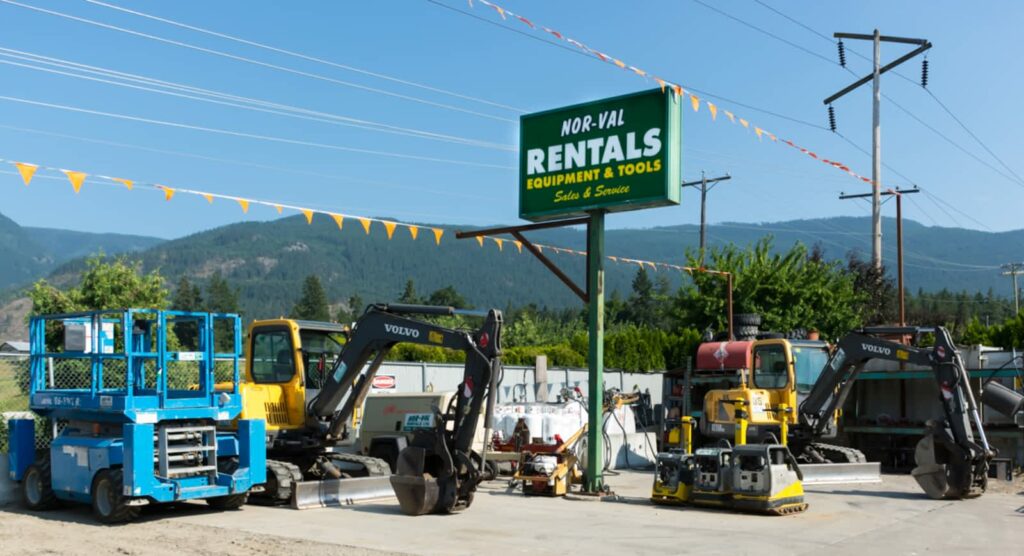 7. Find a Location for your Equipment Rental Business
The next thing you need to do is find a location where people can easily see your signage or store. It will be ideal if the location is next to busy traffic roads.
Also, your equipment rental store size should be sufficient to park the equipment. For instance, if you plan to rent large construction equipment, such as machines or lifts, you will need sufficient space.
Finally, the type of equipment you rent will define not only the size of your store, but also the type of warehouse / garage you need to store the machines, vehicles or equipment. Most equipment and vehicles will require a warehouse as you will not be able to park them outside for various reasons (weather conditions, theft, insurance, etc.).
For example, you will need a minimum size for the height and doors if you store large excavators.
Also, be careful with choosing a warehouse with loading bays as some of your customers may choose to pick and drop off the equipment from a trailer instead.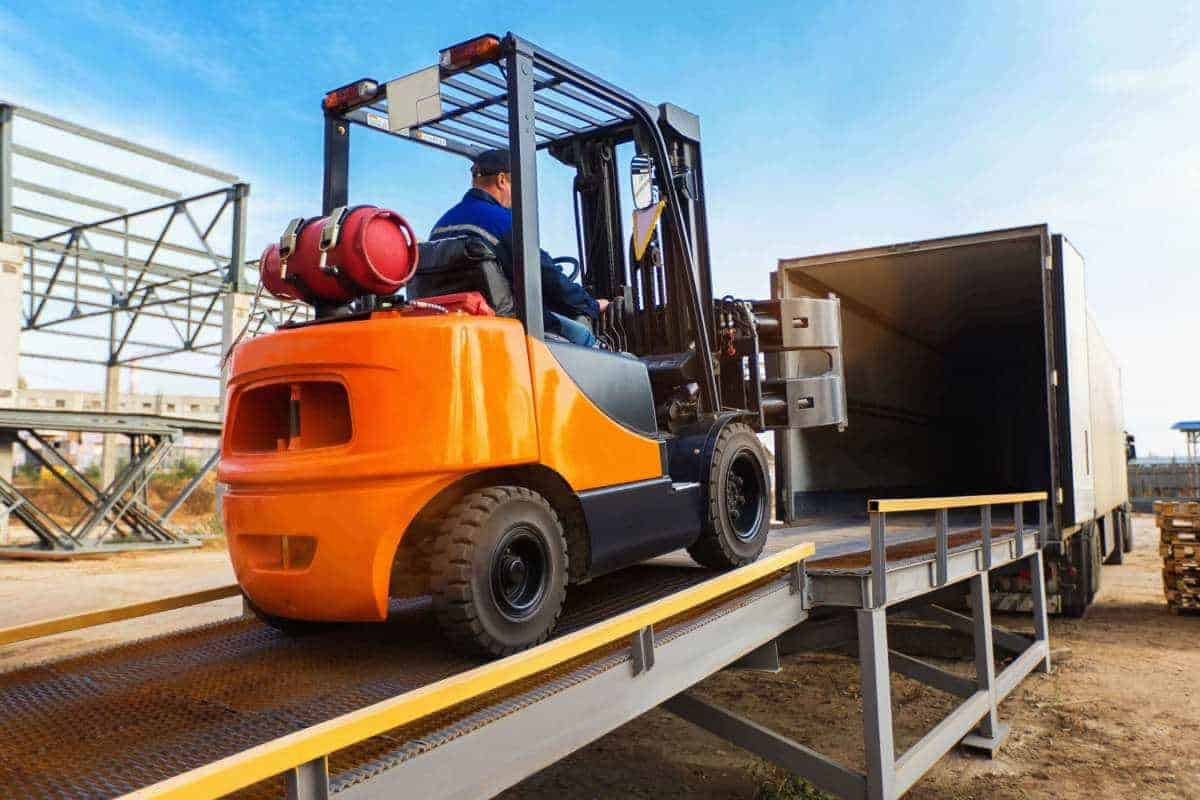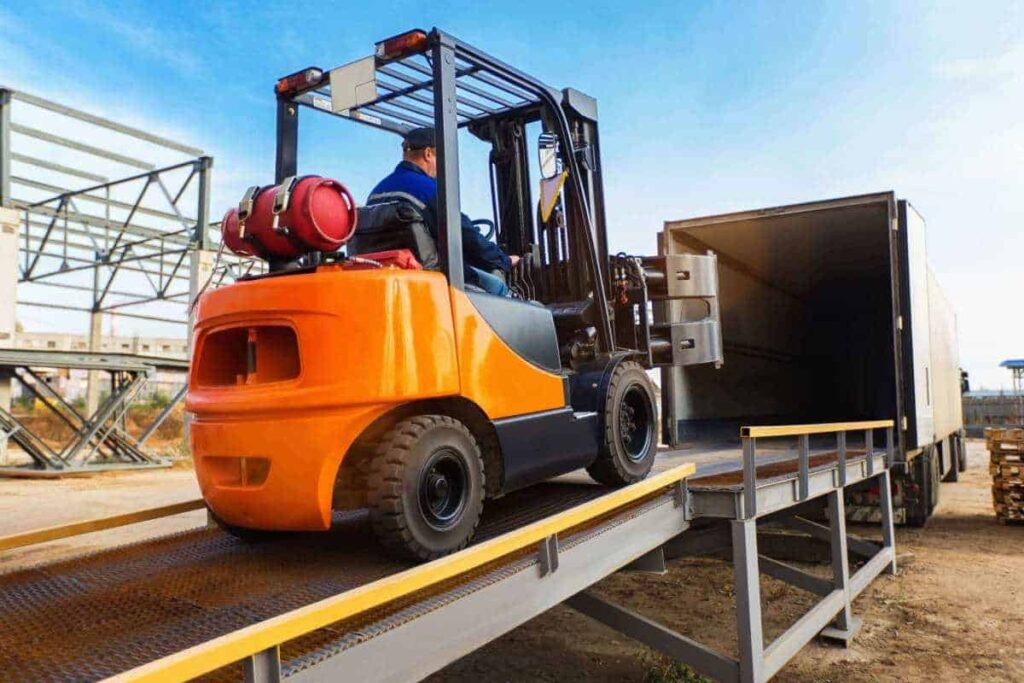 8. Create an Online Presence
You can start by building a website for your equipment rental business so customers can find you easily. Another great trick is to offer an online booking tool that allows customers to book (and potentially pay) online before they can come and pick up the equipment or vehicle.
Also, many equipment manufacturers put a tool on their website that allows their customers to find equipment rental companies nearby. You can take advantage of it by partnering your company with such manufacturers.
9. Get Funding for your Equipment Rental Business
Starting an equipment rental business requires substantial funds, so you need to get your finances in order. You can start by determining how much it costs to start an equipment rental business. The answer would depend on the type of equipment, brand, location, and type of company.
You will have to get a rough estimate to make necessary arrangements for finances. Here are some of the options for funding your equipment rental business if you do not have the required capital at the beginning:
a) Startup Business Loans
Startup business loans are excellent for startups that require capital at the initial level. These loans could be anything from an SBA microloan to a small business grant.
SBA loans are the most sought-after funding option due to their low-interest rates and lengthy repayment durations. Instead, the SBA microloan program can be a useful alternative to SBA loans which can be difficult to qualify for, particularly if you're a new business.
b) Business Line of Credit
If you have a business line of credit, you can borrow money up to a predetermined credit limit for any business needs. They are attractive to startups since you only pay interest on the amount of money you borrow from your credit line, and you can qualify even if you don't have great credit.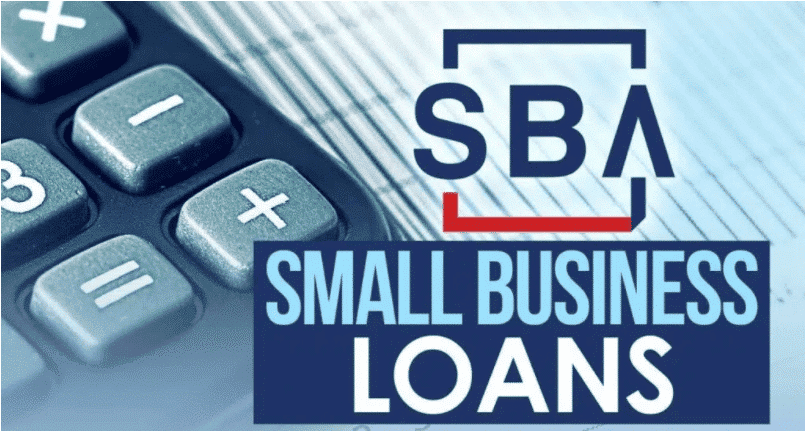 c) Equipment Financing
Equipment rental businesses need a lot of heavy equipment. You can use equipment finance to reduce the burden of raising the money on your own. These finance options are simpler to apply than other funding forms because the equipment will act as security for the loan.
10. Acquire Inventory & Equipment
To start an equipment rental business, you will need to initial inventory of equipment. You can either choose to purchase or lease the equipment based on your initial capital availability. For construction equipment for example, you will need to buy vehicles like forklifts, backhoes, bulldozers, excavators, etc.
You should figure out what type of equipment you would need initially since you should not spend money on equipment that no one will ever rent. It's a lot simpler to figure out what else you should buy over time than attempting to make up for lost expenses from useless equipment.
Make sure you're obtaining the greatest deals possible while buying your inventory. Don't waste your money on it if the local businesses you spoke with didn't seem to care much about premium brand names. Additionally, think about buying used equipment, which can help you save a ton of cash.
For examples, here are some average costs of the common construction vehicles you can typically rent from an equipment rental company: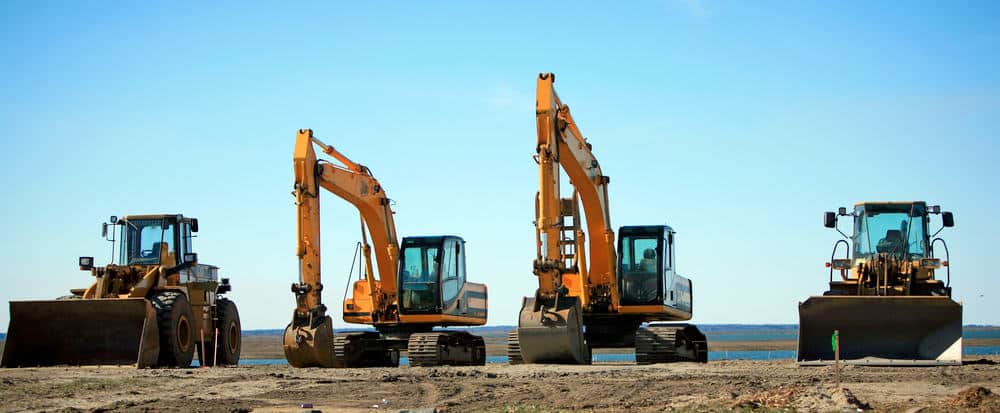 11. Hire Equipment Rental Staff
For starting an equipment rental business, you can initially start with a couple of employees and then add some more employees as the business grows. Depending on the size of your business, you may also need to hire employees to manage booking, marketing, customer service, and stock management.
For an equipment rental business, you will need equipment managers, mechanics, rental coordinators, and other employees for administrative purposes (e.g. accountants, HR).
When it comes to salaries, here are a few examples of average annual salaries you can expect in the US (source: Payscale):
Branch Manager: $60,000 – $102,000
Equipment / Account Manager: $45,000 – $57,000
Accountant: $44,000 – $61,000
Rental Coordinator: $36,000 – $49,000
Heavy Equipment Mechanic: $45,000 – $72,000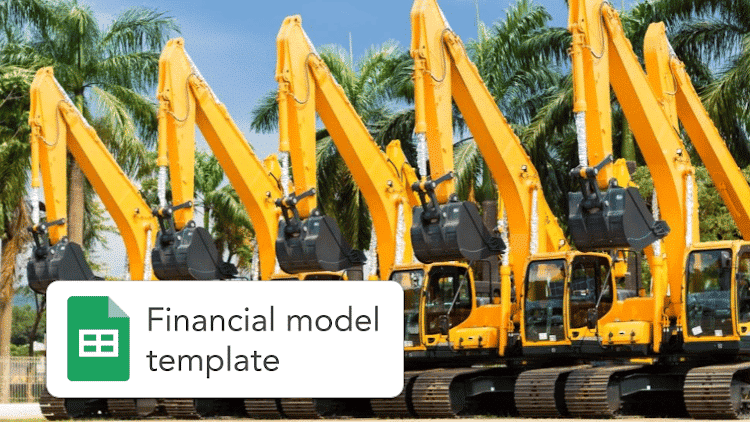 Download the Equipment Rental financial model template
Lender & investor-friendly

Easy-to-use Excel template

CPA-developed financials

30+ charts and metrics