Are you looking for capital and/or mentorship for your startup? Beyond funding, LA's startup accelerators and incubators also offer founders incredible valuable support for product development, sales and marketing.
Whether you are looking to find a co-founder, build your MVP and/or get the seed money you need to scale up, accelerators and incubators are the way to go!
In this article we have listed our top picks for the best startup accelerators and incubators in Los Angeles. So, if you haven't yet started to apply, here is a good place to start learning about them.
This article is part of a series where we present you the top incubators and accelerators across the US. For the West, check out our rankings for San Francisco, San Diego, Las Vegas, Hawaii and San Jose.
Looking for LA's top venture capital firms instead? Check out our ranking here.
LA's Top 18 Startup Accelerators & Incubators
Here's a summary of our top 18 picks for the best startup accelerator and incubators in Los Angeles (in alphabetical order):
| | | | | |
| --- | --- | --- | --- | --- |
| Name | Accelerator or incubator? | Program length | Investment size | Sector focus |
| Cedars-Sinai | Accelerator | 3 months | $100,000 | AI, ML, MedTech, Cybersecurity, Healthtech |
| Disney Accelerator | Accelerator | 3-4 months | N/A | Entertainment |
| Expert Dojo | Accelerator | 3 months | $25-$100k * | Healthcare, Sector-agnostic (different programs) |
| FoundersBoost | Accelerator | 6 weeks | N/A | Sector agnostic |
| GRID110 | Incubator | 12 weeks | $20,000 | Tech-focused, Sector agnostic |
| Idealab | Incubator | N/A | N/A | AI/Robotics, Commerce, Environment/Clean Energy, Sector agnostic |
| LACI | Incubator | N/A | $160,000** | Cleantech, Smart Sustainable Cities, Clean Energy, Zero Emissions Transport |
| Launchpad LA | Accelerator | 4 months | $25-$100k | Tech and tech-enabled |
| Long Beach Accelerator | Accelerator | 4 months | N/A | Tech |
| M Accelerator | Accelerator and incubators | 4 weeks to 3 months | N/A | Tech-enabled, Sector agnostic |
| MuckerLab | Accelerator | N/A *** | $100-175k | Tech-focused, Direct-to-Consumer, Sector agnostic |
| Preccelerator | Accelerator | 6 months | $25,000 | Tech-focused, Sector agnostic |
| Scale | Accelerator | 13 weeks | N/A | Aerospace |
| Science Inc. Studio | Accelerator | N/A | N/A | Mobile, Direct-to-Consumer, e-commerce |
| Techstars | Accelerator | 3 months | $20k | Sector agnostic |
| UCLA Anderson Venture Accelerator | Accelerator | 6 months | N/A | Enterprise tech, Life sciences & digital health, Consumer packaged goods, Consumer digital, Real estate, AI/Machine learning |
| USC Viterbi | Incubator | 12 months | N/A | AI-enabled companies, Machine learning, Deep technology |
| Yellow | Accelerator | 3 months | $150k | Sector agnostic |
* Expert DOJO can invest up to $1M in follow-on rounds
** Applicable to Incubation Program. Market Access Program offers deployment funding of $20-$150K
*** The program can continue indefinitely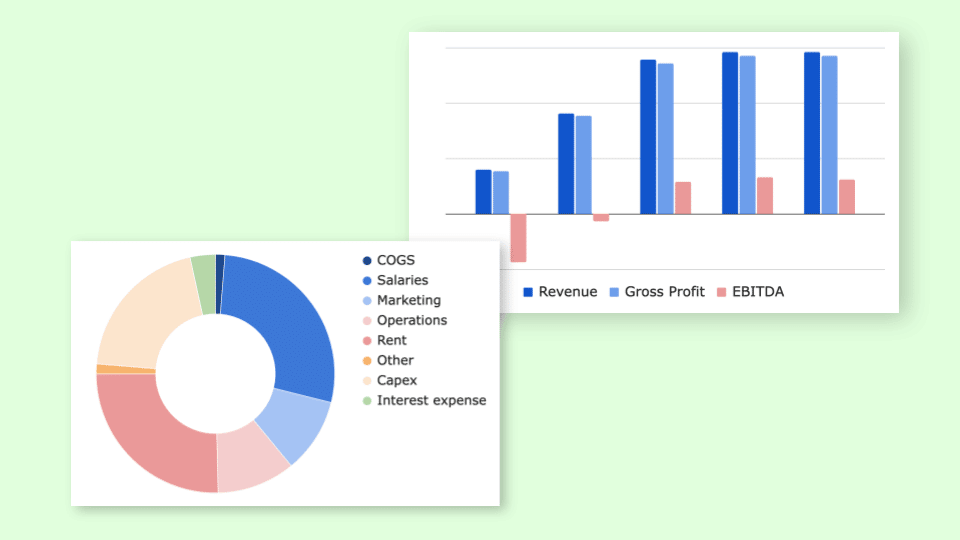 Expert-built templates for tech startups
Investor-friendly

Easy-to-use Excel & PPT templates

CPA-developed financials

30+ charts and metrics
Founded in 2015, Cedars-Sinai Accelerator supports early-stage companies, and is based in West Hollywood, Los Angeles.
The accelerator runs its program once or twice every year, where it selects 10 companies out of over 400 applicants.
In addition to $100,000 funding, the chosen companies receive mentorship, technical access to Cedars-Sinai's IT infrastructure, and opportunities for product testing.
Startups eyeing for innovation in genetics, cybersecurity, medical devices, patient care, and machine learning are the best candidates for this program.
Disney Accelerator, located in greater Los Angeles, accepts both venture-backed and growth-stage startups that want to revolutionise the entertainment industry using technology.
In addition to offering investment capital, Disney Accelerator offers guidance and mentor support from business leaders, investors, entrepreneurs, and Disney executives. They also offer a co-working space to selected startups.
The program lasts for 3 to 4 months and ends with a Demo Day that takes place in October. Participating companies that develop their IP during the Disney Accelerator program will retain their intellectual property rights.
Founded in 2018, Expert Dojo offers sector-agnostic pre-accelerator and post-accelerator programs to Pre-Seed to Series A companies.
In addition to their pre-accelerator program's initial investment of $25,000 to $100,000 to pre-seed startups and seeded startups, Expert Dojo also invests up to $1 million under their post-accelerator program.
Expert Dojo's primary focus is on businesses led by people of colour and/or women. Their accelerator program lasts for 2 months. For international applicants, they offer a remote program for the same duration during which the startups are introduced with investors and strategic partners.
Founded in 2017, FoundersBoost is a pre-seed pre-accelerator located in LA. They operate globally and support all industries.
Their program prepares pre-seed startups for accelerator programs and helps them in securing seed investment that will allow them to scale rapidly. Also, it's worth noting that FoundersBoost does not take any fees and equity from startups.
The 6-week program is a mentor-driven program in which participants meet with expert speakers and learn how to prepare their business pitch. They also receive one-on-one mentorship spanning over understanding the market, dealing with accelerators and venture funding, etc.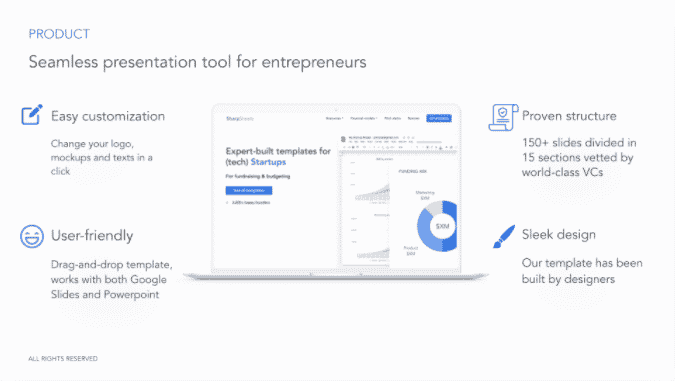 Need a Pitch Deck?
GRID110 is another of LA-based incubators that does not invest financially in companies nor take equity from participants. They offer two programs:
Residency Program: Lasting 12 weeks, this program is for companies that are yet to launch but have a prototype or proof of concept. This program also supports post-launch startups that have some early traction
Friends & Family: GRID110 offers this program in partnership with venture firm Slauson & Co. This too, is a 12-week program offering a course on demystifying funding. The program also offers a $20,000 grant
Both programs offer mentoring and resources for guiding founders.
Founded in 1996, Idealab is a technology incubator. It backs all companies irrespective of industry or growth stage; however, it primarily backs those tech companies that focus on social change or environment.
Located in Pasadena, Idealab has till date backed more than 150 companies of which 45 have either been sold or went public.
LACI (short for "Los Angeles Cleantech Incubator") focuses on startups working towards mitigating climate change effects.
To do so, they offer four different programs outlined below:
Founder Business Accelerator: This 10-week accelerator program is targeted towards small businesses in LA that focus on economic development
Innovators Program: This 12-month program caters to pre-prototype and pre-seed ventures. It offers pitch clinics and workshops and also gives access to Advanced Prototyping Center and La Kretz Innovation Campus at discounted rates
Incubation Program: Designed for pre-seed and seed startups, this program lasts for 2 years, focusing on market and investor readiness, product development, fundraising, market access, etc. It offers up to $160,000 funding in business services and various perks
Market Access Program: Designed for scaling cleantech companies, this is a pilots-centric program lasting for 1 year. The LACI pilots team offers hands-on support and offers deployment funding of $20,000 to $150,000 in addition to $150,000 value in perks via exclusive LACI access for various subscriptions
Founded in 2009, Lauchpad LA supports companies at various stages.
In addition to free office space, their program offers $25 to $100k in funding (for 6% equity for the first $50k of funding) and various other perks.
Also, the 4-month program gives access to a massive network of investors, advisors, and mentors.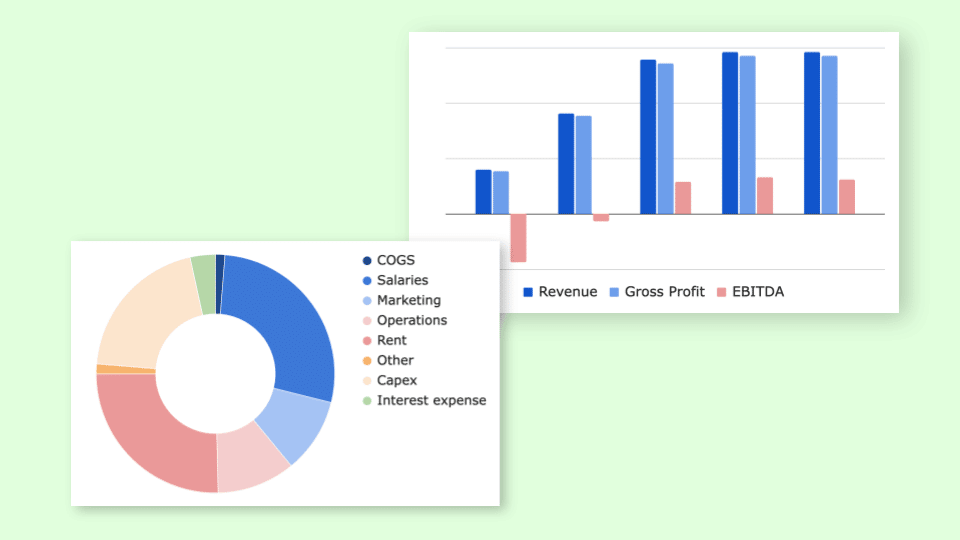 Expert-built templates for tech startups
Investor-friendly

Easy-to-use Excel & PPT templates

CPA-developed financials

30+ charts and metrics
Long Beach Accelerator, located between Orange County and Los Angeles, focuses on early-stage tech startups through its 4-month program.
There are two phases of the program. The first phase that lasts for three months focuses on determining market fit, business strategy and development, and eventually sales and marketing.
The second stage is the last month of the program focusing on exit strategy development and demo day preparation for securing seed funding.
M Accelerator is an LA-based accelerator and incubator that offers a number of programs designed for idea-stage, early-stage and later-stage companies.
It's one of LA's top startup accelerators and incubators. Indeed, they typically run 4 cohorts each year across all their programs.
Their flagship 3-month program M Accelerator helps founders in shaping, testing, and validating their startups.
The program also helps participants in target market identification and product value communication and also helps in business model execution. Finally, the accelerator program helps in pitching the business to investors for fundraising.
The program accepts both international and US founders and offers both physical and online participation.
MuckerLab is a part of VC Mucker Capital. This accelerator supports early-stage startups and other companies eye growth through a business spin-off.
Unlike most accelerators in this list, the MuckerLab program has no set duration. Instead, it works with companies for as long as it takes for them to achieve mutually agreed milestones of business, customer, and financing.
The accelerator typically invests $100,000 to $175,000 (in return for 8% to 15% equity stake). Both the investment amount and the equity stake on a business' current state and capital needs.
Preccelerator is an early-stage startup accelerator located in Santa Monica.
The Preccelerator program lasts for 6 months and offers 24/7 co-working space in addition to $25,000 cash investment, $25,000 credits for transactional legal services, up to $500,000 worth of perks through various partners.
In addition to funding, Preccelerator's program offers a very targeted curriculum, mentorship, and investment strategy counselling to ensure that ideas bloom into funded startups.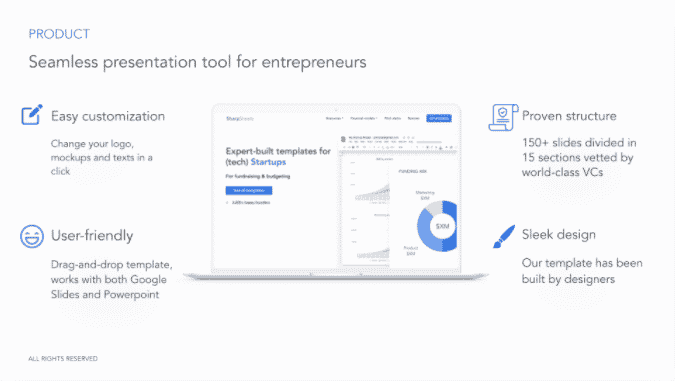 Need a Pitch Deck?
Launched in 2020 and aimed at pre-seed and seed stage startups, the Scale accelerator focuses on startups in the aerospace industry.
Scale is a 13-week program made of workshops, lectures, networking opportunities, pitch practice sessions, special events, and finally, the Demo Day where startups get an opportunity to attract investments.
Science is a venture capital firm operating in Santa Monica. Their accelerator program called Science Studio is aimed at both incubation and acceleration for early-stage startups in the marketplace, mobile, and selected e-commerce spheres.
The program takes place in Science' office where founders meet with entrepreneurial mentors, along with business development, tech, and marketing professionals.
In return for their support and involvement, Science usually holds a board seat in portfolio companies, but may, alternatively settle for equity.
Techstars is one of the world's largest startup accelerators. Their Los Angeles chapter, founded in 2017, helps early-stage startups from all industries and provides them hands-on mentorship and funding.
Indeed, their 3-month program offers $20,000 initial investment with 6% equity share. During the program, the portfolio companies get office space and personal mentorship. In addition, the participants also retain a lifetime access to the worldwide network of Techstars.
The program also offers $400k worth of legal support, hosting, and accounting in addition to $5 million worth of credits and perks.
The program ends with a Demo Day in which the portfolio companies generally raise an average of $2 million from angel investors and venture capitalists.
UCLA Anderson Venture Accelerator is a 6-month program founded and backed by the eponym School of Management. Although it prefers alumni, student, and faculty startups, it also works with any other founders and entrepreneurs.
The program helps entrepreneurs to bring their research and ideas to the market and helps them with fundraising. Also, the program supports various industry verticals and offers one-on-one mentoring and support on a case-by-case basis.
In addition, it also offers coworking space, and conducts workshops with prominent industry speakers.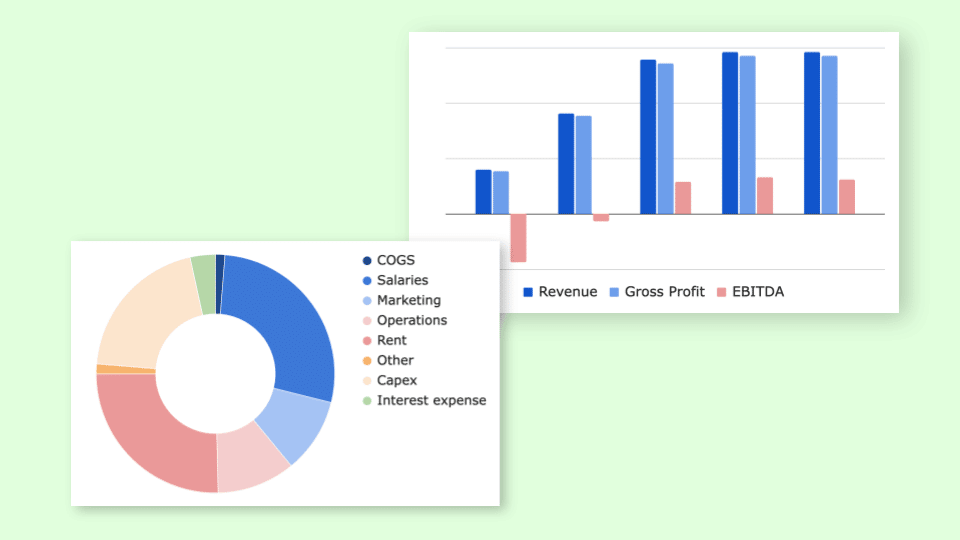 Expert-built templates for tech startups
Investor-friendly

Easy-to-use Excel & PPT templates

CPA-developed financials

30+ charts and metrics
USC Viterbi Startup Garage is an incubator backed by the School of Engineering USC Viterbi. Unlike some other incubators, it doesn't provide funding to founders.
Instead, the months program offers participants get tactical assistance, topical workshops, residence coaching, and more. Moreover, the selected startups get access to USC's alumni, investors, potential partners, and mentors.
Yellow accelerator is an initiative of Snap Inc.
It is a 3-month program during which the selected companies get to interact with industry experts. The program offers weekly programming on various topics such as management, business strategy, growth, fundraising, etc. As part of the program, selected startups also receive a funding of $150k.
Though sector agnostic, Yellow prefers companies that are creative and use technology for empowering people.