One of the most popular deli franchise brand, McAlister's Deli has over 500 restaurants across the US. If you're considering buyin a McAlister's Deli franchise, you must first look into the financials.
In other words, you need to know how much it costs and how much profits you can make with this business. Luckily, as you may be already aware, you can this information in the latest Franchise Disclosure Document. This is what we're looking into here in this article.
Indeed, with an average investment of $1,424,963, you would need to commit a significant amount of money before you can even do business.
On the flip side, we found that McAlister's Deli restaurants make on average $1,865,861 in sales per year, which leads to believe this may be a good investment. Is this really? Let's find out!
McAlister's Deli franchises: key figures
| | |
| --- | --- |
| Franchise fee | $35,500* |
| Royalty fee | 5.0% |
| Marketing fee | 3.0% |
| Investment (mid-point) | $1,424,963 |
| Median annual sales | $1,865,861 |
| Sales to investment ratio | 1.3x |
| Investment payback** | 5.1 years (good) |
| Minimum net worth | $1,000,000 |
| Minimum liquid capital | $500,000 |
* $15,000 for Express restaurants
** using 15% net profit margin
What is McAlister's Deli?
McAlister's Deli is an American chain of fast food restaurants owned by the Focus Brands Group, along with Jamba's, Cinnabon, Moe's Southwest Grill, Auntie Anne's, Carvel, and Schlotzky's.
The chain was founded in Oxford, Mississippi, in 1989 by Dr. Don Newcomb. It started as Checkers before later changing to McAlister's.
Its menu includes deli sandwiches, baked potatoes, soup, salads, desserts, catering items, and the famous sweet McAlister's tea.
McAlister's Deli began franchising in 1994 and is headquartered in Atlanta, Georgia. Today, the chain has over 500 stores in 28 US states and is still growing.
What are the pros and cons of a McAlister's Deli franchise?
Pros
Comprehensive training: The brand has a comprehensive training program to equip franchisees with hands-on experience on its menu, operation standards, and customer hospitality. Its current training program is about 5 to 6 weeks of classroom training, the opening of the restaurant, and ongoing sessions of conferences, convention programs, webinars, teleconferences, or training sessions on any matters related to the system.
Exclusive territory: The franchisor provides franchisees with a protected, exclusive territory in which to operate their restaurant. Under the franchise agreement, the brand does not grant any other franchises or operate competitive restaurants in the protected area except in "captive audience" locations.
Solid franchise support: The brand offers franchisees dedicated business support and consultations to help them run their restaurants smoothly and improve their bottom line. This is through online support, proprietary software, security and safety procedures, and field operations.
Real estate and construction assistance: To assist franchisees in building their restaurants, the brand offers expert advice on real estate and lease negotiations. It also helps them with convenient business location assessment, site selection, restaurant design, and construction.
Marketing support: The brand has aggressive marketing planning and execution strategies. Franchisees can achieve national and local store growth by utilizing the brand's national media, regional advertising, social media, loyalty program app, and localized marketing plans and campaigns.
Multiple income streams: McAlister's Deli employs flexible ways for customers to enjoy their meals. Franchisees use dine-in, take-out, catering, online ordering, and a pick-up window to add to their income streams.
Cons
No financing: McAlister's Deli does not provide franchisees financing for the franchise fee, trade fixtures, or other costs, directly or indirectly. It also does not guarantee any lease, obligation, or note on behalf of franchisees.
Competition: With changing healthy eating options, the brand faces competition from established brands like Panera Bread, Quiznos or even Jimmy John's to name a few
Not a passive investment: The franchise does not offer a passive investment opportunity. The franchisees are required to fully participate in the operations of their restaurants and keep them open full-time.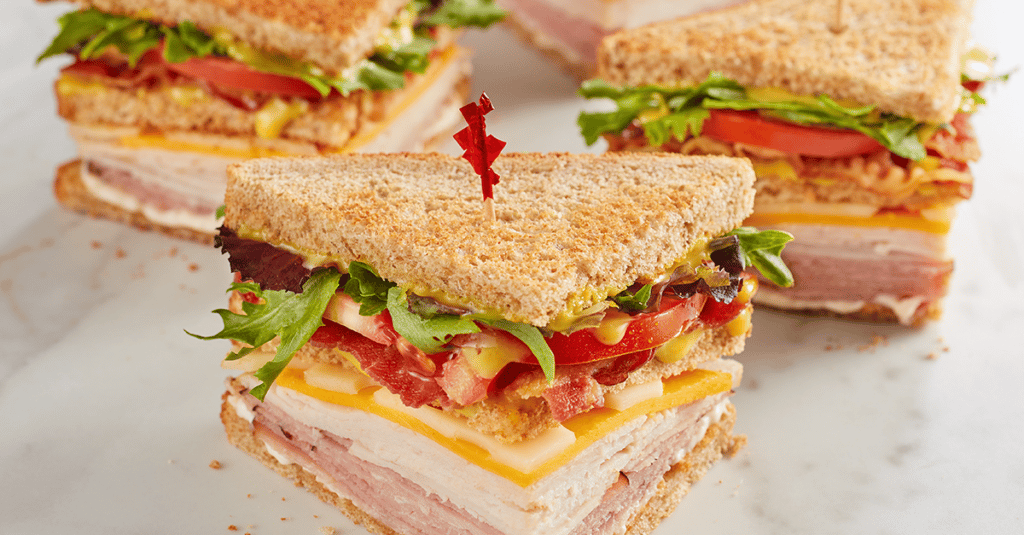 McAlister's Deli franchise: how much does it really cost?
You would have to invest on average $1,064,925 to open a new McAlister's Deli franchise restaurant.
This is the average investment for a traditional restaurant and an express restaurant. Indeed, there are 2 kinds of formats of restaurants you can choose:
Traditional restaurant is a full-size restaurant that offers a full line of menu items. It can either be freestanding or at an endcap or in-line shopping center
Express restaurant are instead located at a non-traditional location and may offer a limited menu list of items unlike traditional restaurants
Here's the full breakdown of costs you may expect for the 3 different types of restaurants (with low and high investment costs):
McAlister's Deli traditional restaurant
| | Endcap / In-line | Freestanding |
| --- | --- | --- |
| Build out costs | $385,000 – $620,000 | $920,000 – $1,360,000 |
| Initial franchise fee | $35,500 – $35,500 | $35,500 – $35,500 |
| Computer system | $32,000 – $66,500 | $32,000 – $66,500 |
| Equipment | $155,000 – $185,000 | $165,000 – $178,300 |
| Additional funds | $25,000 – $50,000 | $25,000 – $50,000 |
| Other | $188,500 – $351,850 | $205,050-$497,150 |
| Total | $821,000 – $1,308,850 | $1,382,550 – $2,187,450 |
Source: 2022 Franchise Disclosure Document
McAlister's Deli Express restaurant
| | Freestanding |
| --- | --- |
| Build out costs | $175,000 – 255,000 |
| Initial franchise fee | $15,500 |
| Computer system | $21,000 – $56,500 |
| Equipment | $67,450 – $106,500 |
| Additional funds | $5,000 – $10,000 |
| Other | $109,550 – $192,700 |
| Total | $393,500 – $636,200 |
Source: 2022 Franchise Disclosure Document
How much can you make with a McAlister's Deli franchise?
On average, a McAlister's Deli' franchise makes $1,865,861 in sales per year. This represents the average sales for 385 out of the 438 traditional restaurant operating for all weeks in 2021.
The lowest performing restaurant made $583,176 in turnover vs. $4,910,044 for the most successful. Here's a breakdown of the 385 franchised-owned traditional restaurants by quartile:
How profitable is a McAlister's Deli franchise?
A McAlister's deli franchised restaurant is a profitable business: indeed it makes $497,534 in profits per year on average. This corresponds to a 27% profit margin (adjusted EBITDA margin to be exact).
In order to calculate this number, we used the information available in the latest FDD. Unfortunately, McAlister's Deli doesn't provide detailed information on the profitability and cost structure of its restaurants. Therefore, we had to use benchmarks instead for COGS (25% of sales) and labor costs (29% of sales as per industry average).
| Profit-and-loss | Amount ($) | As % of sales |
| --- | --- | --- |
| Sales | $1,865,861 | 100% |
| COGS | $(522,441) | 25.0%* |
| Labor | $(578,417) | 29.0%* |
| Rent | $(118,200) | 6.3% |
| Royalty + marketing fees | $(149,269) | 8.0% |
| Adjusted EBITDA | $497,534 | ~27% |
Source: 2022 Franchise Disclosure Document
Is a McAlister's Deli franchise a good investment?
To find out whether buying a McAlister's Deli franchise is a good investment, we need to figure out whether the profits are worth the cost.
We already estimated profits. Yet, as you may know, EBITDA isn't net profit.
Indeed, before you can pay yourself dividends as an investor and/or the franchisee, you must also deduct other expenses like;
Non operating expenses (lawyer fees, bookeeping, etc.)
Debt interest costs (if you took a SBA loan for example)
Corporate taxes
Bad luck again here: the franchisors almost never provide net profit in their FDD. So we have to estimate instead. Assuming an adjusted EBITDA margin for 27% (see above), we can reasonably assume McAlister's Deli franchises have net profit margin of about 15% of sales ($280,000 per year).
With that assumption, we found that by comparing profits to the initial investment ($1,424,963 on average) it takes on average 5.1 years to reimburse your investment: that's a good payback period.
Therefore, McAlister's seems like a great investment as it would take you (only) 5 years to recoup your investment, whether you invested with your savings, other investors or a SBA loan.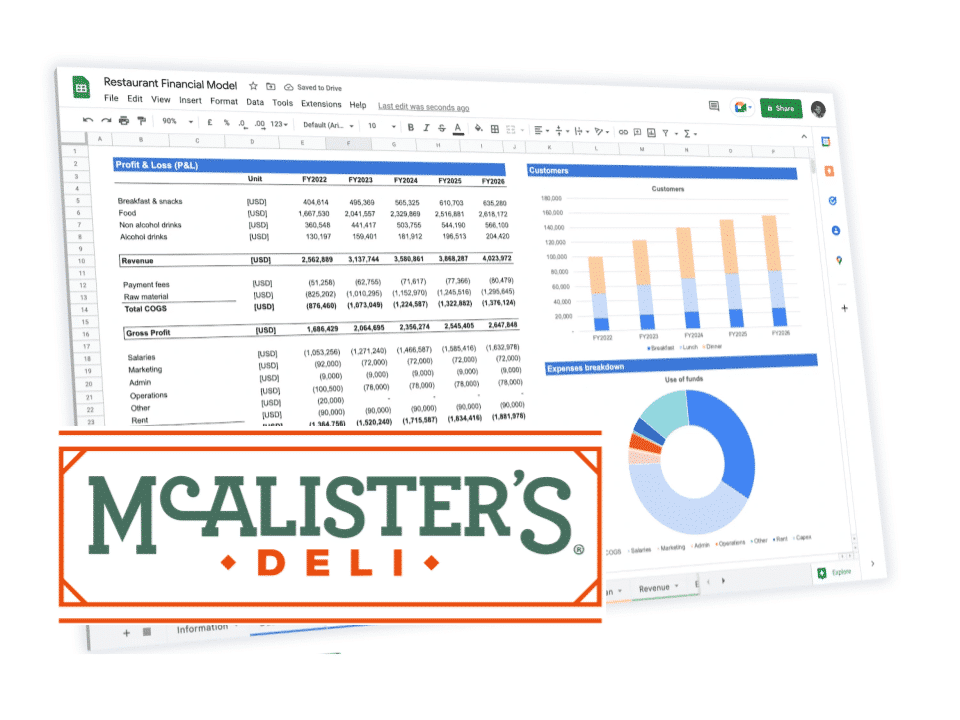 Download the McAlister's Deli business plan and get your franchise funded
Including a 5-year financial plan built with the latest Franchise Disclosure Document numbers