In 2019 New Zealand followed many other countries by creating the Research and Development Tax Incentive program ("R&DTI" or "RDTI") to promote businesses investing in R&D. New Zealand's R&D tax incentive allows businesses to get 15% of their R&D refunded as a tax credit (or cash in some instances).
Yet, because it's so recent, many entrepreneurs haven't yet heard of the RDTI before. Unfortunately, they are missing on significant savings which can dramatically extend their runway.
In this article we'll explain you what the R&D tax credit means for businesses in France, how it works and why it's especially relevant for startups.
Is your startup eligible for France's R&D tax credit? How much can you claim? What does it mean for your runway? We will cover:
What Is New Zealand's R&D Tax Incentive (RDTI)?
New Zealand's R&D Tax Incentive is a tax incentive program created in 2019 to promote small and medium businesses (SMEs) investments in R&D.
Note: the RDTI program is part of New Zealand's government agency Callaghan Innovation, which also offers a number of grants you might want to consider (more on that here).
In simple terms, any eligible business can claim qualifying R&D expenses under the R&D tax credit scheme. In return, companies receive 15% of the amount claimed as a tax credit.
The resulting tax credit is then used to offset any corporate taxes in the future.
Is Your Startup Eligible?
The eligibility criteria for New Zealand's R&D tax credit are very broad. Virtually all types of businesses from any sector can be eligible as long as they invest in R&D.
In order to qualify, you will have to meet all of the following criteria:
Your company must conduct business through a fixed permanent establishment in New Zealand
The core R&D activity must be conducted in New Zealand
You must not spend more than $20 million a year in R&D (yet, if you spend less than $50,000 you'll have to use an approved research provider)
You, another company in your corporate group or a joint venture or partnership must own the results of the R&D work
Note: the RDTI specifically excludes R&D contractors whose main business is to conduct R&D for customers.
So, what is a core R&D activity?
A core R&D activity must:
Be carried in New Zealand
Look to solve a scientific or technological uncertainty
Follow a systematic approach
Aim to create new knowledge and/or improved products, services or processes
For a full definition of a core activity, refer to the guide here.
Can You Get Cash Instead?
What's great about R&D tax credits in general is that is also applies to companies that aren't yet paying corporate taxes (and therefore wouldn't normally be able to use the tax credit).
Indeed, loss-making businesses may be eligible for refundable R&D tax credits, essentially they get cash back from their R&D expenditures.
The amount that can be claimed in cash is capped though. Since a change in legislation in March 2020 that was intended to make the RDTI cash refund rule more inclusive, there are now 2 options available that loss-making businesses can use:
Limited refundability rules: this was the rule in place before 2020. It states that businesses cannot claim more than $255,000 in cash under the RDTI
Broader refundability rules: the new rule introduced in March 2020. By choosing this option, businesses that don't have enough income to use their R&D tax credit can get a cash refund up to the amount the company is paying in labour-related taxes

Why Does It Matter For Your Runway?
Understanding how New Zealand's R&D tax credit works can help startups save significant amount of money. Indeed, if used correctly, the R&D tax credit can save you up to 15% of your R&D expenses per year, significantly decreasing cash burn and improving cash runway.
That's why founders should always be mindful of taking into consideration potential R&D tax credit benefits in their cash flow forecasts.
Yet, don't be too optimistic either: you can't reasonably assume all your R&D expenses qualify under the scheme. Indeed, if you're too optimistic, you might have some bad surprises down the road.
So when it comes to forecasting tax credits in general, make sure to ask your accountant whether you qualify to avoid mistakes and refer to the government's documentation here.
Note: most startups capitalise a part of their R&D expenses. Indeed, there are clear advantages to capitalise your R&D expenses as a startup. If you aren't familiar with R&D capitalisation, you might be missing on significant savings. For more information, read our article here.
More Resources For Startups In New Zealand
We have lots of free resources for startups in New Zealand. Have a look at our articles below: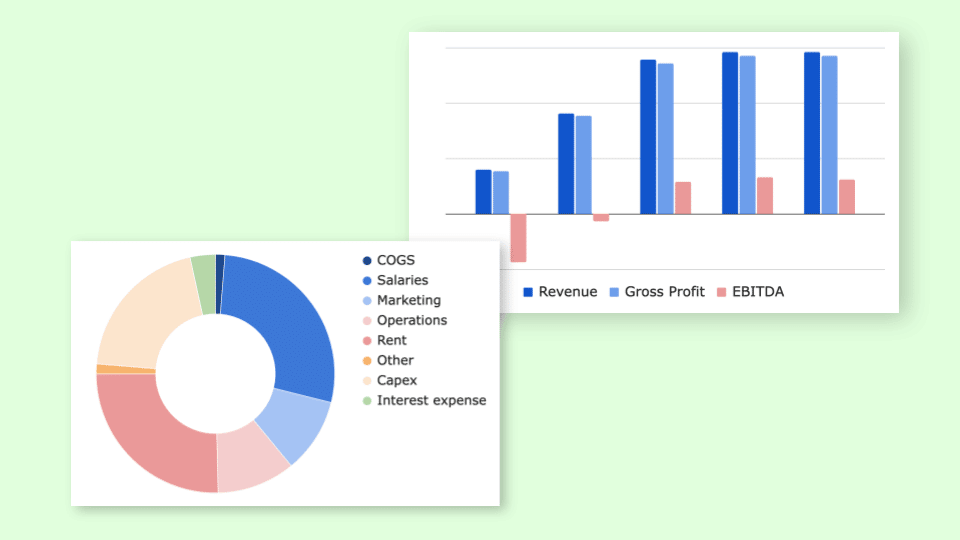 Expert-built templates for tech startups
Investor-friendly

Easy-to-use Excel & PPT templates

CPA-developed financials

30+ charts and metrics