Pirtek: a Very Profitable Franchise Costing $515K (2023)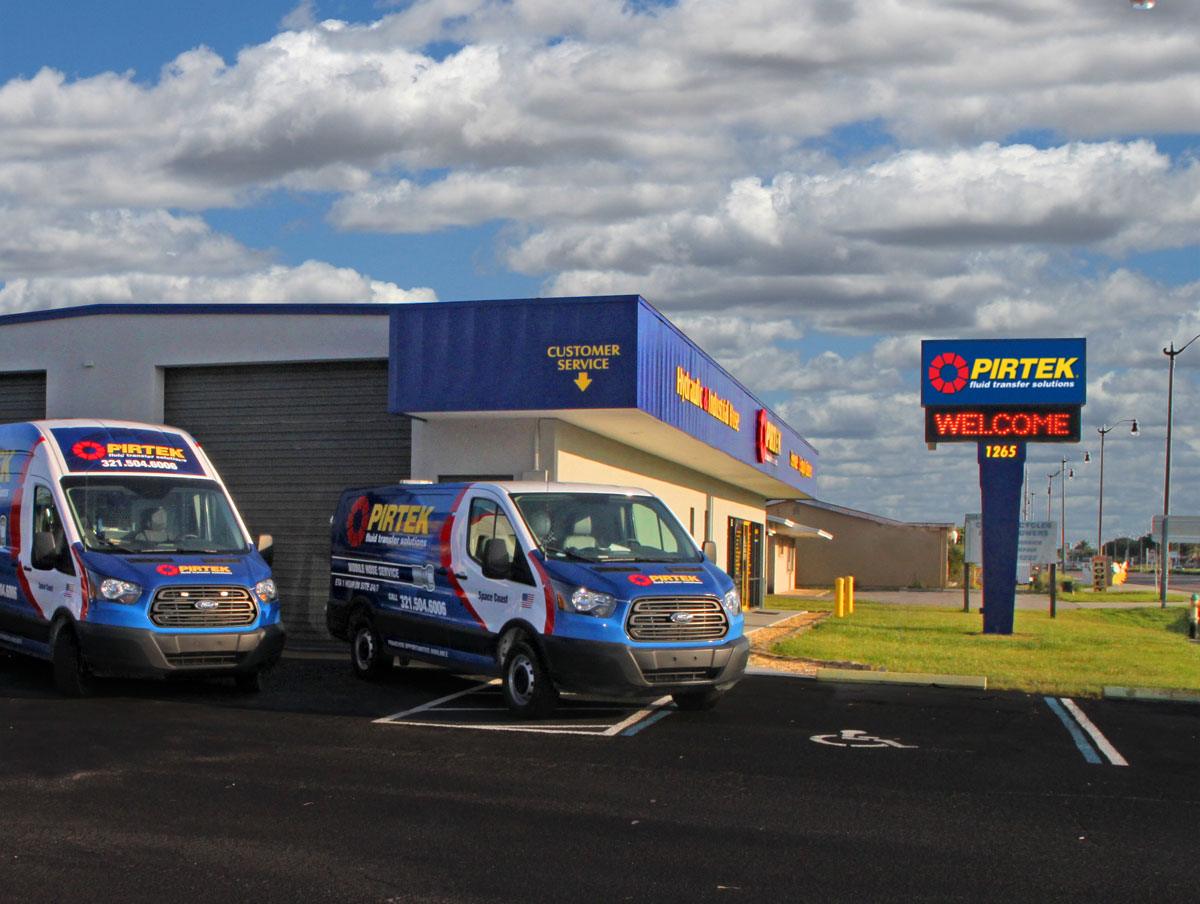 Undeniably one of the leading hydraulic and industrial hose repair player globally, Pirtek has 587 locations in the world, of which all units in the US are franchised-owned (114).
So if you're looking for a solid franchise with a recession-proof business model in the automotive industry, Pirtek sounds like a very good option. Is it really?
With an initial investment of $515,500 and an average revenue per franchise of $983,000 per year, it does seem like a great investment. Indeed Pirtek can be a very profitable business, with one of the best payback in the industry.
In this article we are looking at Pirtek and its Franchise Disclosure Document to find out all you should know about this franchise. Let's dive in!
Key stats
| | |
| --- | --- |
| Franchise fee | $50,000 |
| Royalty fee | 4.0% |
| Marketing fee | 2.8% |
| Investment (mid-point) | $515,500 |
| Average sales | $983,000 |
| Sales to investment ratio | 1.9x |
| Payback period | 6-7 years |
| Minimum net worth | $250,000 |
| Minimum liquid capital | $100,000 |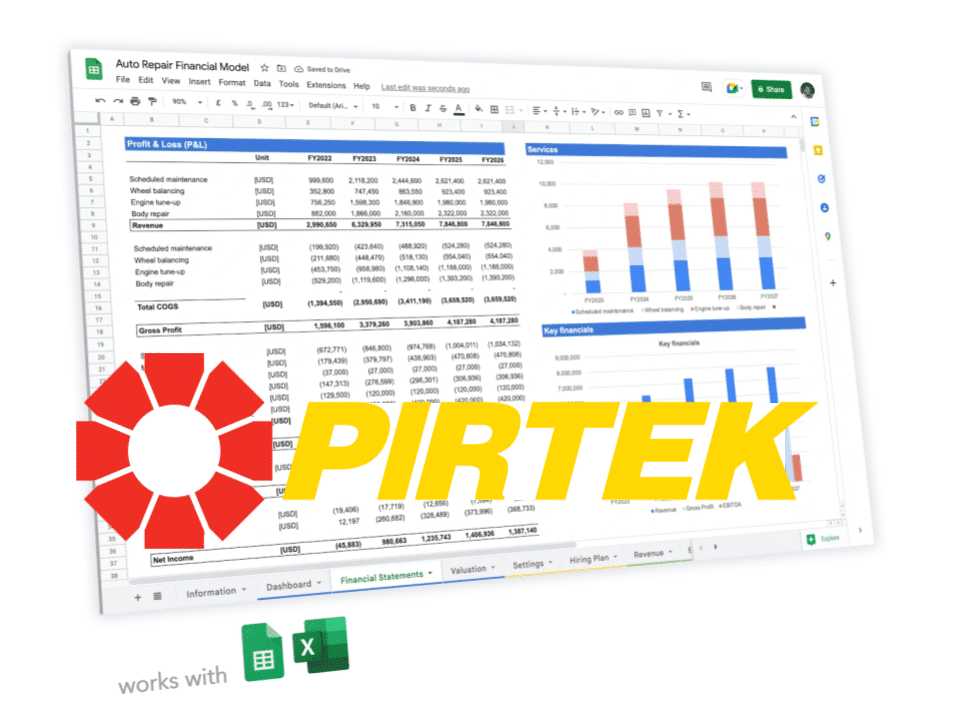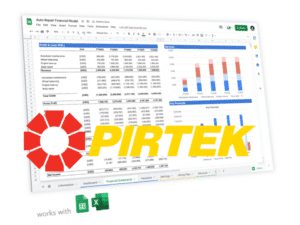 Pirtek Franchise Business Plan
All the stats: startup costs, profits, breakeven, etc.
5-year financial projections built with the FDD

Excellent 4.8/5 based on 70 reviews
Excellent 4.8/5 based on 70 reviews

What is Pirtek?
Pirtek is a global hydraulic and industrial hose repair franchise based in Rockledge, Florida.
The franchise was founded in Australia in 1980 by Peter Duncan and Wally Davey before expanding into the UK in 1988 and the US in 1996.
Pirtek offers the fastest hydraulic and industrial hose maintenance and replacement services through on-site mobile and retail PIRTEK Service & Supply centers.
Its franchising journey began in 1986 and now it has over 475 locations in 23 countries, including over 100 franchises in the US.
Pirtek franchise: pros and cons
The Pros:
Pre-opening training: Pirtek has a detailed online and classroom training program to equip franchisees with its business concept and how to launch its centers. Also, it trains its franchisees on the best practices to operate its centers, such as customer service, sales, marketing, accounting, administration, IT and technical training.
Exclusive territory protection: Pirtek allows its franchisees to operate in a protected area. It does not authorize any other franchise or competing units in the protected area.
Flexible franchise models: Pirtek has 2 franchise models for franchisees to choose from: a full-service PIRTEK franchise investment which includes a store location, full-time staff and fully equipped mobile service vehicles for the crew to take around to job sites or a fully mobile business option and operates according to their budgets.
Marketing and advertising: Pirtek provides its franchisees with dedicated marketing and advertising strategies such as marketing materials, promotional products and sales programs to boost their growth, as well as partnerships with global organizations.
Passive investment opportunity: A Pirtek franchise allows for absentee ownership. Franchisees can operate their franchises while maintaining their day jobs and other investment obligations.
Third-party financing: The franchisor offers its franchisees funding for the franchise fee, startup costs, equipment, inventory and payroll through third-party lenders.
Wide market: The franchise attracts customers from a wide market segment such as construction, waste and recycling, equipment rental, transportation and logistics and manufacturing, giving franchisees the potential for growth and profitability.
The cons:
High level of commitment: The franchisor requires franchisees to have auto technicians 24/7/365, which makes it cumbersome and involving. It also requires the franchisees to invest more time and resources into training technicians.
Not a part-time business: The franchise has to be open full-time for at least 40 hours per week.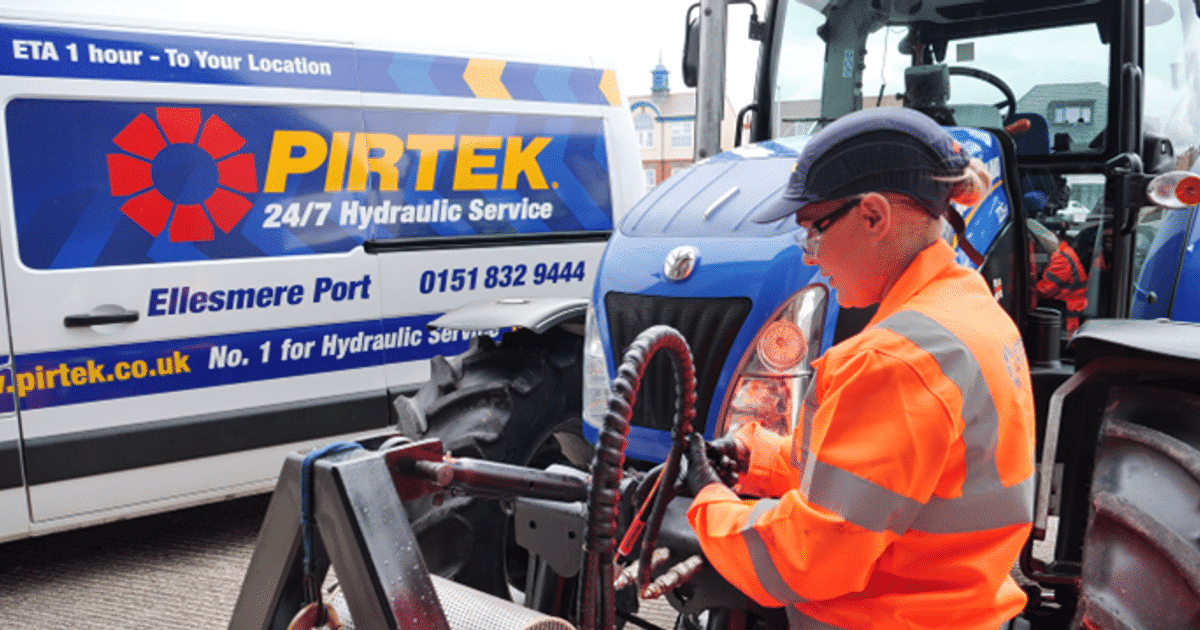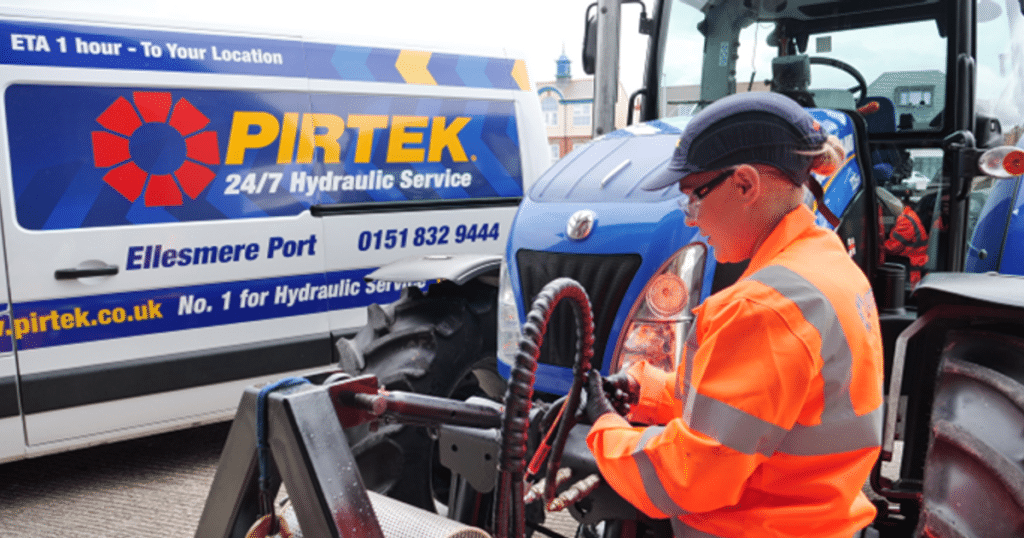 How much does a Pirtek franchise cost?
Opening a new Pirtek franchise requires an initial investment of $515,500, which is within the range of other automotive franchises.
However, it's worth noting that the investment amount can vary depending on factors such as the franchise location, size, and other factors.
According to the latest Franchise Disclosure Document, the investment ranges from $222,400 to $899,300, which includes the initial franchise fee of $20,000 to $40,000.
Tier 1 vs. Tier 2 center
There are also 2 different types of centers you can choose from:
Tier 1 center ($656,000 investment): the vast majority of franchises, it means you are operating your business from a "Service and Supply" center in addition to mobile sales and service units ("MSSU's")
Tier 2 center ($375,000 investment): franchises that only operate 2 mobile sales and service units without a Service and Supply center. Therefore, Tier 2 centers aren't as costly to setup vs. Tier 1 centers
Startup costs
The investment covers all the startup costs needed to start a Pirtek franchise. You must pay the franchisor an initial franchise fee of $20,000 to $40,000. Note that if you are a veteran of the U.S. Armed Forces, you can get a $15,000 discount.
In addition to this franchise fee, the investment also covers:
Formation Costs: opening setup fee, training expenses, leasehold improvements, furniture, fixtures, equipment, signs, computer system, mobile sales $ service unit, tracking system, business license, attorney's fees, etc.
Operating Costs: opening inventory, rent, insurance, and working capital for the first 5 months, etc.
| Type of Expenditure | Low | High |
| --- | --- | --- |
| Initial Franchise Fee | $20,000 | $50,000 |
| Formation Costs | $76,700 | $632,300 |
| Operating Costs | $125,700 | $217,000 |
| Total | $222,400 | $899,300 |
Source: FDD 2022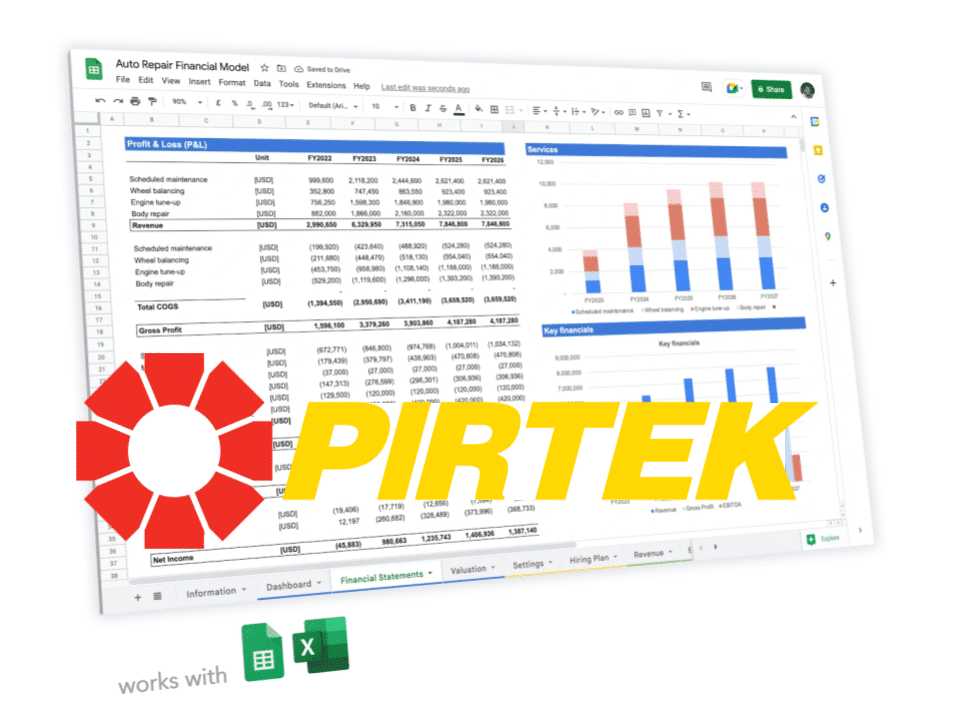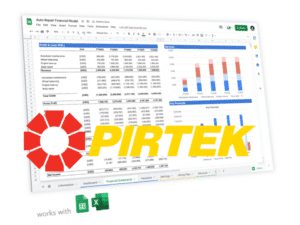 Pirtek Franchise Business Plan
All the stats: startup costs, profits, breakeven, etc.
5-year financial projections built with the FDD

Excellent 4.8/5 based on 70 reviews
Excellent 4.8/5 based on 70 reviews

What is the turnover of a Pirtek franchise?
On average, a Pirtek franchise makes $983,000 in revenue per year. This is actually the median gross sales value for all 88 franchised-owned Pirtek service centers.
As for the initial investment, revenue per unit varies depending on whether you operate a Tier 1 center vs. a Tier 2 center ($615,000).
The Franchise Disclosure Document also gives some light on the revenue ramp-up per center, by breaking down the median gross revenue by center between centers that opened 1-2 years ago ($594,000), 3-4 years ago ($884,000) and more than 5 years ago ($1,415,000).
How profitable is a Pirtek franchise?
We estimate that, on average, a Pirtek franchised center makes $130,000 in profits per year (that's a 13% EBITDA margin).
Note that this is purely an estimate, as Pirtek does not provide any detailed cost information when it comes to its franchises in its FDD. Indeed, apart from royalty and marketing fee and rent costs that come straight from the FDD, we had to make some assumptions especially for COGS and staff costs.
Note that this profit margin is in line with the automotive and car servicing industry (10-15% EBITDA margin as per our own benchmarks).
| Profit and loss | Amount | % revenue | Source |
| --- | --- | --- | --- |
| Revenue | $983,005 | 100% | as per FDD |
| COGS | $(294,902) | 30% | assumption |
| Gross Profit | $688,104 | 70% | |
| Staff | $(294,902) | 30% | assumption |
| Royalties | $(39,320) | 4% | as per FDD |
| Marketing | $(49,150) | 5% | assumption* |
| Rent | $(26,250) | 3% | as per FDD |
| Other operating costs | $(147,451) | 15% | assumption |
| EBITDA | $131,031 | 13% | |
* including the 2.81% marketing fee
Source: Franchise Disclosure Document 2022
Should you buy a Pirtek franchise?
So should you invest in a Pirtek franchise? Is this a good investment?
What we are really trying to figure out here really is: are the profits worth the initial investment ($515,500 on average)? Well we think so.
Indeed, we found that, as per our estimates and the data available in the FDD, Pirtek has a payback of 6 to 7 years on average. This means that you would reimburse the initial investment within 6 to 7 years on average, by using the profits generated by your franchise.
Therefore, based on these numbers we do consider Pirtek to be a great investment if you want to get into the hydraulic and industrial hose repair industry.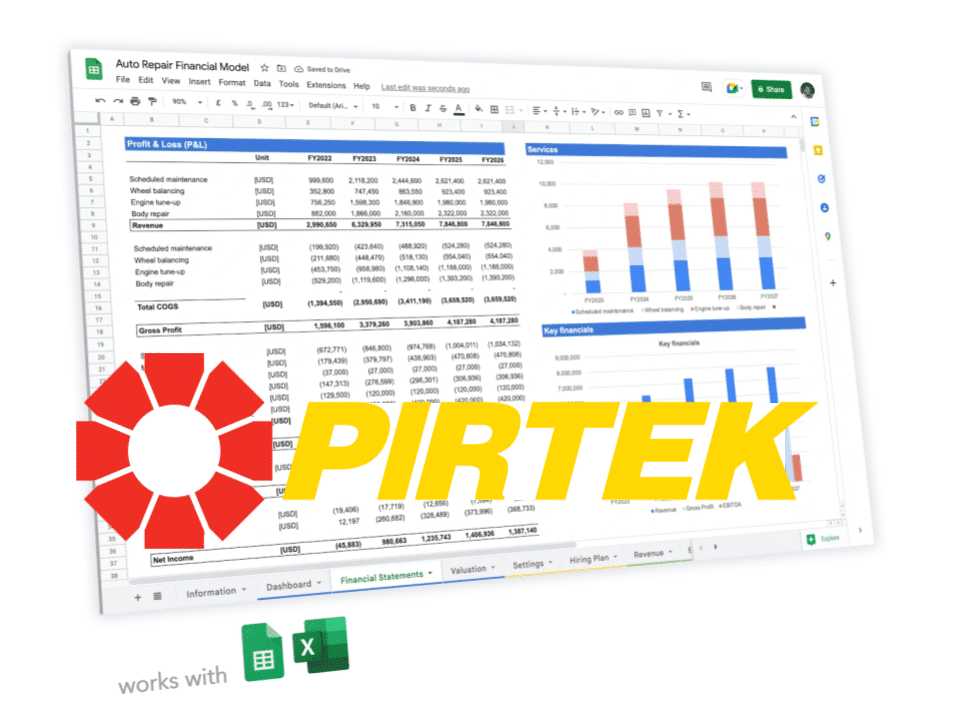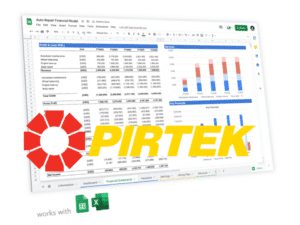 Pirtek Franchise Business Plan
All the stats: startup costs, profits, breakeven, etc.
5-year financial projections built with the FDD

Excellent 4.8/5 based on 70 reviews
Excellent 4.8/5 based on 70 reviews

Disclaimer: This content has been made for informational and educational purposes only. We do not make any representation or warranties with respect to the accuracy, applicability, fitness, or completeness of the information presented in the article. You should not construe any such information or other material as legal, tax, investment, financial, or other professional advice. Nothing contained in this article constitutes a solicitation, recommendation, endorsement, advertisement, or offer to buy or sell any franchises, securities, or other financial instruments in this or in any other jurisdiction in which such solicitation or offer would be unlawful under the franchise and/or securities laws of such jurisdiction.
All content in this article is information of a general nature and does not address the detailed circumstances of any particular individual or entity. Nothing in the article constitutes professional and/or financial and/or legal advice, nor does any information in the article constitute a comprehensive or complete statement of the matters discussed or the law relating thereto. You alone assume the sole responsibility of evaluating the merits and risks associated with the use of any information or other content in this article before making any decisions based on such information or other content.