Starting and maintaining a successful hair salon involves more than just delivering exceptional hairstyling; it demands a strategic approach to marketing and sales.
This comprehensive guide is designed to help salon owners build an effective sales and marketing plan for their business plan.
By thoroughly analyzing the market, shaping a compelling brand, exploring diverse marketing channels, and implementing effective sales strategies, you'll be well-equipped to attract and retain clients, nurturing growth for your hair salon.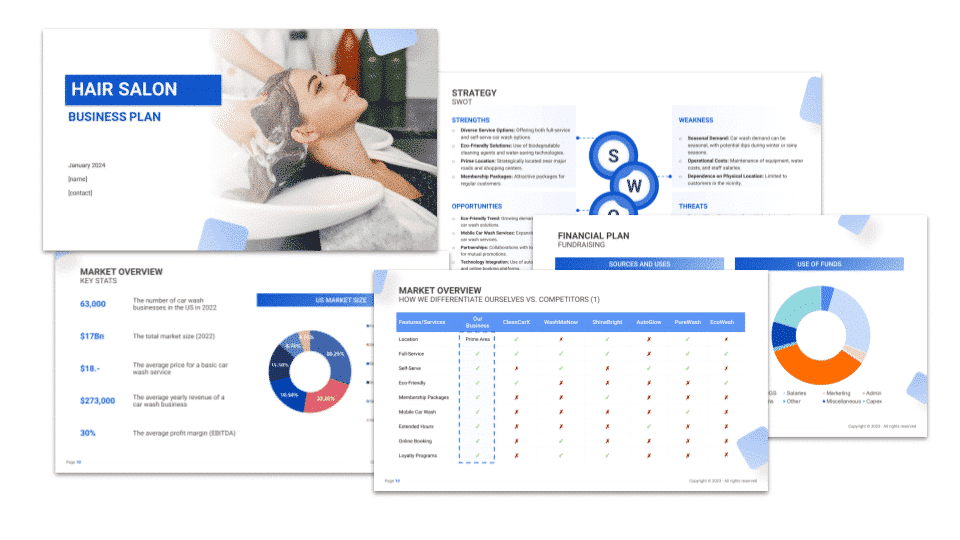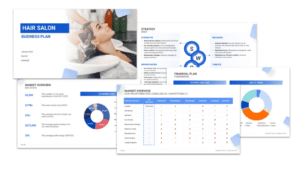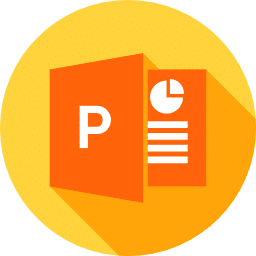 Hair Salon Business Plan
Download an expert-built 30+ slides Powerpoint business plan template
Hair Salon Business Plan
Download an expert-built 30+ slides Powerpoint business plan template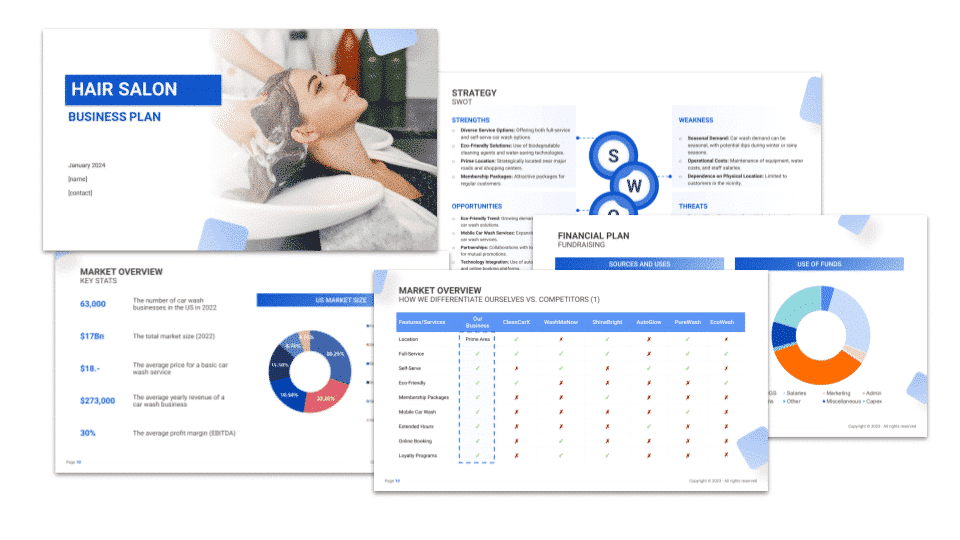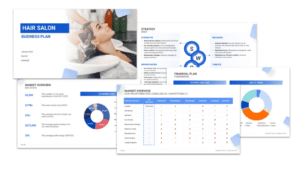 Market Analysis
Before devising specific sales and marketing strategies, a deep understanding of your market is crucial for your salon's positioning.
Competitive Analysis
Identify Key Competitors: Research neighboring hair salons, assessing their services, pricing, customer reviews, and marketing tactics. Consider visiting local competitors' salons incognito to experience their services firsthand and observe customer interactions.
SWOT Analysis: Conduct a comprehensive SWOT analysis by evaluating your salon's strengths, weaknesses, opportunities, and threats compared to your competitors. Identify areas where your salon excels and aspects that need improvement.
Target Audience Profiling
Demographic and Psychographic Details: Collect data to define your target audience's demographics, including age, gender, income level, occupation, and geographic location.
Understanding Client Preferences: Conduct surveys, both in-person and online, to gain insights into your clients' preferences. Gather feedback on the type of hairstyles they prefer, the level of customer service they expect, and the salon ambiance they find appealing.
Branding and Positioning
Crafting a unique brand identity forms the cornerstone of your salon's success.
Brand Identity Development
Crafting Your Brand Story: Share the story behind your salon, emphasizing your passion for hairstyling and the distinct values your salon upholds.
Visual Elements: Develop a cohesive visual identity, encompassing logos, color schemes, and salon aesthetics that resonate with your target audience.
Market Positioning Strategy
Unique Selling Proposition (USP): Clearly articulate what sets your salon apart from the competition. Whether it's innovative hairstyling techniques, the use of eco-friendly products, a focus on exceptional customer service, or a luxurious salon ambiance, emphasize your salon's unique offerings.
Positioning Statement: Craft a succinct and impactful positioning statement that encapsulates your salon's essence and resonates with your clients' haircare aspirations.
Marketing Channels
Choosing suitable marketing channels is crucial to engaging and attracting potential clients effectively.
Digital Marketing
In today's digital era, a robust online presence is indispensable for salon success.
Social Media Presence: Utilize platforms such as Instagram, Facebook, and TikTok to showcase an array of stunning hairstyles created at your salon.
Email Marketing: Develop an email marketing strategy to maintain regular communication with your clients.
Website and SEO: Invest in a professional website that serves as a digital storefront for your salon. Ensure that it includes a gallery showcasing your salon's portfolio, client testimonials, stylist profiles, a blog section featuring hairstyling tips and advice, and an easy-to-use appointment booking system.
Local Advertising
Print Media and Flyers: Design eye-catching flyers and brochures that highlight your salon's services, promotions, and contact information. Distribute these materials in high-traffic areas such as local cafes, gyms, shopping malls, and community centers.
Community Engagement: Establish a strong presence in your local community by participating in various events and initiatives. Sponsor or participate in local festivals, fairs, or charity events, offering hairstyling demonstrations, free consultations, or vouchers for discounted salon services.
Influencer Collaborations: Partner with local influencers or beauty bloggers whose style aligns with your salon's brand ethos. Invite them for a salon visit to experience your services firsthand and share their positive experiences with their followers on social media platforms.
Cross-Promotions: Forge strategic alliances with complementary businesses such as beauty product retailers, fashion boutiques, or makeup artists.
Promotional Activities
Engage potential clients through compelling offers and loyalty programs.
Seasonal Offers: Create seasonal promotions tailored to specific times of the year, such as 'Holiday Hairstyle Makeover' or 'Summer Hair Color Refresh'.
Loyalty Rewards: Launch a tiered loyalty program that rewards frequent visitors with exclusive perks, discounts, or special treatment.
Referral Incentives: Encourage your satisfied clients to refer friends, family, or colleagues to your salon by offering them incentives.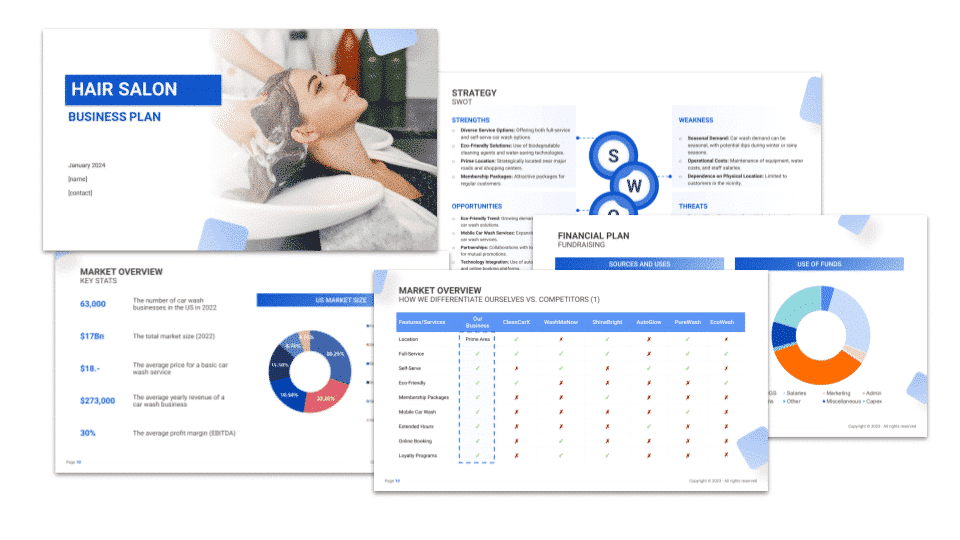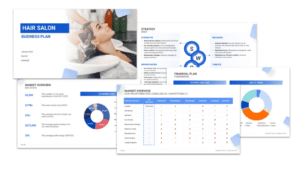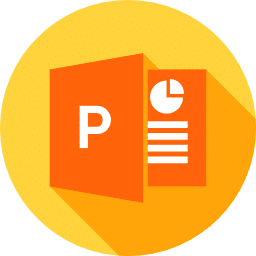 Hair Salon Business Plan
Download an expert-built 30+ slides Powerpoint business plan template
Hair Salon Business Plan
Download an expert-built 30+ slides Powerpoint business plan template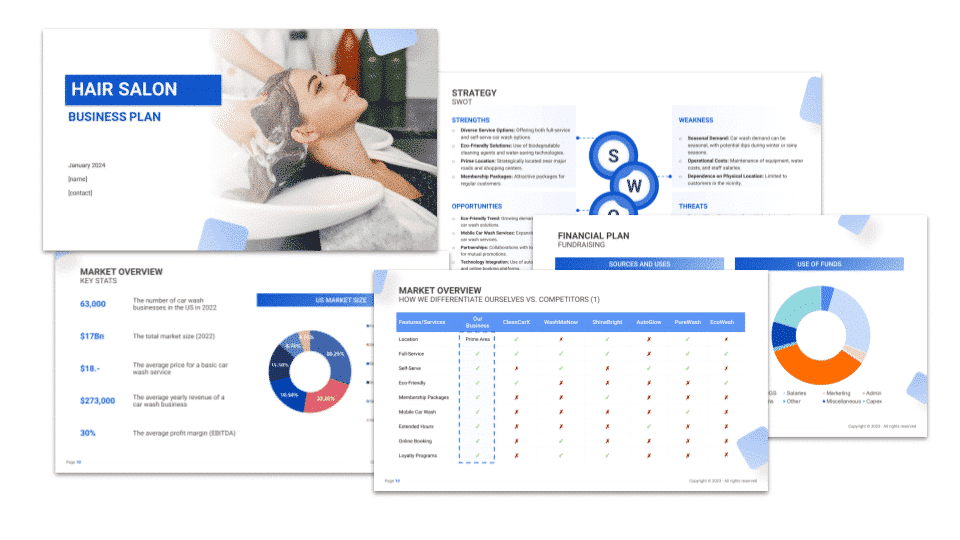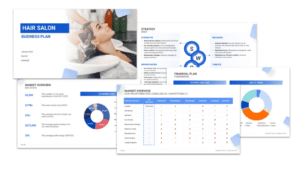 Sales Channels
Implementing effective sales strategies is vital for revenue growth and client satisfaction.
In-Salon Upselling
Maximize Revenue: Train your stylists to provide personalized recommendations for additional services or hair treatments to enhance each client's salon experience.
Retail Products: Display a curated selection of high-quality haircare products, styling tools, and accessories prominently within your salon.
Package Deals: Offer bundled services or package deals to incentivize clients to try multiple services or treatments at a reduced rate. For instance, create packages like 'Cut & Color Combo' or 'Bridal Hairstyling Package' that combine various services into one attractive offer.
Online Booking and Sales
Seamless Booking Experience: Enhance convenience for your clients by providing an intuitive and user-friendly online booking system integrated into your salon's website and social media platforms.
E-commerce Integration: Extend your salon's offerings beyond the physical space by retailing haircare products, accessories, or gift cards through your website.
Virtual Consultations: Introduce virtual consultations where clients can receive personalized hairstyling advice, recommendations, or tips from their stylists via video calls.
Membership and Loyalty Programs
Encourage repeat business and foster long-term relationships with your clients.
Membership Options
Subscription-Based Plans: Design subscription-based membership programs that offer clients regular services at a discounted rate. For instance, offer a monthly membership including services like haircuts, styling, or treatments at a reduced price to encourage recurring visits.
Exclusive Benefits: Provide members with exclusive privileges such as priority booking, access to premium services, or special events.
Personalized Rewards: Analyze client spending patterns and preferences to offer personalized rewards or incentives that align with their interests or previous purchases.