Top 11 Startup Accelerators & Incubators In San Diego [2022]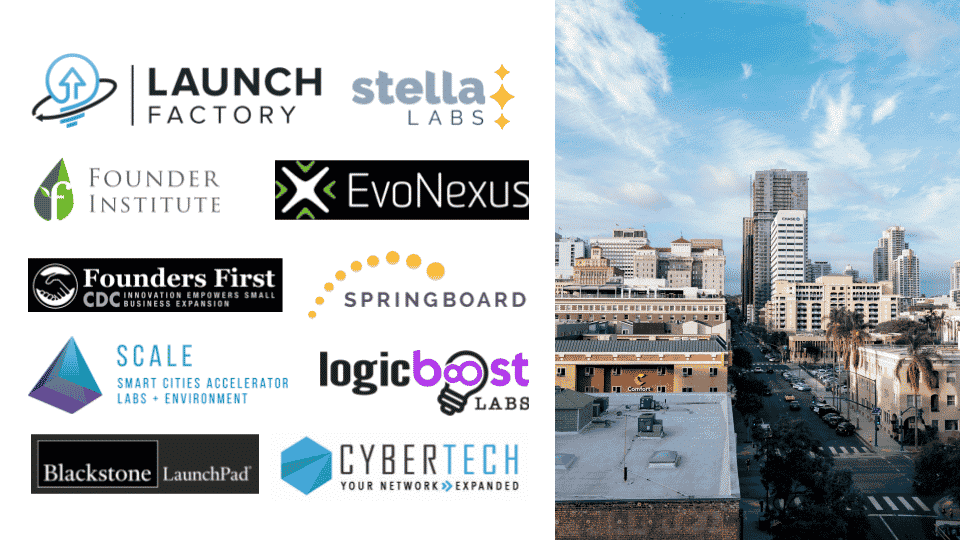 Are you looking for capital and/or mentorship for your startup in San Diego? Beyond funding, San Diego's startup accelerators and incubators also offer founders incredible valuable support for product development, sales and marketing.
Whether you are looking to find a co-founder, build your MVP and/or get the seed money you need to scale up, accelerators and incubators are the way to go!
In this article we have listed our top picks for San Diego's best startup accelerators and incubators. So, if you haven't yet started to apply, here is a good place to start learning about them.
This article is part of a series where we present you the top incubators and accelerators across the US. For the West, check out our rankings for San Francisco, Los Angeles, Las Vegas, Hawaii and San Jose.
Looking for San Diego's top venture capital firms instead? Check out our ranking here.
San Diego's Top 11 Startup Accelerators & Incubators
Here's a summary of our top 11 picks for the best startup accelerator and incubators in San Diego (in alphabetical order):
Name
Accelerator or incubator?
Program length
Investment size
Sector focus
Bio, Tech and Beyond
Incubator
N/A
N/A
Science, Bio and Tech research
CyberTech
Incubator
N/A
N/A
Cybertech
EvoNexus
Incubator
2 years
N/A
FinTech, CommTech and Embedded Tech, and MedTech
FastPath (by Founders First)
Accelerator
4 weeks
Up to $1 million
Sector agnostic
Founder Institute
Accelerator
4 months
None
Sector agnostic
Launch Factory
Incubator
6 to 8 weeks
$300k
Sector agnostic
LaunchPad
Incubator and accelerator
12 months
N/A
Sector agnostic
LogicBoost Labs
Incubator
N/A
$150k
B2B SaaS
ScaleSD
Incubator and accelerator
7 days (incubator)
2 months (accelerator)
N/A
Sector agnostic
SpringBoard
Accelerator
N/A
N/A
Technology, Consumer, and Life Science
Stella Labs
Incubator and accelerator
12 weeks
N/A
Sector agnostic
Fundraising?
Download a financial model template, fill it out in minutes and get funded
20+ charts & metrics

Video tutorial

Free expert review
Bio, Tech and Beyond is a one-of-a-kind incubator that focuses on startups in the Life Science industry looking for lab space and support to develop their products and services.
Therefore, the incubator offers startups a 7,000 square feet shared laboratory for a mere $1,200 monthly cost. Startups get access to 30+ lab equipment shared by other startups experimenting in the facility.
Startups can perform their proof of principle experiments in the lab before they start looking for angel funding and grants.
Funded by the City of San Diego, CyberTech Network's CYBER Hive incubator focuses on early-stage startups working in Processing, Sensors, Big Data and Predictive Analytics of Cyber, Modelling and Simulation, Situational Awareness/Visualisation, and Workflow Management.
CYBER Hive takes up to 20% equity from the selected and participating startups, and in return, offers a shared workspace with mentorship for fine tuning use cases, business models, and go to market strategies.
EvoNexus Incubators focus on early-stage startups in various industries such as CommTech and Embedded Tech, FinTech, and MedTech.
Yet, their incubation program isn't short like typical incubator programs. Instead, the program lasts for 2 years where selected startups receive mentoring from domain experts. In addition to mentorship, partner technology corporations also offer businesses customer trials and technology steering.
Although the incubator accepts early-stage businesses, startups must have a MVP or a working prototype to qualify for the program. Finally, in exchange for the long-term residency program, EvoNexus takes 1% equity.
FastPath by Founders First is an accelerator focusing on B2B companies that have come out of the early stage, and already have annual revenues in excess of $1 million.
The 4 weeks program covers 5 modules spanning over growth behaviour, growth strategies, growth management tools, etc. Participants can also potentially secure up to $1 million growth funding.
FastPath is very selective and expensive vs. other accelerator program though. Indeed, FastPath is an invitation-only program and costs $4,500 per company for participation.
Fundraising?
Download a financial model template, fill it out in minutes and get funded
20+ charts & metrics

Video tutorial

Free expert review

The Founder Institute is one of the most famous global startup accelerators. Indeed, with offices in over 200 cities and 65 countries worldwide, the Founder Institute has invested in over 5,000 startups to date.
Also, like any of their other chapters worldwide, their accelerator in San Diego runs 4-month programs at the end of which graduate founders must commit 4% equity to the Founder Institute Collective (see more on that here).
Launch Factory is a one-of-a-kind incubator. Indeed, it's more like a company builder that internally brainstorms new business ideas and find entrepreneurs to create startups out of it.
Indeed, once they have a business idea, they invite entrepreneurs via the Founders Recruitment Process, who then pursue the idea and create a company. The founders receive a funding of $300k of which, only $200k can be drawn as salary over the first two years.
Therefore, Launch Factory isn't for existing startups. Instead, it's suited for aspiring entrepreneurs that need a business idea and support.
Additionally, Launch Factory also provides incubation tools, proven processes, and support, including office space for 2 years in San Diego, advisors, etc.
7. LaunchPad (UC San Diego & Blackstone)
The Blackstone LaunchPad by UC San Diego is an incubator and accelerator that targets undergraduate and graduate UC San Diego students with social impact or entrepreneurial interests.
Therefore, LaunchPad has 2 separate programs:
The 12 months incubator program helps early-stage student founders in validating their business venture and developing a Minimum Viable Product. Therefore, the program offers prototyping funds, co-working space, entrepreneurial events and workshops, etc.
The 12 months accelerator program instead is targeted towards those who already have an MVP, and have completed some customer development and business validation. Therefore, this program offers instead one-on-one mentorship, co-working space, prototyping funds, etc.
LogicBoost Labs is an incubator located in San Diego that helps startups in the B2B SaaS ecosystem and help them achieve $1 million Annual Recurring Revenue (ARR).
Unlike most incubators, there is no program time frame. Instead it starts with a 45-minute call with the founder(s). If LogicBoost Labs finds it a good fit, the mentoring call continues once every 6-8 weeks. If everything works out well, the mentor eventually becomes an official advisor and investor.
In addition to mentorship, LogicBoost Labs invests $150k in selected startups and offers advice on business model, market opportunity, financing, hiring, and other aspects of business.
San Diego-based incubator and accelerator ScaleSD focuses on small and micro businesses that can utilise technology for better visibility and acquisition of new customer channels.
To do so, they offer a 1 week incubation program where participants must create a prototype whilst competing in an innovation sprint.
Later on, the most promising teams are selected by judges and get to join the 2 months accelerator program where participants get mentoring. In addition to mentorship, industry leading experts also help them turn prototypes into working solutions.
Finally, the program ends with a demo day where winning teams selected by judges receive funding and additional support to bring the solution to the market.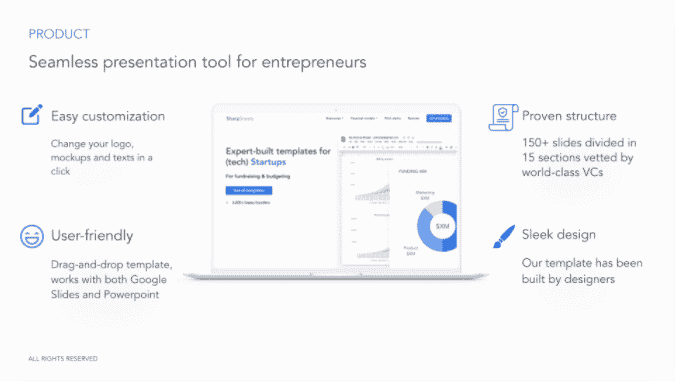 Need a Pitch Deck?
Springboard is a San Diego-based accelerator that focuses on early-stage Life Science and Technology companies.
They offer startups an accelerator program where founders benefit from guidance and mentorship in addition to the opportunity to receive funding at the end of the program.
In addition to the accelerator program, Springboard also runs Cool Companies: a program that, each year, selects top tier startups and matches them with a network of over 200 VC firms in San Diego and beyond.
Since 2015, Cool Companies has selected over 200 startups that together raised a total $730 million through the program. Yet, Cool Companies is rather selective: with 300+ applications each year, only 10% get selected.
Stella Labs is a San Diego-based incubator and accelerator that focuses on female-focused businesses. In order too help women scale their businesses, Stella Labs offers 3 separate programs:
Launch Intensive: 12 weeks program that helps founders in developing a business idea into a Minimum Viable Product (the cost for joining the program is $2,000)
Scale Intensive: 12 weeks program that helps in scaling an existing business (this program also costs $2,000)
Business Strategy Sessions: this program helps in creating a 12-month roadmap for an existing business through strategic plans, financial projections, and more
Virtual Accelerator: 12 weeks, fully online program where founders benefit from weekly video calls with mentors and experts
Also note that Launch Intensive, Scale Intensive, and Virtual Accelerators all end with a "Demo day" where participants get an opportunity to attract investments from external investors.