Startup Pitch Deck: 30 Tips & Mistakes to Avoid
VCs and investors alike have a notorious limited attention span when looking at a pitch deck: they spend less than 4 minutes in average per startup. Because it's also short (~15 slides), your pitch deck must be clear, concise and memorable.
In this article we've listed 30 best practices, mistakes and tips to create a rock-solid pitch deck for your startup. Especially we'll cover:
6 Things to do Before Creating your Pitch Deck
12 Content Best Practices
6 Design Best Practices
2 Tips Before Sending your Pitch Deck to Investors
3 Options to Create a Powerful Pitch Deck
6 Things to do Before Creating your Pitch Deck
If you are about to create a pitch deck for your startup, there are a few things you must do before you start drafting slides.
1. Identify your startup pitch deck's objective
★ Do this before creating your pitch deck slides
Pitch decks are used for many purposes. Most often, entrepreneurs create pitch decks to raise financing for their startup. But this isn't the only reason.
A startup pitch deck have one of the following objectives (or a combination of them):
Raise capital from investors
Apply for a grant (public or private)
Find co-founders
Even if you are raising capital, pitch decks may vary depending on the type of investors you are targeting. Crowdfunding investors aren't VCs nor angel investors. For example, you wouldn't necessarily include a detailed financial plan nor a market slide if you are targeting reward-based crowdfunding: focus on the product itself.
Fortunately, you don't need to create totally different presentations for separate investors or objectives. Simply create separate versions where you add or remove some specific slides to better address your audience.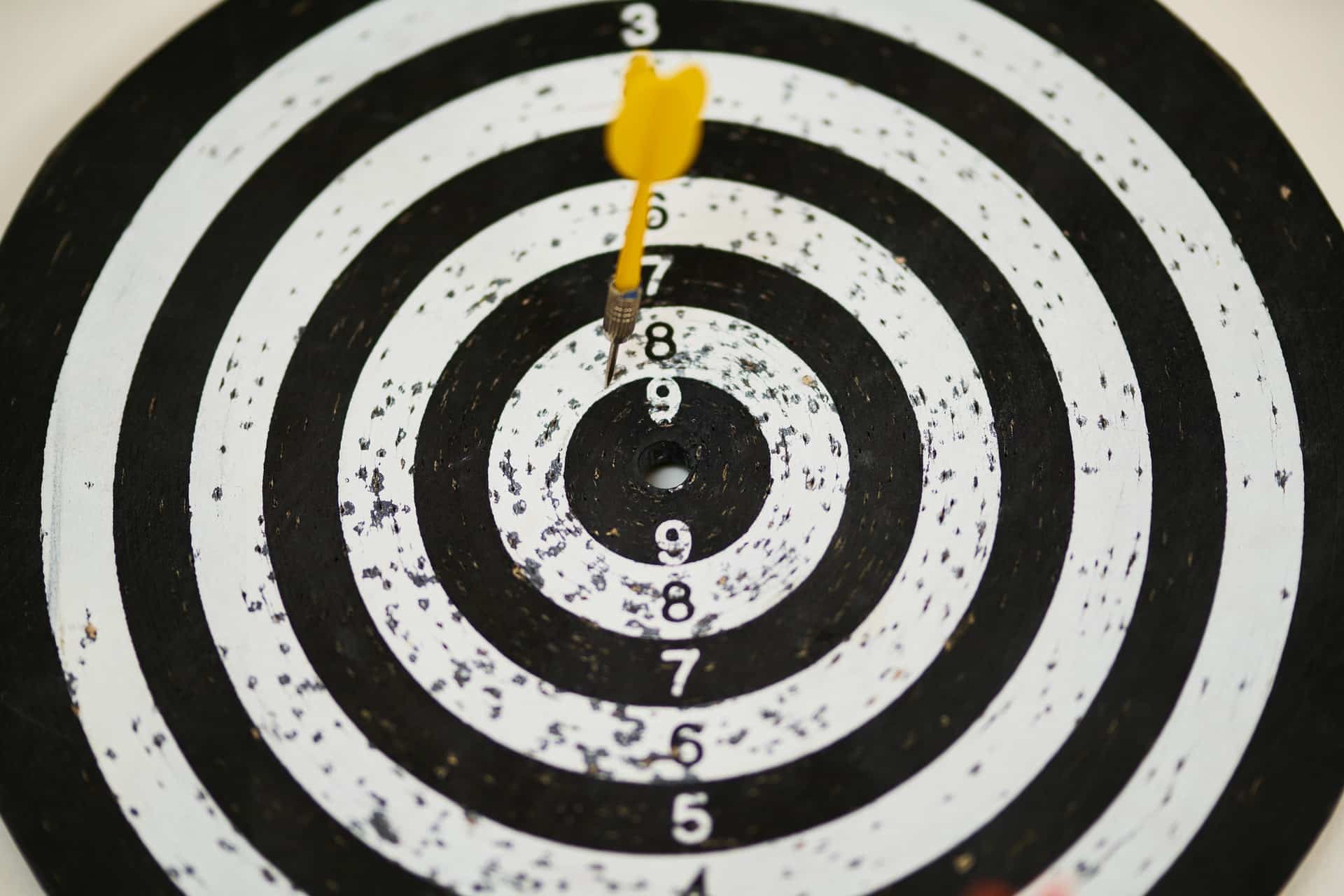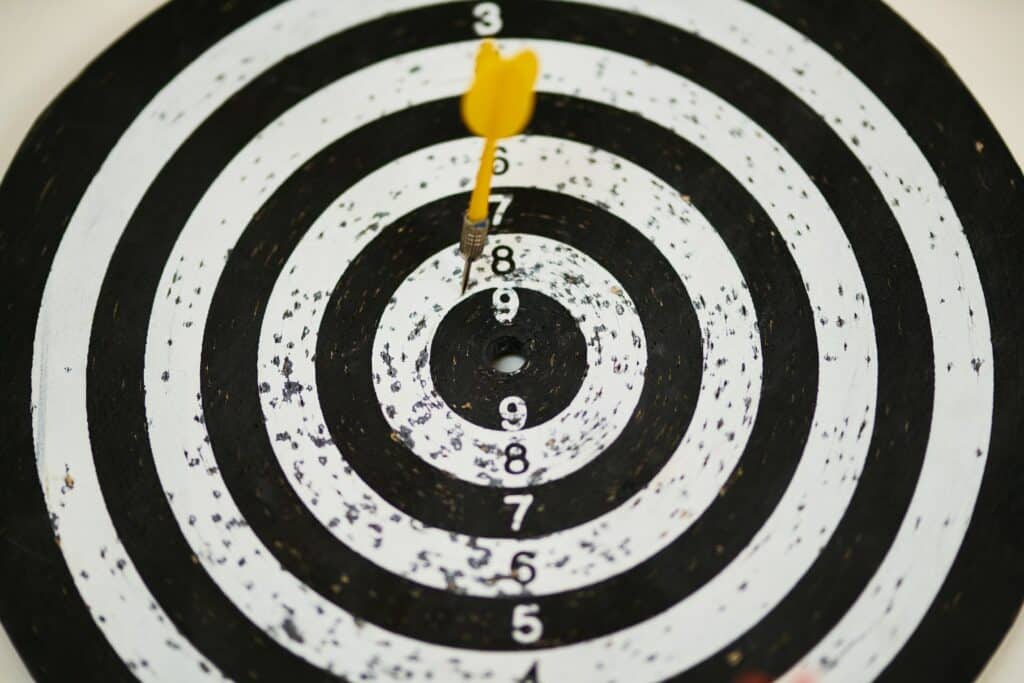 2. Lay out the pitch deck structure
★ Do this before creating your pitch deck slides
Before you start creating your pitch deck, be sure to clearly list all the different slides you intend to create. Do this exercise for each objective: a government institution (public grant) might not need the same information as VCs.
Luckily, you don't need to reinvent the wheel here. Be sure to check out our startup pitch deck template as well as our free pitch deck guides for specific business models.
3. Clarify the problem and your solution
★ Do this before creating your pitch deck slides
Your pitch deck needs to be concise. You should only have a few bullet-point sentences for each slide.
Also, your pitch deck needs to be clearly understandable without you voicing things over.
That's why you should be able to summarise all the content of your pitch deck. Among all the slides of your pitch deck, 2 slides are notoriously difficult to summarise: the problem you are addressing, and the solution you bring.
Before you start to create your pitch deck, be sure to summarise in a few words what the problem and the solution are. And in plain english please, so everyone can understand.
Remember, VCs spend in average less than 4 minutes per pitch deck. You need to make yours stand out in a few words. More importantly, it needs to be clear for anyone without expertise in your field to understand.
Entrepreneurs often have headaches simplifying these 2 slides simply because they spend so much time working the nitty gritty details of their day-to-day business activities. That's understandable. Yet, don't assume people understand the market you are in, nor the product you are selling.
If you can't explain in a few words the problem you are addressing and your solution, chances are you simply haven't identified the right problem.
Great companies are solving simple pain points. Make it clear for people to understand what your mission is, and people will remember you.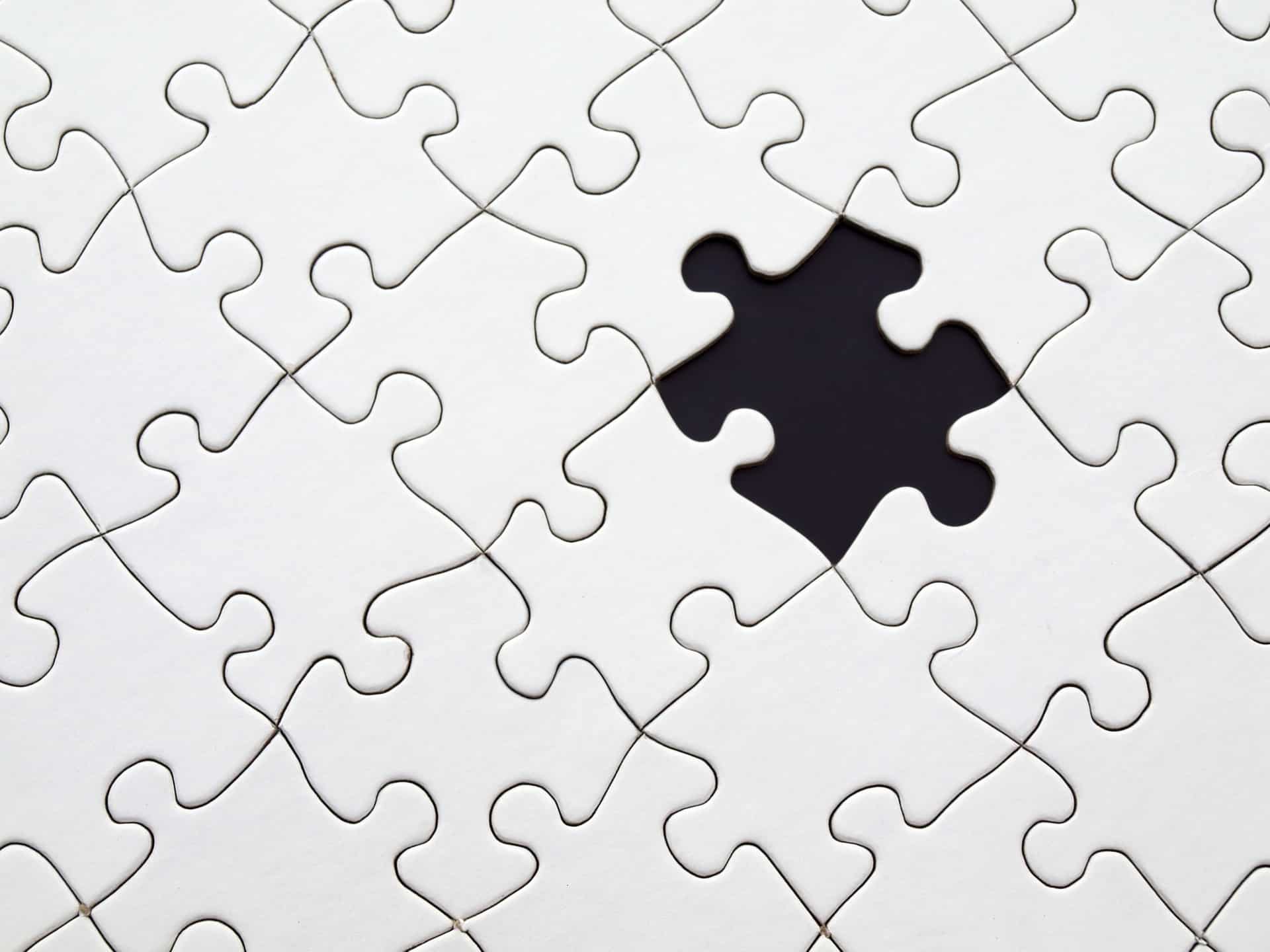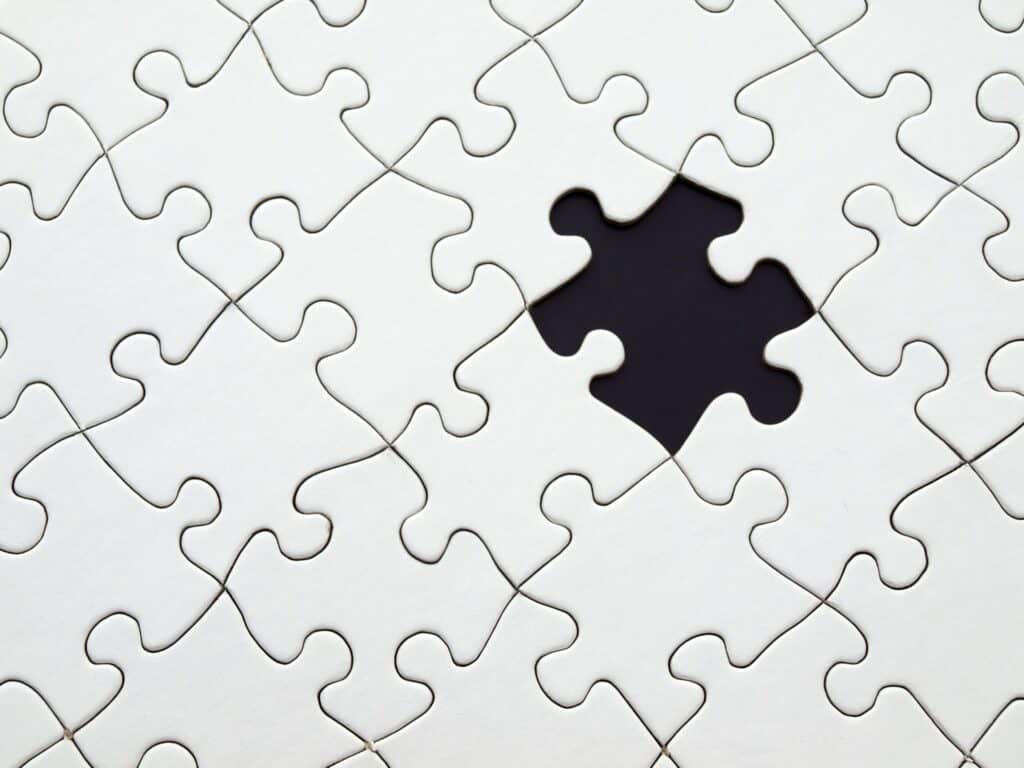 4. Do your research
★ Do this before creating your pitch deck slides
Startup pitch decks aren't just a marketing document. You will need to include things such as your market size, growth, competitive landscape, etc.
All these slides require a significant amount of research beforehand. Get your facts straight and be sure to list the sources you are using somewhere in case you need to come back to it.
Investors will ask questions anyway, so you better be well prepared. So before you start creating your pitch deck, make sure to conduct a thorough market research beforehand.
Doing your research on your market and competitors isn't limited to what you need to put on a slide or the questions you need to ask investors. It will also serve you to build accurate and realistic financial projections later on.
For more information, see our article on market sizing (TAM, SAM, SOM) and how you should use it to estimate your future revenues.
5. Know how much you are raising
★ Do this before creating your pitch deck slides
If the objective of your pitch deck is to raise funds (grants or VC money), be sure to know how much you are raising. Entrepreneurs sometimes overlook this important point as they wrongly think raising more is always better.
This is very important as it demonstrates investors you have done the work in preparing your financial projections. As such, you are a clear idea of where you want to go, and how much you will need to get there. You also understand what is your runway, breakeven, cash burn and all these sort of things investors will ask for.
For more information on how much you should raise and why more is not always better, check out our article.
6. Work on your story telling
★ Do this before creating your pitch deck slides
Great pitch decks have a strong story telling. This is true even in the way they are built, typically in your pitch deck you:
Start by identifying the problem
Present your solution
Explain how you will develop the solution (roadmap)
Mention who will help you build it (team)
And so on…
Beyond the structure itself, it's always best to also create a powerful story telling: the why.
More importantly, you should address: why you? Why are you addressing this problem? Did you face the problem yourself? Any subjective / emotional connection to the issue you're addressing?
If you want to make a lasting impression investors remember, create a story. Investors remember faces and people more than a company or a product.
The story telling can be put on a slide (only if you can't present it live), but always prefer to voice it over instead: it's more powerful when people don't read it / expect it.
12 Pitch Deck Best Practices: Content
Now that you have prepared the work and done your research, now is time to draft the slides of your startup pitch deck.
When doing so, make sure to follow these 12 best practices for the content of your pitch deck.
1. Have a clear problem and solution
★ Content Best Practice
If it sounds obvious to you as you worked days and nights on it over the past 6 months, investors may not see it as such. This is especially true when you are in a niche market which isn't straightforward to the general public.
These should be the first 2 slides of your startup pitch deck:
The problem slide: what is it your product / service is trying to solve?
The solution slide: how do you plan to solve this problem?
Indeed, the first reason why startups fail is because they fail to understand their market. In other words, their product isn't solving the right problem for their target customers (or any problem at all).
That's why you need to make clear from the outset what the problem is, and how your product is solving this pain point.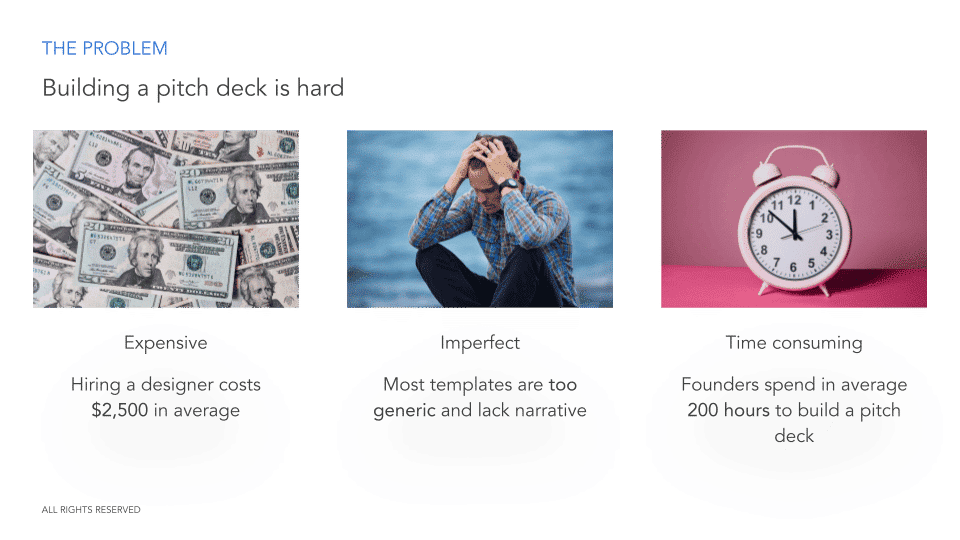 2. Convey a clear and memorable story as to the why
★ Content Best Practice
Why you? Why today?
Show investors you are passionate about the problem and your solution. The day-to-day reality of startups is less sexy than you may think: show investors you have the guts to drive this project, even in difficult times.
When it comes to the why, there are 2 elements to it:
Your passion for the industry or the product
The rationale for creating this product today: why is it that your product makes sense today?
3. Show early traction
★ Content Best Practice
This is a difficult one, as most early-stage businesses (e.g. pre-seed) may not have any.
Yet, traction isn't necessarily revenue. It can also be users, signups or even partnerships for instance. Anything that proves your MVP already shows early interest from users (not necessarily paying consumers yet) goes a long way.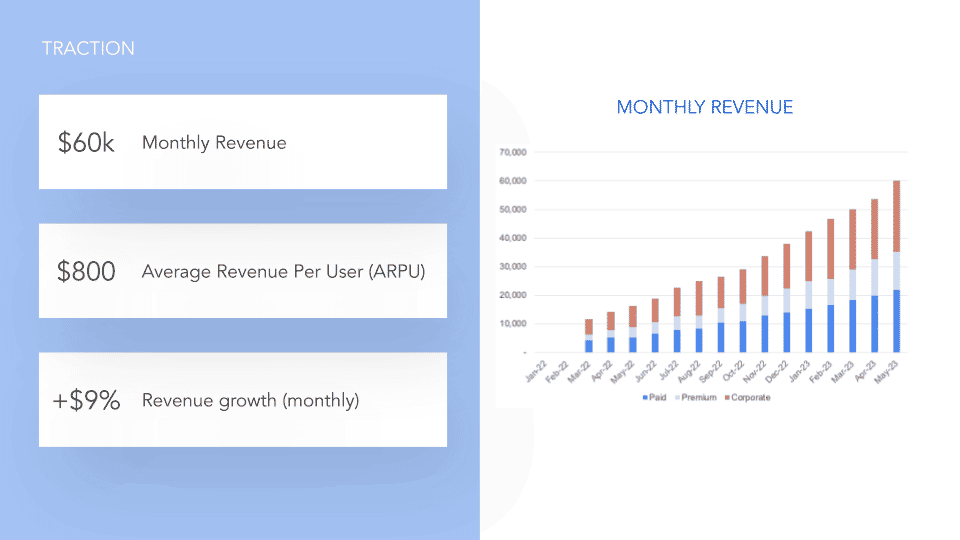 4. Have a demo as part of the pitch
★ Content Best Practice
Whenever possible, make sure you make a demo of your product in-person or via video.
A demo is worth hundreds of explanation slides. Indeed, a pitch deck is very short, be smart and take advantage of it by adding a demo to your pitch.
5. Fine tune your financial projections
★ Content Best Practice
Your forecast will likely not be fully accurate in the end, yet you you will show investors you have a deep understanding of your business and your market. Also, having a strong financial model will give you a head start when discussing valuation later on.
Therefore, make sure to have at the end of your startup pitch deck 1 or 2 slides about your financial projections (5 years is enough).
For more information on how to build financial projections for your startup, read our articles below:
10 Do's to Ace your Startup Financial Projections
The 5 Mistakes To Avoid For Your Startup Financial Plan
The Key Financials and Metrics to Include in your Pitch Deck
6. Think long-term strategy and roadmap
★ Content Best Practice
Investors are looking at 5 or 10 years investment periods, make sure you haven't just thought of the short-term plan. Instead, make sure you have well thought where the business can grow in 5 years down the road, if all goes well.
Examples are legion here, you can talk about your long-term plans for geographical expansion, vertical integration, tech white-labelling, etc.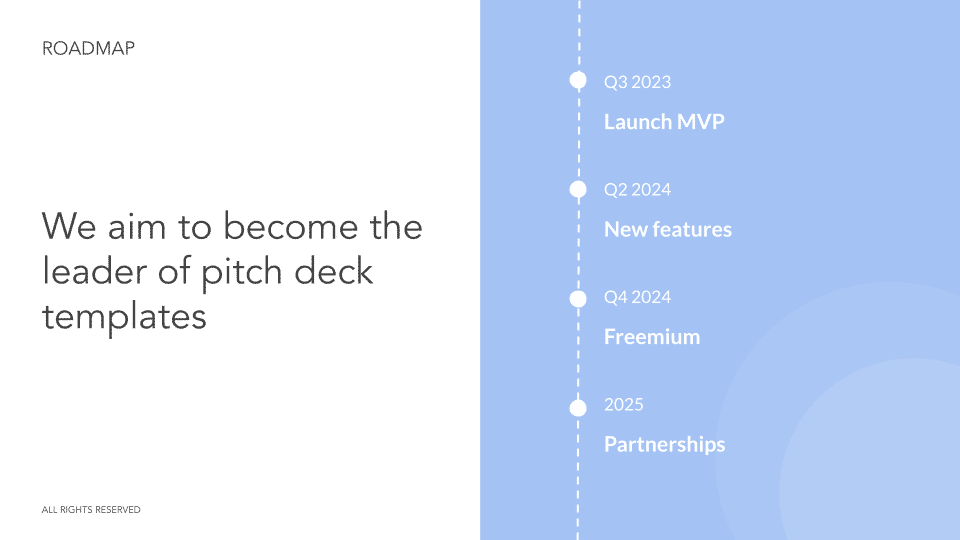 7. Make clear how much you're asking
★ Content Best Practice
How much are you raising? What is your runway? Also, if you already have committed funds from investors, or specific terms (valuation for instance), make it clear here. In doubt, read our article on how much you should raise here.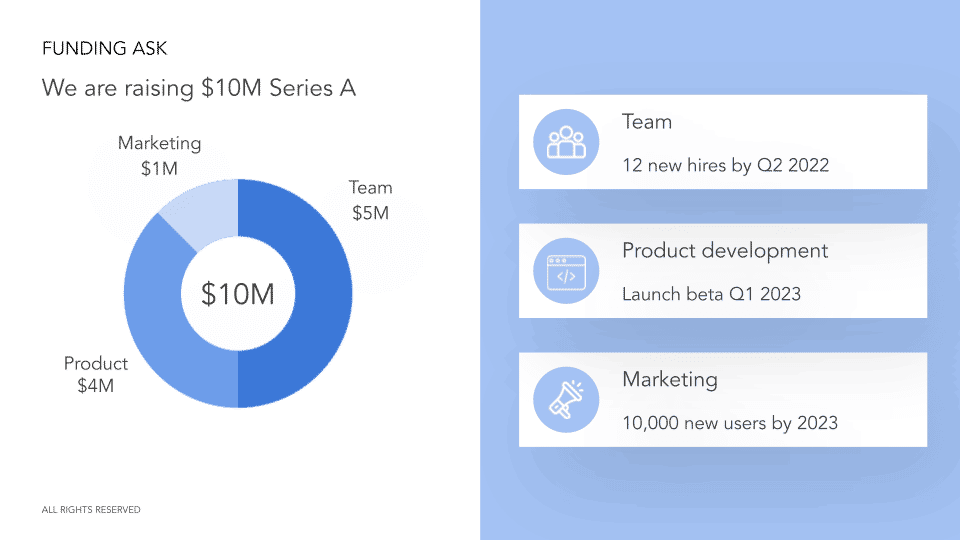 8. Keep it to 15-20 slides
★ Content Best Practice
Really, don't. You have a thousand things to say? Summarise, and keep some for the voice over. The slides should be easy to read, hence avoid wordy slides and small font sizes (below Arial 12 equivalent is a no go, excluding footnotes of course).
9. Don't underestimate competition
★ Content Best Practice
Investors look for ambitious founding teams, yet realistic too. Get your head out the sand and consider your competitive environment and its potential future impact on your market and business.
It's always good practice to include, as part of your competition overview slide, a short brief or your perceived strengths and weaknesses vs. competitors. This will show investors you are realistic and you understand the risks and opportunities of your product vs. competitors'.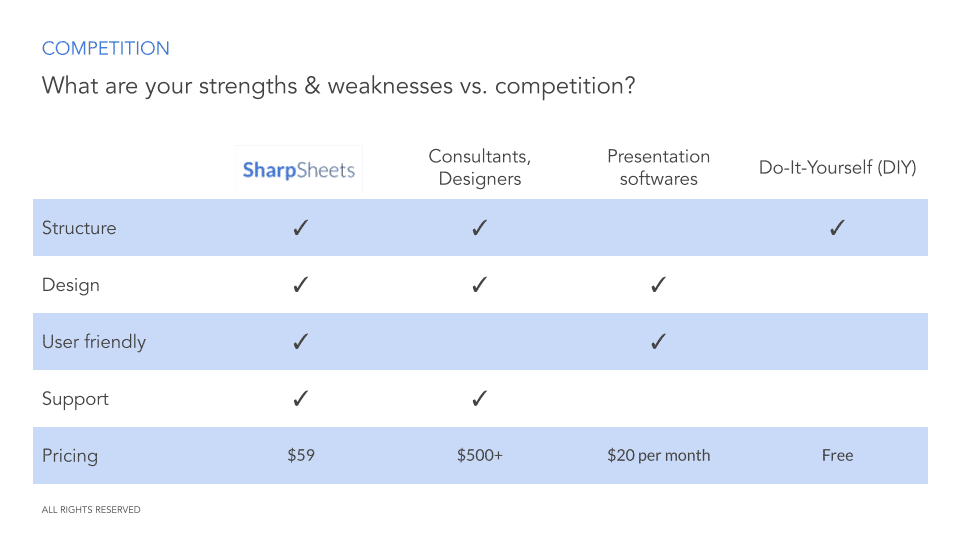 10. Don't make it stale
★ Content Best Practice
For example, don't include a company overview (worse, a business model canvas), this has nothing to do in your pitch deck. Anything descriptive should be in appendix, if any. Descriptions are boring. Think story telling instead.
11. Don't use jargon of acronyms
★ Content Best Practice
If you think investors might not understand or it might create confusion, don't use jargon or acronyms. Otherwise, you can always footnote too.
12. Don't include outdated information
★ Content Best Practice
Are you presenting your pitch deck in September, but early traction data is as of June? Have you included a market sizing source from 3 years ago? Wrong. Update data, sources and information whenever possible.
This is all the more true when you prepare your market overview slide: market size and growth data must be as recent as possible.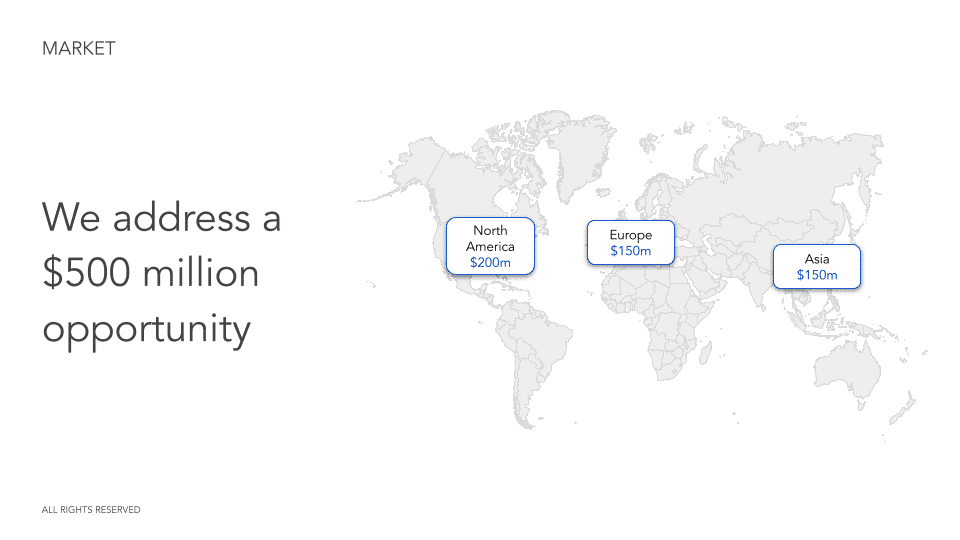 18. Don't provide too much financial information
★ Content Best Practice
This is especially true if you are early stage and they are financial projections. Keep it short (1 to 2 slides maximum) and keep it to the key metrics. Read our article on the key financials and metrics you should include in your pitch deck here.
19. Avoid poor layouts
★ Content Best Practice
Inconsistent graphics, colours, font sizes and style can cost you a lot. Put yourself in the shoes of an investor who might look at your pitch deck from the bottom of the pile late evening: this is an excuse for them to go home earlier. Don't underestimate the benefit of hiring a graphic designer who would (dramatically) improve the look of your pitch deck
6 Pitch Deck Best Practices: Design
Pitch deck should also be neat and memorable. Make sure to follow these 12 design tips.
1. Respect page margins
★ Design Best Practice
The first thing you should do when creating your pitch deck is to set page margins for your presentation.
Page margins are very important tools you can use with any software (Powerpoint, Google Slides, Canva, etc.). They can be turned on and off and are only seen by the person who edit the slide (they disappear when you're in a presentation mode.
Page margins help set areas within the presentation where we will consistently write text or include content. As such, they help us align text, images, and create consistency overall.
The page margins should at a minimum set:
The title (and subtitle)
The footnote
Divide the slide in a number of blocks: we recommend to keep it simple and separate the slide in 2 blocks (one left and right)
See a few examples below:
Setting up the title (& subtitle) page margin
★ Content Best Practice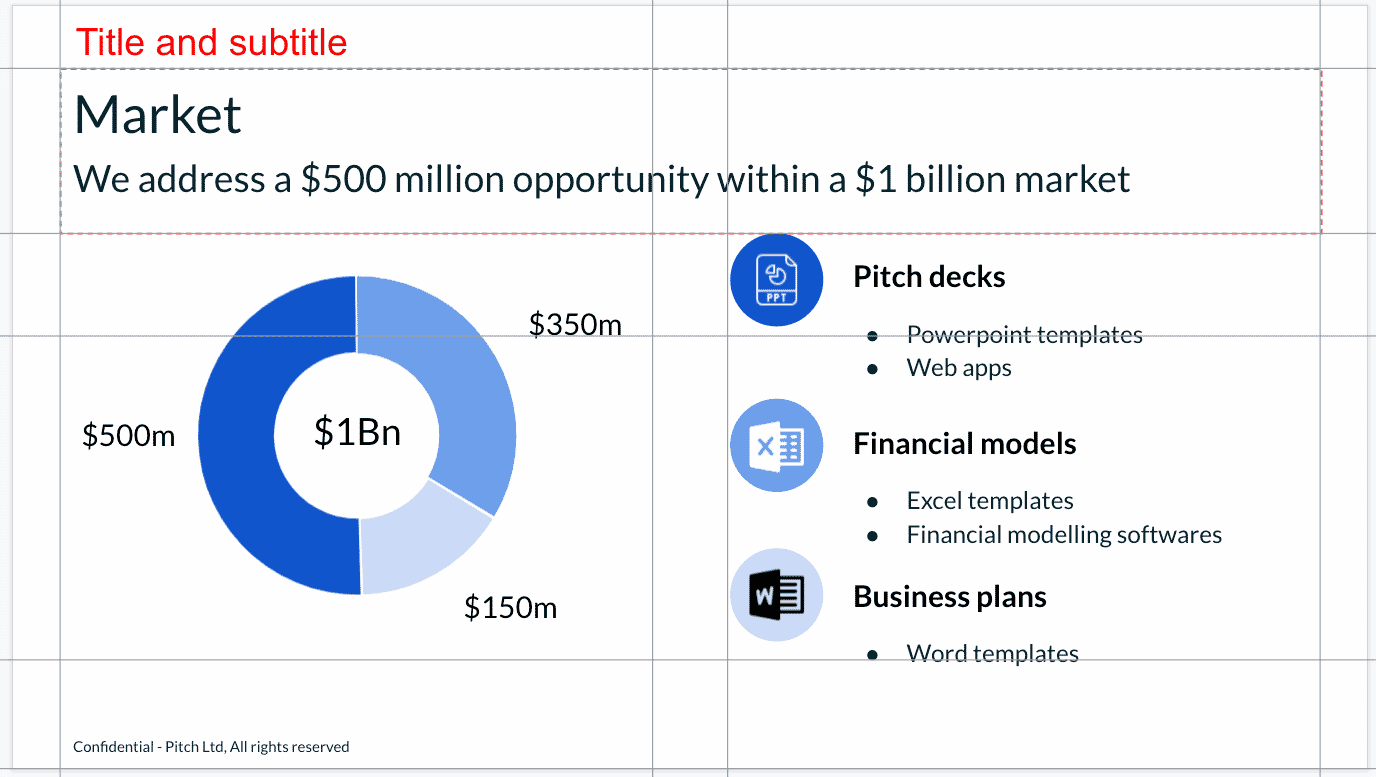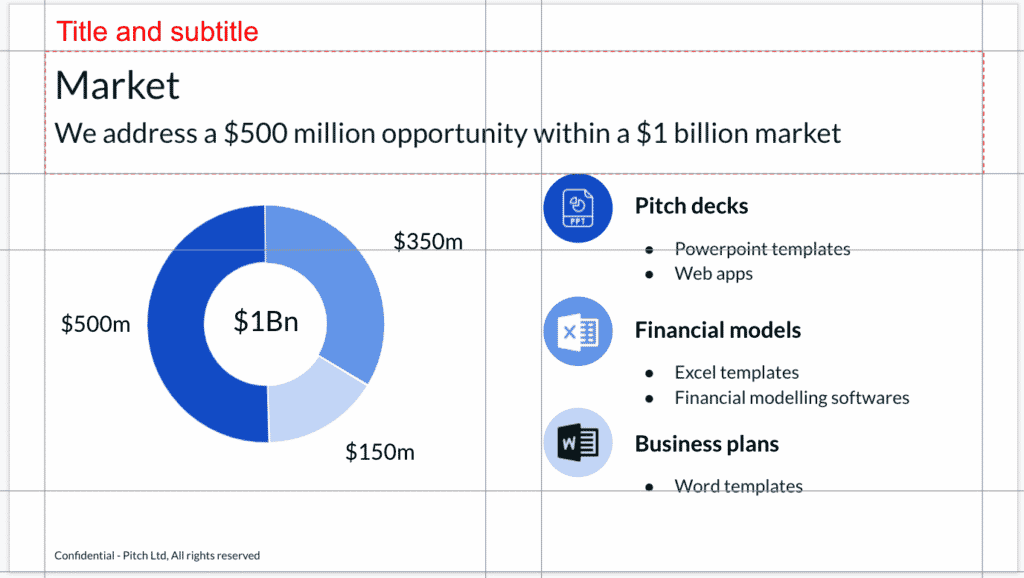 2. Stick to a colour palette
★ Design Best Practice
When it comes to colouring, make sure you are using the same colour palette for a sleek startup pitch deck design.
Colour palette are a number of colours you are using consistently across your presentation. They don't necessarily need to be the same colour tone (for example variants of blue) but can be different colours as well.
Often, the colour palette is already set: use the one of your startup, or your logo at least if you haven't yet figured out the design of your startup branding.
If you haven't chosen one yet, we recommend using colorhunt.co where you can find thousands of free artists' and designers' hand-picked colour palettes.
When it comes to the number of colours, like any other support (website, ads, etc.) we strongly recommend to use a maximum of 3 colors for your presentation. This is a pretty common design rule for all designers.
Of course, if you are using more than 3 colours (for a chart for example), you can choose additional colours as you wish. Just make sure they blend well with each other.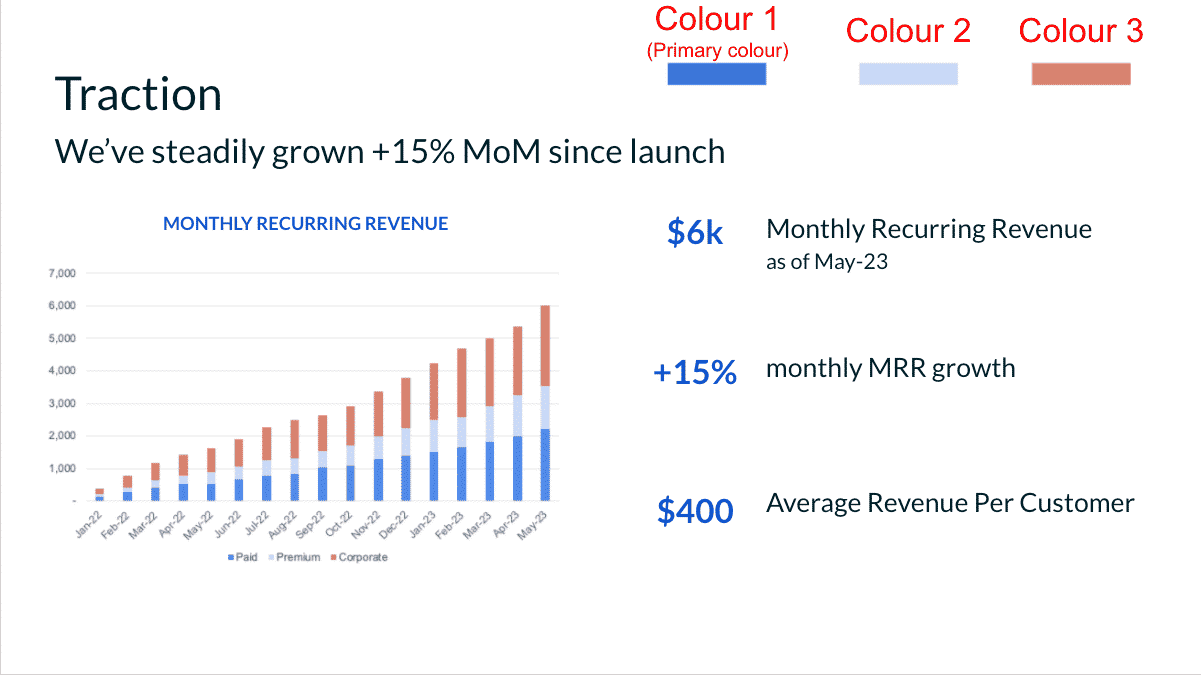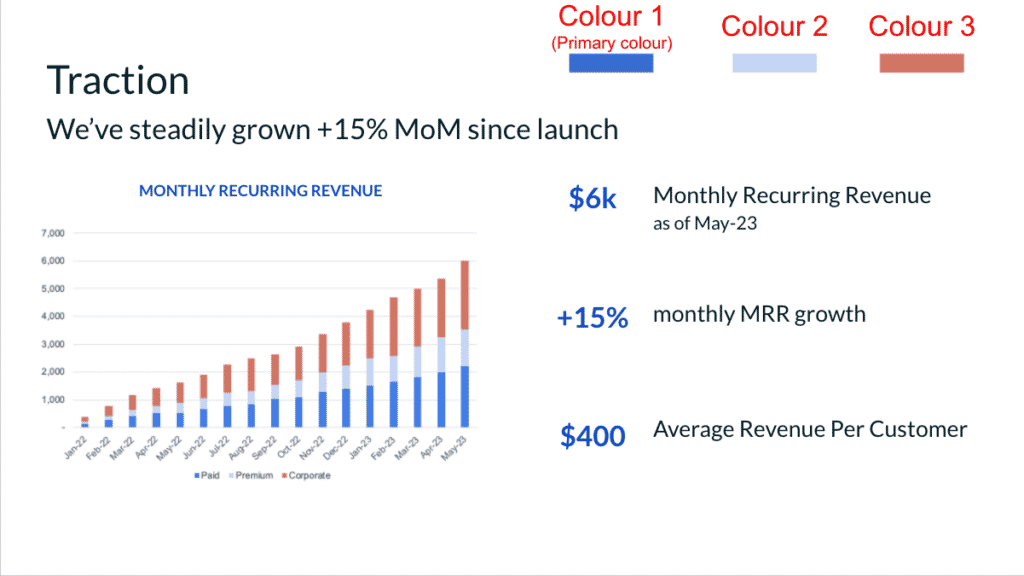 3. Keep fonts consistent throughout
★ Design Best Practice
This design tip is very easy to apply for your pitch deck. Unfortunately, this is often the most overlooked startup pitch deck design rule.
The rule is simple:
Use the same font family throughout your presentation (at the exception of your logo which may be in a different font family)
Use a maximum of 5 different font sizes (title, subtitle, text – 2 different sizes possible – and footnotes) and use them consistently
Also, it goes without saying that you should use the same font size for all respective components, meaning if you chose Times New Roman size 30 for your slide titles, all titles should be Times New Roman size 30.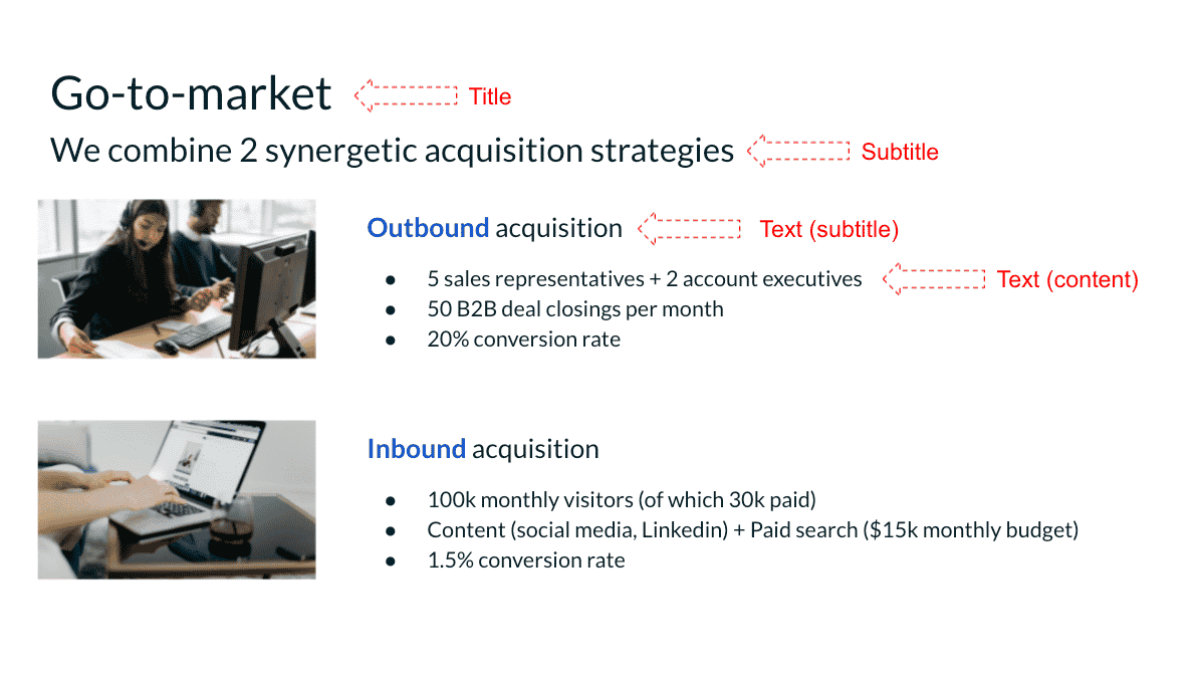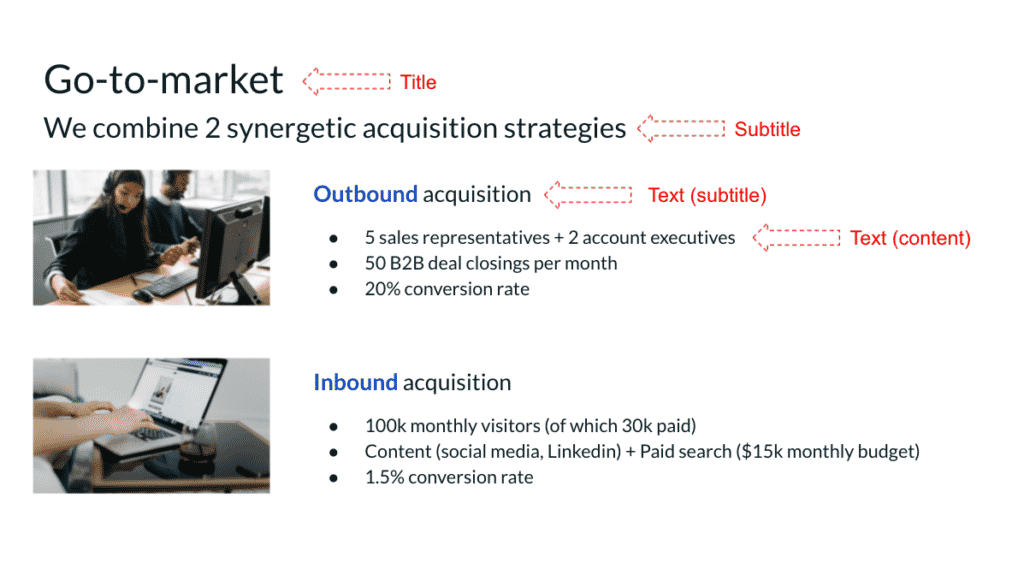 4. Use icons carefully
★ Design Best Practice
When it comes to adding life to your pitch deck other than images, photos or colours, icons are a great option.
There are millions of icons out there, of which most of them are free..! We recommend using Flaticon which has 5.5 million icons to choose from: sign up and pick the icons you want.
When it comes to icons, don't go overboard: they should only come as a support to your text. As such, limit yourself to 3 to 6 maximum per page, and keep their size small.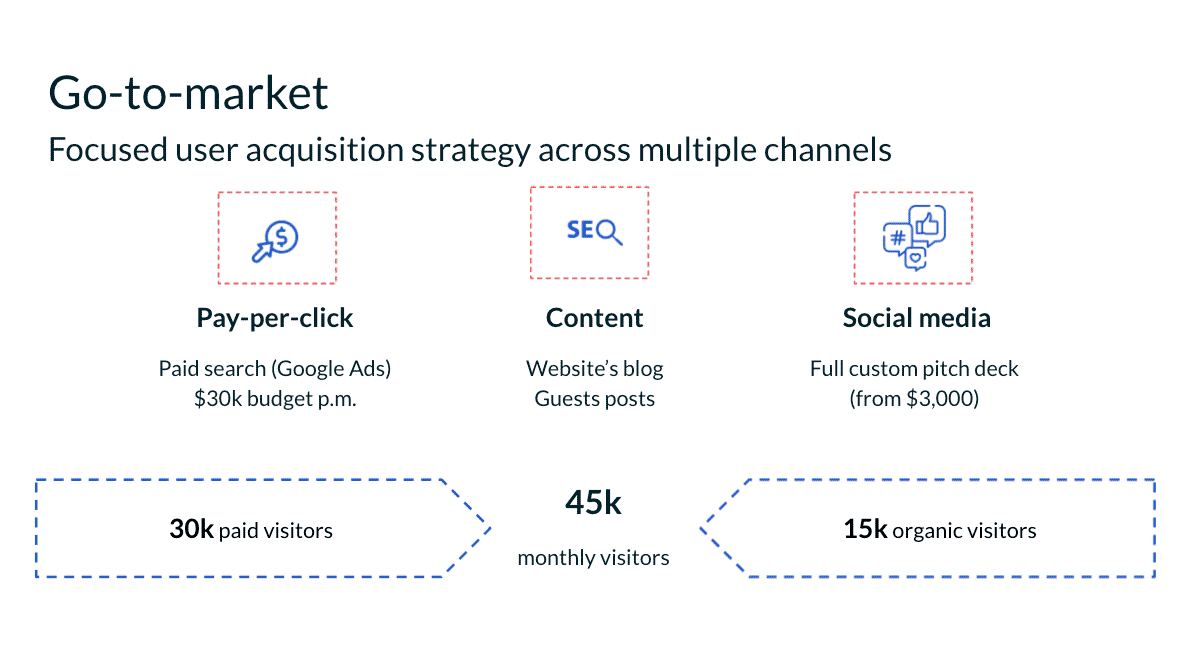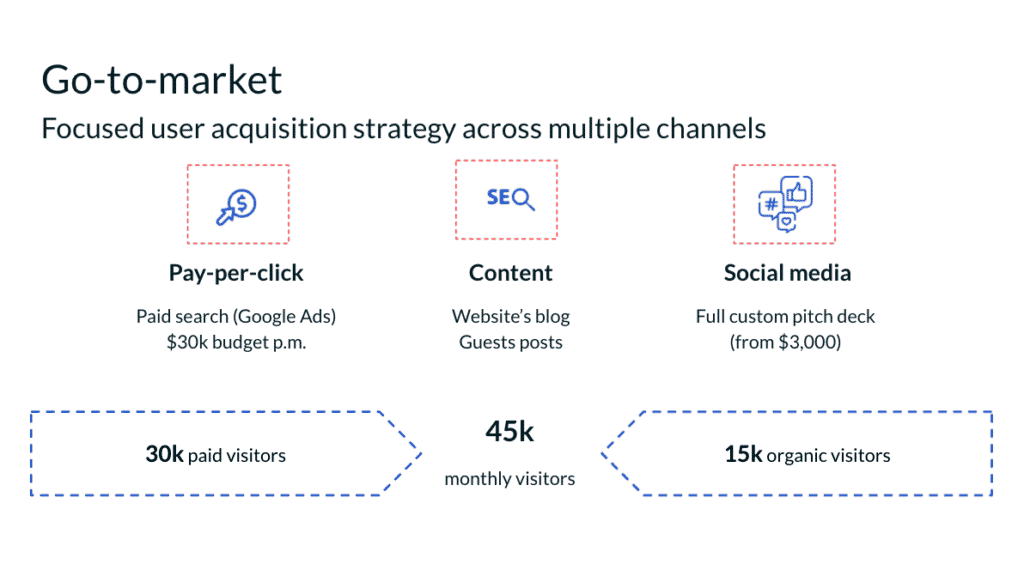 5. Avoid stock photos
★ Design Best Practice
It's always a good idea to add images and photos to your pitch deck. A screenshot of your web application, the sketch of your mobile app, or a photo of a customer using your product are all good examples you can choose and include in your pitch deck.
Photos not only make your pitch deck more attractive from a design standpoint, but they can also bring more information than text could: a photo of a customer using your product is often worth more than a thousand words explaining how your product actually works.
Yet, when it comes to photos, avoid stock photos that may be impersonal and make your pitch deck look "cheap", especially if they aren't high quality.
Of course, there are exceptions: no need to hire a photograph for capturing someone typing on a computer for example. Note that our pitch deck template (see below) includes stock photos that we recommend changing to proprietary photos instead as they are purely for illustrative purposes.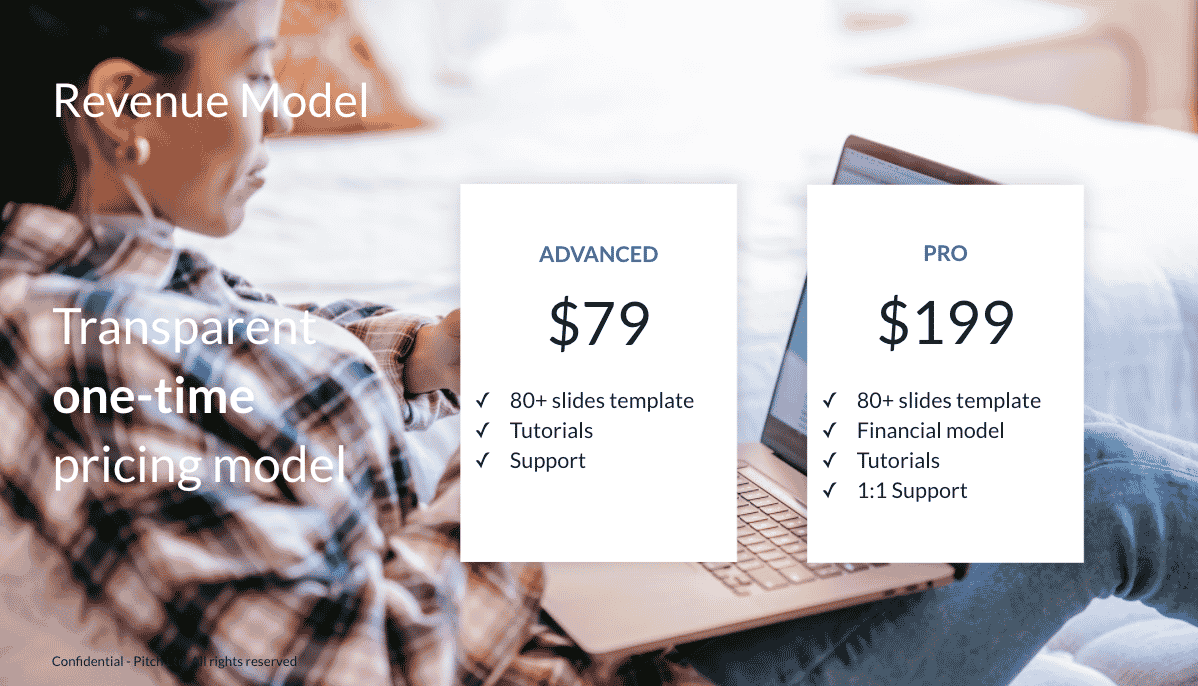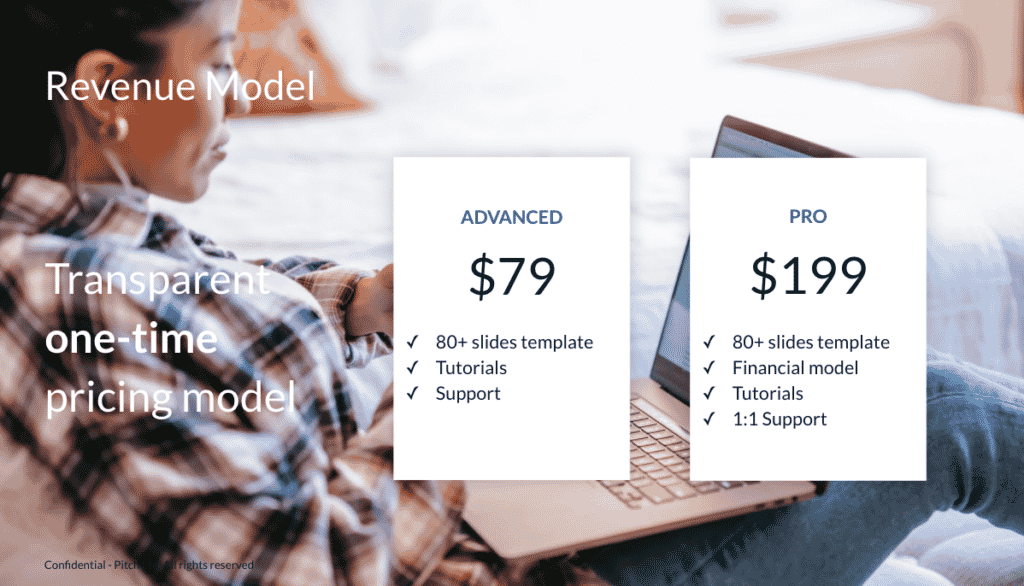 6. Make these charts appealing!
★ Design Best Practice
Charts are a very important part of any pitch deck: when used correctly, they are more impactful and memorable than text or even your voice over.
Still, charts, like any other pitch deck component, need to be designed correctly. It's easy to get it right, so be sure to follow our recommendations below:
Clearly state the title of the chart
Don't forget the legend, and make it visible
Use a consistent colour palette throughout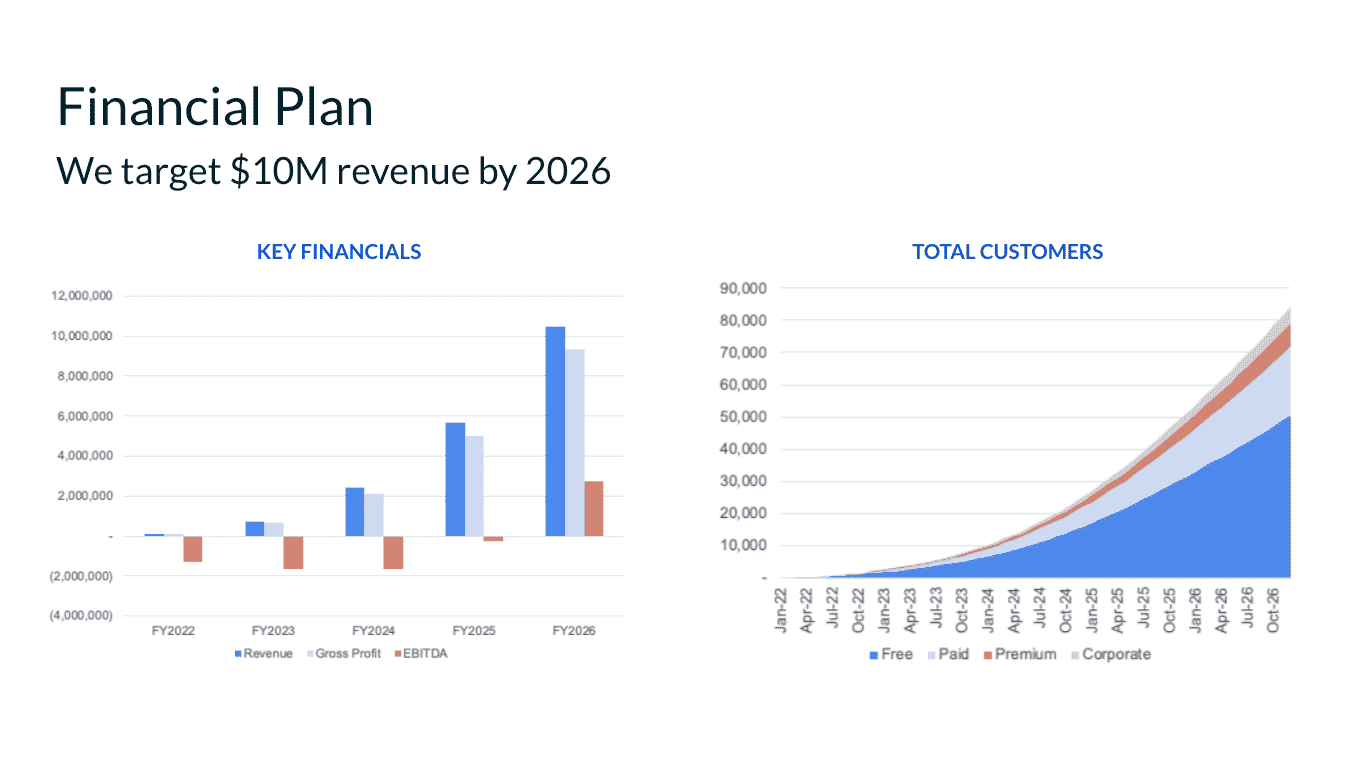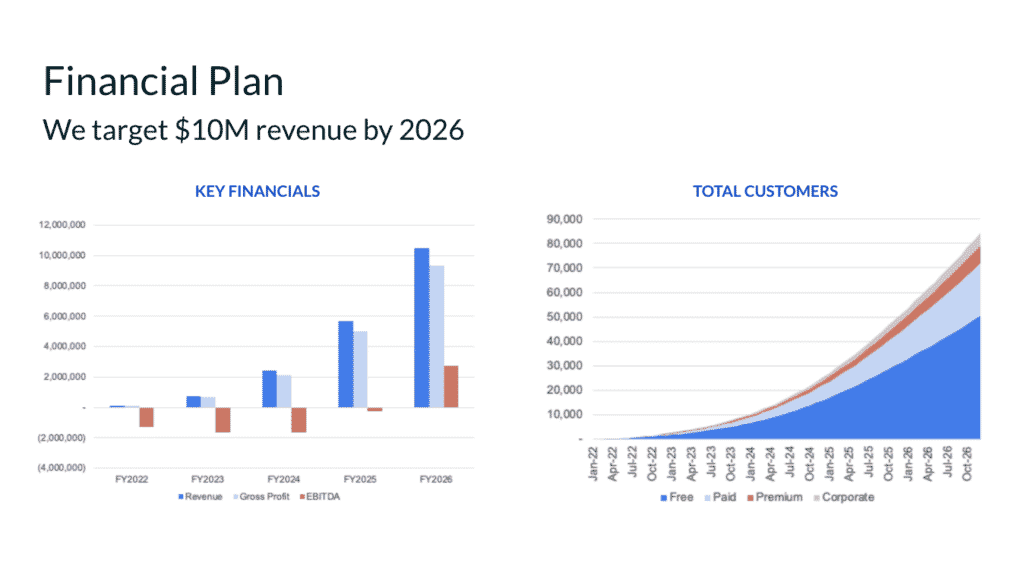 2 Tips to Send your Pitch Deck to Investors
Now that your pitch deck is ready, you can send it to investors and VCs. Yet, before you do so, make sure you follow these 2 simple guidelines:
1. Don't protect your pitch deck with a password
★ Before you send your pitch deck to investors
Avoid any friction for investors to open a read your pitch deck, including a password.
Is your presentation confidential? Simply include a wording on the cover page and at the bottom of each side along the lines of "Confidential. Copyright by [company name]. All Rights Reserved".
Also, don't include a watermark, ever.
2. Send your presentation in PDF
★ Before you send your pitch deck to investors
Don't force investors to open google docs, slides, dropbox, prezi or any other editable or other online service.
Sending your presentation in another format will very likely decrease your chances of investors even looking at it. Make it easy for them, simply use the good old PDF, period.
3 Options to Create a Powerful Pitch Deck
Want to create a pitch deck for your startup? There are 3 options available to you which we discuss below.
Option 1: DIY (Do it yourself)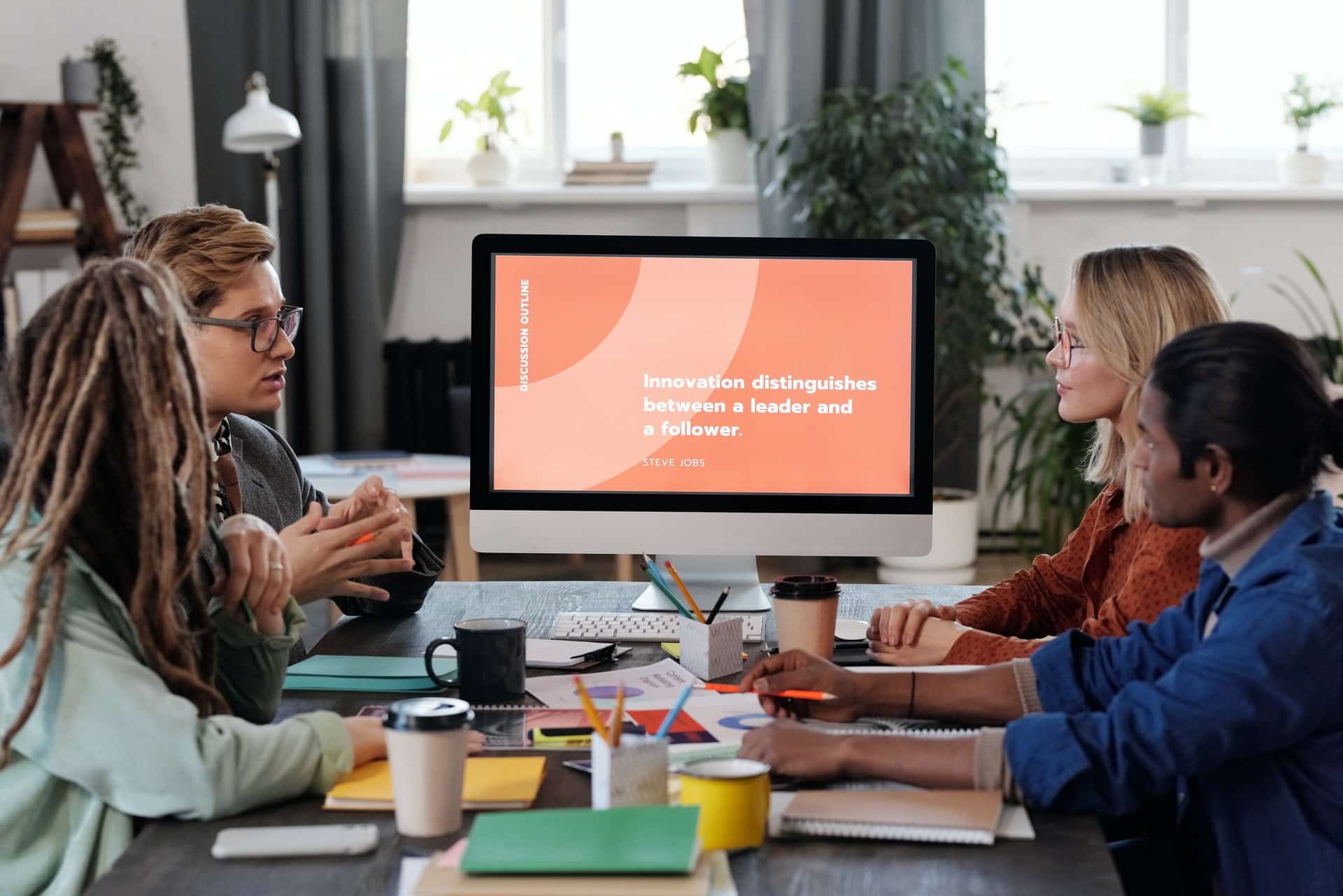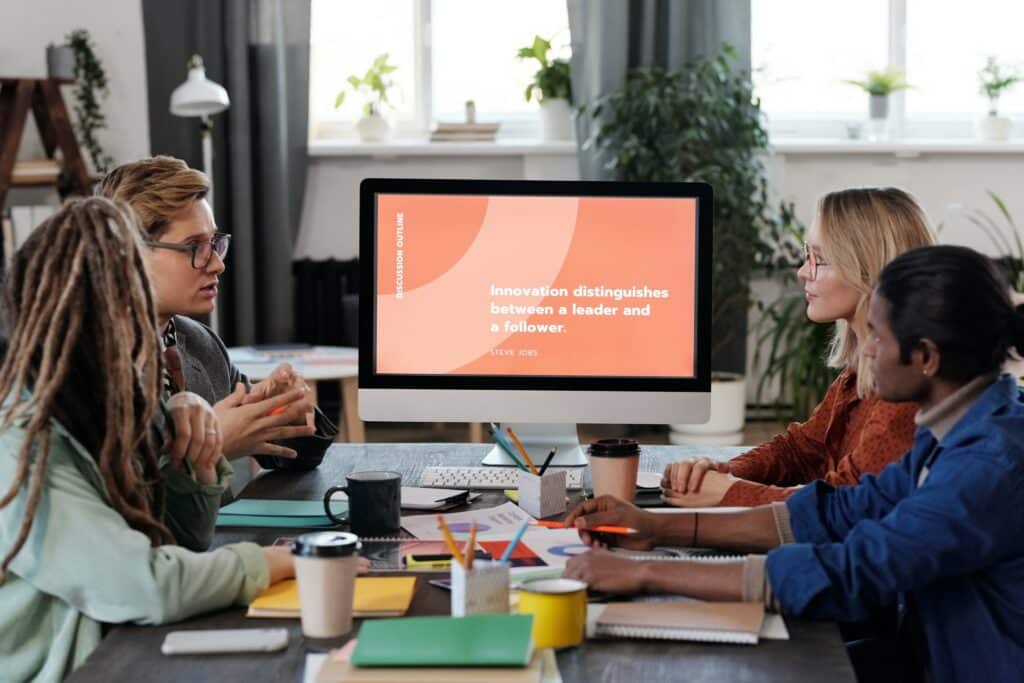 The first option is the most obvious: start from scratch and start crafting your pitch deck.
When done correctly, DIY is the best option of all. Indeed, as a founder you are omniscient and only you can give a 360 view on your business and your strategy.
Pitch decks are a mix of content and design. Whilst the content is what's really important (of course), the design really makes a difference so you can catch investors' attention (or, at least, avoid being discarded for lack of basic design).
As long as you understand the structure you need to follow and can ensure a sleek and coherent design, the DIY option is the best way to go if you can commit the time…
Pros
As said earlier, as a co-founder you are omniscient: you are the best person to tell your story and where you are going. Investors care a great deal about how you pitch your startup. Naturally, those who have thought out their presentation often perform better vs. those who didn't
You will learn a lot of things along the way. For example, researching your market and your competition may teach you a lot of things you might not know already. Startup founders spend so much time in their day-to-day business they sometimes forget to take a step back.
You will be best prepared for Q&As. If you have done the proper research, you will be best prepared to answer investors' questions down the road. A few examples are: what's your market size? what's your market growth? what are your competitors and how do you compare vs. them? Etc.
Cons
Preparing a pitch deck takes (a lot of) time. You might think a 15 slides presentation is an easy thing to do. Think twice. Great pitch decks (the ones that get funded to be clear) often takes 100 hours to prepare. Unfortunately this is a no-go for most entrepreneurs who already busy doing so many things. As a startup consultant myself, I have often spent in average 50-75 hours for a pitch deck. And if you aren't really proficient with Powerpoint (Keynote, Google Slides, etc.), you can easily add an extra 50-100% on top of that
If you do not follow the clear structure investors are looking for, don't even bother doing it yourself. You might not know what to include in your pitch deck, and that's ok. If that's the case, take time to research the structure investors are waiting for. Do not reinvent the wheel and create your own codes: that's a red flag for most investors. Be sure to check our free guides on what slides you need to include in your pitch deck here.
Option 2: Hire an Expert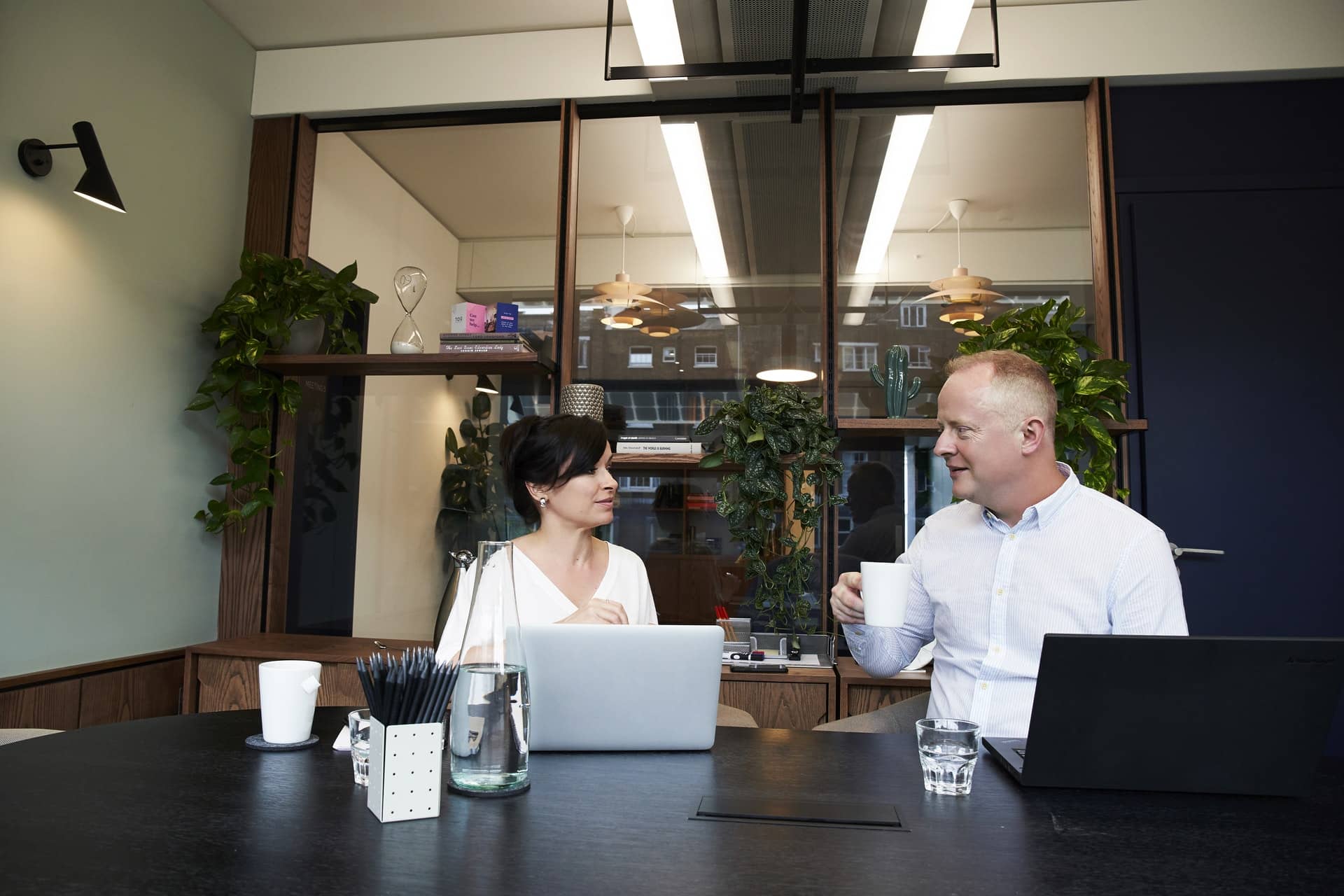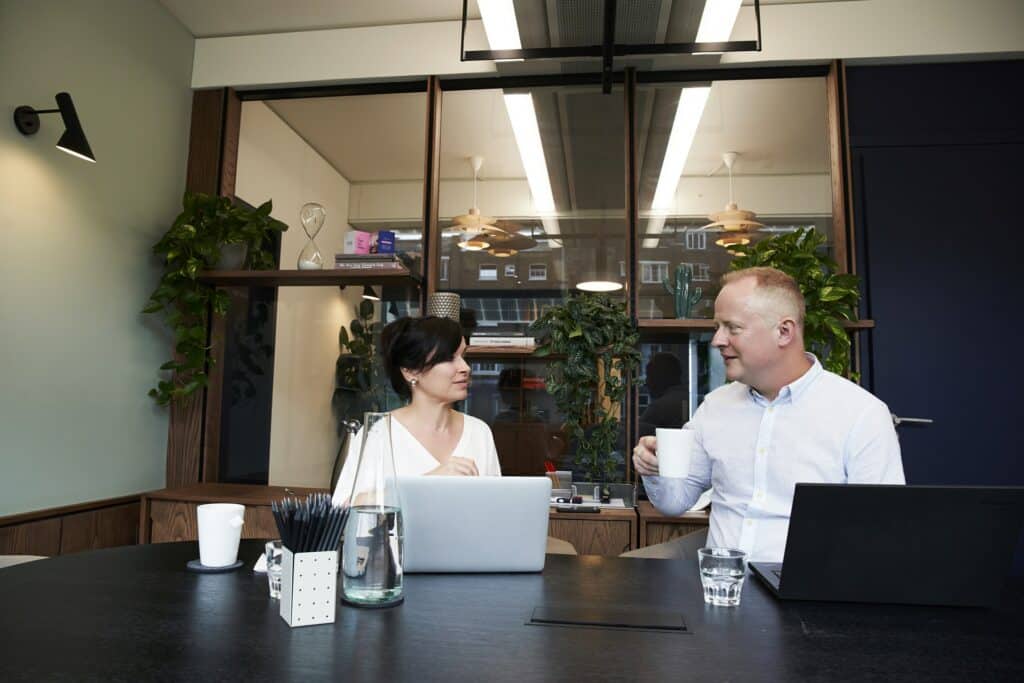 Hiring an agency or a startup consultant can be a formidable option if you can afford it.
You may benefit from the experience of someone who understands well the codes of startup fundraising. Yet, apart from the price tag, an expert isn't always a good option either.
Pros
Experts are very knowledgeable as to what you need to include in your pitch deck. Often, they will even do the research for you. Else they will ask you the details you need to provide so they can build the slides
Tip: If you aren't sure who to hire, simply ask for a slide-by-slide structure along with a price estimate.
You will save time. This is a no brainer. First, consultants know exactly what structure to follow. Second, they will likely build slides much faster than you would
Tip: ask them examples of pitch decks they have built in the past, and how much time it took them approximately
Cons
Hiring an expert to create your pitch deck is often expensive. Low-cost options, which we strongly advise against, cost up to $500. Mid-range to high-end services cost anywhere from $2,000 to $5,000. If you are a early-stage startup raising pre-seed capital, this might not be an option for you. Instead, if you are raising Series A+ and you already have revenues, the cost to outsource your pitch deck to an expert may be worth your time
Beware of marketing agencies. If you decide to hire an expert, make sure they are knowledgeable in finance. Most pitch deck are designed to raise capital (or grants) so this is a finance marketing document, not just a marketing pitch. Unless you are crowdfunding on reward-based platforms (see our guide on top US and UK platforms), simply don't hire a marketing agency. Why? because with reward-based crowdfunding investors put money in return for a product, not shares in your business.
Tip: ask marketing agencies examples of pitch decks they have built in the past and especially whether these startup successfully raised or not.
Option 3: Download a template
For those who don't want to spend $5,000 on a custom pitch deck, and yet want a head start with clear guidance, pitch deck templates are a great option.
There is another reason why pitch deck templates are so popular: pitch decks follow a common structure, which varies slightly but follows the same logic.
That's where templates can save you a lot of time: they include interchangeable slides you can easily customize to fit your business.
If you have a great template, all you need to do is select the version of the slide you want to include, change the text and drop pictures and images where relevant.
Yet, not all templates are good, and they're not for everybody. Let's dive in all their pros and cons below.
Pros
Templates save you lots of time. Pitch decks follow the same structure, and often they have common components: your market slide include a pie chart with TAM, SAM and SOM for example. Do not reinvent the wheel by creating slides from scratch if you can re-use common slide templates for just under $100
Pitch deck templates already have the structure built out for you. If you aren't sure what to include in your pitch deck, great templates have all the different sections you need in your pitch deck (problem, solution, traction, competition, etc.). By downloading a template, you will save time researching what to include and where
Pitch deck templates have great designs you can choose from. Great templates are crafted by startup experts and designers. As such, they include multiple versions of the different slides you need so you can pick and choose the design you want
Cons
Beware of generic templates. You can easily save dozens of hours of work by spending $50-100 in a template. Yet, be careful to check previews (if available) to make sure you aren't just buying a 15 slides presentation without much slides alternatives to choose from. Also, be sure to check if your template comes with some sort of tutorial or support for help if you need to
You will still need some basic design skills. Because you will need to customise further your pitch deck template to make it unique, you will need to do some design yourself. Whether you are simply rewriting the text and your logo (poor customisation) or you create a new slide using some of the template's components, you will need some basic Powerpoint skills. Luckily, most entrepreneurs know how to use Powerpoint. If you don't, the only option you have is hiring an expert frankly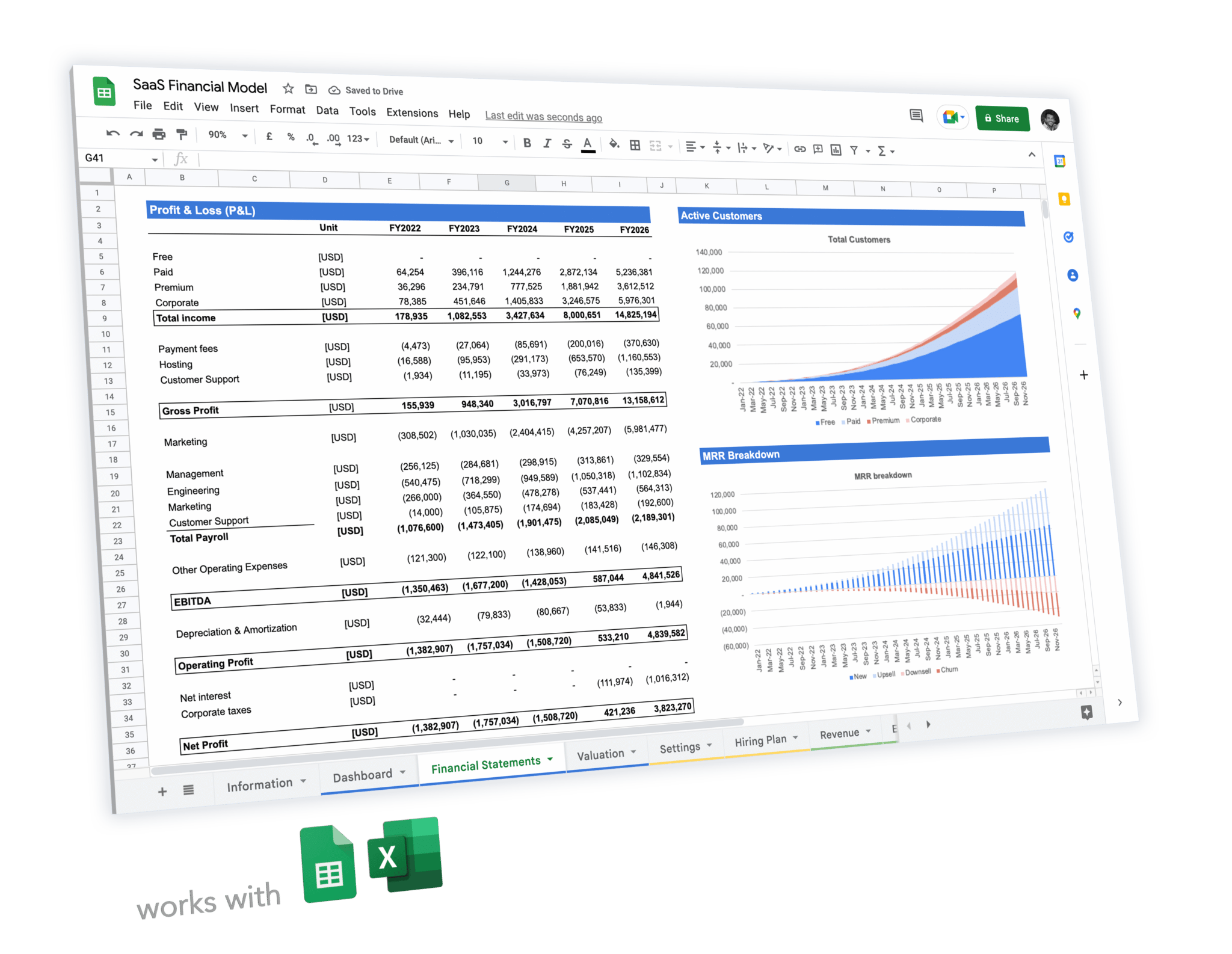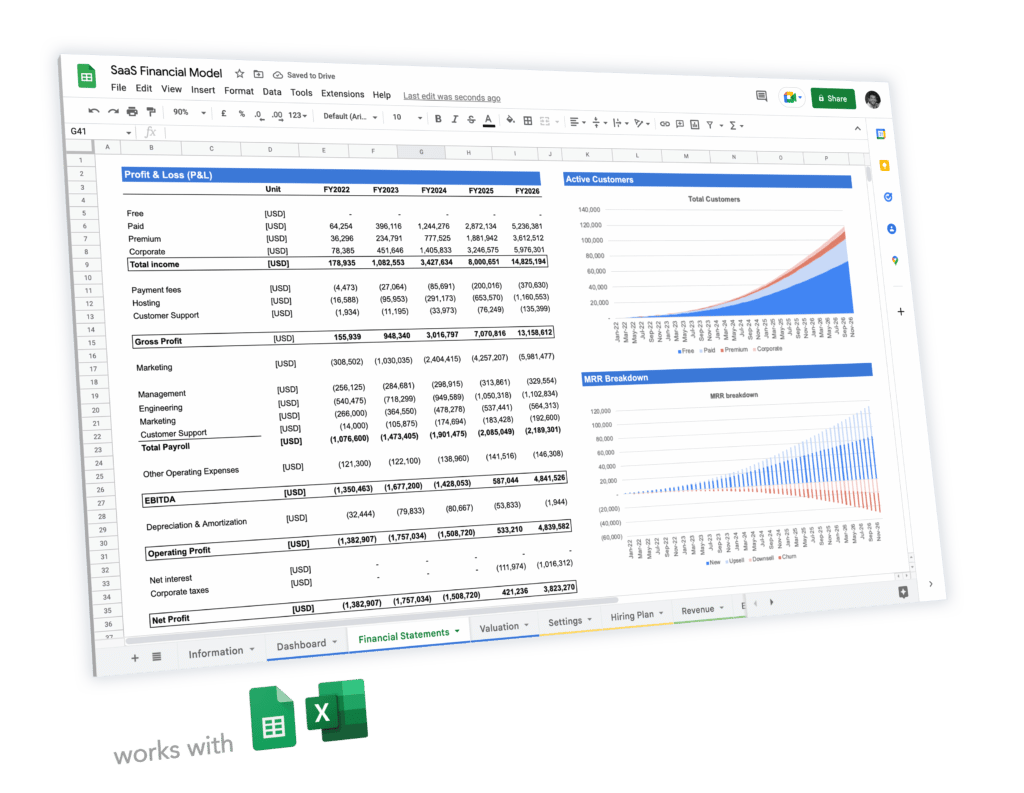 Expert-built financial model templates for tech startups
5-year pro forma financial model
20+ charts and business valuation
Free support