If you're looking for funding for your UK startup, Innovate UK's flagship innovation grant (SMART) might be for you. Because they're free money (they are not dilutive), grants are an exceptionally attractive source of funding for startups. They're notoriously competitive too.
If you're wondering whether SMART grants are for you, what they are, and how to apply, look no further. In this article we'll tell you everything you should know about Innovate UK's SMART grant, especially:
What Is Innovate UK's SMART Grant?
Founded in 2018, Innovate UK is a government body part of the UK Research and Innovation (UKRI) that aims to provide money and support to new businesses and startups as part of its flagship innovation grant: SMART.
SMART is one of the various innovation grants available for UK startups and smart businesses. It is also the most famous one.
Indeed, Innovate UK's SMART grant allows successful startups to receive up to £25 million grant funding for "game-changing and commercially viable R&D innovation that can significantly impact the UK economy".
As with any innovation grant, SMART is highly competitive: it runs once a year and Granttree estimates that only 6% of applicants get selected each year.
It's also one of the most competitive UK grant applications as it's open for a lot of businesses. Indeed, applications can come from any tech-enabled company, no matter what industries it applies to. Examples of industries that qualify are for example:
science and engineering
creative industries
the arts, design and media
As such, SMART isn't reserved for tech businesses and startups only. As long as your business demonstrates it is innovative, commercially viable, and has a positive impact on the UK economy, you may be able to apply.
Yet, before you apply, there is a long list of eligibility criteria you need to meet. Let's see together what they are below and whether your startup is eligible for Innovate UK's SMART grant.
Are You Eligible For Innovate UK's SMART Grant?
Businesses can apply for SMART to fund either their whole operations, one specific or multiple separate projects.
What project(s) are eligible?
First, the project(s) needs to be carried by at least one micro, small or medium-sized enterprise (SME).
Also, the project(s) work need to be carried out in the UK. Same goes for the benefits of the project(s): they need to be commercially exploited "from or in the UK".
Project(s) duration and cost
The project(s) also need to meet certain duration and cost criteria, especially:
Project(s) between 6 to 18 months must have a total cost between £25,000 and £500,000
Project(s) between 19 to 36 months must have a total cost between £25,000 and £2,000,000. They also need to be collaborative (carried out by at least 2 companies i.e. not just yours)
Project(s) scope
As quoted earlier, the project you are applying for need to prove it is innovative, commercially-viable and has a positive impact on the UK economy. Especially you will need to demonstrate your project has:
A clear innovative and disruptive idea which can lead to new products or services
An idea significantly above competition, both in terms or technology or commercialisation
A solid business plan
Significant positive impact on the economy and positive return on investment (ROI) after commercialisation
Realistic projections and estimates when it comes to project cost, timelines and execution risk
A sound financial plan
For the detailed list of eligibility criteria, please consult the gov.uk website here.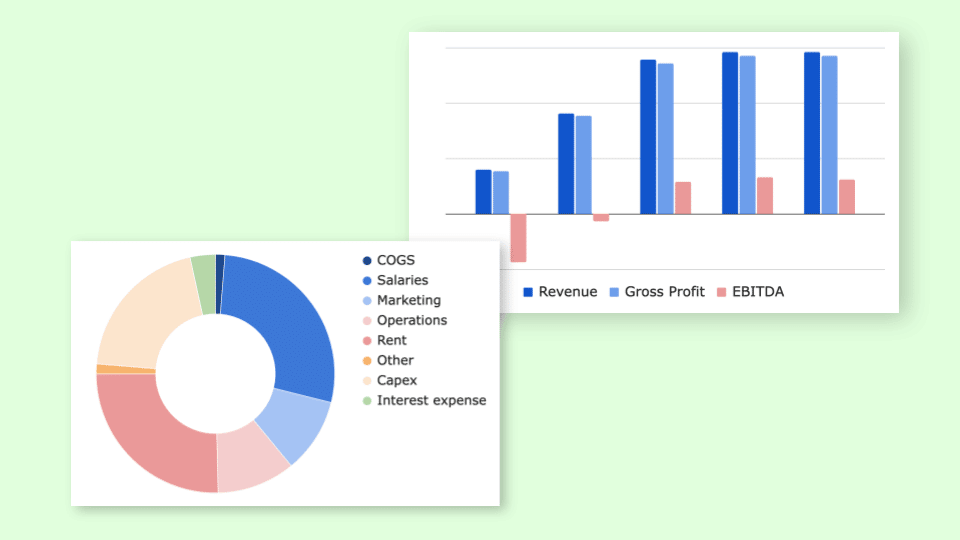 Expert-built templates for tech startups
Investor-friendly

Easy-to-use Excel & PPT templates

CPA-developed financials

30+ charts and metrics
How To Apply For Innovate UK's SMART Grant?
In order to apply for Innovate UK's SMART grant for your startup, you will need to complete an online form with 3 main sections:
Project details: the summary of your project and a description of the project's scope. This section is rather short (400 words maxium per answer) and not scored
Application questions: these are a series of questions (11 to be exact) around your project's challenge it aims to solve, innovation angle, team and resources, market, etc. For a full list of the different questions, see below
Financial projections: you will need to provide a clear description of your project's cost and and funding details
Applications Questions: What Are They?
As explained above, you will need to complete a number of questions, they are:
Applicant location: your organization name and location
Need or challenge: what's the problem you are trying to tackle and/or the issue your product is aiming to solve?
Approach and innovation: what is your approach and where will innovation focus on?
Team and resources: who is part of your team and what are their roles and responsibilities?
Market awareness: what is your market size and expected growth?
Outcomes and route to market: how do you intend to commercialize your project? Who are your target customers?
Wider impacts: what are the potential impacts on the wider industry, and especially the UK economy as a whole?
Project management: how will you execute your plan successfully?
Risks: what are the main risks? How can you mitigate them?
Value added: why are you raising funding? How will public funding change the impact of your project?
Costs and value for money: how much does your project cost? Where will you spend the money?
If you have already prepared your pitch deck or business plan, you should be able to answer all of these questions easily. Indeed, all these questions should be answered in your pitch deck (or business plan).
If you haven't done so, read our tutorial on how to build a stunning pitch deck for your startup here.
Financial projections
As explained above, you will need to prepare financial forecasts for your business (or your business' project(s) you are claiming SMART for).
By preparing solid financial projections, you will also be able to answer question 12 above: how much are you raising, and where will you spend the money?
Remember: it is a requirement for your project(s) to have positive return on investment (ROI). Therefore, by preparing solid financial projections you will be able to show Innovate UK your business's project is well-thought, you understand its risks and opportunities, and what they mean for your finances.
If you need help to build your financial projections, have a look at our articles below: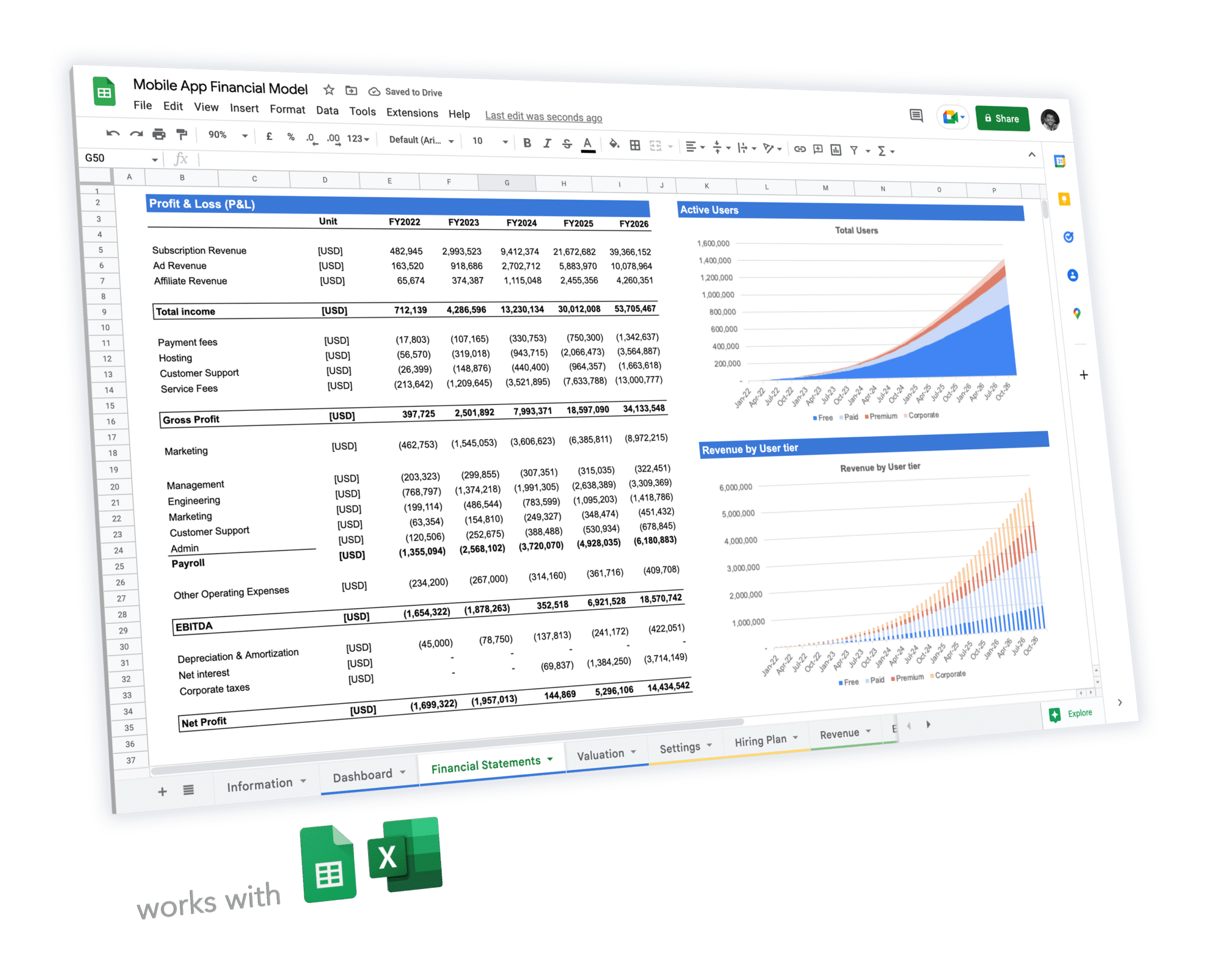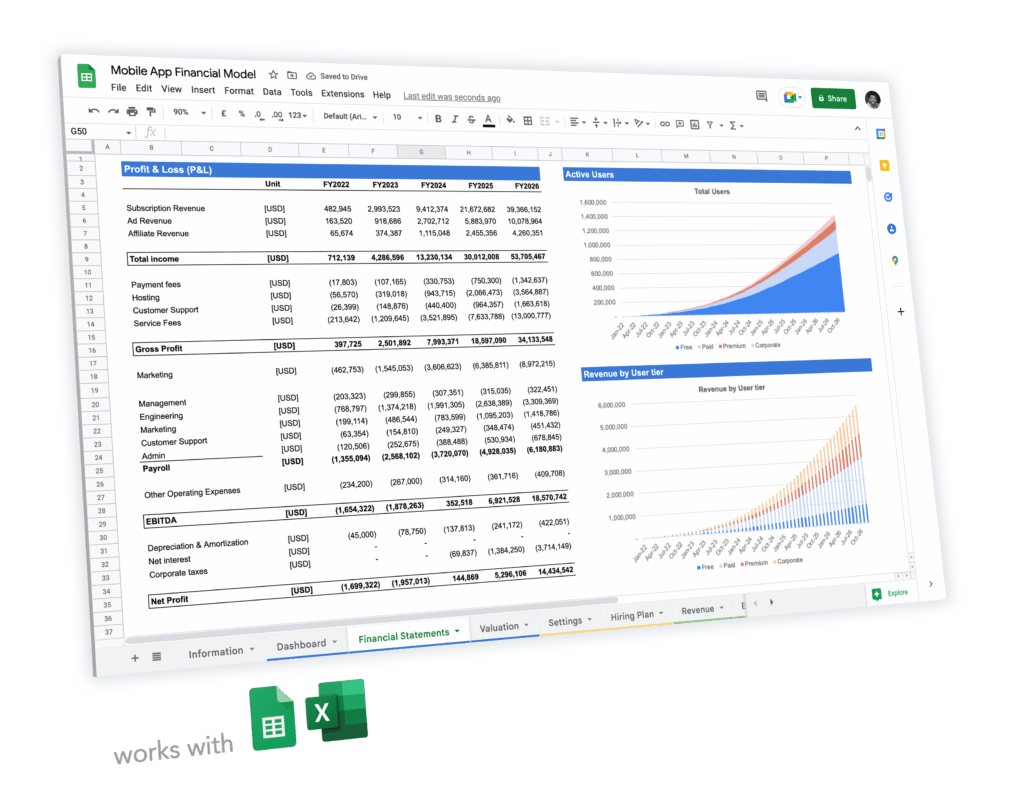 Download a financial model for your pitch deck and get your startup funded
Rated 4.6/5 from 5,900+ downloads