YESCO Franchise Sales, Costs & Profits (2023)

If you're looking for a recession proof business, B2B signage companies are a great way alternative. Despite its smaller size vs. the giants FASTSIGNS and Signarama, YESCO is a great franchise you should seriously consider.
Indeed, YESCO can be a very profitable business. On average, it would cost you $209,000 to open a new franchise. Yet, this same franchise would earn $665,000 in gross sales per year on average, impressive.
In this article we're looking at YESCO and its latest Franchise Disclosure Document to find out how much it (really) costs and how profitable it really is. Let's dive in!
Key stats
| | |
| --- | --- |
| Franchise fee | 50,000 |
| Royalty fee | 6.0% |
| Marketing fee | 5.5% |
| Investment (mid-point) | $209,000 |
| Average sales | $665,000 |
| Sales to investment ratio | 3.2x |
| Payback period | 5 years |
| Minimum net worth | $250,000 |
| Minimum liquid capital | $100,000 |
Source: Franchise Disclosure Document 2022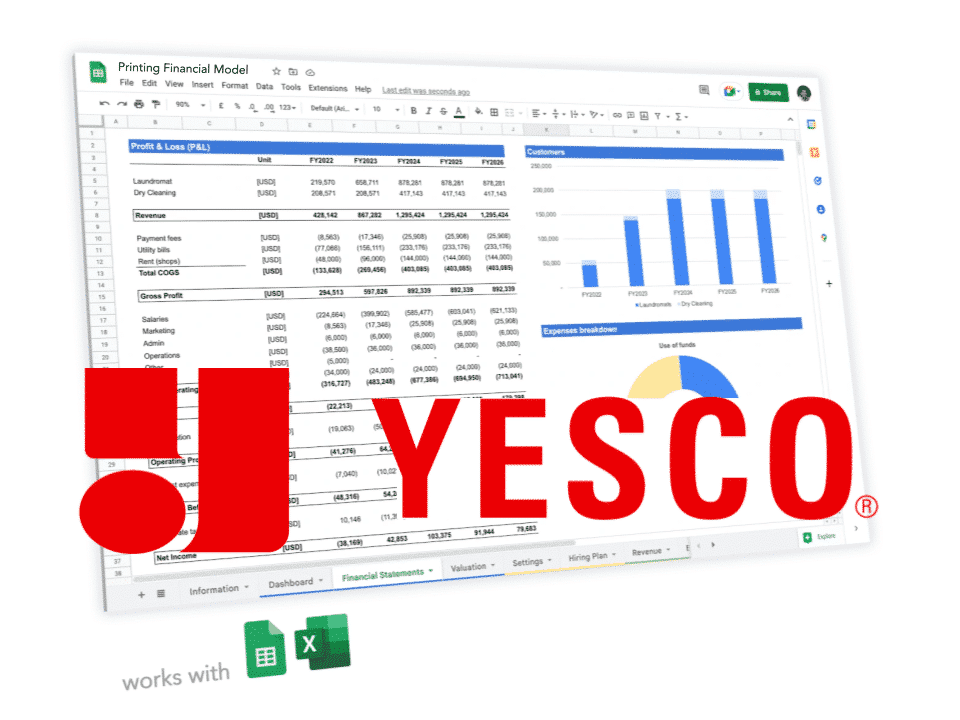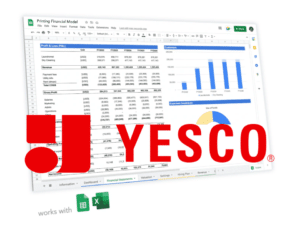 YESCO Franchise Business Plan
All the stats: startup costs, profits, breakeven, etc.
5-year financial projections built with the FDD

Excellent 4.8/5 based on 70 reviews
Excellent 4.8/5 based on 70 reviews

About YESCO
YESCO is a US-based company that manufactures electric signs, outdoor billboards, interior displays, digital LED boards, skyline signs and gaming displays.
Thomas Young founded the company in 1920 as a manufacturer and supplier of neon signs and neon tubing in Utah.
YESCO opened its first branch office in Las Vegas in 1933, erecting its first neon sign at a local club.
Headquartered in Salt Lake City, the company has been franchising since 2011.
Today, YESCO is an internationally recognized leader in the sign industry, operating in over 102 locations worldwide with 53 stores in the US.
YESCO franchise pros and cons
The Pros:
Development and support specialists: A trusted support team to guide franchisees throughout their ownership journey. Every new franchisee is assigned a regional development manager to understand the value and the dos and don'ts of operating a YESCO franchise.
No mandatory sign experience: Aspiring business owners don't need sign and lighting expertise to become part of YESCO.
Proprietary business management software: Franchisees can rely on the company's proprietary technology, Servizio, to manage and maintain their businesses.
Marketing materials: YESCOs' mass media advertising through solid lead generation processes bring value to franchise owners.
Financial support: The franchisor partners with third-party financial bodies to help brand owners cover the franchise fee, equipment, inventory and startup costs.
Home-based opportunity/mobile unit: Franchisees can manage their businesses from home or as mobile units.
Exclusive territories: Exclusive territory rights protect franchisees from competing against other YESCO franchises.
The Cons:
No absentee ownership: Franchisees must participate in day-to-day operations.
Not a part-time business: A YESCO franchise isn't a part-time investment opportunity.


YESCO franchise costs
You would have to invest an average of $209,000 to start a YESCO franchise.
The investment covers all the start-up costs you may need to open a YESCO franchised business. You must pay the franchisor an initial franchise fee of $50,000. In addition to this franchise fee, the investment also covers:
Formulation costs: rental improvements, signs, deposits, etc.
Equipment: furniture, fixtures, equipment, and software; computer hardware and software.
Initial marketing fees: grand opening advertising, marketing and supplies, office branding package
Operating costs: rent, training expenses, insurance, professional services, vehicles, inventory, and tools; additional funds for 3 months, etc.
Startup costs
Here's the full breakdown of costs:
| Type of Expenditure | Amount |
| --- | --- |
| Initial franchise fee | $50,000 |
| Formulation costs | $1,500 – $61,000 |
| Equipment | $1,000 – $20,500 |
| Initial Marketing fee | $1,500 – $7,700 |
| Operating costs | $10,000 – $213,000 |
| Total | $65,000 – $352,200 |
Source: Franchise Disclosure Document 2022
YESCO franchise fees
The initial franchise fee for a YESCO franchise is 50,000
In addition to the initial franchise fee, you must pay to the franchisor a royalty fee of 6.0% of revenues, as well as a variable marketing fee of 5.5% of revenues.
YESCO franchise revenue
On average, a YESCO franchise makes $665,000 in sales per year.
This number is the average sales per franchise business for 54 of the 59 franchised businesses that operated in all of 2021.
Of course, this is purely an average: revenue per franchise varies greatly from one franchise to another. For example, the top quartile franchises had an average revenue of $1.4 million whilst the bottom 25% had an average revenue of (only) $156,000 per year…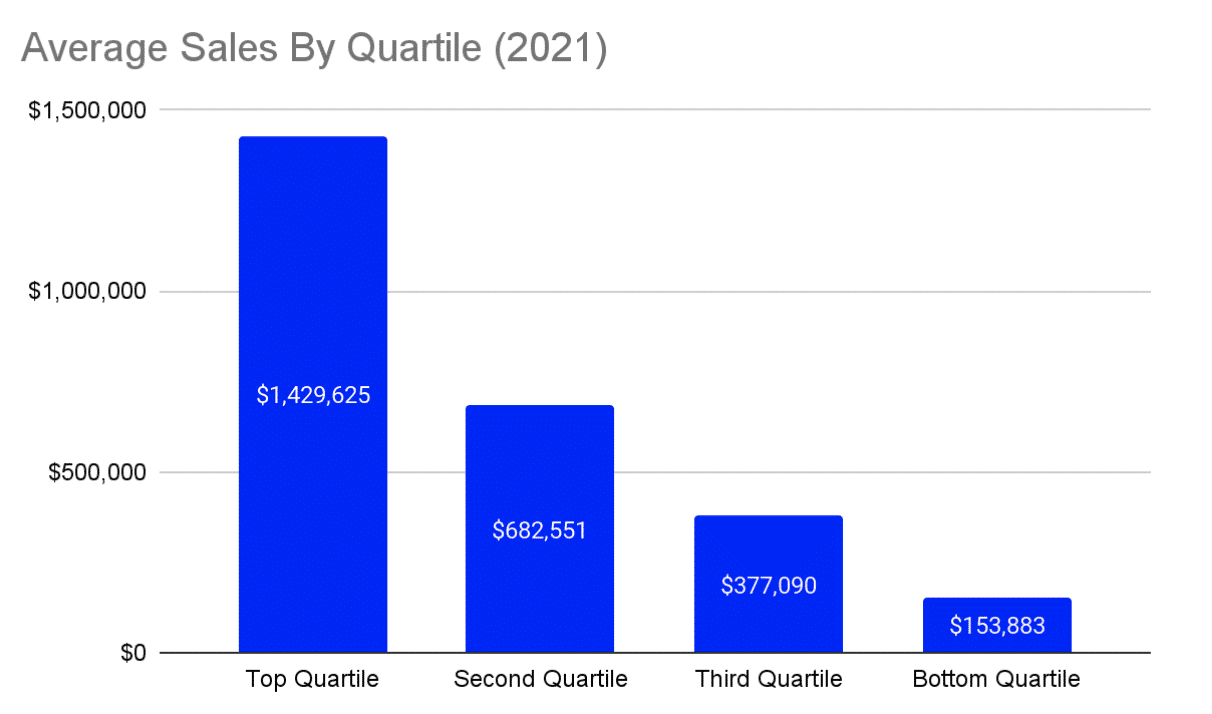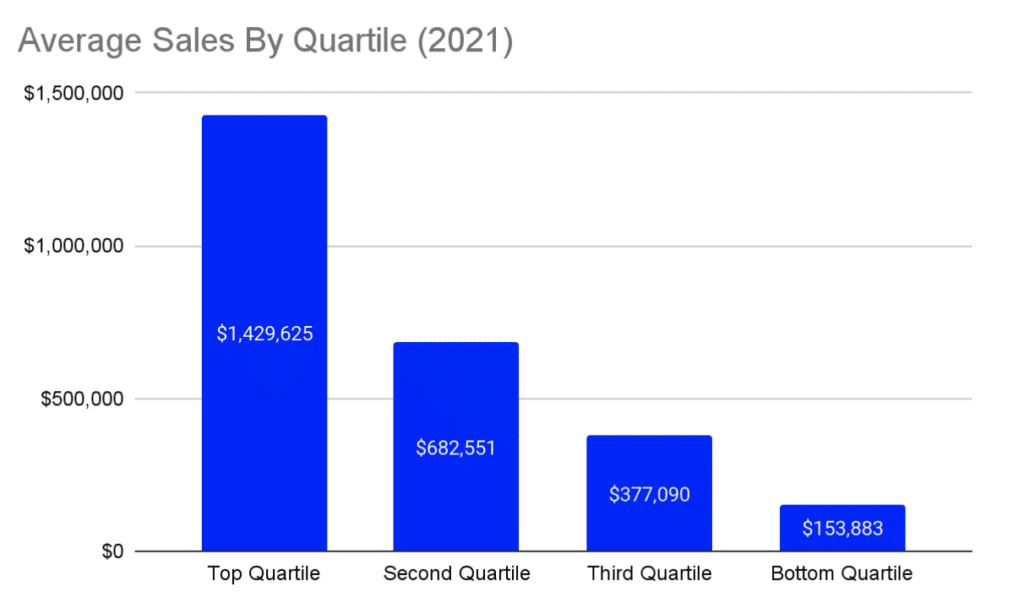 YESCO franchise profits
We estimate that a YESCO franchise makes $60,000 in profits per year (9% EBITDA margin).
That's what we obtain if we use the average revenue per unit ($665,000) and estimate profits by using cost percentages as shown below. Indeed, like other franchisors, YESCO chose not to disclose any detailed profit-and-loss in its Franchise Disclosure Document for its franchises.
Therefore, we had to make assumptions instead. More specifically, we used average cost percentages (for COGS and labor) using similar printing and signage franchises such as Signarama, FASTSIGNS and others.
Note that YESCO does provide a "Gross Margin" in its FDD which essentially is an adjusted EBITDA (includes COGS, royalties, direct labor and "direct overhead"). This Gross Margin stands at 47.1% of revenues on average, yet it is unclear exactly what costs are included and those that aren't to compute EBITDA. Hence we decided to show our approach below instead.
| Profit and loss | Revenue | % revenue | Source |
| --- | --- | --- | --- |
| Revenue | $665,638 | 100% | as per FDD |
| COGS | $(192,369) | 29% | industry average* |
| Gross Profit | $473,269 | 71% | |
| Staff | $(238,298) | 36% | industry average* |
| Royalties | $(39,938) | 6% | as per FDD |
| Other operating costs** | $(133,128) | 20% | assumption |
| EBITDA | $61,904 | 9% | |
* similar signage franchises (Signarama, FASTSIGNS, etc.)
** including 5.5% marketing fee
Is YESCO a good franchise investment?
If we compare the initial investment cost ($209,000 on average) to the future profits of the business, we obtain what we call the payback period. In other words, the time it takes to repay the upfront investment with the profits generated by the business.
For YESCO, we obtain a 5 years payback, in line with most promotional marketing and signage franchises. So, on average, it would take you 5 years to repay the initial $209,000 (to bank(s) and/or investor(s)).
Whilst this is a great payback (and on that basis, a great investment), it's important to note that this is purely an average. Indeed, the payback period may be very different if your initial investment is for example higher, and profits higher. Note that for the purpose of this 5 years payback, we used a net profit margin of 5-7% of revenues.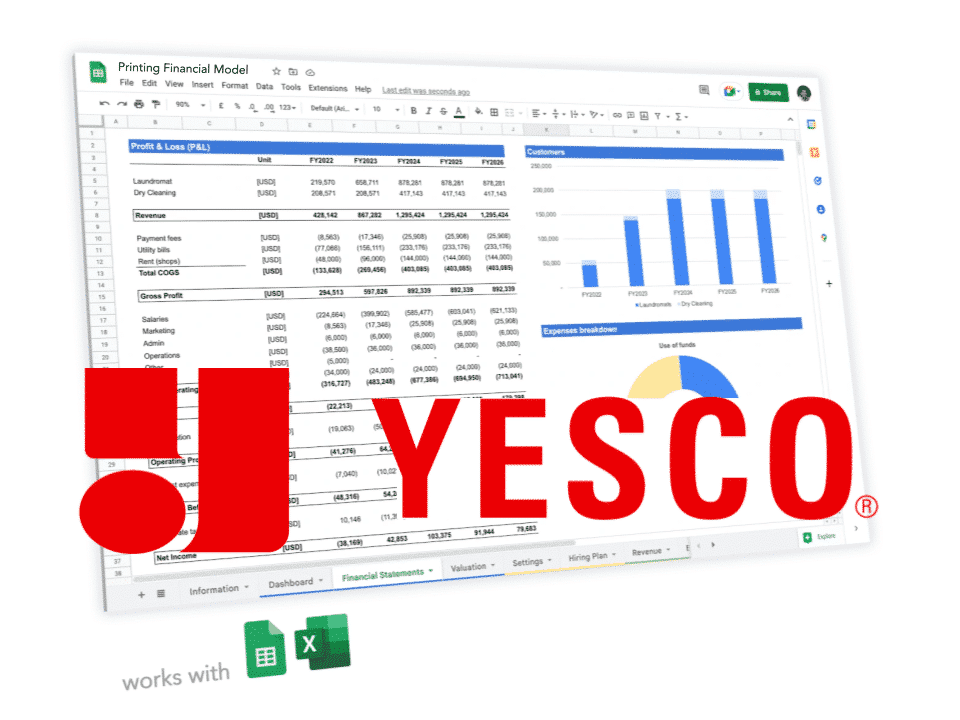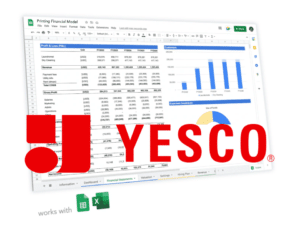 YESCO Franchise Business Plan
All the stats: startup costs, profits, breakeven, etc.
5-year financial projections built with the FDD

Excellent 4.8/5 based on 70 reviews
Excellent 4.8/5 based on 70 reviews

Disclaimer
Disclaimer: This content has been made for informational and educational purposes only. We do not make any representation or warranties with respect to the accuracy, applicability, fitness, or completeness of the information presented in the article. You should not construe any such information or other material as legal, tax, investment, financial, or other professional advice. Nothing contained in this article constitutes a solicitation, recommendation, endorsement, advertisement, or offer to buy or sell any franchises, securities, or other financial instruments in this or in any other jurisdiction in which such solicitation or offer would be unlawful under the franchise and/or securities laws of such jurisdiction.
All content in this article is information of a general nature and does not address the detailed circumstances of any particular individual or entity. Nothing in the article constitutes professional and/or financial and/or legal advice, nor does any information in the article constitute a comprehensive or complete statement of the matters discussed or the law relating thereto. You alone assume the sole responsibility of evaluating the merits and risks associated with the use of any information or other content in this article before making any decisions based on such information or other content.