Opening a Pharmacy Costs $177,500 to $229,000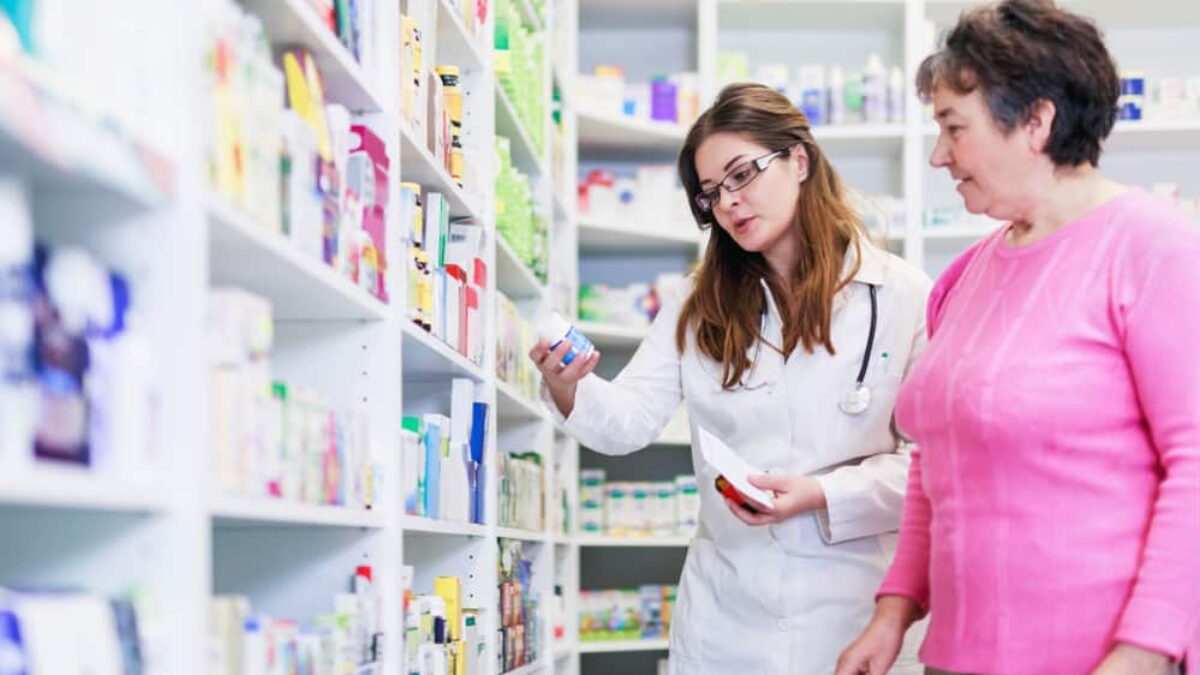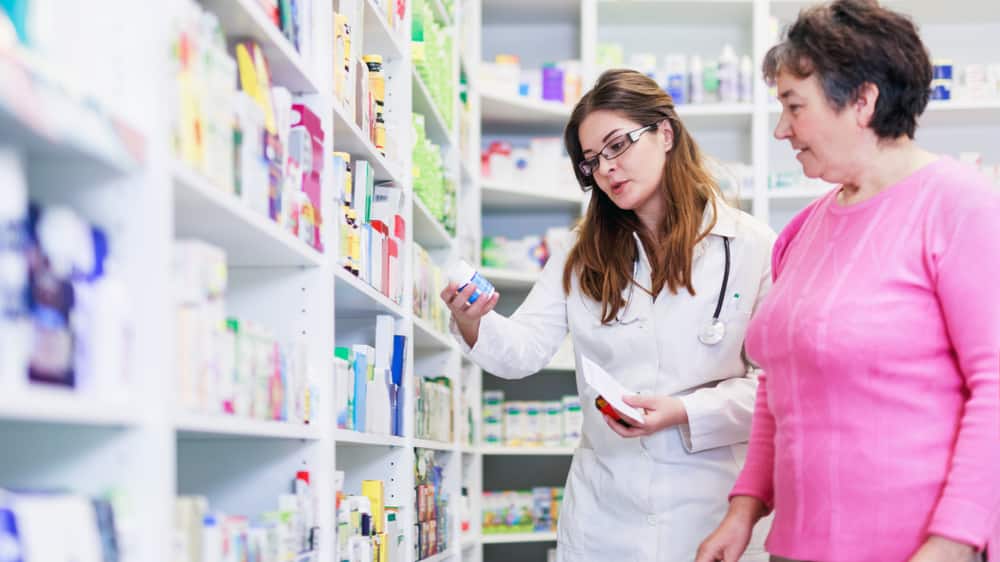 Are you looking to start your own pharmacy? As part of your business plan, make sure to consider the total cost for startup and operating expenses to start and run a pharmacy.
We've identified that it costs anywhere from $177,500 – $229,000 to start a 1,700 sq. ft. independent pharmacy with 6 employees plus $143,500 in operating costs per month to run the business the first few months.
Want to know more? In this article we'll go through all the different costs you will need to budget for before you can start running your own pharmacy. Read on!
For more information on pharmacies, make sure to read our guides below:
How To Open a Pharmacy In 12 Steps
7 Strategies To Increase Your Pharmacy Sales & Profits
How to Write a Pharmacy Business Plan: Complete Guide
How to Build a Financial Model for a Pharmacy: Complete Guide
Pharmacy Startup Costs
The total cost to open a pharmacy depends on a number of factors: its size, location, the type of medication and products you sell, etc. So we've decided to give you below a clear overview of all the key expenses you can expect for a 1,700 sq. ft. independent pharmacy with 6 employees.
Note that these costs are only for illustrative purposes and might not fully relevant for you.
Lease deposit
The average size of a pharmacy in the US is 1,733 square feet. That's approximately 50% dedicated to the front end store and customers area, and another 50% for the employee back office and storage units.
There should be enough room on the premises for refrigerators, racks, pallets, seating, etc. Of course, the space required highly depend on the scale of your operations.
Your office space rent will make up a considerable amount of your annual expenses. The location would determine the amount of rent and lease deposit.
For instance, you would need to pay around $27 per sq. ft. for a commercial space in a shopping center. So assuming your pharmacy is the US average size (1,700 sq. ft.), you would be paying over $3,800 in rent each month.
It also means you need to spend a refundable one-time lease deposit equivalent to three to six months, which should be between $11,500 and $23,000.
Pharmacy licences cost
Starting an independent pharmacy is difficult, especially considering the numerous state and federal laws and regulations you must adhere to. You must give yourself enough time to complete your licensing and contracting obligations to avoid future issues.
The specific requirements of license requirements would depend upon where you live. Here are the licenses and contracting obligations you need to be prepared for.
Pharmacy Permit Application
State Controlled Substance Registration (if Applicable)
Drug Enforcement Administration (DEA)
National Provider Identifier (NPI)
National Council for Prescription Drug Programs (NCPDP)
Certificate of Liability Insurance
A license fee and related documents might run you about $6,000. You can get more details about the license requirement as per your location from here.
Pharmacy store renovation cost
Unless you purchase an existing pharmacy, you need to plan for the renovation and furnishing of the pharmacy. It would include security-tight safes, racks, shelves, plastering the walls, water-proofing, etc.
The cost of renovation, which includes design, layout, lighting, electricity and fire security systems is usually quoted per square foot. The range for pharmacies and medical offices ranges from $40 up to $100 per square foot for the most complex renovation projects.
So assuming you renovate a 1,700 sq. ft. pharmacy at a cost of $60 per sq. ft. you would be paying around $100,000 in renovation costs.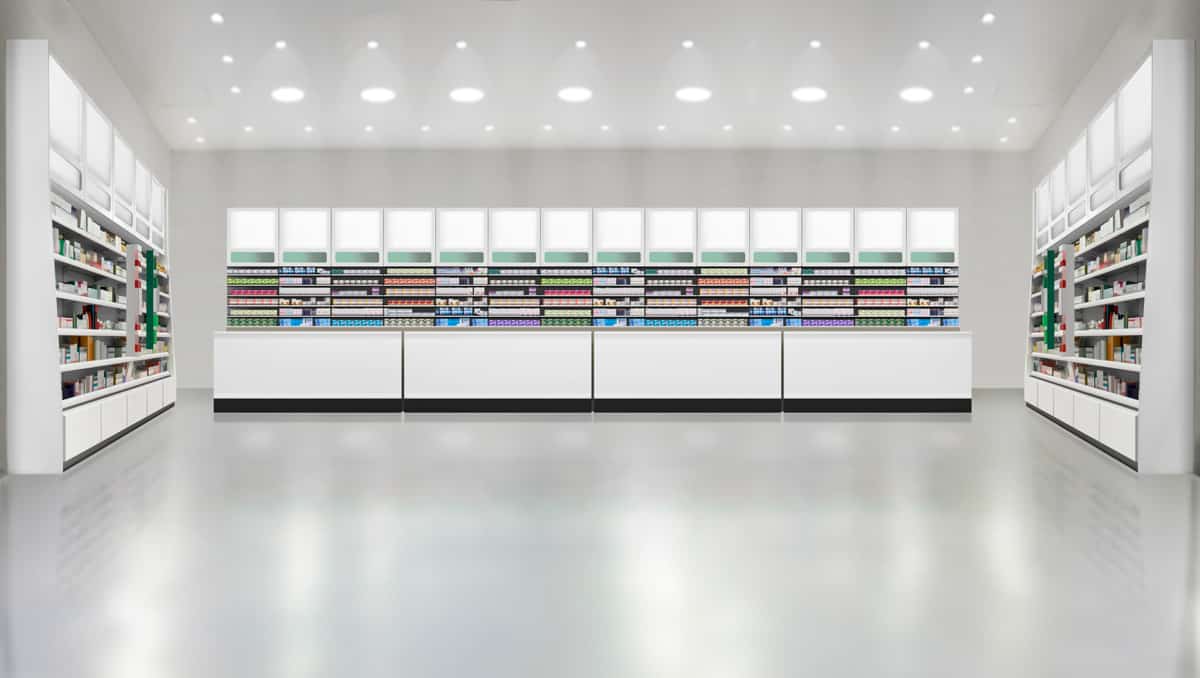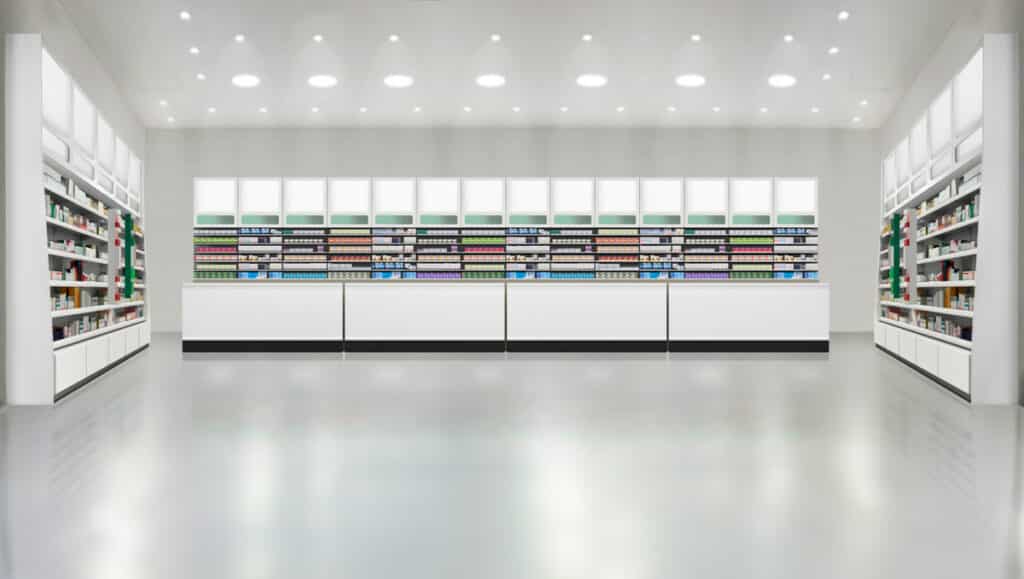 Pharmacy equipment cost
The cost of furnishing and equipping the independent pharmacy store is another crucial component that will affect the cost of opening one. Budget for and purchase a refrigerator, deep freezer, and other necessary items before opening a pharmacy.
A few examples of office equipment include cash registers, security and fire alarm and protection devices, CCTV, ventilation, and signs, as well as DVD players, Satellite dish and decoder, office furniture (table, stools, and sofas), drawers and cabinets, telephones, and filing cabinets.
Here are a few examples of costs that you need to plan for the pharmacy equipment:
Counter area equipment: $9,500
Store equipment (cash register, security, ventilation, signage): $3,750
CCTVs: $2,500
Furniture and gadgets (Computers, Printers, Telephone, TVs, Sound systems, tables, chairs, etc.: $6,000
POS, Accounting Software, Payroll Software, CRM Software, Microsoft Office, QuickBooks Pro, drug interaction software, Physician Desk Reference software: $7,000
In total, you should budget around $30,000 to $50,000 in furniture and equipment costs before you can open your pharmacy.
Pharmacy starting inventory cost
Generally speaking, there are five categories of products that pharmacies sell:
Pharmacy Medicines
Prescription Only Medicines
Controlled Drugs
health, beauty, and wellness products
Toiletries
So before you open your pharmacy, you need to budget for the cost to purchase a starting inventory that you can sell day 1 to your customers.
You must set aside money for the initial inventory, including prescription drugs and other retail products. Starting with a large selection of medicines, medical equipment, related goods, and packaging materials can cost up to $50,000 on average.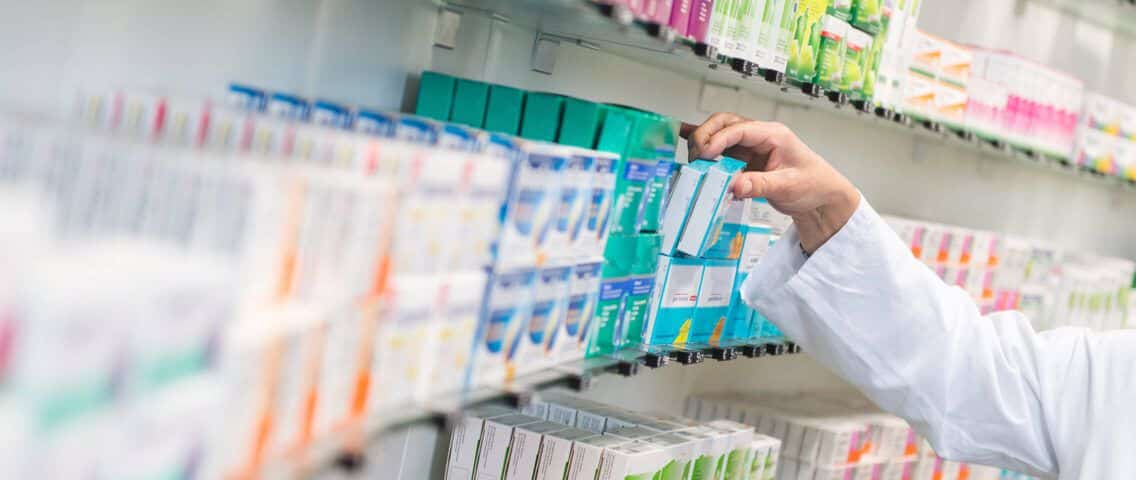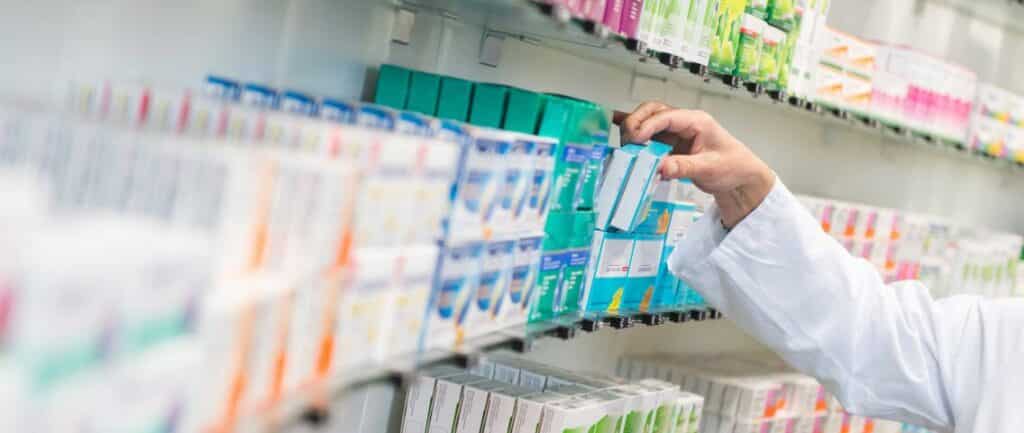 Pharmacy Operating Costs
In addition to the one-off startup costs you incur before you open your pharmacy, you must also consider the total recurring cost of running the business.
The operating costs depend on the type of services you offer and the size of your business. Here's a brief overview of the operating costs you can expect for a 1,700 sq. ft. independent pharmacy with 6 employees.
Note that these costs are only for illustrative purposes and might not fully relevant for you.
Pharmacy staff cost
Depending on the hourly rate you intend to pay and the number of staff you'll start with, labor costs can vary significantly.
Whilst a pharmacy technician earns on average $35,000 to $45,000 per year, pharmacists instead earn $106,000 on average.
So assuming you hire 3 pharmacists and 3 technicians, you would be paying $43,800 in salary costs alone per month (including 20% taxes and benefits).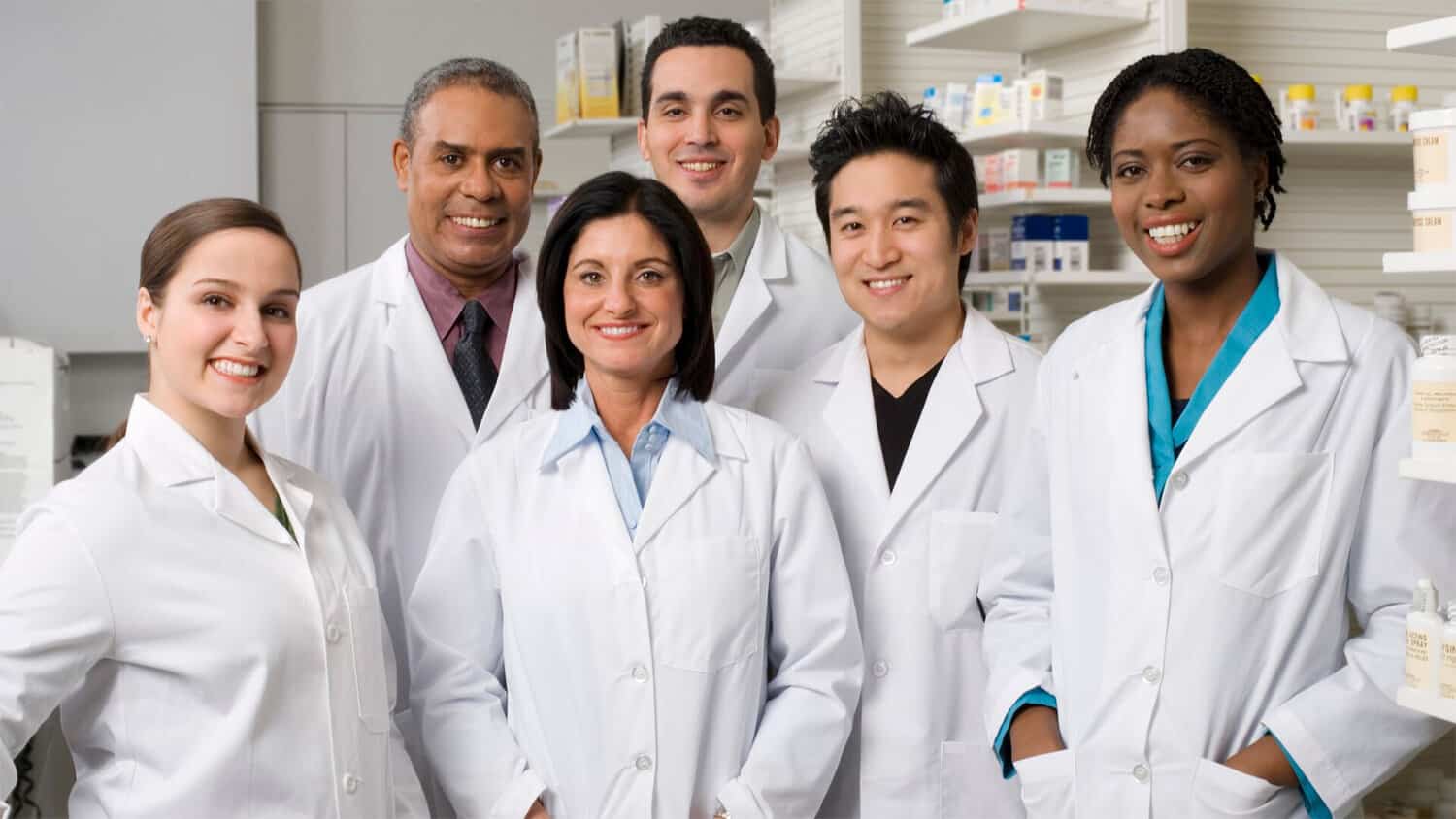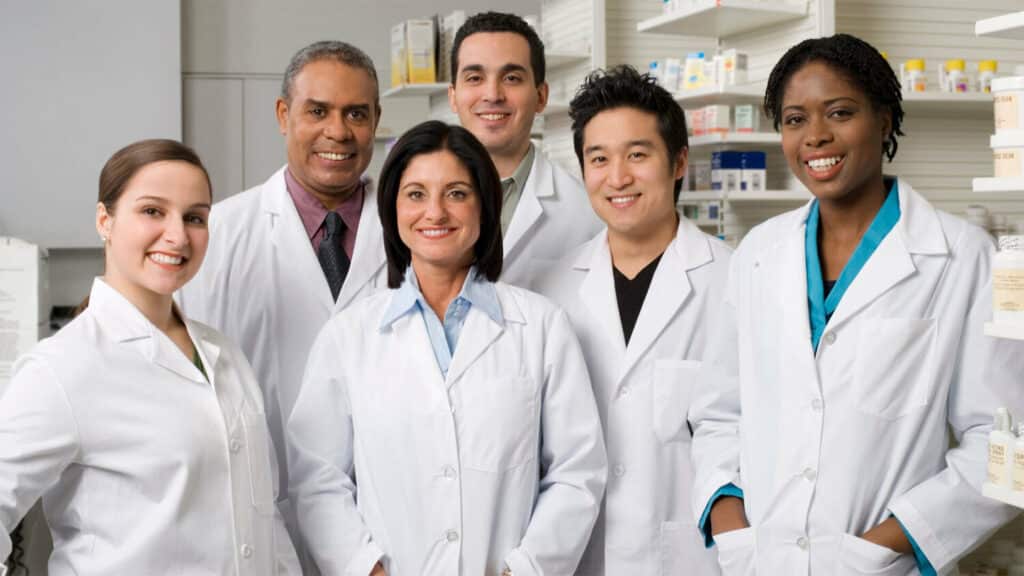 Pharmacy COGS (Cost of Goods Sold)
Often the most important operating cost for pharmacies are the COGS. For pharmacies, COGS are all the costs to purchase inventory itself, so the medication supplies you can sell to customers later on.
As an example, the average cost of products sold by an independent pharmacy in the US is $2,724,000 per year, or $227,000 per month, according to the 2019 NCPA Digest.
Also, statistics from Texas Tech University's School of Pharmacy show that the cost of goods sold typically accounts for 68% of all operating expenses for a typical pharmacy.
COGS are also very dependent upon the type of medication you sell, for example:
Branded medicine will have an average profit margin of 16 to 22%
Generic medicine instead have average profit margins of 20 to 50%
So assuming you generate $150,000 in sales per month and have an average profit margin of 40%, you would spend on average $90,000 in COGS each month (60% of $150,000).
Rent & utility bills
Rent is another of the important expenses you should budget for. Assuming the same example above with 1,700 sq. ft. space at a rate of $27 per sq. ft. in a shopping center, you would be paying over $3,800 in rent each month.
Keep in mind that the store must have ample space for furniture such as racks, pallets, and refrigerators. The size of your activities will significantly impact how much office space you need for your start-up.
Adding 20-25% for utility bills, you should budget around $4,500 in total per month.
Pharmacy marketing cost
You'll need to choose the media channel or mix of media channels that will best communicate your message while staying within your pharmacy marketing budget as you formalize your goals and set out your approach. These three types of marketing channels are the most prevalent.
Conventional advertising
Internet advertising
Local sponsorships and community events
The marketing expense recommended for retail pharmacies is to allocate 1.5% to 2% of their gross revenue to marketing.
According to a survey, hardly half of the independent pharmacies spend more than $5,000 annually on marketing. This includes the cost of billboards, online marketing, etc.
An effective pharmacy marketing plan distinguishes your business from competitors and invites customers to investigate and participate. It fosters trust, cultivates loyalty, and leaves a lasting impression.
That's a challenging goal, especially considering that chain pharmacies are known to spend substantially more on marketing than independent pharmacies, with an average independent pharmacy marketing budget of only 0.4% of gross sales.