Burger King Franchise: $1.4M AUV (2023 Costs & Profits)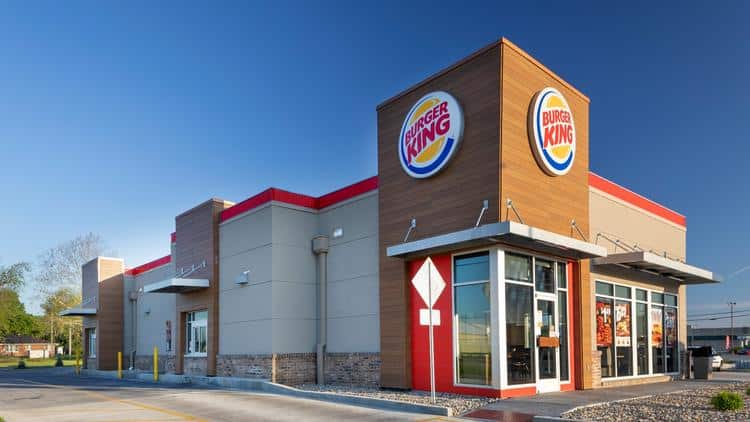 This article was updated with the 2023 Franchise Disclosure Document
Undeniably one of the most famous fast food brand worldwide, Burger King has over 7,000 restaurants in the US alone..! No wonder that Burger King is a very popular franchise among entrepreneurs and franchisees alike.
Yet, is this really a profitable business? With an average investment of $1,189,000, do the profits justify the upfront cost?
In this article we're looking at Burger King and its franchises using the data available in their latest Franchise Disclosure Document.
We'll see how much you can realistically make with a Burger King franchise and how profitable it really is. Let's find out!
Key stats
| | |
| --- | --- |
| Franchise fee | $50,000 |
| Royalty fee | 4.5% |
| Marketing fee | 4.0% |
| Investment (mid-point) | $1,189,000 |
| Average sales | $1,391,000 |
| Sales to investment ratio | 1.2x |
| Payback period | 6 years |
| Minimum net worth | $1,500,000 |
| Minimum liquid capital | $500,000 |
Source: Franchise Disclosure Document 2023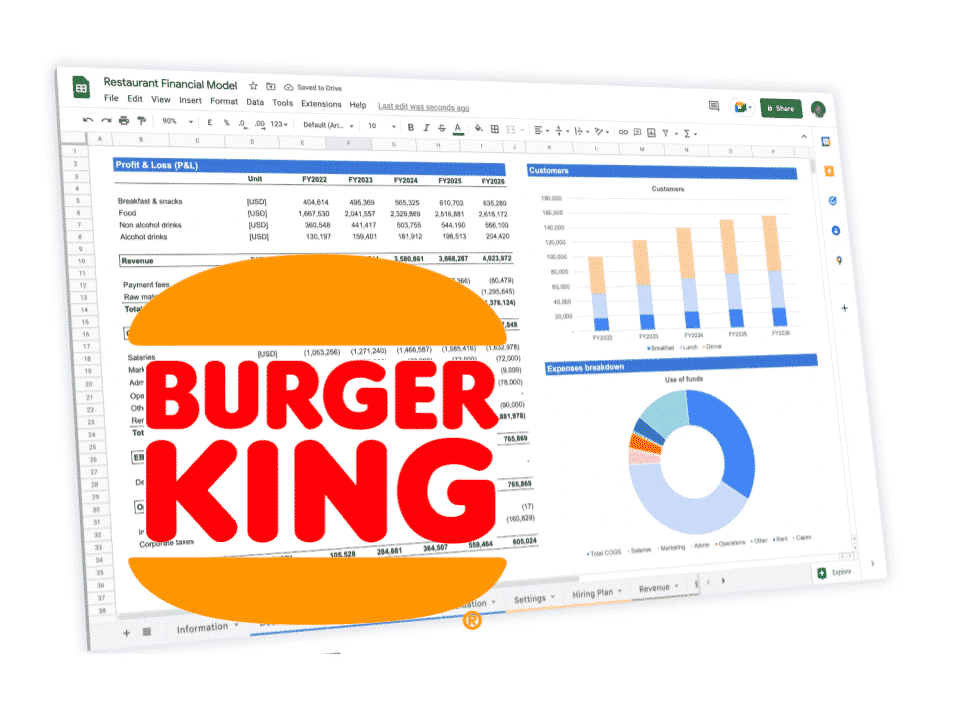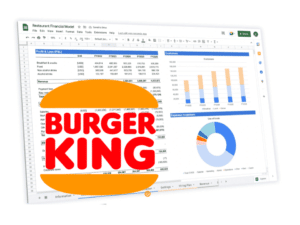 Burger King Franchise Business Plan
All the stats: startup costs, profits, breakeven, etc.
5-year financial projections built with the FDD

Excellent 4.8/5 based on 70 reviews
Excellent 4.8/5 based on 70 reviews

Burger King: a brief introduction
Burger King is a leading American multinational fast-food chain restaurant known for its signature hamburger and related fast food treats.
the chain was founded in 1953 in Jacksonville, Florida, by Keith J. Kramer and his wife's uncle Matthew Burns, then known as Insta-Burger King.
The chain store serves hamburgers, French fries, soft drinks, milkshakes, and desserts. Additionally, it offers whopping chicken sandwiches, non-beef items such as chicken and fish, and vegetarian offerings, including salads and meatless sandwiches.
Burger King started franchising in 1954 under the Burger King Corporation, headquartered in Miami, Florida.Today, it has more than 19,250 units in over 100 countries worldwide, including 7,000 in the US alone.
Burger King franchise: pros and cons
There are advantages and disadvantages to operating a Burger King franchise.
Pros
Quality foods: Burger King emphasizes offering quality and excellent products. Through innovation and maintaining strict standards, would-be franchisees can continue offering tasty and best-value foods and beverages as engineered by the parent company.
Brand strength: Burger King is a well-known brand. Today it is the second-largest fast-food chain in the hamburger industry. The brand has grown in the US and internationally, allowing new franchisees to operate a strong brand with great customer loyalty.
World-class support: The restaurant has solid experience and expertise in burgers, having operated and excelled tremendously for more than 60 years. As a new franchise, the brand grants new franchisees valuable and extensive support in establishing and running their businesses successfully.
Solid franchisee engagement: Burger King works closely with its franchisees to provide them with a solid foundation for growth and profitability. This allows them to share the best management, operations, food production, and business ideas.
Wide range of franchise formats: Burger King offers franchisees a wide range of franchise facilities to choose from. It allows for individual, operator (owner), or entity ownership and gives franchisees the flexibility to operate a franchise as befits their fees and requirements.
Financial assistance. In the case where the franchisor owns or leases the location for the restaurant, it may lease or sublease it to the franchisees. In addition, Burger King may finance other franchisees' transactions.
Cons
No exclusive territory: The franchisor grants or implies no exclusive protected territory or customer base. It grants the franchisee the right to operate at a specific location only, which leaves room for competitors to compete and affect the growth and profitability of its franchisees.
Competition: Burger King faces stiff competition from other world leaders such as KFC and McDonald's. This affects new franchisees' sales and profitability. Therefore, would-be franchisees need to invest more in marketing and advertising.
Not a passive investment: A Burger King franchise is not a good option for investors looking for a passive investment. Franchisees are required to be fully involved in the operations of their businesses. The franchisees' training is also extensive and very demanding, leaving them with little time to pursue other investment opportunities.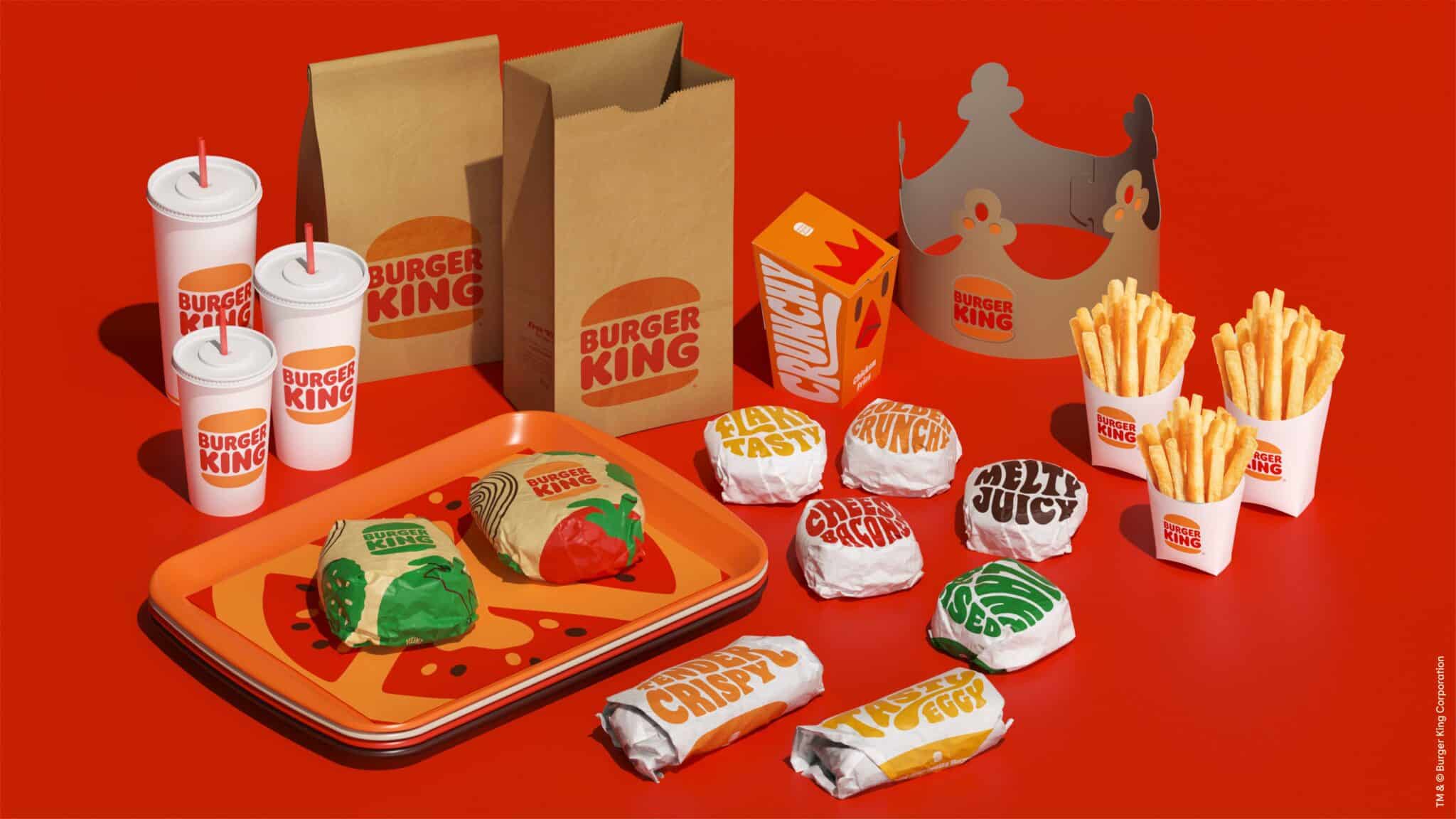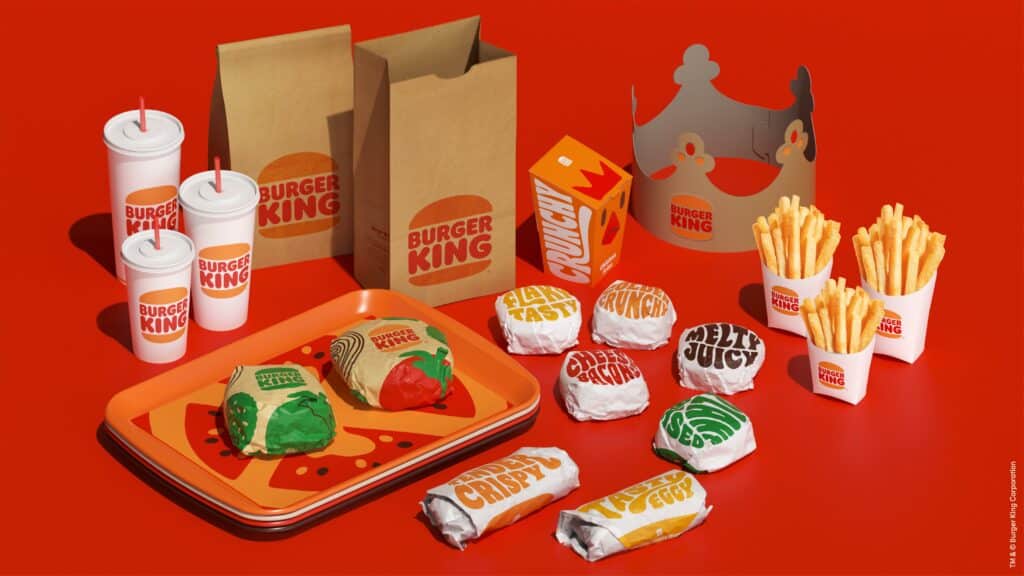 How much does a Burger King franchise cost?
You must invest $1,189,000 on average to open a Burger King restaurant.
The amount mentioned above is an estimated average. It can vary depending on whether it is a traditional facility or a non-traditional facility:
Traditional restaurants are freestanding stores
Non-traditional restaurants are co-branding restaurants (coupled with another brand), those located in mall food courts, Big-box formats and delivery-only restaurants
For example, the investment amount for a Delivery Restaurant is 3x times lower than the average, whereas the investment for a free-standing restaurant is 2x times higher than the average.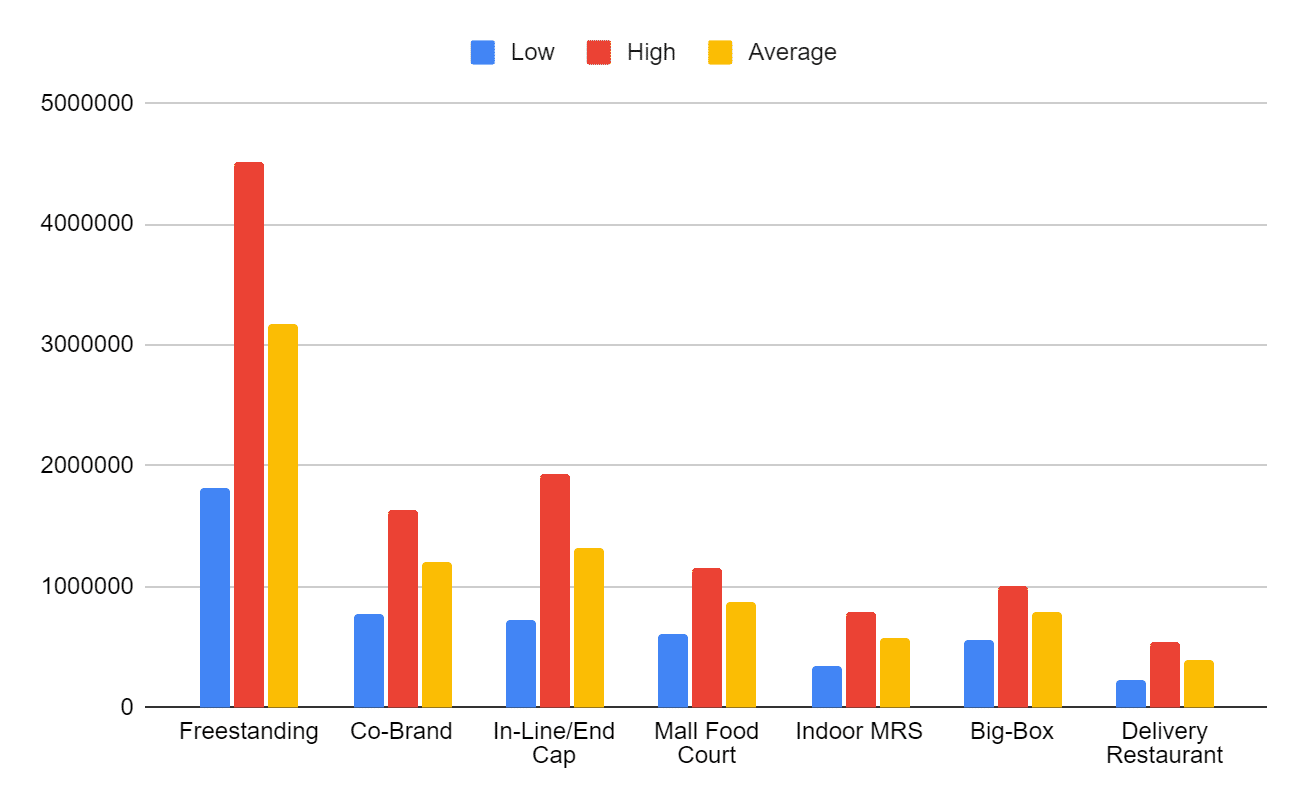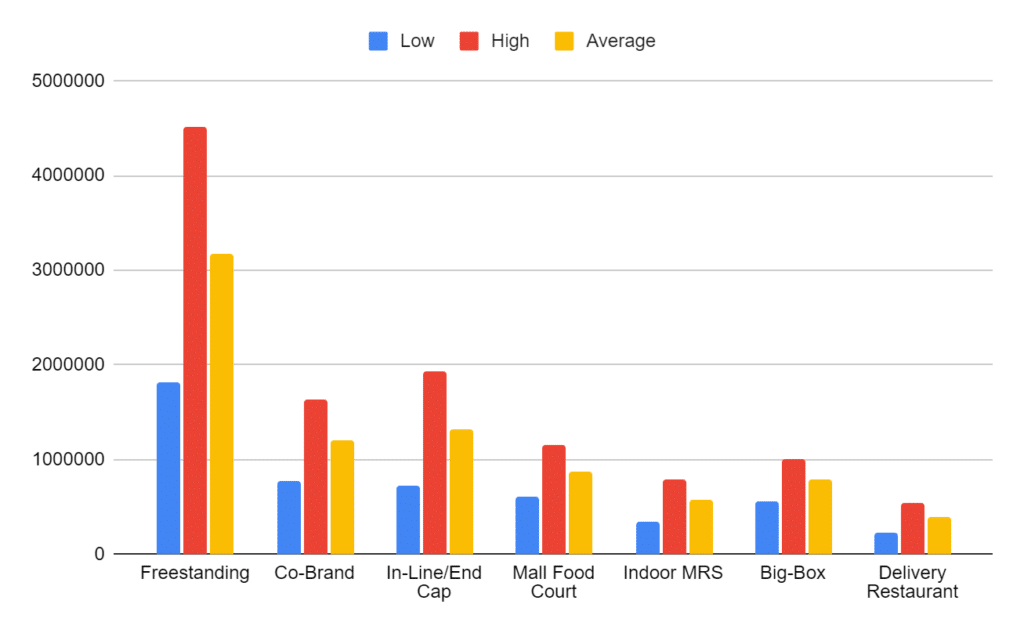 | Type of Restaurant | Low | High | Average |
| --- | --- | --- | --- |
| Freestanding | 1,815,600 | 4,520,900 | 3,168,250 |
| Co-Brand | 776,200 | 1,627,100 | 1,201,650 |
| In-Line/End Cap | 720,200 | 1,929,100 | 1,324,650 |
| Mall Food Court | 603,120 | 1,156,000 | 879,560 |
| Indoor MRS | 345,800 | 795,400 | 570,600 |
| Big-Box | 562,000 | 1,008,400 | 785,200 |
| Delivery Restaurant | 232,300 | 548,000 | 390,150 |
| Total | | | 1,188,580 |
Source: Franchise Disclosure Document 2023
In addition to the initial franchise fee of $50,000, the investment costs covers all types of expenses can be incurred when opening a fast-food restaurant.
For example, you would pay for training expenses, professional fees, construction, equipment, décor, signage & drive-thru, opening inventory, insurance, business licenses, utility deposits, lease deposits, and an additional funds as working capital of first 3 months, etc.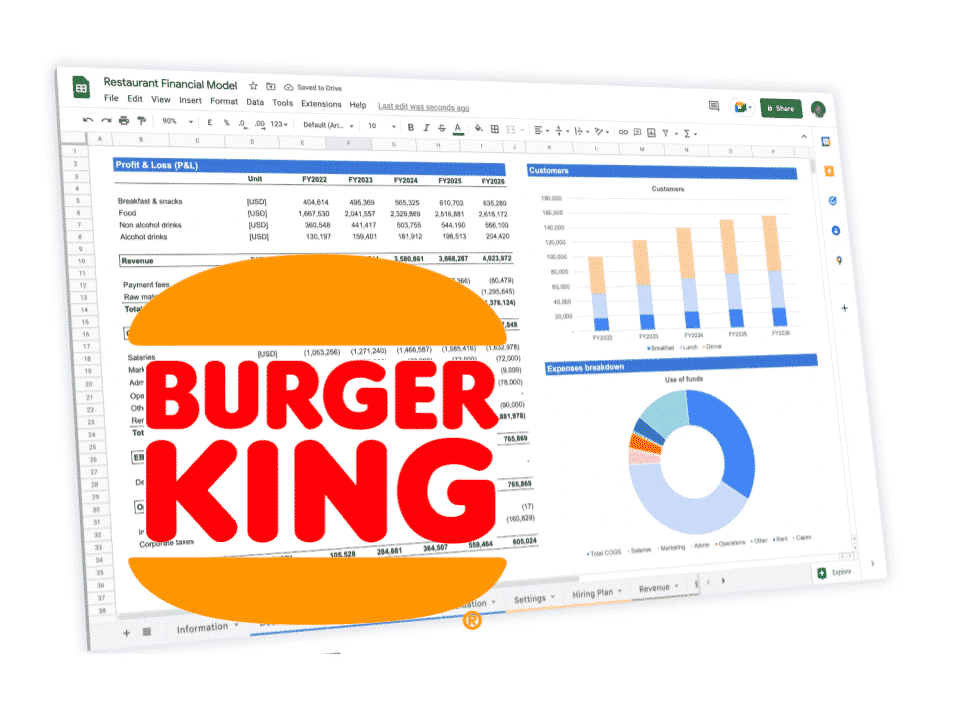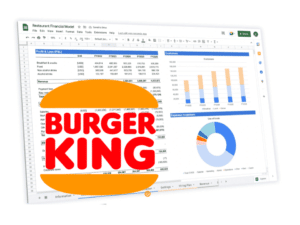 Burger King Franchise Business Plan
All the stats: startup costs, profits, breakeven, etc.
5-year financial projections built with the FDD

Excellent 4.8/5 based on 70 reviews
Excellent 4.8/5 based on 70 reviews

How much sales does a Burger King franchise make?
An average Burger King franchise makes $1,391,000 in sales per year. This is the average of traditional and non-traditional franchises sales.
What's interesting is that, unsurprisingly, traditional franchise restaurants have higher sales on average vs. non-traditional stores. Indeed, freestanding restaurants (traditional) are usually much bigger vs. non-traditional stores.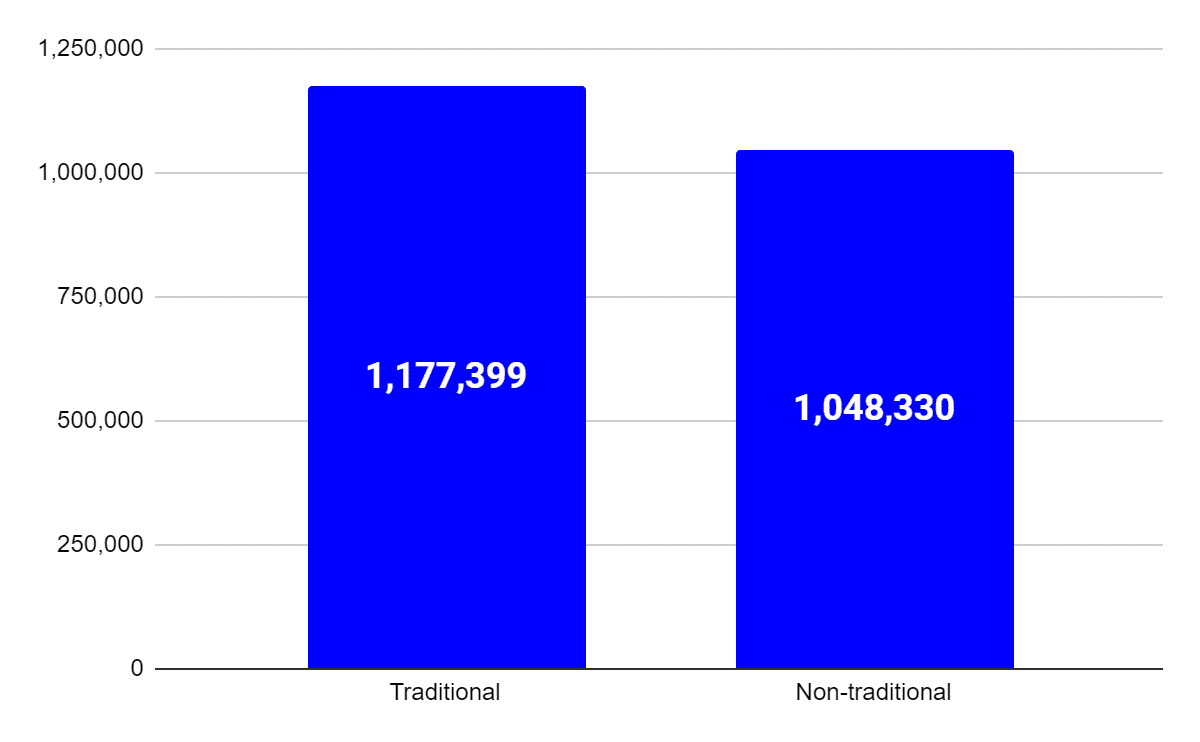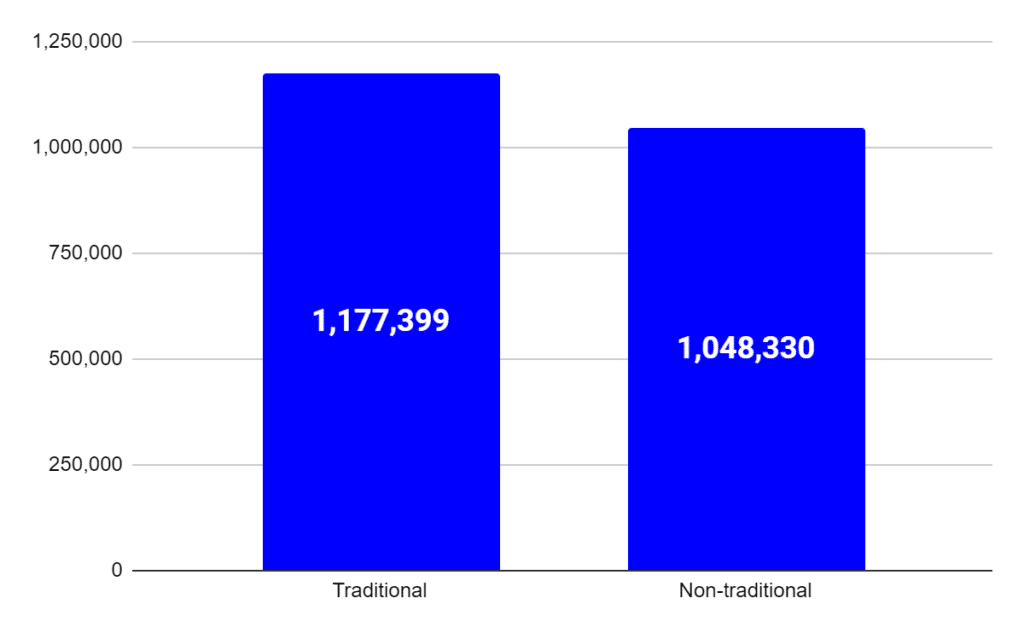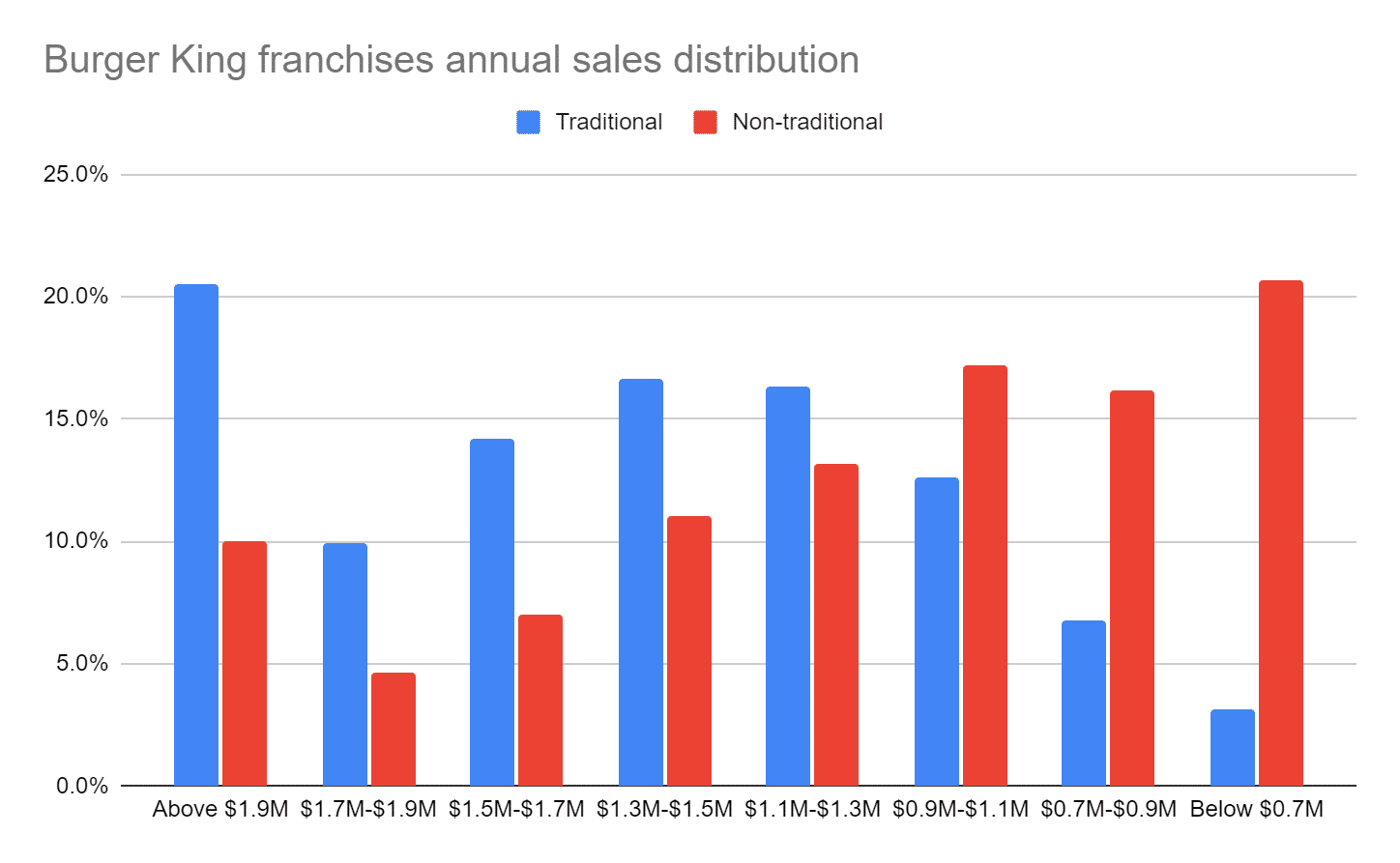 How profitable is a Burger King franchise?
We estimate that the average Burger King franchises makes $355,000 in profits per year. This represents a 17% EBITDA margin.
Note that Burger King doesn't provide any detailed information about the financial performance of its franchises in its latest Franchise Disclosure Document. Instead we had to make assumptions which we have summarized below.
| Profit and loss | Amount | % revenue |
| --- | --- | --- |
| Gross Sales | $2,153,383 | 100% |
| COGS | $(538,346) | 25% |
| Gross Profit | $1,615,037 | 75% |
| Labor | $(624,481) | 29% |
| Royalty | $(183,038) | 9% |
| Rent | $(193,804) | 9% |
| Other Expenses | $(258,406) | 12% |
| EBITDA | $355,308 | 17% |
Source: Estimates
Is a Burger King franchise a good investment?
Even though $355,000 profits per year seems appealing, it doesn't tell us much about whether you should invest in a Burger King franchise as a franchisee. Indeed, does the profits justify the upfront investment cost?
In order to know whether this is a good investment, we need to look at the payback period: the number of years it takes for a franchisee to reimburse her/his original investment.
We find that the payback for a Burger King is 6 years on average, which is excellent.
Of course, remember that this takes into consideration the average initial investment of $1,189,000: the payback for your franchise should be calculated using your franchise format instead. Indeed remember: the investment for a freestanding is over $3 million, which changes quite a bit the payback…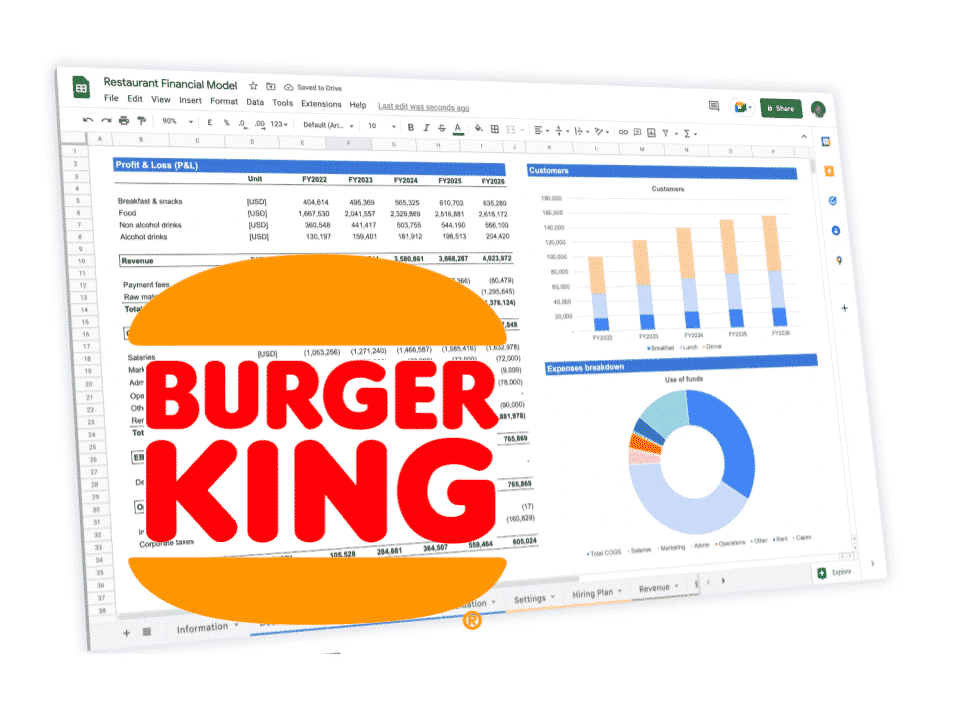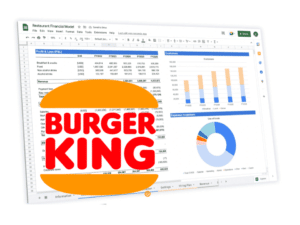 Burger King Franchise Business Plan
All the stats: startup costs, profits, breakeven, etc.
5-year financial projections built with the FDD

Excellent 4.8/5 based on 70 reviews
Excellent 4.8/5 based on 70 reviews

Disclaimer
Disclaimer: This content has been made for informational and educational purposes only. We do not make any representation or warranties with respect to the accuracy, applicability, fitness, or completeness of the information presented in the article. You should not construe any such information or other material as legal, tax, investment, financial, or other professional advice. Nothing contained in this article constitutes a solicitation, recommendation, endorsement, advertisement, or offer to buy or sell any franchises, securities, or other financial instruments in this or in any other jurisdiction in which such solicitation or offer would be unlawful under the franchise and/or securities laws of such jurisdiction.
All content in this article is information of a general nature and does not address the detailed circumstances of any particular individual or entity. Nothing in the article constitutes professional and/or financial and/or legal advice, nor does any information in the article constitute a comprehensive or complete statement of the matters discussed or the law relating thereto. You alone assume the sole responsibility of evaluating the merits and risks associated with the use of any information or other content in this article before making any decisions based on such information or other content.