Known for its double drive-thru concept, Checkers and Rally's have over 800 locations in the US. It's a popular brand for franchisees as it can be a very profitable franchise.
Indeed, the payback period is around 5 years which means you would repay you investment within 5 years only after you opened your franchised restaurant. Not bad!
In this article we are looking at Checkers and Rally's from the perspective of its Franchise Disclosure Document.
We will see how much money you can make on average for both Checkers and Rally's respectively, how much franchising really costs, and why it's such a good investment. Let's dive in!
Checkers & Rally's revenue, costs & profits
Franchise fee
$30,000
Royalty fee
4.0%
Marketing fee
4.5%
Investment (mid-point)
$837,847
Median annual sales
Checkers: $1,039,773
Rally's: $1,186,552
Investment to sales ratio
1.2x – 1.4x
Investment payback*
~ 5 years (good)
* using 15% net profit margin
What is Checkers & Rally's ?
Checkers & Rally's is an American restaurant chain synonymous with its double drive-through concept.
It was formed after the 1999 merger of two separate companies, Checkers and Rally's. Checkers was founded by Jim Mattei in 1985 (operating in the Southeast) and Rally's by Jim Patterson (operating in the Midwest) in 1986.
Both Checkers and Rally's offers burgers, hot dogs, chicken, fish, hot wings, French fries, milkshakes, and cold beverages.
Headquartered in Tampa, Florida, the chain is a subsidiary of Oak Hill Capital Partners. It began franchising in 1991, and as of 2022, it has more than 800 locations in 28 states in the U.S. and the District of Columbia.
Checkers & Rally's franchises pros and cons
Pros
Franchise design: The brand utilizes small footprints and efficient buildings for its restaurants. Franchisees could also benefit from improved restaurant design that reduces the 90-day construction time for new locations.
Innovative technology: The brand embraces technology to improve efficiency. Franchisees can utilize online and mobile apps, deliveries, and pick-ups to increase customer convenience and drive up their sales and revenue.
Effective double drive-through concept: The brand is the pioneer of the double drive-through model, which has been quite successful. Franchisees can benefit from this concept, as it works better than sit-in locations.
Exclusive territory protection: Checkers & Rally's provides its franchisees with an exclusive territory to operate their stores. The franchisor does not grant any franchises to operate in the protected area, and it does not operate competitive channels in the agreed-upon territory.
Absentee ownership allowed: The Checkers & Rally's franchise allows for absentee ownership. Franchisees can operate the restaurant as they pursue other investment interests.
Solid corporate support: Checkers & Rally's support franchisees to help them grow and succeed. This includes site selection, lease negotiation, grand opening support, online support, security & safety procedures, meetings and conventions, and field operations.
Comprehensive training: The franchisor provides extensive initial training to franchisees to help them learn about the franchisor's business concept. Their initial training comprises 132–165 hours of on-the-job training and 28–33 hours of classroom training. Franchisees are also trained on how to establish, build, and operate a successful restaurant.
Growth potential: The brand has experienced fast growth in recent years. It offers franchisees a lot of growth potential in the domestic markets where the brand seeks expansion.
Cons
Competition: The brand faces a lot of competition from global and well-established brands such as Burger King, McDonald's, and Wendy's.
No dine-ins: The brand operates on a mostly carry-out concept, embracing drive-through restaurant designs. This locks out customers who would love a dine-in experience as they socialize.
No financing: The brand does not finance franchisees directly or indirectly for finance fees, trade fixtures, or inventory.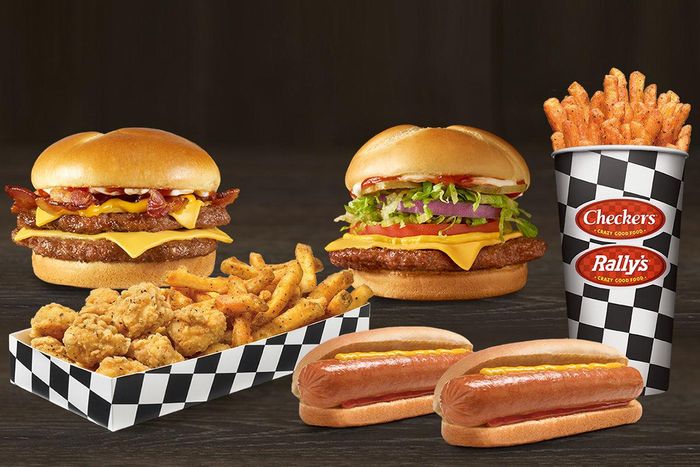 How much does a Checkers & Rally's franchise cost?
On average, you would need around $837,847 to open a Checkers/Rally's franchise restaurant.
The cost depend on the type of restaurant. For example, you may need to pay 3 times as much for a drive-thru than a non-traditional restaurant:
| Type of restaurant | Lowest | Average | Highest |
| --- | --- | --- | --- |
| New modular design single drive-thru | $790,797 | $1,579,557 | $2,368,316 |
| Site built | $351,629 | $741,270 | $1,130,911 |
| Endcap strip-center or gas/convenience | $305,000 | $569,719 | $834,438 |
| Non-traditional | $169,052 | $460,843 | $752,633 |
Source: 2022 Franchise Disclosure Document
How much can you make with a Checkers / Rally's franchise?
We refer here to the turnover a Checkers or Rally's franchise generate on average per year. This number of course is different whether you operate a Checkers or a Rally's franchised restaurant.
Checkers
A Checkers franchise makes $1,039,773 in sales per year. This is the median annual turnover of the 372 Checkers franchised restaurants.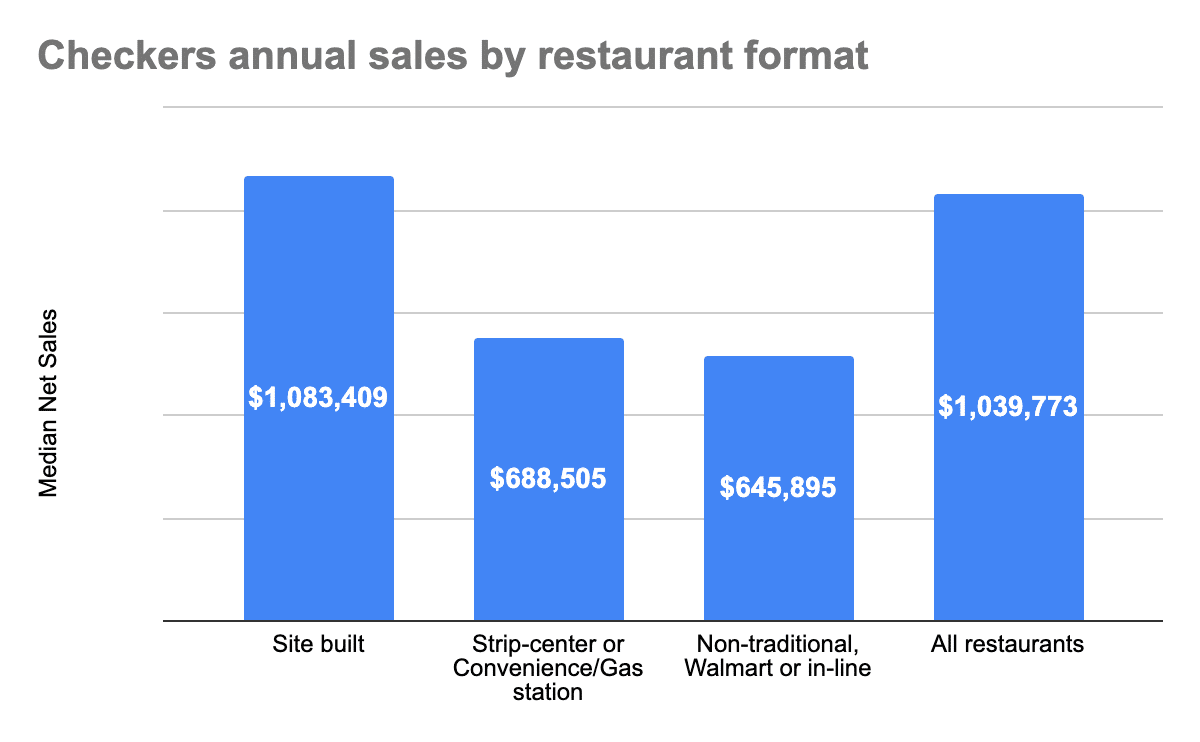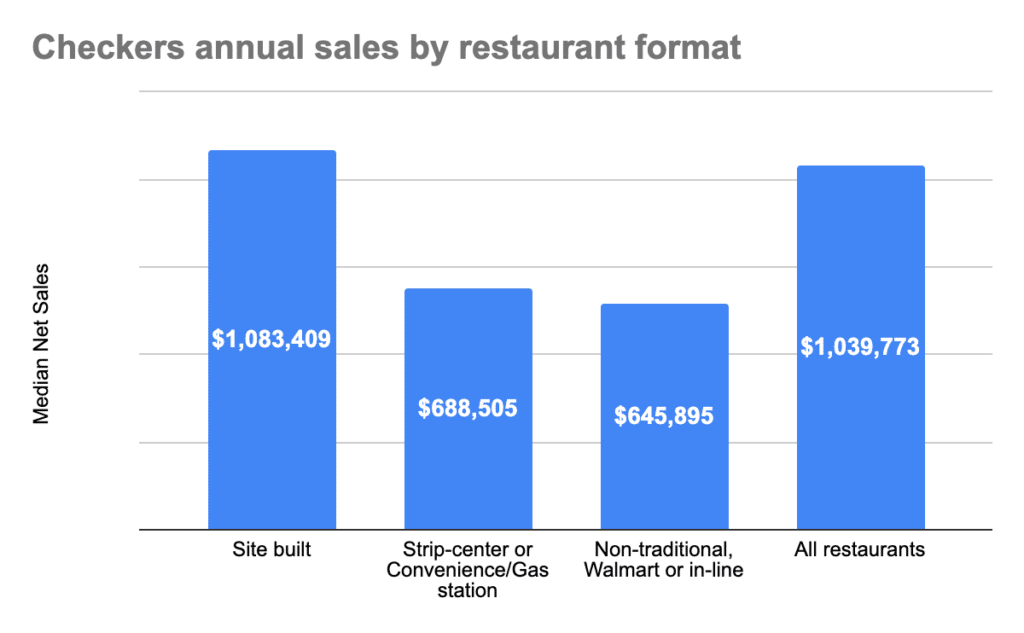 | | Number of stores | Median net sales |
| --- | --- | --- |
| Site built | 322 | $1,083,409 |
| Endcap strip-center or gas/convenience | 24 | $688,505 |
| Non-traditional | 26 | $645,895 |
| All restaurants | 372 | $1,039,773 |
Source: 2022 Franchise Disclosure Document
Rally's
In comparison, a Rally's franchise makes $1,186,552 in sales per year. This is very close to Checkers' numbers. Note that this number is the median annual turnover of the 138 Rally's franchised restaurants.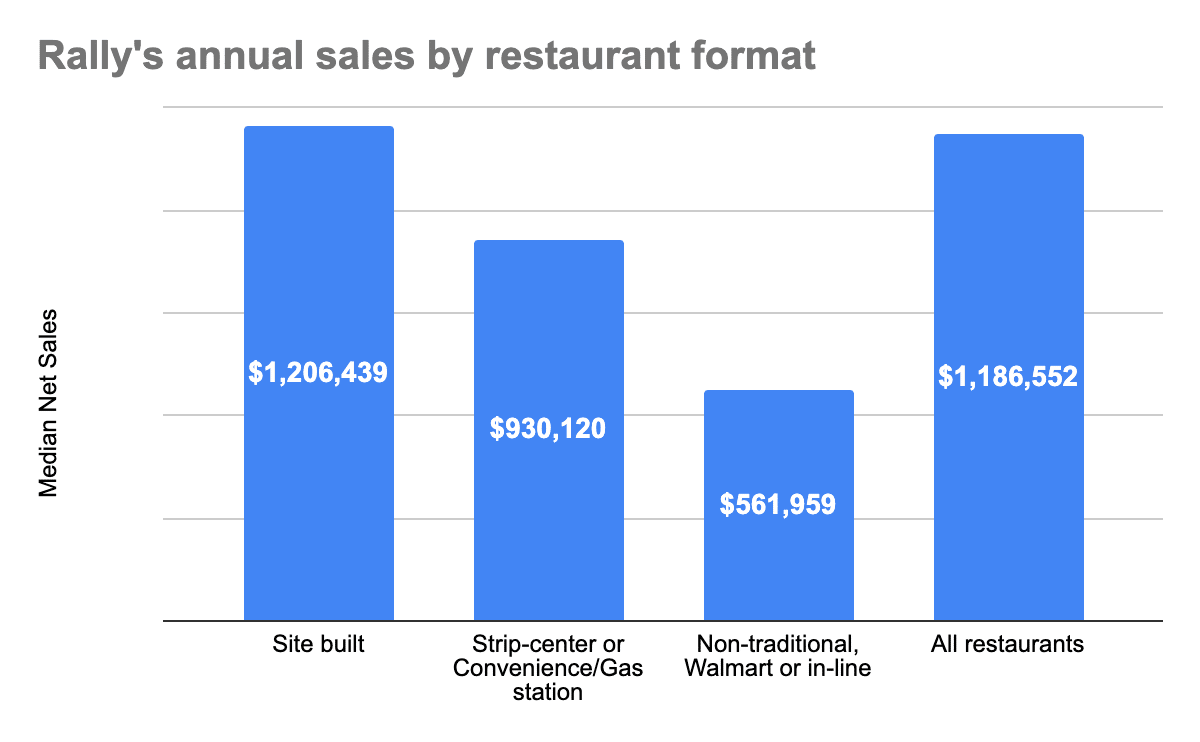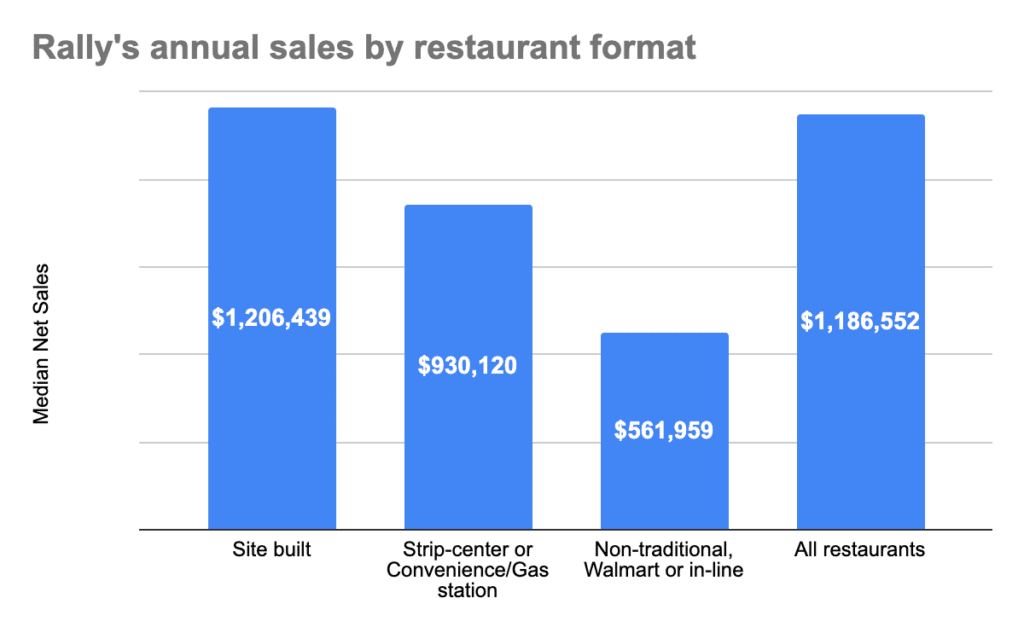 | | Number of stores | Median net sales |
| --- | --- | --- |
| Site built | 132 | $1,206,439 |
| Strip-center or Convenience/Gas station | 3 | $930,120 |
| Non-traditional, Walmart or in-line | 3 | $561,959 |
| All restaurants | 138 | $1,186,552 |
Source: 2022 Franchise Disclosure Document
How profitable are Checkers & Rally's franchises?
Unfortunately, the franchisor only provides information for a very limited number of selected restaurants for costs and profits which we have summarized below.
What's more is that these costs are from company-owned restaurants. Therefore, like other franchisors, Checkers and Rally's have decided not to disclose profits margins for their franchised restaurants.
In short, as per the Franchise Disclosure Document the company-owned Checkers restaurants spend 29% of their sales in COGS and 30% in labor costs and benefits respectively. For Rally's, the numbers are 30% and 31% respectively.
With that in mind, we have estimated the adjusted EBITDA for a Checkers franchised restaurant below. Note that to keep things simple we only calculated Checkers' and not Rally's numbers are both restaurants chains have very similar financials (see average turnover above).
On average, a Checkers franchise makes $244,347 profits per year. This represents a 24% adjusted EBITDA margin.
| Profit-and-loss | Amount ($) | As % of sales |
| --- | --- | --- |
| Sales | $1,039,773 | 100% |
| COGS | $(301,534) | 29.0% |
| Staff | $(322,330) | 31.0% |
| Rent | $(83,182) | 8.0%* |
| Royalty + marketing fee | $(88,381) | 8.5% |
| Adjusted EBITDA | $244,347 | 24.0% |
Source: 2022 FDD // * industry average
Is a Checkers / Rally's franchise a good investment?
So should you invest in a Checkers (or a Rally's) franchised restaurant? Are the profits worth the cost?
Remember: whether you decide to go for a Checkers or a Rally's restaurant, the amount you would need to invest is around $837,847. Note that the Franchise Disclosure Document doesn't differentiate one or the other so we'll assume the cost is the same.
So by comparing the investment cost to the expected profits, we can calculate the payback period. In other words, we need to know how many years you need to wait before your investment pays itself.
As per our analysis, it would take around 5 years (5.4 to be exact) for you to recoup your investment if you were to start a Checkers or a Rally's franchise. This is a very good metric and, as such, a good investment.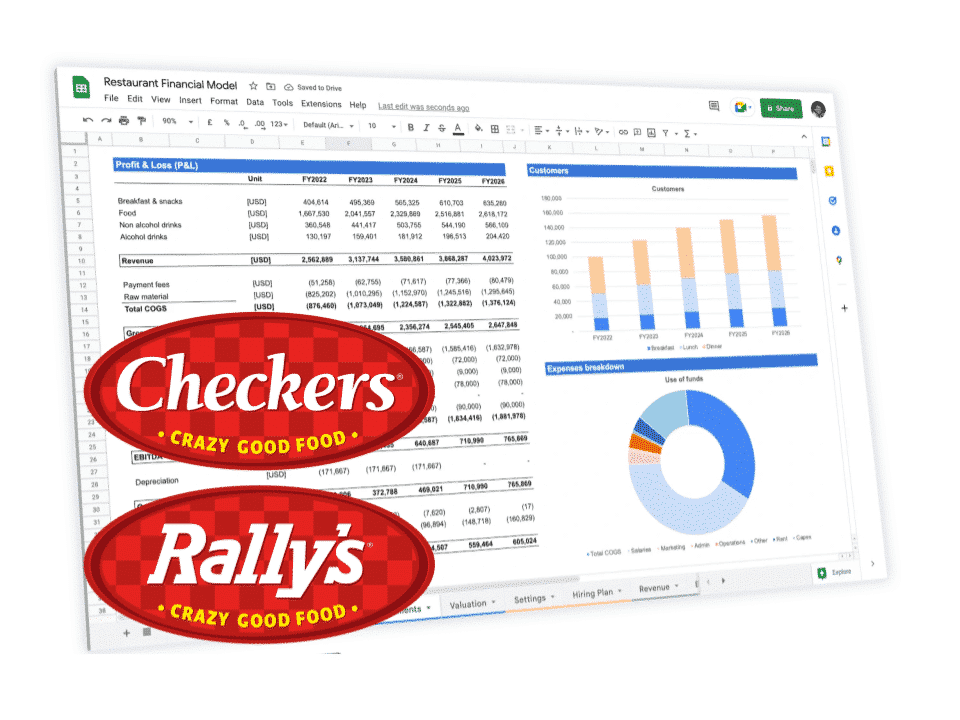 Download the Checkers & Rally's business plan and get your franchise funded
Including a 5-year financial plan built with the latest Franchise Disclosure Document numbers