With 1,600 stores worldwide, Cinnabon is one of the most popular bakery and sweets franchises. On average, you would need to invest $276,062 upfront as the franchisee and your Cinnabon store would generate $394,897 in sales per year.
Is this a profitable investment? In this article we're looking at Cinnabon franchises and the information available in their latest Franchise Disclosure Document.
We'll answer questions like: how much you can make with this business, how much it really costs and whether you should start a Cinnabon franchise. Let's find out!
Cinnabon franchises: revenue, costs & profits
| | |
| --- | --- |
| Franchise fee | $30,500 |
| Royalty fee | 6.0% |
| Marketing fee | 4.0% |
| Investment (mid-point) | $276,062 |
| Average annual sales | $394,897 |
| Sales to investment ratio | 1.4x |
| Investment payback* | 5.8 years (average) |
| Minimum net worth | $300,000 |
| Minimum liquid capital | $120,000 |
* using 12% net profit margin
What is Cinnabon?
Cinnabon is an American chain of bakeries and baked goods shops synonymous with its signature cinnamon roll. The chain was founded in 1985 in Seattle, Washington, by Rich Komen and his son, Greg Komen.
Its menu includes cinnamon rolls, coffee, milkshakes, and churros. Cinnabon locations are commonly found in high-traffic areas such as malls, airports, and rest stops.
Cinnabon began franchising in 1986 and opened its first franchise in Pennsylvania. It is owned by Focus Brands Inc., headquartered in Sandy Springs, Georgia.
Cinnabon now has over 1,600 locations in the United States and 50 other countries.
Cinnabon franchises pros and cons
Pros
Franchise training: Cinnabon has in place a comprehensive training support team and digital resources that help franchisees, their designated managers, and employees learn all they need to operate and manage a successful and profitable bakery.
Aggressive marketing: The brand offers franchisees a dedicated marketing and public relations team to help them with the best local media and marketing plans in their locations. With an innovative and targeted marketing team, franchisees are guaranteed success.
Purchasing power: The franchisees can leverage the brand's international supply channel and enjoy economies of scale by acquiring quality, regulated inventories at reasonable commercial prices.
Universal brand recognition: The brand has bakeries in more than 50 countries, and it's still growing. Franchisees can join the most well-known cinnamon roll brand and have the opportunity to grow in markets where the brand is present.
Real estate and construction: Cinnabon offers franchisees real estate experts to help in the construction. They assist in site selection, bakery construction, design, and branding. They also provide a dedicated leasing team to help franchisees identify real estate opportunities and negotiate the lease.
Flexible franchise models: Cinnabon has different flexible franchise models that franchisees can choose from. These include full bakeries, express bakeries, concession bakeries, Auntie Anne's branded bakeries, and Carvel co-branded bakeries. Therefore, franchisees can start a bakery that fits their budget.
Operations and field support: The brand provides franchisees with a passionate and dedicated support team. Franchisees get access to initial management training, on-site bakery visits, security and safety procedures, review, and performance analyses by corporate management teams.
Product development: The Cinnabon brand enjoys world-class quality and a varied menu. It keeps improving on this and expanding the menu to accommodate different demands and new customer tastes through testing and experimenting with new flavors.
Cons
No exclusive territory granted: The brand does not offer franchisees exclusive territory protection. Therefore, franchisees may face competition from other Cinnabon bakeries.
No financing: The franchisor does not offer direct or indirect financing to franchisees. It also does not guarantee any lease, obligation, or note for any lenders. Franchisees must seek third-party financing or SBA loans to fund their trade fixtures, inventory, or other needs.
Prior restaurant chain experience: The brand requires franchisees to have past business experience as restaurant owners or operators.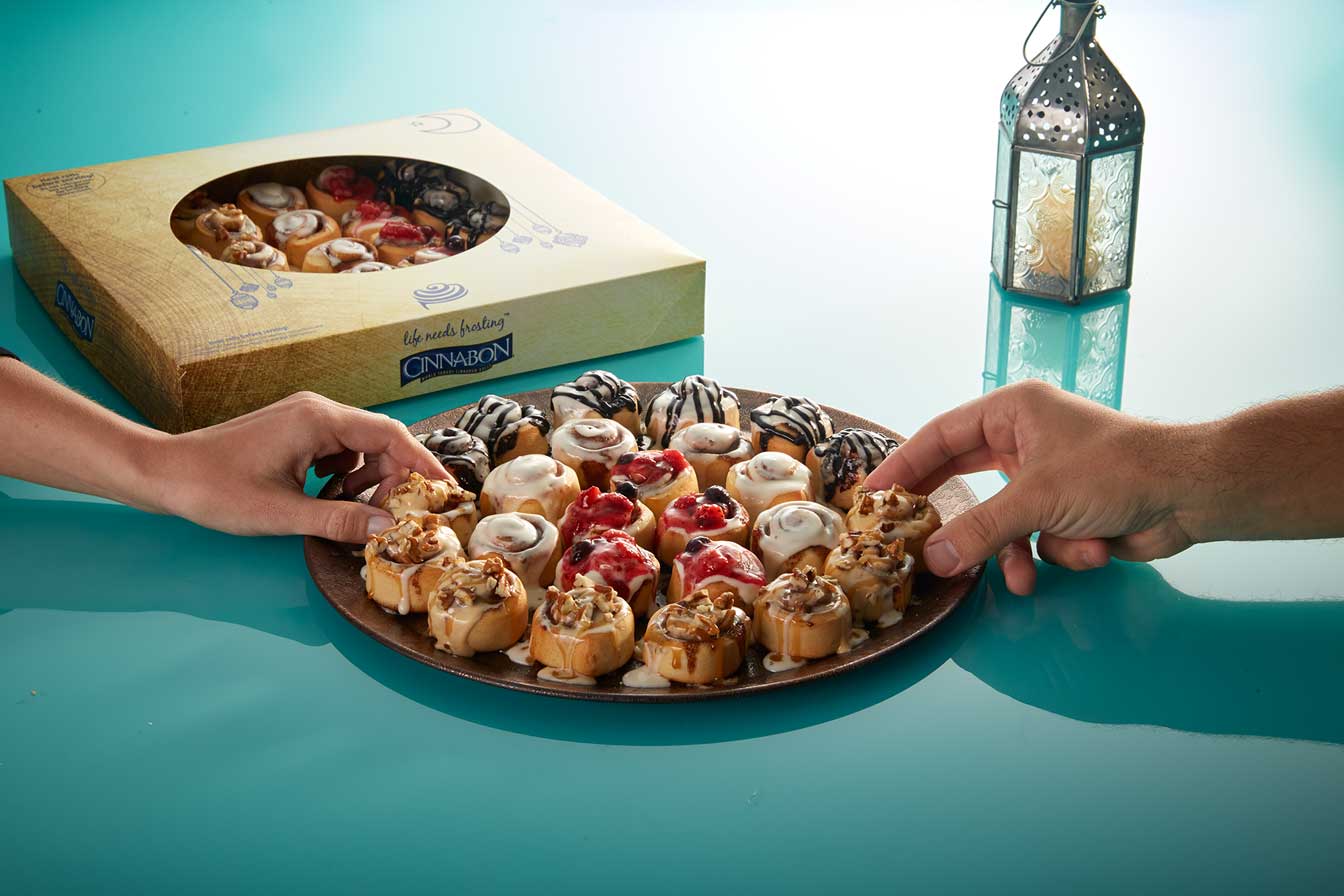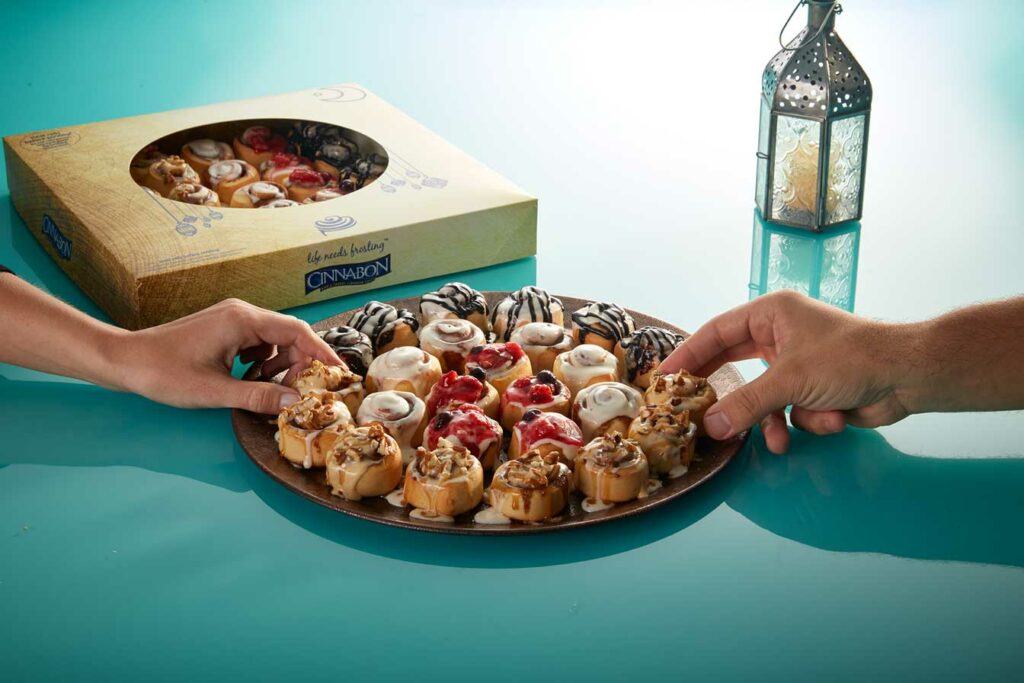 How much does a Cinnabon franchise cost?
You need to invest around $276,063 to start a Cinnabon bakery, on average.
The investment amount will vary depending on your type of bakery. As per the latest Franchise Disclosure Document, a Carvel co-Branded bakery ($564,000) requires 5 times as much investment than an Express bakery ($110,475).
So before you prepare a business plan for a Cinnabon bakery, make sure to understand what are the different costs you will incur for the format of bakery you would go for.
See below the average investment required to open a Cinnabon bakery for all bakery formats:
As you can see, you would need to invest as low as $23,600 to as high as $546,800, depending on your choice of bakery type.
| Bakery format | Low | High | Average |
| --- | --- | --- | --- |
| Express Bakery (in a new Schlotzsky's) | $23,600 | $45,500 | $34,550 |
| Express Bakery | $61,100 | $159,850 | $110,475 |
| Concession Bakery (trailer) | $112,000 | $228,500 | $170,250 |
| Concession Bakery (food truck) | $152,000 | $248,500 | $200,250 |
| Full Bakery (Non-traditional location) | $125,500 | $423,100 | $274,300 |
| Full Bakery (traditional location) | $233,700 | $546,800 | $390,250 |
| Auntie Anne's co-branded bakery | $280,050 | $647,500 | $463,775 |
| Carvel co-branded bakery | $383,000 | $746,300 | $564,650 |
| Total | | | $276,063 |
Source: 2022 Franchise Disclosure Document
When it comes to the cost breakdown, the investment covers all type of startup costs needed for a bakery business. In addition to a franchise fee ($5,500 – $66,000), you would also pay for costs like:
Pre-opening costs: permitting, legal and accounting fees, security deposits, training and support fees, travel and living expenses during training, etc.
Build-out costs: construction, equipment package, millwork, furniture, menu board, graphics and interior signage, exterior signage, computer system, small wares, architect/engineer, etc.
Marketing fees: grand opening marketing
Operating expenses: first month's rent, insurance, office supplies, opening inventory, and working capital for first 3 months, etc.
How much sales can you make with a Cinnabon?
On average, a Cinnabon franchise makes $394,897 in sales per year.
This sales number is the average annual median net sales of all 431 franchised bakeries operating in 2021 which include all types of franchises. The average sales vary depending on the bakery format as you can see below:
| Bakery format | Number of restaurants | Median net sales |
| --- | --- | --- |
| Enclosed mall franchises | 169 | $595,413 |
| Convenience franchises | 216 | $129,734 |
| Auntie Anne's co-branded | 46 | $903,340 |
| Total | 431 | $394,898 |
How profitable is a Cinnabon franchise?
On average, a Cinnabon franchise makes $58,163 in profits per year. That means you may expect a 15% adjusted EBITDA margin.
Be careful here: this adjusted EBITDA is not as same as net profit. From EBITDA, you must also deduct taxes, debt interest expenses, and other costs to get to net profit.
The 15% adjusted EBITDA margin is on the lower end compared to similar franchises as per our intelligence (~25-27% industry average). We assume the reason for this is the high rent expense (21.3% sales vs. 8% industry average).
Also consider that we used the industry average for COGS (25% sales) and labor costs (29%) as Cinnabon doesn't disclose any financial information regarding costs in its FDD.
| Profit-and-loss | Amount ($) | As % of sales |
| --- | --- | --- |
| Sales | $394,897 | 100% |
| COGS | $(98,724) | 25.0%* |
| Labor | $(114,520) | 29.0%* |
| Rent | $(84,000) | 21.3% |
| Royalty + marketing fees | $(39,490) | 10.0% |
| Adjusted EBITDA | $58,163 | ~15% |
* industry average
Is a Cinnabon a good investment?
So should you start a Cinnabon franchise? To answer this question, we need to look at the payback period: the time it takes for an investment to pay itself back, from the profits it generates.
Assuming a net profit margin of 12% (as EBITDA margin is already 15%), we found that the payback period for a Cinnabon franchise is 5.8 years, which is average.
Think about it: you would have to wait on average 5.8 years for your initial investment (the $276,062) to be reimbursed with the profits. So only after 6 years you would actually make money on your investment, as the franchisee / shareholder.
If you're applying for a Cinnabon franchise, prepare a solid business plan with our template below. We've already built your financial plan, using the latest Franchise Disclosure Document numbers. Download your 3 pro forma financial statements, visualize your breakeven point and more.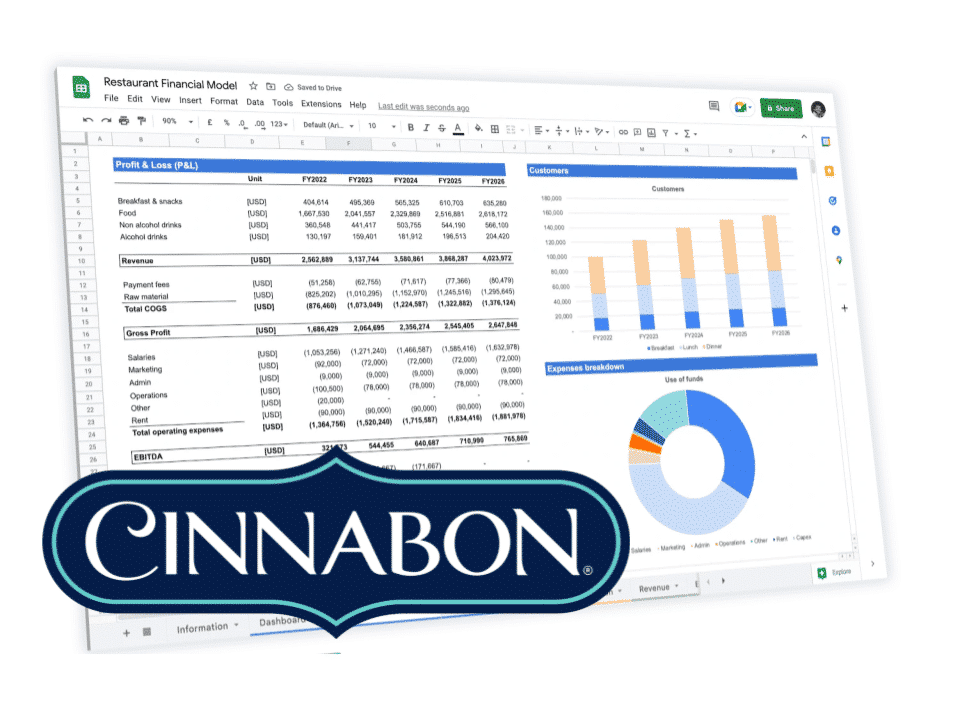 Download the Cinnabon business plan and get your franchise funded
Including a 5-year financial plan built with the latest Franchise Disclosure Document numbers