How Much Profits Can You Make With a Spa?
Any new business needs to reach breakeven: the amount of revenue a business must generate to turn a profit. Like any other business, the target for spa owners is to come up with strategies to increase revenue and reduce costs so that the business can maximise profits.
With a total market size of $19.3 billion in 2022 and 21,848 spas in the US, the average turnover for a spa is about $880,000 per year. What does this means for your business? How much profits can you generate with a day spa?
In this article we're looking at public benchmarks as well as our own proprietary intelligence to analyze the average profit margin a spa can generate. Let's dive in!
What is the average turnover of a Spa?
From the data provided by IBIS World, it is safe to assume that the average annual turnover of a spa in the US is about $883,376. However, you must understand that the actual revenue of a spa will depend on its size, location, and the types of services offered.
Therefore it's important when forecasting profits for your spa (which we give you an example below) to take into account your specific business i.e. your pricing strategy, cost structure, size of your spa, its location, etc.
Glassdoor reports that the average annual salary of spa owners in the US is $76,309 (base pay), taking their total annual salary to $110,256 including bonus compensation.
What is the average profit margin of a Spa?
According to American Spa, the acceptable profit margin for medical spas and day spas should be around 10% to 15%. Of course, the profit margin will depend on factors like operating expenses, overhead, payroll, etc.
Also, do not forget that different types of spas will have different profit margins, which will significantly depend on multiple factors including the ones mentioned above along with factors like location, size of the facility, and so on.
How much does it cost to run a Spa?
A spa, just like any other business, will have recurring operating costs and they include:
Lease payment or rent payment: You must pay rent or make lease payments each month for the premise where you will be operating
Supplies: Your spa will require a constant flow of operating supplies such as scrubs, massage pebbles, cosmetics, candles, towels, etc., and you must stock them up every month
Salaries: Your spa will have multiple employees such as a spa manager, massage therapist, manicurist & pedicurist, etc., and you must pay them salaries every month
Marketing: You need to spend a certain amount every month for advertising and marketing your spa business to acquire new customers
Other expenses: You must spend on insurance (general liability insurance, commercial property insurance, workers' compensation insurance, etc.). There will be utility bills to pay, and of course, you will need to pay for bookkeeping, payroll, and client management software, too
In general, operating a day spa will cost you anywhere between $34,000 and $44,000 a month in the US. To learn more about these expenses in detail, read our article here.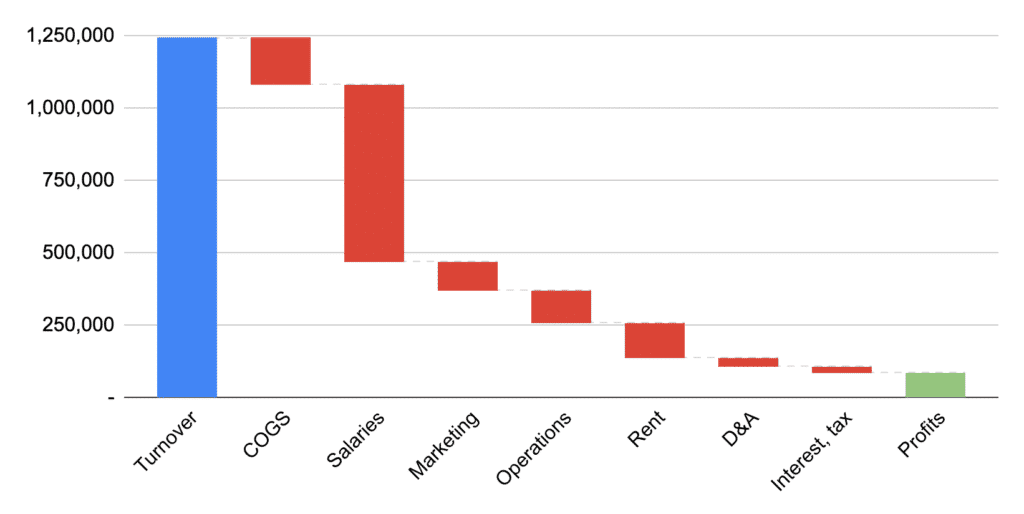 How to forecast profits for a Spa?
In order to calculate profits for a spa, you must first forecast revenues and expenses.
Profits = Revenue – Expenses
Forecasting revenue for Spas
In order to calculate revenue for a spa, you would have to set a few assumptions:
the number of customers
the average price per treatment
Revenue = # customers x Average price per treatment
For example, if in a month you receive 20 customers per day on average, who pay $100 per treatment on average, monthly revenue is about $50,000 (assuming you're open 6 days a week).
Revenue = 10 x $100 x 25 = $50,000
For more information on how to build financial forecasts for a spa, read our article here.
Forecasting expenses for Spas
There are 2 types of expenses when you run a spa:
Variable expenses: these are the COGS as explained earlier. They grow in line with your revenue: if your turnover increases by 10%, variable expenses grow by 10% as well
Fixed expenses: salaries, rent, debt interest (or leasing) costs to acquire the trucks, marketing and all the other operating costs listed above
Calculating profits for Spas
When we refer to profits, we usually refer to EBITDA (Earnings before interests, taxes, depreciation and amortization) as it represents the core profitability of the business, excluding things such as debt interests, non cash expenses and other non-core expenses.
In order to get to EBITDA, we use the following formula:
EBITDA = Revenue – COGS – Operating Expenses
We've included below the illustrative profit-and-loss of a spa (from our financial model template for spas).
Whilst EBITDA margin can reach 10-15% at scale depending on the business, Net Profit margin can go up to 5-10% for the most profitable businesses.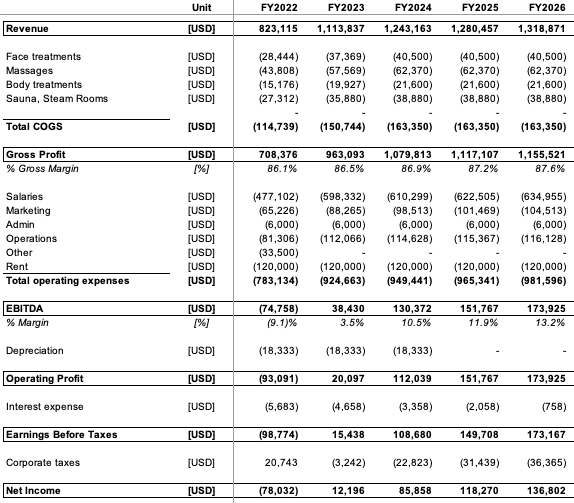 How to increase profits for a Spa?
There are various strategies you can adopt to increase the profitability of your spa business. Here are a few of them:
Loyalty program: Offering loyalty programs ensures the loyalty of your customers and increases their lifetime value
Online booking: Offering online booking using a booking management system can help you to increase bookings and reduce no-shows
Off-time promotions: Not every day of the week will be a busy day. Make sure that you run promotions for slow days to ensure a steady flow of customers
Cross-sell and upsell: Offering add-on services and high-profit services to your customers can increase your profits significantly. Make sure that you are training your employees to cross-sell and upsell
Introduce gift cards: Start selling gift cards to open a new source of revenue. Even if the gift card holders don't show up, you will have nothing to lose
Use social media: Consider using social media platforms to communicate with your clients on a personal level. This allows businesses to gain popularity through word of mouth
Use PPC ads: Social media and search engine PPC ads can help you to gain visibility and reach the relevant target audience
Google listing: List your spa business on Google My Business to ensure that people can quickly find your business during local online searches