With more than 1,800 locations, IHOP is undeniably one of the most popular pancake franchises. But IHOP's wide menu offers far more than just pancakes: waffles, sandwiches, burgers and more. As such, IHOP is a popular business amongst franchisees.
Unfortunately, IHOP isn't the most affordable franchise. With a $2 million price tag, the investment required to open a IHOP restaurant isn't for everyone.
Are the profits worth the investment cost? How much profits can you make with such a business?
In this article we're looking at IHOP from the perspective of its Franchise Disclosure Document. More importantly, we'll see whether or not you should invest in a IHOP franchise and why. Let's dive in!
IHOP franchises: key figures
| | |
| --- | --- |
| Franchise fee | $25,000 |
| Royalty fee | 4.5% |
| Marketing fee | 4.5% |
| Investment (mid-point) | $2,058,302 |
| Average annual sales | $1,553,311 |
| Investment to sales ratio | 0.8x |
| Investment payback* | 8.8 years (mediocre) |
| Minimum net worth | $1,500,000 |
| Minimum liquid capital | $500,000 |
* using 15% net profit margin
🔎 How does IHOP compare vs. other franchises? Check the ranking
What is IHOP?
IHOP (short for "International House of Pancakes") is an American chain restaurant that focuses on pancakes. It has locations in the Americas, the Middle East, and South Asia.
It was founded in 1958 by Jerry Lapin, Al Lapin, and Albert Kallis, and its first location was in Los Angeles, California.
IHOP serves mainly breakfast foods such as pancakes, waffles, French toast, and omelets. Also, it offers lunch and dinner menu items such as sandwiches, salads, and burgers.
The IHOP franchising journey began in 1960. It is operated by the International House of Pancakes, LLC, and is owned by Dine Brands Global, headquartered in Glendale, California.
It now has over 1,800 locations in the United States and around the world. The vast majority of IHOP restaurants are franchises (99%).
IHOP franchises: pros and cons
The following are some of the pros and cons of operating an IHOP franchise:
Pros
Solid franchise support: IHOP provides its franchisees with all the support they need to grow and succeed in the operations of their restaurants. It gives franchisees support in site selection assistance, restaurant design planning assistance, restaurant opening assistance, ongoing operations, and marketing consulting.
Financial assistance: The franchisor may offer to finance a portion of the initial fee under the purchase program. Also, in some exceptional cases, the franchisor may finance the entire initial franchise fee for its franchisees.
Global presence: With more than 1,600 units worldwide, IHOP is one of the fastest-growing franchises. This gives new franchisees great growth opportunities. As it continues exploring new markets, would-be franchisees can easily penetrate existing and new markets since the parent company already enjoys a huge customer following.
Brand popularity: The IHOP brand is well known for its award-winning breakfast pancakes, dinner, and lunch items. It offers delicious food and warm friendly services that give customers a great dining experience. Franchisees can market easily with fewer efforts as customers already know what the brand offers.
Training support: IHOP offers new franchisees extensive training to help them get started on the right foot. This includes restaurant operation skills training, brand standard operating practices, an IHOP-approved food safety certification program, ongoing training, and refresher courses.
Exclusive territory: In exceptional cases, the franchisor grants franchisees the right to operate a single restaurant at a specified location approved by the franchisor. The franchisor offers exclusive protection to franchisees who are committed to growth.
Cons
Competition: One drawback of IHOP is that it faces stiff competition from market leaders such as Waffle House and Denny's. This gives customers many options and makes an IHOP franchise less attractive to investors.
Limited lunch and dinner menus: The brand has a great breakfast menu but not dinner or lunch. This means that its competitors can offer customers better lunch and dinner options. Therefore, new franchisees may not have a competitive advantage in this segment.
No absentee ownership: The franchisor requires the franchisee to be actively involved in the day-to-day operations of the restaurant. Franchisees must also attend and complete the training program together with the appointed certified leaders. The IHOP does not provide passive investment opportunities and is quite demanding.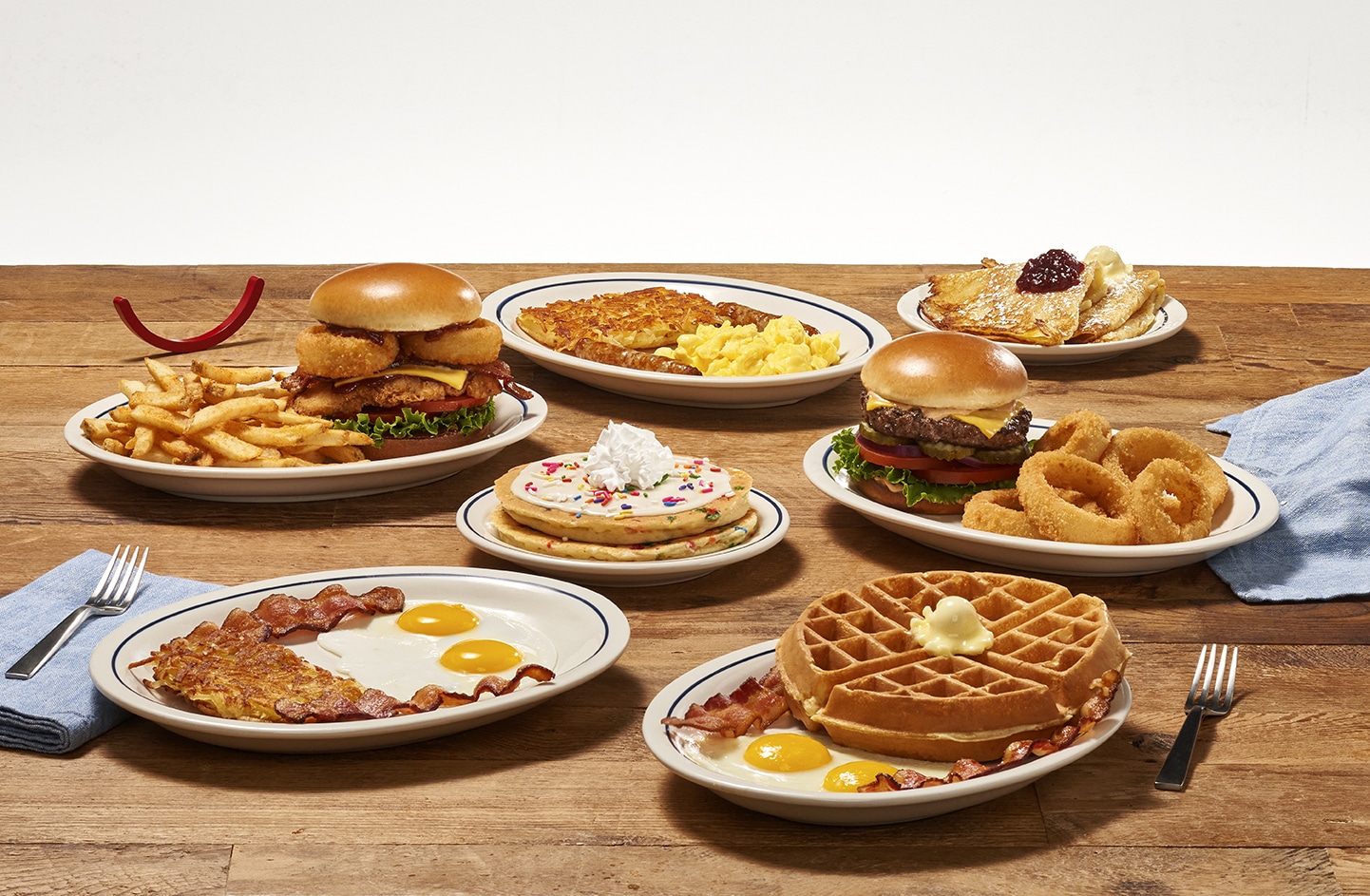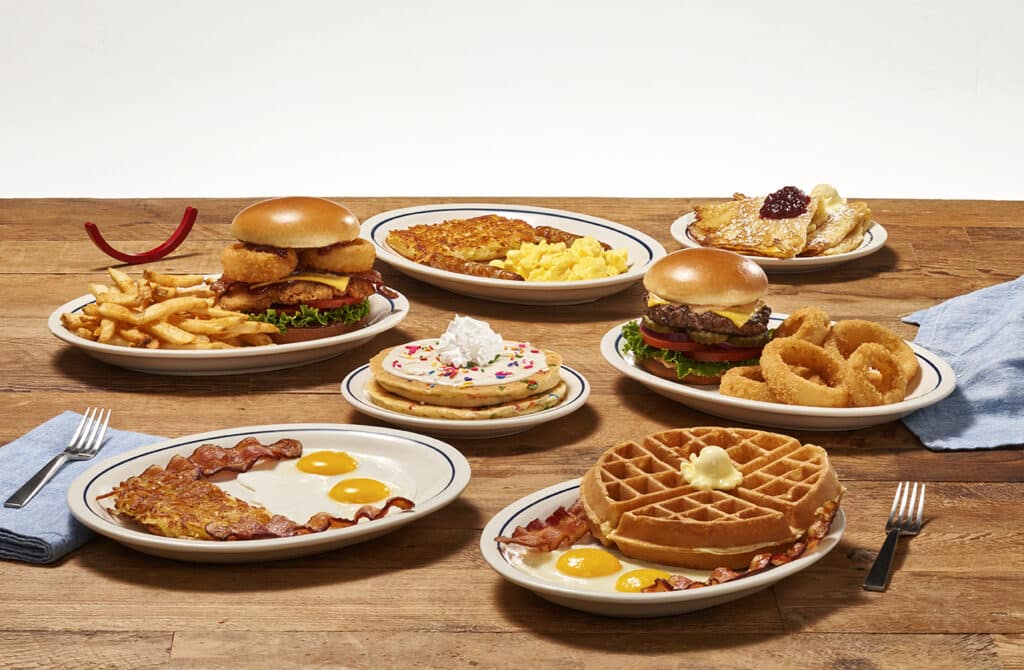 How much does a IHOP franchise cost?
You must invest around $2,058,302 on average to open a IHOP franchised restaurant.
The investment amount varies depending on your situation: it ranges between $690,654 and $3,425,950.
As for the investment, what are you paying for exactly? Well you are paying for a number of startup expenses. To be precise, you would pay:
Fees to IHOP: initial franchise fee, training expenses for you and your team, Mobile Device Management (MDM) fee for the hardware among others
Build-out costs: real estate, construction, equipment, signage, inventory, insurance, site approval costs, building, point of sale system, etc.
Preliminary operating expenses: opening training support fee, POS setup and software fees, pre-opening costs, additional funds for 3 months as working capital etc.
| | Low | High |
| --- | --- | --- |
| Fees to IHOP | $25,262 | $83,780 |
| Build-out costs | $601,700 | $3,101,700 |
| Preliminary operating expenses | $63,692 | $240,470 |
| Total investment | $690,654 | $3,425,950 |
Source: 2022 FDD
What's the turnover of a IHOP franchise?
On average, a IHOP franchise makes $1,553,311 in revenue per year. This is a +61% year-on-year increase vs. 2020 ($1,069,892) as the chain recovered from the COVID-19 pandemic.
We obtained this number by dividing the total franchisor (IHOP Franchisor LLC) revenue from royalty and franchise fees ($1.36 billion) by the number of franchise-owned restaurants it owns the rights of (876 as of 2021).
| | 2019 | 2020 | 2021 |
| --- | --- | --- | --- |
| Total franchisor revenue | $1.36 billion | $862 million | $1.13 billion |
| Number of franchises* | 876 | 806 | 697 |
| Revenue per franchise | $1,553,311 | $1,069,892 | $1,625,251 |
* franchises that opened after Sept. 2014 as per the FDD
How profitable is a IHOP franchise?
We have identified that IHOP franchises make $464,725 in profits per year. This represents a 30% adjusted EBITDA margin.
To estimate this number we used industry benchmarks for certain costs (COGS, labor, rent) as the Franchise Disclosure Document doesn't provide much information when it comes to costs, as for most franchises.
Keep in mind adjusted EBITDA doesn't include non-operating expenses like debt interest, taxes and other costs. As such, to estimate franchisees' profits we would need to deduct these expenses too (which we estimate at 15% of sales).
| Profit-and-loss | Amount ($) | As % of sales |
| --- | --- | --- |
| Sales | $1,553,311 | 100% |
| COGS | $(388,328) | 25%* |
| Labor | $(450,460) | 29%* |
| Rent | $(110,000) | 7% as per FDD |
| Royalty + marketing fees | $(139,798) | 9% as per FDD |
| Adjusted EBITDA | $464,725 | ~30% |
* industry average
Is a IHOP franchise a good investment?
To assess whether opening a IHOP franchise is a good investment, we must compare the profits to the upfront investment of $2,058,302 (average).
For profits, we use net profits instead of EBITDA as it includes all costs you must pay for. If we were to estimate net profits at 15% of sales, this would represent $232,950 net profits per year.
Now, by comparing this to the investment cost, we obtain a payback period of 8.8 years. This means that, on average, you would need to wait 9 years before you can reimburse your initial investment. Unfortunately, 9 years is long and, as such, IHOP isn't the best franchise investment from that perspective.
Yet, keep in mind this number is calculated based on the average performance of all IHOP franchises, and some costs are estimates. As such, your franchise may perform better vs. the average.
In order to find out how much you can make with your IHOP franchise and visualise metrics like breakeven, payback period and more, download our business plan below.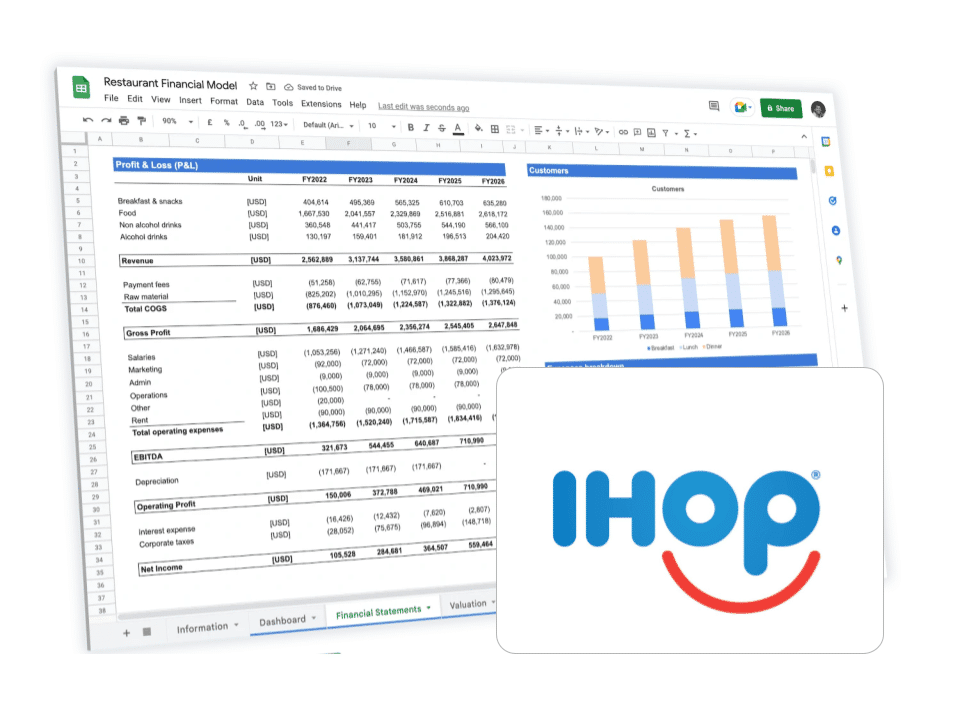 Download the IHOP business plan and get your franchise funded
Including a 5-year financial plan built with the latest Franchise Disclosure Document numbers
How does it compare vs. other franchises?
Franchise
Investment ($)
Sales ($)
S/I Ratio
Payback (years)
Min. net worth ($)
Min. liquid capital ($)
Chick-Fil-A
https://sharpsheets.io/blog/chick-fil-a-franchise-costs-profits/
Chicken
1,363,510
4,227,417
3.1
2.2
-
-
Dunkin' Donuts
https://sharpsheets.io/blog/dunkin-donuts-franchise-costs-profits/
Donuts
779,000
1,056,521
1.4
4.9
500,000
250,000
Domino's
https://sharpsheets.io/blog/dominos-franchise-profits-costs/
Pizza
398,725
1,286,428
3.2
3.9
250,000
75,000
Krispy Kreme
https://sharpsheets.io/blog/krispy-kreme-franchise-costs-profits/
Donuts
824,000
3,400,000
4.1
1.6
2,000,000
300,000
Little Caesars
https://sharpsheets.io/blog/little-caesars-franchise-costs-profits/
Pizza
1,022,850
798,113
0.8
8.5
350,000
150,000
Wingstop
https://sharpsheets.io/blog/wingstop-franchise-costs-profits/
Chicken
631,695
1,460,459
2.3
2.9
1,200,000
600,000
Steak 'n Shake
https://sharpsheets.io/blog/steak-n-shake-franchise-costs-profits/
Burger, Milshakes
815,626
1,346,332
1.7
4.0
1,500,000
500,000
Crumbl Cookies
https://sharpsheets.io/blog/crumbl-cookie-franchise-cost-profits/
Sweets
507,224
1,582,090
3.1
2.1
300,000
150,000
Taco Bell
https://sharpsheets.io/blog/taco-bell-franchise-costs-profits/
Mexican
462,413
1,650,000
3.6
1.9
1,500,000
750,000
Popeyes
https://sharpsheets.io/blog/popeyes-franchise-costs-profits/
Chicken
1,095,783
1,444,617
1.3
5.1
1,000,000
500,000
Smoothie King
https://sharpsheets.io/blog/smoothie-king-franchise-costs-profits/
Smoothie
688,108
573,269
0.8
8.0
300,000
100,000
Jersey Mike's
https://sharpsheets.io/blog/jersey-mikes-franchise-costs-profits/
Sandwich
574,323
1,220,586
2.1
4.7
300,000
100,000
Nothing Bundt Cakes
https://sharpsheets.io/blog/nothing-bundt-cakes-franchise-costs-profits/
Sweets
538,650
1,307,280
2.4
2.7
600,000
150,000
Jimmy John's
https://sharpsheets.io/blog/jimmy-johns-franchise-costs-profits/
Sandwich
513,650
874,845
1.7
3.9
300,000
80,000
Texas Roadhouse
https://sharpsheets.io/blog/texas-roadhouse-franchise-costs-profits/
Steakhouse
4,209,500
2,955,534
0.7
9.5
n.a.
200,000
Kung Fu Tea
https://sharpsheets.io/blog/kung-fu-tea-franchise-costs-profits/
Bubble tea
250,125
353,237
1.4
4.7
n.a.
25,000
Wendy's
https://sharpsheets.io/blog/wendys-franchise-cost-profits/
Burger
1,374,833
1,791,231
1.3
5.1
1,000,000
500,000
Burger King
https://sharpsheets.io/blog/burger-king-franchise-costs-profits/
Burger
1,242,950
1,215,970
1.0
6.8
1,500,000
500,000
Sonic Drive-In
https://sharpsheets.io/blog/sonic-drive-in-franchise-costs-profits/
Burger
1,467,083
1,617,000
1.1
6.0
1,000,000
500,000
Panera Bread
https://sharpsheets.io/blog/panera-bread-franchise-costs-profits/
Sandwich
2,290,500
2,599,432
1.1
5.9
7,500,000
3,000,000
Pizza Hut
https://sharpsheets.io/blog/pizza-hut-franchise-costs-profits/
Pizza
935,575
906,911
1.0
6.9
700,000
350,000
KFC
https://sharpsheets.io/blog/kfc-franchise-costs-profits/
Chicken
1,802,050
1,567,474
0.9
7.7
1,500,000
750,000
Arby's
https://sharpsheets.io/blog/arbys-franchise-costs-profits/
Sandwich
1,184,975
1,126,263
1.0
7.0
1,000,000
500,000
Dairy Queen
https://sharpsheets.io/blog/dairy-queen-franchise-costs-profits/
Ice Cream
1,404,220
1,143,180
0.8
8.2
750,000
400,000
Jack in the Box
https://sharpsheets.io/blog/jack-in-the-box-franchise-costs-profits/
Burger
2,195,800
1,755,503
0.8
12.5
1,000,000
250,000
Papa John's
https://sharpsheets.io/blog/papa-johns-franchise-costs-profits/
Pizza
353,695
1,101,127
3.1
2.1
750,000
250,000
Zaxby's
https://sharpsheets.io/blog/zaxbys-franchise-costs-profits/
Chicken
534,750
2,229,187
4.2
2.4
1,000,000
500,000
Hardee's
https://sharpsheets.io/blog/hardees-franchise-costs-profits/
Burger
1,759,000
1,147,975
0.7
10.2
1,000,000
300,000
Culver's
https://sharpsheets.io/blog/culvers-franchise-costs-profits/
Burger
4,044,500
3,051,762
0.8
8.8
2,000,000
350,000
Five Guys
https://sharpsheets.io/blog/five-guys-franchise-costs-profits/
Burger
511,225
1,203,366
2.4
2.8
500,000
250,000
Carl's Jr.
https://sharpsheets.io/blog/carls-jr-franchise-costs-profits/
Burger
1,860,335
1,419,516
0.8
8.7
1,000,000
500,000
Baskin-Robbins
https://sharpsheets.io/blog/baskin-robbins-franchise-costs-profits/
Ice Cream
465,100
316,815
0.7
9.8
250,000
125,000
IHOP
https://sharpsheets.io/blog/ihop-franchise-costs-profits/
Pancakes
2,058,302
1,553,311
0.8
8.8
1,500,000
500,000
Applebee's
https://sharpsheets.io/blog/applebees-franchise-costs-profits/
Casual American
5,137,966
2,356,965
0.5
14.5
1,000,000
500,000
Denny's
https://sharpsheets.io/blog/dennys-franchise-costs-profits/
Casual American
3,785,459
1,639,549
0.4
15.4
1,000,000
500,000
Papa Murphy's
https://sharpsheets.io/blog/papa-murphys-franchise-costs-profits/
Pizza
433,174
580,441
1.3
5.0
275,000
125,000
Auntie Anne's
https://sharpsheets.io/blog/auntie-annes-franchise-costs-profits/
Pretzels
229,692
343,135
1.5
5.6
300,000
100,000
Firehouse Subs
https://sharpsheets.io/blog/firehouse-subs-franchise-costs-profits/
Sandwich
613,186
888,356
1.4
4.6
350,000
100,000
Tropical Smoothie Cafe
https://sharpsheets.io/blog/tropical-smoothie-cafe-franchise-costs-profits/
Smoothie
430,500
961,969
2.2
3.0
350,000
125,000
Marco's Pizza
https://sharpsheets.io/blog/marcos-pizza-franchises-costs-profits/
Pizza
437,625
895,523
2.0
3.3
400,000
100,000
Cinnabon
https://sharpsheets.io/blog/cinnabon-franchises-costs-profits/
Sweets
276,062
394,897
1.4
5.8
300,000
120,000
Cold Stone Creamery
https://sharpsheets.io/blog/cold-stone-creamery-franchise-costs-profits/
Ice Cream
310,956
417,588
1.3
5.0
250,000
100,000
Jamba
https://sharpsheets.io/blog/jamba-franchise-costs-profits/
Smoothie
414,562
597,028
1.4
7.7
300,000
100,000
Church's Chicken
https://sharpsheets.io/blog/churchs-texas-chicken-fees-sales-costs/
Chicken
1,195,147
1,395,088
1.2
5.7
1,000,000
300,000
Moe's Southwest Grill
https://sharpsheets.io/blog/moes-southwest-grill-franchises-costs-profits/
Mexican
792,370
1,013,361
1.3
5.2
1,000,000
100,000
Tim Hortons
https://sharpsheets.io/blog/tim-hortons-franchises-costs-profits/
Coffee
1,242,750
1,188,240
1.0
7.0
500,000
100,000
Checkers & Rally's
https://sharpsheets.io/blog/checkers-franchises-profits-sales-costs/
Burger
837,847
1,039,773
1.2
5.4
750,000
250,000
Charleys Philly Steaks
https://sharpsheets.io/blog/charleys-philly-steaks-costs-profits/
Sandwich
509,806
786,233
1.5
4.3
500,000
100,000
Buffalo Wild Wings
https://sharpsheets.io/blog/buffalo-wild-wings-costs-profits/
Chicken
3,546,900
2,534,148
0.7
9.3
1,500,000
750,000
Rita's Ice
https://sharpsheets.io/blog/ritas-ice-franchise-costs-profits/
Ice Cream
215,839
248,340
1.2
5.8
300,000
100,000
A&W Restaurants
https://sharpsheets.io/blog/aw-restaurants-franchises-costs-profits/
Burger
786,750
851,212
1.1
6.2
350,000
150,000
Hungry Howie's Pizza
https://sharpsheets.io/blog/hungry-howies-pizza-franchise-costs-profits/
Pizza
419,682
806,899
1.9
3.5
750,000
200,000
Bojangles
https://sharpsheets.io/blog/bojangles-franchise-costs-profits/
Chicken
1,658,000
1,801,057
1.1
6.1
1,000,000
500,000
McAlister's Deli
https://sharpsheets.io/blog/mcalister-deli-franchise-costs-profits/
Sandwich
1,424,963
1,865,861
1.3
5.1
1,000,000
500,000
Round Table Pizza
https://sharpsheets.io/blog/round-table-pizza-franchise-costs-profits/
Pizza
783,250
1,037,816
1.3
5.0
500,000
200,000
Qdoba Mexican Eats
https://sharpsheets.io/blog/qdoba-mexican-eats-franchise-costs-profits/
Mexican
659,250
972,962
1.5
4.5
Freddy's
https://sharpsheets.io/blog/freddys-franchise-costs-profits/
Burger
1,453,040
1,792,929
1.2
5.4
1,000,000
400,000
Taco John's
https://sharpsheets.io/blog/taco-johns-franchise-costs-profits/
Mexican
1,119,000
1,124,980
1.0
6.6
1,000,000
400,000
Scooter's Coffee
https://sharpsheets.io/blog/scooters-coffee-franchise-costs-profits/
Coffee
1,143,250
797,101
0.7
9.6
500,000
200,000
Einstein Bros. Bagels
https://sharpsheets.io/blog/einstein-bros-bagels-franchise-costs-profits/
Sandwich
750,075
885,011
1.2
5.7
1,000,000
536,500
Great American Cookies
https://sharpsheets.io/blog/great-american-cookies-franchise-costs-profits/
Sweets
385,275
452,771
1.2
5.7
250,000
100,000
Wienerschnitzel
https://sharpsheets.io/blog/wienerschnitzel-franchise-costs-profits/
Hot dogs
873,300
880,980
1.0
6.6
600,000
250,000
Blaze Pizza
https://sharpsheets.io/blog/blaze-pizza-franchise-costs-profits/
Pizza
865,450
1,096,432
1.3
7.9
500,000
300,000
Wetzel's Pretzels
https://sharpsheets.io/blog/wetzels-pretzels-franchise-costs-profits/
Pretzels
377,571
748,857
2.0
3.4
300,000
50,000
Pizza Ranch
https://sharpsheets.io/blog/pizza-ranch-franchise-costs-profits/
Pizza
3,268,300
1,174,088
0.4
18.6
1,000,000
297,000
Del Taco
https://sharpsheets.io/blog/del-taco-franchise-costs-profits/
Mexican
1,406,850
1,345,341
1.0
7.0
2,000,000
500,000
Schlotzsky's
https://sharpsheets.io/blog/schlotzskys-franchises-costs-profits/
Healthy, Salads
1,102,933
1,053,333
0.3
22.2
1,000,000
300,000
Captain D's
https://sharpsheets.io/blog/captain-ds-franchise-profits-costs/
Seafood
982,778
1,067,816
0.4
19.0
1,000,000
350,000
Biggby Coffee
https://sharpsheets.io/blog/biggby-coffee-franchise-profits-costs/
Coffee
310,575
648,352
0.3
20.0
300,000
100,000
Which Wich
https://sharpsheets.io/blog/which-wich-franchises-profits-costs/
Sandwich
330,375
281,886
0.3
22.2
500,000
150,000
Marble Slab Creamery
https://sharpsheets.io/blog/marble-slab-franchises-costs-profits/
Ice Cream
407,360
251,052
0.4
16.7
250,000
100,000
Mountain Mike's Pizza
https://sharpsheets.io/blog/mountain-mikes-franchise-profits-costs/
Pizza
410,900
865,713
0.3
20.0
300,000
100,000
Huddle House
https://sharpsheets.io/blog/huddle-house-franchise-cost-profits/
Diner
988,743
712,428
0.5
13.3
600,000
300,000
L&L Hawaiian Barbecue
https://sharpsheets.io/blog/ll-hawaiian-barbecue-franchises-costs-profits/
BBQ
334,350
612,921
0.3
33.3
500,000
150,000
Chicken Salad Chick
https://sharpsheets.io/blog/chicken-salad-chick-franchises-costs-profits/
Healthy, Salads
651,000
1,202,020
0.3
20.0
750,000
250,000
Golden Chick
https://sharpsheets.io/blog/golden-chick-franchises-costs-profits/
Chicken
362,975
917,609
2.5
2.6
2,000,000
425,000
Perkins
https://sharpsheets.io/blog/perkins-franchise-costs-profits/
Diner
1,922,728
1,729,246
0.9
7.4
1,500,000
500,000
Waba Grill
https://sharpsheets.io/blog/waba-grill-franchises-costs-profits/
Teryaki
454,000
466,536
1.0
6.5
1,000,000
250,000
Bruster's Ice Cream
https://sharpsheets.io/blog/brusters-franchises-profits-costs/
Ice Cream
663,925
466,696
0.7
9.5
375,000
150,000