Jack in the Box Franchise Profits vs. $2.2M Cost (2023)
This article was updated with the 2023 Franchise Disclosure Document
With over 2,100 stores across the US, Jack in the Box are very popular fast food franchises. But with an investment north of $2 million, it isn't the most affordable restaurant franchise either.
Should you start a Jack in the Box franchise? Are the profits worth the initial investment?
In this article we're looking at how much profits you can make with such a business, how much it actually costs and, more importantly, whether you should invest in a Jack in the Box franchise. Let's dive in!
Key stats
| | |
| --- | --- |
| Franchise fee | $50,000 |
| Royalty fee | 5.0% |
| Marketing fee | 5.0% |
| Investment (mid-point) | $2,264,000 |
| Average sales | $1,797,000 |
| Sales to investment ratio | 0.8x |
| Payback period | [franchise_value_investment_payback] |
| Minimum net worth | $1,000,000 |
| Minimum liquid capital | $250,000 |
Source: Franchise Disclosure Document 2023
Find the best franchise
Compare Jack In The Box vs. 1,000+ franchises on franchiseindx.com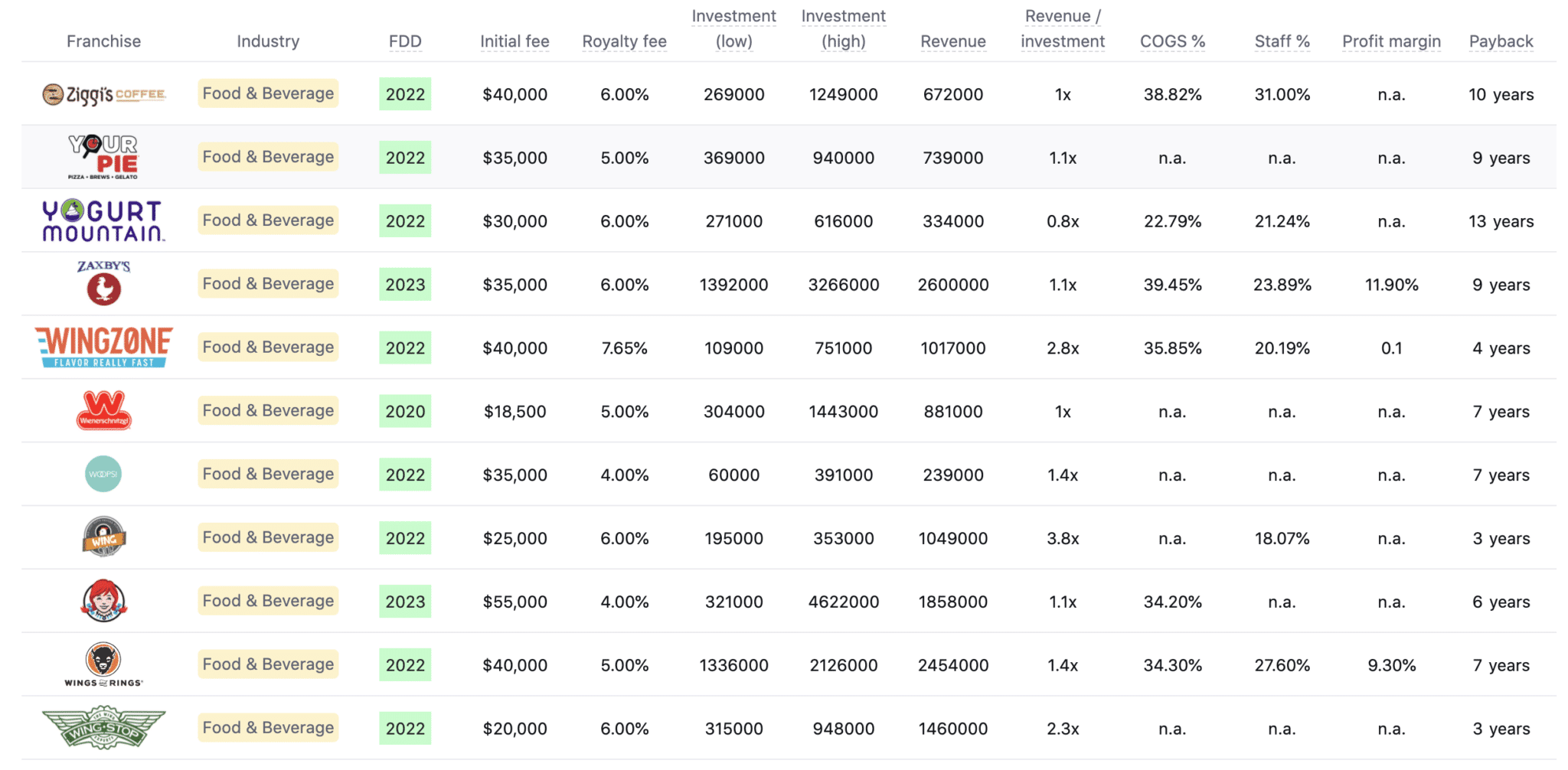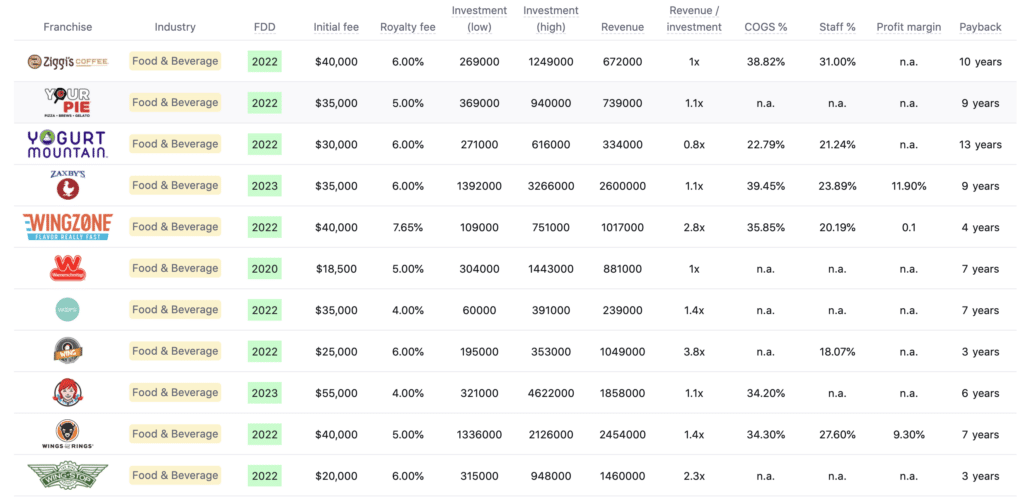 About Jack in the Box
Jack in the Box is an American fast food restaurant chain known for its signature "Jumbo Jack" burger and a waffle breakfast sandwich.
Headquartered in San Diego, California Jack in the Box was founded in 1951 by Robert O. Peterson.
It serves a variety of chicken tenders and French fries. Also, it offers hamburgers, cheeseburger sandwiches, and international-themed foods such as tacos and egg rolls.
Jack in the Box began franchising in 1982 under the brand name Jack in the Box, Inc. Today, it has grown steadily and has more than 2,100 stores in the US and globally today. The vast majority of these stores are franchise-owned (1,940 in 2021).
Jack in the Box franchises: pros and cons
Before starting a Jack in the Box franchise, it is important to know its advantages and disadvantages.
Pros
New market potential: The chain is fast growing in the U.S. and globally. Franchisees are offered opportunities in potentially growing markets and locations. For instance, would-be franchisees can access 3,750 potential locations in new and existing markets in the US. It also offers incentives for franchisees who wish to operate multiple unit stores.
Digital marketing: Jack in the Box encourages entrepreneurs to think outside the box. It has adopted online ordering through its mobile app. This offers customers efficiency and rewards loyalty.
Innovative menu: Jack in the Box is well known for its bold and varied menu. They have updated their menu to meet customer tastes and trends, giving them quality and diversity. For instance, their best-selling products are the Sourdough Jack and Jumbo Jack, along with tacos, salads, and chicken sandwiches, as well as fried rice and eggrolls.
Convenience: The chain emphasizes its drive-thru experience for new franchisees to implement in establishing new restaurants. It also provides a 24/7 breakfast and menu, which ensures customers grab their favorite food at any time, day or night. This convenience sets them apart from their competitors and appeals to a large number of customers.
Excellent corporate support: The franchisor's assistance to its franchisees is critical for their success. As a result, Jack in the Box provides solid support to new franchises in their operations. Franchisees get everything to help them grow and become profitable—from the research and development of the restaurants to operations, effective technology systems, marketing, and 24/7 desk support.
Financial assistance: In some instances, Jack in the Box offers franchisees financial assistance. This is in the form of "built-to-suit" arrangements to assist franchises in constructing their restaurants. They may also offer a loan of $150,000 at a zero-interest rate towards development costs.
Cons
Intense labor requirements. The chain restaurants run on a 24/7 service system. This, although it is an efficient system, can be very demanding for the franchisees. They need to incur extra costs as well as staffing and training requirements to operate 24 hours a day.
Unhealthy menu: Despite having a wide variety and an innovative menu, Jack in the Box food may not be that healthy. Some of its menu items contain a lot of calories, which is a drawback for customers looking for healthy eating options.
Competition: Jack in the Box faces some stiff competition from top leaders like Burger King, McDonald's, and Wendy's. In addition, changing customer tastes and eating trends affect franchisees' growth and profitability.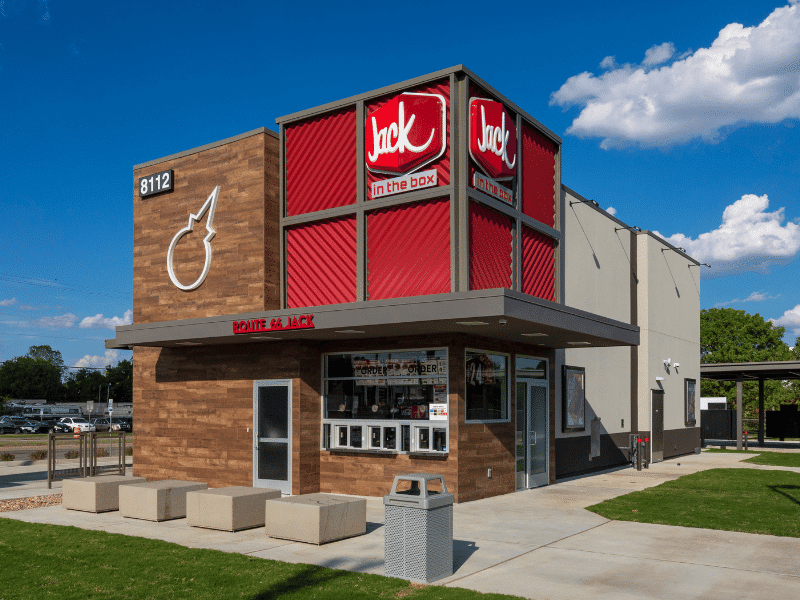 How much does a Jack in the Box franchise cost?
You need to invest on average $2,264,000 to start a Jack in the Box franchise.
The investment amount is an estimated average that can vary based on several factors (location, current market price, etc.). The investment ranges from $1,765,500 up to $2,761,600.
In addition to the initial franchise fee of $50,000, the investment cost should cover all the expenses below:
Formation costs are those costs required before starting the operation of the business; for example, fees for trade area survey analysis, architect fee, environmental assessment, on-site improvements, building improvements, furniture, equipment, pre-opening training, uniforms, business licenses, etc.
Operating expenses are those costs which needed in operating the business; for example, Initial inventory, additional funds for the first 3 months as working capital, etc.
| Type of Expenditure | Investment amount |
| --- | --- |
| Initial franchise fee | $50,000 |
| Formation costs | $1,537,000 – $2,230,000 |
| Operating expenses | $178,500 – $ 481,600 |
| Total | $1,765,500 – $2,761,600 |
Source: Franchise Disclosure Document 2023
Find the best franchise
Compare Jack In The Box vs. 1,000+ franchises on franchiseindx.com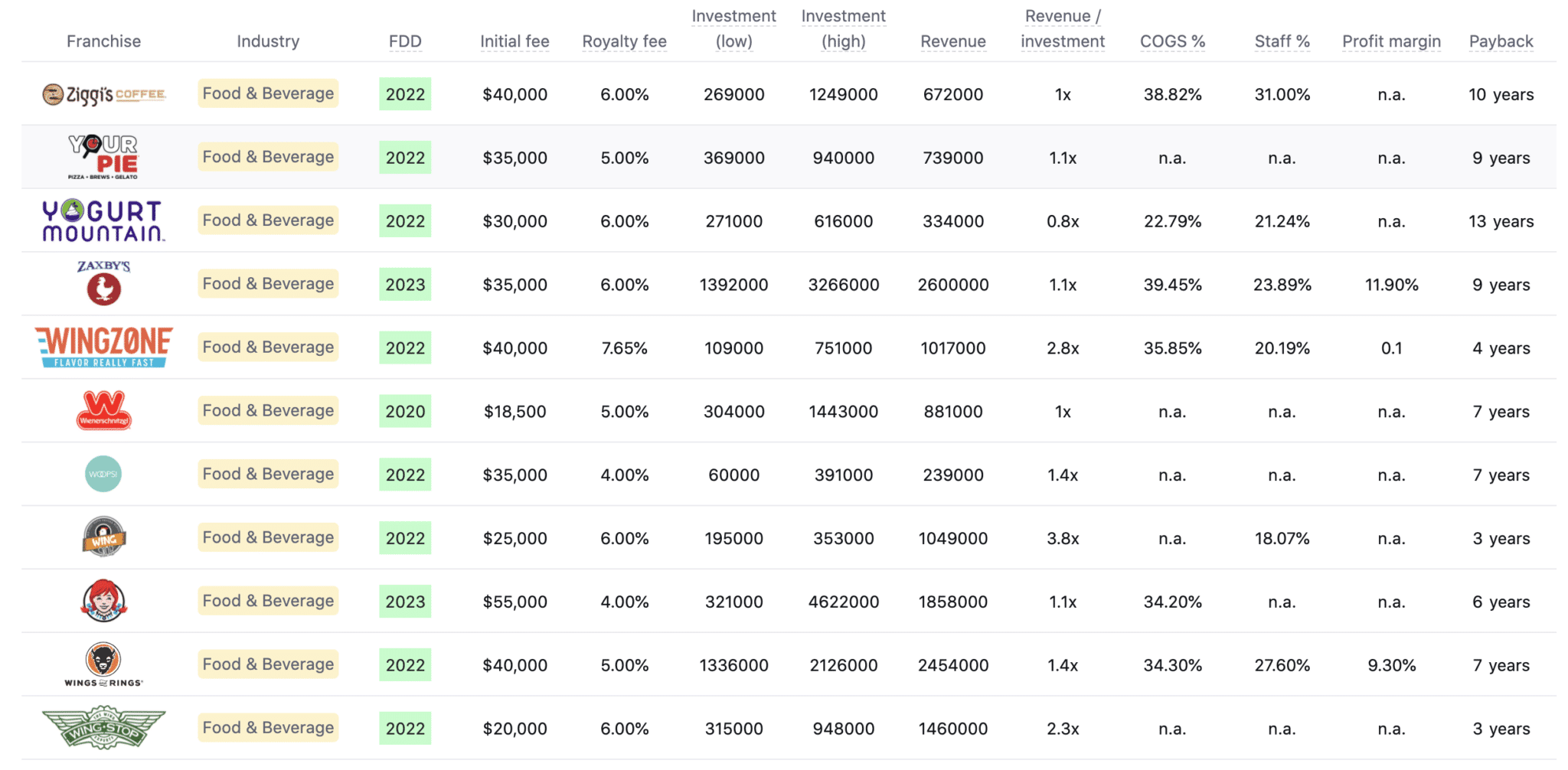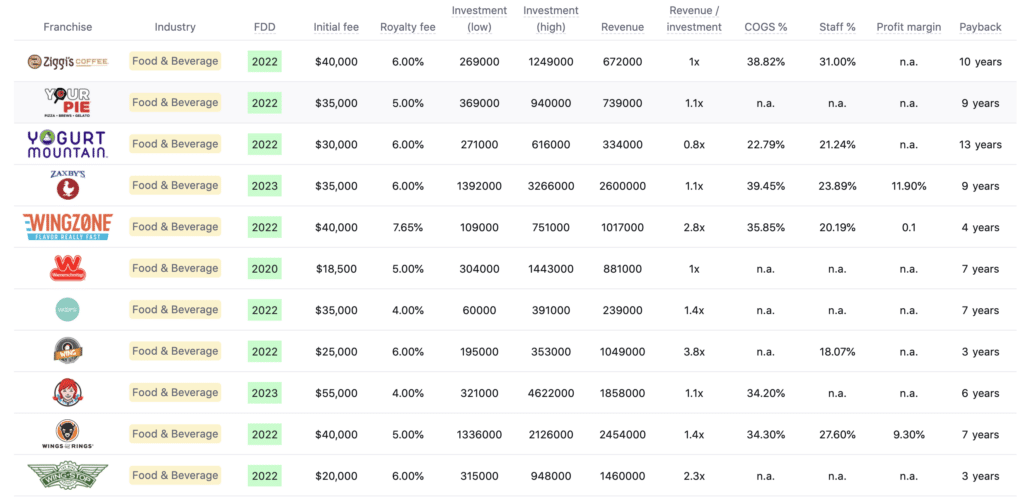 How much can you make with a Jack in the Box franchise?
On average, Jack in the Box franchises make $1,797,000 in sales in a year. This amount is the annual median sales of 1,940 franchises operating in 2022 in the US.
Here's the breakdown of the 1,940 franchise-owned restaurants:

Revenue per franchise is steadily growng over the past 3 years. (+2% revenue growth in 2022 vs 2021)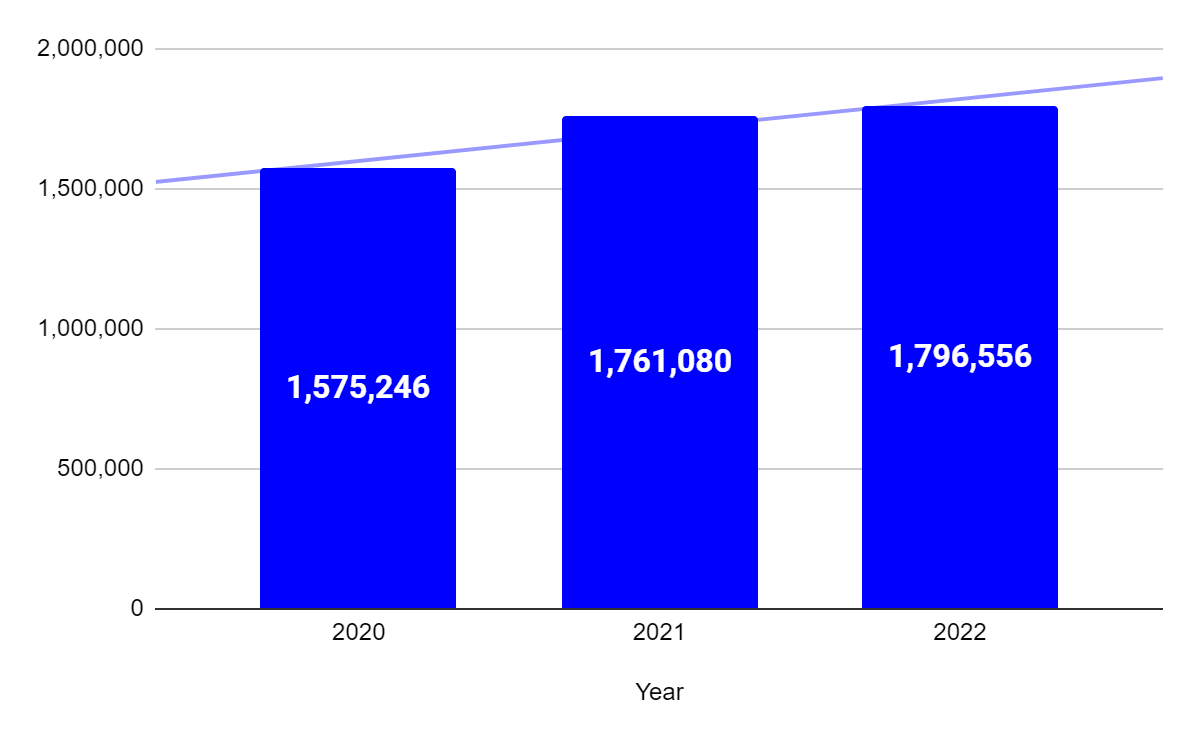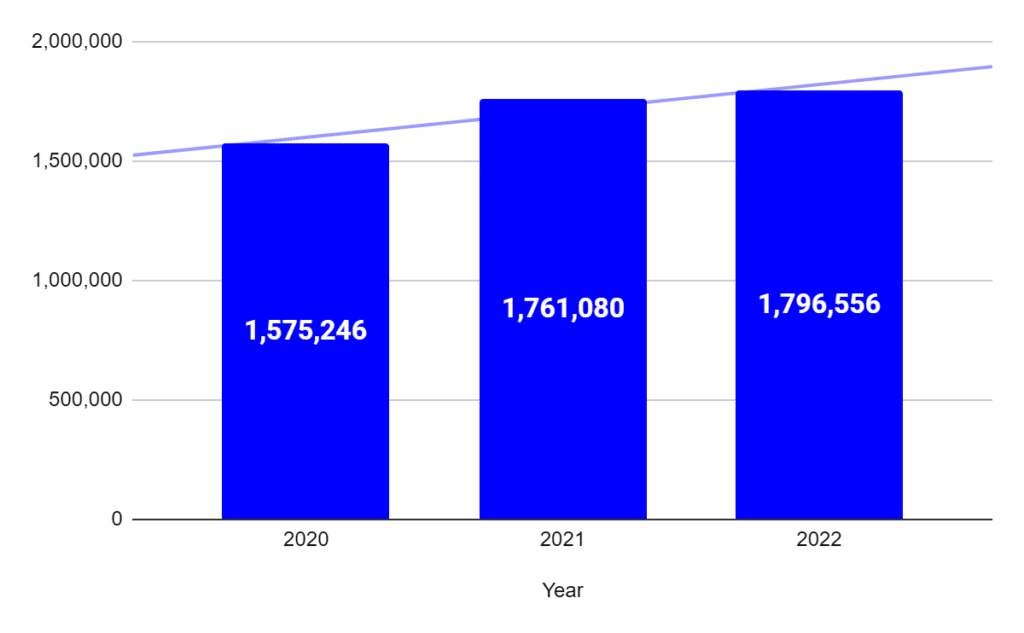 How profitable is a Jack in the Box franchise?
If you're considering opening a Jack in the Box franchise restaurant, then you're in luck. Unlike most other franchises, the franchisor discloses a lot of helpful financial information. For example, Jack in the Box provides a detailed profit-and-loss for all its 1,940 franchise stores which we have summarized below.
As per the 2023 FDD the average Jack in the Box franchise makes $128,000 in profits per year (7% EBITDA margin).
| Profit and loss | $ | % Sales |
| --- | --- | --- |
| Sales | 1,796,556 | 100% |
| COGS | 535,374 | 29.8% |
| Labor costs | 547,950 | 30.5% |
| Advertising | 91,624 | 5.1% |
| Royalty | 89,828 | 5.0% |
| Utilities | 55,693 | 3.1% |
| Occupancy | 211,994 | 11.8% |
| Other costs | 136,538 | 7.6% |
| EBITDA | 127,555 | 7.10% |
Source: Franchise Disclosure Document 2023
Is a Jack in the Box franchise a good investment?
Now, if we compare profits to the initial investment, we can easily calculate the payback period: the time it takes for a franchisee to reimburse her/his investment.
As per the FDD and our estimates, Jack in the Box franchises have a 12-15 years payback which isn't a great number.
Think about it, you would have to wait 12 years to repay the initial investment you funded (with investors or a bank) to start the business. That's more than the average for restaurant franchises (7-8 years).
Yet, note that this is based on the average of all Jack in the Box franchises. Therefore, your restaurant may be more profitable than the average, and a better investment. In any case, before you apply we recommend you look at your financial projections to find out what's your payback period.
Find the best franchise
Compare Jack In The Box vs. 1,000+ franchises on franchiseindx.com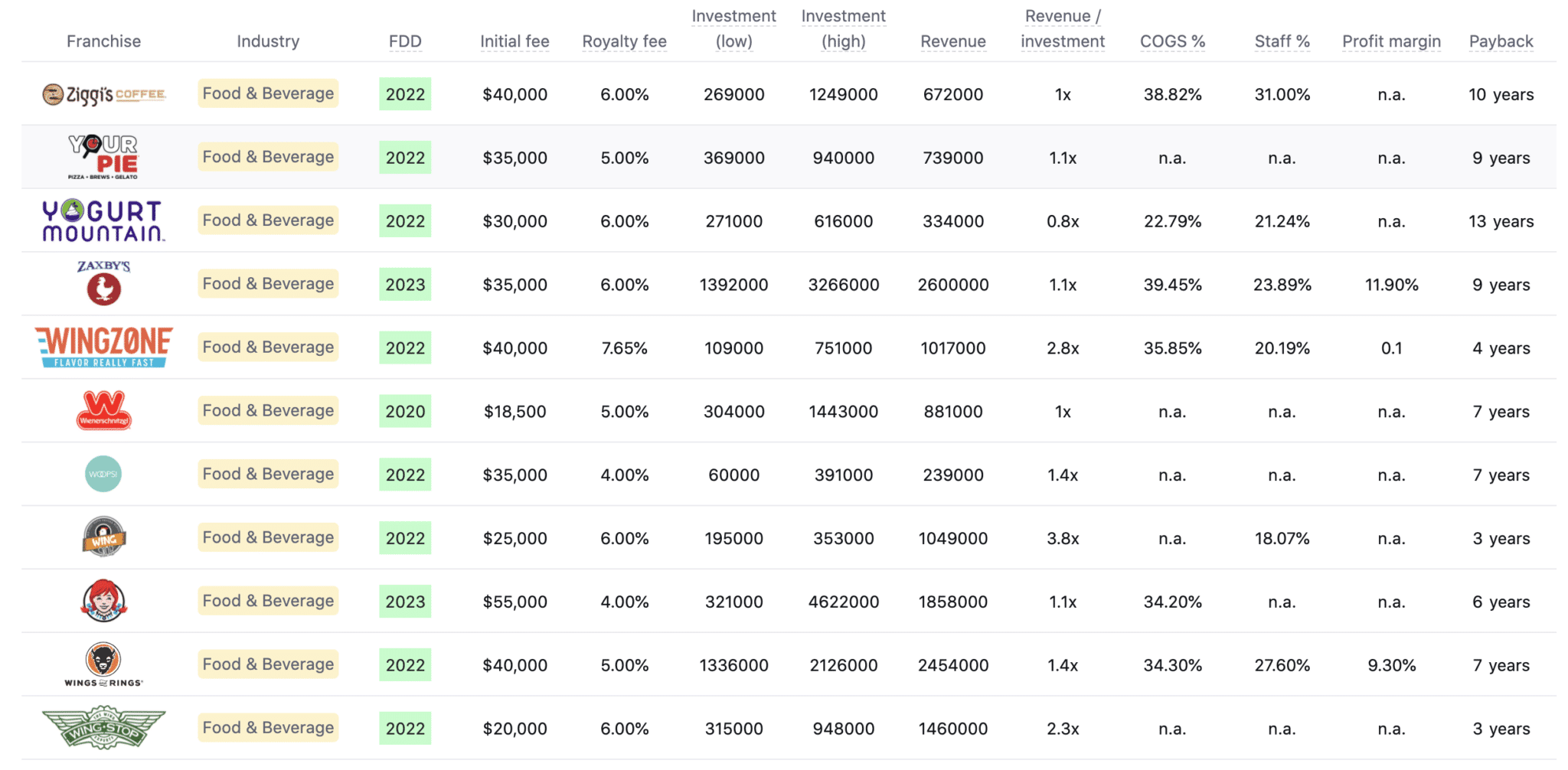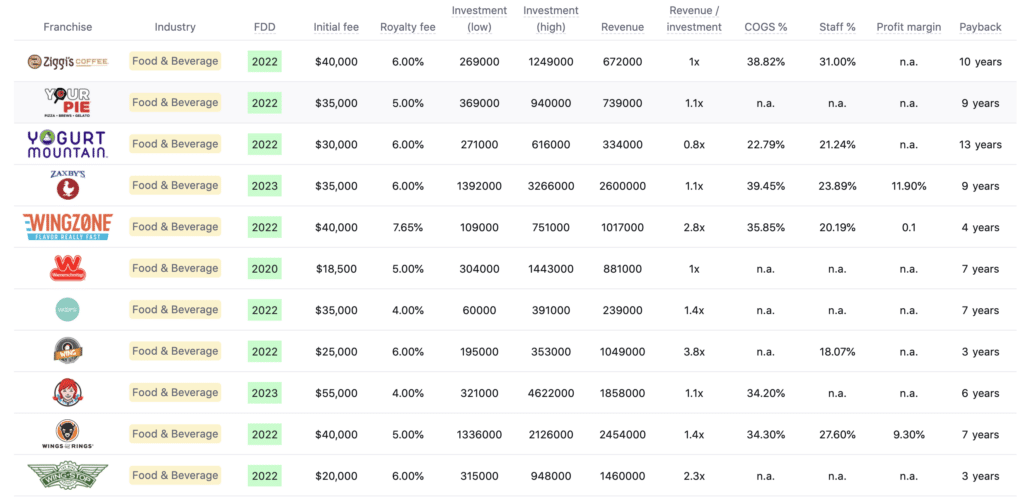 Disclaimer
Disclaimer: This content has been made for informational and educational purposes only. We do not make any representation or warranties with respect to the accuracy, applicability, fitness, or completeness of the information presented in the article. You should not construe any such information or other material as legal, tax, investment, financial, or other professional advice. Nothing contained in this article constitutes a solicitation, recommendation, endorsement, advertisement, or offer to buy or sell any franchises, securities, or other financial instruments in this or in any other jurisdiction in which such solicitation or offer would be unlawful under the franchise and/or securities laws of such jurisdiction.
All content in this article is information of a general nature and does not address the detailed circumstances of any particular individual or entity. Nothing in the article constitutes professional and/or financial and/or legal advice, nor does any information in the article constitute a comprehensive or complete statement of the matters discussed or the law relating thereto. You alone assume the sole responsibility of evaluating the merits and risks associated with the use of any information or other content in this article before making any decisions based on such information or other content.