KFC Franchise AUV, Costs & Profits (2023)

This article was updated with the 2023 Franchise Disclosure Document
KFC needs no introduction: with 5,200+ restaurants across the US alone, and 145 countries worldwide, no wonder that KFC is a very popular franchise.
With an Average Unit Volume (AUV) of $1,644,000 a KFC restaurant may sound like a a very lucrative business. But what about profits? Does the hype justify the cost? Should you invest in a KFC franchise as a franchisee?
In this article we'll look at how much it costs to open a KFC franchise in the US, how much profits you can make with this business and whether this is actually a good investment. Let's find out!
Key stats
| | |
| --- | --- |
| Franchise fee | $45,000 |
| Royalty fee | 5.0% |
| Marketing fee | 4.5% |
| Investment (mid-point) | $2,300,000 |
| Average sales | $1,644,000 |
| Sales to investment ratio | 0.7x |
| Payback period | [franchise_value_investment_payback] |
| Minimum net worth | $1,500,000 |
| Minimum liquid capital | $750,000 |
Source: Franchise Disclosure Document 2023
About KFC
KFC is a leading international American fast-food restaurant chain with 5,200 stores in the U.S. and more than 145 countries worldwide.
Headquartered in Louisville, Kentucky, KFC was founded in 1930 by Colonel Harland Sanders and known then as Kentucky Fried Chicken. It adopted the abbreviated, iconic name, KFC in 1991.
Its original product was pressure-fried chicken pieces, seasoned with the Sanders signature recipe of "11 herbs and spices."
Today, it serves fried chicken and other chicken products such as chicken fillets, sandwiches, and wraps. It also offers salads and side dishes such as French fries and coleslaw, desserts, and soft drinks.
The first KFC franchise opened in Utah in 1952 and has never stopped since then. Its parent company is Yum! Brands that also own Pizza Hut and Taco Bell.
Today, KFC has over 25,000 restaurants and stores in over 145 countries globally, with more than 5,200 units in the US alone. It is the second-largest fast-food chain after McDonald's.
KFC franchise pros and cons
Before starting a KFC franchise, you need to know its advantages and disadvantages.
Pros
Global presence: The KFC brand is almost everywhere you go. There is no city you can walk around and never come across a KFC store on one of the streets. This is good news for would-be franchisees. You are guaranteed a ready market.
Brand recognition: What else can an investor wish for than a brand that is recognized globally? That is what the KFC brand offers. Customers will automatically recognize and visit newly opened restaurants to enjoy the trademark KFC brand's good-tasting chicken.
Comprehensive training: KFC offers extensive onboarding and training. If you're looking for a franchise where you can start immediately, KFC does that. It takes you only 9 weeks to complete, and you can start operating even before completing it. Their training will teach you everything you need to know to become a valuable and profitable KFC franchisee serving the best crispy and tasty fried chicken.
Solid business support: Another big feature you'll love about the KFC franchise is its support for new franchisees. They offer new franchisees support in establishing and designing the restaurant. In addition, you are guided on how to operate the business, market, and advertise your products.
Proven expertise in the industry: For almost a century now, KFC has been in the spotlight as the world leader in tasty fried chicken. This is because, since its inception, the chain store has developed its brand following its reliable recipe and tradition. KFC is known to excel and do well in this industry, giving new franchisees a proven model for success.
Growth potential: KFC has grown steadily over the years. The brand is strong and has a huge customer following worldwide. It boasts millions of customers and offers franchisees great opportunities for expanding their businesses.
Reliability: Another benefit of operating a KFC franchise is reliability. It is estimated that KFC serves over 12 million customers in its restaurants worldwide every single day. This offers new franchisees the comfort of investing in a trusted company that guarantees them growth and profitability.
Cons
Expensive: Starting a KFC franchise is not cheap. You need at least a franchise fee of $45,000 and $750,000 in liquid capital. This is quite high, especially if you're new to the franchising business. Also, you'll have to pay royalties as long as you operate a KFC franchise.
No financing for new franchises: KFC offers optional financing to only minority groups. This may be a deterrent to potential franchisees given that the initial investment fee to start a KFC franchise is quite hefty.
Not a passive investment: KFC franchises require new franchisees to be fully committed to the operations of their restaurants. You can't run this as a passive investment. It needs a lot of commitment and team-leadership skills if you operate a multi-unit franchise.
How much does a KFC franchise cost?
If you are willing to open a new KFC outlet, you must invest $2,300,000 on average. This investment amount includes the initial franchise fee of $45,000.
The investment cost varies depending on whether you are going to build a new outlet or remodelling a existing outlet.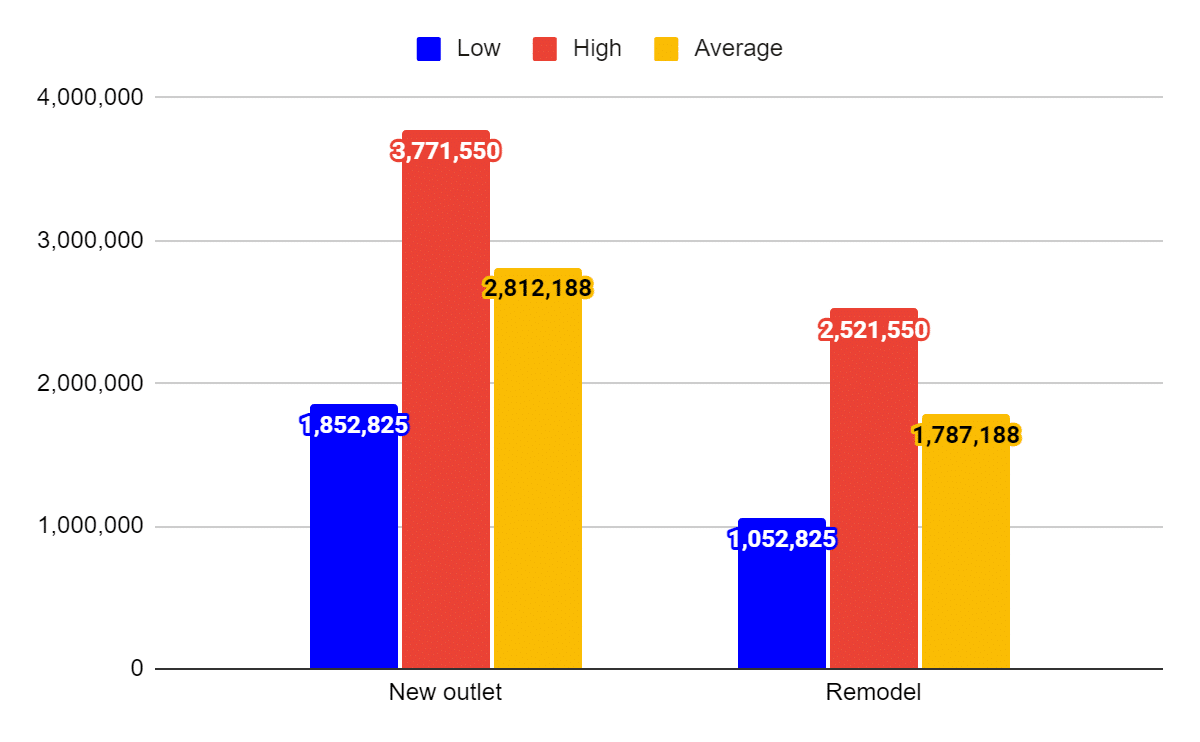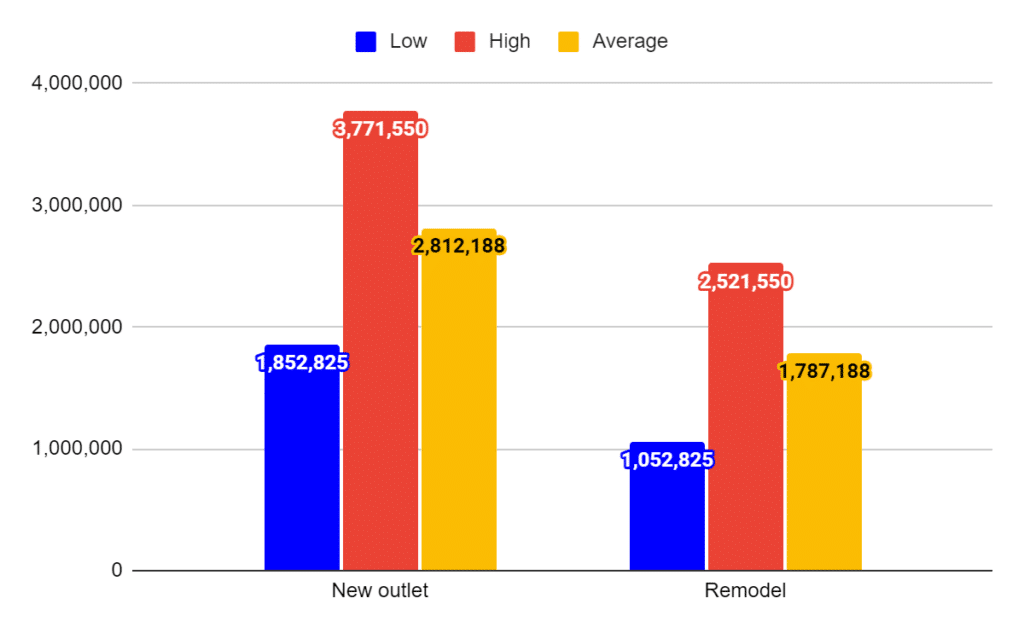 Here's the complete breakdown of the cost you will pay:
| Type of Expenditure | Low | High |
| --- | --- | --- |
| Initial Franchise Fee | $45,000 | $45,000 |
| Formation Costs | $1,735,575 | $3,626,500 |
| Grand Opening | $5,000 | $5,000 |
| Operating Costs | $67,250 | $95,050 |
| Total | $1,852,825 | $3,771,550 |
Source: Franchise Disclosure Document 2023
What is the turnover of a KFC franchise?
An average new KFC franchise makes $1,644,000 in sales per year.
The amount is the average annual median sales of all new outlets. According to the latest FDD, a ground up outlet makes more sales than an inline/endcap outlet.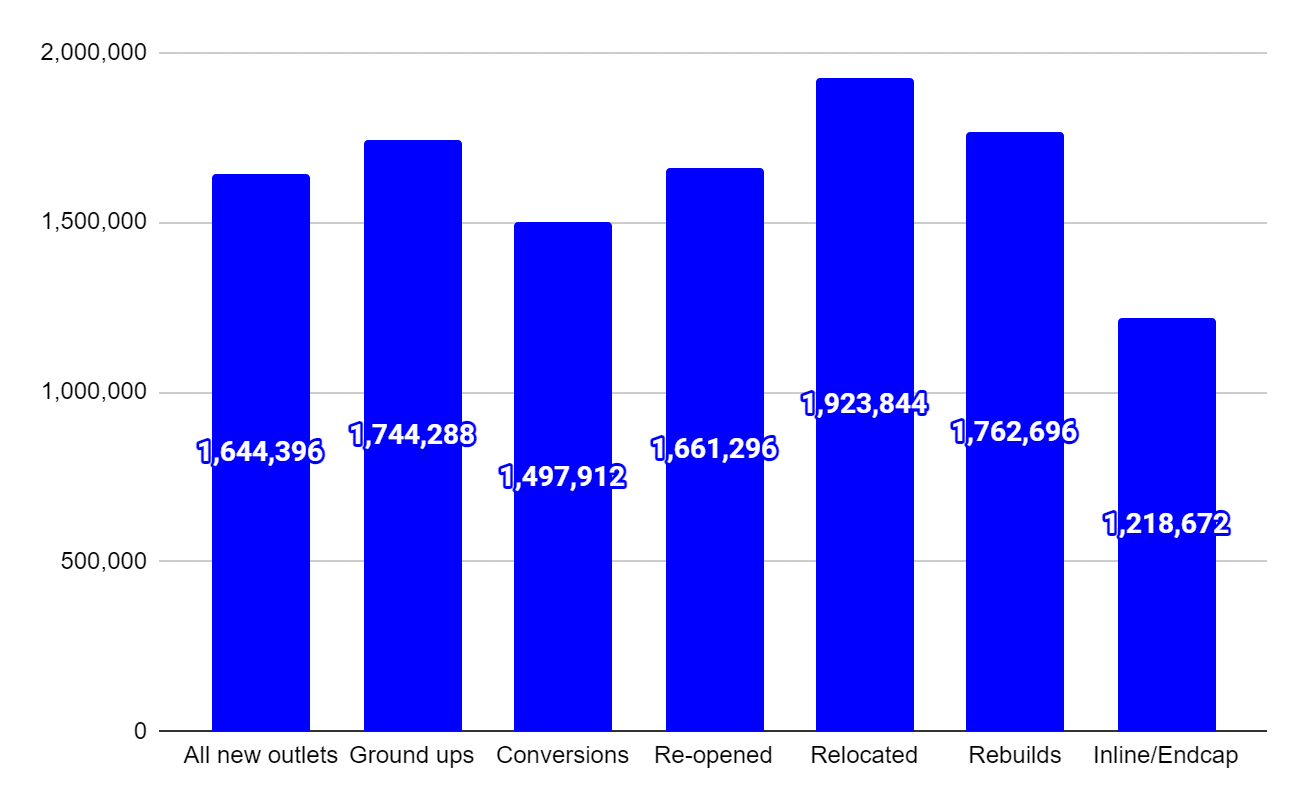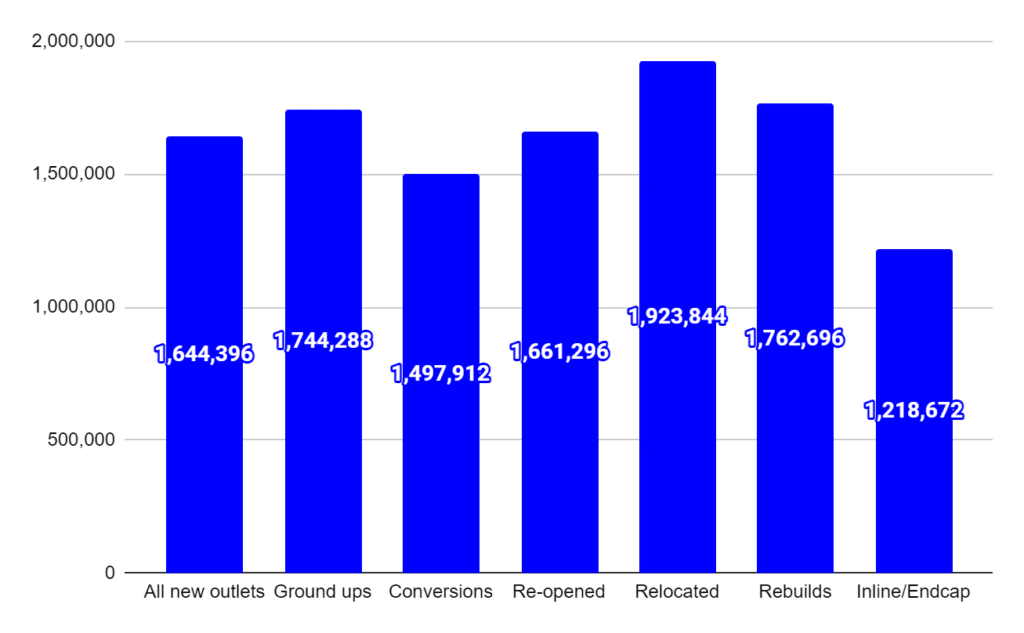 How profitable is a KFC franchise?
What's great about franchising with KFC is the level of detail they provide in their Franchise Disclosure Document. Indeed, unlike most other franchises, KFC does give a lot of information about the financial performance of its franchised restaurants.
On average, a KFC franchisee makes $122,000 in profits per year (7% EBITDA margin).
Unfortunately, 7% EBITDA margin (again, these are our estimates) is on the lower end of the spectrum for restaurant franchises. Even though these are estimates, keep in mind COGS, labor costs and royalties (that come from the FDD) are higher than average.
| Profit and loss | Amount | % Sales |
| --- | --- | --- |
| Sales | $1,644,396 | 100% |
| COGS | $(493,319) | 30% |
| Gross Profit | $1,151,077 | 70% |
| Labor | $(527,851) | 32% |
| Marketing and royalty costs | $(156,218) | 10% |
| Occupancy | $(147,996) | 9% |
| Other OpEx | $(197,328) | 12% |
| EBITDA | $121,685 | 7% |
Source: Franchise Disclosure Document 2023
Is a KFC franchise a good investment?
In order for us to assess whether KFC actually is a good investment from a financial perspective, we need to compare the profits to the initial investment cost of $2,300,000. That's what we call the payback period: the time it takes to recoup the original investment.
As per our analysis, a KFC franchise has a 9 years payback, which is average. It would take you on average almost 9 years to reimburse your initial investment.
So, on these grounds, it's fair to say that a KFC franchise is good investment, even though not the best in the restaurant franchise industry. But again, note that these numbers are based on the average of all the restaurants in the US as disclosed in the FDD. As such, your restaurant may perform better than others.
Disclaimer
Disclaimer: This content has been made for informational and educational purposes only. We do not make any representation or warranties with respect to the accuracy, applicability, fitness, or completeness of the information presented in the article. You should not construe any such information or other material as legal, tax, investment, financial, or other professional advice. Nothing contained in this article constitutes a solicitation, recommendation, endorsement, advertisement, or offer to buy or sell any franchises, securities, or other financial instruments in this or in any other jurisdiction in which such solicitation or offer would be unlawful under the franchise and/or securities laws of such jurisdiction.
All content in this article is information of a general nature and does not address the detailed circumstances of any particular individual or entity. Nothing in the article constitutes professional and/or financial and/or legal advice, nor does any information in the article constitute a comprehensive or complete statement of the matters discussed or the law relating thereto. You alone assume the sole responsibility of evaluating the merits and risks associated with the use of any information or other content in this article before making any decisions based on such information or other content.