Palm Beach Tan Franchise: Profits Worth the $817K Cost?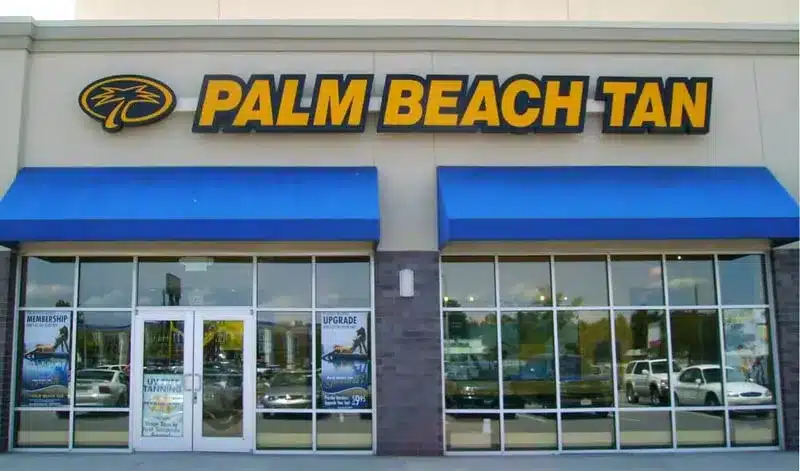 This article was updated with the 2023 Franchise Disclosure Document
With 600 tanning salons in the US today, of which 348 are franchised-owned, Palm Beach is undeniably the leading tanning salon franchise today. So if you're considering getting into this industry, Palm Beach Tan seems like an obvious alternative.
But is this really a profitable business? How much can you really make with a Palm Beach Tan franchised salon?
In this article we'll see how much it really costs to start a Palm Beach Tan franchise, how profitable it really is and whether you should invest in it. Let's dive in!
Key stats
Find the best franchise
Compare Palm Beach Tan vs. 1,000+ franchises on franchiseindx.com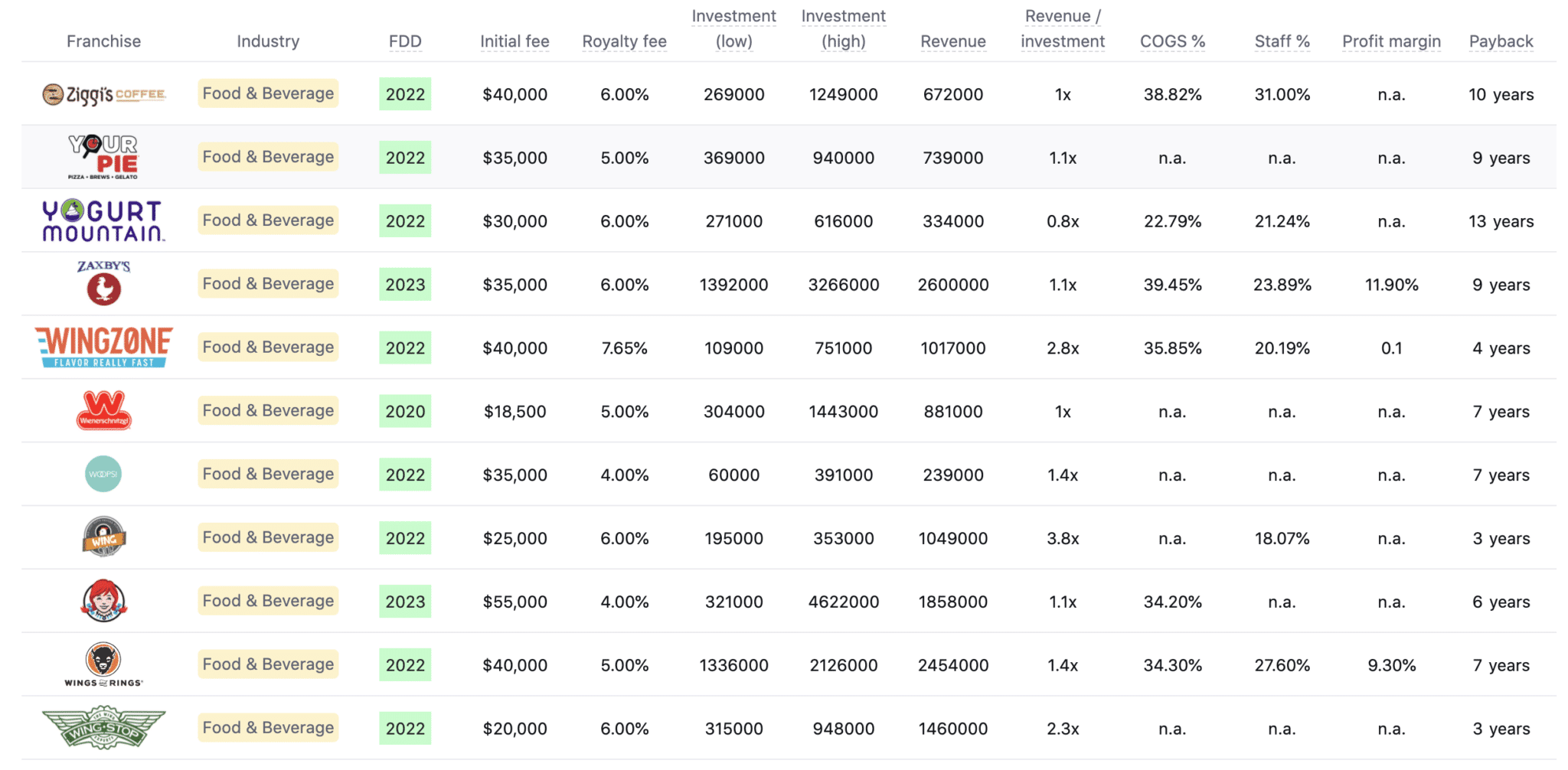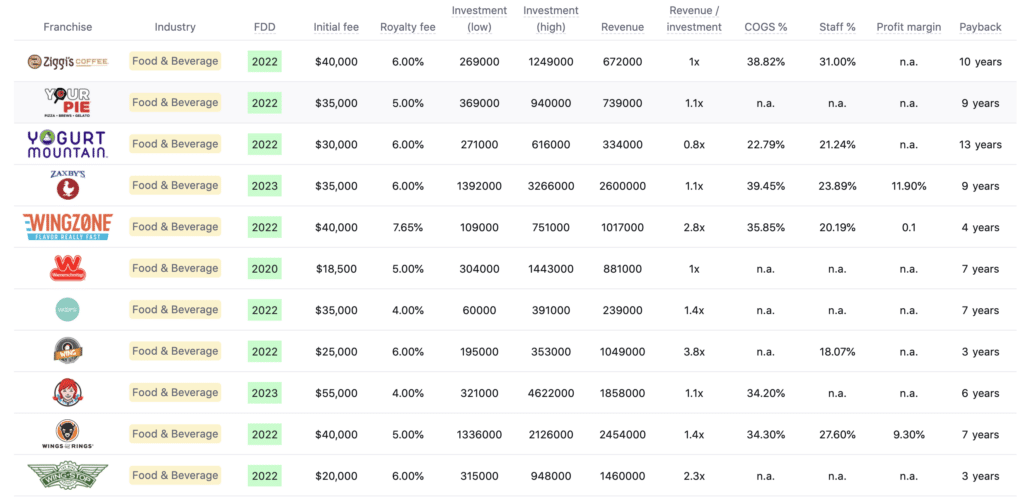 About Palm Beach Tan
Palm Beach Tan is an American chain of indoor tanning salons offering sunbed tanning and spray tanning services, as well as tanning and skin care product sales.
It was founded in 1990 by Parrish Medley in Dallas and it is currently headquartered in Irving, Texas.
The chain began franchising in 1998 and today it has more than 329 franchises in the US and 546 locations globally.
Palm Beach Tan franchise pros and cons
The Pros:
Quality training: The brand offers its franchisees an initial training of 57.5 classroom hours and 120 hours of on-the-job training. Franchisees get equipped with the brand's management information system, customer service, product knowledge and sales practices and techniques.
Third-party financing: The franchisor has established relationships with third-party lenders to provide its franchisees with financing. It funds franchisees for the franchise fees, startup costs, equipment and ongoing costs.
Marketing and advertising: Palm Beach Tan has a dedicated marketing and public relations team to help franchisees reach a wide market audience. Franchisees enjoy turnkey marketing resources and tools such as web development, ad templates, social media, national media and email marketing.
Exclusive territory protection: The brand grants its franchisees an exclusive development market to establish their tanning salons. The parent company does not license any other franchises or operate competing units in the agreed-upon area.
Extensive corporate and ongoing support: The brand has an experienced management team to help franchisees establish and run their salons smoothly. It helps franchisees with growth strategies and advice, access to a successful referral network, timely procedural updates and data-driven periodic performance reviews.
Real estate and site selection: The brand provides its franchisees with real estate assistance in identifying viable locations considering high traffic and accessibility. It also helps them with the design and construction of their ideal Palm Beach Tan salons.
Flexible designs: Palm Beach Tan utilizes simple and flexible franchise designs and the salons can fit into the available real estate opportunities. Also, franchisees can choose to build from scratch or convert an existing franchise, lowering the development costs.
The cons:
Not a part-time business: The franchise cannot be run part-time or as a side business. The franchisees must operate full-time as per the franchisor's schedule.
Not a home-based business: A Palm Beach Tan franchise is not a home-based or mobile-based opportunity. Franchisees need to have fixed office spaces to operate from.
Not a passive investment opportunity: The franchise does not allow for absentee ownership. It requires franchisees to fully participate in the operations and management of their salons.
Competition: Main competitors include Tan Republic.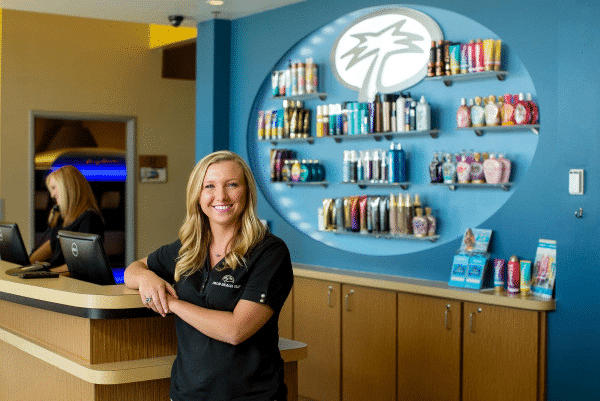 Palm Beach Tan franchise costs
You would need to invest around $817,000 to open a new Palm Beach Tan franchise.
This is on the higher end compared to other salon franchises ($450,000).
This amount is disclosed in the Item 7 of the Franchise Disclosure Document (FDD). It's an average that depends on factors like the salon's location, size, etc. According to the latest FDD, the investment ranges between $624,429 and $1,008,763.
Startup costs
The investment covers all the startup costs you would need to start a salon franchise. You must need to pay an initial franchise fee of $30,000 to the franchisor. In addition to this franchise fee, the investment also covers:
Formation Costs: initial tanning, leasehold improvements, equipment, furniture, computer system, CCTV system, music system, security deposit, permits, business licenses, professional fees, etc.
Initial Marketing: grand opening, local marketing kit
Operating Costs: initial inventory of lotion, solution and supplies, insurance, utility deposits, prepaid rent, working capital for the first 3 months, etc.
| Type of Expenditure | Low | High |
| --- | --- | --- |
| Initial Franchise Fee | $30,000 | $30,000 |
| Formation Costs | $510,429 | $887,763 |
| Initial Marketing | $12,000 | $13,000 |
| Operating Costs | $72,000 | $78,000 |
| Total | $624,429 | $1,008,763 |
Source: Franchise Disclosure Document 2023
Palm Beach Tan franchise fees
The initial franchise fee for a Palm Beach Tan franchise is $30,000. In addition to the initial franchise fee, you must pay to the franchisor a royalty fee of 6.0% of revenues.
Palm Beach Tan franchise revenue
A Palm Beach Tan franchised salon generates $516,000 in revenue per year on average.
This is the annual median sales of 309 franchised locations operating in 2022 as disclosed in the FDD. Indeed, there were a total of 348 franchises at the end of 2022, but 309 of them were in full operation for the whole fiscal year.
On average, a franchise makes $6.55 per tanning session, of which $3.48 is from retail sales. If we look at revenue per sq. ft. instead, one Palm Beach Tan makes $184 in revenue per square foot, in line with the average of salon franchises ($270 per sq. ft.).
| | |
| --- | --- |
| Median Gross Sales | $516,021 |
| Median Gross Sales Per Tanning Session | $6.55 |
| Median Retail Sales Per Tanning Session | $3.48 |
| Number of Tanning Session Per Month | 2,197 |
Source: Franchise Disclosure Document 2023
Find the best franchise
Compare Palm Beach Tan vs. 1,000+ franchises on franchiseindx.com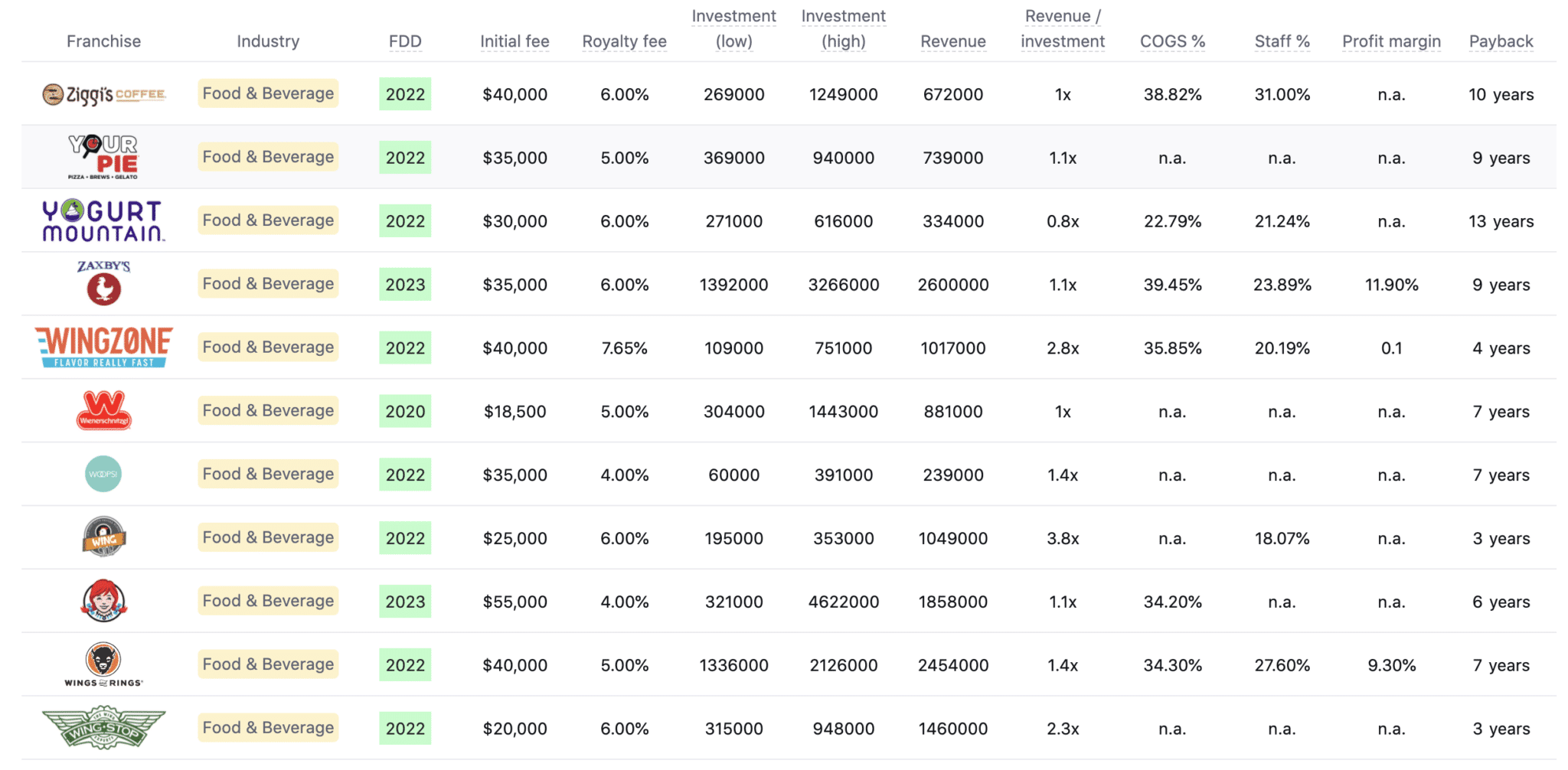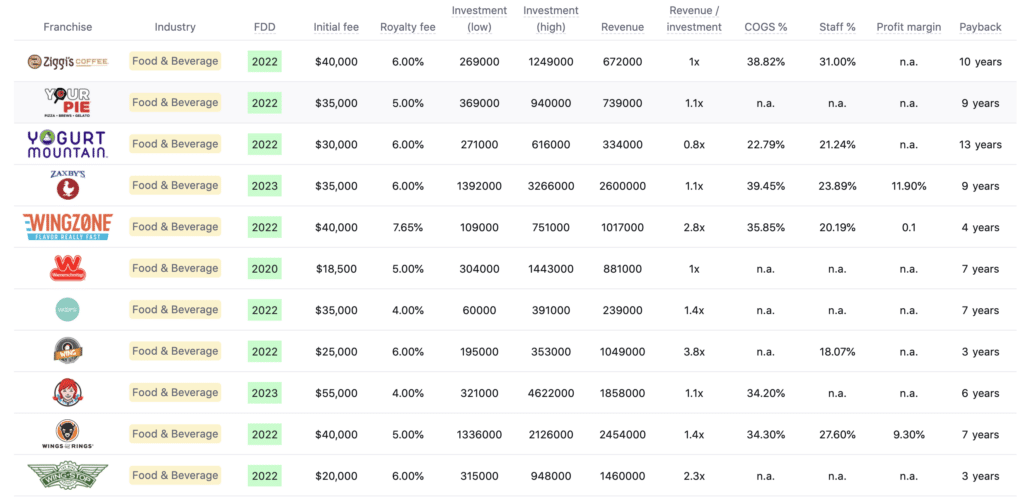 Disclaimer
Disclaimer: This content has been made for informational and educational purposes only. We do not make any representation or warranties with respect to the accuracy, applicability, fitness, or completeness of the information presented in the article. You should not construe any such information or other material as legal, tax, investment, financial, or other professional advice. Nothing contained in this article constitutes a solicitation, recommendation, endorsement, advertisement, or offer to buy or sell any franchises, securities, or other financial instruments in this or in any other jurisdiction in which such solicitation or offer would be unlawful under the franchise and/or securities laws of such jurisdiction.
All content in this article is information of a general nature and does not address the detailed circumstances of any particular individual or entity. Nothing in the article constitutes professional and/or financial and/or legal advice, nor does any information in the article constitute a comprehensive or complete statement of the matters discussed or the law relating thereto. You alone assume the sole responsibility of evaluating the merits and risks associated with the use of any information or other content in this article before making any decisions based on such information or other content.