Panda Express Franchise Costs $1.4M: 2022 Costs & Profits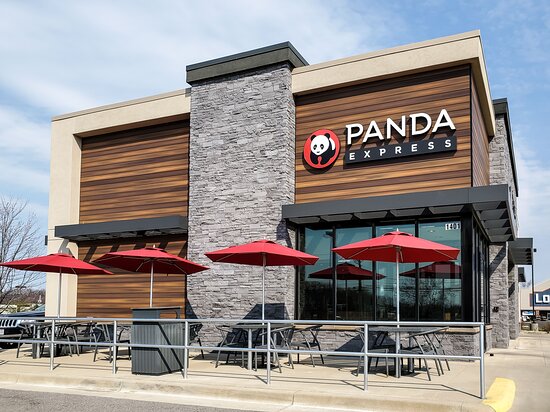 With a high investment cost of $1,415,350 and annual sales of $616,240, investing in a Panda Express franchise may not seem like a great investment.
In this article we're looking at Panda Express and the financial performance of its stores disclosed in its Franchise Disclosure Document to assess whether you should invest in Panda Express franchise. Let's dive in!
Please note that as of 2023 Panda Express doesn't offer any franchise. The company website states: "Panda Restaurant Group operates all of our restaurants with the exception of select locations in airports, universities, military bases, hospitals, casinos, amusement parks and stadiums. We do not offer franchises at this time",
Key stats
| | |
| --- | --- |
| Franchise fee | $25,000 |
| Royalty fee | 8.0% |
| Marketing fee | 0% |
| Investment (mid-point) | $1,415,350 |
| Average annual sales | $616,240 |
| Investment to sales ratio | 0.4x |
| Investment payback* | 15.3 years (mediocre) |
| Minimum net worth | |
| Minimum liquid capital | |
* using 15% net profit margin
Panda Express: a brief introduction
Panda Express is an American fast-food restaurant chain best known for its American Chinese cuisine. With stores in more than 42 states in the US, it's the largest Asian-segment restaurant chain.
The chain store was founded by Andrew Cherng, Peggy Cherng, and Master Chef Ming Tsai Cherng, Andrew's dad, in 1983. Its first store was in Glendale, California.
Panda Express serves Chinese-cuisine-inspired dishes such as Kung Pao chicken, orange chicken, sweet fire chicken breast, teriyaki chicken, and Beijing beef. In addition, it also offers honey walnut shrimp, black pepper Angus steak, mushroom chicken, and eggplant tofu.
Its franchising journey began in 2011 with the first international restaurant in Mexico. However, Panda Express states in its FDD that franchisees will operate in "captive" venues like airports, campuses, hospitals, and universities. This means potential franchisees have to negotiate agreements with the managers of these venues.
Today, the chain has over 2,200 stores in the US and 12 countries globally. It is the leading casual fast food chain store specializing in American Chinese cuisine.
Panda Express franchise: pros and cons
Pros
Panda Express is a popular brand and fast-growing casual fast-food chain that offers some amazing benefits.
Fast-growing brand: The Panda Express brand has grown very fast for the last three decades. It has over 2,200 stores globally and is still growing, which is a huge milestone. New franchisees have access to a large customer pool for marketing and growth opportunities
Wide variety of menu items: Panda Express has a very rich menu. They offer food items like beef, chicken, fish, vegetables, noodles, and rice. It is the best for customers looking for diverse eating options. As a new franchise, this is a good marketing opportunity as it attracts customers from different backgrounds
Popular brand: Panda Express is a well-recognized brand among its customers. Customers looking for delicious fast food and convenient service flock to the few franchisees who qualify for its selection
Training and support: The chain restaurant offers extensive training support to its franchise partners. They train new franchisees on how to establish their restaurants and properly manage them to maximize profits
Proven business model: Panda Express has been successful in its pursuit of providing an Asian dining experience. They understand what works and what doesn't. They also provide franchisees with a solid business strategy that can steer the growth and profitability of their businesses
Cons
Despite Panda Express being a popular and very successful brand, it has its downside.
Corporate ownership: Panda Express prefers corporate ownership for its franchises. This makes a Panda Express franchise a non-possibility. Franchisees have limited options since the franchisor leaves operations to company owners
Less freedom for franchisees The Panda Express franchise dictates how the franchisees run the business. It tightly controls its franchises. When running a Panda Express franchise, you will have limited flexibility in adapting your business idea
Expensive: Operating a Panda Express franchise is very costly. It requires a hefty initial franchise fee and ongoing royalty fees, making the business less attractive
How much does a Panda Express franchise cost?
If you are willing to begin a Panda Express franchise you must invest a total of $1,415,350 (on average).
The investment amount represents the average of both the minimum and the maximum amount you need to pay, depending on your location and other factors. According to the latest FDD, this amount is between $426,700 and $2,404,000.
The payment you would make will cover all types of expenditures that may incur during the opening of a Panda Express restaurant.
In addition to the initial franchise fee of $25,000, the investment cost covers:
Formation costs: leasehold improvements, furniture, equipment, computer hardware & software, cash register, initial training, architectural & design fees, construction supervision, and licenses & permits, etc.
Operating expenses: initial 3 months' rent, supplies, initial inventory, insurance, sales tax deposits, telephone, fax, and other communication-related fees, and additional funds for covering the first 3 months' losses, etc.
This summary could help you to visualize the different types of costs you need to pay:
| Type of cost | Investment |
| --- | --- |
| Initial Franchise fee | $25,000 |
| Formation costs | $294,500 – $1,748,000 |
| Operating expenses | $107,200 – $ 631,000 |
| Total | $426,700 – $2,404,000 |
Source: FDD 2022
How much can you make with a Panda Express franchise?
A Panda Express franchise makes $616,240 in sales in a year. This sales number is the median sales of all Panda Express franchises operating in 2021.
This number can vary depending on the location of the restaurant. A restaurant located in an airport or a casino has sales 2x times higher vs. a restaurant located in a hospital or a university.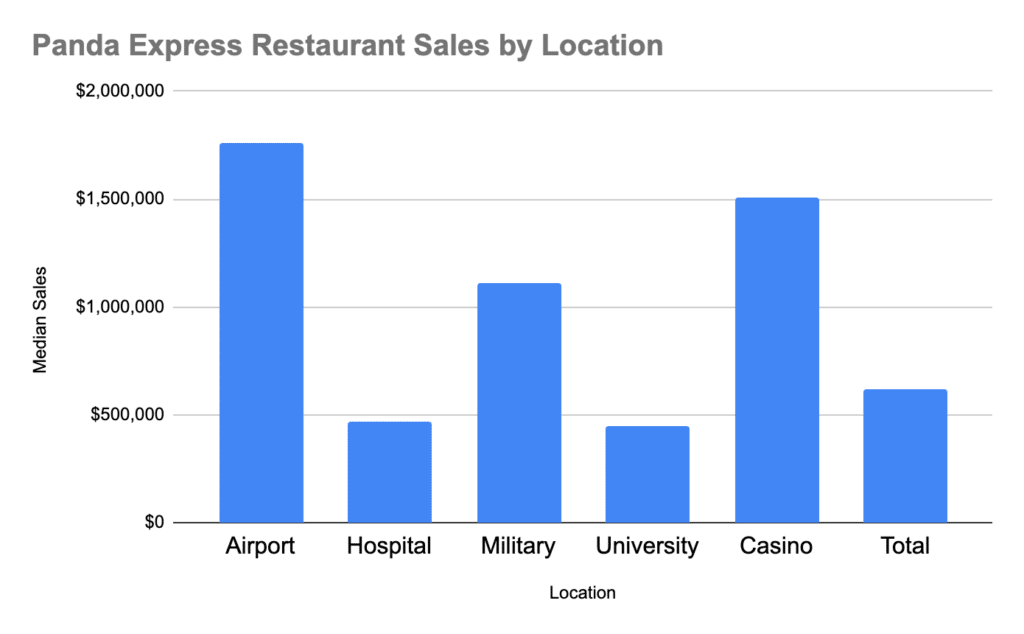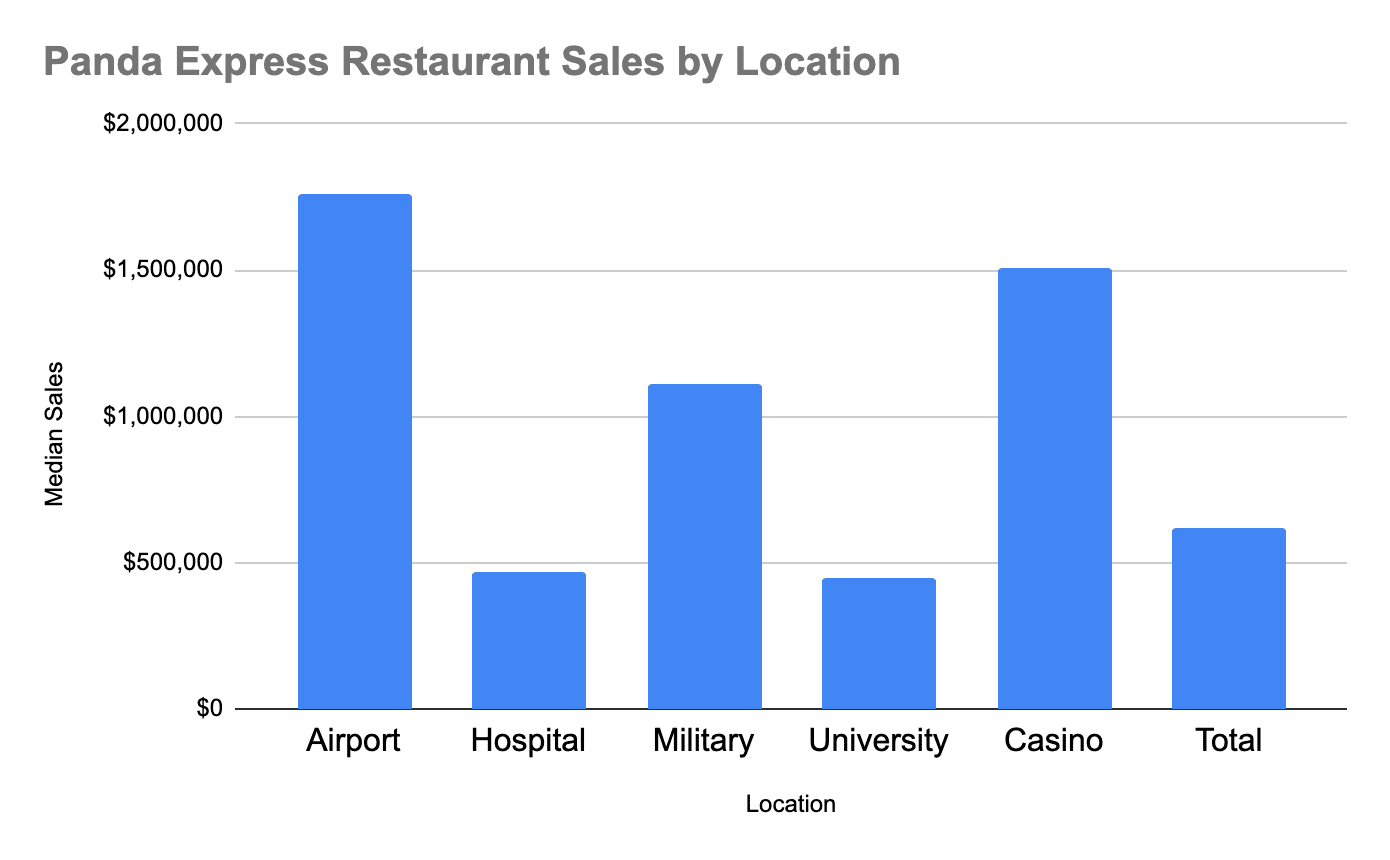 | Location | Number of units | Median sales |
| --- | --- | --- |
| Airport | 17 | $1,756,466 |
| Hospital | 3 | $465,790 |
| Military | 40 | $1,113,290 |
| University | 69 | $444,610 |
| Casino | 4 | $1,509,404 |
| Total | 133 | $616,240 |
Source: 2022 FDD
How profitable is a Panda Express franchise?
As per our calculations, the average Panda Express franchisee makes $184,872 profits per year. This corresponds to a 30% adjusted EBITDA margin.
Note that this isn't the take-home pay of a franchisee. Instead, this adjusted EBITDA is a profit margin that includes only all the costs described in the table below, namely: COGS, labor costs, rent and royalty fees.
Even though the 30% margin is on the higher-end of similar franchises, the Franchise Disclosure Document of Panda Express doesn't give much details on how much you should spend in marketing. Indeed, there is no such percentage fee for marketing unlike the vast majority of franchises.
| Profit-and-loss | Amount ($) | As % of sales |
| --- | --- | --- |
| Sales | $616,240 | 100% |
| COGS | $(154,060) | 25%* |
| Labor | $(178,710) | 29%* |
| Rent | $(49,299) | 8%* |
| Royalty fees | $(49,299) | 8% as per FDD |
| Adjusted EBITDA | $184,872 | 30% |
* industry average
Is a Panda Express franchise a good investment?
In order for us to assess whether investing in a Panda Express franchise is a good investment, we must look at the payback period. The investment payback period is the time (in years or in months) it takes an investor (or a franchisee) to reimburse her/his original investment.
As per our calculations, it takes 15 years to recoup your original investment. This is extremely long and, from that perspective, Panda Express isn't a good investment.
This can be explained by the high investment cost of $1,415,350 vs. rather low sales ($616,240). All in all, the investment to sales ratio is 0.4x which is mediocre.
But keep in mind this is purely an average, and the investment cost really depends on the format of restaurant and its location as we saw before. Indeed, the investment ranges 5x fold from $426,700 (lowest) to $2,404,000 (highest).
As such, you should make your decision by selecting the specific format of franchise restaurant you intend to open.
To apply for a Panda Express, download our pre-built business plan below and visualize metrics like breakeven, payback, return on investment and more.
Disclaimer: This content has been made for informational and educational purposes only. We do not make any representation or warranties with respect to the accuracy, applicability, fitness, or completeness of the information presented in the article. You should not construe any such information or other material as legal, tax, investment, financial, or other professional advice. Nothing contained in this article constitutes a solicitation, recommendation, endorsement, advertisement, or offer to buy or sell any franchises, securities, or other financial instruments in this or in any other jurisdiction in which such solicitation or offer would be unlawful under the franchise and/or securities laws of such jurisdiction.
All content in this article is information of a general nature and does not address the detailed circumstances of any particular individual or entity. Nothing in the article constitutes professional and/or financial and/or legal advice, nor does any information in the article constitute a comprehensive or complete statement of the matters discussed or the law relating thereto. You alone assume the sole responsibility of evaluating the merits and risks associated with the use of any information or other content in this article before making any decisions based on such information or other content.