Another popular pizza franchise in the US, Pizza Ranch now has 210 restaurants across 14 states in the US. If you were to run a Pizza Ranch franchise, you would gross $1,174,088 on average in sales per year, not bad for a pizza franchise!
The problem might be its cost: you would have to invest on average $3,268,300 to open a new Pizza Ranch franchise, much higher than the industry average ($1.6 million as per our analysis). This results in a very long payback period (18.6 years).
So you may wonder if this is a good investment. This is what we're looking at in this article by looking at the latest Franchise Disclosure Document of Pizza Ranch. Let's find out!
Pizza Ranch franchise: key figures
| | |
| --- | --- |
| Franchise fee | $30,000 |
| Royalty fee | 4.0% |
| Marketing fee | 3.0% |
| Investment (mid-point) | $3,268,300 |
| Average sales | $1,174,088 |
| Sales to investment ratio | 0.4x |
| Payback period* | 18.6 years (mediocre) |
| Minimum net worth | $1,000,000 |
| Minimum liquid capital | $297,000 |
* using 15% net profit margin
What is Pizza Ranch?
Pizza Ranch is an American fast-casual food restaurant chain mostly found in the Midwest.
It was founded in 1985 by Adrie Groeneweg and Lawrence Vander Esch in Hull, Iowa.
The chain offers a wide selection of pizza, chicken, salads, Buffalo wings, and desserts. In addition, it is known for its buffet-style menu.
Headquartered in Orange City, Iowa, Pizza Ranch began franchising in 1984 under Pizza Ranch Inc.Today, the chain has over 210 restaurants in 14 US states.
Pizza Ranch franchises pros and cons
Pros
Comprehensive training: The franchisor provides franchisees with extensive training and mentorship to help them establish, operate, and manage the restaurants successfully. The initial training is about 120 on-the-job hours and 80 classroom hours.
Multiple income streams: The brand offers its franchisees alternative income streams to improve their sales and profits. These include mobile ordering, dine-ins, and catering.
Marketing support: Pizza Ranch has a strategic marketing team to help franchisees market their local stores to a wider market. The franchisees can leverage strong brand popularity, regional advertising, social media, targeted advertising plans, and local store promotional campaigns
Exclusive territory protection: The franchisor grants the franchisees a protected territory to operate their restaurants. Franchisees enjoy an exclusively controlled customer base to scale and grow their businesses without facing in-house competition.
Fun zone arcade: The brand has a fun zone entertainment section in its restaurants, which offers a great family experience and acts as a revenue booster. This creates fun for all ages, is perfect for guests' parties, and has low operating costs.
Community involvement: The Pizza Ranch is a franchise that values family relationships and enjoys giving back to the community. Franchisees can positively impact various social groups such as schools, churches, and other organizations, which attracts a lot of traffic in the process.
Cons
No financing: The franchisor does not directly or indirectly finance its franchisees for development or ongoing costs. Also, it does not guarantee any lease, grant, or obligation of any lender.
No absentee ownership: The Pizza Ranch franchise does not present a passive investment opportunity. Franchisees are required to be actively involved in the decision-making and daily operations of their restaurants.
Competition: The Pizza Ranch franchise operates in a very competitive industry with the likes of Domino's, Marco's Pizza, and Papa John's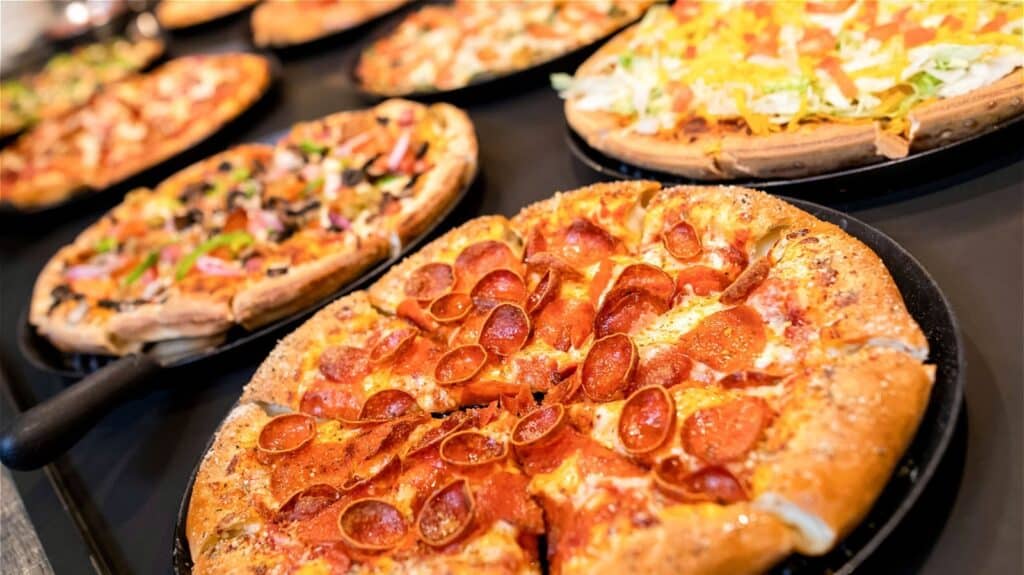 How much does a Pizza Ranch franchise cost?
To open a Pizza Ranch restaurant you need to invest around $3,268,300. Yet that is an average: it ranges from $2,589,100 to $3,947,500.
The required investment varies depending on the location (as different areas have different rent costs), the market price of required equipment (as the market price can change anytime), and so on.
For what reason you would pay this amount? Well, this amount will cover all the startup costs a restaurant incurs in the beginning. In addition to the initial franchise fee of $30,000, you would also pay for:
Formation costs: furniture, fixtures & equipment, arcade games, leasehold improvements, land, construction costs, architect/engineering fees, etc.
Pre-opening costs: pre-opening training expenses, food used during team member training, interest on pre-opening loans, etc.
Operating costs: working capital for first 3 months
| Type of cost | Low | High |
| --- | --- | --- |
| Initial franchise fee | $30,000 | $30,000 |
| Formation costs | $2,475,600 | $3,799,500 |
| Pre-opening costs | $63,500 | $98,000 |
| Operating costs | $20,000 | $20,000 |
| Total | $2,589,100 | $3,947,500 |
Source: 2022 Franchise Disclosure Document
What's the average turnover of a Pizza Ranch franchise?
On average, a Pizza Ranch franchise makes $1,174,088 in sales per year.
This number is the annual median sales of 206 franchised restaurants operating in 2021.
This includes 41 restaurants that have a "FunZone" and 165 restaurants that don't have one. For example, restaurants with a FunZone generate 1.7 times more revenue than a restaurant without.
How profitable is a Pizza Ranch franchise?
On average, a Pizza Ranch franchise makes $170,116 in profits per year. This represents a 13.6% EBITDA margin.
| Profit-and-loss | Amount ($) | As % of sales |
| --- | --- | --- |
| Sales | $1,038,742 | 100% |
| COGS | $(306,429) | 29.5% |
| Labor | $(270,385) | 26.0% |
| Rent | $(60,455) | 5.8% |
| Controllable Expenses | $(150,618) | 14.5% |
| Non-Controllable Expenses | $(229,874) | 22.1% |
| EBITDA | $170,116 | 13.6% |
Source: 2022 Franchise Disclosure Document
You should remember that this EBITDA does not mean you can earn 13.6% of the total revenue. Rather, you may need to deduct taxes, debt interest expenses, and other costs. Only then you can pay yourself the net profits as dividends.
Is buying a Pizza Ranch franchise a good investment?
Unfortunately we found that it takes 19 years on average to repay your investment if you were to buy and start a new Pizza Ranch franchise. This is one of the longest payback period we found for similar restaurant franchises, and therefore not the best investment.
Indeed, we obtained this number by dividing the investment ($3,268,300 on average) by the expected annual profits. Note that we are using a profit margin of 15% yet with EBITDA being 13.6% on average, it's likely that your profits may be even lower.
Of course, remember that these numbers are calculated based on the average performance of the 206 franchises Pizza Ranch discloses in its FDD. Therefore, it's possible that your franchise performs better than the average.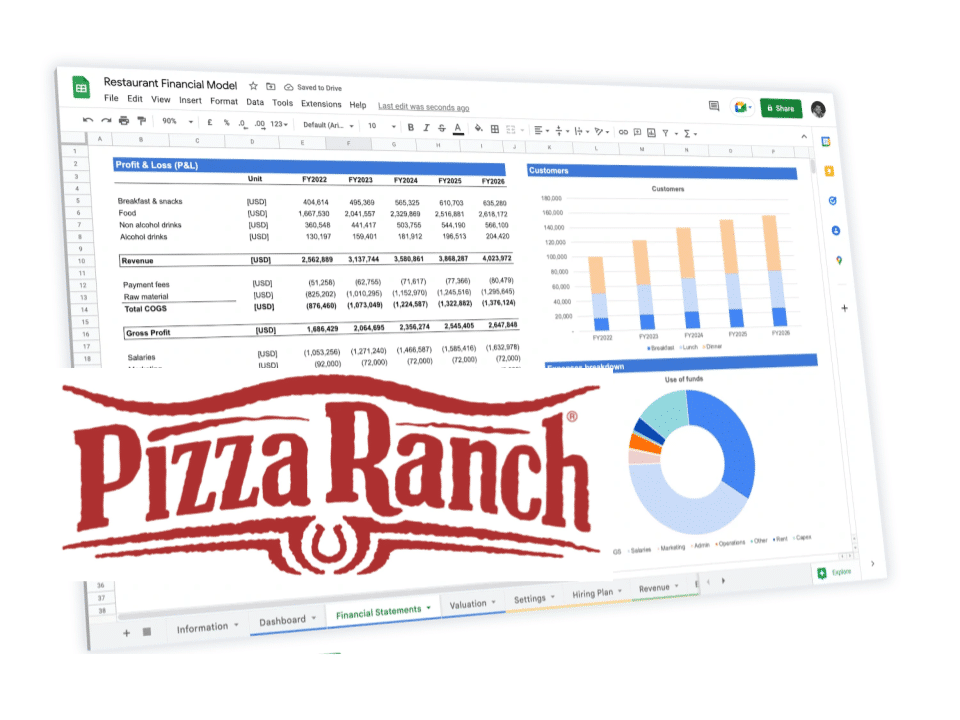 Download the Pizza Ranch franchise business plan and get your franchise funded
Including a 5-year financial plan built with the latest Franchise Disclosure Document numbers