PJ's Coffee: a Profitable Franchise That Costs $563K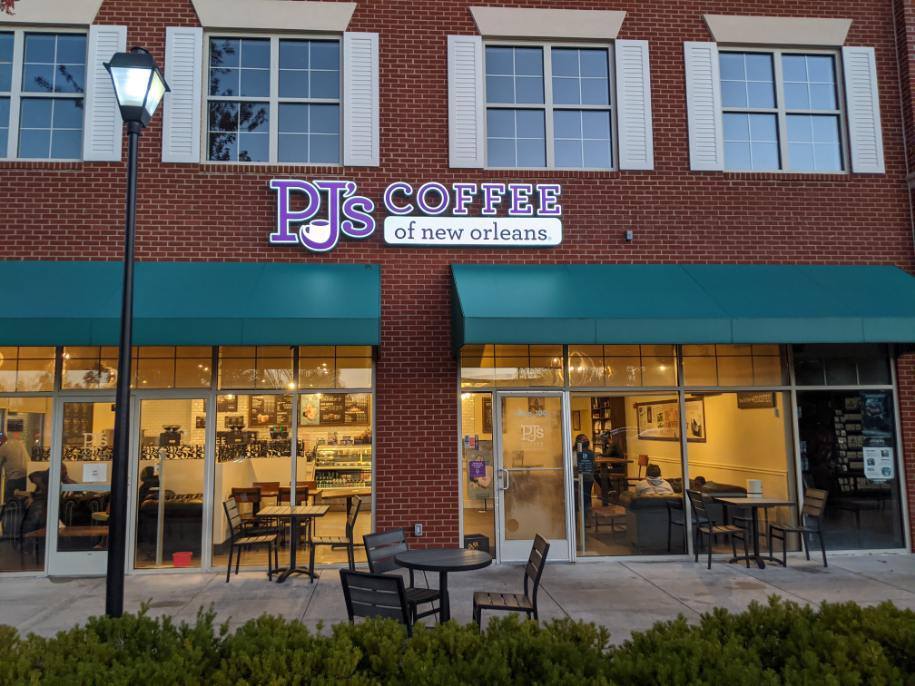 This article was updated with the 2023 Franchise Disclosure Document
Despite the highly competitive coffee shop industry, PJ's Coffee is one of the most profitable coffee shop franchise opportunity.
Indeed, in addition to an attractive cost of $563,000 (the investment you would need to fund as the franchisee), the payback period for a PJ's Coffee is 7 years on average: it does seems like a great investment.
How much profits can you really make with a PJ's Coffee franchise? Is this worth investing $563,000 upfront? In this article we'll answer all these questions by looking at PJ's Coffee from the angle of its Franchise Disclosure Document (FDD). Let's dive in!
Key stats
| | |
| --- | --- |
| Franchise fee | $35,000 |
| Royalty fee | 5.0% |
| Marketing fee | 3.5% |
| Investment (mid-point) | $563,000 |
| Average sales | $528,000 |
| Sales to investment ratio | 0.9x |
| Payback period* | [franchise_value_investment_payback] |
| Minimum net worth | $500,000 |
| Minimum liquid capital | $150,000 |
Source: Franchise Disclosure Document 2023
Find the best franchise
Compare PJ's Coffee of New Orleans vs. 1,000+ franchises on franchiseindx.com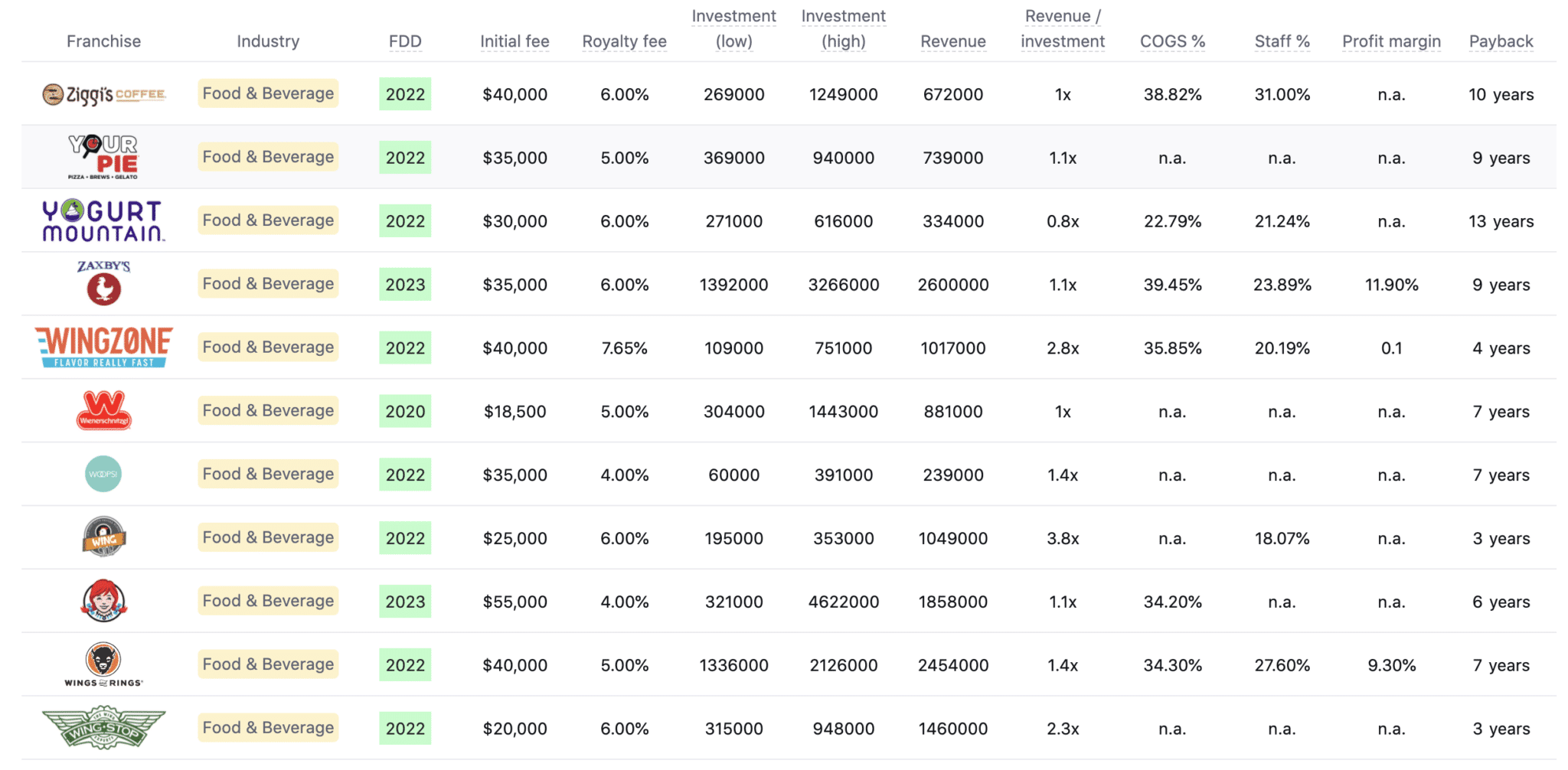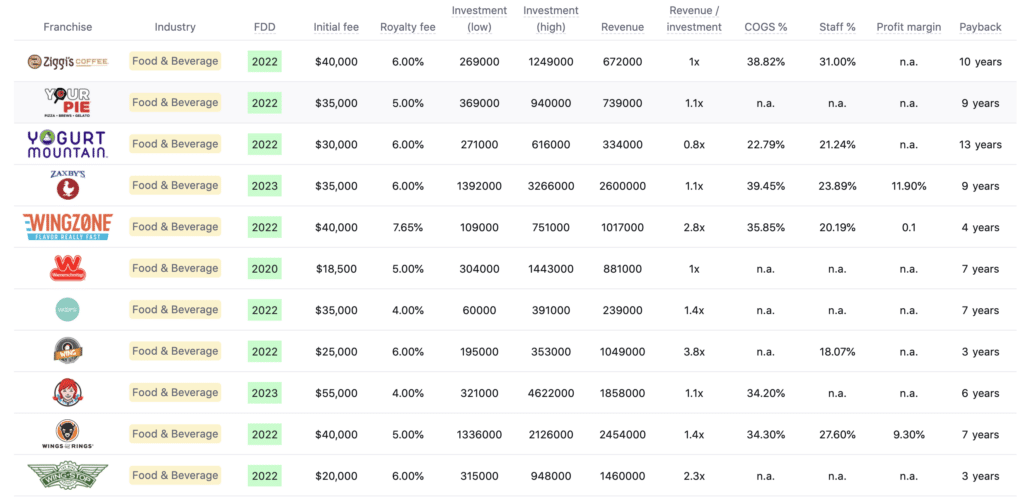 About PJ's Coffee
PJ's Coffee of New Orleans is an American retail coffeehouse chain with more than 140 stores in the US. It serves premium coffee, freshly baked pastries, breakfast, snacks, and lunch items.
The chain was founded in 1978 in the Carrollton neighborhood of New Orleans by Phyllis Jordan (hence the initials PJ). Its franchising journey began in 1989. Today the franchisor PJ's Coffee is a subsidiary of Ballard Brands, headquartered in Mandeville, Louisiana.
PJ's Coffee franchise pros and cons
Pros
Design and Construction: The brand provides its franchisees with an expert real estate team to guide them through efficient design and systematic construction processes. It offers franchisees the standard specifications, designs, and restaurant construction layouts, as well as the option of modifying the contractor-approved configurations to fit into the franchisee's available real estate opportunities.
Marketing and promotions: PJ's Coffee uses comprehensive, turn-key promotional campaigns to enhance its brand awareness and promote local store operations. Franchisees can use dedicated and efficient marketing strategies and tools to target a wide market area and drive customer traffic and sales.
Ongoing support and consultation: The franchisor provides its franchisee with ongoing consulting and online support so that they can keep a quality check on their performance. Franchisees get effective and timely communication, promotional campaigns, new and seasonal product rollouts, and new operational procedures from the parent company.
Training: The brand has a simple and comprehensive multi-level online, classroom, and hands-on-the-job training program to help its franchisees quickly learn and understand its business concept. It trains its franchisee in restaurant operations, training and hiring qualified staff, and handling customers.
Cons
No exclusive territory protection: The brand does not offer its franchisees an exclusive territory to operate in. Franchisees may face competition from franchisees granted by the parent company or from competitive channels or brands it controls.
No financing: PJ's Coffee does not provide direct or indirect financing to its franchisees. Also, it does not guarantee any lease, note, or grant to its franchisees.
Not a passive investment. The franchise does not allow absentee ownership. Franchisees are required to be fully involved in the stores' daily operations.
Competition: like any other coffee franchise out there, PJ's Coffee must face stiff competition from the likes of Starbucks, Tim Hortons, Biggby Coffee and Scooter's Coffee to name a few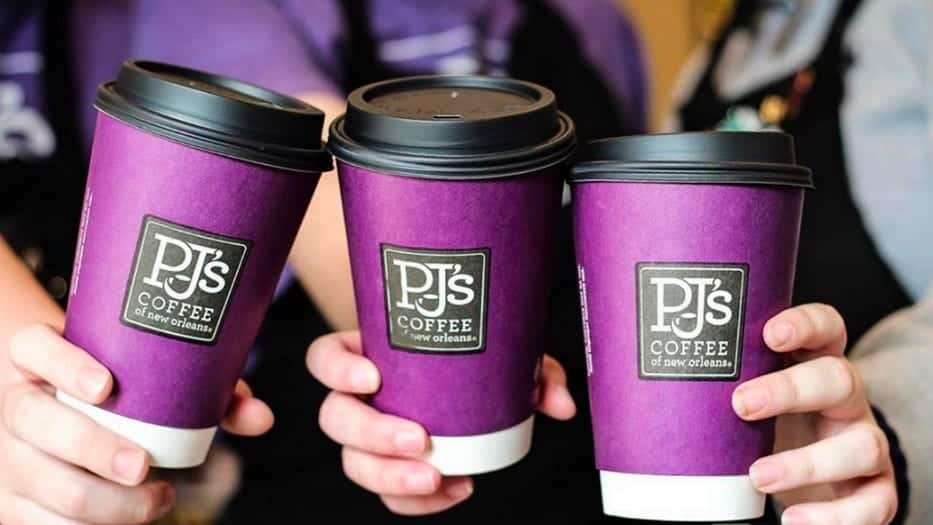 How much does a PJ's Coffee franchise cost?
On average, you may need to invest around $563,000 to open a PJ's Coffee of New Orleans franchise.
The investment amount is an average, indeed it depends on the type of restaurant you choose:
Traditional: $406,000 – $1,131,000
Non-traditional: $192,000 – $543,500
Traditional (Special Contract): $406,000 – $1,111,000
Non-traditional (Special Contract): $192,000 – $524,500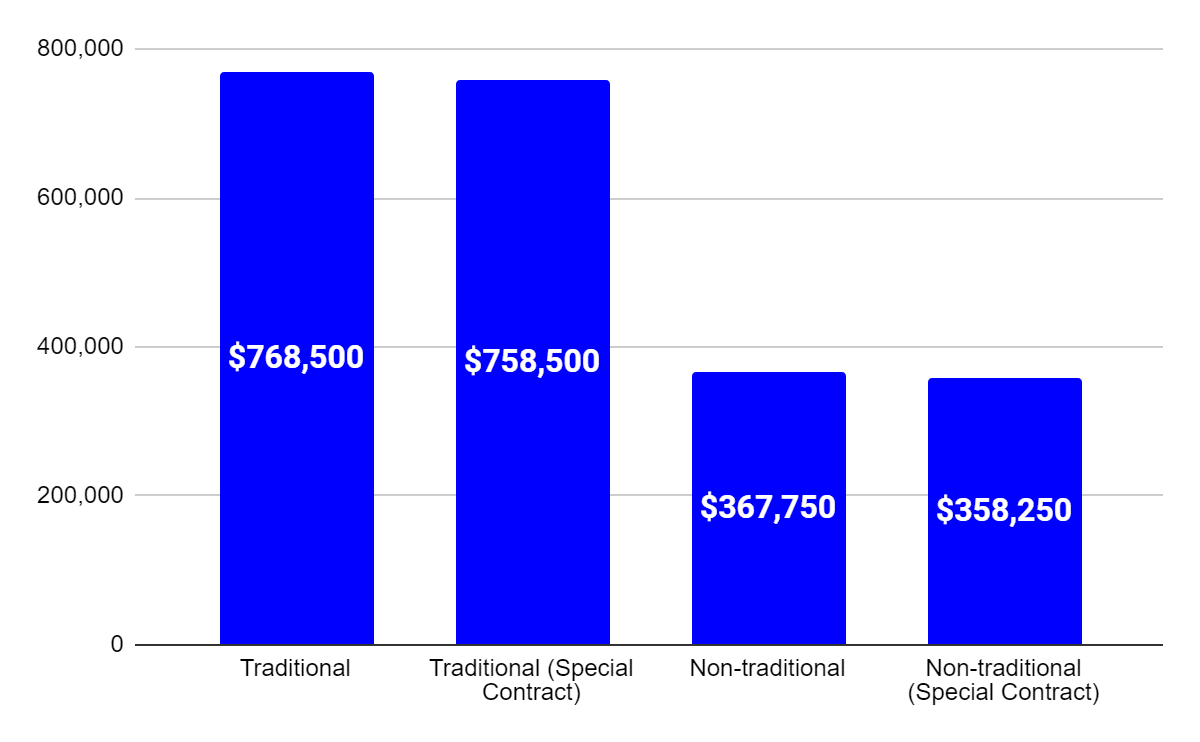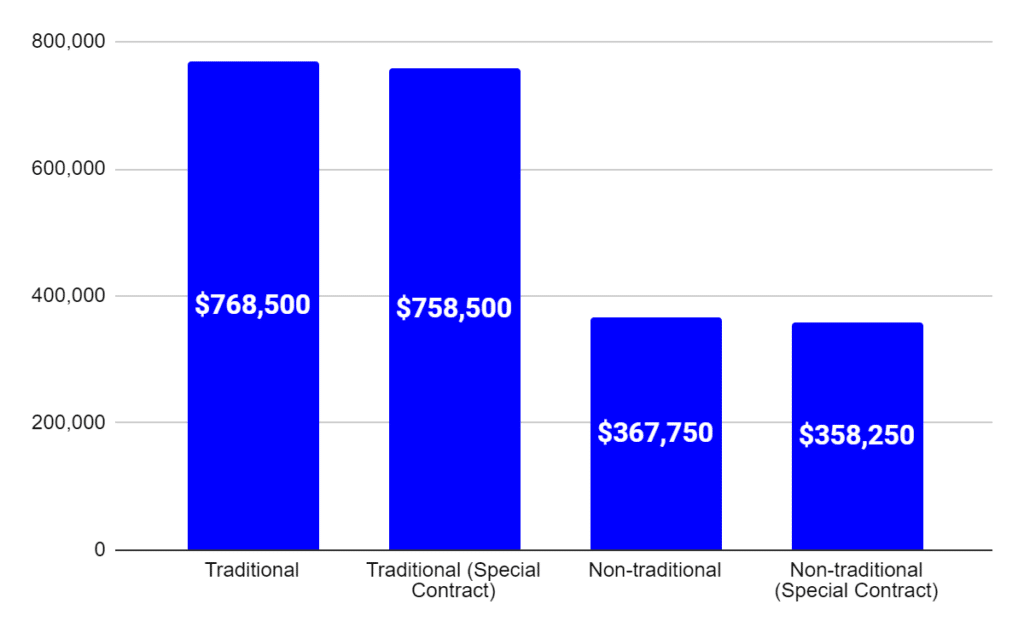 Startup costs
The investment amount includes an initial franchise fee, which can be $10,000 to $25,000, depending on the type of restaurant. In addition to the initial franchise fee, the investment covers all the startup costs you may need to start a restaurant business. It includes:
Formation Costs: real estate lease, furniture, fixtures, equipment, training expenses, deposits, licenses and permits, signage, leasehold improvements, POS system, legal fees, accounting fees, construction drawings, etc.
Initial Marketing: opening advertising
Operating Costs: opening inventory, insurance, and working capital for first 3 months, etc.
| Type of cost | Low | High |
| --- | --- | --- |
| Initial Franchise Fee | $10,000 | $35,000 |
| Formation Costs | $341,000 | $1,034,500 |
| Initial Marketing | $12,500 | $12,500 |
| Operating Costs | $42,500 | $49,000 |
| Total | $406,000 | $1,131,000 |
Source: Franchise Disclosure Document 2023
Find the best franchise
Compare PJ's Coffee of New Orleans vs. 1,000+ franchises on franchiseindx.com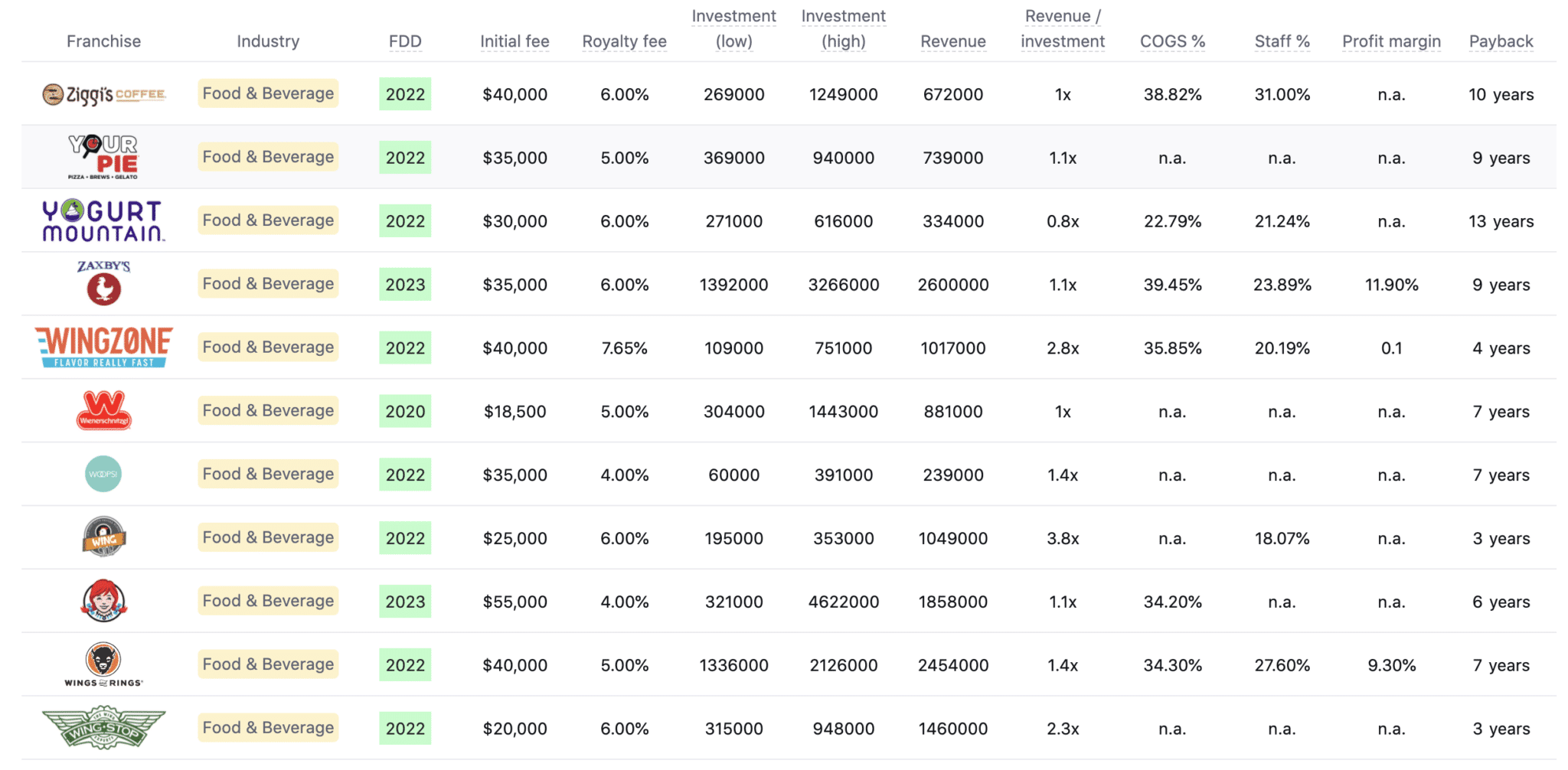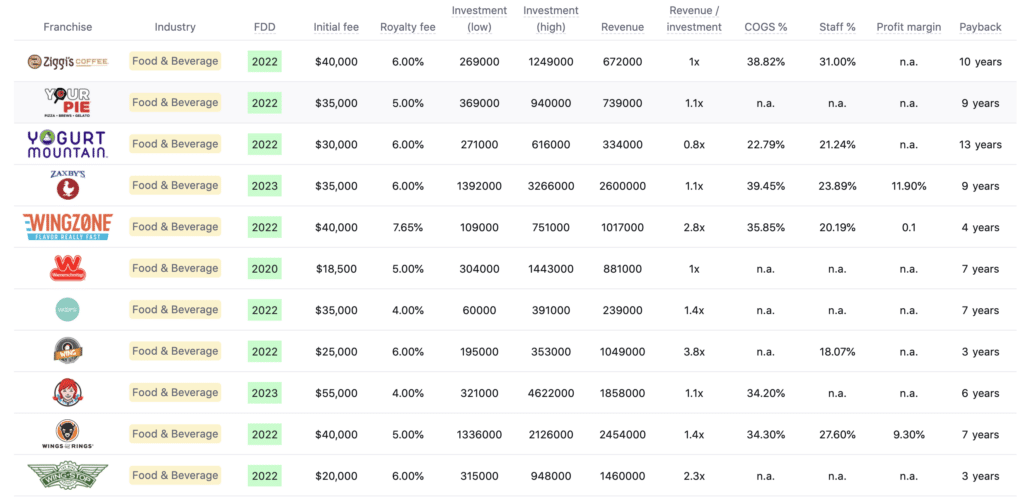 What's the average turnover of a PJ's Coffee restaurant?
A PJ's Coffee of New Orleans franchise makes $528,000 in sales per year on average.
This represents the median annual turnover of 104 franchised restaurants operating in 2022. This sales number can vary depending on the type of restaurant you choose. For example, a traditional drive-thru restaurant generates 4x times more revenue than a non-traditional one.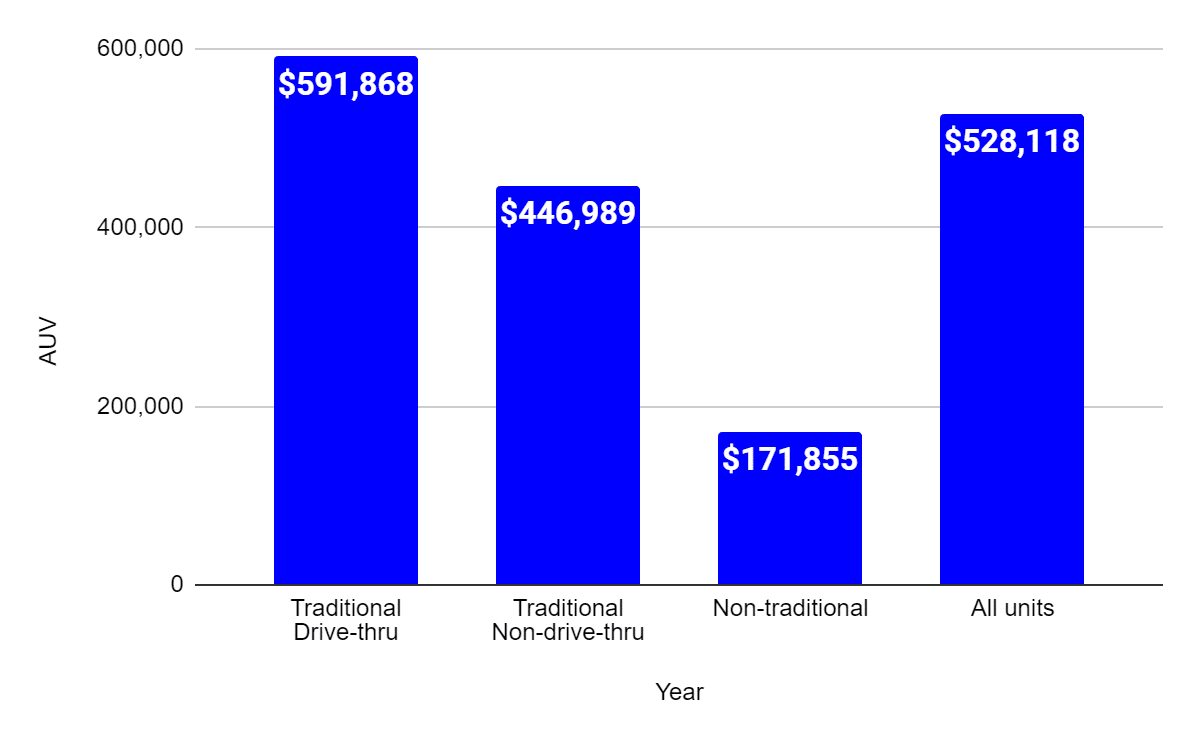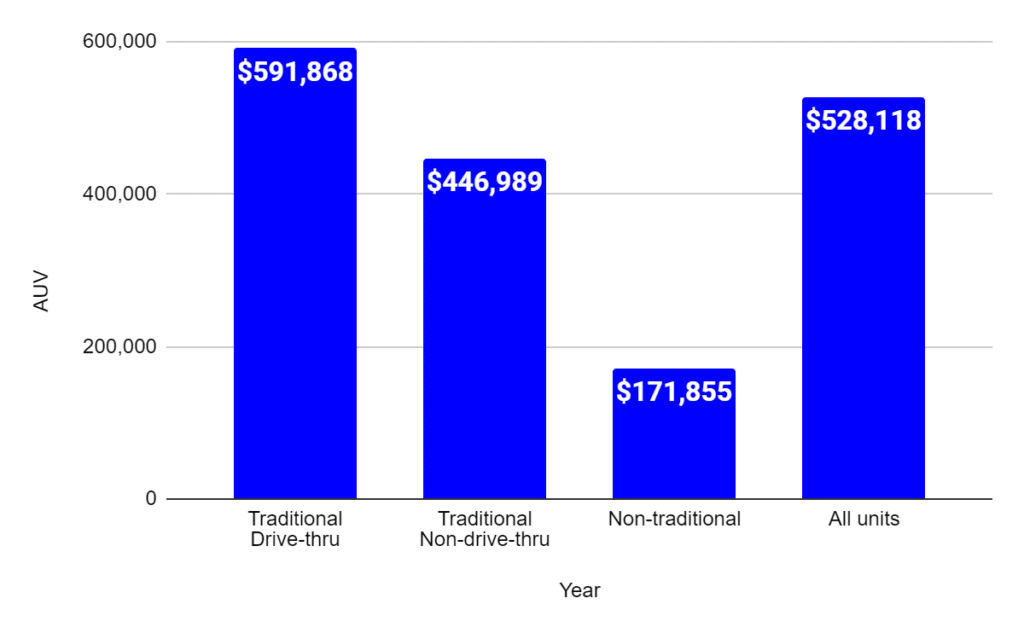 If we talk about revenue growth, traditional drive-thru restaurants are doing well vs. non traditional restaurants. Whilst drive-thru has btter overcome the COVID pandemic, non-drive-thru and non-traditional restaurants have had more difficulty to reverse sales decline.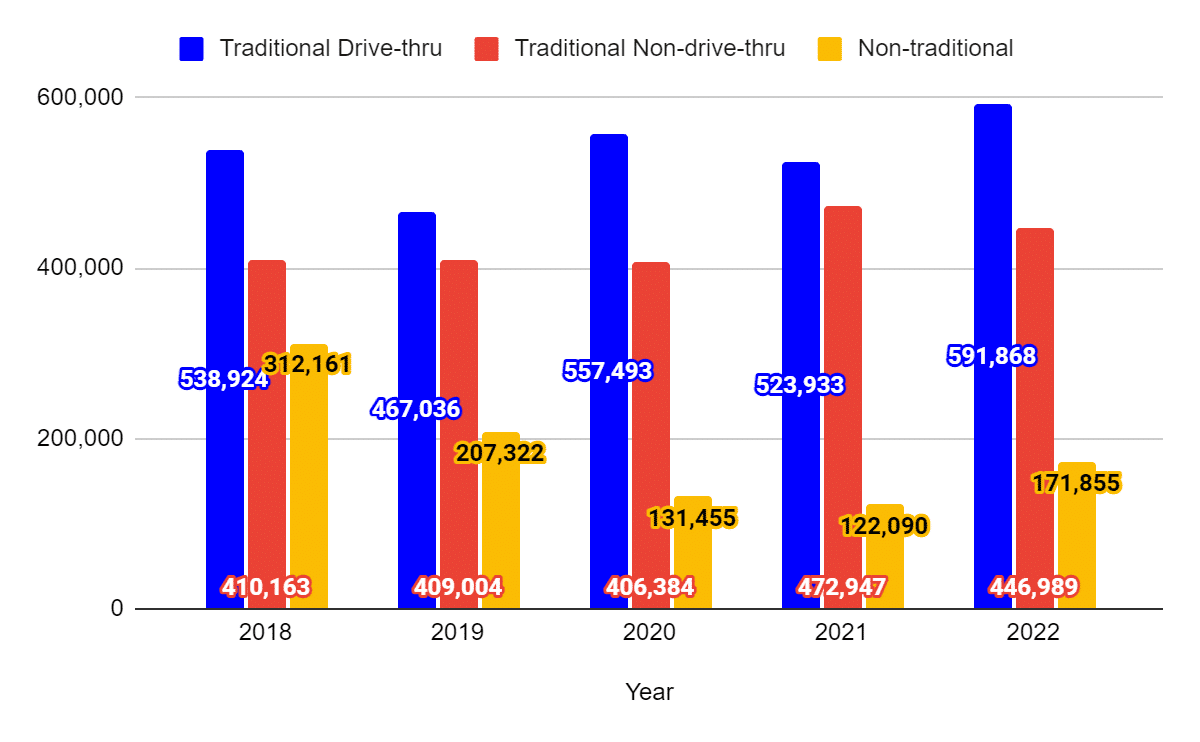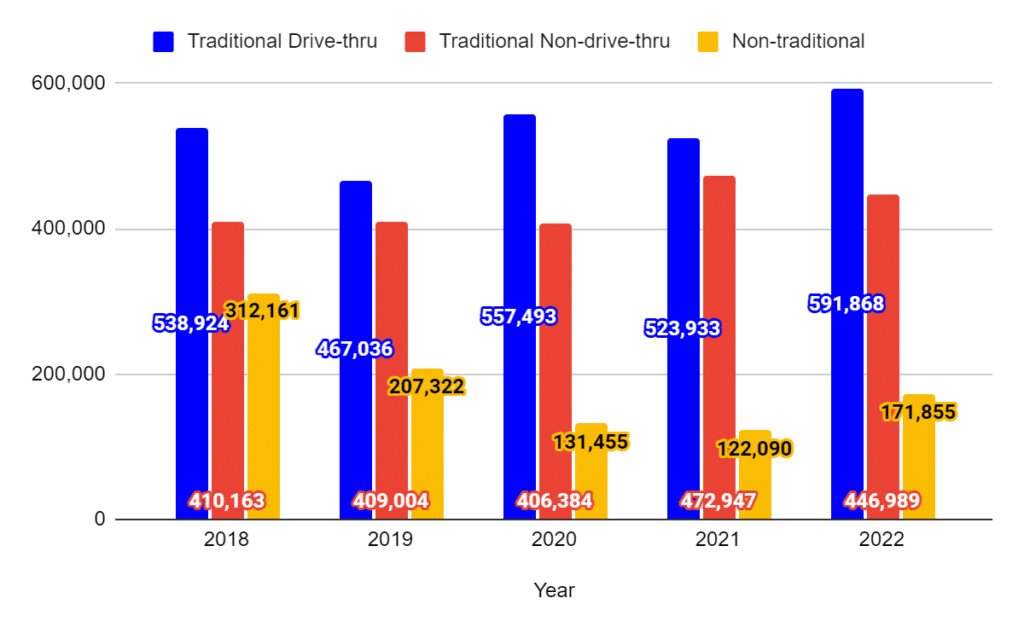 | | Traditional drive thru | Traditional non drive thru | Non traditional |
| --- | --- | --- | --- |
| 2022 | $591,868 | $446,989 | $171,855 |
| 2021 | $523,933 | $472,947 | $122,090 |
| 2020 | $557,493 | $406,384 | $131,455 |
| 2019 | $467,036 | $409,004 | $207,322 |
| 2018 | $538,924 | $410,163 | $312,161 |
Source: Franchise Disclosure Document 2023
How profitable is a PJ's Coffee franchise?
On average, a PJ's Coffee of New Orleans franchise makes $83,000 in profits per year. This represents a 15.7% EBITDA margin.
PJ's Coffee provides a detailed profit and loss for 5 of its affiliate-owned locations (average AUV of $973,000), which we have adjusted to the franchised-owned AUV instead ($528,000).
| Profit and loss | Franchise | Affiliate | % revenue |
| --- | --- | --- | --- |
| Gross sales | $528,118 | $973,561 | 100.0% |
| Discount | (23,554) | $43,421 | 4.5% |
| COGS | (209,088) | $385,444 | 39.6% |
| Payroll expenses | (96,013) | $176,996 | 18.2% |
| Royalty expenses | (25,228) | $46,507 | 4.8% |
| System fund expenses | (10,091) | $18,603 | 1.9% |
| Rent expenses | (19,683) | $36,285 | 3.7% |
| Local store marketing expenses | (6,642) | $12,244 | 1.3% |
| Insurance expenses | (5,343) | $9,849 | 1.0% |
| Other opex | (49,606) | $91,446 | 9.4% |
| EBITDA | $82,869 | $152,766 | 15.7% |
Source: Franchise Disclosure Document 2023
Is a PJ's Coffee franchise a good investment?
At first glance, PJ's Coffee does look like a great investment. Indeed, with an initial investment of $563,000 upfront yet an Average Unit Volume of $528,000 per year on average, its sales-to-investment ratio is 0.9x.
But what about payback: the time it would take you to recoup your investment if you were to buy a PJ's Coffee franchise (and/or take a loan) and pay for the initial required investment?
Indeed, sales are only part of the answer. Instead, it's important to look at profits. That's what we do when we look at the payback period.
Luckily, we found PJ's Coffee has a payback period of about 7 years: this is a good number and therefore a good investment. In other words, you would need to wait 7 years to recoup your investment. Only then you can reap the profits.
Find the best franchise
Compare PJ's Coffee of New Orleans vs. 1,000+ franchises on franchiseindx.com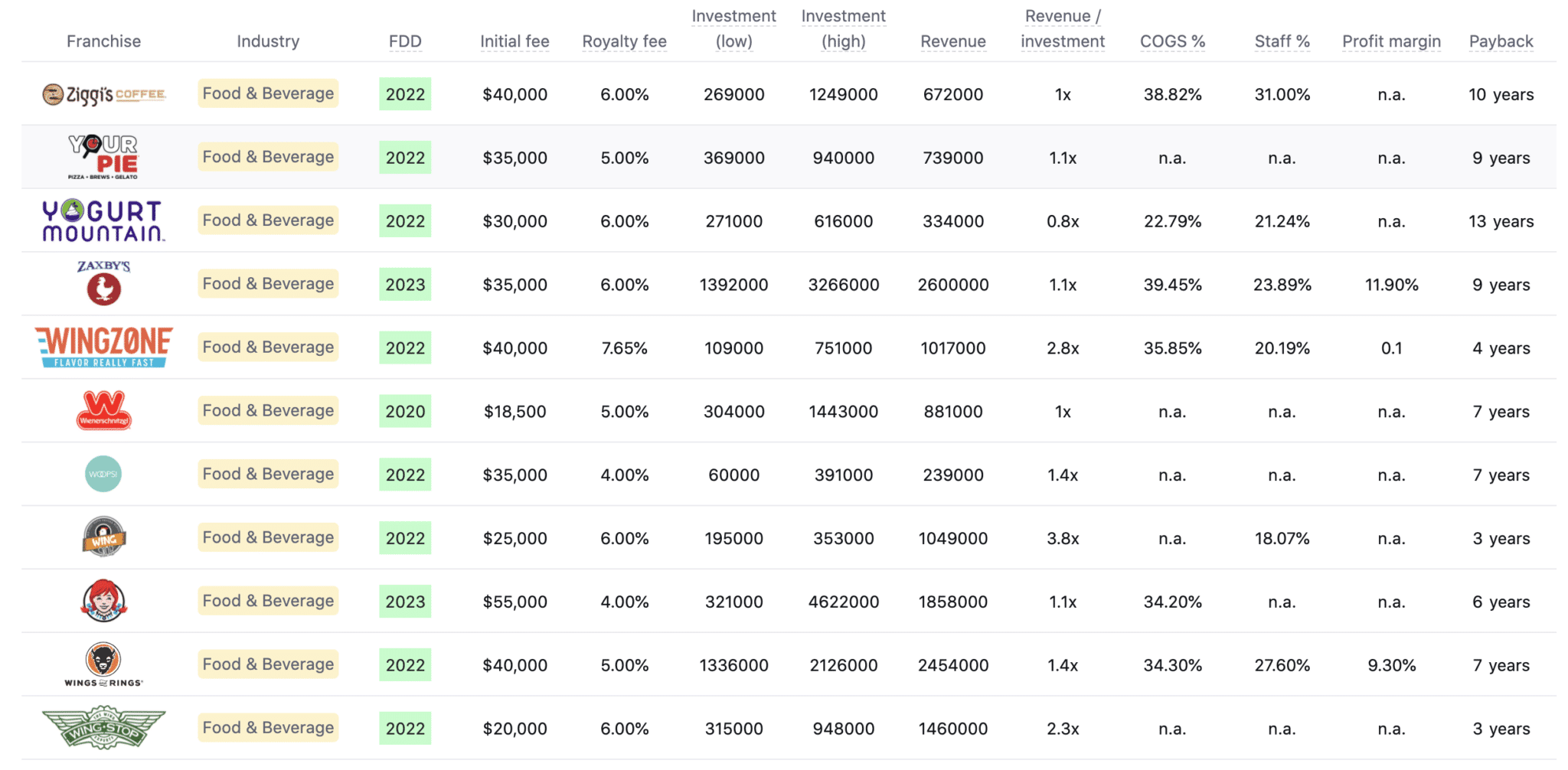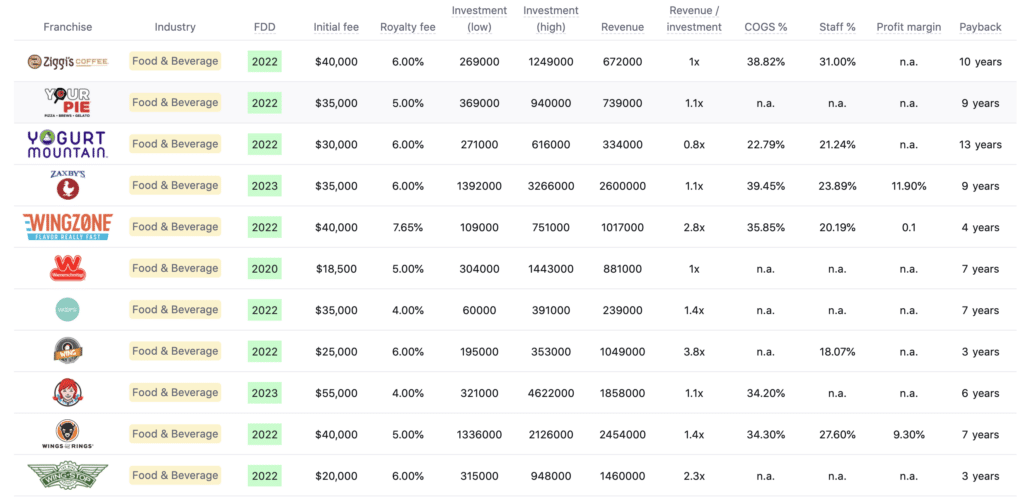 Disclaimer
Disclaimer: This content has been made for informational and educational purposes only. We do not make any representation or warranties with respect to the accuracy, applicability, fitness, or completeness of the information presented in the article. You should not construe any such information or other material as legal, tax, investment, financial, or other professional advice. Nothing contained in this article constitutes a solicitation, recommendation, endorsement, advertisement, or offer to buy or sell any franchises, securities, or other financial instruments in this or in any other jurisdiction in which such solicitation or offer would be unlawful under the franchise and/or securities laws of such jurisdiction.
All content in this article is information of a general nature and does not address the detailed circumstances of any particular individual or entity. Nothing in the article constitutes professional and/or financial and/or legal advice, nor does any information in the article constitute a comprehensive or complete statement of the matters discussed or the law relating thereto. You alone assume the sole responsibility of evaluating the merits and risks associated with the use of any information or other content in this article before making any decisions based on such information or other content.