With 750 restaurants in North America, QDOBA Mexican Eats is one of the most popular Mexican food franchise brand, along with giants like Taco Bell or even Taco John's.
But if you're considering buying a QDOBA franchise, you'll want to make sure you understand how much profits you can really make with this business.
It is indeed a popular franchise among franchisees, and for a good reason: the investment cost is (only) $659,250 for an average annual turnover of $972,962.
So should you invest in a QDOBA Mexican Eats franchise? Is this a profitable investment?
In this article we're looking at QDOBA and its Franchise Disclosure Document to find out how much you can really make with this business, how much it costs, and whether it's a good investment. Let's find out!
QDOBA Mexican Eats: key figures
| | |
| --- | --- |
| Franchise fee | $30,000 |
| Royalty fee | 5.0% |
| Marketing fee | 3.0% |
| Investment (mid-point) | $659,250 |
| Median annual sales | $972,962 |
| Investment to sales ratio | 1.5x |
| Investment payback* | 4.5 years (good) |
* assuming 15% net profit margin
What is QDOBA Mexican Eats?
Qdoba Mexican Eats is a fast-casual restaurant chain in the United States and Canada.
It was founded in 1995 by Anthony Miller and Robert Hauser in Denver, Colorado.
Headquartered in San Diego, California, the restaurant chain is well known for its Mexican-styled food, including burritos, nachos, taco salads, and quesadillas.
All restaurants serve chips and a wide variety of sauces, dips, and soft drinks, while a few may also sell wine, margaritas, beer, and other alcoholic beverages.
Qdoba Mexican Eats has been franchising since 1997 and has today over 750 restaurants in the US and Canada, of which 406 are franchised-owned (54%).
QDOBA franchises pros and cons
Pros
A standout menu: the popular three-cheese queso dip plus 30 toppings have made Qdoba a leading fast-casual Mexican restaurant. In addition, the flavorful queso diablo, the popular Cholula chicken, and the highly sought-after cauliflower are a testament to its continued innovativeness. This helps the franchisor stand out in an otherwise competitive American food and beverage industry.
Flexible footprints: the brand's relatively small footprints make it possible to launch a new franchise in any space. This promotes flexibility and efficient inventory management.
Brand recognition: Qdoba Mexican Eats' strong brand benefits its franchisees. The restaurant chain appeals to multiple demographics and presents a massive opportunity for franchisees to grow with a reputable brand.
Third-party financial sources: Qdoba's affiliates may help new restaurant owners secure funding to cover the startup costs, inventory, and equipment.
Corporate and in-store training: Qdoba Mexican Eats helps franchisees keep up to speed with the best restaurant management practices. All franchisees must complete 360 hours of intense on-the-job training plus 9 hours of classroom training as part of the Franchise Agreement.
Customizable marketing and promotional tools: the franchisor is committed to providing useful marketing tools to help franchisees get off the ground. The trade area marketing software helps new store owners select the best location for their businesses.
Ongoing support: the restaurant chain provides world-class support to help franchisees succeed in the competitive field. The exclusive support continues from the grand opening until you run a successful business. It covers field operations, meetings and conventions, online support, site selection, and security and safety procedures.
Cons
Stiff competition: despite its unique and alluring menu, Qdoba Mexican Eats faces stiff competition from popular restaurant chains like Chipotle Mexican Grill and Baja Fresh.
No absentee ownership: new restaurant owners must commit to the day-to-day running of the store operations.
No part-time management: franchisees must demonstrate a full-time, long-term commitment to running the franchise.
15 employees to run the business: Qdoba Mexican Eats has a minimum employee requirement for launching the franchise.
No exclusive territories: the Franchise Agreement does not provide exclusive rights to run a single restaurant at a designated location.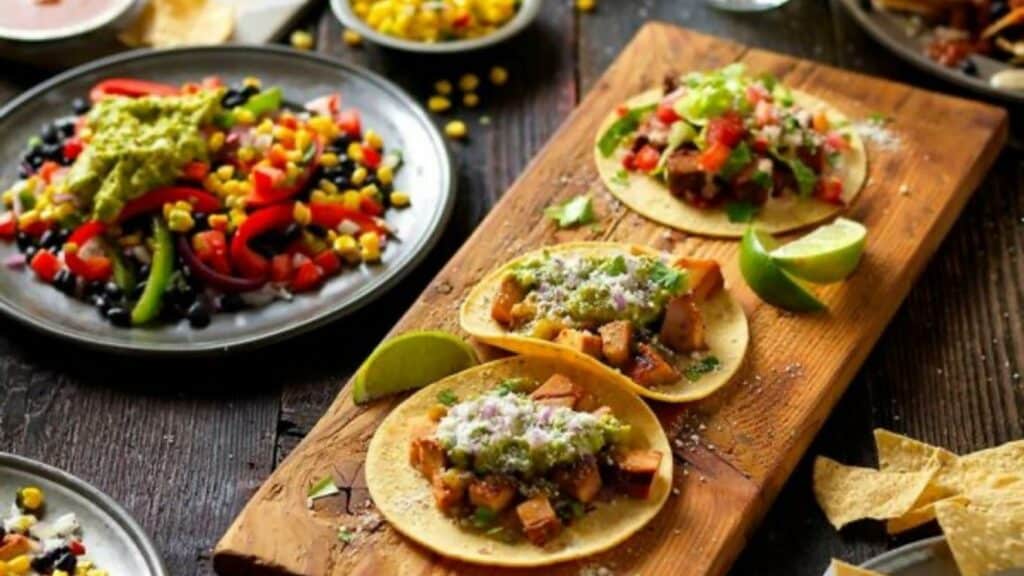 How much does a QDOBA Mexican Eats franchise cost?
You need to pay at least $251,500 to $1,095,000 to open a Qdoba Mexican Eats Restaurant. That is a total investment of $659,250 on average.
As the investment amount is an average, it will change based on your location and the format of restaurant you choose. For example, a traditional restaurant needs more investment than a non-traditional restaurant:
Traditional restaurants ($785,250) are freestanding restaurants and units located in malls. The vast majority of units are traditional restaurants (~90%)
Non-traditional restaurants ($533,250) instead are often smaller units located in airports, military bases, university campuses, etc. There were approximately 80 non traditional units as of 2022 (~10% total units)
The investment amount you are about to pay would cover all types of startup costs. In addition to the initial franchise fee ($15,000 – $30,000), you would also pay for:
Formation costs: plans, legal fees, building permits, furnishings, fixtures and equipment, signage, IT systems, miscellaneous pre-opening expenses, liquor license, business licenses & permits, etc.
Marketing fees: grand opening advertising
Operating costs: insurance, opening inventory, 3 months working capital, etc.
| Type of cost | Traditional restaurant | Non-traditional restaurant |
| --- | --- | --- |
| Initial franchise fee | $30,000 | $15,000 |
| Formation costs | $627,750 | $403,250 |
| Marketing fees | $15,000 | $2,500 |
| Pre-opening costs | $10,000 | $10,000 |
| Operating costs | $102,500 | $102,500 |
| Total | $785,250 | $533,250 |
What is the turnover of a Qdoba Mexican Eats franchise?
On average, a Qdoba Mexican Eats franchise makes $972,962 in sales per year.
This sales number is the average annual median sales for 359 traditional and non-traditional restaurants operating in 2021.
As it is an average, it will change depending on various factors. For instance, a non-traditional restaurant generates ~40% less turnover than a traditional restaurant.
| Type of restaurants | Number of restaurants | Median sales |
| --- | --- | --- |
| Traditional restaurant | 294 | $1,045,112 |
| Non-traditional restaurant | 65 | $646,622 |
| Total | 359 | $972,962 |
Source: 2022 Franchise Disclosure Document
How profitable is a QDOBA Mexican Eats franchise?
On average, a Qdoba Mexican Eats franchise makes $233,511 in profits per year. This represents a 24% profit margin (adjusted EBITDA margin).
The 24% adjusted EBITDA margin is on the lower end compared to similar franchises as per our intelligence (~25-27% industry average). That's mainly because of higher prime costs (~60%) i.e. COGS and labor costs vs. the industry average for similar restaurant franchises (~54%).
Even though QDOBA Mexican Eats discloses information on COGS and labor costs, we had to estimate rental costs instead (~8% sales).
| Profit-and-loss | Amount ($) | As % of sales |
| --- | --- | --- |
| Sales | $972,962 | 100% |
| COGS | $(293,835) | 30.2% |
| Labor | $(289,943) | 29.8% |
| Rent | $(77,837) | 8.0%* |
| Royalty + marketing fees | $(77,837) | 8.0% |
| Adjusted EBITDA | $233,511 | ~24% |
* industry average
So, can you keep this 24% of the total revenue in your pocket? Well, not really. Indeed adjusted EBITDA is not the same as the net profit. You may need to deduct taxes, debt interest expenses, and other costs instead (see more on that below).
Is a QDOBA franchise a good investment?
If you were to buy a QDOBA franchise, first you'd need to know how long it would take you to repay your investment with the future profits of your franchise.
This is what we do when we calculate the payback period: we found it takes on average only 4.5 years to recoup your investment if you were to invest $659,250 to start a QDOBA franchised restaurant (the average investment cost, see more on that above). This is a very good payback period, and as such a good investment.
If you're considering buying a QDOBA franchised restaurant, download our business plan below and access your 5-year financial plan built with the latest Franchise Disclosure Document data, as well as reports and charts like breakeven point, return on investment and more.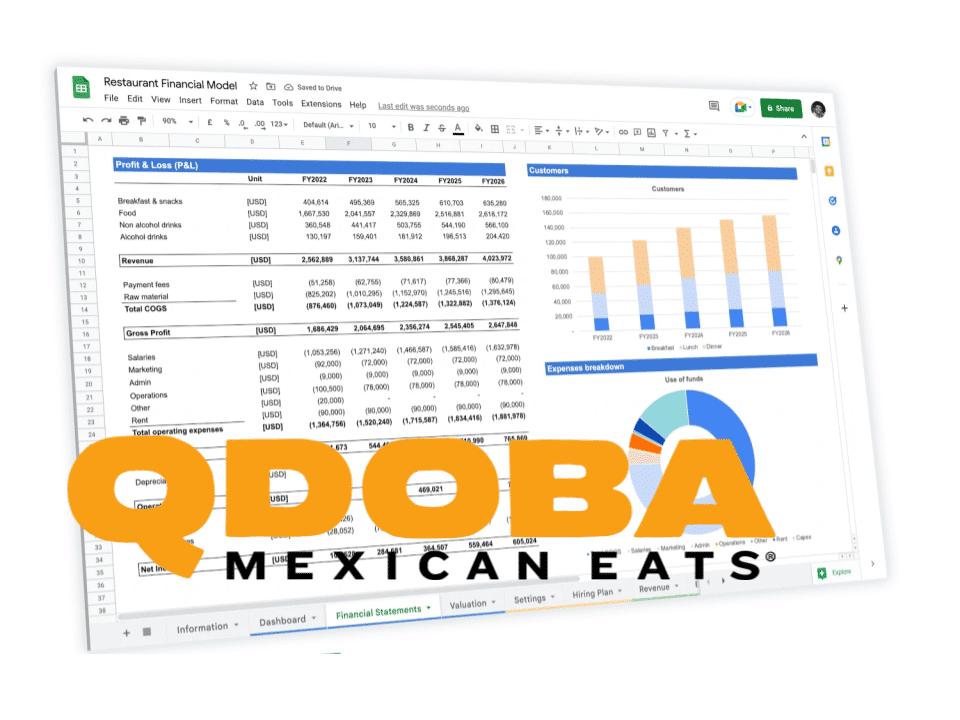 Download the QDOBA Mexican Eats business plan and get your franchise funded
Including a 5-year financial plan built with the latest Franchise Disclosure Document numbers