Even though from Canada originally, Tim Hortons franchises has multiplied over the years: there are now 5,352 locations in 15 countries worldwide. It's also popular among entrepreneurs and franchisees for a number of reasons (brand name, training, support, etc.).
What about the costs and profits? Is Tim Hortons a good investment? With an investment cost of $1,242,750 on average, including the hefty $50,000 initial franchise fee, you must do your research before you can open a Tim Hortons franchise.
For us to answer these questions, we must look at the Franchise Disclosure Document which we discuss below. Especially, we will see how much you can make with this business and how much you need to invest as the franchisee. Let's dive in!
Tim Hortons franchises: key figures
| | |
| --- | --- |
| Franchise fee | $50,000 |
| Royalty fee | 5.25% |
| Marketing fee | 4.0% |
| Investment (mid-point) | $1,242,750 |
| Average annual sales | $1,188,240 |
| Investment to sales ratio | 1.0x |
| Investment payback* | 7.0 years (average) |
| Minimum net worth | $500,000 |
| Minimum liquid capital | $100,000 |
* using 15% net profit margin // Standard shop only
What is Tim Hortons?
Tim Hortons is a leading Canadian restaurant chain founded in 1964 in Hamilton, Canada. Headquartered in Toronto, its menu is synonymous with coffee, doughnuts, baked goods, soups, and sandwiches.
It was founded by Canadian ice hockey defenseman, Tim Horton, and Montreal-born businessman, Jim Charade. One year later, in 1965, Tim Hortons began to franchise its coffee shops.
Wendy's, an American fast-food restaurant chain, acquired Tim Hortons in 1995 in a partnership that lasted a decade. In 2014, 3G Capital, a Brazilian private equity firm, purchased the Canadian fast food chain.
Today, Tim Hortons has 5,352 locations in 15 countries around the world.
Tim Hortons franchises: pros and cons
Pros
Third-party financing: the brand has built strong relationships with 3rd party financing institutions to provide funding to its franchisees
World-class support: the brand's 6-decade experience goes into supporting new restaurant owners. The chain offers ongoing support to help franchisees run and manage their businesses. This includes site selection, field operations, online support, security and safety procedures, and lease negotiation
Franchise training: the brand offers comprehensive training to help its franchisees launch successful businesses. This begins with a 7-week training program at Oakville's Tim Hortons University. The training emphasizes food handling, hygiene, equipment maintenance, security systems, and team member relations. Upon completing this training, new restaurant owners get 179 hours of on-the-job training from a full-service Tim Hortons
Marketing support: the brand provides its franchisees with detailed and useful marketing support to promote their businesses. To maximize growth and attract potential customers, franchisees get access to regional advertising, national media, email marketing promotions, ad templates, website development, and social media
Growth potential: the restaurant chain presents lots of growth opportunities to franchisees looking to tap into the local and international markets
Cons
No exclusive territory: the brand doesn't provide exclusive territorial protection to its franchisees. This exposes the franchises to stiff competition from other fast-food chains
No absentee ownership: Tim Hortons doesn't provide passive investment opportunities. Franchises must be actively involved in the day-to-day running of the business operations
It can't be run from home or as a mobile unit: franchisees must run the restaurant either from a retail facility (ie no food truck) or an office space if administrative functions are run remotely
Can't be run part-time: Tim Hortons doesn't offer part-time business opportunities to its franchisees. The brand carefully selects hands-on owners who can commit to running their restaurants on a full-time basis.
Competition: Tim Hortons faces stiff competition from other coffee chains: Dunkin' Donuts, Krispy Kreme or even Cinnabon just to name a few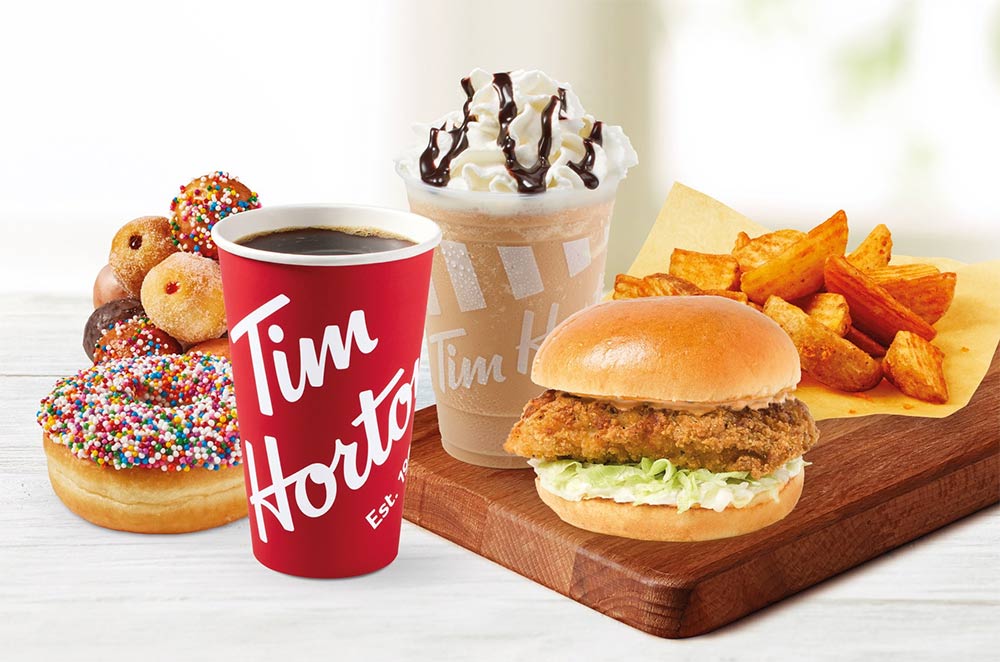 How much does a Tim Hortons franchise cost?
You would have to invest on average $1,242,750 to open a new Tim Hortons franchise restaurant.
Note this is the investment for a standard shop. Indeed, there are 2 formats of restaurants you can choose from:
Standard shop ($1,242,750 investment cost): this is the most common format (86% of the 633 franchised-owned restaurants in 2021). The standard Tim Hortons shop ranges in size from 1,000 to 2,300 sq. ft. and contains an area for customers as well as a drive-thru facility
Non-standard shop ($182,400 investment cost): either a built-in kiosk or a full service cart, non-standard shops are typically much smaller and vary in size to adapt to the space where they are located. They may also have a limited menu to accommodate space and customer demand in its location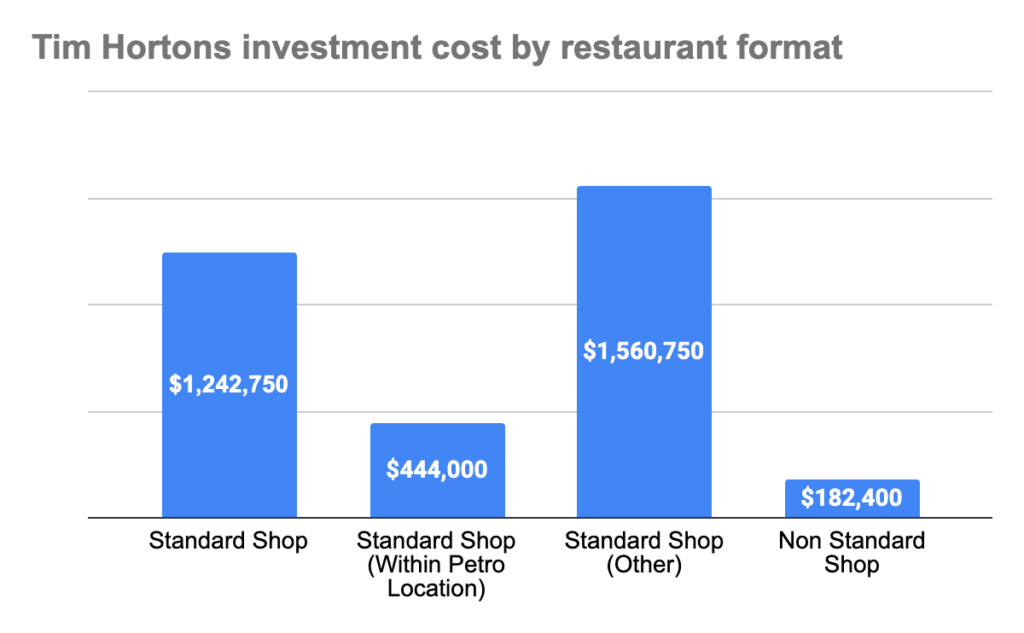 The investment amount is an average: indeed, it varies based on many factors such as land and building size, location and development needs; construction, equipment specifications etc.
Here's the full breakdown of costs for a standard Tim Hortons shop:
| Type of expense | Amount |
| --- | --- |
| Building cost | $476,000 – $504,000 |
| Initial franchise fee | $50,000 |
| Site development costs | $100,000 – $230,000 |
| Equipment | $337,000 – $375,000 |
| Additional funds | $25,000 |
| Other | $56,000 – $257,500 |
| Total | $1,044,000 – $1,441,500 |
How much sales can you make with a Tim Hortons franchise?
On average, Tim Hortons franchises make each $1,188,240 in sales per year.
To obtain this number, we annualized the average monthly gross sales of $99,020 in 2021 as per the latest Franchise Disclosure Document. Note that this is the average sales for a standard shop restaurant (calculated based on 549 standard shops in 2021).
How profitable are Tim Hortons franchises?
Luckily, Tim Hortons provides for scarce information on the profitability of its restaurants. This allows us to estimate profits.
On average, a Tim Hortons standard shop makes $285,178 in profits per year. This represents a 24% adjusted EBITDA margin.
What's important to note is that the information below is an average of 549 restaurants in 2021, out of the 633 Tim Hortons restaurants operated by franchisees.
The 24% adjusted EBITDA margin is slightly below the industry average for similar restaurant franchises as per our analysis (27-29% average profit margin).
| Profit-and-loss | $ | % sales |
| --- | --- | --- |
| Sales | $1,188,240 | 100% |
| COGS | $(332,707) | 28% as per FDD |
| Labor costs | $(368,354) | 31% as per FDD |
| Rent | $(92,089) | 7.75% as per FDD |
| Royalty + marketing fee | $(109,912) | 9.25% as per FDD |
| EBITDA | $285,178 | ~24% |
Source: 2022 Franchise Disclosure Document (New Model restaurants only)
Is a Tim Hortons franchise a good investment?
Now that we know how much sales you can make on average ($1,242,750) and the profitability of the business (24% adj. EBITDA margin), we can easily calculate the payback period.
The payback period is a metric used by investors to assess the profitability of an investment. By dividing the investment costs by the annual profits, it tells us how many years an investment takes to repay itself.
For profits though, we need to use net profits here (and not EBITDA) as it includes all other non-operating costs like corporate taxes, debt interest, etc. As such, net profits are the real profits you can make from this business, after all expenses have been paid.
We found that the payback period for a Tim Hortons franchise (standard shop) is 7 years. Whilst not necessarily bad, it's an average investment if you will. We consider that any number at or below 5 years is great, and anything beyond 5 years is mediocre.
This means you would have to wait 7 years to recoup your initial investment ($1,242,750 in this case).
But again, keep in mind this is an average, and your franchise restaurant may turn out to be less (or more) profitable depending on a number of factors. To find out what is your payback period, breakeven point and a pre-built financial plan for your franchise application, download our business plan template below.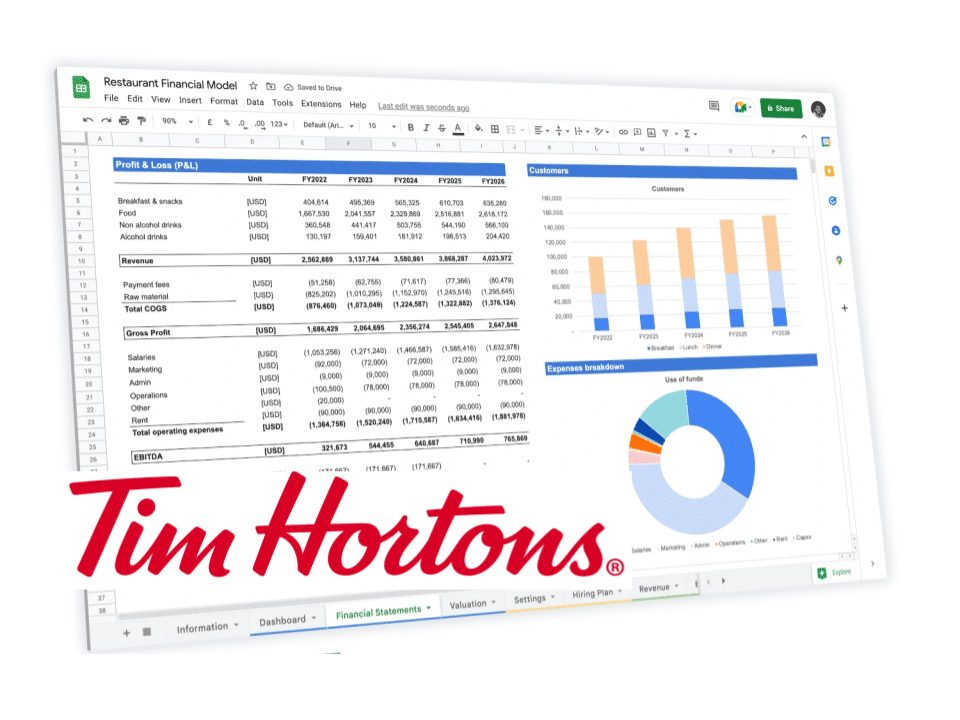 Download the Tim Hortons business plan and get your franchise funded
Including a 5-year financial plan built with the latest Franchise Disclosure Document numbers