The largest hot dog franchise in the US with 325 restaurants across the country, Wienerschnitzel is one of the few franchises that offer a lot of options when it comes to the format of restaurants you can choose from.
Its flagship restaurant, the Wienerschnitzel Full, require an upfront investment of $873,300 on average and would return you on average $238,000 in profits per year. Is this a profitable investment?
In this article we're looking at Wienerschnitzel franchises from the angle of their Franchise Disclosure Document to see whether you should invest in a Wienerschnitzel franchise yourself. Let's find out!
Wienerschnitzel franchises: key stats
| | |
| --- | --- |
| Franchise fee | $18,500 |
| Royalty fee | 5.0% |
| Marketing fee | 4.0% |
| Investment (mid-point) | $873,300 |
| Median annual sales | $880,980 |
| Sales to investment ratio | 1.0x |
| Investment payback* | 6.6 years (average) |
| Minimum net worth | $600,000 |
| Minimum liquid capital | $250,000 |
* assuming 15% net profit margin
What is Wienerschnitzel?
Wienerschnitzel is an American fast-food restaurant chain that specializes in hot dogs.
It was founded in 1961 by John Galardi, with its first restaurant in California.
The chain serves hot dogs, burgers, sandwiches, combos, fries, breakfast items, tasty freeze, and other drinks. Wienerschnitzel started franchising in 1964, and now it is the largest hot dog franchise in the United States with over 325 locations in 10 states.
Wienerschnitzel franchises pros and cons
Pros
Superior training and support: The brand provides franchisees with comprehensive and innovative training to equip them with the knowledge and tools to be successful. It starts with the initial training of 336 on-the-job training hours and 56 classroom hours. In addition, franchisees get ongoing expert consultations and mentorship sessions.
Real estate support: The brand provides its franchisees with excellent real estate support to help them with their restaurant establishment: from identifying a viable business location, lease negotiations, sample store plans, restaurant design, and the construction of the restaurant itself.
Simple operations: A Wienerschnitzel franchise is easy to manage. The brand prides itself on a simplified menu that is easy to execute and requires fewer labor costs. Franchisees can scale their stores' growth and improve the bottom line.
Smaller building footprints: The Wienerschnitzel franchise model offers franchisees an opportunity to start a franchise with smaller real estate requirements. In its design, 1/3 of the Wienerschnitzel system does not have a dining room and utilizes a drive-through, which reduces construction costs and increases profitability.
Exclusive territory protection: The franchise provides its franchisees with an exclusive area around their restaurants in which to operate. Franchisees enjoy controlled, exclusive markets to grow and expand.
Multiple restaurant formats: The brand has 3 flexible franchise models to help franchisees make the best out of the available real estate opportunities in their markets. Their formats include new construction, conversion, and an end cap with a drive-thru. The brand allows franchisees to operate a model that best suits their plans and make maximum profits.
Sweet Sales Add-On: The Wienerschnitzel franchisees benefit from the inclusion of a Tastee-Freez, a soft-serve dessert brand, as a sales addition to their menu. It also allows franchisees to compete healthfully against ice cream brands like Dairy Queen.
Cons
Prior restaurant experience required: The franchisor requires franchisees to have previous experience as restaurant operators or owners. Therefore, it is not a good option for those new to the restaurant industry.
No absentee ownership: The franchise does not offer passive ownership opportunities. The franchisee must fully participate in the daily restaurant operations.
No financing: The brand does not provide direct or indirect financing to franchisees for development or ongoing costs.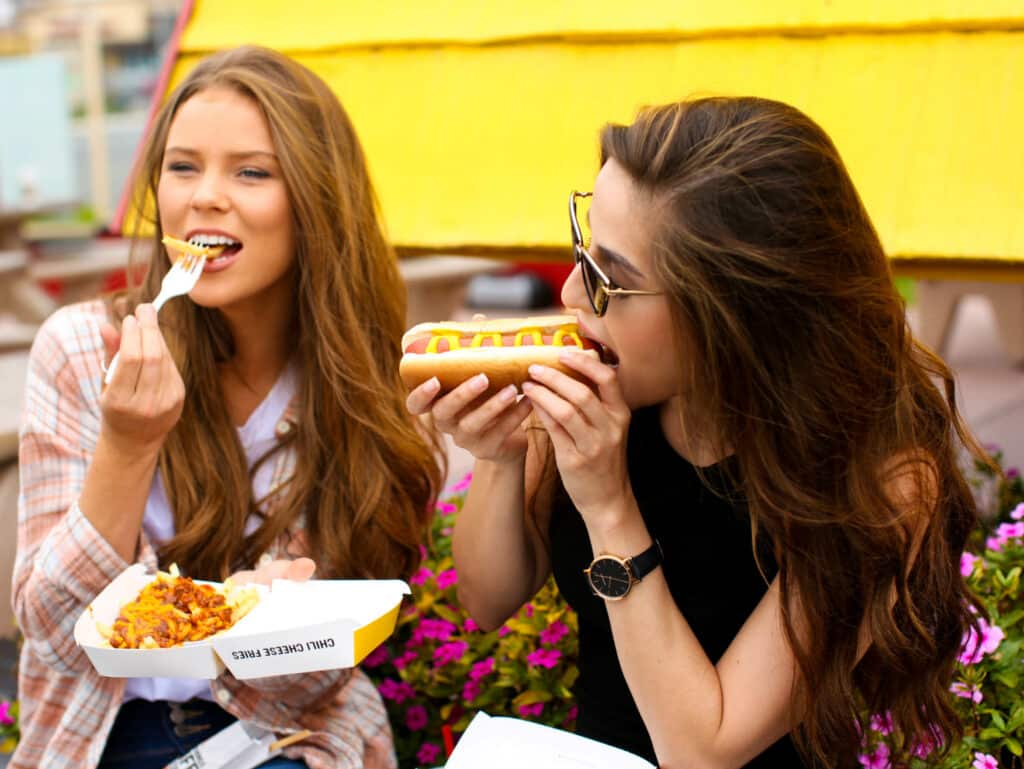 How much does it cost to buy a Wienerschnitzel franchise?
As explained earlier, there are different formats to choose from when opening a Wienerschnitzel restaurant, the most popular ones are the Full and the Limited restaurants:
Full restaurant ($873,300 investment cost) is the most common type of restaurant. It's often a freestanding restaurant that offers the full Wienerschnitzel menu
Limited restaurants ($88,100 investment cost) instead are smaller units often located in airports, malls, gas stations, etc. The limited restaurants also may or may not offer the full breadth of Wienerschnitzel products
This is an average: indeed, it varies based on many factors, such as the location of your restaurant, its size, and market conditions.
In addition to the initial franchise fee, which you must pay to the franchisor, you would also pay for the furniture and fixtures, equipment, real-estate improvements, training costs, insurance etc.
Note that in this article we're only look at the most common type of restaurant: the Full restaurant. Here's the full breakdown of costs:
| Expense | Wienerschnitzel (Full) |
| --- | --- |
| Initial franchise fees | $5,000 – $32,000 |
| Furniture, fixtures and equipment | $7,700 – $300,000 |
| Real-estate improvements | $250,000 – $1,000,000 |
| Training | $4,000 – $8,500 |
| Insurance | $3,000 – $21,000 |
| Other | $33,900 – $81,500 |
| Total | $303,600 – $1,443,000 |
Source: 2021 Franchise Disclosure Document
How much turnover does a Wienerschnitzel restaurant makes?
On average, a Wienerschnitzel (Full) franchise made $880,980 in sales per year in 2019.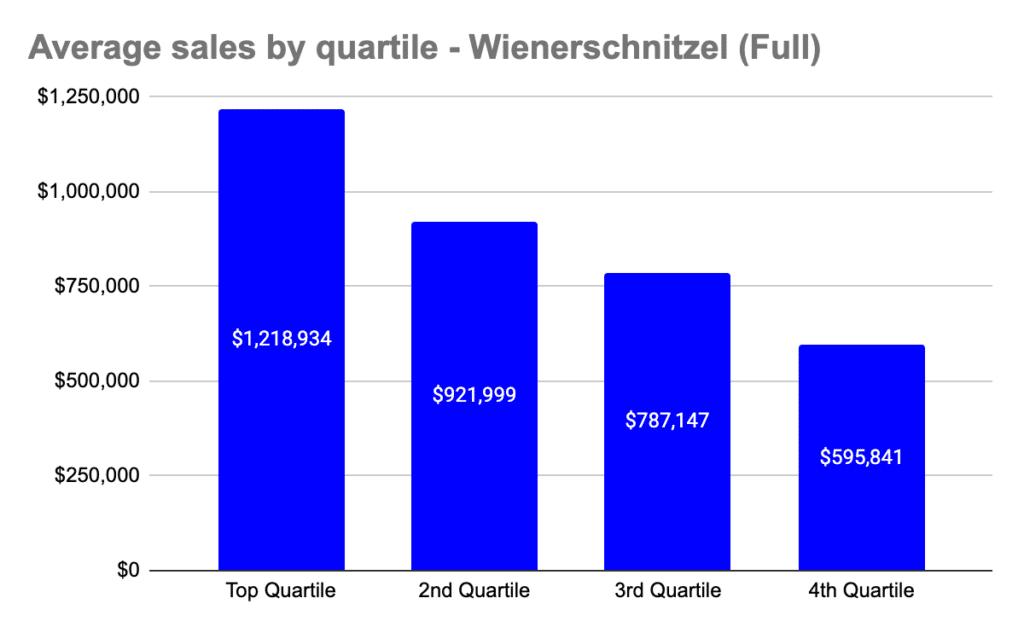 How profitable is a Wienerschnitzel franchise?
On average, a Wienerschnitzel (Full) franchise makes $238,963 profits per year. This corresponds to a 27% profit margin (adjusted EBITDA).
We calculated this number using the information available in the Franchise Disclosure Document 2021.
Unfortunately, like many franchisors, Wienerschnitzel does not provided detailed information on the cost of sales (COGS) nor labor costs. Therefore, we used 25% and 29% of sales respectively, as per industry benchmarks.
| Profit-and-loss | Amount | As % of sales |
| --- | --- | --- |
| Sales | $880,980 | 100% |
| COGS | ($220,245) | 25.0%* |
| Labor | ($255,484) | 29.0%* |
| Rent | ($87,000) | 9.8% |
| Royalty + marketing fees | ($79,288) | 9.0% |
| Adjusted EBITDA | $238,963 | ~27.0% |
* industry average
Source: 2021 Franchise Disclosure Document
Is owning a Wienerschnitzel franchise a good investment?
So are the profits worth the upfront investment you would have to make as the franchisee? In order to answer this question, we need to look at the payback period: the number of years you would have to wait to repay your initial investment.
To do so, we divide the investment (the $873,300 on average here) by the expected annual net profits. For net profits, we estimate Wienerschnitzel can reach 15% net profits, as % of sales given the adjusted EBITDA margin (27%) is in line with similar restaurant franchises in the US.
We found that it would take on average 6.6 years to reimburse your investment with the profits: this is a good payback period in line with most franchises (anything around 5-6 years is average).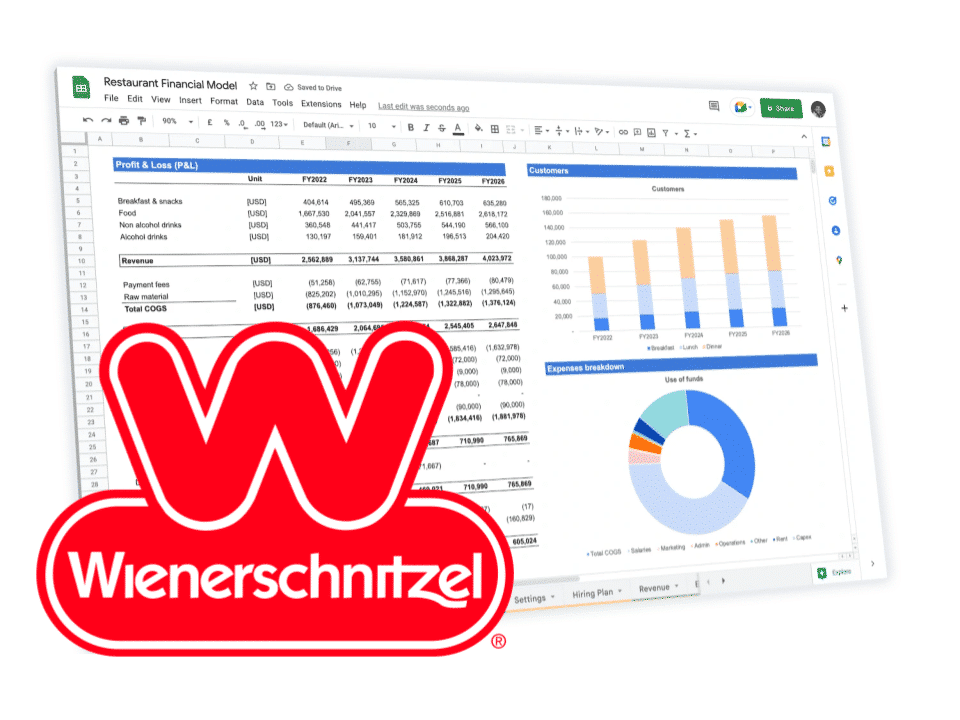 Download the Wienerschnitzel business plan and get your franchise funded
Including a 5-year financial plan built with the latest Franchise Disclosure Document numbers