Zaxby's Franchise AUV & Profits vs. $2.5M Cost (2023)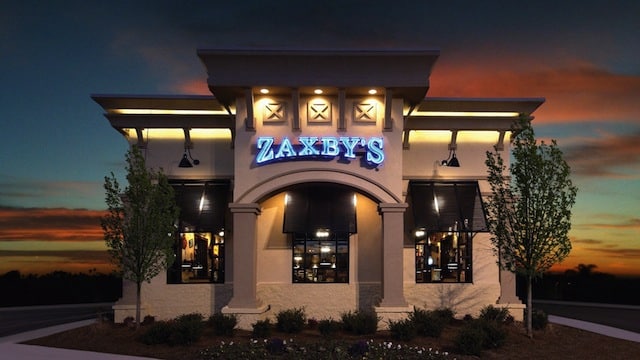 Founded in 1990, Zaxby's is one of the most popular chicken fast food franchise in the US. Indeed, even though it was founded recently, Zaxby's already has 915 stores in the US. Yet there is a lot of untapped potential, not to mention internationalization.
But is the hype justified? Is this really a good business for franchisees?
With average annual sales of $2.2 million and a (mere) investment cost of $534,750, it does seem like a great investment.
In this article we're looking at Zaxby's from the angle of its Franchise Disclosure Document to find out whether it's a profitable business, and whether you should invest in it. Let's dive in!
Key stats
About Zaxby's
Zaxby's is a leading American casual fast-chain company that has over 915 stores in the US and is still growing.
Zaxby's was founded in 1990 by Zach McLeroy and Tony Townley in Statesboro, Georgia.
Operating as a fast-casual dining restaurant, Zaxby's offers made-to-order chicken fingers, chicken wings, sandwiches, salads, and appetizers. In addition, it offers teriyaki, BBQ, and hot honey mustard with its signature dipping sauces.
The franchising journey began in 1994, when it opened its first franchise in Bowling Green, Kentucky. It operates under Zaxby's SPE Franchisor LLC, with its headquarters in Athens, Georgia.
Zaxby's franchise pros and cons
Operating a Zaxby's franchise presents the following advantages and disadvantages:
Pros
Popular brand: Zaxby's is well known for its signature crispy breaded chicken wings and other products. New franchisees are guaranteed huge traffic from customers who identify with their brand and attract new customers who want to be part of the famous chicken brand.
Strong presence: For over 30 years, Zaxby's has established a strong presence in more than 17 US states, mostly in the south. New franchisees can easily market in potential locations, leaning on this presence.
Franchise support: One of the benefits new franchisees enjoy from the franchisor is their extensive training and support. It organizes an annual conference for franchisees to meet leading franchises, broaden their networks, exchange management strategies, and discuss profitability ideas.
Potential for global growth: New franchisees can operate Zaxby's anticipating a lot of growth. This is because the parent company has a huge customer following for its crispy chicken. The chain also plans to expand its operations in the US and beyond.
Cons
Not yet a global brand: Zaxby's is well known in the US but has yet to open an international store. As a result, it may not be an appealing option for interested investors looking to open a restaurant outside the United States. This is because it is difficult and expensive to familiarize the brand with new markets, especially outside the US.
Competition: The chicken fast food industry continues to be very competitive. With changing customer tastes and market trends, Zaxby's competes with market leaders like Popeyes and Chick-fil-A. This makes Zaxby's franchise less attractive as it may have low profitability.
Long training period: Zaxby's has very extensive training and induction programs. Principals and designated managers are required to undergo the franchisor's initial management training program, which has three phases. They are also to receive on-the-job training and subsequent training to the satisfaction of the franchisor.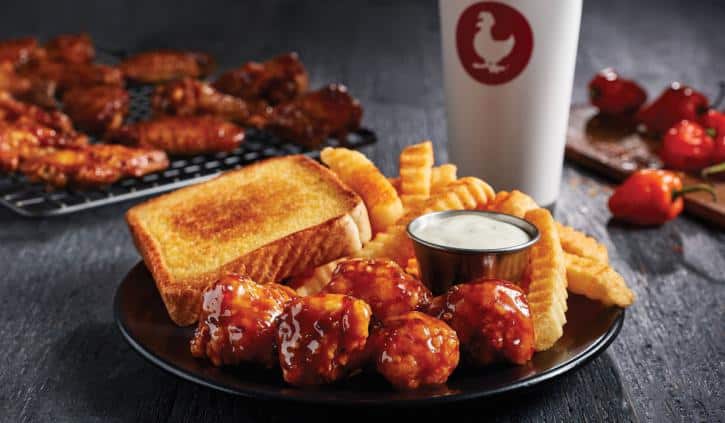 How much does a Zaxby's franchise cost?
You would need to invest a total of $722,000 to open a Zaxby's franchise.
The number mentioned above is an estimated average; it can change based on several factors, like your location, the current market price of equipment, etc. Generally, the investment for a Zaxby's franchise ranges from $494,700 to $950,200.
The investment includes everything you need to start a restaurant business, in addition to a $35,000 initial franchise fee. For example, the investment includes:
Build costs: lease deposit and payment, furniture, fixtures, equipment, signage, permits and licenses, training expenses, etc.
Marketing costs: initial marketing contribution
Operating costs: initial inventory, insurance, technology system, uniforms, etc. It also includes an additional fund for the first 3 months to cover the first losses
What is the turnover of a Zaxby's franchise?
On average, a Zaxby's franchise makes $2,497,000 in sales annually. This amount is the average median sales of 765 franchised restaurants operated in 2021 in the US.
If you consider the growth of Zaxby's franchised restaurants, you will see that revenue per restaurant is growing over the past years despite the impact of the COVID-19 pandemic.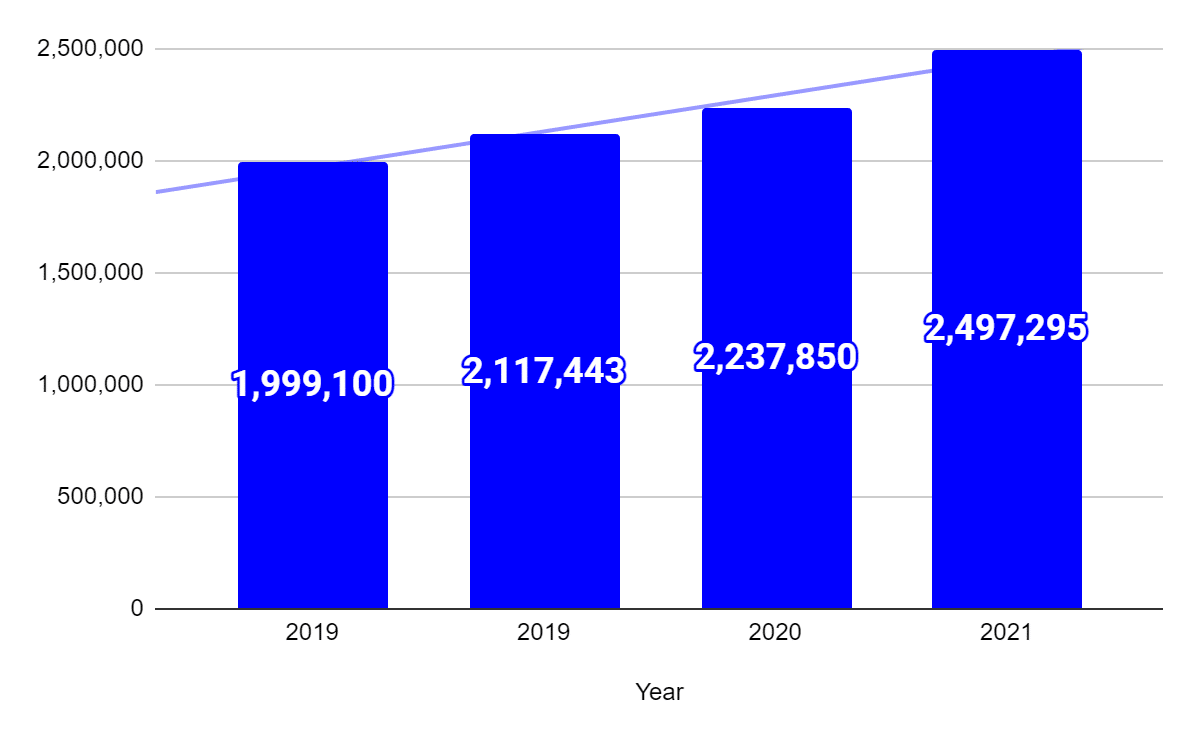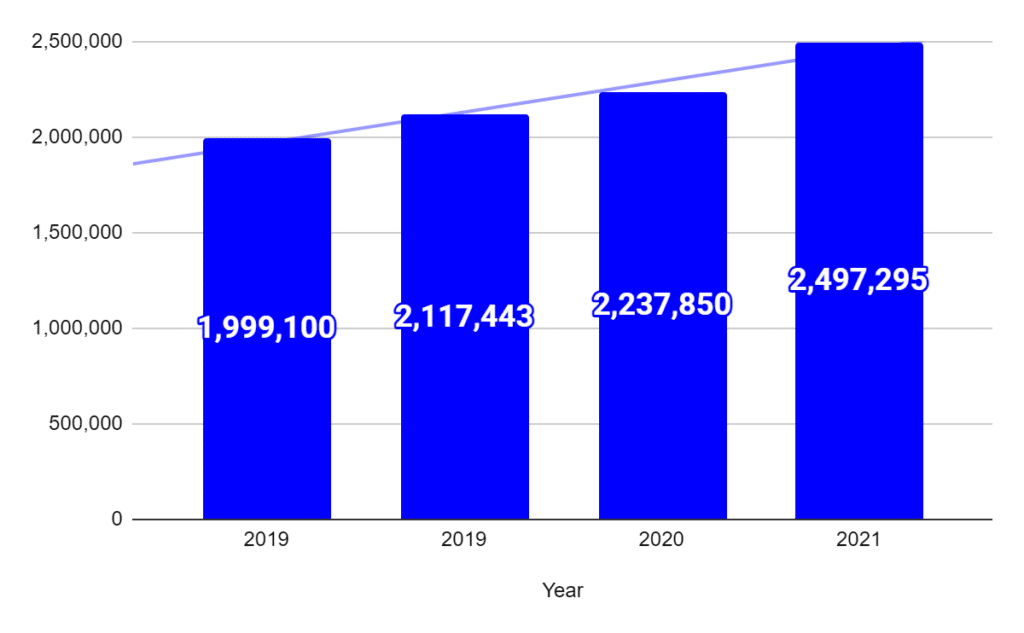 How profitable is a Zaxby's franchise?
When it comes to financial disclosure, Zaxby's is incredibly helpful. Indeed, the level of detail provided in its Franchise Disclosure Document is by far one of the most detailed and helpful we've seen so far.
On average, a Zaxby's franchised restaurant makes $337,000 in profits per year (15% EBITDA margin) which is really good.
Is a Zaxby's franchise a good investment?
We estimate Zaxby's franchises have an excellent 2 to 3 years investment payback. In other words, it would take you on average 2 to 3 years to reimburse your original investment to open a Zaxby's restaurant.
This is an excellent payback, actually one of the best in the restaurant franchise industry. AS such, we do consider Zaxby's to be a great franchise investment.
Of course, this number is an average of a number of Zaxby's restaurants. As such, your financial performance may vary (and the payback period too).
Disclaimer
Disclaimer: This content has been made for informational and educational purposes only. We do not make any representation or warranties with respect to the accuracy, applicability, fitness, or completeness of the information presented in the article. You should not construe any such information or other material as legal, tax, investment, financial, or other professional advice. Nothing contained in this article constitutes a solicitation, recommendation, endorsement, advertisement, or offer to buy or sell any franchises, securities, or other financial instruments in this or in any other jurisdiction in which such solicitation or offer would be unlawful under the franchise and/or securities laws of such jurisdiction.
All content in this article is information of a general nature and does not address the detailed circumstances of any particular individual or entity. Nothing in the article constitutes professional and/or financial and/or legal advice, nor does any information in the article constitute a comprehensive or complete statement of the matters discussed or the law relating thereto. You alone assume the sole responsibility of evaluating the merits and risks associated with the use of any information or other content in this article before making any decisions based on such information or other content.