How to Write a Coworking Business Plan: Complete Guide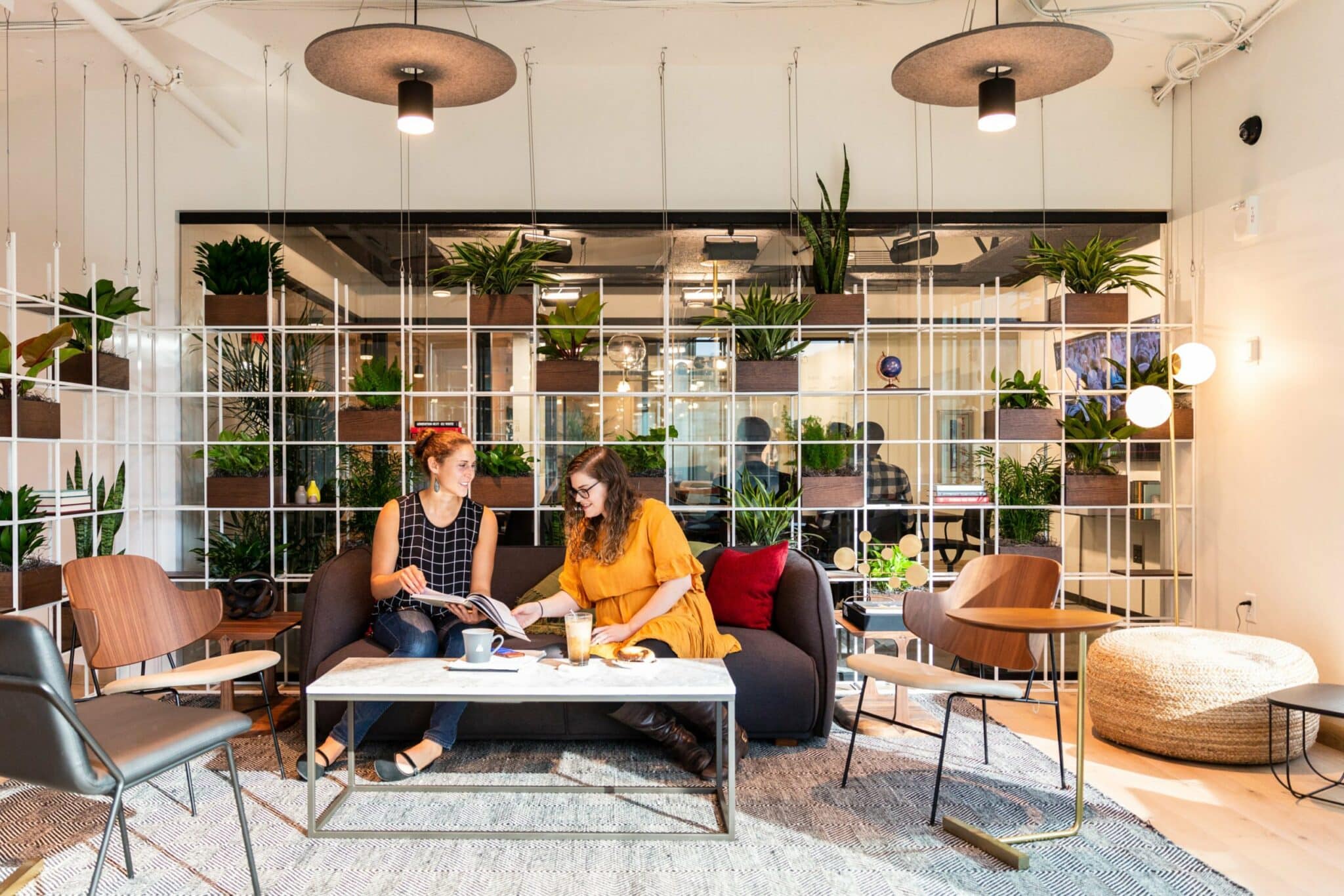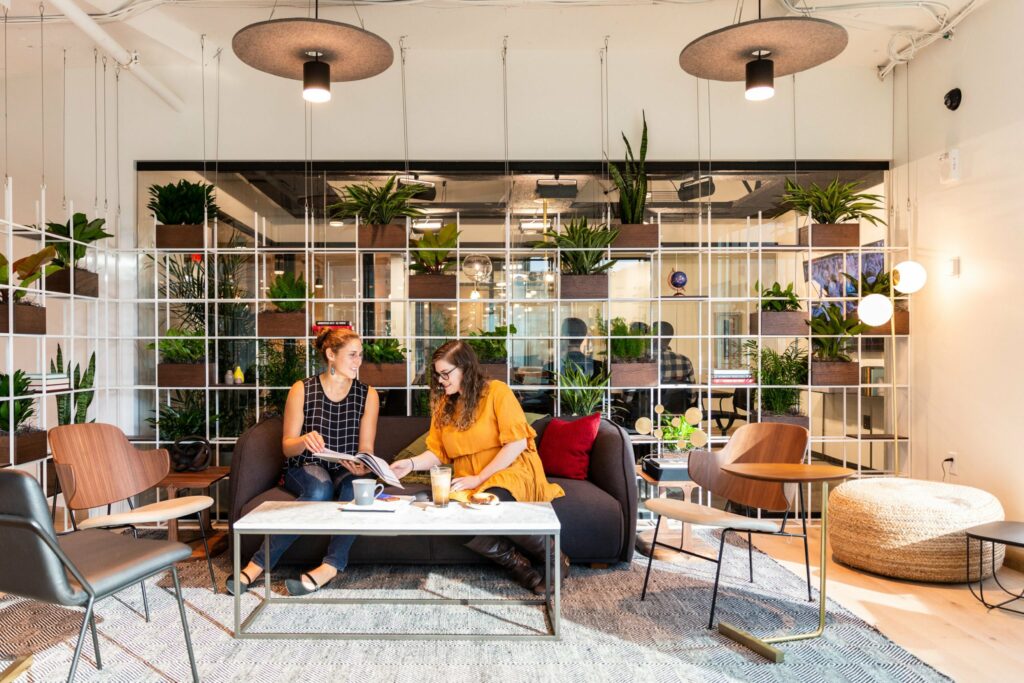 Whether you're looking to raise funding from private investors or to get a loan from a bank (like a SBA loan) for your coworking, you will need to prepare a solid business plan.
In this article we go through, step-by-step, all the different sections you need in your coworking business plan. Use this template to create a complete, clear and solid business plan that get you funded.
1. Executive Summary
This is the first part and the most important section of your business plan. This is the first thing lenders and/or investors will have a look at.
Before we dive into the specifics, keep in mind the executive summary is a summary: keep it to 2 pages maximum.
Your executive summary should briefly sum up the key sections of your business plan as well as presenting the funding ask.
Why businesses prepare business plans?
The funding ask (or funding requirement), as explained below, is the reason why any business would have a business plan. Business plans are prepared for one of the 3 following objectives:
Obtain financing from a bank or any other lender (a SBA loan for example)
Obtain financing from private investors (business angels, investment funds, etc.)
Get approval for a private or public grant
How to write an executive summary for a coworking business plan?
The executive summary of your coworking business plan should include the following important information:
Business overview: the name of your company, its legal structure, the business model (franchise vs. independent coworking business), your revenue model (is this membership only or do you also offer hot desk pricing?), and the type of services you will offer (conference rooms, cafeteria, events, workshops, etc.)
Market analysis

: how big is the coworking industry in your area? How many coworking spaces are there? How many members do they have on average? What type of customers are they (freelancers, companies renting out offices, etc.)? What's the average pricing

of your competitors?
People: who is the management team? what is your/their experience in the coworking industry?
Financial plan: what is your expected revenue and profitability for the next 5 years? When do you expect to break-even? Simply include here a chart of your key financials (e.g. Revenue, Gross Profit, Net profit)
Funding ask: what loan/investment/grant are you seeking? How much do you need? How long will this last?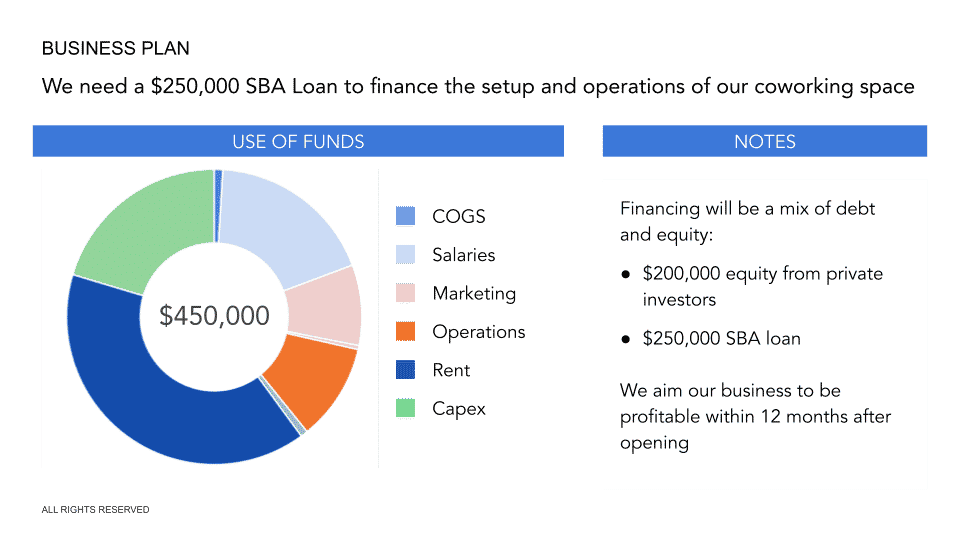 2. Business Overview
The business overview (or "Company description") is the 2nd section of your business plan. It should cover all the important aspects of your coworking business: what is your business model (monthly memberships vs. hot desk / by-the-day desk rental, etc.), what type of members are you targeting (freelancers, entrepreneurs, corporates, etc.), who are your customers (individuals vs. businesses), how the company is structured, etc.
Let's now see one by one the different pieces of information you should cover here:
History
As an introduction, briefly explain the genesis of the project: when, how and why you decided to start a coworking business? Why today?
Anything that shows investors or lenders passion and most importantly the background and rationale of you deciding to open a new coworking today goes a long way.
First, expand on your personal interest and passion for the industry. Are you keen to develop a community space where people get together, share ideas and create projects and businesses?
Another important addition here is to highlight why your business makes sense today.
For example, you might be an entrepreneur with experience in real estate who realised there was a strong demand in your city for women-only coworking spaces.
Are existing coworking spaces always busy? This may be a sign there isn't enough coworking spaces in the area.
Or maybe existing coworking offices are rather basic and lack high-quality amenities (kitchen, cafeteria, noise-cancelling phone booths, etc.) professionals might need?
Business Model
First, you should explain whether:
You plan to open a new independent coworking ; or
Whether you are buying out an existing coworking which you intend to take over ; or
You are franchising with an existing well-known coworking brand which will provide a lot of the capital, design, blueprint and equipment.


Coworking businesses: leasing vs. buying
Lastly, you should expand on the real estate, which is a big component of any coworking business. Specifically, you should explain whether you intend to lease the facilities (the building) from a landlord or whether you purchased the real estate with a mortgage instead.
This is a pretty important point in your business plan, which we will come back to later in the financial plan section. Indeed, there are clear differences for an investor (or a lender) between a coworking business which owns the premises and another that doesn't.
Whilst the latter has more flexibility (to increase / decrease rented space or cancel the lease altogether), the first strategy is eventually cheaper in the long term.
Revenue model
The Business Overview section of your coworking business plan should include all the services and products you intend to offer.
In other words, you should answer here the following question: how do you intend to make money?
Typically, coworking spaces make money from a variety of sources, which can be a combination of:
Membership fees: almost all coworking spaces typically charge membership fees which give coworkers access to the amenities
Desk rental: In addition to membership, many coworking spaces also give customers the ability to rent out desks by the day or a week. Whilst desk rental fees aren't as attractive for a coworking owner vs. recurring membership fees, they provide them with extra revenue, especially when the coworking space isn't at maximum capacity
Renting conference and meeting rooms. Coworking spaces provide the coworkers access to fully-furnished meeting rooms and conference rooms. Depending on the membership, the meeting facilities may feature private audio or video call booths, printers, soundproofing, and other amenities. This can either be included in a membership fee, or sold as an additional service
Virtual offices. Some members may need a physical address for their business and access to office-related services (bookkeeping, printing, PA services, etc.), thereby avoiding the need for employing administrative staff
Events & workshops. Events and workshops can either be free (as a marketing strategy to attract new members) or paid (e.g. training sessions, sponsorships)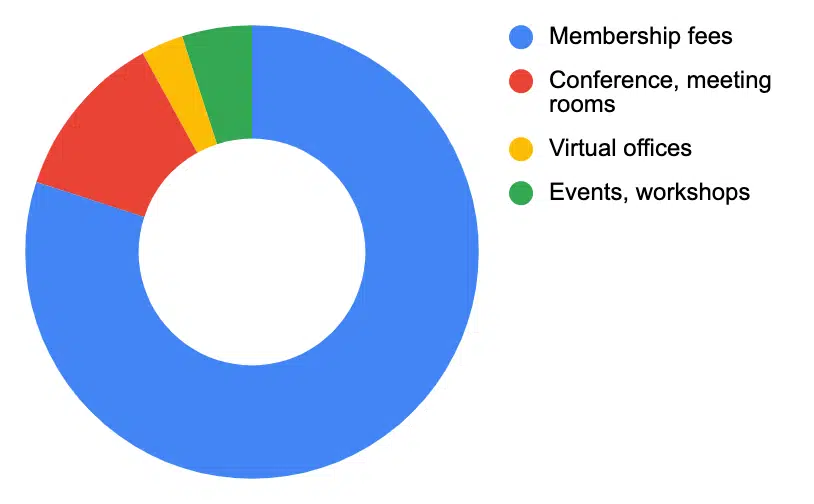 Target Audience
Another important part of the business overview section of your coworking space business plan is your target audience. To clearly define your target audience, try to answer the following questions:
Who is your typical customer?
What is their age range?
Are they freelancers / entrepreneurs? Are they employees practicing remote working? Or are they companies / startups that rent an office in your coworking for their team?
Knowing exactly who are your target customers will give you an edge over competition to attract
The type of customers you're after will define the design, layout, the amenities and the quality of the offering of your coworking.
For example, if you want to secure a few corporate contracts with companies that need an office space, you will likely need to design and equip separate office spaces with fixed desks, enough conference rooms, a large and well equipped kitchen (or even a cafeteria), a professional reception with virtual office services, etc.
Instead, if you decide to open a coworking space for freelancers and creatives, you might be fine with a large open space without fixed desks, and some phone booths / small meeting rooms. A basic kitchen and furniture can also do the trick, unless you are looking at a premium coworking space for entrepreneurs.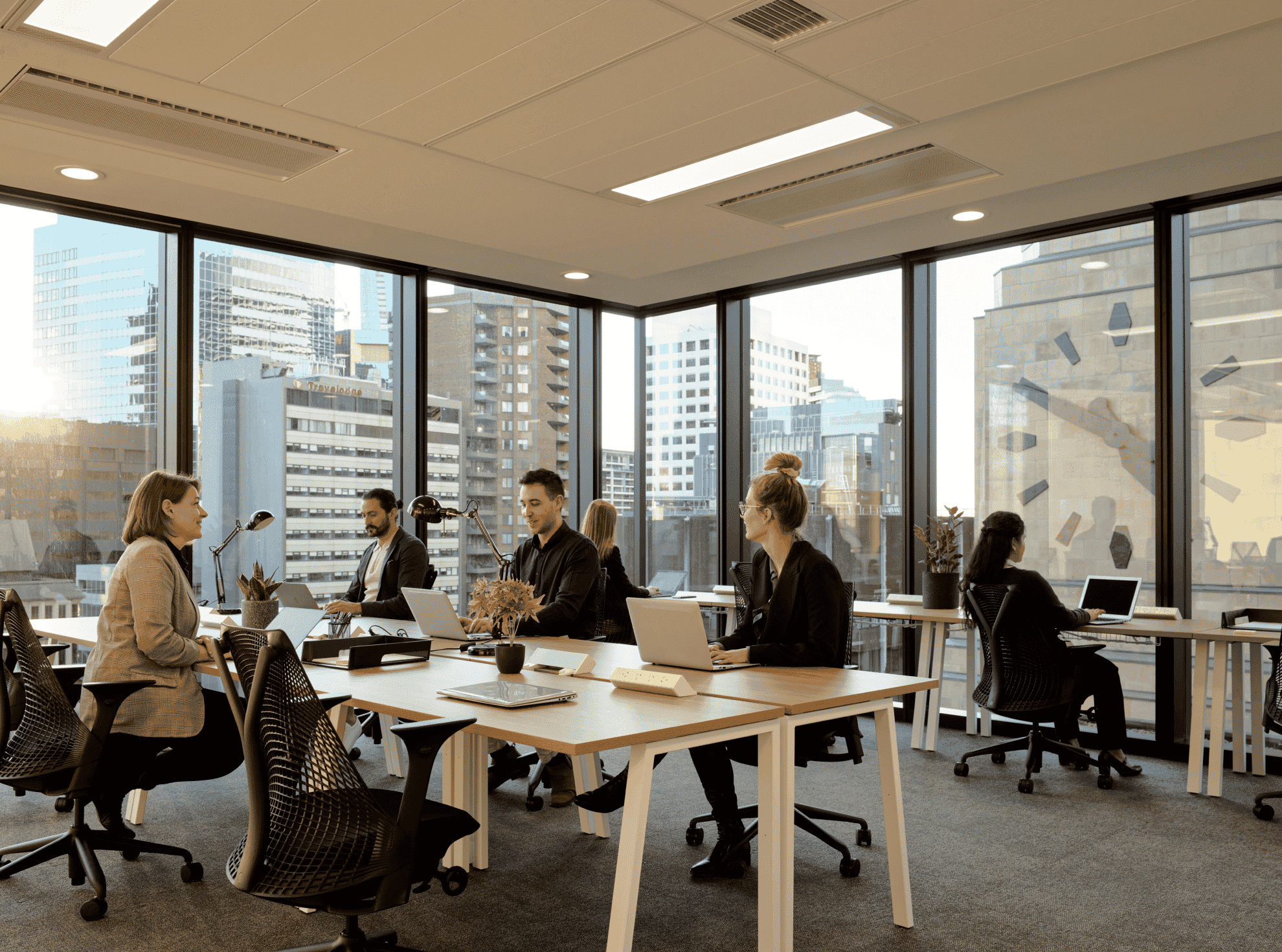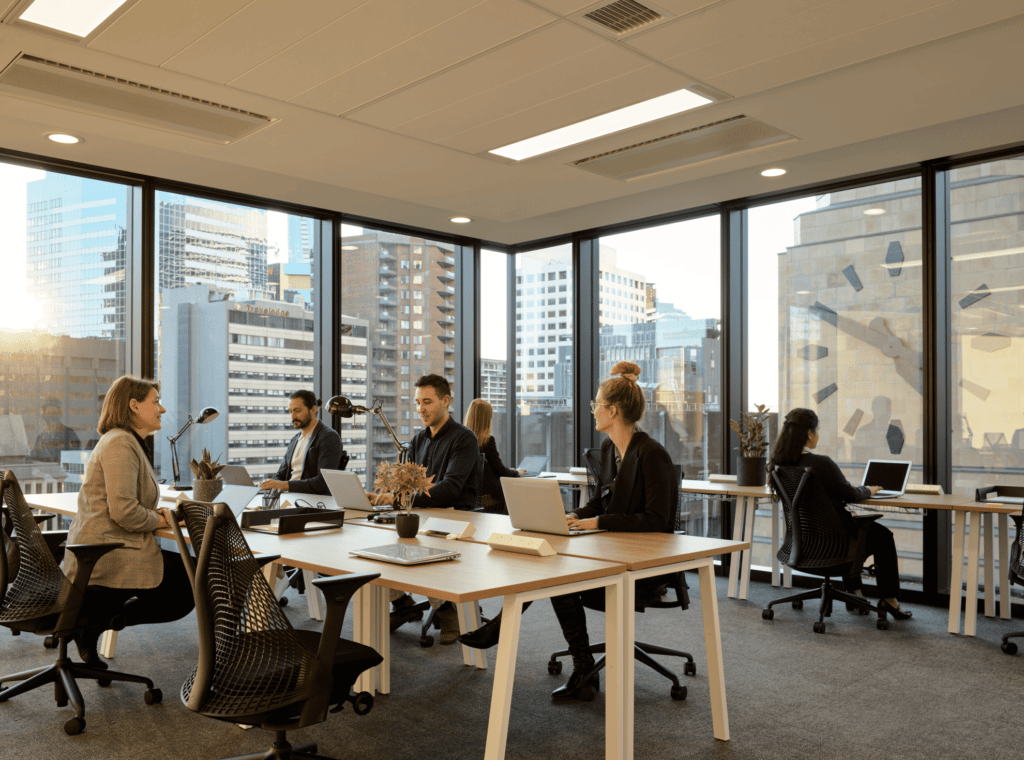 Legal Structure
Finally, your business overview section should specify what type of business structure you opt for. Is this a corporation or a partnership (LLC)? Who are the investors? How much equity percentage do they own? Is there a Board of Directors? If so, whom? Do they have experience in the industry?
Get a rock-solid business plan with the Coworking financial model
5-year financial plan already built

20+ charts for your business plan

Video tutorial 🎥

5,900+ downloads
3. Market Analysis
The market analysis is an important section of your coworking business plan. Here, you should show lenders and/or investors that you understand the coworking industry and its current trends.
More importantly, it should prove to anyone that opening a coworking in your area today makes complete sense based on market and competition dynamics.
For example, it's always best to open a coworking in an area where competition is limited (as long as there is sufficient demand). Also, you wouldn't necessarily open a basic coworking space only with a large open space in a premium downtown area where there are only corporations (as they would likely require separate offices and meeting rooms).
a) Coworking industry
The first part of your market analysis should answer the following 2 questions:
What is your market size? In other words, how big is the coworking industry in your area?
How fast is your market growing today?
First, you will need to define what is your market. Is this the coworking industry in the US? Or are you referring specifically to the coworking sector in Chicago?
Keep in mind that it's always better to be more specific. For example, it's better to define your market at a city level where you plan to open your gym (Chicago here for example) vs. for the US as a whole.
How big is the coworking industry in the US?
Don't get us wrong, it's always good to add national figures as an introduction. For example, despite the pandemic, the number of coworking spaces and other shared, collaborative working spaces in the US was over 5,900, up from 4,000 5 years earlier..!
So with an average size of 9,799 sq./ft. (100 people), and average occupancy rate of 70%, and an average desk price for a monthly desk at $379, we can estimate the US coworking market at $1.8 trillion. This isn't too far from Wework's own estimation at $1.6 trillion back in 2019.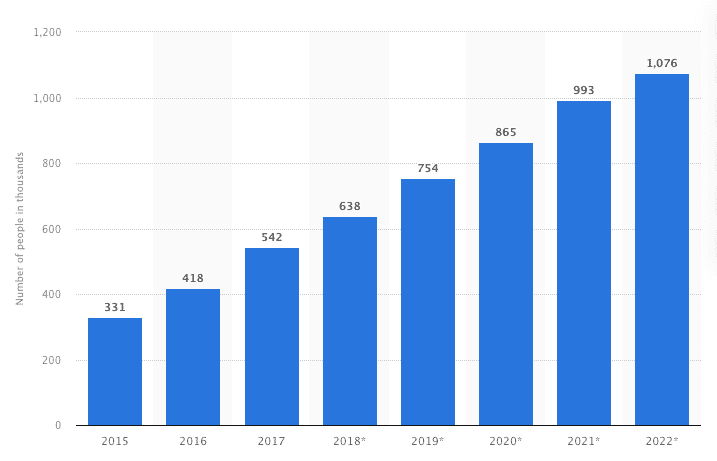 How big is the coworking industry in your city?
Now, you can do the same math for your city / area. How big is the coworking industry? How many coworking spaces are there?
For example, assuming there are 130 coworking spaces in Chicago, and using the average monthly desk rental of $350, you could assume the coworking sector in Chicago is worth about $35 million. In other words, each coworking space generates $600,000 in revenue per year as per our assumptions.
This is pretty much more interesting and accurate than the US market as a whole isn't it?
How fast is the coworking industry growing in your city?
Now let's look at growth.
Here, you can use the number of coworking spaces in your city. For example, assuming there were 120 coworking in Chicago in 2021 and 130 in 2022, we can assume your market is growing at +8% per year.
b) Competition
The 2nd step of your market analysis is to describe competition in your area. There are a few questions to answer here:
How many coworking spaces are there in the area? How spacious are they (in sq. ft.)?
Where are they located?
What types of services do they offer (membership, hot desk, virtual offices, etc.)?
Who are their customers (freelancers, corporates, etc.)?
What is their average pricing point (per monthly fixed desk for example)?
Why you need a competitive analysis in your coworking business plan?
The conclusion to your competitive analysis should be that there is a strong rationale for opening a coworking business in your area today. For example it can be that:
There is no high-end coworking space offering multiple conference and meeting rooms for corporates
Existing shared coworking spaces are always overbooked
There is no low-cost hot desk coworking space for remote workers on a small budget (under $200 a month) although many work from nearby coffee shops in the area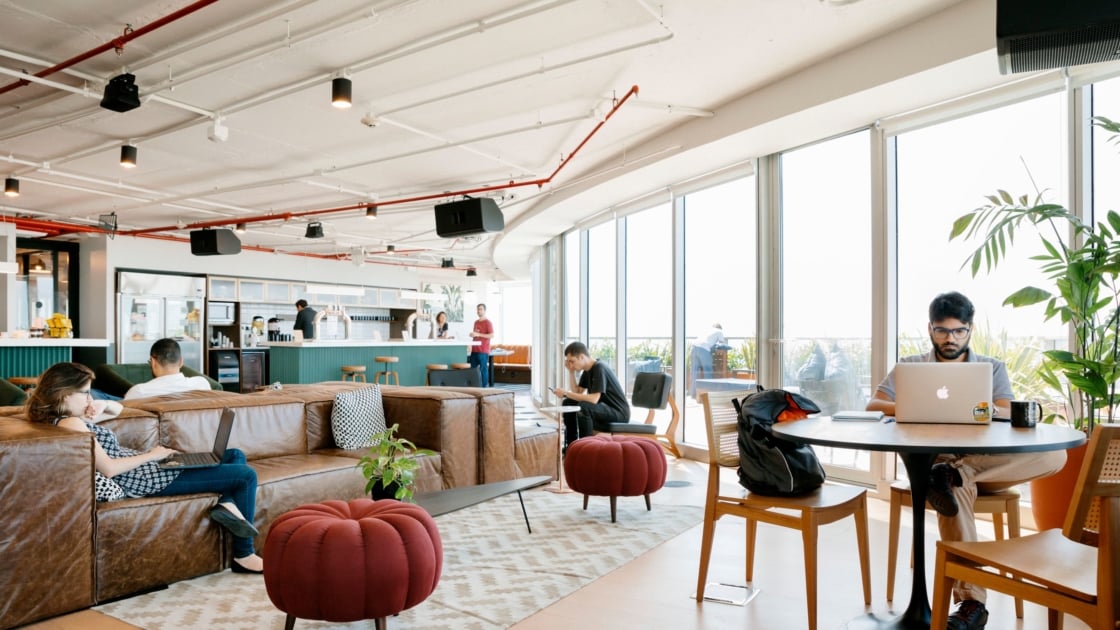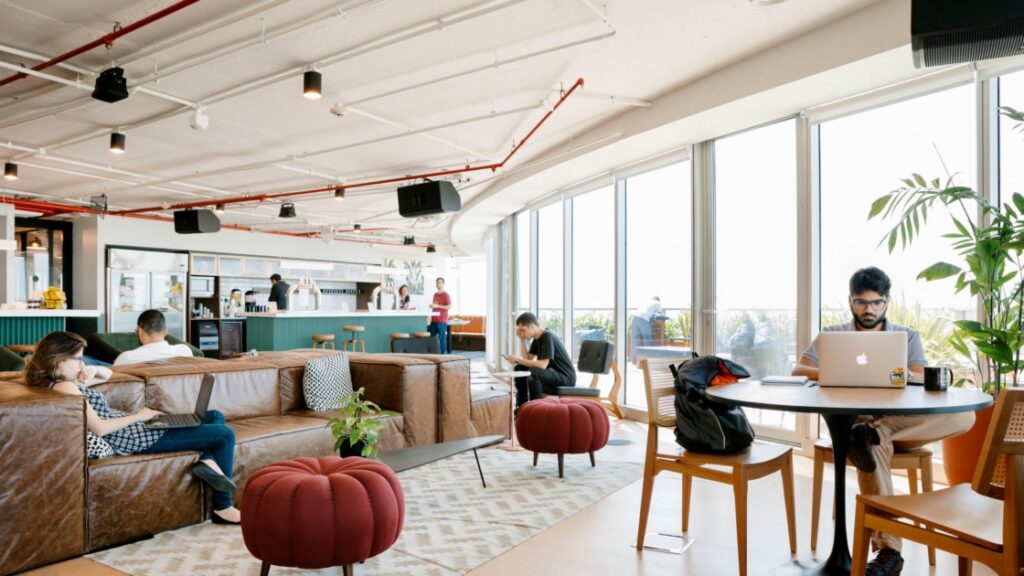 c) Customers
We already touched upon your target audience in the Business overview section earlier.
Here instead, the objective is to show lenders and investors that your target audience actually exists in the area where you plan to open a new coworking business. For example, you should be able to answer the following questions:
What is the age range of your target customers in your area?
What's their average disposable income?
What type of coworking space are they interested in primarily (high-end with extra services vs. a hot desk low-cost option)?
When you present customers here, you should always tie it into competition. Are coworking customers in your area finding what they want, or is there a gap to fill in the market instead?
But it doesn't necessarily need to be about existing coworking members only. There might be many professionals and freelancers working in basic conditions in coffee shops for example. Some of them may be interested in joining your coworking instead.
4. Sales & Marketing Strategy
Your coworking business plan should include a sales & marketing plan where you outline your strategy to acquire your target customers.
For example, you should answer the following questions:
What channel(s) do you plan to use (online vs. offline marketing channels)?
How does it make sense for your target audience? For example, you might want to focus on online marketing (e.g. social media) for freelancers, whereas you may forge partnerships with corporates for large B2B customers
What is your unique selling proposition?
What is your expected marketing budget?
How will you track whether your marketing strategy is profitable? What's your customer acquisition cost (CAC)?
What strategies and promotional offers do you plan on using in the early days to attract your first customers?
Let's expand a bit on a few questions below:
What marketing channels do coworking spaces use?
A few marketing channels coworking businesses typically use are:
Email marketing
Social media
Pay-per-click campaigns (e.g. Google Ads)
Partnerships & Sponsorships (especially for B2B customers)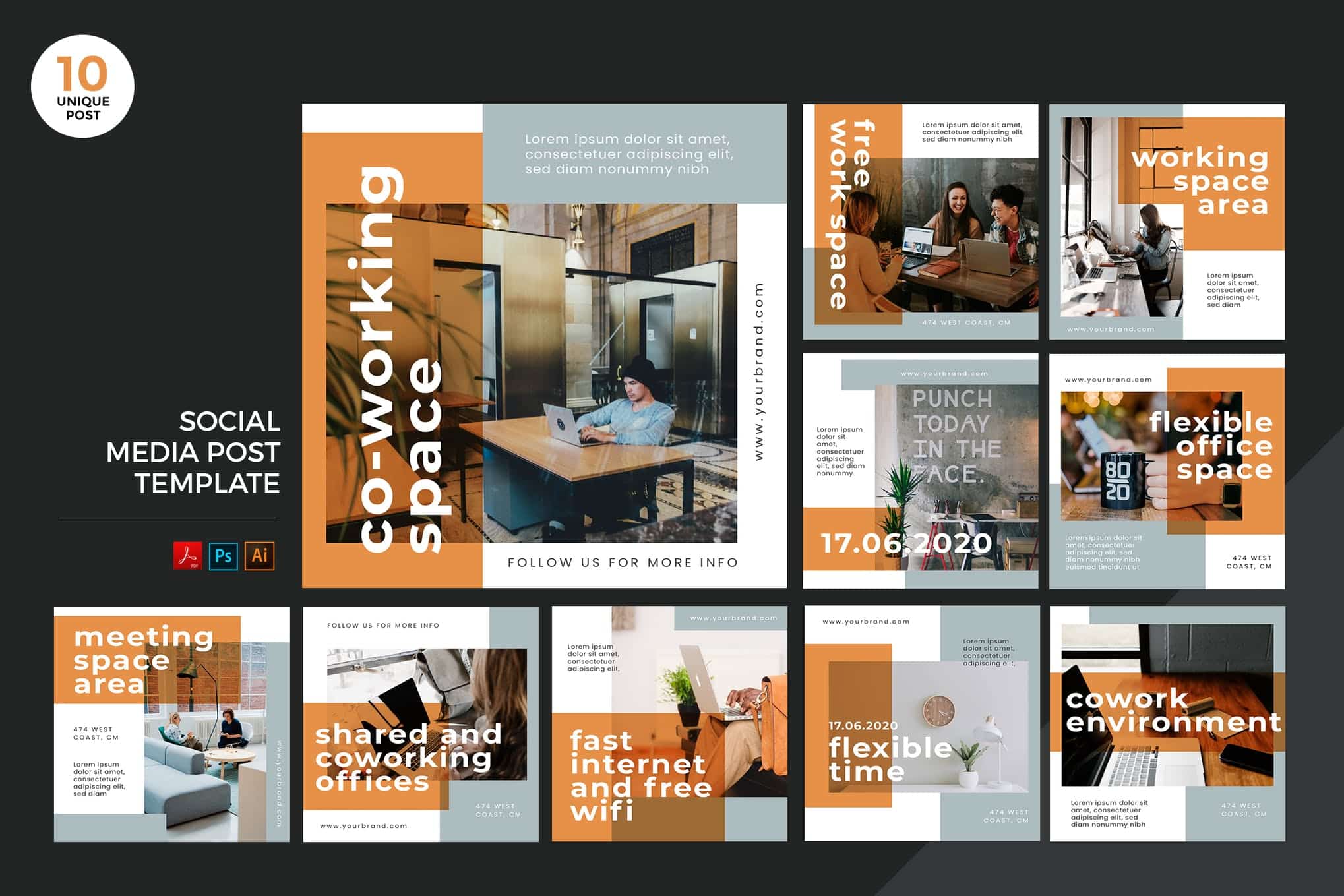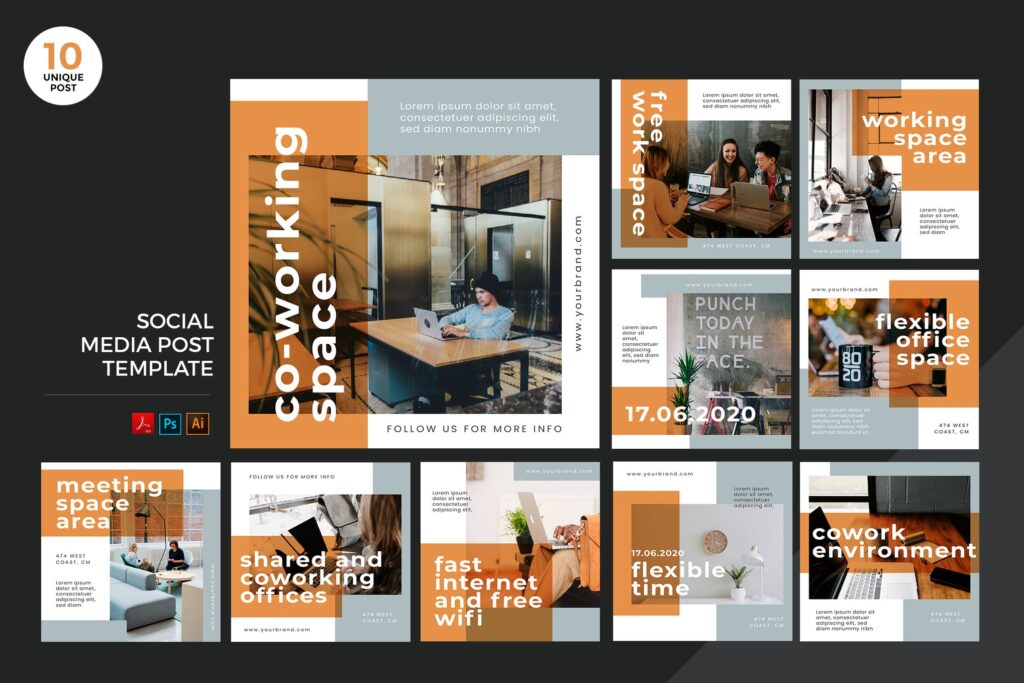 What is your unique selling proposition?
In other words, how do you differentiate yourself vs. competitors? This is very important as you might need to win customers from competitors.
A few examples of USPs are:
Price: you may be cheaper vs. your competitors
Location: your coworking might be closer to your target customers or in a busier street for example
Quality: you offer higher-quality amenities (large fixed desks, lightning, etc.), services (cafeteria, coffee shop, etc.), a better design and layout, etc.
5. Management & Organizational Structure
The 5th section of your coworking business plan should be about people. It should include 2 main elements:
The management team and their experience / track record
The organizational structure: what are the different teams and who reports to whom?
Management
Here you should list all the management roles in your company. Of course, the amount of details you need to include here varies depending on the size of your company. A franchise business with a number of coworking offices would need more detail vs. an independent coworking.
If you plan on running your business independently, you may write a short paragraph explaining who are the co-founders and/or senior managers (if there are any in addition to yourself). It's important to highlight their experience in the industry and previous relevant professional experiences.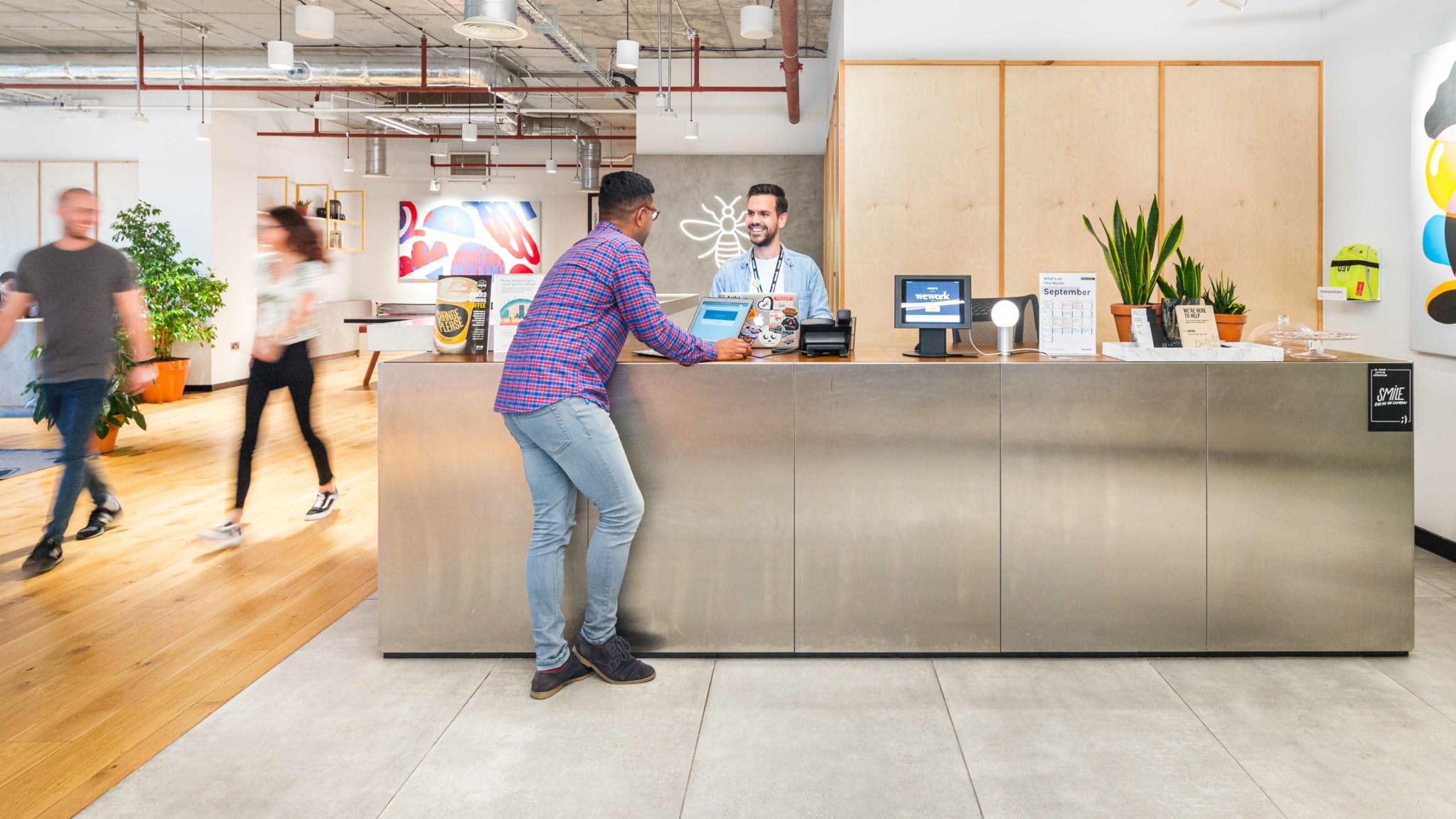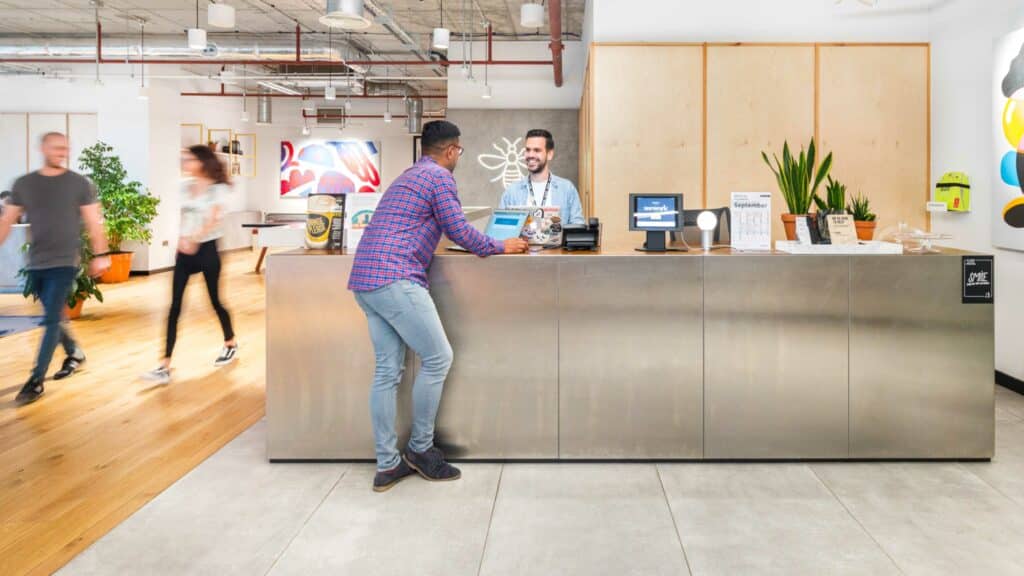 Organizational structure for a coworking
No matter how many leadership roles there are, you should now explain how you intend to run the company from a management standpoint.
What are the different teams (management, community, operations, marketing, etc.)? Note that you should include these details even if you haven't hired anyone yet. It will show lenders and investors that you have a solid hiring and management plan to run the business successfully.
A great addition here is to add an organizational chart that list all the roles, from Directors to managers, key supervisory roles, employees and contractors. Make sure to highlight with reporting lines who manages/supervises whom.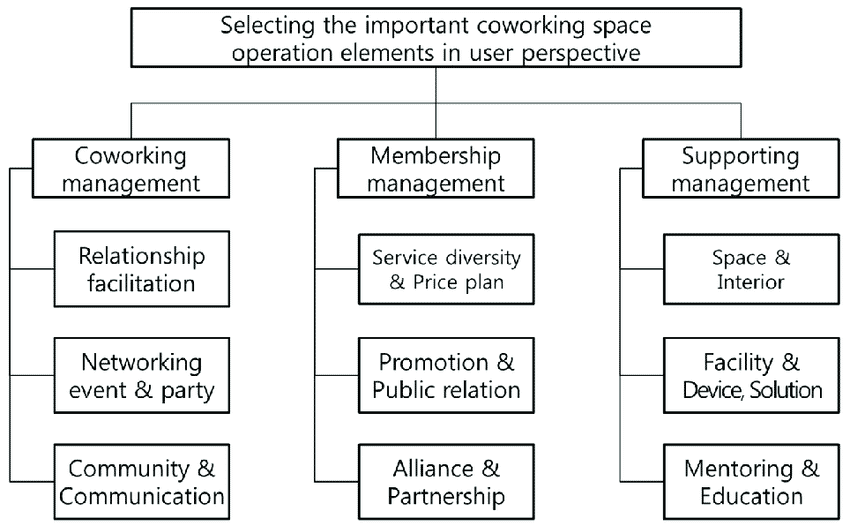 6. Financial Plan
The financial plan is perhaps, with the executive summary, the most important section of any business plan.
Indeed, a solid financial plan tells lenders that your business is viable and can repay the loan you need from them. If you're looking to raise equity from private investors, a solid financial plan will prove them your coworking business is an attractive investment.
There should be 3 sections to your financial plan section:
Your historical financials (only if you already operate the business and have financial accounts to show)
The startup costs of your project (if you plan to open a new coworking space, purchase new equipment, renovate your facilities, etc.)
The 5-year financial projections
Historical Financials (if any)
In the scenario where you already have some historical financials (a few quarters or a few years), include them. A summary of your financial statements in the form of charts e.g. revenue, gross profit and net profit is enough, save the rest for the appendix.
If you don't have any, don't worry, most new businesses don't have any historical financials and that's ok. If so, jump to Startup Costs instead.
Startup Costs
Before we expand on 5-year financial projections in the following section, it's always best practice to start with listing the startup costs of your project. For a coworking business, startup costs are all the expenses you incur before you open the space to your customers. These expenses typically are:
The lease deposit for the space you rent
The design and renovation of the existing facilities
The equipment and office furniture
The total startup costs depend on a number of factors, such as the size of your coworking space, the quality of the building (whether there is a lot or remodeling to do or not), the quality of the equipment and furniture, etc.
In general, the total cost to start a 3,000 square foot coworking business with 100 desks ranges anywhere from $94,000 to $126,500. For more information on how much it costs to open and run a coworking space, read our complete guide here.
| Startup cost | Amount |
| --- | --- |
| Equipment & office furniture | $65,000 (100 desks, 20 workstations) |
| Building refurbishment | $20,000 – $50,000 |
| Connectivity setup | $500 – $1,000 |
| License | $500 |
| Legal fees | $2,000 – $4,000 |
| Insurance | $6,000 (per year) |
| Total | $94,000 – $126,500 |
Build projections in minutes with the Coworking financial model template
Financial Projections
In addition to startup costs, you will now need to build a solid financial model over 5 years.
Your financial projections should be built using a spreadsheet (e.g. Excel or Google Sheets) and presented in the form of tables and charts in your business plan.
As usual, keep it concise here and save details (for example detailed financial statements, financial metrics, key assumptions used for the projections) for the appendix instead.
Your financial projections should answer at least the following questions:
How much revenue do you expect to generate over the next 5 years?
When do you expect to break even?
How much cash will you burn until you get there?
What's the impact of a change in pricing (say 20%) on your margins?
What is your average customer acquisition cost?
You should include here your 3 financial statements (income statement, balance sheet and cash flow statement). This means you must forecast:
The number of members over time ;
Your expected revenue ;
Operating costs to run the business ;
Any other cash flow items (e.g. capex, debt repayment, etc.).
When projecting your revenue, make sure to sensitize pricing and the number of members as a small change in these assumptions will have a big impact on your revenues.
When it comes to the costs, consider both startup and operating costs. For more information, read our complete guide here.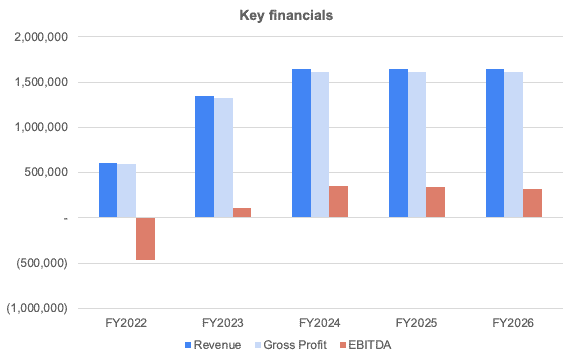 7. Funding Ask
This is the last section of your coworking business plan. Now that we have explained what your coworking business model is about, what's your strategy, where you go and how you get there, this section must answer the following questions:
How much funding do you need?
What financial instrument(s) do you need: is this equity or debt, or even a free-money public grant?
How long will this funding last?
Where else does the money come from? If you apply for a SBA loan for example, where does the other part of the investment come from (your own capital, private investors?)
If you raise debt:
If you raise equity
What percentage ownership are you selling as part of this funding round?
What is the corresponding valuation of your business?
Use of Funds
Any coworking business plan should include a clear use of funds section. This is where you explain how the money will be spent.
Will you spend most of the loan / investment in paying your employees' salaries? Or will it cover mostly the cost for the lease deposit and the renovation of the building?
Those are very important questions you should be able to answer in the blink of an eye. Don't worry, this should come straight from your financial projections. If you've built solid projections like in our coworking financial model template, you won't have any issues answering these questions.
For the use of funds, we recommend using a pie chart like the one we have in our financial model template where we outline the main expenses categories as shown below.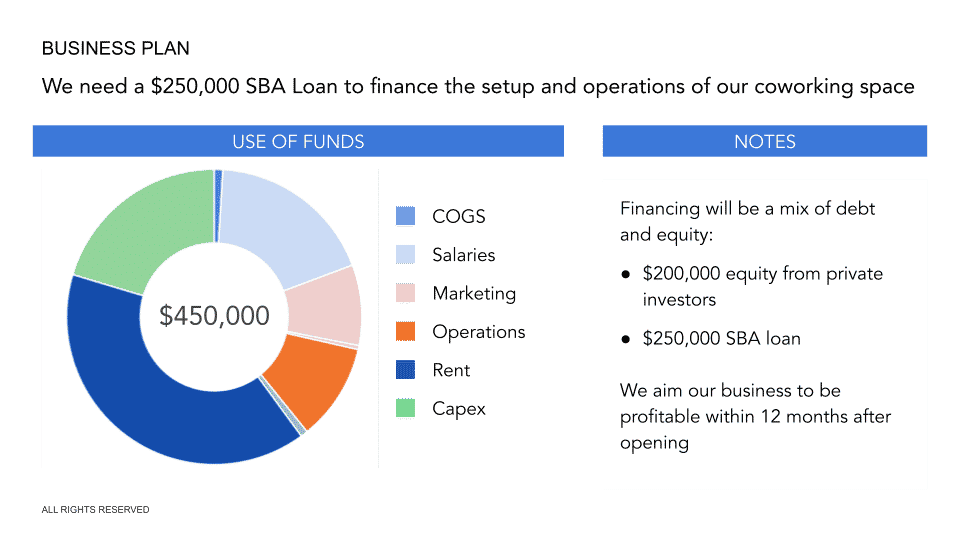 Get a rock-solid business plan with the Coworking financial model
5-year financial plan already built

20+ charts for your business plan

Video tutorial 🎥

5,900+ downloads