Opening a Day Spa Costs $203,000 to $328,000 on Average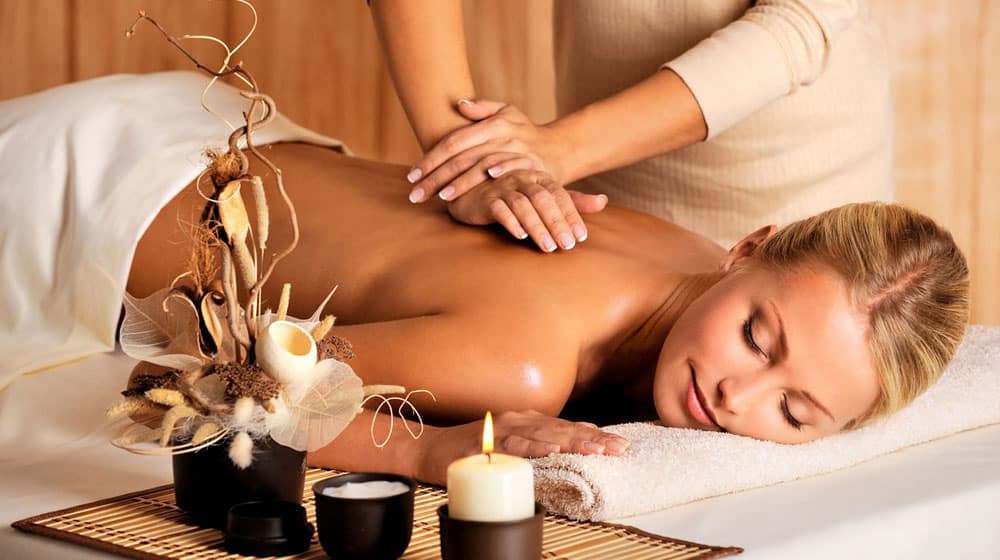 Are you looking to open your own day spa business? As part of your business plan, make sure to consider all the startup and operating costs to open and run a day spa.
How much does it cost to open a day spa? And how much does it cost to run a day spa on average? Is this a profitable business?
We've identified that it costs anywhere from $203,000 – $328,000 to open a small day spa with 4 treatment rooms, plus $34,000 – $44,000 in operating costs per month to run the business.
Want to know more? In this article we'll go through all the different costs you will need to budget for before you can open your own day spa. Let's dive in!
For more information on day spas and other wellness centers, make sure to read our guides below: 
How To Open a Day Spa In 10 Steps? 
The Business Plan Template You Need For a Day Spa 
How To Build a Financial Model For a Day Spa?
What are the Different Types of Spa?
Before opening your spa, you should have a fair idea of the various types of spa and the services they offer. The different types of spas are:
Day Spa: In a day spa, one can get various massages, saunas, facials, and other wellness and relaxation treatments daily.
Destination Spa: A destination spa offers wellness and relaxation treatments, diets, exercise, and educational programs for 2-7 nights.
Resort Spa: A resort spa in hotels and resorts offers facials, scrubs, saunas, massages, and other such relaxation treatments in a healthy way.
Medical Spa: A medical spa offers supervised treatments by a professional doctor. The most common treatments offered in a medical spa are laser resurfacing and botox.
Cruise Ship Spa: A cruise ship spa offers spa, fitness, and relaxation treatments on a cruise ship.
Airport Spa: An airport spa generally lasts 15 minutes and offers its passengers healthy treatments such as chair massage and oxygen therapy.
Mineral Springs Spa: A mineral springs spa offers hydrotherapy treatments in places involving natural mineral water, seawater, or thermal water.
In this article, we'll focus mostly on day spa businesses. Let's now dive into all the costs you can expect to open your own day spa.


Day Spa Startup Costs
Most spa businesses cost over $100,000 to set up. Startup costs vary greatly depending on factors like the size of the facilities, its location, number of employees, etc.
So to make things easier we've decided to give you below a clear overview of all the key expenses you can expect for a small Day Spa with 4 treatment rooms.
| Startup cost | Amount |
| --- | --- |
| Lease deposit | $10,000 – $20,000 |
| Design & renovation | $180,000 – $260,000 |
| Equipment & furniture | $10,000 – $40,000 |
| Licenses & certifications | $1,000 – $5,000 |
| Insurance | $2,000 – $3,000 |
| Total | $203,000 – $328,000 |
Lease Deposit
One of the first decision you will have to make is whether you want to rent the facilities or buy a building where you will set up your spa. Logically, the first option is the most popular as it's by far the cheapest (in the short term) and the most flexible).
So if you decide to rent a commercial space for your spa, you must still pay a refundable security deposit to make sure you commit to a certain period of time. The deposit often represents 3- to 6-months of your monthly rent.
Lease prices for retail real estate in the US vary, yet the average is $20 / sq. ft. per year.
Assuming you lease a 2,000 sq. ft. space (which should be enough for 4 to 5 treatment rooms), you should spend around $3,300 per month in rental expenses.
Therefore, you should expect to pay around $10,000 to $20,000 upfront worth 3 to 6 months of rent.
SPA design & renovation costs
Unless you purchase an existing day spa, you will need to renovate the facilities, the rooms and the overall design and layout. Unlike other businesses, the appearance of a day spa has a significant impact on your customers' impression, and eventually your sales and profits.
On average, a day spa build-out will cost you $90 to $130 per square foot, assuming you really start from scratch (an empty space). This include the design, flooring, painting, electricity & utilities.
Assuming you renovate a 2,000 sq. ft. day spa, you should spend anywhere from $180,000 to $260,000 total.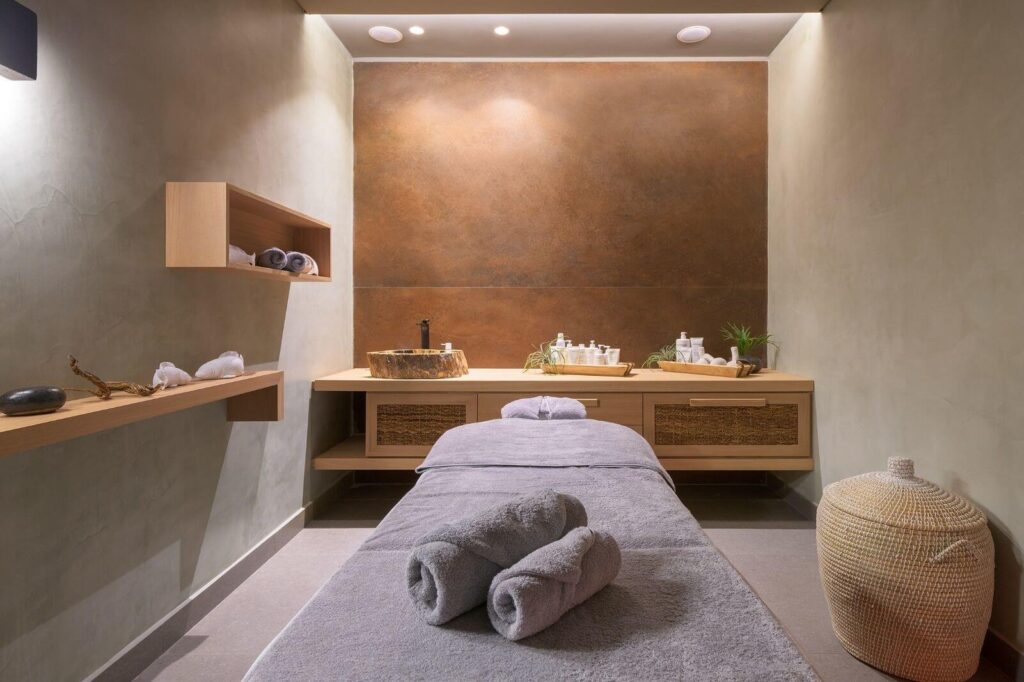 Spa equipment & furniture costs
To get started, you'll need to gather the best equipment for the services you'll offer in your spa facility. Here are a few examples of the professional equipment costs you may need based on the services and treatments you offer:
Massage bed ($1,000 – $2,000)
Facial Machinery ($1,500 – $3,000)
Facial steamers ($500 – $750)
In addition to the medical equipment, you should also budget for the client-facing furniture (the counter / reception desk, chairs and sofas for the waiting area, etc.).
In total, you should be fine with $10,000 to $40,000 for the equipment and furniture.
Of course, the total costs vary based on the treatments you offer. Whilst a casual massage spa without any beauty machines can keep costs down to $10,000, a premium day spa with 4 – 5 sets of high quality machines (e.g. facial machinery, steamers, etc.) can spend more than $50,000 easily.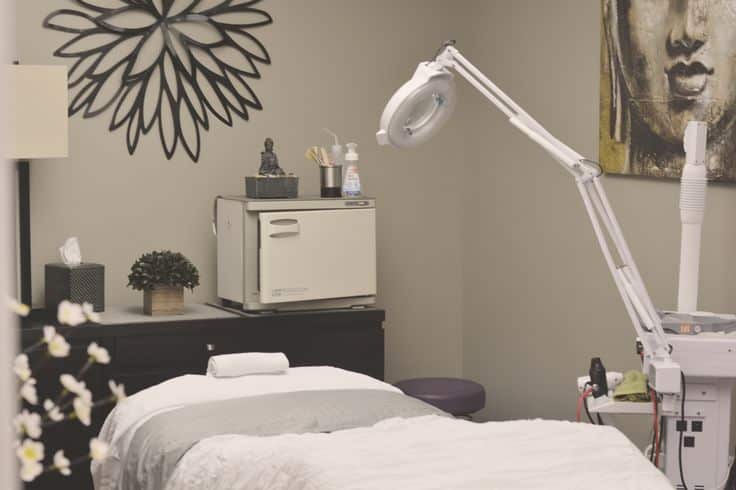 Spa licenses
Permits, certifications & licenses are one of the most crucial documents you need to grab your hands on before starting your day spa. Here are a few examples of the licenses and certifications you may need for your day spa:
General Business License ($200)
Certificate Of Occupancy ($250)
Massage Therapist License ($4,000)
Cosmetology License ($50 – $130)
Manicurist License ($360)
A business license in the USA can cost a few to hundreds of dollars. It varies depending on the laws of the state and the size and nature of the business. To be on the safer side, keep aside about $200.
The cost of a certificate of occupancy depends on the size of the nursing facility, square footage, type of construction, and other factors. It also varies from one state to another, but the estimated cost will be $250.
The Massage and Therapist License is issued by the Federation of State Massage Therapy Boards. This license may cost around $4,000.
The Cosmetology License is issued by the state board. The requirements, cost, and eligibility criteria vary from one state to another. But, the cost of the license will fall anywhere between $50 – $130.
The Manicurist License is also issued by your state. The cost of the license will be around $360. Do your own research as the eligibility criteria, requirements, and cost of the license vary from one state to another.
Depending on the services you're offering, you may also need additional licenses and certifications like the Esthetician License and the Electrologist License.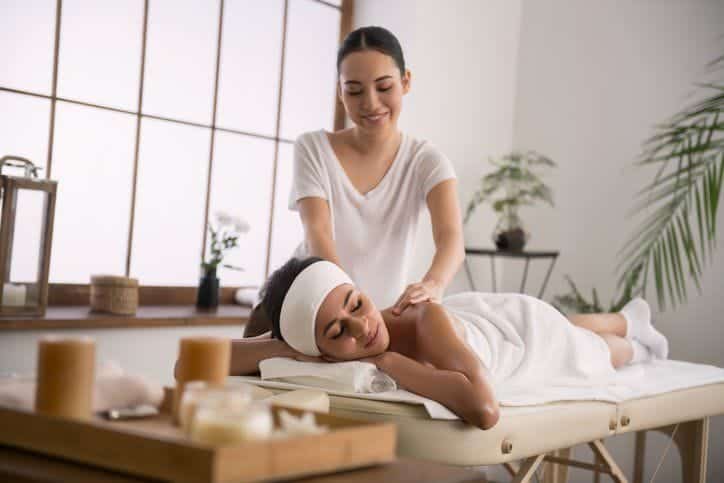 Spa insurance costs
What if a fire breaks out in your spa shop? What next when one of your clients injures himself within the premises of your facility? To mitigate the costs of such unforeseen circumstances, you need to get your spa facility insured. The insurance costs will vary depending on the number of policies you choose.
A spa belongs to the personal care business industry. The average insurance costs for the industry, according to Insureon, are:
General liability insurance ($35 per month)
Business owners' policy ($70 per month)
Professional liability insurance ($40 per month)
Workers' compensation insurance ($80 per month)
If you buy all types of insurance, you would then be paying $225 a month, or $2,700 upfront per year.
Day Spa Operating Costs
Now that we have looked at the costs you should expect to open a spa business, let's focus on the operating costs you would incur each month to keep the spa business running.
Spa business operating costs typically include salary costs, supplies, rent, and staff.
| Operating cost | Amount (per month) |
| --- | --- |
| Rent | $4,000 |
| Supplies | $2,000 – $5,000 |
| Payroll | $22,000 – $27,000 |
| Marketing | $5,000 – $10,000 |
| Other (bookkeeping, etc.) | $1,000 – $2,000 |
| Total | $34,000 – $44,000 |
Spa rental costs
You'll have to pay monthly rent if you've leased your spa business space. However, you'll have to repay the monthly mortgage if you have purchased your spa space by taking a loan. The monthly amount you'll have to pay will vary depending on factors like location and size of your space, lease or purchase, and more.
Taking the above example, you'll have to pay $3,300 in rental expenses every month. Adding 20% on top for utility bills, you should expect to spend around $4,000 in rent and utility bills.
Spa supplies costs
Supplies are another of the most important operating costs you need to budget for when you open your day spa. These are all the consumables and products such as the robes, towels, scrubs, massage pebbles, cosmetic products, candles, etc.
The cost of supplies will depend on the quality of products you buy and the number of clients you're attending to. You should expect to spend around $2,000 to $5,000 on these supplies each month for a small day spa with 4 treatment rooms.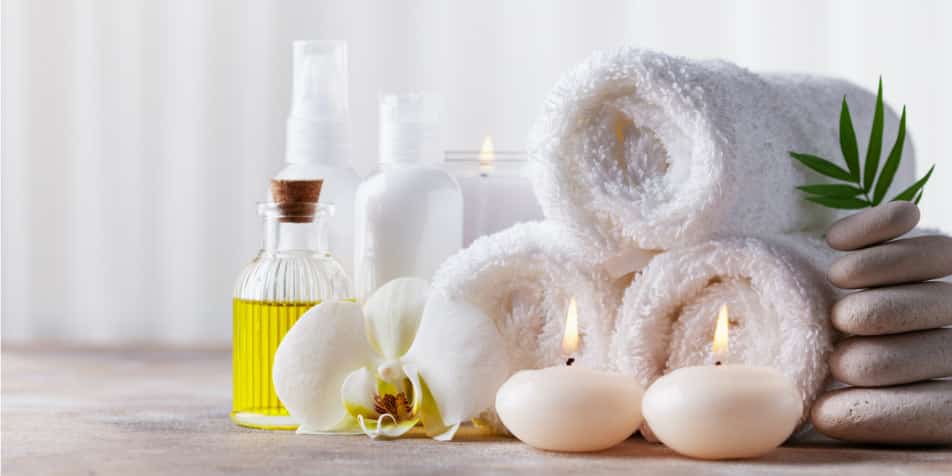 Spa staff costs
Employee salaries are another significant cost of operating a spa. Here is a quick list of some of the most important salaries you need to pay:
So assuming your day spa can accommodate 4 customers at a time in 4 separate treatment rooms, and you receive 20 customers per day on average, you will need 4 employees for the spa treatments as well as a receptionist and yourself (manager).
In total, you should then spend around $22,000 to $27,000 in payroll expenses each month.
Spa marketing costs
Marketing and advertising are one of the most crucial activities which will spread the word about your business before you can rely on organic growth (word-of-mouth).
The marketing expenses will heavily depend on the competition in your area. Indeed day spas in high competition areas in the US typically spend $6,000 to $16,000 per month in marketing.
Assuming you're operating in a city with some competition and you are starting off, you should spend about $5,000 per month in marketing in the first few months to get traction.