There were over 5,470 boutique hotels in the US in 2022, that's a 7.7% increase from 2021..! There is no doubt that boutique hotels are becoming increasingly popular vs. resorts and franchises. Yet, hospitality is also a very competitive industry. So if you're planning to open a boutique hotel, you must start with a solid business plan and execution.
If you don't know where to start, we have laid out below a detailed guide on how to open a boutique hotel in 10 steps. From research, budgeting, licenses, location and equipment, follow along to make sure you're on the right track. Let's dive in!
For more information on how to start a boutique hotel, make sure to read our guides below:
How to Build a Financial Model for a Hotel
How Much Does it Cost to Open a Boutique Hotel?
Boutique Hotel Business Plan Blueprint: Complete Guide
1. Research the Hotel Industry
The first important step to opening a boutique hotel is to make sure there is a market for it where you plan to open yours.
The goal of conducting proper research is to get an accurate and realistic idea of the market demand, and competition. This helps you determine if you can genuinely compete with some of the biggest names around and if opening a boutique hotel at this point is worth it.
Also, it helps you identify any standout features and services your hotel will need to stay ahead of the competition. During your research, be sure to outline the following;
Market demand
The first step of your research should assess whether there will be customers for your boutique hotel. For example, assuming you are focusing on business travelers, you could check here:
Nearby business centers, corporate centers, etc.
Nearby train stations, road axes, airports, etc.
Business travelers' industry & employers (what industry / companies do they work for? Do they stay overnight or longer term?)
Competition
Check the main competitors in the area (define area as a 10 or 20-mile radius for example) and for each:
Property type (all-inclusive, airport boutique hotel, etc.)
Location
Number of rooms
Extra services / add-ons (pool, restaurant, laundry, etc.)


2. Prepare a Business Plan
A clear business plan is the most important document you will need to produce to obtain funding from investors and lenders when opening a boutique hotel.
With a clear market need now identified, evaluate your funding options and everything you need to run a thriving business and summarize it in your business plan.
Notably, an ideal business plan for a boutique hotel should cover the following;
Executive summary: summarize key information about your boutique hotel in not more than 2 pages
Business overview: explain what is the concept of your hotel, whom it targets (business travelers vs. tourists), where it's located, its size and any other amenities and services you offer
Market & competitive overview: start by describing the state of the hotel industry in your area (the city or region where you plan to open yours). Also explain here the level of competition you expect from similar establishments. Finally, mention who are your target customers (your ideal customers) ie. their age, gender, disposable income as well as their preferences
Sales & marketing strategy: describe how you plan to acquire new customers, outlining the exact marketing channels you intend to use and your overall budget.
Management & organizational structure: this section should provide information about the leadership hierarchy, highlighting the roles and responsibilities of every team member and their experience level. (For example, the support staff, hotel manager, accountant, etc.) You can also use here an organizational chart to display the reporting hierarchy of your boutique hotel
Financial plan: your financial projections over the next 5 years (include important indicators like the balance sheet, cash flow statement, and income statement).
Funding ask: explain the loan/investment/grant you intend to acquire to help you start the business. State the exact amount and how you plan to use it.
3. Design a Financial Plan
Your financial plan should include 5-year financial projections of your revenue and expenses. You should include the 3 financial statements as well as your assumptions clearly laid out. Your financial plan should be built using a spreadsheet like Excel.
When making your projections, be sure to include both the startup and operating costs.
Startup costs: the costs associated with opening your boutique hotel
It costs between $750,000 and $1,000,000 to start a small, 2000 sq. ft. boutique hotel in the US. The actual startup costs depend on the size of your hotel, itslocation, whether you plan to buy or rent the real estate, and the amenities and services you offer.
Operating costs: monthly expenses you incur to run your boutique hotel
For more information on how to build a financial plan for a hotel, read our complete guide here.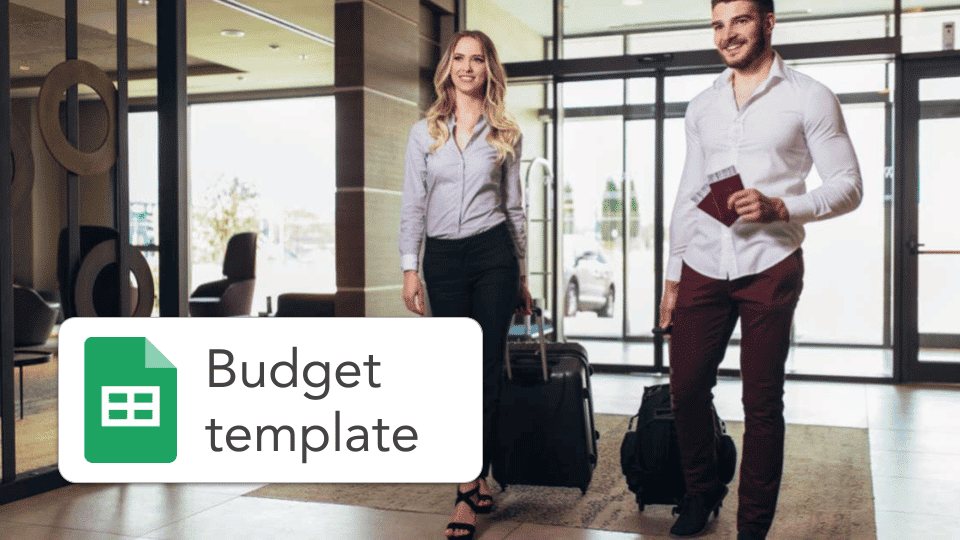 Download the Hotel budget template
Lender & investor-friendly

Easy-to-use Excel template

CPA-developed financials

30+ charts and metrics
4. Get Hotel Licenses & Permits
Most businesses require you to apply for a number of licenses and permits before you can do business. Boutique hotels are no exception.
The licenses you will need also vary by state. More importantly, the licenses will also depend on the services you intend to offer. For instance, a liquor permit will be necessary if you want to sell alcoholic drinks in your hotel.
Below are a few examples of licenses you may need to operate a boutique hotel;
Food handlers' license (if you offer food to your guests e.g. a restaurant)
Health and safety inspection
Certificate of occupancy
Alarm permits (provided by the local fire department)
Business permit
Liquor license (if you offer alcohol drinks)
5. Choose a Name for your Boutique Hotel
Another important yet overly underrated aspect of starting a boutique hotel is choosing a business name. In this case, one of the first things you may want to find out is whether the desired name is already taken.
A quick online research can help you establish if the chosen name suits your hotel and whether it's unique.
Next, design catchy signage and billboards using the selected name to attract clients. Indeed, besides online marketing, signage (and location) still is the most effective offline marketing channel for hotels.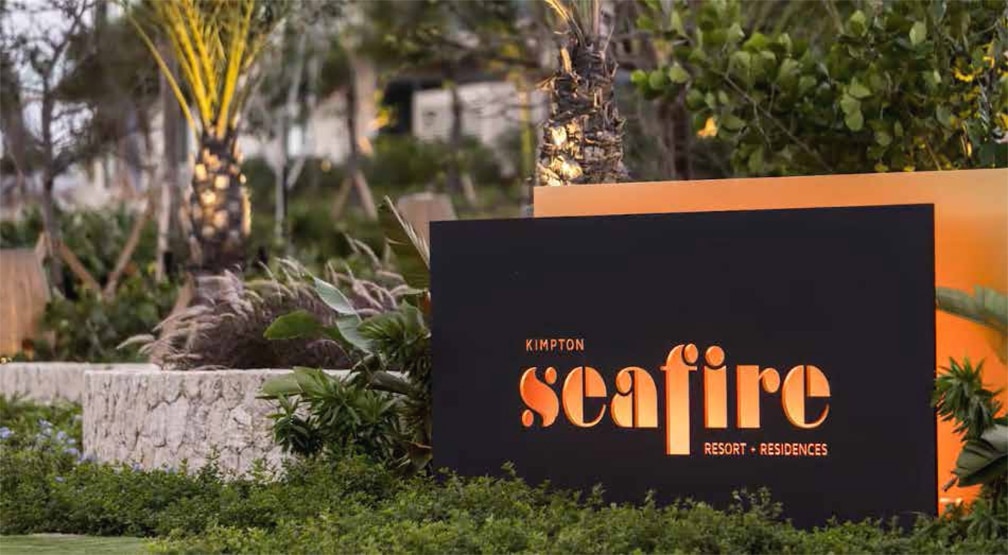 6. Find a Location for your Hotel
Location is one of the most important factors to run a thriving hotel business.
Opening your hotel next to your target audience is the most reasonable decision as long as you keep the following factors in mind:
Guest demographics:are there enough individuals in the area in (or passing by) the area where you plan to open your hotel?
Level of competition: how many hotels are there in the region? How many are independent / boutique hotels vs. resorts vs. franchise hotels? Are you competitors targeting the same audience as you? )
Accessibility: is the hotel easily accessible to everyone?
Real estate prices: are they in line with your budget?
Space requirements: is the building where you want to open a boutique hotel (or the land where you want to build one) big enough to accommodate for the number of rooms and amenities you have in mind?
This may not be necessary, but if you can't handle everything alone, you can seek the services of a seasoned real estate broker. That way, it's easier to identify a suitable location depending on the size and space requirements for purchasing or leasing the property.
7. Design the Layout of your Hotel
Your boutique hotel must stand out vs. competitors attract customers.. And for a boutique hotel, appearances and design sometimes matters just as much as the level of service.
You may need to resort to both an experienced architect as well as an interior designer. They will make sure your hotel meets safety and regulation standards, can accommodate all the rooms and amenities of your hotel, whilst keeping the overall design as per your hotel's concept and requirements.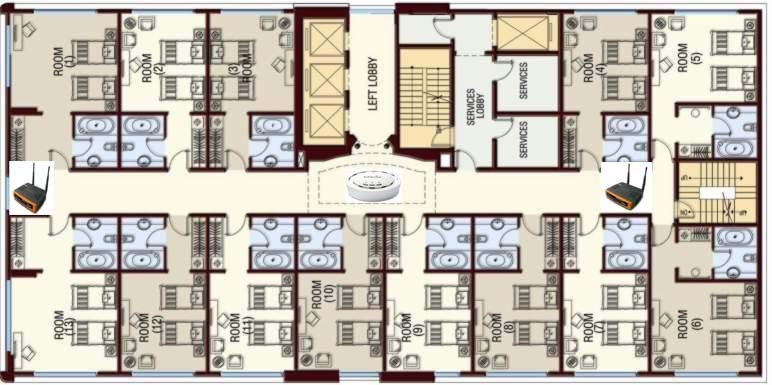 8. Get Funding for your Hotel
Starting a boutique hotel can be expensive. So, understand your financing options before taking the next step. There are 2 alternatives, which you will likely combine to fund your project:
Business loans
Startup loans are a worthy option if you can't raise the full amount required to start the business. You can choose a business grant or an SBA microloan with this arrangement. SBA loans will be more favorable because of the low interest rates and long repayment period. Check out our article here on how to apply for an SBA loan.
Equity Investors
Unfortunately, you won't be able to rely solely on debt to finance your hotel. Instead, you will need to find institutional (funds) or private investors (individuals e.g. angel investors) to provide you with some of the capital required to open your boutique hotel.
9. Purchase Hotel Furniture & Equipment
When budgeting the construction, fitting and furniture cost for an hotel, we often make reference to FF&E (Furniture, Fixtures & Equipment): these represents on average 12-16% of the total construction cost for a hotel (if you decide to build a hotel from the ground up).
FF&E refers to everything from electricity, plumbing, HVAC, safety & compliance and furniture. Furniture represents approximately 30% of total FF&E expenses.
Besides fixtures and equipment, hotels spend on average $10,000 to $40,000 in furniture alone per room. Here are a few price range per room category:
Midscale: $3,000 – $4,000
Upper midscale to upscale: $5,000 – $7,000
Upper upscale: $10,000 – $11,000
Luxury room: $30,000 – $40,000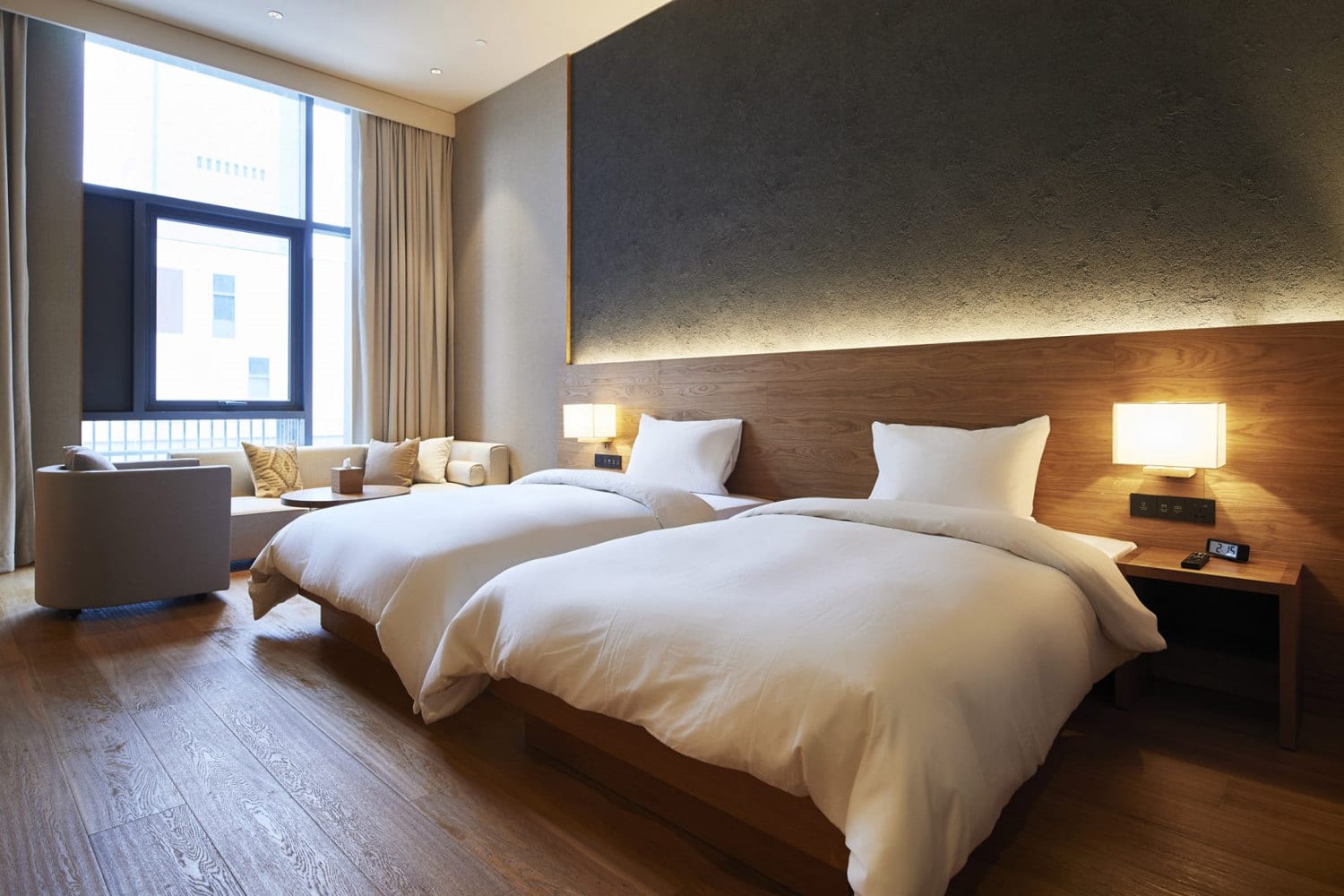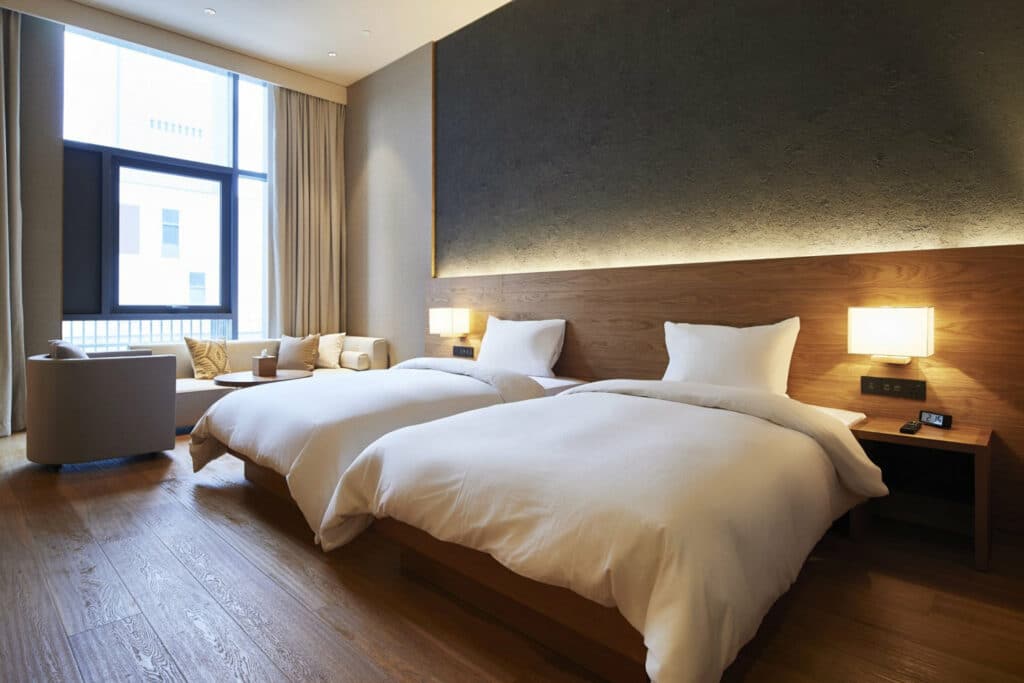 10. Hire Hotel Staff
You need a strong team of dependable individuals to become a top-class boutique hotel in the region. Hiring the best employees will help you deliver high-quality services, contributing to the success of your business.
You can start by filling the manager positions to set the direction for the rest of the hiring process. Later, you can switch to the remaining departments, including receptionists, attendants, and waiters.
And you can go as far as provide fresh training on important skills such as communication and hospitality to all employees who will be interacting with guests every day.
Hiring a few employees with prior experience in this field should be a priority. But at the same time, don't ignore the contribution of employees with limited experience who can help with minor duties like cleaning.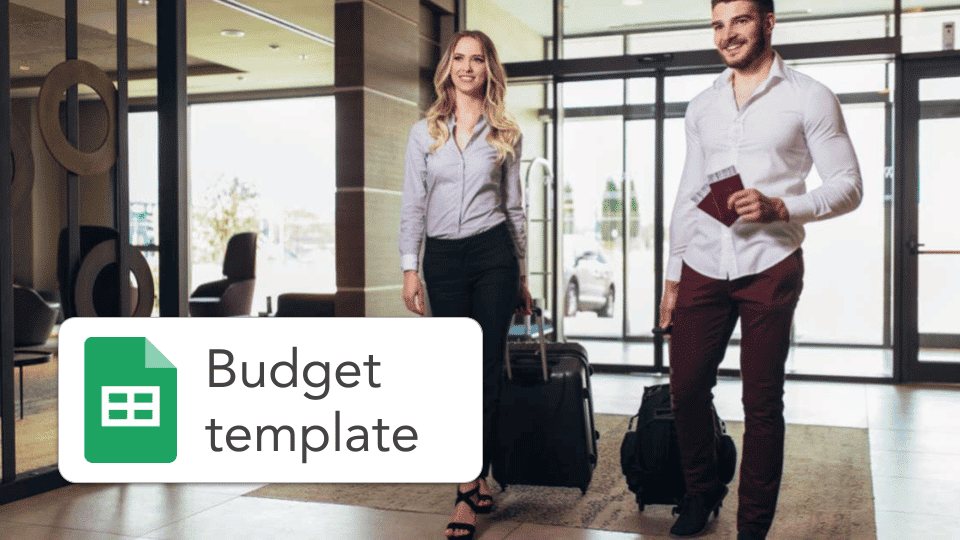 Download the Hotel budget template
Lender & investor-friendly

Easy-to-use Excel template

CPA-developed financials

30+ charts and metrics