Every business needs a financial model. Whether you want to understand what's your breakeven, your valuation or create a financial model for the business plan of your hotel, you've come the right way.
In this article we'll explain you how to create powerful and accurate financial projections for a hotel with 25 rooms. Yet you can of course apply the same logic for any type of boutique, independent or franchise hotel of any size.
Also note that, whilst the charts and examples presented in this article come from our hotel financial model that also include built-in projections for a restaurant, we will only focus on hotel revenue in this guide here. For more information on how to build financial projections for a restaurant instead, refer to our complete guide here.
For more information on hotel businesses and how to open yours, read our guide below:
How to Open a Boutique Hotel in 10 Steps
Boutique Hotel Business Plan Blueprint: Complete Guide
How Much Does it Cost to Open a Boutique Hotel?
1. Forecast Nights Booked
The first thing you must do when preparing your financial projections for your hotel is to forecast the number of nights booked over time. This can be done in a few steps:
First, forecast the number of rooms (you might expand the size of your hotel progressively over time)
Secondly, set the occupancy rate, taking into account seasonality
Finally, calculate the number of nights booked = number of rooms x occupancy rate
Rooms
The first step of any hotel financial model is to forecast the actual number of rooms that are available over time. They may or may not change: for example you could plan to start with 15 rooms, and expand to 25 in 3 years if all goes well by then.
When setting the number of rooms, make sure to segment the rooms by category as shown below. Indeed, as we will see later, each room category will have a different daily rate and costs.
In the example below, we assume the number of rooms stays the same throughout the next 5 years.


Occupancy rate
Occupancy rate should be set per month. Indeed, you will have to take into account seasonality. For example, you may experience high season from June to August, a rebound around Christmas, and low season the rest of the year.
Also, we strongly recommend you set an occupancy rate for weekdays and weekends separately. Unless your hotel is targeting professionals for business trips, you will likely experience occupancy rates twice as high as during the weekend vs. the weekdays.
In the example below, showing the weekday and weekends occupancy rates for a hotel over 5 years, we can see that:
High season is from May to August (60-90% occupancy rate on weekends)
Low season is from September to April to August (40-60% occupancy rate on weekends)
Occupancy rate is almost always double on weekends vs. weekdays
Occupancy rates are overall increasing over time (as the hotel becomes more popular)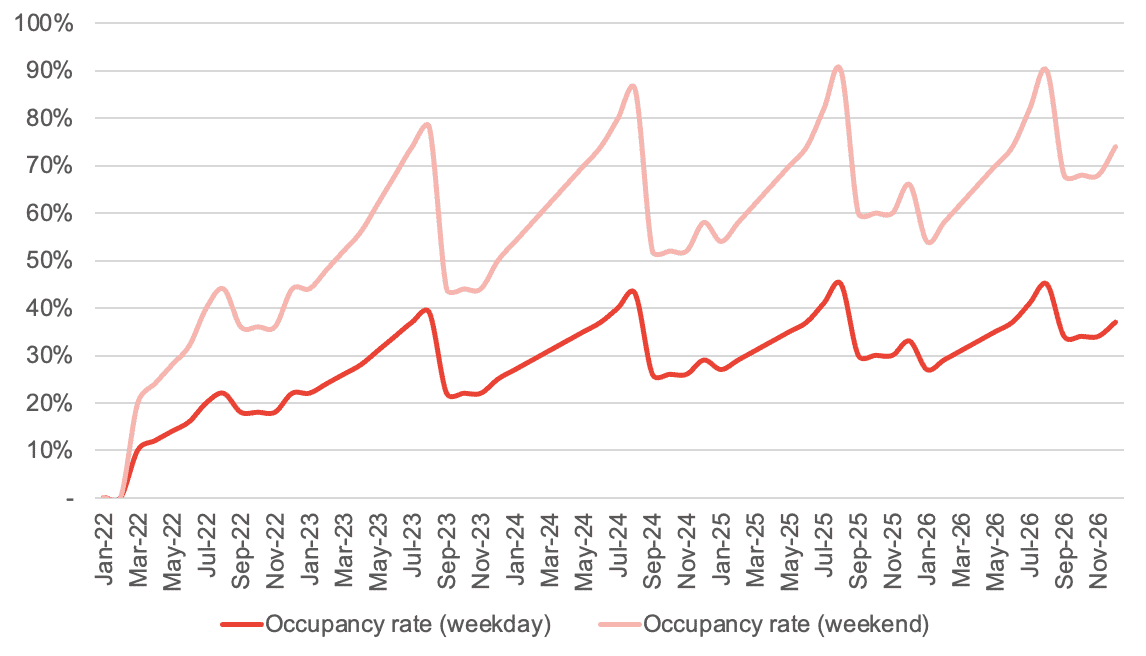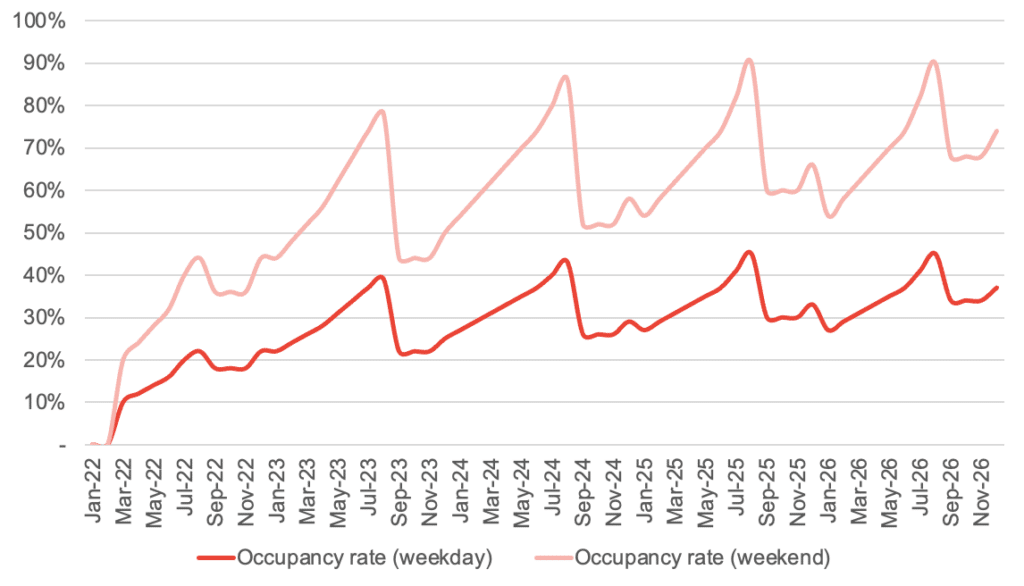 Nights booked
Now that we know both the number of rooms and the occupancy rate over time, nights booked is simply the result of:
Nights booked = Number of days in a month x Number of rooms x Occupancy rate
So for example for January 2023:
Nights booked = 31 days x 40% occupancy rate x 25 rooms = 310 nights
You should now be able to obtain the following chart over the next 5 years: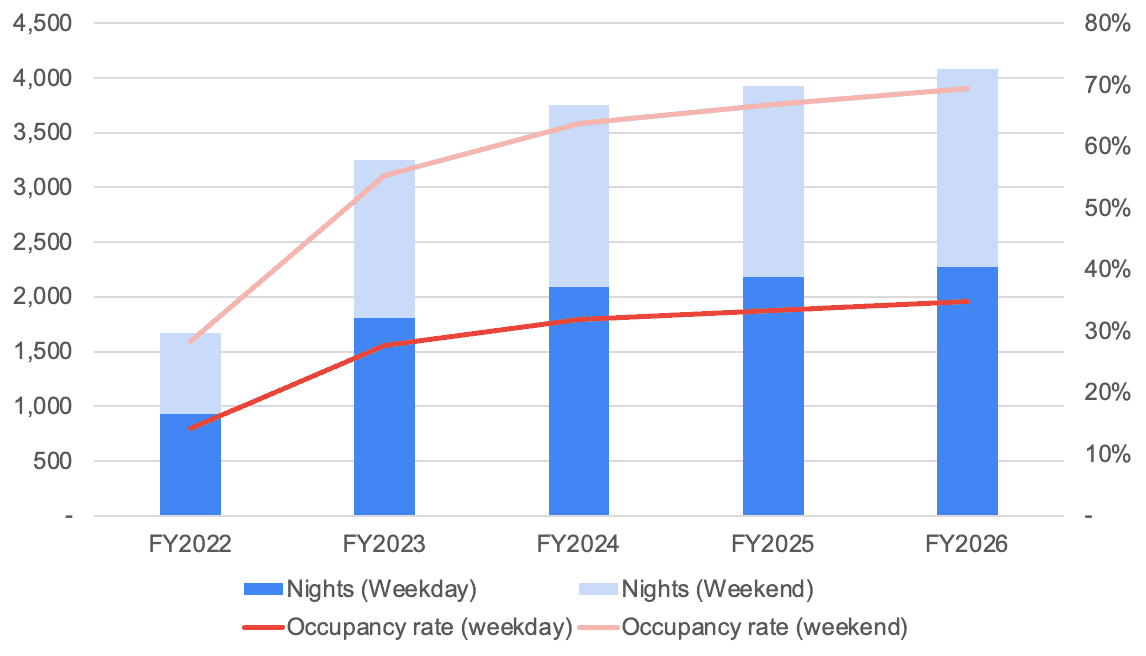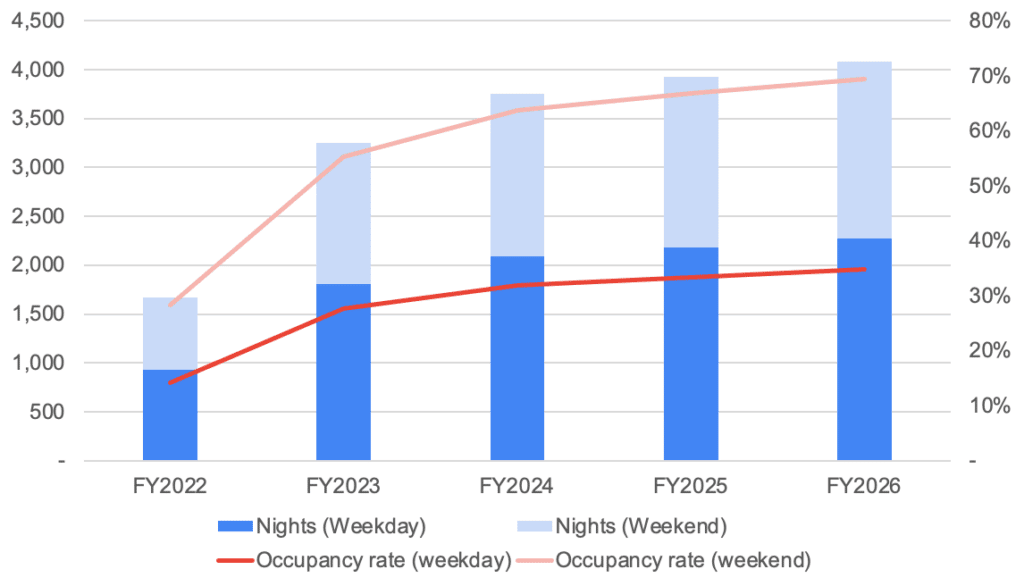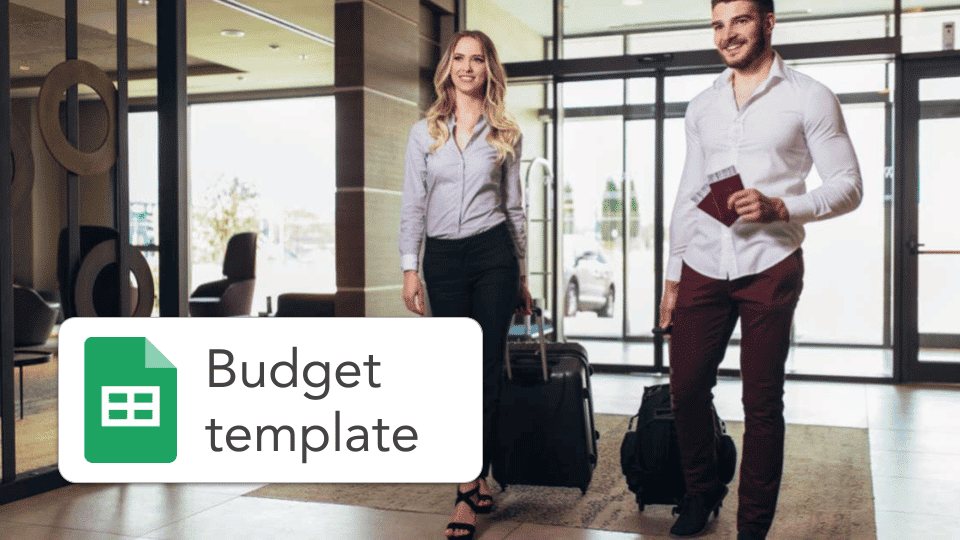 Download the Hotel budget template
Lender & investor-friendly

Easy-to-use Excel template

CPA-developed financials

30+ charts and metrics
2. Forecast Hotel Revenue
In order to forecast revenue, we first need to set up a few assumptions for pricing. This can easily be done by setting, for each room category, 2 different daily rates: one for weekdays and another for weekends.
In addition to the daily rate, it's also important to add any extra revenue (dry cleaning fees, mini bar, etc.).
Finally, we strongly recommend you use a yearly price increase, to factor in inflation over time.

From there on, revenue simply is the result of:
Revenue = Weekdays Revenue + Weekends Revenue
Where
Weekdays Revenue = ( Weekday Daily rate + Extra revenue per night ) x Weekday Nights
In the end, you should obtain your 5-year revenue projections as shown below: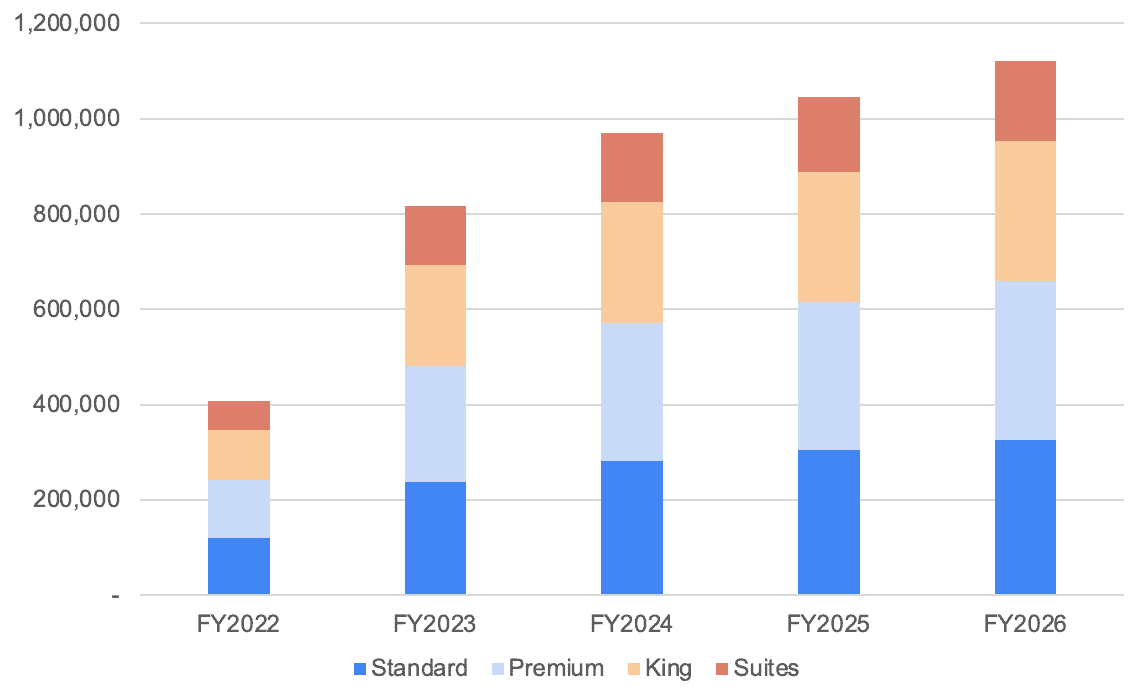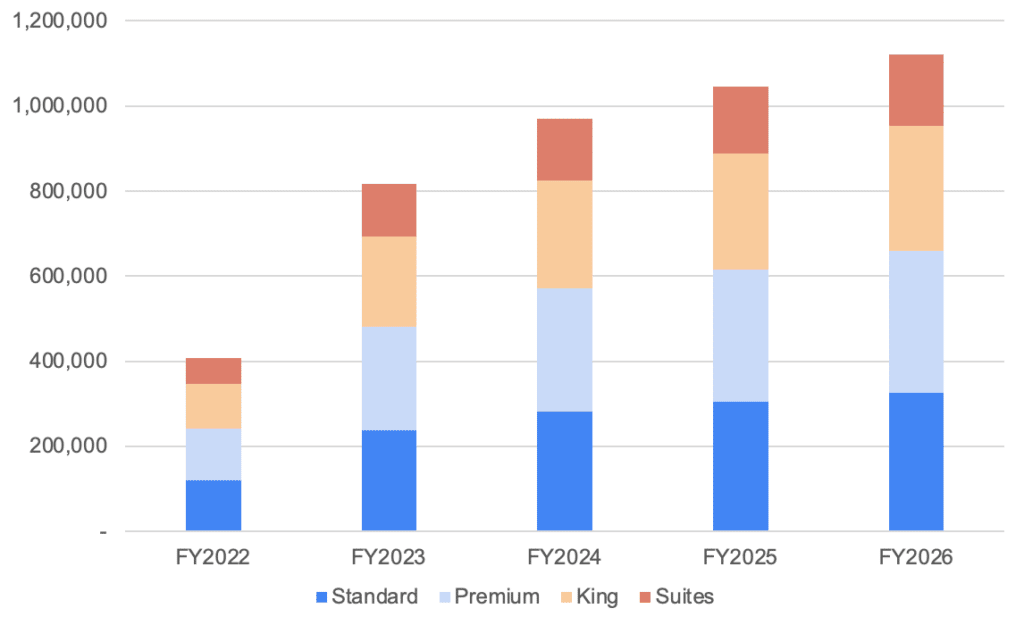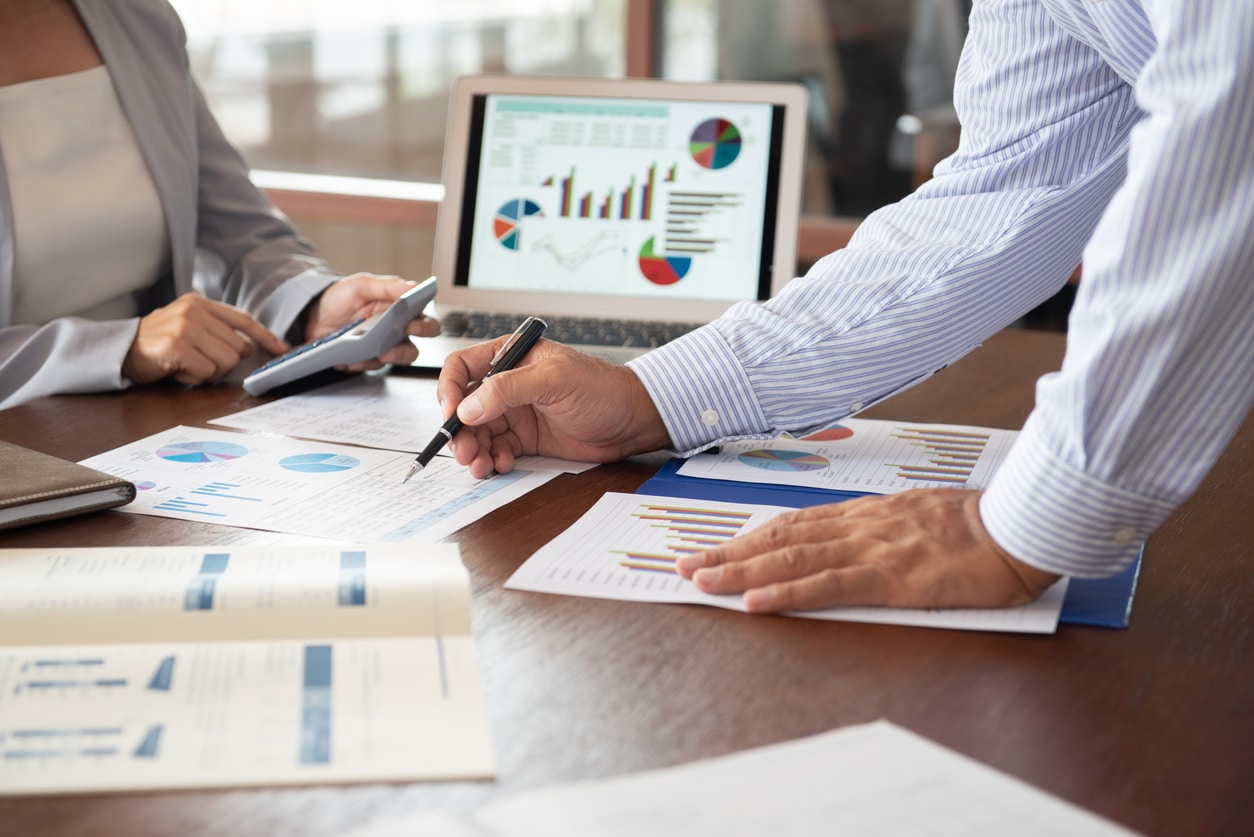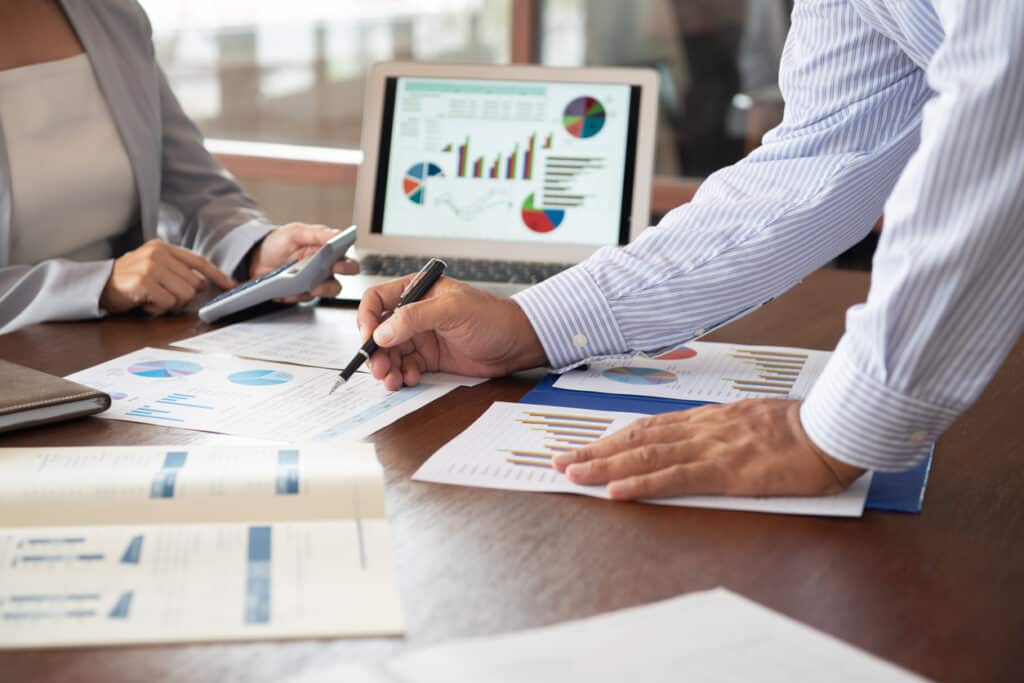 3. Calculate Hotel Expenses
Once we have forecasted revenues, now is time to look at the expenses. Here are a few examples of expenses you should take into consideration:
Salaries (housekeeping, operations, receptionists, management, etc.)
Laundry & supplies (mini bar, free items, etc.)
Payment processing fees (these can be anywhere from 2 to 3% of sales, so they shouldn't be overlooked)
Marketing (online & offline marketing campaigns)
Bookkeeping & legal expenses
Salaries
For salaries, you can use our free hiring plan template (already built in the Hotel financial model template).
You should be able to forecast the number of employees (or full-time equivalents) as shown below, and the total salary cost.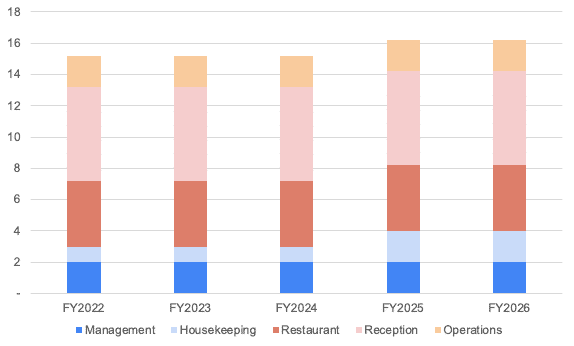 Operating Expenses
For other expenses, instead, they can easily be calculated either as:
A fixed amount per month (e.g. bookkeeping, marketing) ; or
A percentage of revenue (e.g. payment processing fees) ; or
A function of the number of nights booked (laundry & supplies)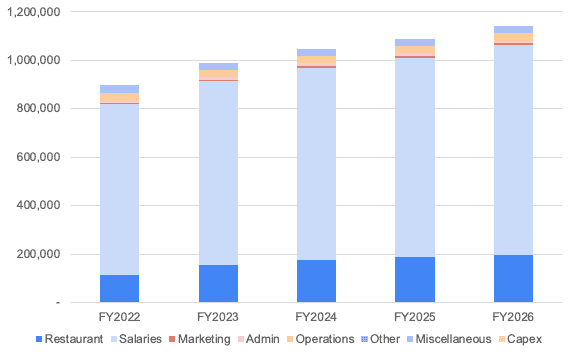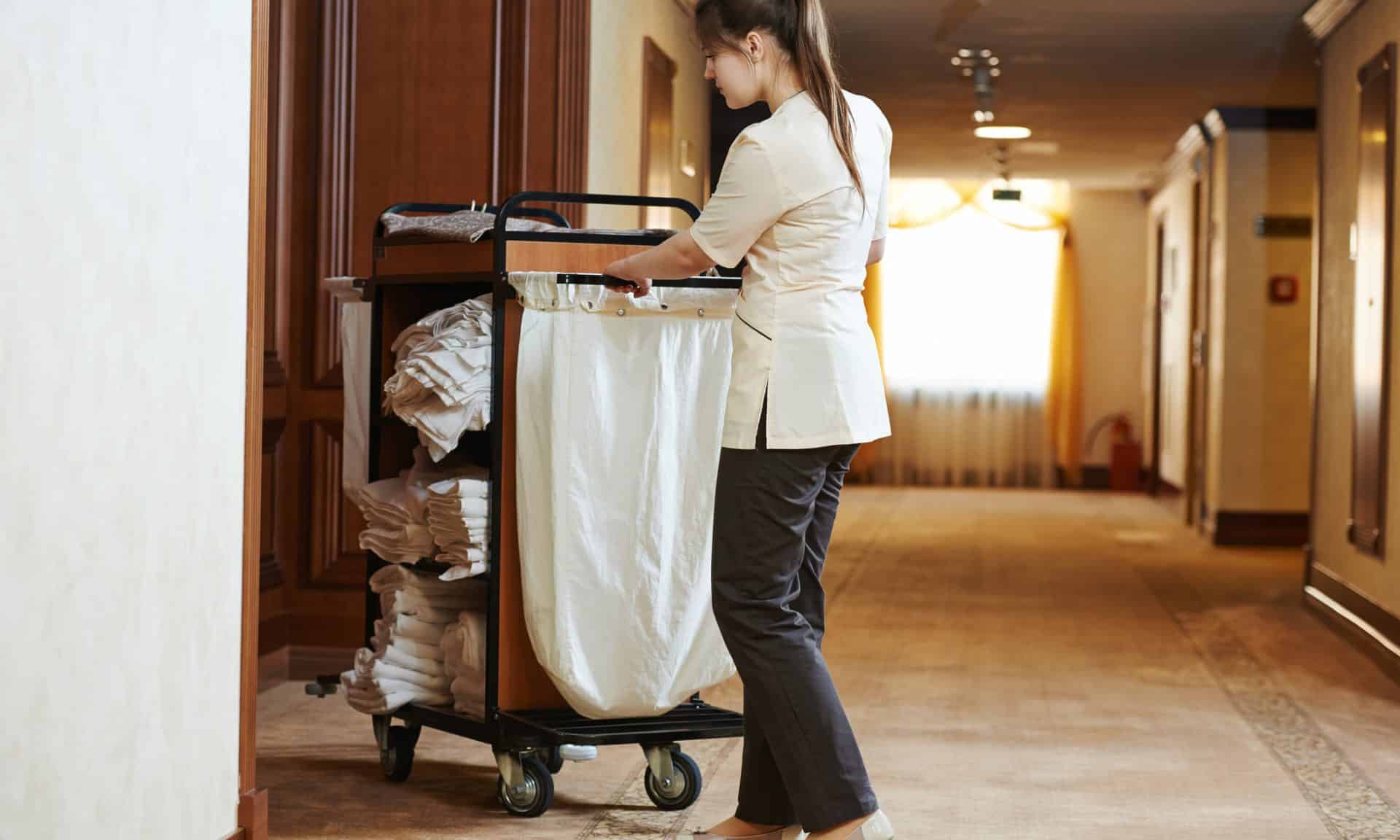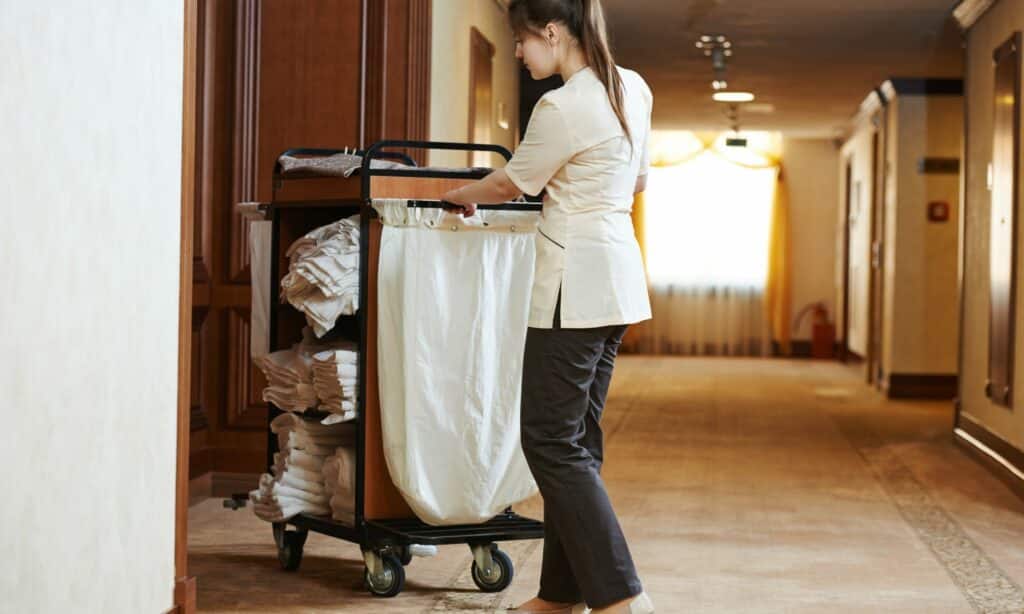 4. Build P&L and Cash Flow
Once we have estimated revenues, expenses and debt, we can easily build the profit-and-loss (P&L) from revenues down to net profit. This will help you to visualise key financial metrics such as Gross Profit or EBITDA margin as shown below: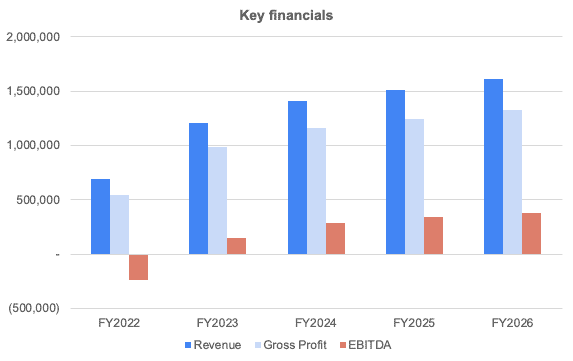 The cash flow statement, in comparison, needs to include all cash items from the P&L and other cash movements such as capital investments (also referred as "Capex"), fundraising, debt, etc.
Cash flow is vital as it will help you understand how much funding you should get, either from investors or the bank (SBA loan for example) to start and run your own hotel, which we do in our financial model template with the use of funds chart (see below).
In this chart below, we're showing you the example of a cost structure a hotel would have (excluding the upfront cost to purchase the building). Unsurprisingly, salaries make up ~70% of total expenses.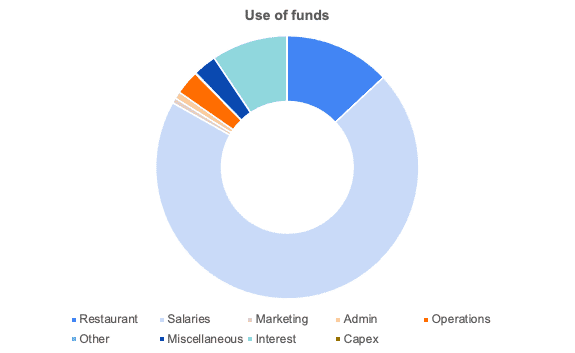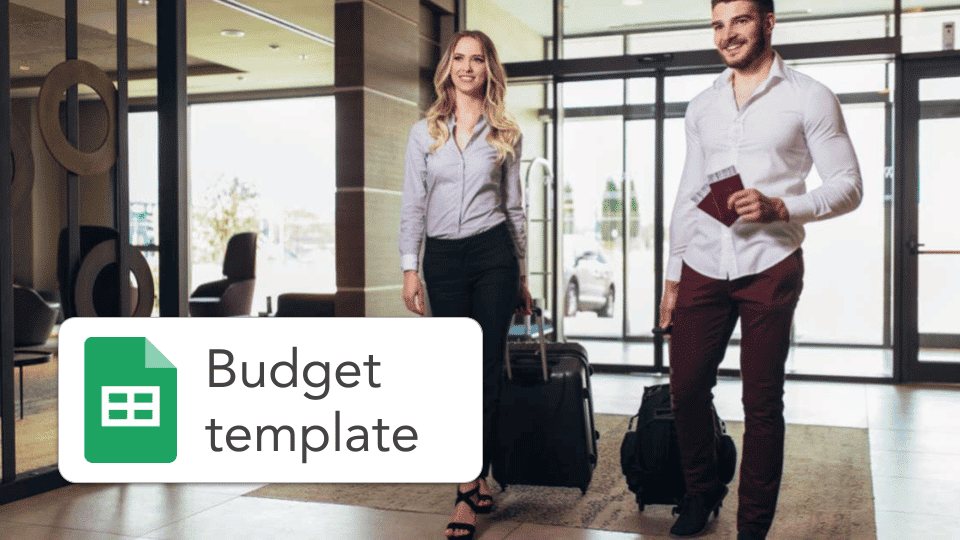 Download the Hotel budget template
Lender & investor-friendly

Easy-to-use Excel template

CPA-developed financials

30+ charts and metrics