Do you want to open your own ice cream shop? With a total market size of $5.1 billion in 2022 and over 11,000 ice cream shops across the US, the average shop gross an annual turnover of $460,000..!
The industry is also very competitive. So if you're planning to open an ice cream shop, you must start with a solid business plan and execution. From preparing your business plan, acquiring the equipment to hiring & training staff, there is a lot you must do.
So if you are feeling lost and need some guidance on where to start, this post goes through the 10 steps you need to follow to open and run a successful ice cream shop. Let's dive in!
For more information about ice cream shops, make sure to read our guide below:
How to Write an Ice Cream Shop Business Plan
1. Research the Ice Cream Shop Industry
Opening a thriving ice cream shop starts with thorough research. One of the greatest drivers of decision for an ice cream business, and any other business at that, is data. Accurate figures and facts you can only get from research. What do you need to research?
Competition
Who are your competitors? What makes their ice cream stand out? What market strategies do they use to drive sales and relevance? How do they present their products – delivery or sit-in? Self-serve or traditional model? Different ice cream types or only one? You aren't the first to open an ice cream shop, and you won't be the last! The ice cream market grows bigger by the day. Indeed, the market is valued at $13.3 billion today and is projected to be worth $15.8 billion by 2027.
Customer demand
Ice cream is considered one of the most popular frozen dairy products in the US. The IDFA estimates that the average American eats about 4 gallons of ice cream annually. You can be sure that there is a market for your ice cream shop. However, consider the demand in the location. For example, customer demand will be low where most people watch their weight.
Cost
Before you open your ice cream shop, you'll likely need to get funding from investors (or a bank like a SBA loan). This will require you to produce a business plan as well as financial projections (your expected sales and expenses at a minimum). By doing so, you'll have to research extensively on the different startup recurring expenses you can expect to run an ice cream shop.


2. Choose an Ice Cream Concept
Here, you choose the model for your ice cream business. This will be easier since you've already done your research.
Seasonal vs. Year-round
Usually, ice cream sells during summer; that's why it's mostly considered a seasonal business. However, your shop can open year-round if you have great customer acquisition strategies.
Independent vs. Franchise
Do you want to open an independent shop or go for a franchise? You'd have to start from scratch to build your reputation if you open an independent shop, while you leverage the brand equity if you go for a franchise. Also, you have access to the franchisor's business training from the franchisor. However, getting a franchise can be more expensive, as costs range from $30,000 and above, whereas you need about $5,000 to $20,000 for an ice cream truck and $50,000 and above for a brick-and-mortar shop.
Ice cream truck vs. store
Ice cream trucks are gradually becoming the norm as it requires less operating expenses, asides the cost of the truck. It's also easier to move to where your target audience is, especially at public events, public places, etc. You can also consider a brick-and-mortar location in a high-traffic location with a steady flow of customers. Your startup capital will determine which you eventually go for. If you have the financial capacity, you can decide to go for both.
Italian gelato vs. other
Do you want to sell Italian gelato and become the boss at it or try your hands at different flavors of ice cream? Or both? Your products would be similar to those of other shops, but you can't rely on them to stand out. You must have a type that differentiates you from other shops. Also, you can consider selling other frozen dairy products like milkshakes, sundaes, and yogurt.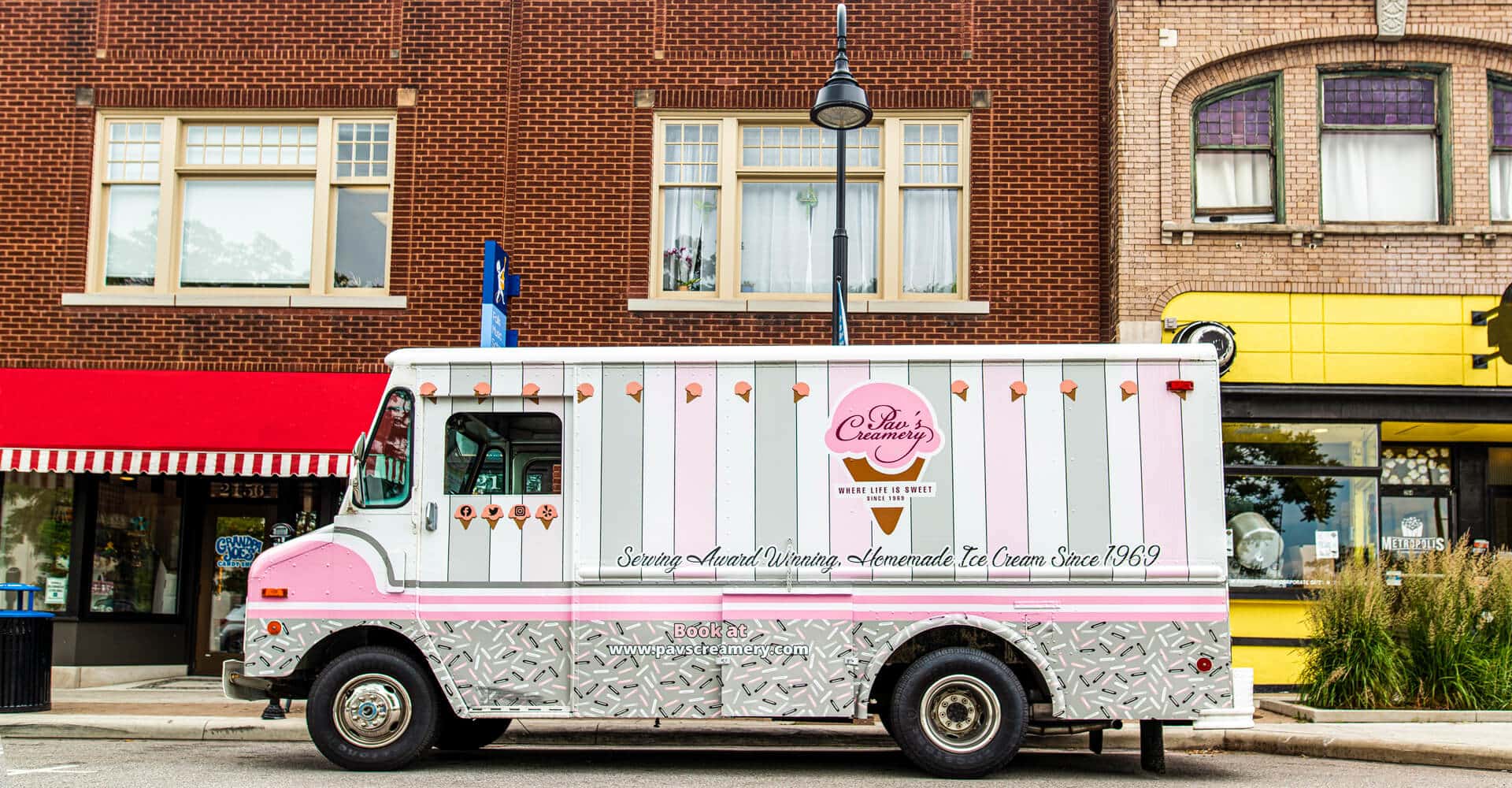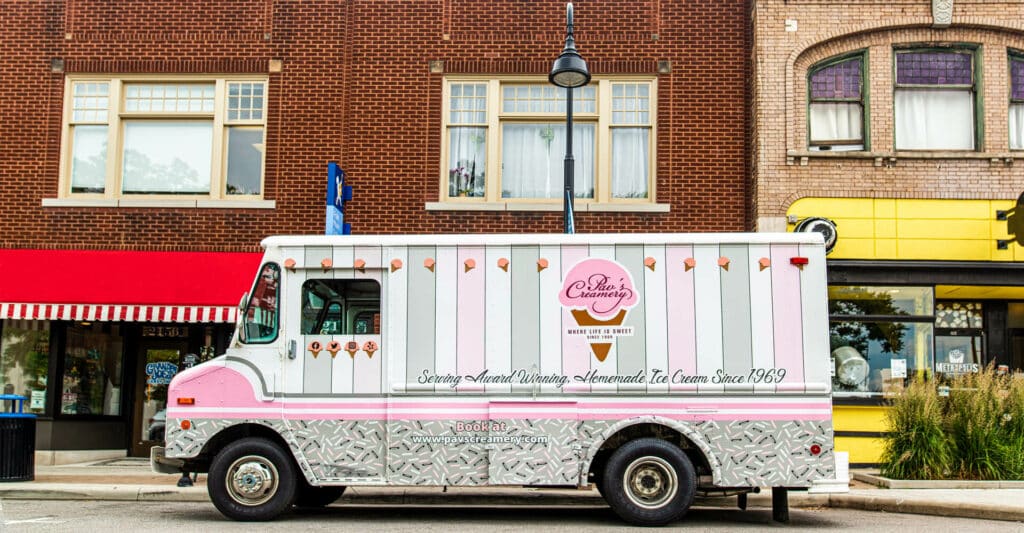 3. Write a Business Plan
Like any other business, you need a business plan for your ice cream shop. A business plan is a document that describes your objectives, ambitions, business potentials, marketing and funding strategies, and financial projections. It serves as a roadmap for your business growth. Your business plan should contain the following :
Executive summary: This is a 2-page summary of the basic information about your business, such as your product, key factors, number of employees, financial projections, etc.
Business overview: This is a brief introduction of your business, the legal entity form, the type of model (independent vs. franchise; sit-in vs. delivery), the menu, location, the size of your target market, what niche of the ice cream business you are focused on, your product prices and your present successes.
Market analysis: Here, you detail the market size, customers, demography, market trends, competition, and pricing strategies
Sales & marketing strategy: You need an effective strategy if you want a slice of the projected $15.8 billion ice cream market by 2027. In this section, you need to consider your unique selling point (USP). What makes your product different? Why should people choose you over others? How will you attract your customers? What marketing channels are the best for your business?
Management & People: This is where you introduce the personnel in your business, using 2 to 3 sentences to describe each person's experiences and qualifications. Also, include your hiring plans – the skill and capability level you need, the teams you need to put in place for your business success, the gaps in your business, and how you intend to fill them.
Financial plan: how much profit and revenue do you expect in the next 5 years? When will you reach the break-even point and start making profits? You can include here a chart with your key financials (revenue, gross profit, net profit)
Funding ask: what loan/investment/grant are you seeking? How much do you need? How long will this last?
4. Build a Financial Plan
The financial plan is perhaps, with the executive summary, the most important section of any business plan.
Indeed, a solid financial plan tells lenders that your business is viable and can repay the loan you need from them. If you're looking to raise equity from private investors, a solid financial plan will prove them your sandwich shop is an attractive investment.
Note that your financial projections should be built using a spreadsheet (e.g. Excel or Google Sheets) and presented in the form of tables and charts in your business plan.
When preparing your financial plan, you should at least answer the following questions:
How much revenue do you expect to generate over the next 5 years?
When do you expect to break even?
How much cash will you burn until you get there?
What's the impact of a change in pricing (say 10%) on your margins?
What is your average customer acquisition cost?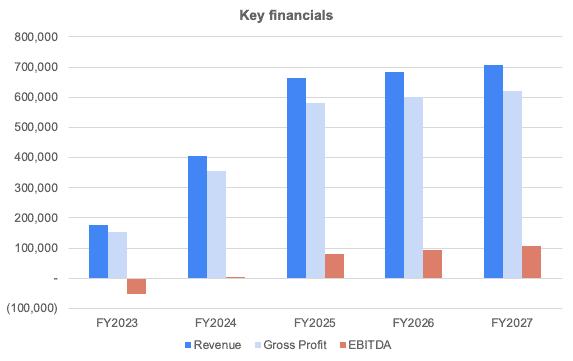 You should include here your 3 financial statements (income statement, balance sheet and cash flow statement). This means you must forecast:
The number of customers / orders over time ;
Your expected revenue ;
Operating costs to run the business ;
Capex (cost to renovate / build your ice cream store, furniture and equipment, etc.)
When projecting your financials, make sure to sensitize sales volume (customers), pricing as well as the expenses (inventory, salaries, etc.). Indeed, a small change in these assumptions may have a significant impact on your revenues, and most importantly, your profits.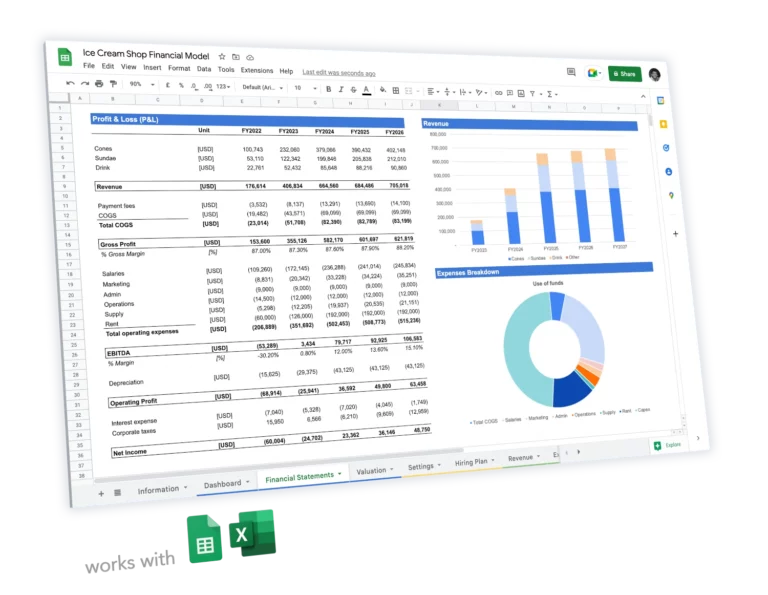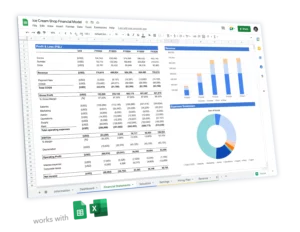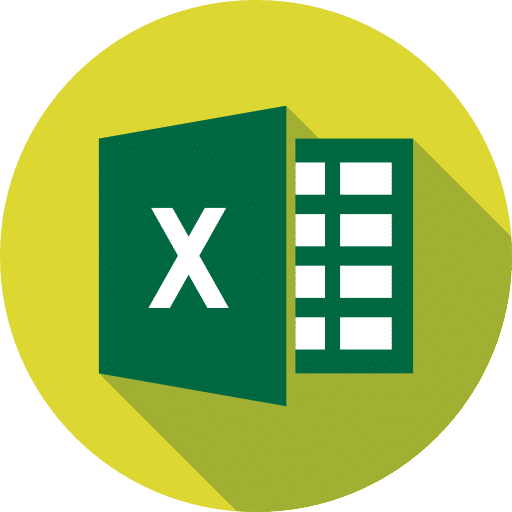 Ice Cream Shop Financial Model
Download an expert-built 5-year Excel financial model for your business plan
Ice Cream Shop Financial Model
Download an expert-built 5-year Excel financial model for your business plan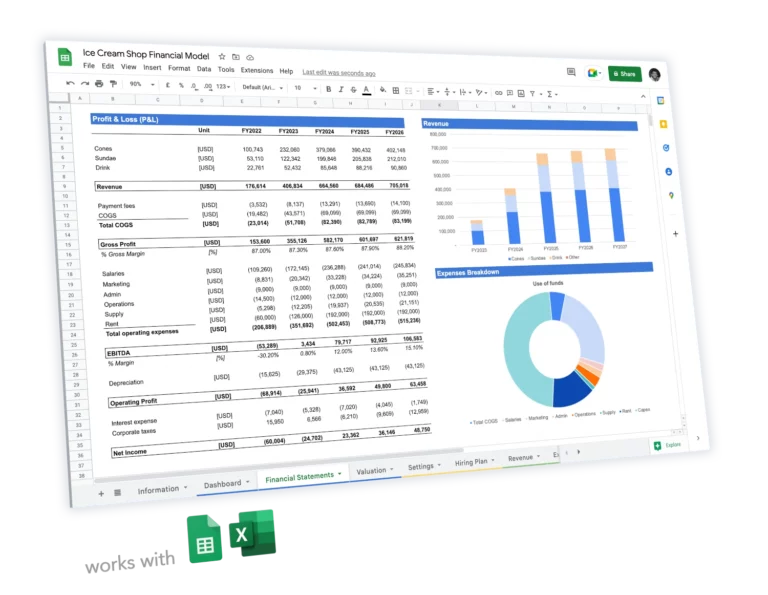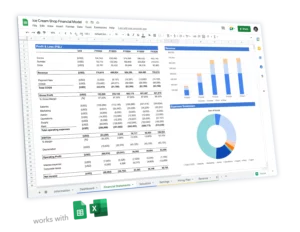 5. Get Funding for your Ice Cream Shop
Before you start incurring significant expenses, you will first need to obtain the financing. Luckily, ice cream shops don't require much investment vs. other food & beverage businesses (restaurants for example).
However, the costs can go up quickly if you decide to buy the real estate and if you have a sit-in area for which to decide to purchase expensive furniture & equipment.
For ice cream shops, there are 2 options available to you:
Yet note that private investors will have ownership and interest in your business, and hence, they will most likely assume a board role, thereby reducing your control over the business. For more information on whether you should raise equity or debt for your business, read our article here.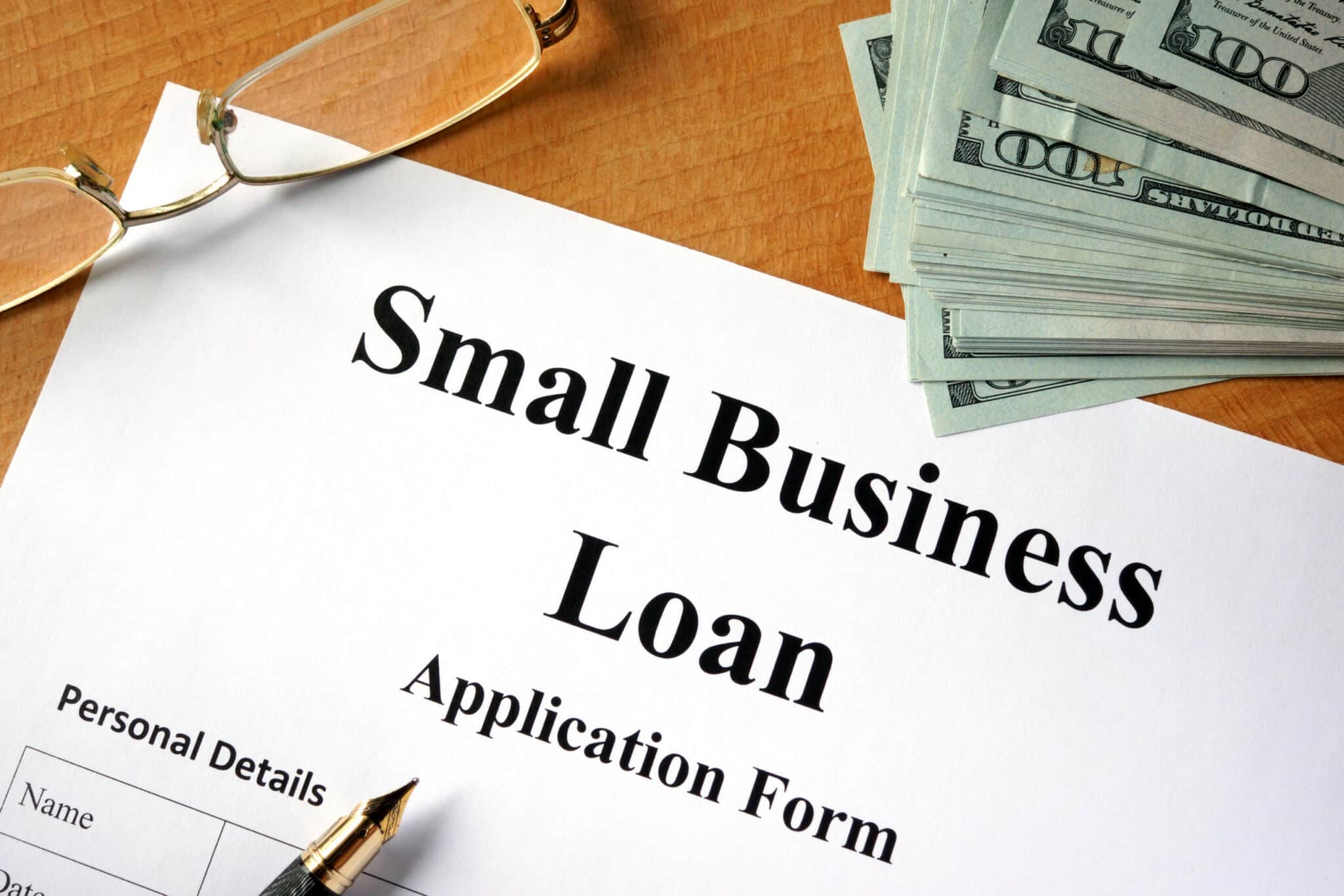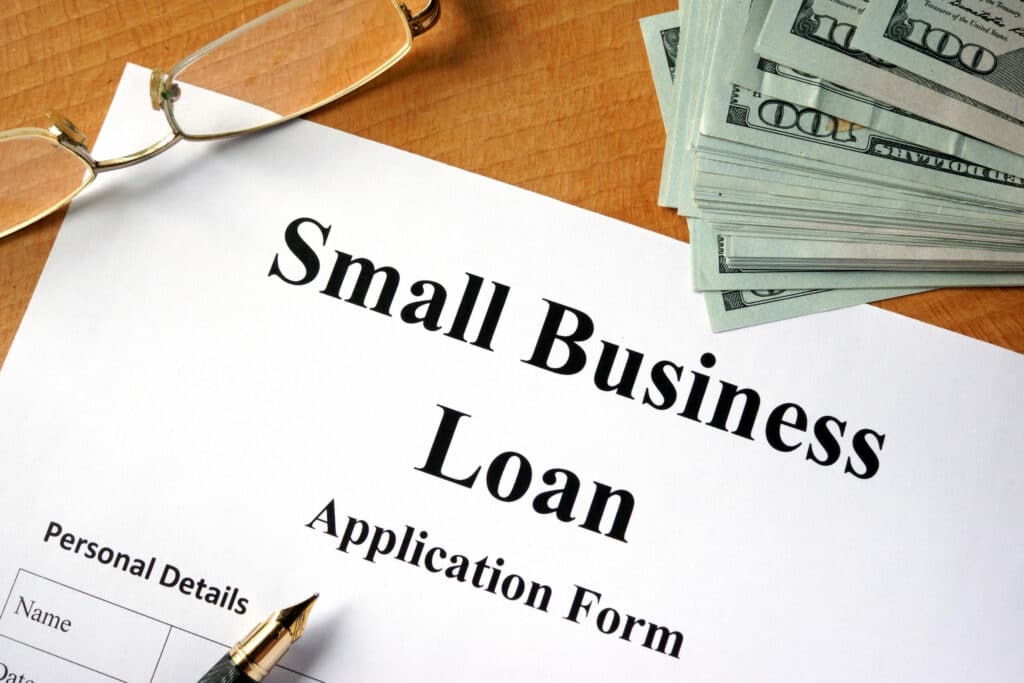 6. Get Ice Cream Licenses and Permits
It's a common practice to get the necessary licenses and permits before opening any business in the United States. Failing to do so will lead to legal implications, which will crush your business before it gets a chance to thrive. Here are some of the permits and licenses you need :
Employee Identification Number (EIN)
Mobile food vendor permit (for an ice cream truck shop)
Food handler's permit
Ice cream vendor permit
Building health permit (for brick-and-mortar location)
Sign permit
Here is a more comprehensive list of the permits and licenses you need for your ice cream business. Asides that, you need to get general liability insurance for your ice cream business.
7. Find a Location for your Ice Cream Shop
Your ice cream shop must be in the right location if you want a steady stream of customers. Suppose your shop is located in a neighborhood with many children; your cash flow will be steady. To choose a location, you must consider
Proximity to your target audience: If you can, get a shop close to commercial centers or busy places such as schools, beaches, events centers, etc.
Accessibility: Customers will return to a shop they can easily reach by car or foot. It's an advantage if there's a parking lot around your ice cream shop, especially if you offer sit-in services.
The demand for ice cream: You won't make many sales in a place where most people don't fancy ice cream. The best location is a place with an existing market.
Rules & regulations: Every place has guiding rules. You want to check if you can abide by the rules before you acquire the space.
Rent: Another thing you should consider is the affordability of the space. You can buy or lease, depending on how much capital you have. Also, remember that you have to pay maintenance fees anyway.
Competition: You would make more sales in an area with little competition than in a place where you have to struggle for customers with ten other shops. If you can, get a place with no ice cream shop to have the pioneer advantage.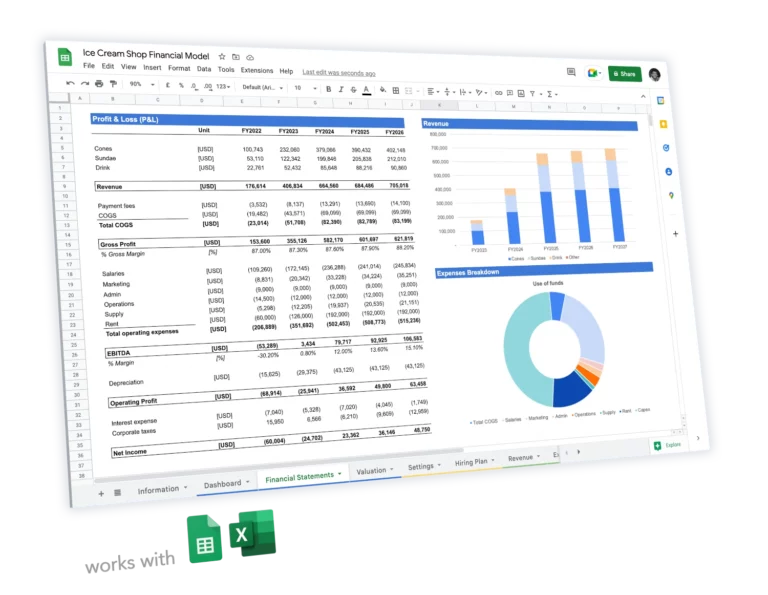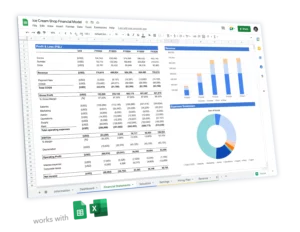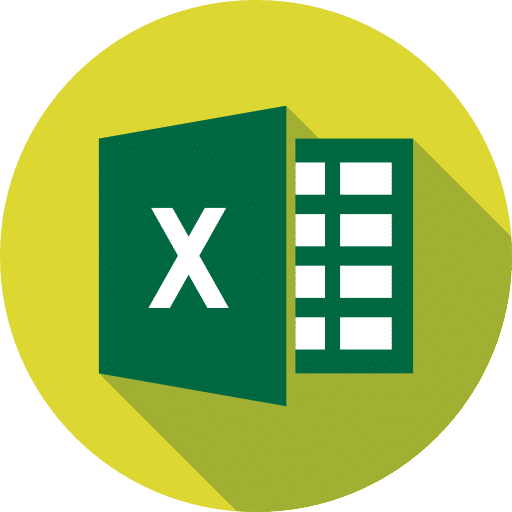 Ice Cream Shop Financial Model
Download an expert-built 5-year Excel financial model for your business plan
Ice Cream Shop Financial Model
Download an expert-built 5-year Excel financial model for your business plan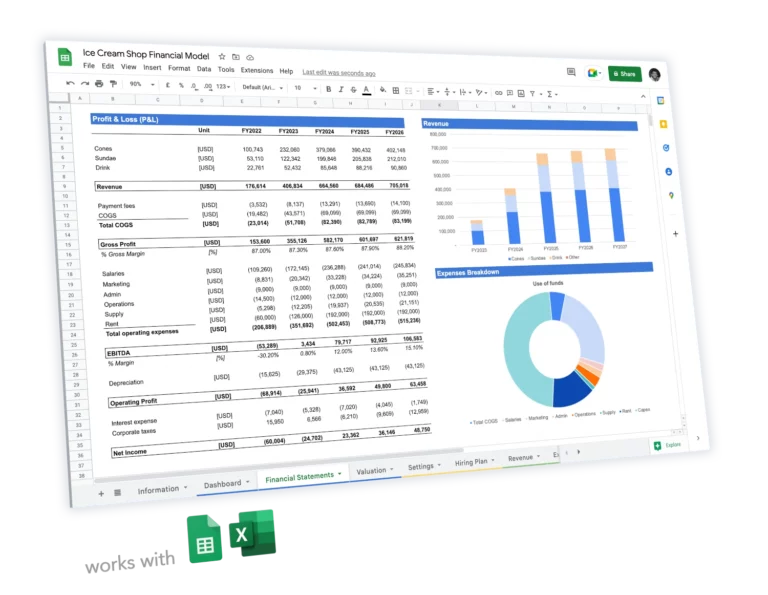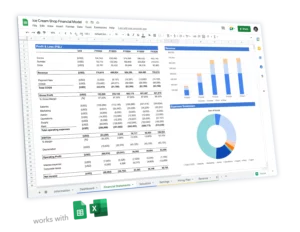 8. Design your Ice Cream Shop Layout
The next thing to do after you've bought or leased the space for your ice cream shop is to design the layout. You can use software to map out a floor plan to cover the necessary spaces such as the point of sale, seating, counter, windows and doors, the kitchen, ordering queue, etc.
Decide if the seating will be small dining booths or community tables. Whichever you go for, ensure there is enough free space for your staff and customers; you don't want your shop to be stuffy.
You also need to furnish your shop with sturdy and well-designed furniture. The necessary equipment includes:
A POS (Point of Sale) system (You can have more than one to keep your customers from waiting, especially when there's a long queue)
Commercial refrigerators & freezers
Small/ large ice cream maker
Waffle bowl maker
Ice cream cone dispensers
Serviceware such as ice cream cups and spoons, napkins, etc.
In total, you'll probably need $10,000 to $100,000 to purchase the equipment, depending on the size of your shop, the quality of the equipment, and whether you actually produce the ice cream onsite.
To reduce costs, you can decide to lease some equipment. Keep the decor minimal but fascinating enough to create a relaxed atmosphere for your customers and excellent working space for your staff. Some cool background music can be on standby to ease the tension in the atmosphere too.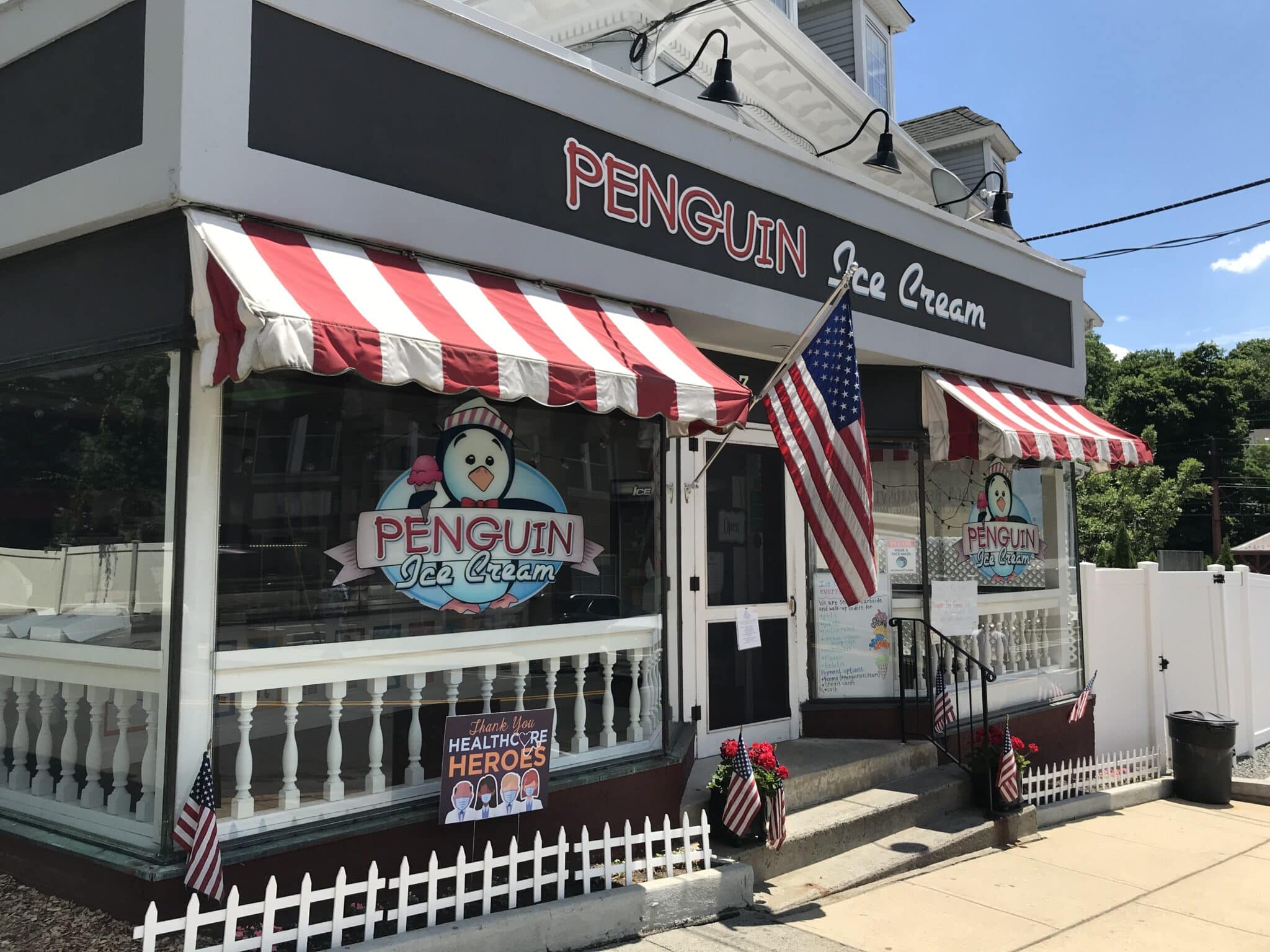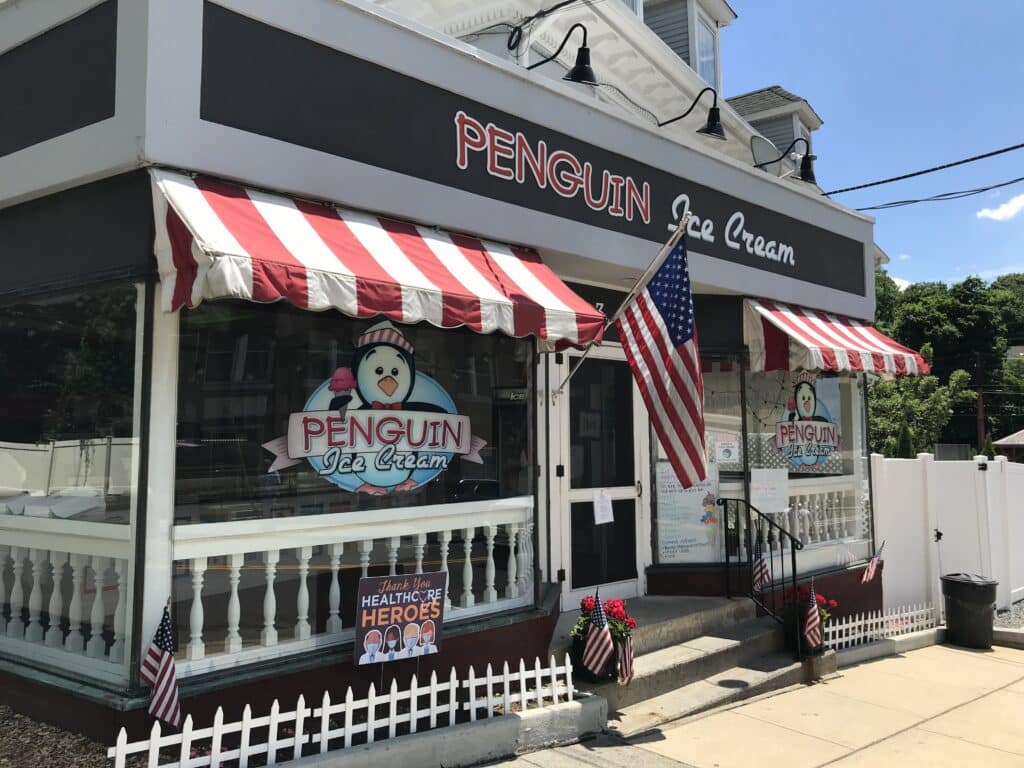 9. Select an Ice Cream Menu
Here's the real deal. Your menu is one of the key drivers of business growth.
Remember that your menu must appeal to your target audience, so you must consider their preferences. For example, if your shop is in a place with many children, you want to have different ice cream flavors.
Also, consider dietary trends and allergies. Lactose-intolerant people can't take milk products, while vegetarians don't appreciate dairy. Providing for these people in your menu will increase your revenue and relevance.
Once you've set the menu, don't forget to look for suppliers, agree on prices, deliveries and formalize your agreement(s) with binding contracts.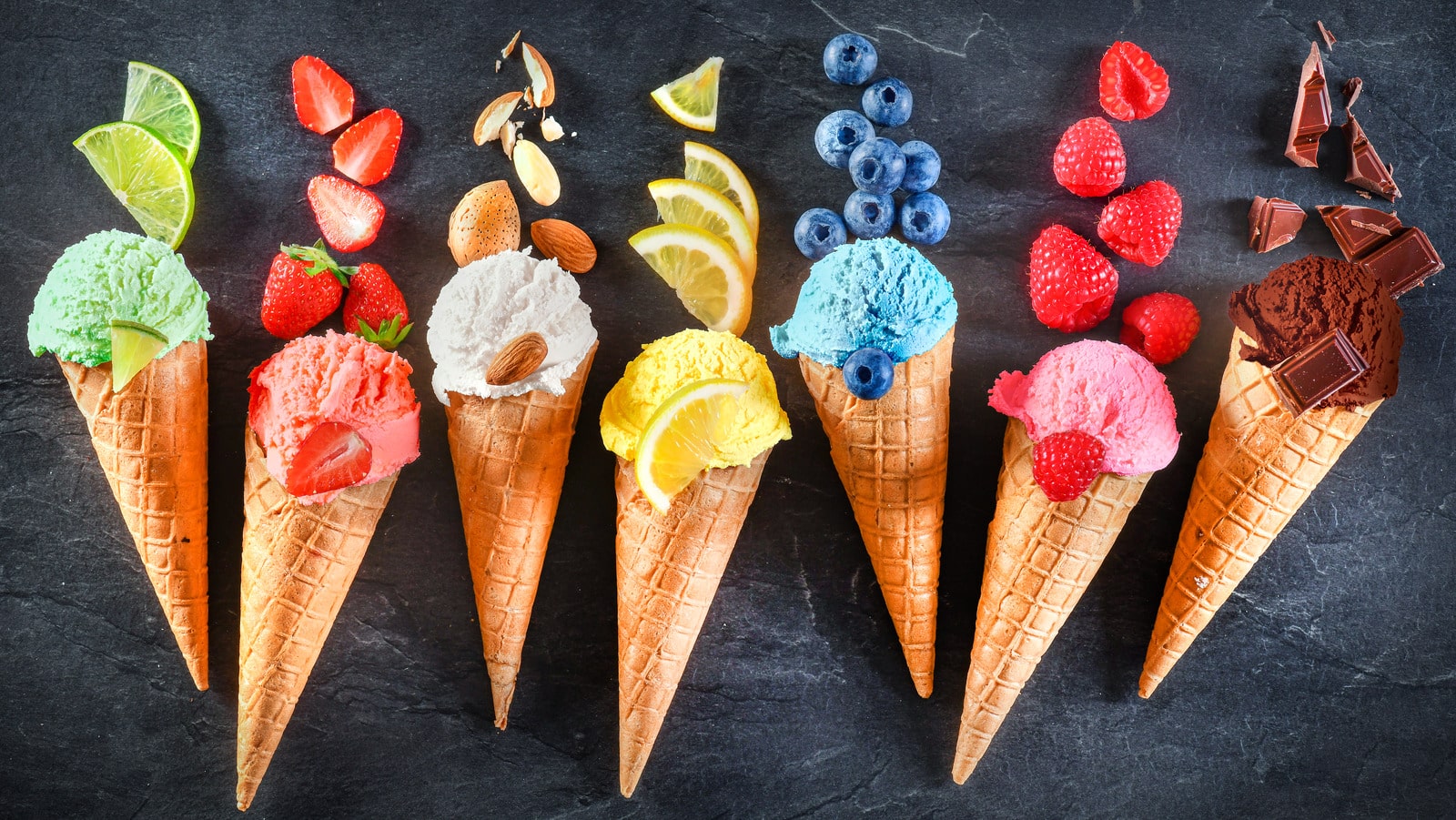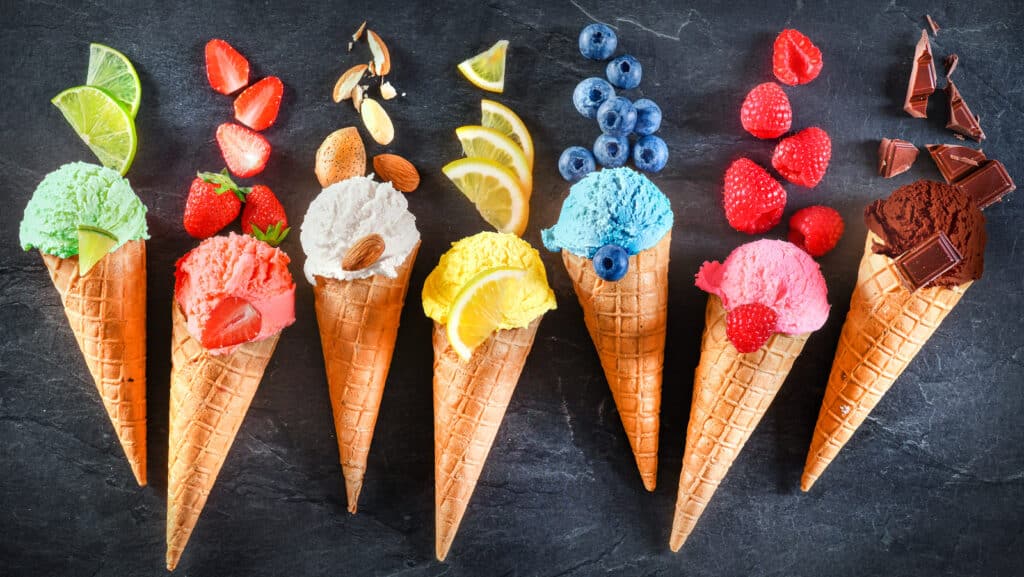 10. Hire Staff for your Ice Cream Shop
The last step before you can open your ice cream shop is to hire a team. Logically, the number of employees and their roles will depend on the type of ice cream shop you go for, as well as its size. For example, whilst you can operate a ice cream shop with 1 employee, you'll likely need 2-3 if you operate a 800 sq. ft. ice cream shop with a sit-in area.
Here is a list of the different roles you may need for your ice cream shop:
Confectioner
Scooper
Cashier
Serving staff (if you have seating)
Shop manager
Delivery driver (if you offer delivery services)
Ensure you consider factors such as personality, willingness to learn, emotional intelligence, technical knowledge, enthusiasm for the job, etc., before you hire anyone.
Also, spend time training your staff. Show them how to do what needs to be done. It's always good practice to hire your first employees a few days before opening so you can train them. Later, you may even allow them to shadow you for a couple of days before you hand operations over to them.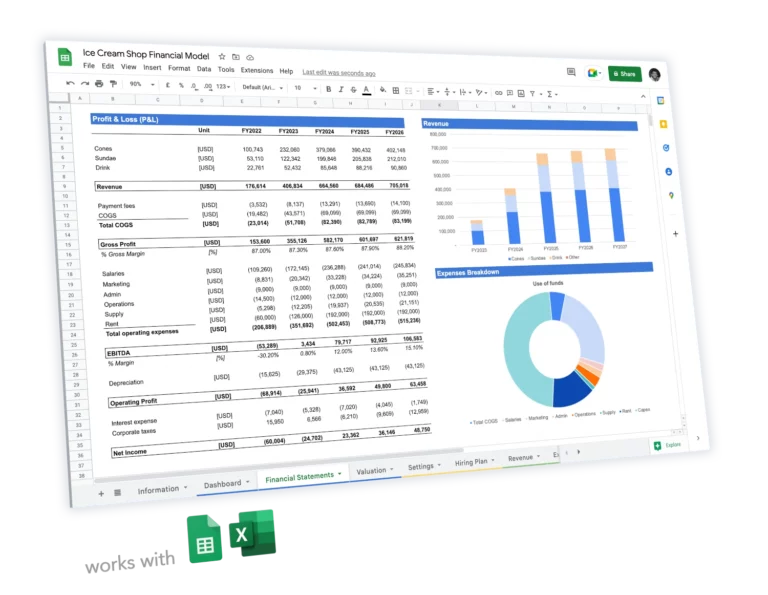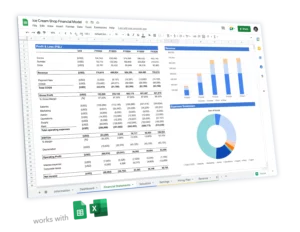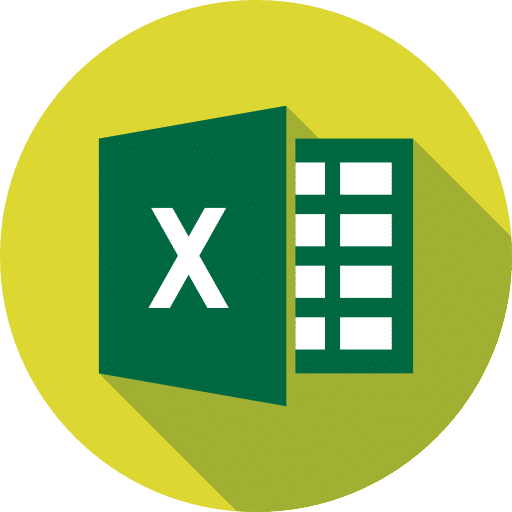 Ice Cream Shop Financial Model
Download an expert-built 5-year Excel financial model for your business plan
Ice Cream Shop Financial Model
Download an expert-built 5-year Excel financial model for your business plan