Bakery Business Plan: How to write it [Complete Guide]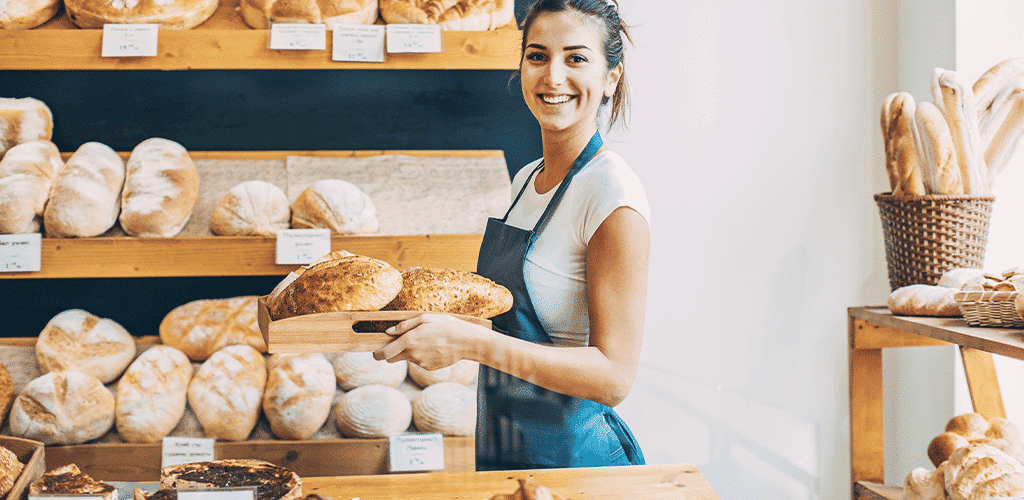 Whether you're looking to raise funding from private investors or to get a loan from a bank (like a SBA loan) for your bakery, you will need to prepare a solid business plan.
In this article we go through, step-by-step, all the different sections you need in the business plan for your bakery. Use this template to create a complete, clear and solid business plan that get you funded.
For more information on bakeries, make sure to check our guides below:
How To Build a Financial Model For a Bakery
How Much Does It Cost To Open a Bakery?
How To Open a Bakery In 9 Steps: Complete Guide
1. Executive Summary
The executive summary of a business plan gives a sneak peek of the information about your business plan to lenders and/or investors.
If the information you provide here is not concise, informative, and scannable, potential lenders and investors will lose interest.
Though the executive summary is the first and the most important section, it should normally be the last section you write because it will have the summary of different sections included in the entire plan.
Why do you need a business plan for a bakery?
The purpose of a business plan is to secure funding through one of the following channels:
Obtain bank financing or secure a loan from other lenders (such as a SBA loan)
Obtain private investments from investment funds, angel investors, etc.
Obtain a public or a private grant
How to write your bakery's executive summary?
Provide a precise and high-level summary of every section that you have included in your bakery business plan. The information and the data you include in this segment should grab the attention of potential investors and lenders immediately. Ensure that the executive summary doesn't exceed 2 pages in total.
The executive summary usually consists of the five major sub-sections that include:
Business Overview: give a brief introduction to your bakery and quickly describe your brand, its offerings, the pricing list of products and what sets you apart from your competitors
Market Overview: the market analysis segment will contain an overview of the expected bakery market size and growth in your area, as well as an analysis of your competitors and target audience
Management & People: introduce your bakery's management and employee structure. Provide a brief (no more than a couple of sentences each) of the knowledge and experience of the team. Also, speak here about your hiring plans and the reporting lines
Financial Plan: how much profit and revenue do you expect in the next 5 years? When will you reach the break-even point and start making profits? Include here a chart depicting your key financials such as revenue, gross profits, and net profit
Funding Ask: what loan/investment/grant are you seeking? How much do you need? How long will this last?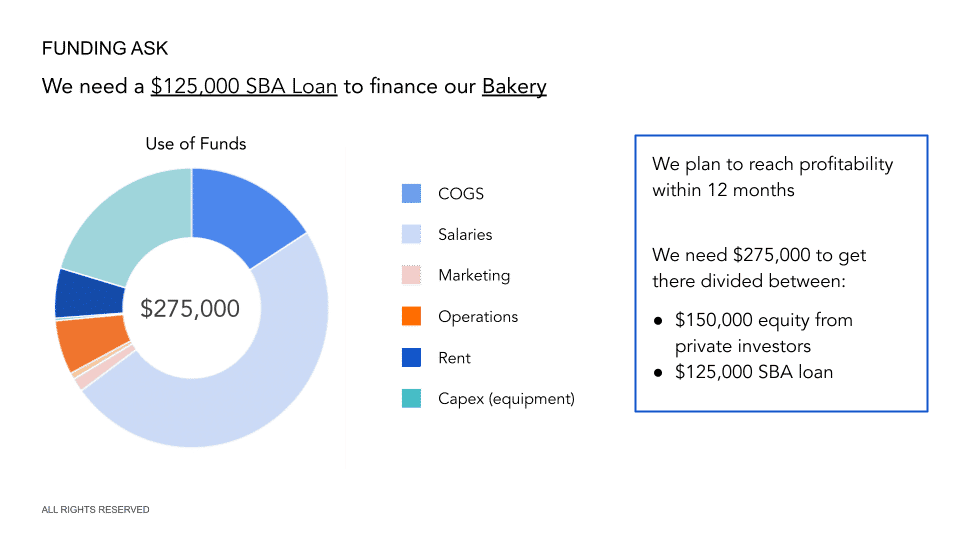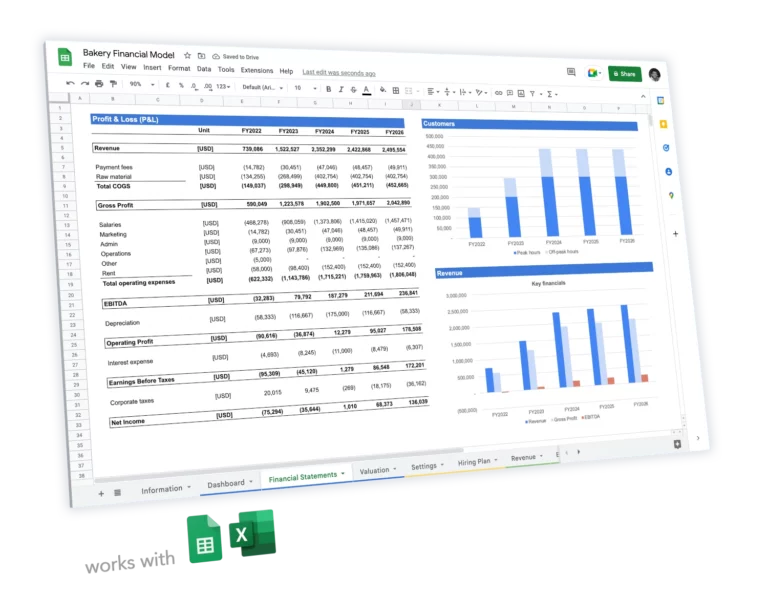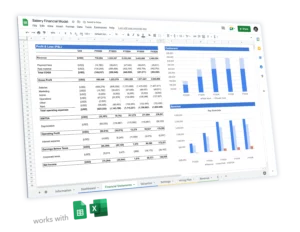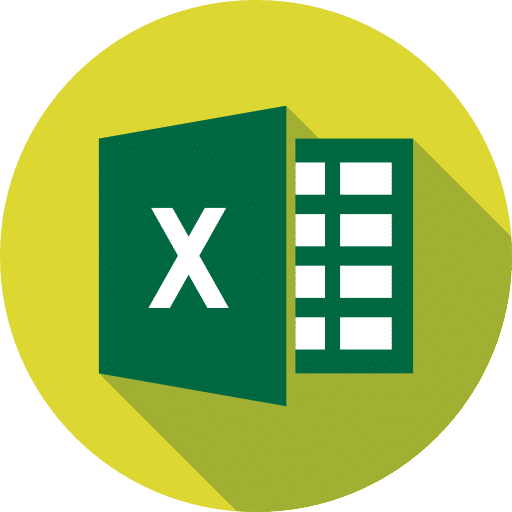 Bakery Financial Model
Download an expert-built 5-year Excel financial model for your business plan
2. Bakery Business Overview
In this section of your bakery business plan, you will provide an overview (slightly more detailed) of your business. If there is something unique about your baked products, mention that in this segment.
Some of the most important questions that you must try to answer in this section include:
Why are you opening a bakery?
Where will your bakery be located and why did you choose that location?
What type of baked products will you sell (low-calorie, vegan, gluten-free, etc.)?
Why do you want to offer those product lines?
How will you price your food offerings?
Will your operating hours be the same as your competitors?
Who is your target audience?
What will be the legal structure of your company?
Let's look at different subsections that you must include:
a) History of the Project
Any business must have two components:
Passion & experience of the business owner
Rationale behind the business
Passion & Experience
It is not necessary to have any prior experience with a bakery. As long as you are passionate about it and you know your market, you are good to go.
However, if you have any experience, make sure that you are mentioning that. For example, you may have been a head pastry chef and a creative cake decorator in a popular bakery for 6 years and now you want to launch your own bakery.
No matter what, ensure that you demonstrate not just passion but also some industry knowledge that you must garner through thorough research.
Rationale
Every business has a rationale behind its existence. What's yours? Are you going to solve some problems that exist in the current bakery business scene?
For instance, the target market may have a very high percentage of pastry-loving obese people. You may be the first one to introduce low-calorie pastries, cakes, and other baked items.
Similarly, if the area has a high vegan density, you may want to introduce a line of vegan products that no other bakery in the area is offering.
You must also ensure that the market is conducive for the business to exist. For instance, if you are a master cake maker who makes ultra-realistic cakes that cost a lot and try to sell them in a low-income neighborhood, your cakes will probably not sell.
Therefore, it is important to understand the market before starting a business to prevent extreme losses, and eventually closure.
b) Business Model
This is where you will talk about the business model and the type of bakery you want to open. Some points that you need to briefly describe here are:
Will you buy a new bakery, or will you buy an old one and remodel it?
Will you open a specialty bakery, a counter service bakery, or some other bakery type?
What equipment, technologies, inventory, and tools will you need to operate your bakery?
Where will you source your ingredients from?
There are various types of bakeries that you consider:
Bakery Café: It is a sit-down bakery. It is a retail bakery with a dedicated dining area. There will be front-of-house and back-of-house spaces and people will often order food and other drinks apart from your baked items like muffins, cupcakes, cookies, etc. People can also order tea, coffee, sandwiches, etc.
Counter Service Bakery: These bakeries do not have any dining area. People will order food and take them away. You can sell other food items like drinks, burgers, sandwiches, etc. apart from your usual baked goods.
Specialty Bakery: These bakeries focus on a very specific set of products. For example, wedding cakes, gluten-free baked products, etc.
Retail or Wholesale Bakery: The difference between a retail and a wholesale bakery is that in the retail model, you will sell to your direct customers (B2C). In the wholesale model, you will be selling to other businesses like cafes, restaurants, specialty shops, etc.
Irrespective of the type of bakery you want to open, make sure that there is adequate demand for the products you want to sell. For instance, if you are trying to sell a vegan line of baked products to customers who want non-veg-based baked products, you will not succeed. There must be enough vegans in your target market.
c) Products & Services
In this sub-section of your bakery business plan, you will provide a list of your products and services. For instance, if you intend to open a specialty bakery such as wedding cakes, you must provide a menu listing all that you have to offer.
Similarly, if you want to sell bread, cookies, and pastries only, make sure that your sample menu lists them. If there are too many items that you intend to sell, make sure that the sample menu you are providing includes the major attractions. You don't need to list all the items.


d) Pricing Strategy
This is where you will explain your pricing strategy. Of course, your prices can vary significantly from your competitors. However, if there is a significant price variation, you must explain such differences.
For instance, you may be selling custom-designed birthday and wedding cakes instead of generic designs. That may be the reason for higher costs. Similarly, the quality of the ingredients you use for baking can also account for the price differences.
Irrespective of the case, include a pricing chart for your menu items. No need to include the price of every product or product bundle you intend to sell. Instead of listing the price for every product individually, you can just provide a pricing range.
For example, you can do something like this:
Multi-decker cakes with custom fondant-crafted figurines: $350 to $1,000
Gluten-free cookies: $3 to $6
Offering a pricing chart is important because your pricing strategy will also allow investors to tie your pricing strategy with your financial projections later on.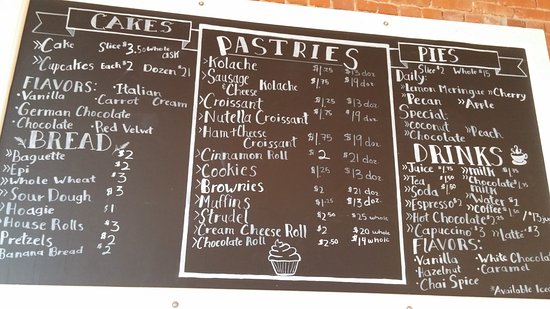 e) Legal Structure
Finally, your business overview section should specify what type of business structure you want. Is this a corporation or a partnership (LLC)? Who are the investors? How much equity percentage do they own? Is there a Board of Directors? If so, whom? Do they have experience in the industry?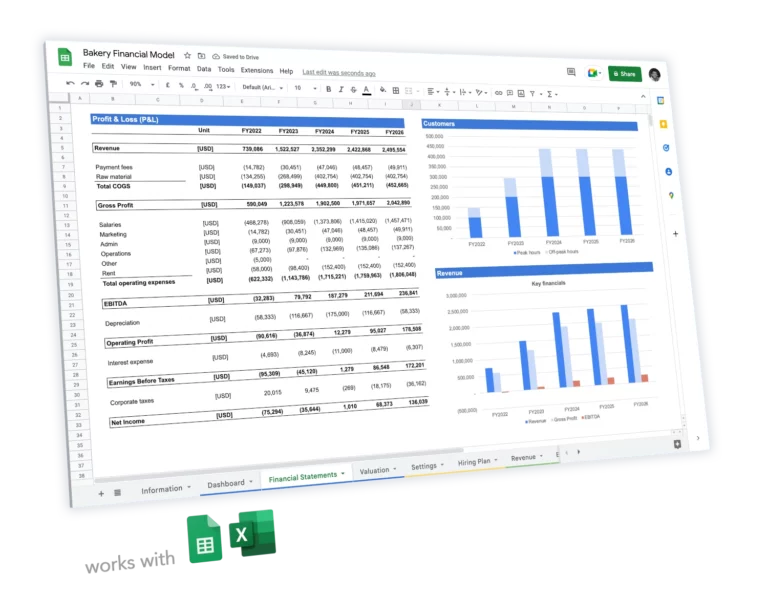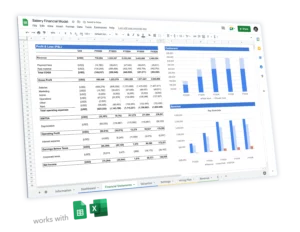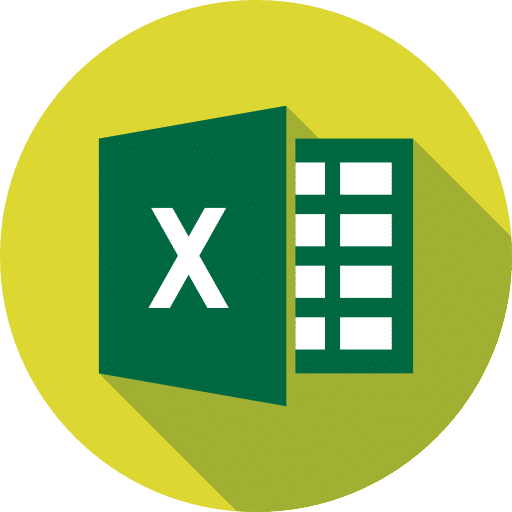 Bakery Financial Model
Download an expert-built 5-year Excel financial model for your business plan
3. Bakery Market Overview
A complete understanding of the market where you want to operate is important for the success of your business.
For example, there may be a large number of cafes in the area with regular and high demand for baked goods like pastries and cookies. Thus, opening a wholesale bakery to serve the B2B demand instead may make sense here.
Therefore, you must cover here 3 important areas in the market overview or market analysis section of the business plan of your bakery:
Market trends: how big is the bakery industry in your area? What is its growth rate (or decline rate) and what are the factors contributing to its growth or decline?
Competition overview: how many competitors are there? How do they compare vs. your business? How can you differentiate yourself from them?
Customer analysis: who is your target audience? What type of bakery setup do they prefer? How frequently do they buy baked goods? What is their average spending at bakeries?
a) Bakery Industry Status Quo
How big is the bakery industry in the US?
According to the American Bakers Association, the US bakery market represents $154 billion and employs over 800,000 people..! The commercial segment is by far the largest (91% industry size) vs. retail bakeries that only represent 9% of the total US bakery market.
In terms of products, here is the breakdown of the most common bakery products as a percentage of total bakery sales in the US: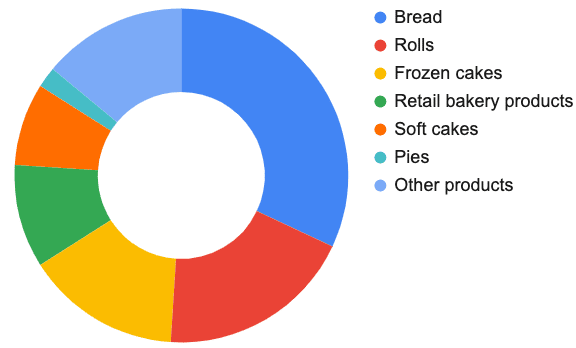 How big is the bakery industry in your area?
Once you grab the exact data for the US market and add it to your business plan, you can then divert your attention to the area where you want to operate. It might not be possible to find region or area-specific studies, and hence, you must estimate the size. For more information, read our article on how to estimate TAM, SAM and SOM for your startup.
Let's now see how to estimate the market size of the bakery industry size for your business plan. We know that:
The total US market size for retail bakeries is $15 billion (10% of the total $154 billion)
The total number of retail bakeries is around 23,000
Therefore, the average annual revenue for each retail bakery is around $650,000 (that's an average of $1,800 in sales per day).
So, if there are 20 already bakeries in the area where you will operate, we can reasonably assume the market size of the bakery industry in your area is around $13 million.
How fast is the bakery industry growing in the area?
Now, you must show the expected growth rate of the bakery industry in your area. This information may not be available via online research papers. However, assessing the growth rate will not be difficult.
You can approach each bakery separately and ask for their year of establishment. You will get a clear picture of the overall growth rate.
For instance, if there were 18 bakeries in 2018 and 20 bakeries in 2022, the average annual growth rate is 5.1%.


b) Bakery Competition Overview
Studying your competitors' business models is vital. You need to understand what makes them successful or why they fail. A clear understanding of their bakery product offerings, marketing strategies, etc., will allow you to provide a better service.
If your competitors are offering nearly the same products & services, then what is their market share and how do they market their products & services to attract new customers?
It is always a good idea to do some research (if necessary, physically visit your competitors without revealing your business intentions) and create a comparative table summarizing their product & service offerings, marketing strategies, target audience, etc.
Here is a sample table that you can use:
Competitor #1
Competitor #2
Competitor #3
Location
xx
xx
xx
Business model
Retail bakery
Retail bakery
Bakery café
Products offered
✓ Breads
✓ Rolls
✖ Cakes
✖ Pies
✓ Drinks
✖ Coffee to go
✓ Sandwiches
✖ Menus
✓ Breads
✓ Rolls
✓ Cakes
✓ Pies
✓ Drinks
✖ Coffee to go
✓ Sandwiches
✓ Menus
✓ Breads
✓ Rolls
✓ Cakes
✖ Pies
✓ Drinks
✖ Coffee to go
✓ Sandwiches
✓ Menus
Google Rating
4.0 (325+)
4.6 (286+)
4.4 (1,958+)
Prices
xx
xx
xx
Shop size
800 sq. ft.
1,000 sq. ft.
900 sq. ft.
Staff
4
5
6
The competition analysis table you will add to your bakery business plan will depend on what information you need and want to include based on your business model.
Bakery SWOT Analysis
Try to provide a SWOT analysis. It must be crisp and highly focused. SWOT stands for Strength, Weakness, Opportunities, and Threats.
Here is a sample that you can use as a reference:
Strengths: Baking & Pastry Arts degree from Culinary Institute of America; 6 years of cake and pastry baking & decoration experience in a renowned bakery chain
Weaknesses: Startup cost, zero reputation
Opportunities: Increasing demand for healthy baked food because of increasing health consciousness in the target market
Threats: Big brands like Dewey's Bakery, Insomnia Cookies, Bare Snacks, etc., are flooding the market
A clear understanding of your strengths and weakness along with opportunities and threats in the real market can help you to design your marketing strategy. It also helps potential investors to assess the risk and reward profile of your business.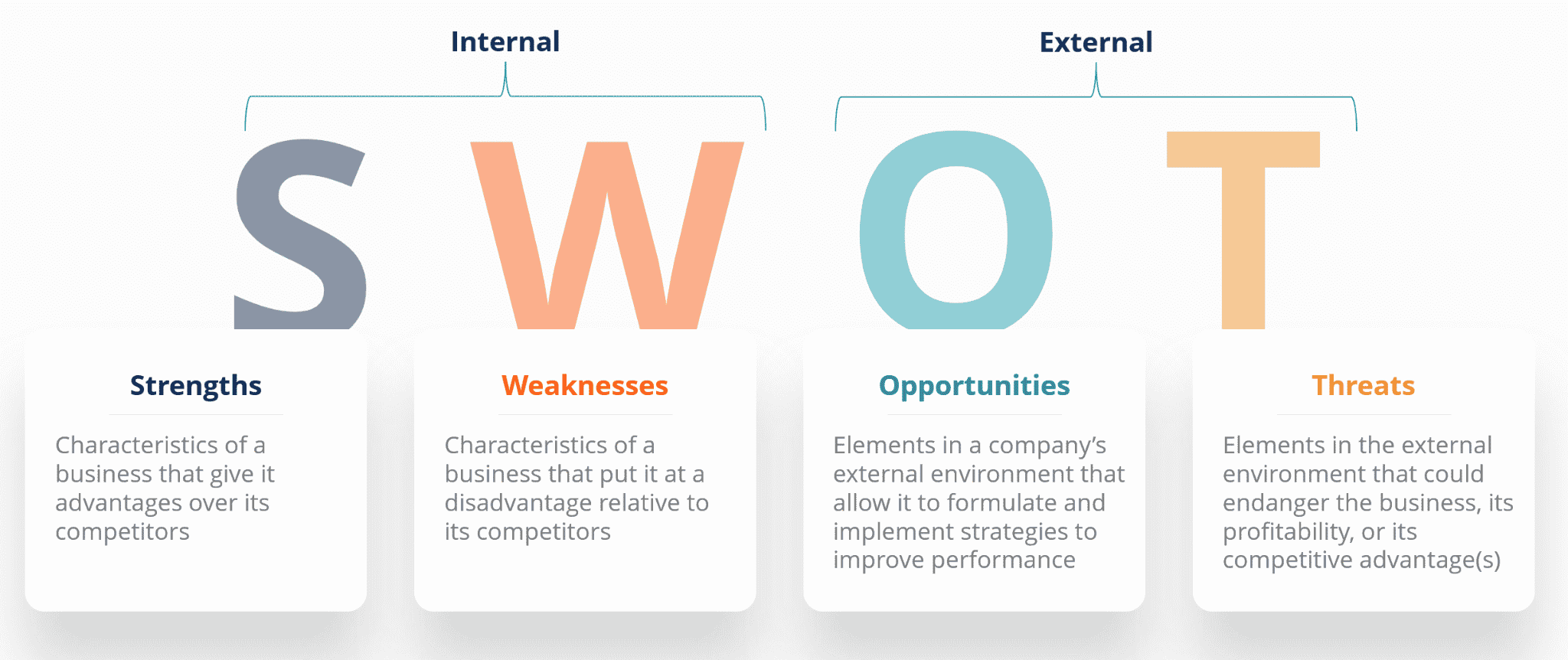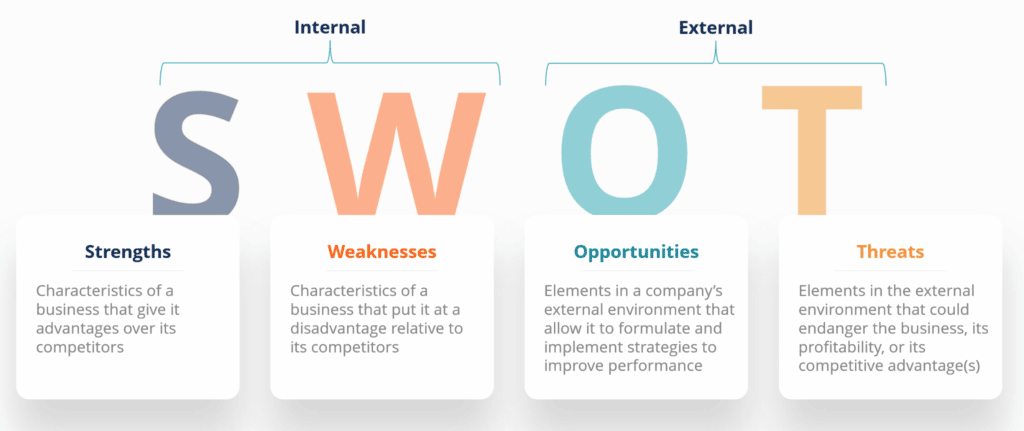 c) Bakery Customer Analysis
This is the sub-section where you will provide a detailed analysis of your target audience. Some important points that you must include in your customer analysis include:
Age and gender distribution (you can get local demographic data from census.gov)
Per capita expenditure on baked food items
Frequency of bakery visits
Average monthly income and disposable income
Average bill size per visit
Type of bakery preferred
The expected price range for baked items
Preference for healthy snacks and willingness to pay for high-quality products
Any seasonal preferences they have
You can add as many data points as required to validate your business decision. The idea here is to display your deep understanding of the target audience and their needs, preferences, and expectations. This knowledge can help you to tailor your products & services to attract new customers.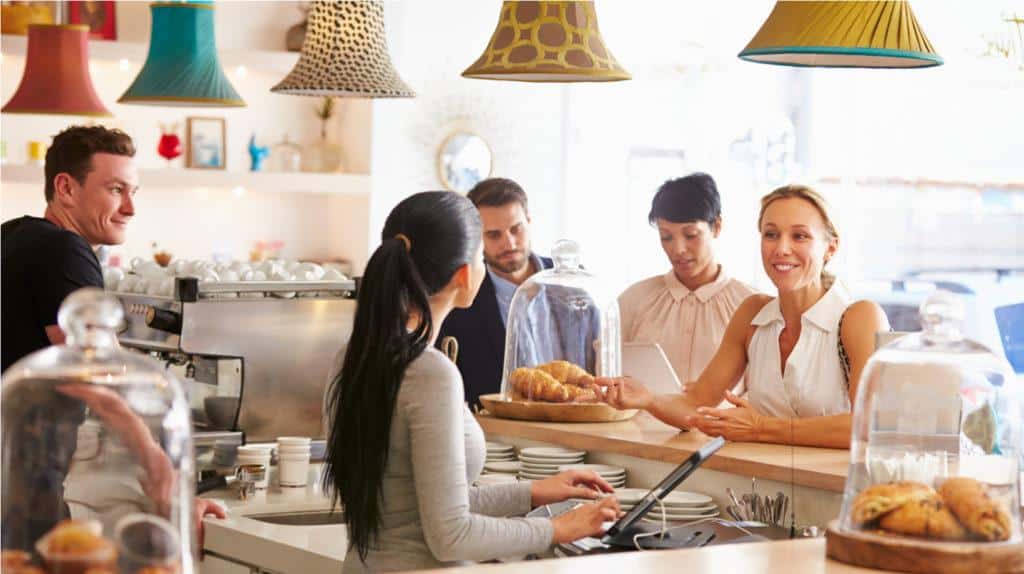 4. Sales & Marketing
This is the segment where you outline your customer acquisition strategy. Try to answer the following questions:
What is your USP?
What are the different marketing strategies you will use?
How do you intend to track the success of your marketing strategy?
What is your CAC or customer acquisition cost?
What is your marketing budget?
What introductory promos and offers do you intend to provide for attracting new customers?
Let's expand a bit on a few questions below:
What marketing channels do bakeries use?
A few marketing channels that bakeries typically use are:
Online listing & reviews (e.g. Google Business)
Bakery directory listing
Signage and billboards
Print media (newspapers, etc.)
Loyalty programs
Coupons & gift cards
Social media interactions and social media ads
It is not necessary to use all channels. You can start by focusing on a few of them. You can include other marketing strategies later.
Also, you must have a fair and nearly accurate estimate of your marketing budget. Failure to display a well-planned and adequate cash flow for advertising and marketing can lead to investors losing confidence. That's because investors are fully aware that if adequate funds are not allocated for marketing, the business will be derailed before becoming a success.
What is your unique selling proposition (USP)?
In other words, how do you differentiate yourself vs. competitors? This is very important as you might need to win customers from competitors.
A few examples of USPs are:
Low Calorie: Craving for sweets while burning fat? We have the perfect pastries!
Vegan: Dairy-free vegan cheesecakes that melt in your mouth
Doorstep delivery: We will reach your door to satiate your cravings
Your USP will depend on your business model, competitor analysis, and target audience. Whatever your USP be, it should appeal to your potential customers and attract them. Plus, The USP you offer should be convincing enough for investors and lenders.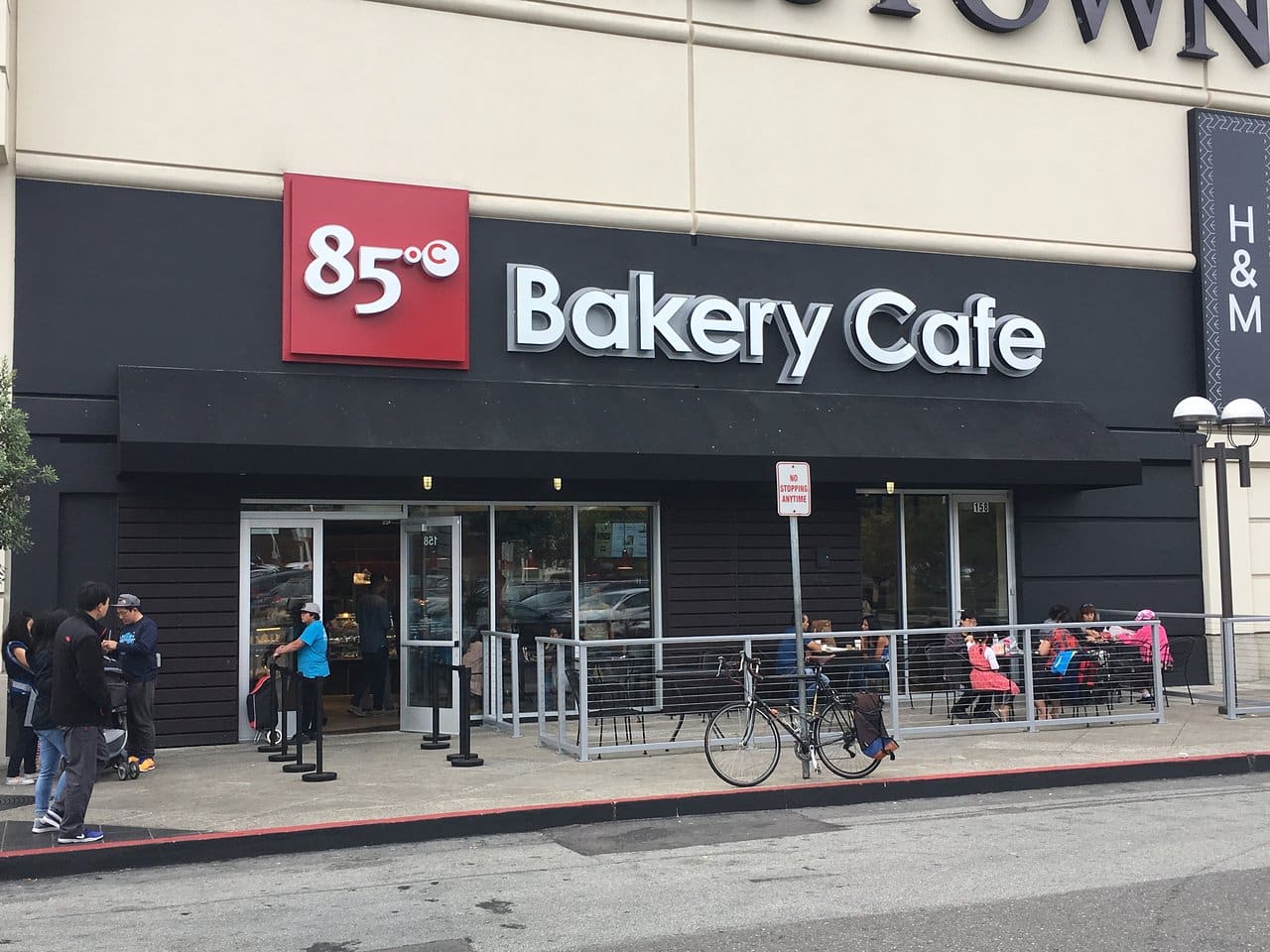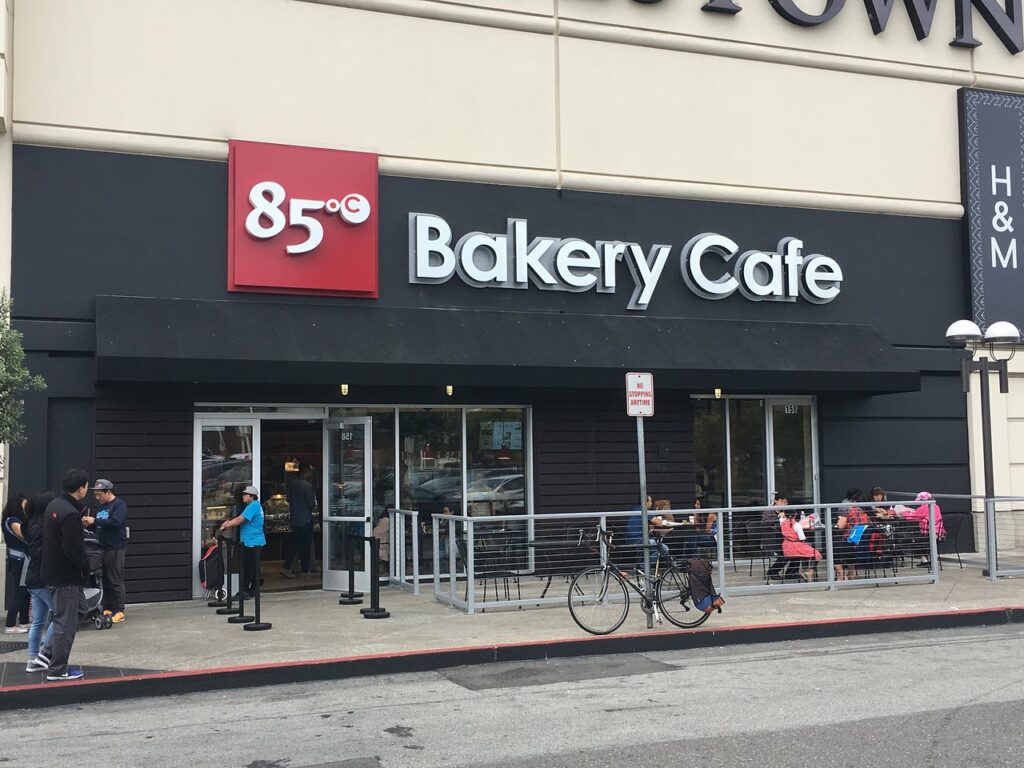 5. Management & People
You must address two things here:
The management team and their experience/track record
The organizational structure: different team members and who reports to whom?
a) Management
Small businesses often fail because of managerial weaknesses. Thus, having a strong management team is vital. Highlight the experience and education of senior managers that you intend to hire to oversee your bakery business.
Describe their duties, responsibilities, and roles. Also, highlight their previous experience and explain how they succeeded in their previous roles.
It is also important that you explain how their experiences and qualifications help you in implementing the bakery you are proposing. If they have specialized training, and experience (such as a degree in baking and pastry arts degree, 6 years of baking experience in a renowned bakery chain, etc.), add that information.
b) Organization Structure
Even if you haven't already hired production bakers, pastry chefs, kitchen helpers, marketing & accounts personnel, etc., you must provide a flowchart of the organizational structure defining the hierarchy of reporting.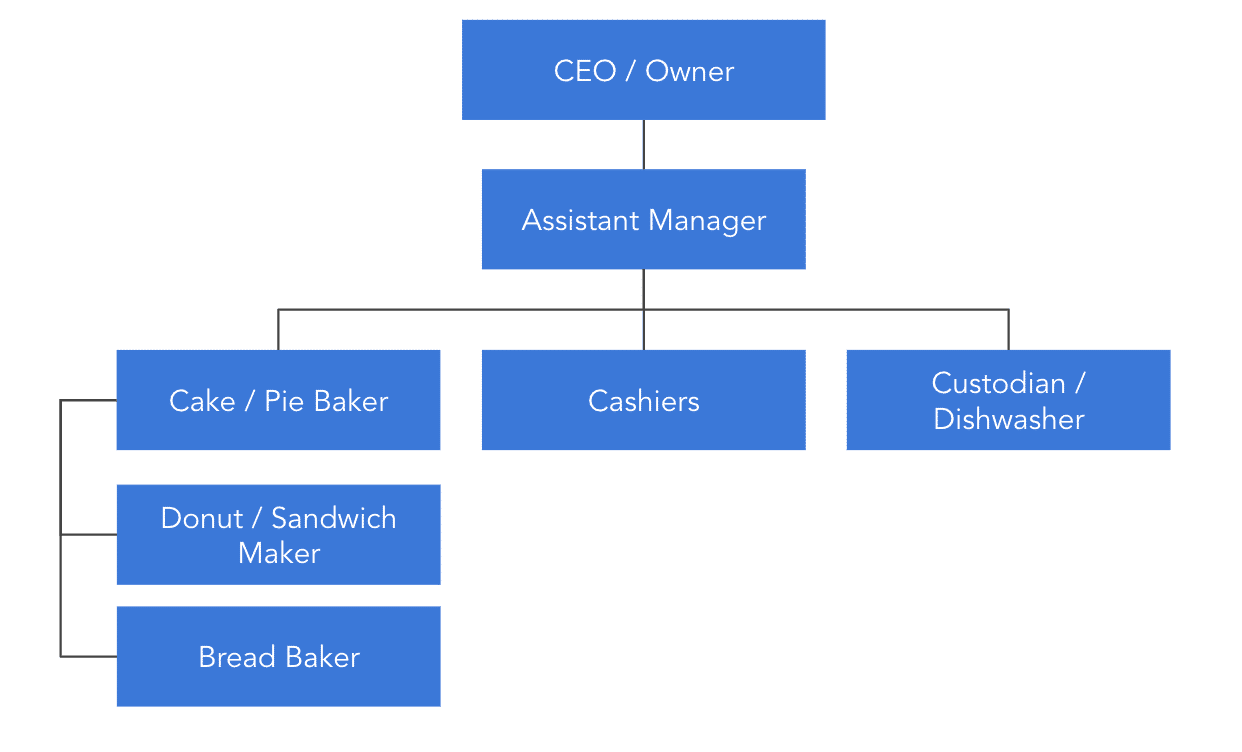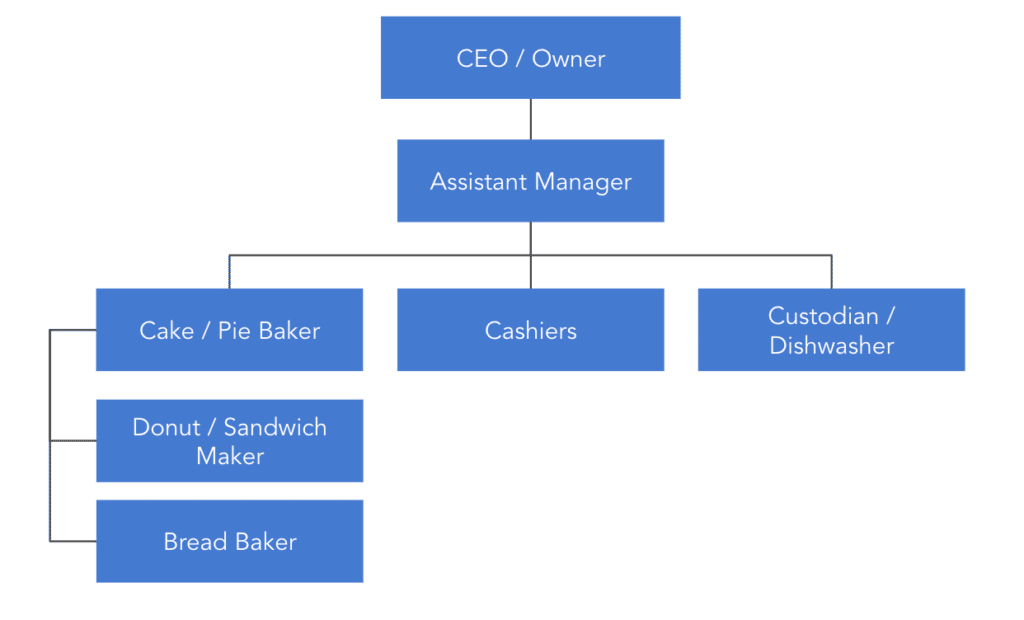 6. Financial Plan
The financial plan is perhaps, with the executive summary, the most important section of any business plan for a bakery.
Indeed, a solid financial plan tells lenders that your business is viable and can repay the loan you need from them. If you're looking to raise equity from private investors, a solid financial plan will prove them your bakery is an attractive investment.
There should be 2 sections to your financial plan section:
The startup costs of your project (if you plan to start a new bakery, purchase new equipment, renovate your store, etc.)
The 5-year financial projections
a) Startup Costs
Before we expand on 5-year financial projections in the following section, it's always best practice to start with listing the startup costs of your project. For a bakery, startup costs are all the expenses you incur before you open your bakery and start making sales. These expenses typically are:
The lease deposit for the space (if you rent) or the cost to purchase the real estate
The renovation / refurbishment of the building / space
Equipment & furniture for the bakery
Of course, the startup costs depend on many factors like the bakery shop size, its location, the number of staff, quality of the equipment, etc.
As an example, it costs on average $109,250 to $310,050 to open a 1,500 sq. ft. bakery in the US.
Note that these costs are for illustrative purposes and may not be fully relevant for your business. For more information on how much it costs to open and run a bakery, read our article here.
| Startup Cost | Amount |
| --- | --- |
| Lease security deposit | $11,250 |
| Building improvements | $10,000 – $70,000 |
| Equipments | $60,000 – $200,000 |
| Essential supplies | $20,000 |
| License, permits & certifications | $1,500 |
| Marketing & website | $5,200 – $6,000 |
| POS system | $1,300 |
| Total | $109,250 – $310,050 |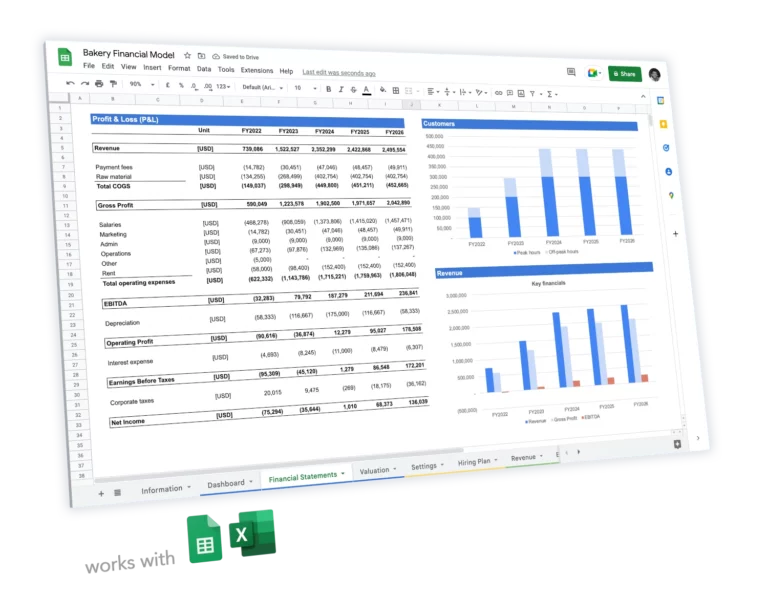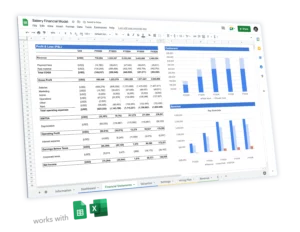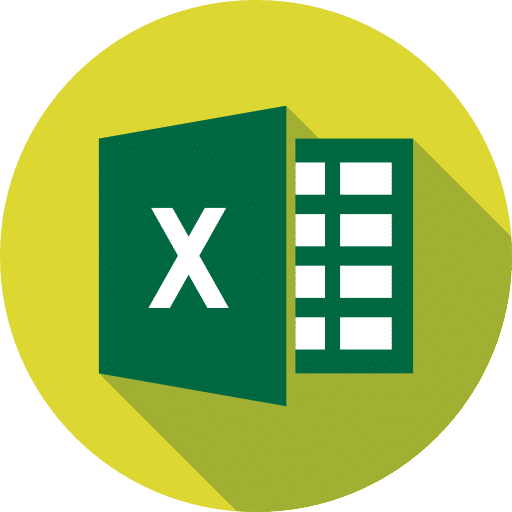 Bakery Financial Model
Download an expert-built 5-year Excel financial model for your business plan
b) Financial Projections
In addition to startup costs, you will now need to build a solid 5-year financial model for your bakery.
Your financial projections should be built using a spreadsheet (e.g. Excel or Google Sheets) and presented in the form of tables and charts in the business plan of your bakery.
As usual, keep it concise here and save details (for example detailed financial statements, financial metrics, key assumptions used for the projections) for the appendix instead.
Your financial projections should answer at least the following questions:
How much revenue do you expect to generate over the next 5 years?
When do you expect to break even?
How much cash will you burn until you get there?
What's the impact of a change in pricing (say 15%) on your margins?
What is your average customer acquisition cost?
You should include here your 3 financial statements (income statement, balance sheet and cash flow statement). This means you must forecast:
The number of customers over time ;
Your expected revenue ;
Operating costs to run the business ;
Any other cash flow items (e.g. capex, debt repayment, etc.).
When projecting your revenue, make sure to sensitize pricing and the number of customers as a small change in these assumptions will have a big impact on your revenues.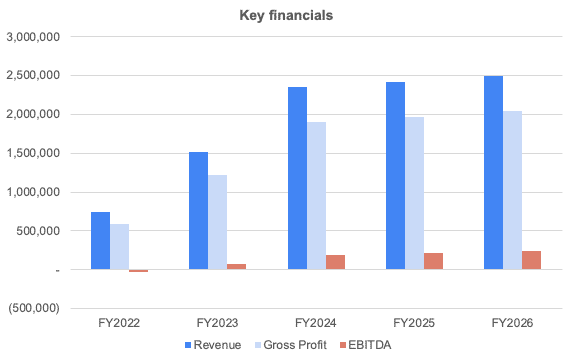 7. Funding Ask
This is the last section of your bakery business plan. Now that we have explained what your bakery business model is, what you sell and to whom, what's your marketing strategy, etc., this section must now answer the following questions:
How much funding do you need?
What financial instrument(s) do you need: is this equity or debt, or even a free-money public grant?
How long will this funding last?
Where else does the money come from? If you apply for a SBA loan for example, where does the other part of the investment come from (your own capital, private investors?)
If you raise debt:
If you raise equity
What percentage ownership are you selling as part of this funding round?
What is the corresponding valuation of your business?
Use of Funds
Any bakery business plan should include a clear use of funds section. This is where you explain how the money will be spent.
Will you spend most of the loan / investment in paying your employees' salaries? Or will it cover mostly the cost for the lease deposit and the renovation?
Those are very important questions you should be able to answer in the blink of an eye. Don't worry, this should come straight from your financial projections. If you've built solid projections like in our Bakery financial model template, you won't have any issues answering these questions.
For the use of funds, we also recommend using a pie chart like the one we have in our financial model template where we outline the main expenses categories as shown below.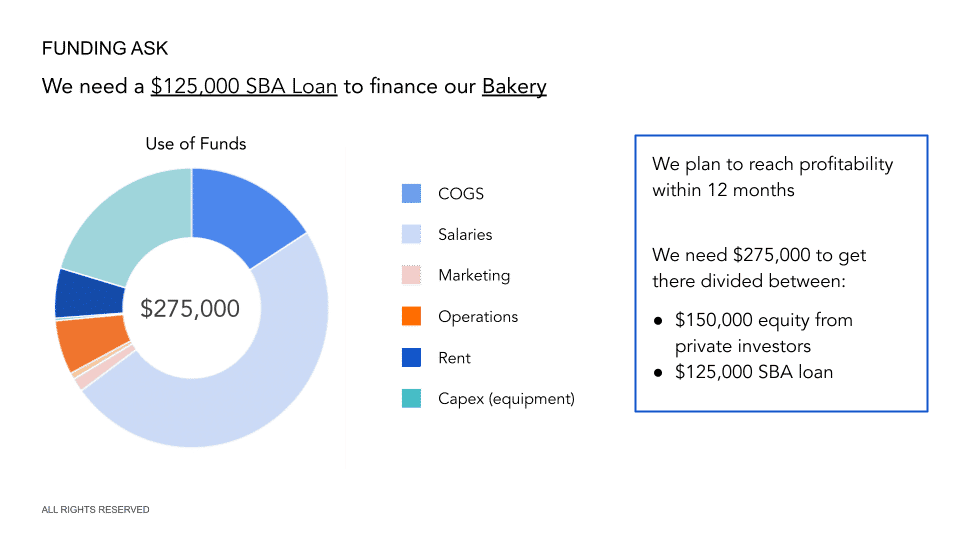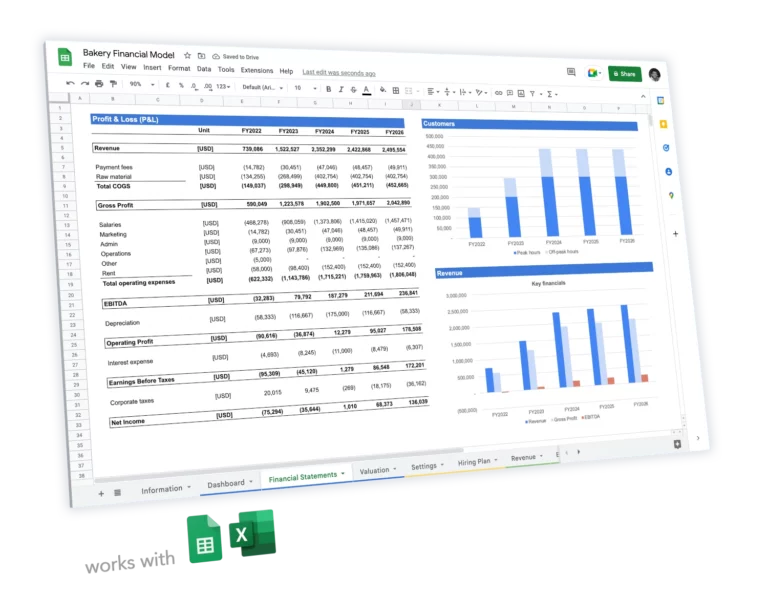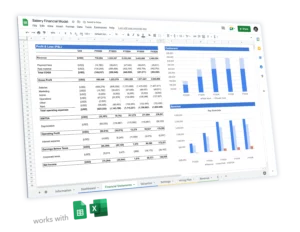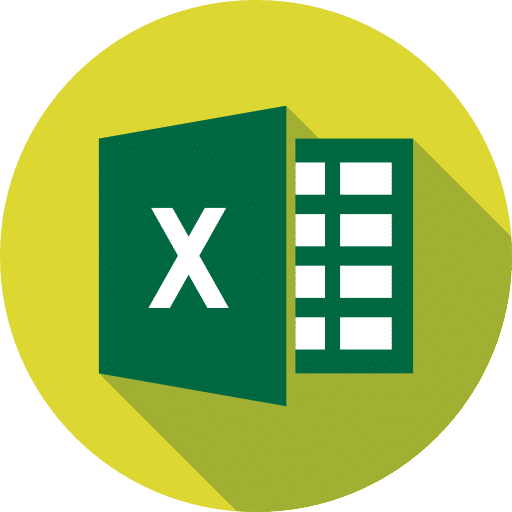 Bakery Financial Model
Download an expert-built 5-year Excel financial model for your business plan