How to Write a Business Plan for a Nursing Home: Complete Guide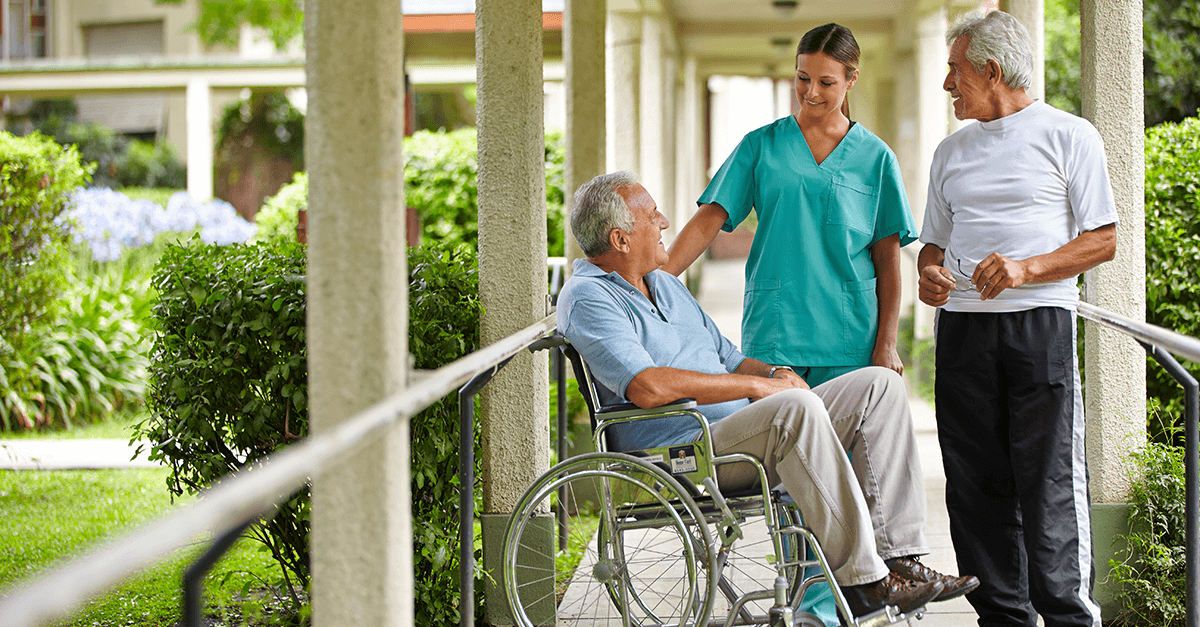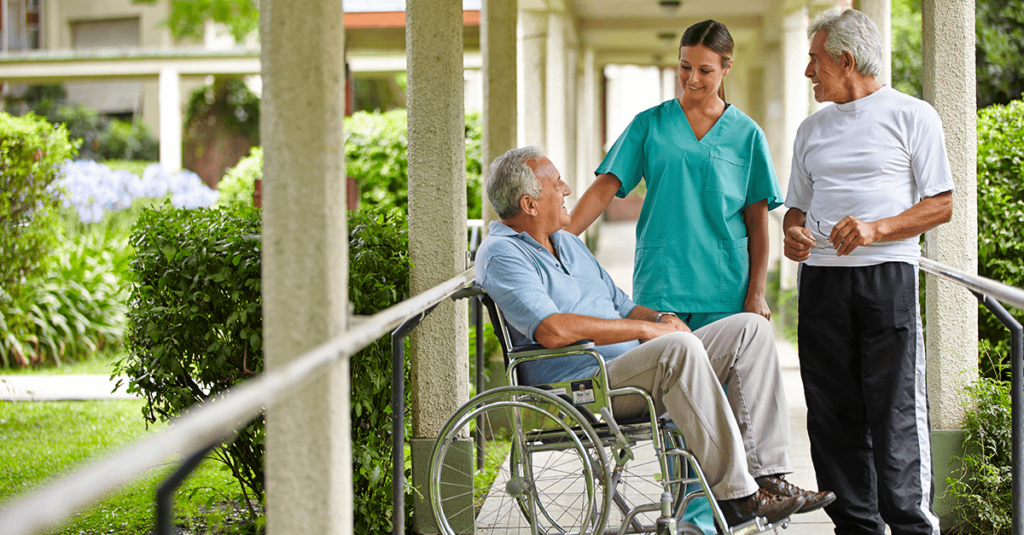 Whether you're looking to raise funding from private investors or to get a loan from a bank (like a SBA loan) for your nursing home, you will need to prepare a solid business plan.
In this article we go through, step-by-step, all the different sections you need in your nursing home business plan. Use this template to create a complete, clear and solid business plan that get you funded.
For more information on nursing home businesses, make sure to read our guides below:
How To Open a Nursing Home In 8 Steps: Complete Guide
How Much Does It Cost To Open a Nursing Home?
How to Build a Financial Model for a Nursing Home
1. Executive Summary
The executive summary of a business plan gives a sneak peek of the information about your business plan to lenders and/or investors.
If the information you provide here is not concise, informative, and scannable, potential lenders and investors will lose interest.
Though the executive summary is the first and the most important section, it should normally be the last section you write because it will have the summary of different sections included in the entire business plan below.
Why do you need a business plan for your nursing home?
The purpose of a business plan is to secure funding through one of the following channels:
Obtain bank financing or secure a loan from other lenders (such as a SBA loan)
Obtain private investments from investment funds, angel investors, etc.
Obtain a public or a private grant
How to write an executive summary for your nursing home?
Provide a precise and high-level summary of every section that you have included in the business plan. The information and the data you include in this segment should grab the attention of potential investors and lenders immediately. Also make sure that the executive summary doesn't exceed 2 pages.
The executive summary usually consists of the 5 main paragraphs:
Business overview: introduce your nursing home facility: what is your business model (franchise vs. independent business; medical vs. assisted senior living facility), how many rooms will you have / how many residents will you care for? Where will the nursing home be located? Etc.
Market overview: briefly analyze the nursing home industry in your area (market size and growth), your competitors and target customers (average income of the residents, demographic distribution, etc.). Also outline the specific problems your competitors may have that you intend to solve and how you differ vs. competition
Management & people: introduce the management team and their industry experience. Mention your business partner(s), if any. Also give here an overview of the different teams, roles and their reporting lines
Financial plan: how much profit and revenue do you expect in the next 5 years? When will you reach the break-even point and start making profits? Also include here a small chart with your key financials (revenue, net profit)
Funding ask: what loan/investment/grant are you seeking? How much do you need? How long will this last? How will you spend the money?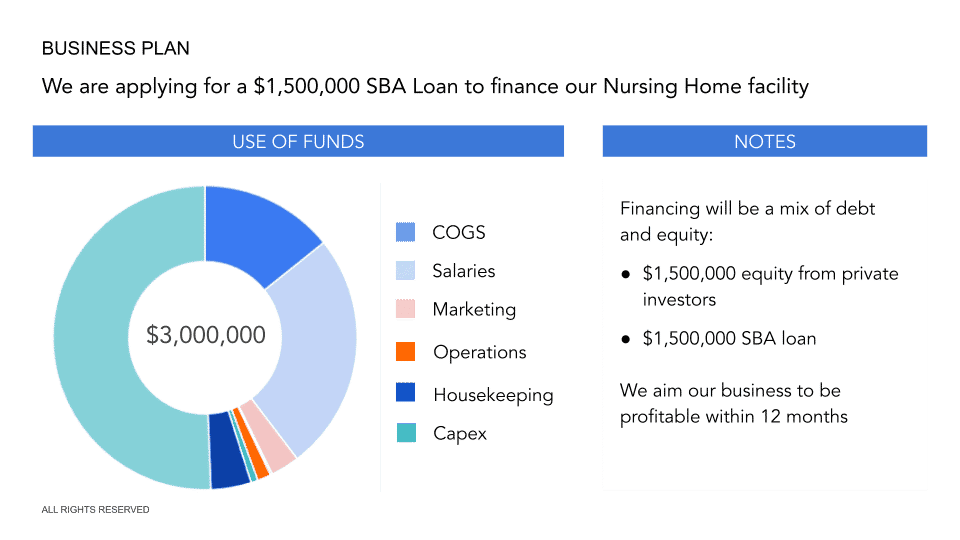 2. Nursing Home Business Overview
The business overview section of your business plan should cover crucial aspects of your nursing home business. You must try to address the following questions in this section:
What services do you plan to offer in your nursing home?
How will you make profits from your business?
Who would be your target market?
What would be the structure of your company?
Here is what you must include in the business overview section:
a) History, Mission & Vision
Briefly explain how did you come up with the plan to start a nursing home business. What motivated you to get into this business venture?
Address these questions in such a manner that your investors or lenders understand why you are so passionate about starting a nursing home. For example, you might have worked in a nursing home before and found immense growth potential for this type of business in your area as there is less or no competition.
You must also focus on your mission and vision for starting the nursing home. What type of service do you intend to offer to the community through your nursing home, and where do you aim to reach (it should reflect your vision. Also, include your financial and non-financial goals.
b) Business Model
Here, explain what business model you choose for your nursing home. You need to mention the following:
What type of services would you offer? Would your nursing home focus on elderly care and disabled people or cater to everyone?
Do you plan to offer niche services that would distinguish your nursing home from the competition? For example, long-term care facilities, Alzheimer's care facilities, convalescent homes, or convalescent care.
How would your business make money? Provide here details on the revenue model, such as membership plans, private or semi-private room charges, personal care services, etc.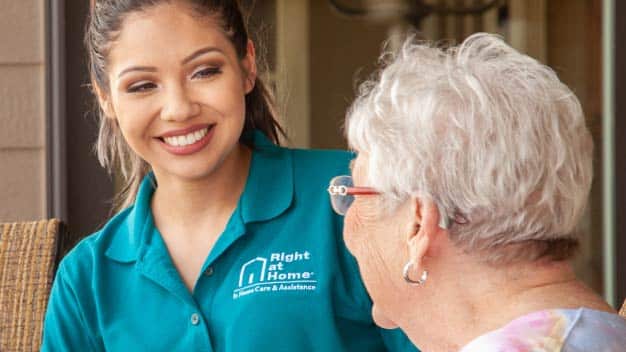 c) Legal Structure
Explain the legal structure of your nursing home in this section. Are you starting a corporation, a limited liability company, or a partnership? Who are the investors? How much equity do they actually own? Is there a board of directors? Do they have prior industry experience?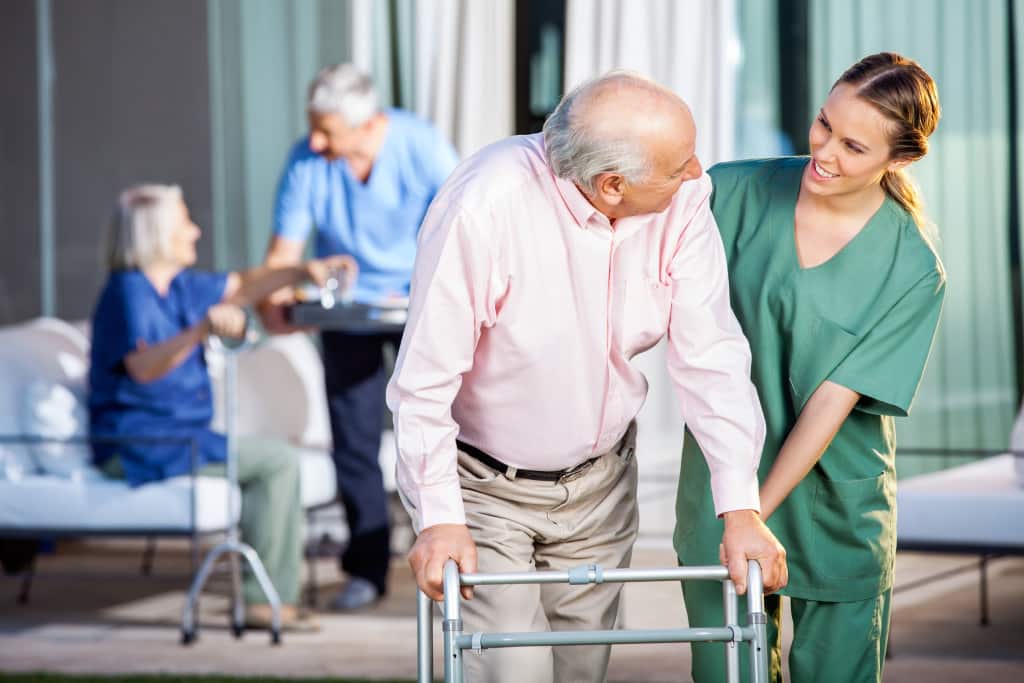 Download the Nursing Home financial model template
5-year projections Excel template

Lender & investor-friendly

CPA-developed financials

30+ charts and metrics
3. Nursing Home Market Overview
A complete understanding of the market where you want to operate is important for the success of your business.
You must cover here 3 important areas:
Market trends: how big is the nursing home industry in your area? How fast is the market growing? What are the trends fuelling this growth (or decline)?
Competition overview: how many competitors are there? How do they compare vs. your business? How can you differentiate yourself from them?
Customer analysis: what are your target customers (residents)? How old are they? What gender? What is their average disposable income?
a) Market trends
In this section, we include the market trends where you plan to start your nursing home. It should include the total number of nursing homes in the US, the number of seniors they have, their revenue estimates, etc.
Here are some of the other specific details that you must mention in this section:
What is the size of the nursing home industry in the US?
Is the nursing home market expanding or declining?
Who are the key competitors?
What trends affect the nursing home industry?
What is the growth forecast for the nursing home industry for the next 5 to 10 years?
b) Competition overview
Here we look at the nearest competition to your nursing home. For example, if you plan to open a nursing home in Illinois, you need to check all the nearest nursing homes in the area. Check how many seniors they have (20, 50, 100+ residents per home), what type of senior facility it is (affordable or premium?), etc.
Briefly describe each of these competitors' firms and list their advantages and disadvantages. It won't be possible for you to know everything about your competitor nursing homes unless you previously worked there. However, you should be able to learn important details about them, such as:
What kinds of senior care do they offer?
What type of nursing homes are they?
How much do they charge (premium, inexpensive, etc.)?
What do they excel at?
What are their weaknesses?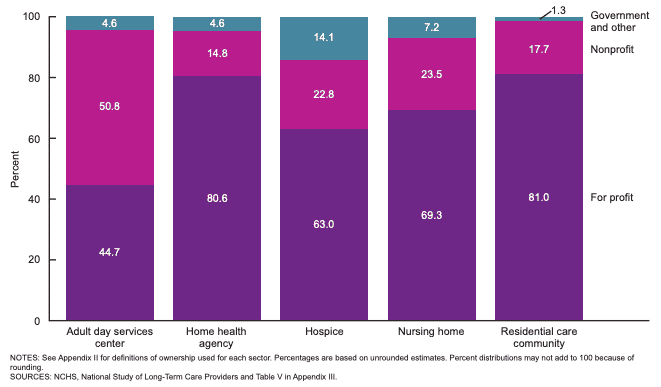 c) Customer analysis
Here we look at the area's target customers (the senior residents).
Your target customers may be retirees, people with Alzheimer's or dementia, old and ageing adults, and seniors. So try to find out:
Who are the seniors in the area where you want to start a nursing home (age, gender, disposable income, etc.)
What kind of facilities do they need? Do they need medical facilities or assisted living facilities?
As you may expect, the customer segment you select will significantly affect the kind of business you run. It goes without saying that those with Alzheimer's or dementia would react differently to marketing campaigns than, say, recent retirees.
Try to segment your target market based on their psychographic and demographic characteristics. Include a discussion of the ages, genders, locations, and income levels of the customers you hope to serve in your demographics section.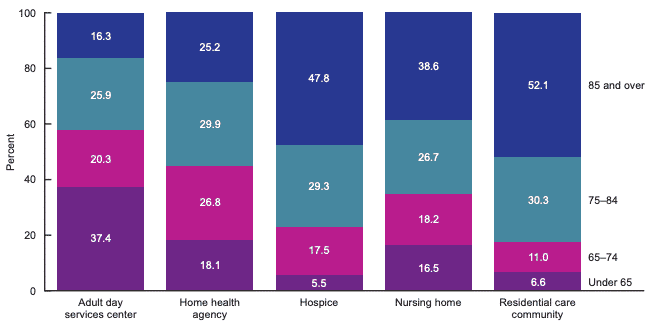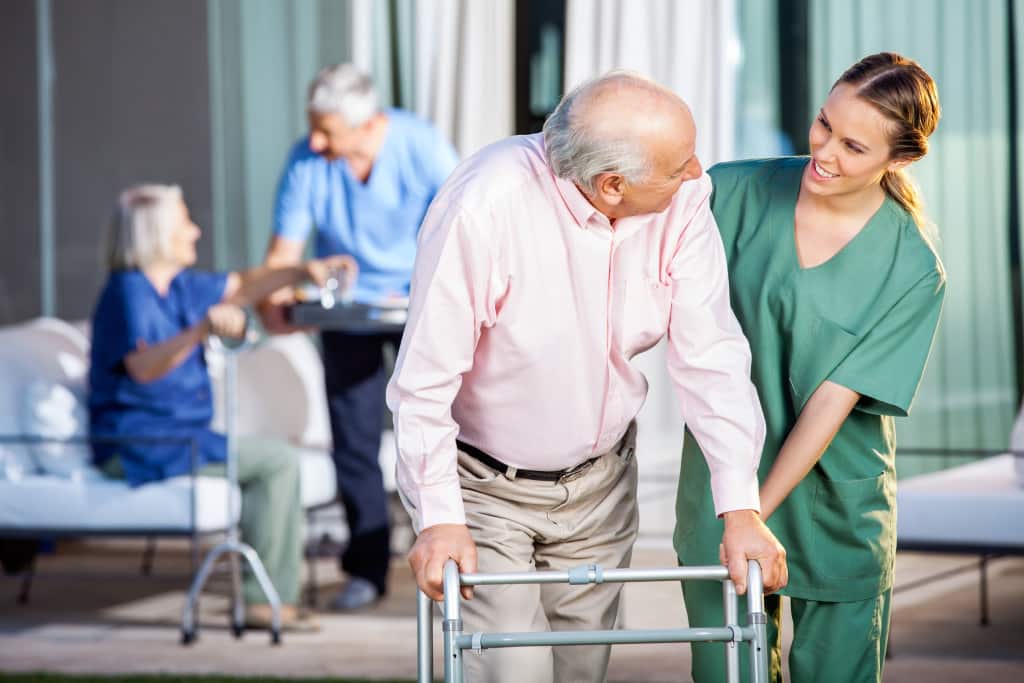 Download the Nursing Home financial model template
5-year projections Excel template

Lender & investor-friendly

CPA-developed financials

30+ charts and metrics
4. Sales & Marketing
This is the segment where you outline your customer acquisition strategy for your nursing home. Try to answer the following questions:
What are your Unique Selling Propositions (USPs)?
What marketing strategies will you use?
How will you measure the profitability and success of your marketing campaigns?
What is your customer acquisition cost (CAC)?
What is your marketing budget?
What marketing channels do nursing home facilities use?
Typically, nursing homes benefit from organic growth (word-of-mouth, recommendations, etc.) yet it can take years to build trust with your residents and their relatives. Therefore, you will have to invest heavily at the beginning to get yourself known.
A few marketing channels that nursing home and assisted living facilities typically use are:
Print media (local newspapers and magazines)
Word-of-mouth, local listing
Partnerships with medical clinics, etc.
TV & radio ads
Flyers
Signage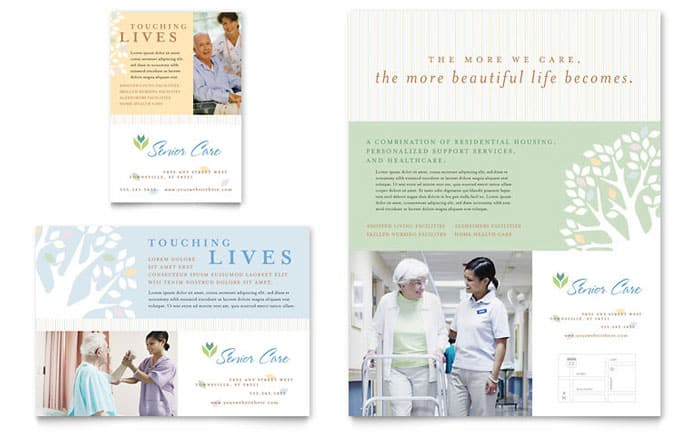 Also, you must have a fair and nearly accurate estimate of your marketing budget. Failure to display a well-planned and adequate cash flow for advertising and marketing may lead to investors losing confidence.
What are your Unique Selling Propositions (USPs)?
In other words, how do you differentiate yourself vs. competitors? This is very important as you might need to win residents from competitors.
A few examples of USPs for nursing homes are:
Medical support: do you offer onsite medical assistance (doctors)?
Quality of service: you may offer the highest level of assistance, also known as enhanced assisted living, such as hands-on assistance with multiple activities of daily living (ADLs)
Quality of the amenities: you may offer extra amenities your competitors don't have (for social and recreational activities for example)
Pricing: your facility might be more affordable vs. competitors
Your USP will depend on your business model, competitor analysis, and target audience. Whatever your USPs are, it should appeal to your target audience.
5. Management & People
You must address 2 things here:
The management team and their experience/track record
The organizational structure: different team members and who reports to whom?
a) Management
Small businesses often fail because of managerial weaknesses. Thus, having a strong management team is vital. Highlight the experience and education of senior managers and medical staff that you intend to hire to oversee your nursing home.
Describe their duties, responsibilities, and roles. Also, highlight their previous experience and explain how they succeeded in their previous roles. This is especially important for the medical staff (doctors, psychologists, etc.).
b) Organization Structure
Even if you haven't already hired anyone yet, you must provide a chart of the organizational structure of your company. Include roles from Administration (Finance, HR), to Nursing (registered nurses, supervisors, coordinators) and rehabilitation doctors / psychologists.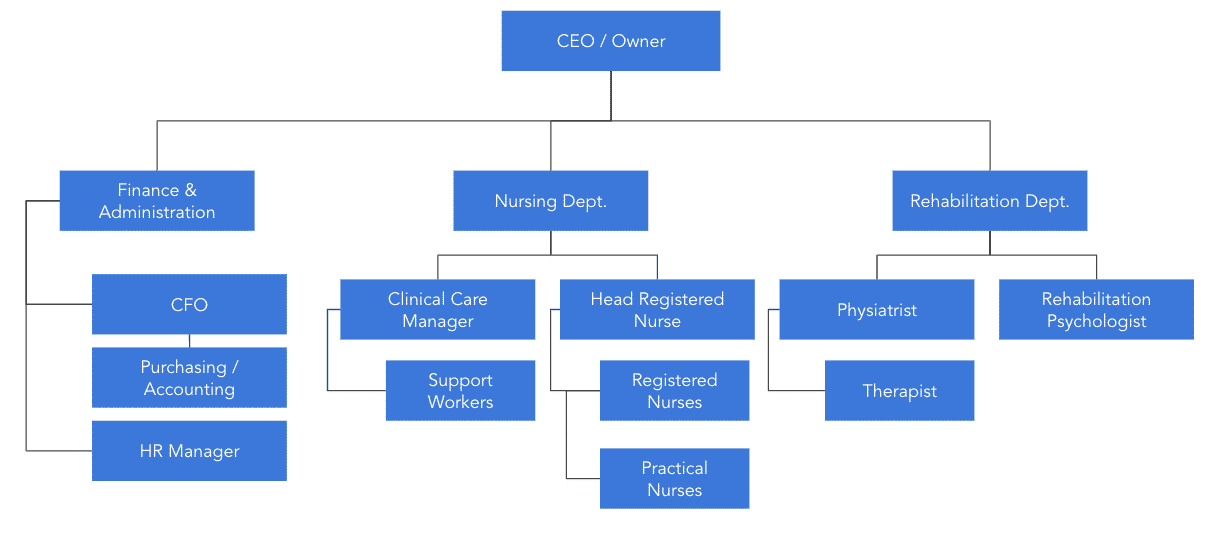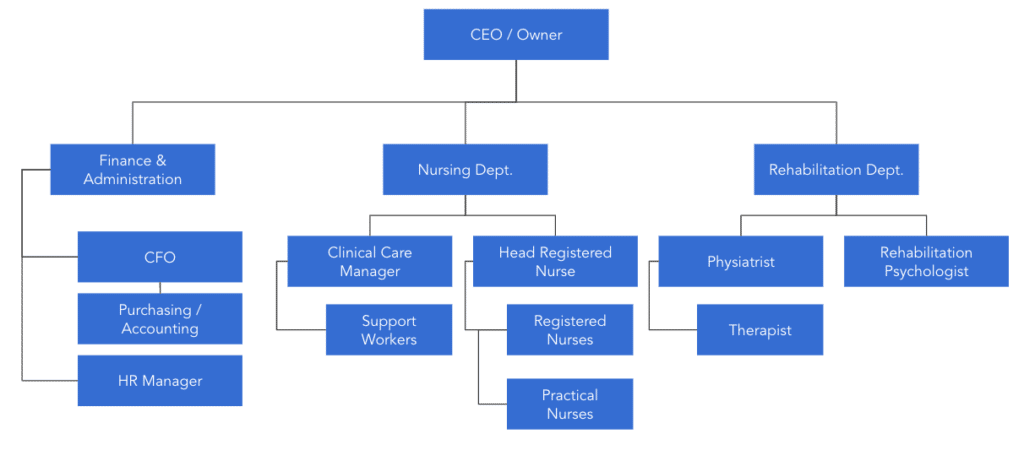 6. Financial Plan
The financial plan is perhaps, with the executive summary, the most important section of any business plan.
Indeed, a solid financial plan tells lenders that your business is viable and can repay the loan you need from them. If you're looking to raise equity from private investors, a solid financial plan will prove them your nursing home is an attractive investment.
There should be 3 sections to your financial plan section:
Your historical financials (only if you already operate the business and have financial accounts to show)
Your startup costs of your project (if you plan to start a new nursing home, or add a few rooms to your nursing home, renovate the facilities, etc.)
Your 5-year financial projections
a) Historical Financials (optional)
In the scenario where you already have some historical financials (a few quarters or a few years), include them. A summary of your financial statements in the form of charts e.g. revenue, gross profit and net profit is enough, save the rest for the appendix.
If you don't have any, don't worry, most new businesses don't have any historical financials and that's ok. If so, jump to Startup Costs instead.
b) Startup Costs
Before we expand on 5-year financial projections in the following section, it's always best practice to start with listing the startup costs of your project. For an assisted living facility, startup costs are all the expenses you incur before you open your facility. These expenses typically include:
The lease deposit and renovation costs (if you rent an existing building)
Construction costs (if you build a facility from the ground up)
Furniture and medical equipment
Below is an estimation of the startup costs you can expect for a 40-units nursing home facility based on 2 scenarios:
Option 1: you rent and renovate an existing building ($675,000 – $1,290,000)
Option 2: you buy land and build from scratch the facility ($2,020,000 – $3,600,000)
Note that these costs are purely for illustrative purposes and may not be relevant for you. For more information on how much it costs to start and run an assisted living facility, read our complete guide here.
| Startup cost | Option 1: Rent | Option 2: Build |
| --- | --- | --- |
| Lease deposit | $75,000 – $90,000 | $0 |
| Construction | $0 | $1,900,000 – $3,400,000 |
| Renovation | $480,000 – $1,000,000 | $0 |
| Furniture and medical equipment | $120,000 – $200,000 | $120,000 – $200,000 |
| Total | $675,000 – $1,290,000 | $2,020,000 – $3,600,000 |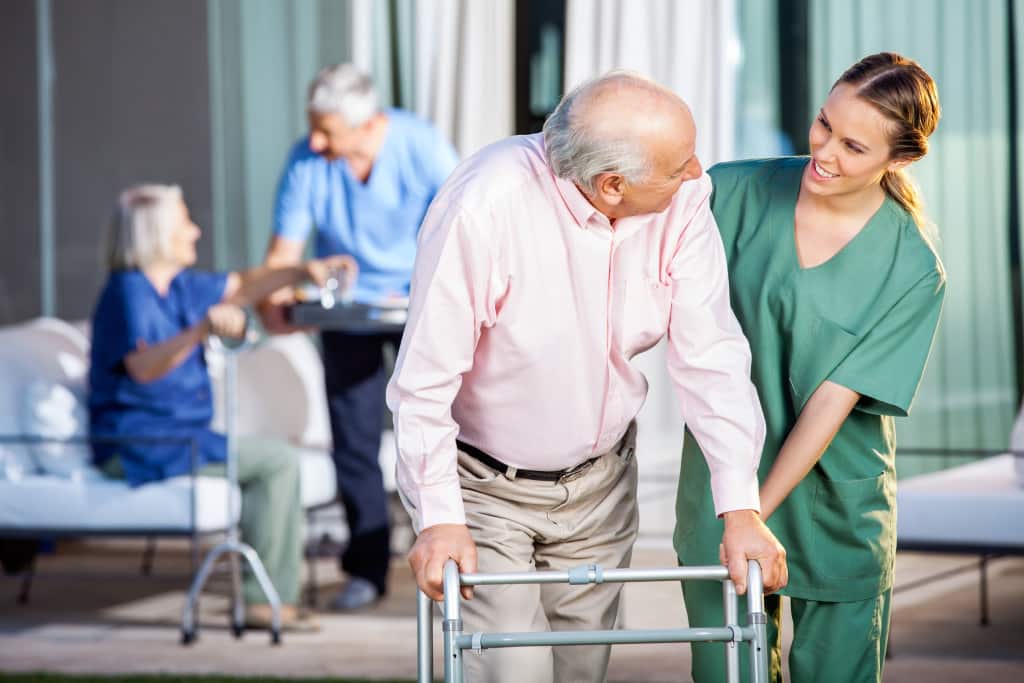 Download the Nursing Home financial model template
5-year projections Excel template

Lender & investor-friendly

CPA-developed financials

30+ charts and metrics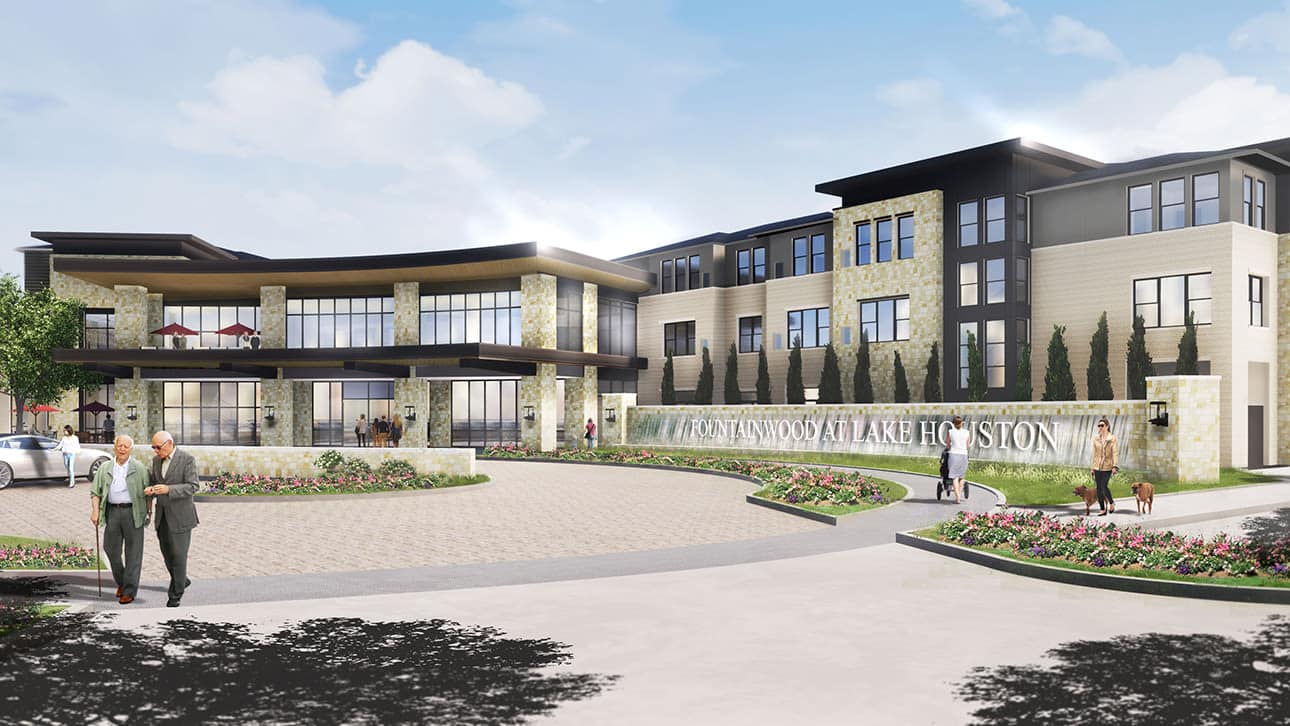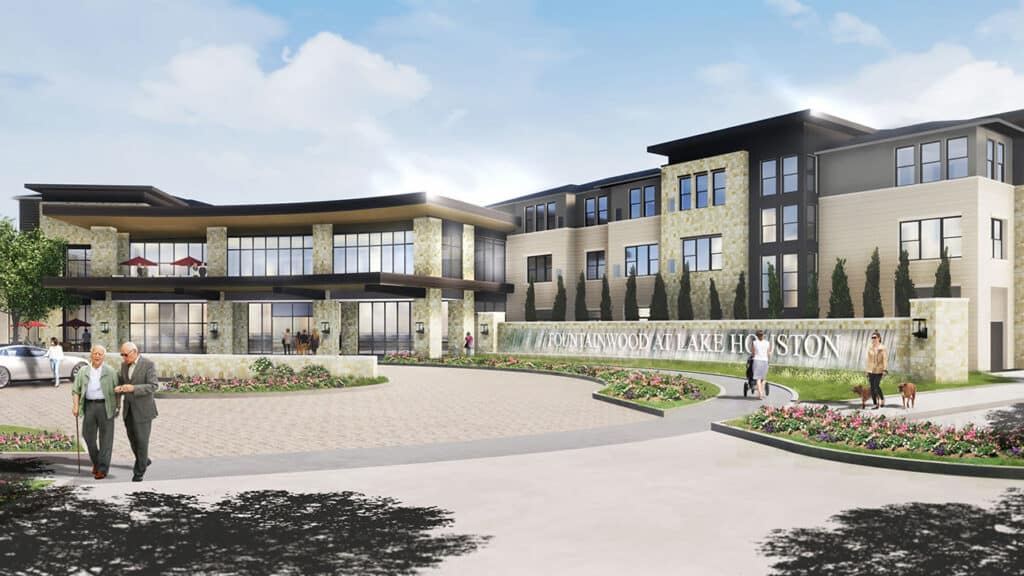 c) Financial Projections
In addition to startup costs, you will now need to build a solid 5-year financial model for your nursing home.
Your financial projections should be built using a spreadsheet (e.g. Excel or Google Sheets) and presented in the form of tables and charts in your business plan.
As usual, keep it concise here and save details (for example detailed financial statements, financial metrics, key assumptions used for the projections) for the appendix instead.
Your financial projections should answer at least the following questions:
How much revenue do you expect to generate over the next 5 years?
When do you expect to break even?
How much cash will you burn until you get there?
What's the impact of a change in pricing (say 15%) on your margins?
What is your average customer acquisition cost?
You should include here your 3 financial statements (income statement, balance sheet and cash flow statement). This means you must forecast:
The number of residents you will care for over time ;
Your expected revenue ;
Operating costs to run the business ;
Any other cash flow items (e.g. capex, debt repayment, etc.).
When projecting your revenue, make sure to sensitize pricing and the number of residents as a small change in these assumptions will have a big impact on your revenues.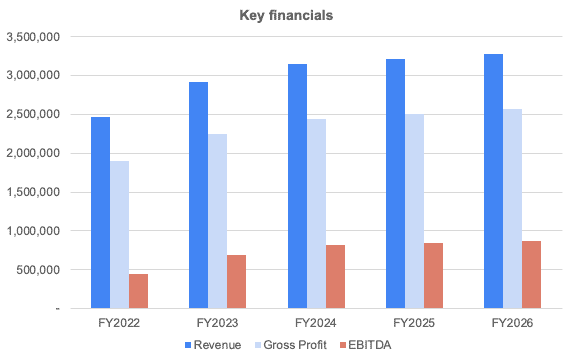 7. Funding Ask
This is the last section of your nursing home business plan. Now that we have explained what your nursing home is about, what's your strategy, where you go and how you get there, this section must answer the following questions:
How much funding do you need?
What financial instrument(s) do you need: is this equity or debt, or even a free-money public grant?
How long will this funding last?
Where else does the money come from? If you apply for a SBA loan for example, where does the other part of the investment come from (your own capital, private investors?)
If you raise debt:
If you raise equity
What percentage ownership are you selling as part of this funding round?
What is the corresponding valuation of your business?
Use of Funds
Any coworking business plan should include a clear use of funds section. This is where you explain how the money will be spent.
Will you spend most of the loan / investment in paying your employees' salaries the first few months? Or will it cover mostly the cost for building the facility?
Those are very important questions you should be able to answer in the blink of an eye. Don't worry, this should come straight from your financial projections. If you've built solid projections like in our nursing home financial model, you won't have any issues answering these questions.
For the use of funds, we recommend using a pie chart like the one we have in our financial model template where we outline the main expenses categories as shown below.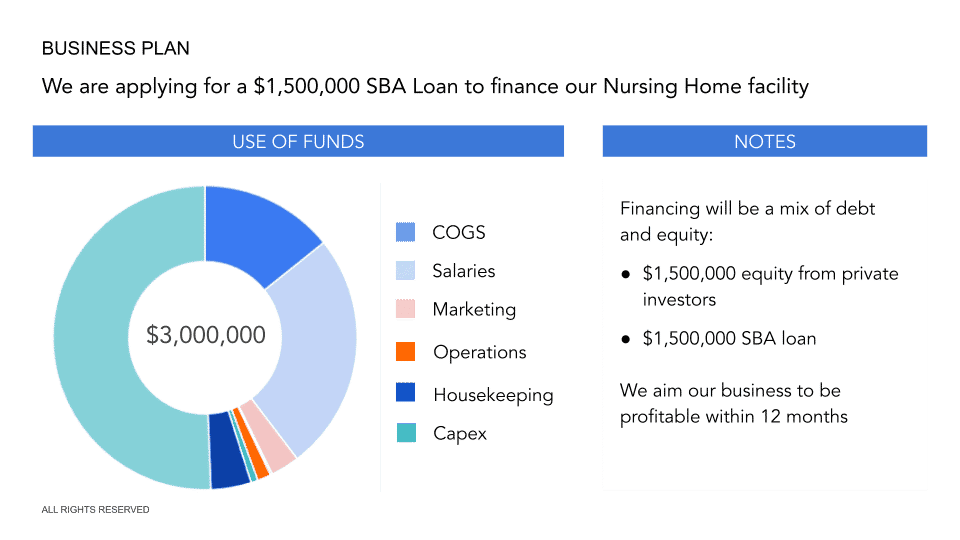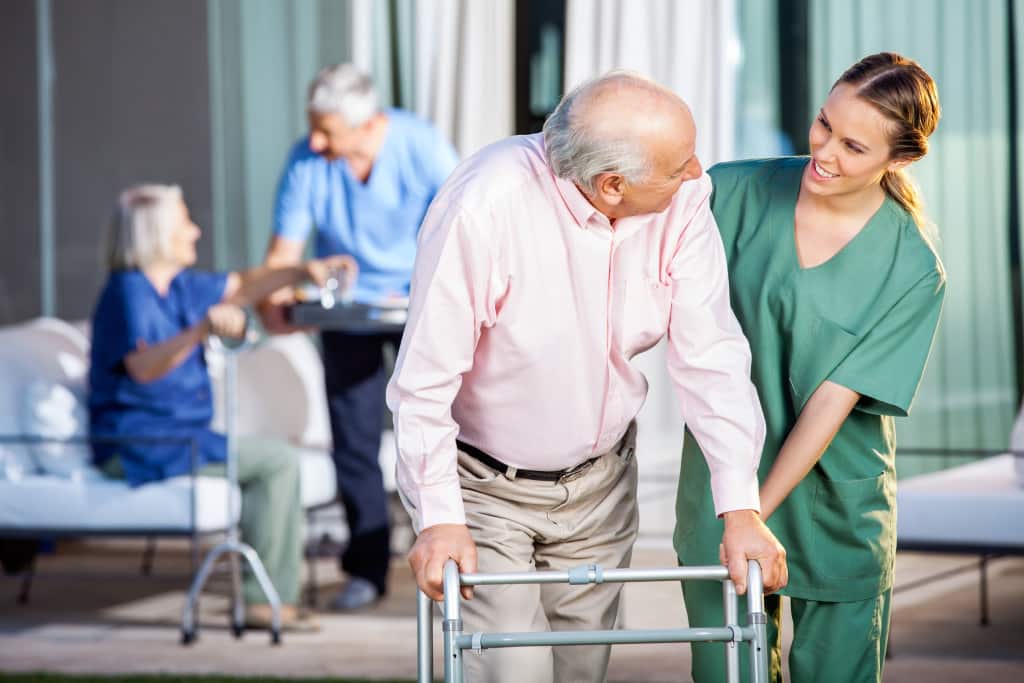 Download the Nursing Home financial model template
5-year projections Excel template

Lender & investor-friendly

CPA-developed financials

30+ charts and metrics