Jiffy Lube: Revenue, Costs & Profits (2023)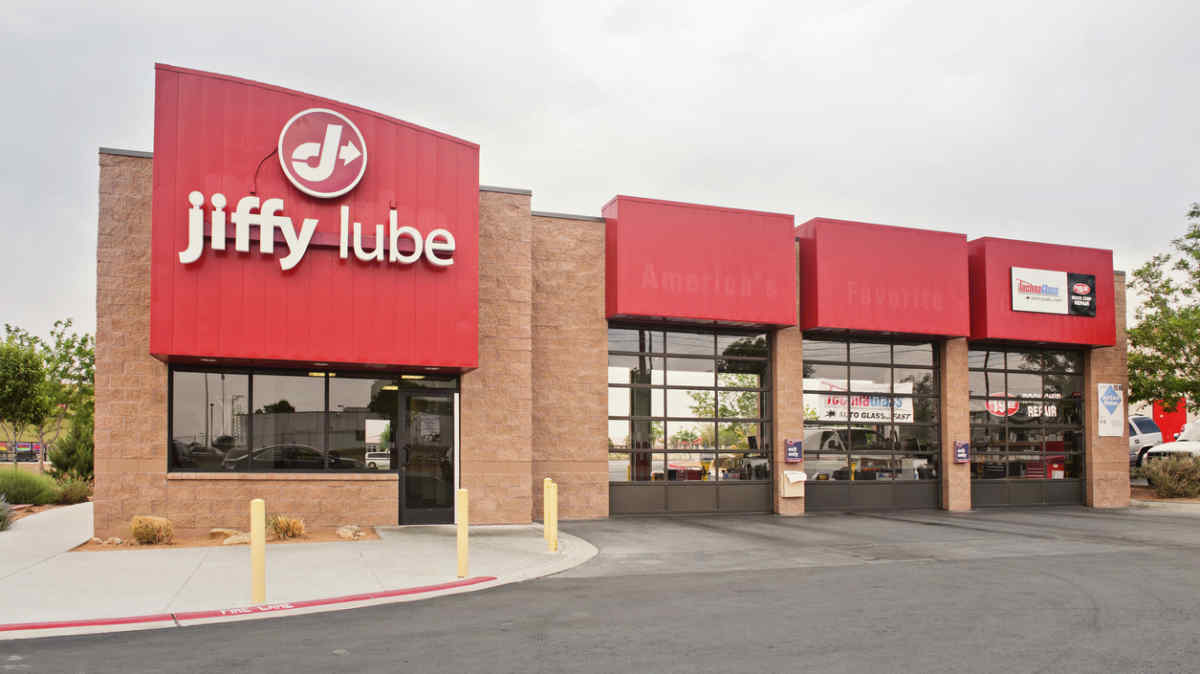 With 1,900 shops in the US alone, Jiffy Lube is undeniably the leading oil change franchise in the country. Its simple yet efficient business model is attractive to many entrepreneurs who want to get into the car servicing industry.
There's also a good reason for such a hype: Jiffy Lube is rather affordable franchise. Indeed, it has an initial investment of (only) $337,000 on average. But what about profits? Are profits worth investing $337,000 upfront?
In this article we're looking at Jiffy Lube and its Franchise Disclosure Document to find out how much it really costs, how profitable the business really is, and whether you should buy the franchise. Let's dive in!
Key stats
| | |
| --- | --- |
| Franchise fee | $35,000 |
| Royalty fee | 5.0% |
| Marketing fee | 5.0% |
| Investment (mid-point) | $337,000 |
| Average sales | $923,000 |
| Sales to investment ratio | 2.7x |
| Payback period | 3 years |
| Minimum net worth | $500,000 |
| Minimum liquid capital | $250,000 |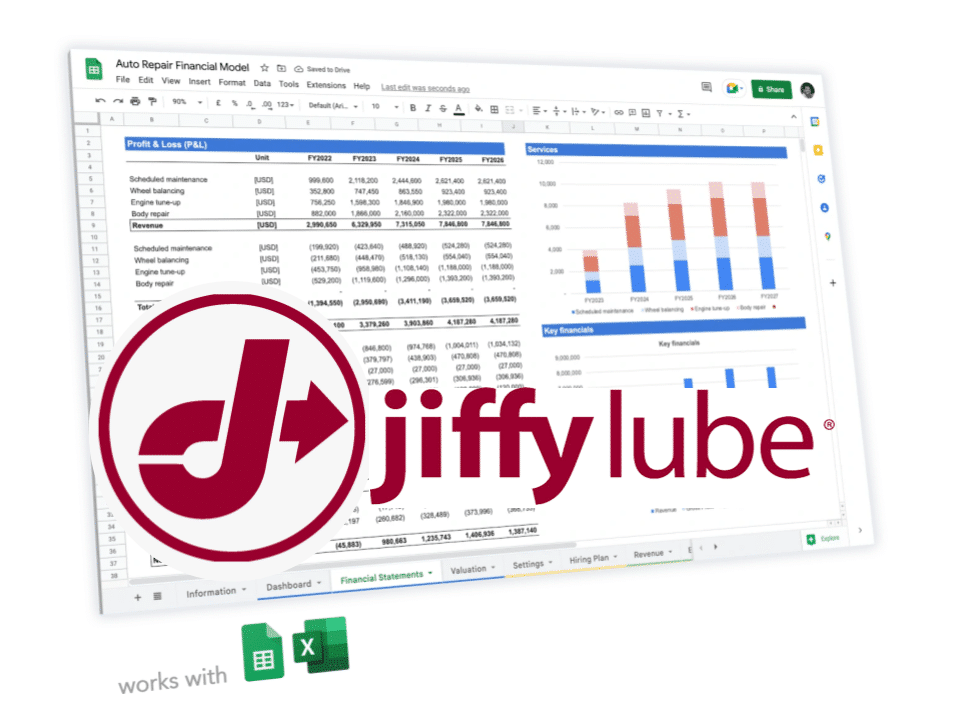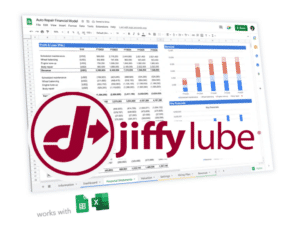 Jiffy Lube Franchise Business Plan
All the stats: startup costs, profits, breakeven, etc.
5-year financial projections built with the FDD

Excellent 4.8/5 based on 70 reviews
Excellent 4.8/5 based on 70 reviews

What is Jiffy Lube?
Jiffy Lube is an American chain of automotive oil change specialty shops based in Houston, Texas.
The chain was founded in 1979 by W. James Hindman after purchasing all seven existing Jiffy Lube franchises from Edwin H. Washburn and establishing Jiffy Lube International.
Its franchises offer oil change and lubrication services for cars and light trucks, air conditioning maintenance, brake maintenance, cooling system maintenance, engine and fuel system cleaning, emissions and inspections, tire changes and more.
Now a wholly owned subsidiary of Shell, the brand began franchising in 1979 and has more than 2,100 locations globally.
Jiffy Lube franchises pros and cons
The Pros:
Financing assistance: The parent company offers its franchisees different financing options to fund their startup costs, franchise fees, equipment, inventory and payroll.
Comprehensive training: The franchisor offers its franchisees detailed classroom and online training programs. Franchisees are trained on the business concept, best industry practices, products and services, hospitality and handling staff.
Marketing and advertising: Jiffy Lube provides franchisees with proven marketing and public relations techniques to help attract customers and reach a wider market segment. These include national and regional media, social media, local market analysis and targeted campaigns.
Flexible franchise options: The brand has a variety of franchise options for its franchisees to choose from. Franchisees may choose to start a new business, transfer an existing one, or own multiple locations. This allows franchisees to operate as per their budgets and enjoy incentives offered by the franchisor at the time.
Real estate and construction: The franchisor provides its franchisee with a development manager to guide them in identifying a suitable location for their automotive centers, lease negotiations, design and construction.
Strong Community Networks: The brand has a well-established vendor network to help its franchisees establish and grow their centers. Franchisees get access to top vendors, trade shows and conventions for sharing successful franchise insights.
The cons:
No exclusive territory protection: The franchisor does not allow its franchisees to operate in a protected area. Franchisees may face competition from other franchises granted by the parent company or the brands and channels it controls.
No absentee ownership: The brand does not present a passive investment. Franchisees must take part in the day-to-day management of their automotive businesses.
Not a part-time business: The Jiffy Lube franchise cannot be operated as a side business or on a part-time basis.
Not a home-based opportunity: The franchise cannot be run from home or a mobile unit. Franchisees must have an office space, warehouse, or retail facility.
Competition: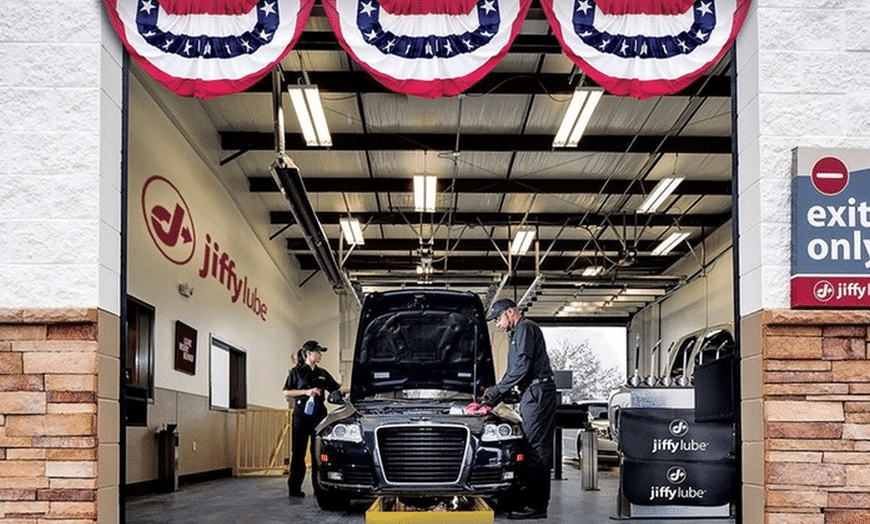 How much does a Jiffy Lube franchise cost?
On average, the initial investment required to open a Jiffy Lube franchise is $337,000, which includes an initial franchise fee of $35,000 (on average).
This investment amount is lower than the average investment required for other automotive franchises, which typically ranges from $600,000 to $1,200,000. However, it's worth noting that the investment amount can vary depending on factors such as your repair center location, its size, and other factors.
According to the latest Franchise Disclosure Document, the investment ranges between $232,000 and $443,000.
Startup costs
In addition to the initial franchise fee of $35,000, which you must pay to the franchisor, you would also pay for the furniture and fixtures, equipment, insurance, training expenses, etc.
Here's the full breakdown of costs:
| Type of Expenditure | Amount |
| --- | --- |
| Initial franchise fee | $0 – $35,000 |
| Training expenses | $1,000 – $5,000 |
| Equipment, signs and fixtures | $125,000 – $325,000 |
| Insurance | $10,000 – $20,000 |
| Additional Funds- 6 months | $45,000 |
| Other | $51,000 – $12,650 |
| Total | $232,000 – $442,650 |
Source: Franchise Disclosure Document 2023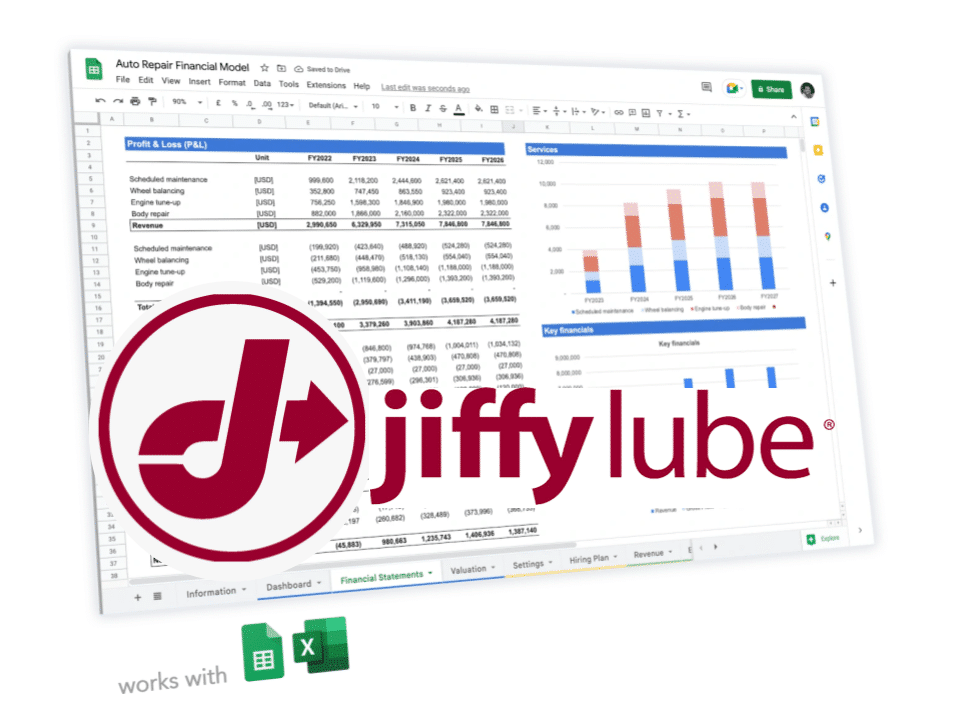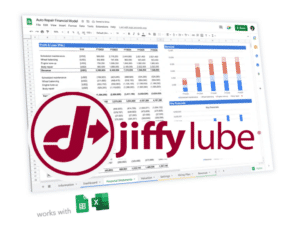 Jiffy Lube Franchise Business Plan
All the stats: startup costs, profits, breakeven, etc.
5-year financial projections built with the FDD

Excellent 4.8/5 based on 70 reviews
Excellent 4.8/5 based on 70 reviews

How much revenue does a Jiffy Lube franchise make?
On average, a Jiffy Lube franchise makes $923,000 revenue per year.
This is the annual median revenue per service center for 1,975 franchised service centers operating in all of 2022. This is an increase of +6% year-on-year vs. 2021 ($871,764, 1,892 units) as the chain recovered from the COVID-19 pandemic.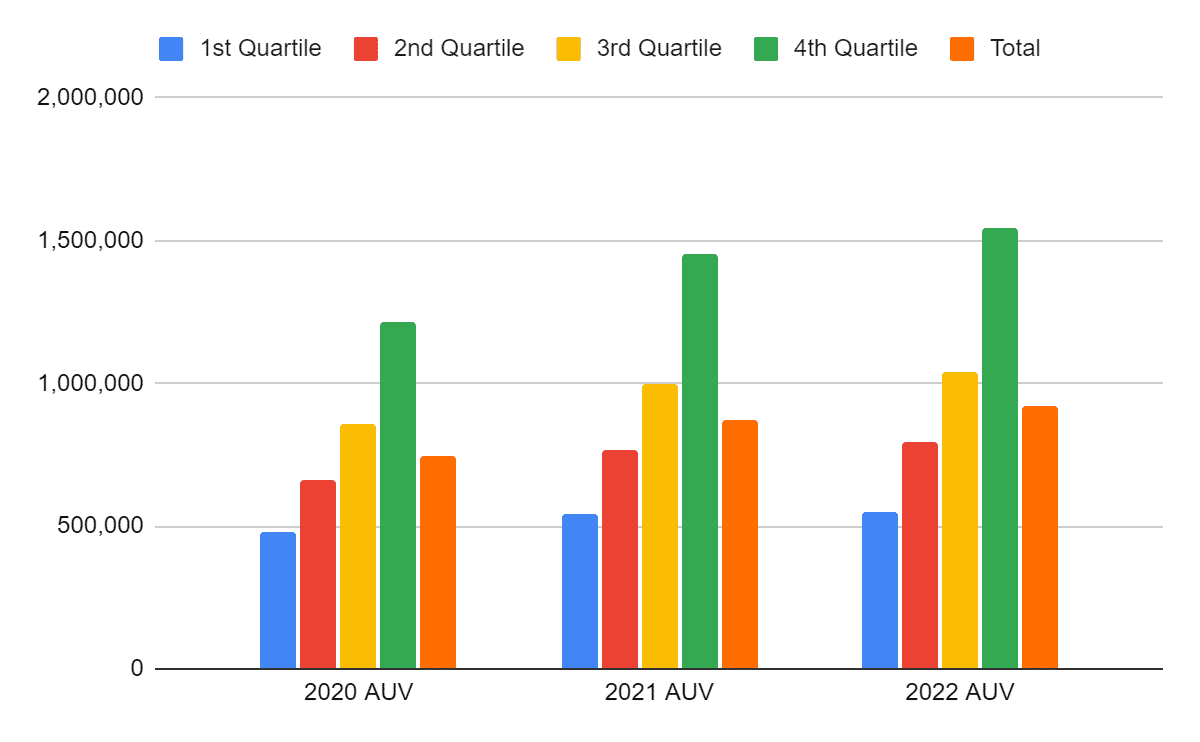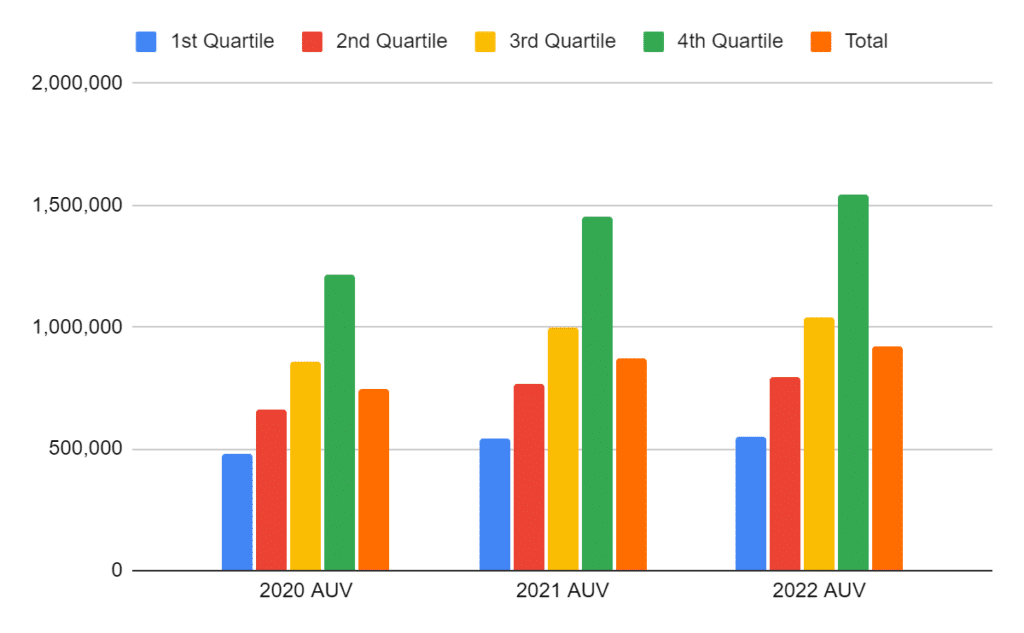 How profitable is a Jiffy Lube franchise?
We estimate that a Jiffy Lube franchised service center makes $87,000 in profits per year. That represents a 9% EBITDA margin.
Note that, like most franchises, Jiffy Lube does not provide any detailed cost information in its Franchise Disclosure Document. Instead, we had to make our own estimations using the available data (revenue, royalties, marketing fees, rent) and assumptions (COGS, labor, etc.).
| Profit and loss | Amount | % revenue | Source |
| --- | --- | --- | --- |
| Revenue | $961,675 | 100% | as per FDD |
| COGS | $(269,269) | 28% | industry average |
| Gross Profit | $692,406 | 72% | |
| Staff | $(259,652) | 27% | industry average |
| Royalty and marketing fees | $(110,593) | 12% | as per FDD |
| Rent | $(168,000) | 17% | as per FDD |
| Other operating costs | $(67,317) | 7% | assumption |
| EBITDA | $86,844 | 9% | |
Source: Franchise Disclosure Document 2022
Is Jiffy Lube a good franchise investment?
So should you buy a Jiffy Lube franchise? Should you invest the estimated initial investment of $337,000 to open a new shop?
In order to answer that question, we must look at the payback period: the time it takes for an investment (like buying a franchise) to be reimbursed with the profits generated by the business itself (the franchised shop).
We found that, on average, Jiffy Lube franchises have a 7 years payback. This means that you would wait on average 7 years before you can repay the bank (if you took a loan) and any investor(s) who invested in your franchise. After that, you can finally reap the profits.
To be clear, a 7 years payback is a good payback: this suggests that Jiffy Lube is indeed a great franchise investment.
Yet, keep in mind these are purely estimates of our own, as well as calculations based on the average performance of Jiffy Lube franchises as disclosed in the FDD. There is no guarantee your franchise will perform as well.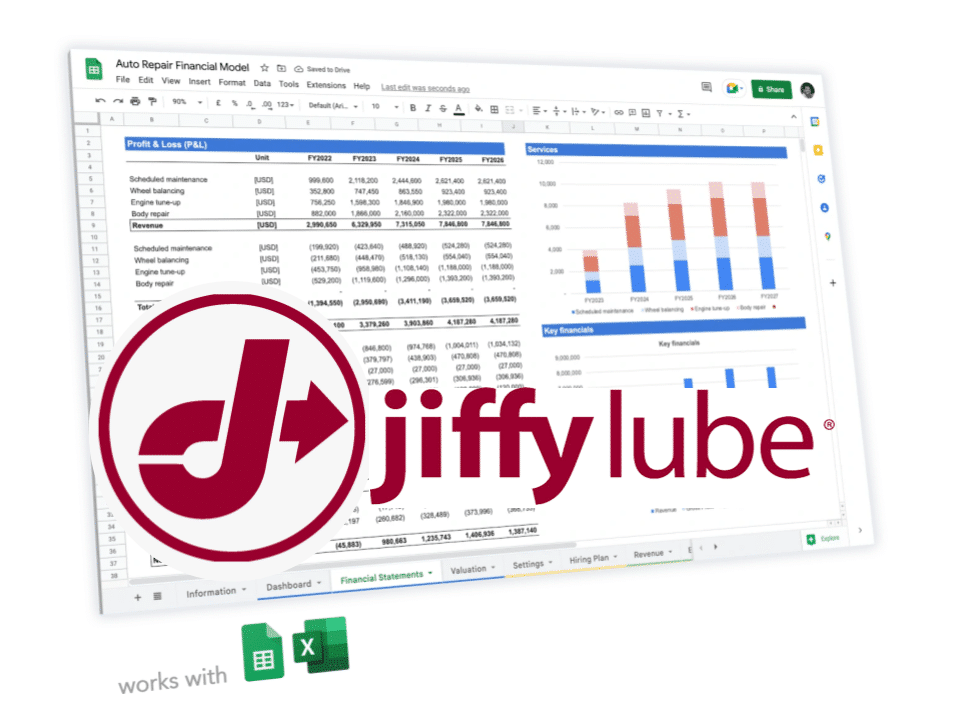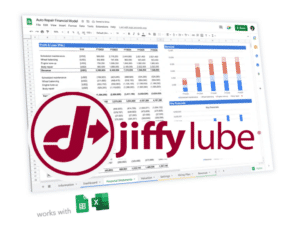 Jiffy Lube Franchise Business Plan
All the stats: startup costs, profits, breakeven, etc.
5-year financial projections built with the FDD

Excellent 4.8/5 based on 70 reviews
Excellent 4.8/5 based on 70 reviews

Disclaimer: This content has been made for informational and educational purposes only. We do not make any representation or warranties with respect to the accuracy, applicability, fitness, or completeness of the information presented in the article. You should not construe any such information or other material as legal, tax, investment, financial, or other professional advice. Nothing contained in this article constitutes a solicitation, recommendation, endorsement, advertisement, or offer to buy or sell any franchises, securities, or other financial instruments in this or in any other jurisdiction in which such solicitation or offer would be unlawful under the franchise and/or securities laws of such jurisdiction.
All content in this article is information of a general nature and does not address the detailed circumstances of any particular individual or entity. Nothing in the article constitutes professional and/or financial and/or legal advice, nor does any information in the article constitute a comprehensive or complete statement of the matters discussed or the law relating thereto. You alone assume the sole responsibility of evaluating the merits and risks associated with the use of any information or other content in this article before making any decisions based on such information or other content.